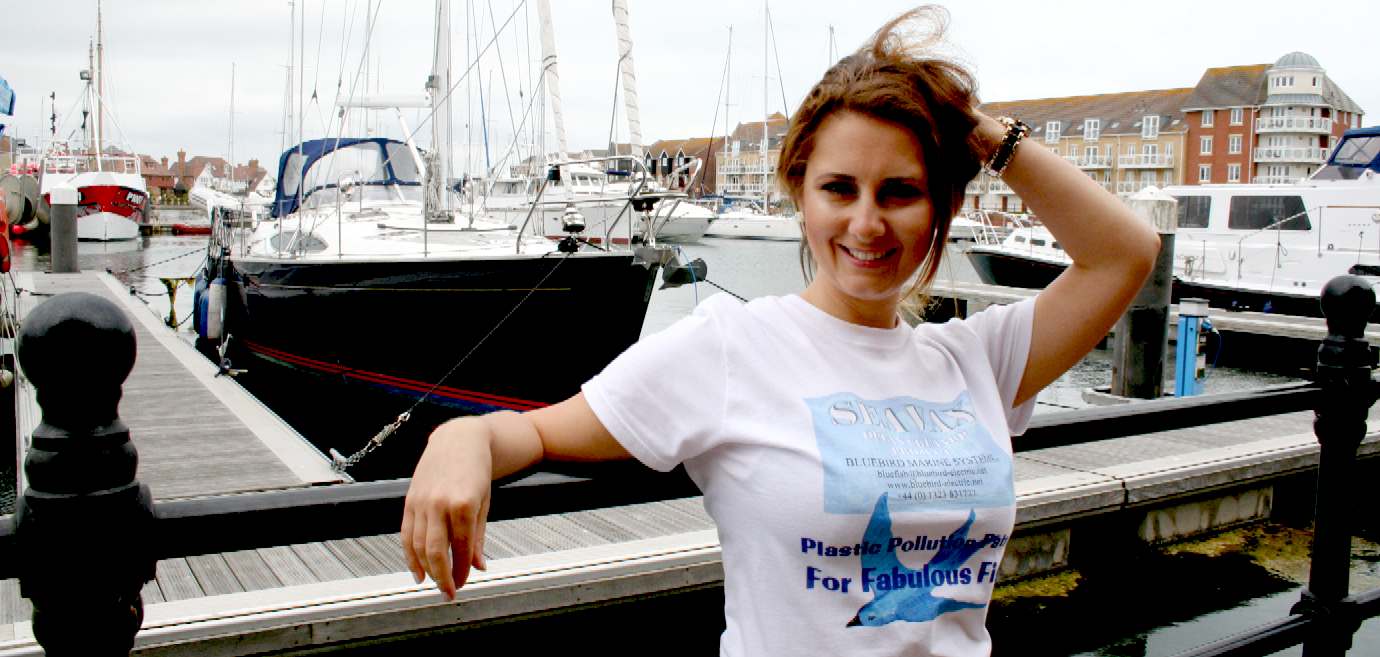 POSSIBLE VENUES - We are currently looking for a location on the South Coast of England for the 2016 Miss Ocean watersports competition. If you have a venue that might offer suitable facilities and are interested in marine matters please get in contact to discuss the possibilities.
CONFERENCES | CONTEST RULES | DATES | FAQs | NAVIGATOR | SPONSORS | VENUES
OCEAN CLEANING INNOVATION - This amazing autonomous boat called "SeaVax", was on display at the Old Billingsgate exhibition centre in London on the 9-10th of November 2015 for Innovate 2015. The stand was especially made for this show with a direction from the organizers that the base should be finished in white. It is possible to tilt the robot vessel so that it is horizontal or vertical. The stand is motorised to revolve at about one revolution every 35 seconds.
ROAD SHOW - Although not ready for this year's outing, it is planned to make the stand interactive with audiences as part of a rig intended for road show. We may fit driven wheels in place of the adjustable feet such that the robotic boat and stand combined can give interesting displays, demonstrating the versatility of robotics. The "SeaVax" boat is designed to vacuum plastic waste from the polluted oceans of the world. Not at this scale. This proof of concept model is only 2.2 metres long. The full size vessel is 44 metres long with a suction head some 13.5 metres wide - making it the world's largest vacuum cleaner and a potential Guinness world record holder. Miss Ocean is very proud to be associated with such an ocean friendly project.
RECYCLED - The stand was made from 100% recycled steel on a shoe-string budget. The re-engineered machinery is salvaged from everyday conveniences, such as cars and washing machines. Despite the elegant appearance, the stand has an exceptionally low centre of gravity that makes the exhibit rock steady. Chris Close, the project manager, is seen here with the vessel giving you some idea of scale. The stand is nicknamed Nelson's Column and has a base (not shown here) complete with hand carved lions (as per Sir Edwin Landseer) by way of a miniature Trafalgar Square. A tribute to one of the most famous British Admirals: Horatio Nelson.
UP TO THE 21ST OF MARCH 2016 YOU COULD HAVE CONTRIBUTED TO THE SEAVAX OCEAN CLEANING PROJECT AT: AVAAZ.ORG - PLEASE NOTE THE THIS CALL IS NOW CLOSED, WITH THANKS TO ALL 50,000+ OF YOU WHO DONATED. BLUEBIRD MARINE SYSTEMS CONFIRM THAT THEY ARE EXTREMELY GRATEFUL TO ALL WHO GAVE IN SUPPORT OF SEAVAX. THE INVENTORS OF THE SYSTEM ARE NOW HOPING TO USE YOUR MONEY TO FURTHER DEVELOP THE CONCEPT SUCH AS TO INTEREST CORPORATE SPONSORS WHO MAY BE ALIGNED WITH THE AIMS OF THE PROJECT, IN ADDITION TO OTHER FUNDING INITIATIVES.

AVAAZ - PEOPLE POWERED POLITICS & FUNDRAISING
BARCLAYS BANK - £BILLION POUNDS PLEDGE FOR GREEN BONDS
BBC -
BEAUTY PAGEANTS - MOST FAMOUS
BOYAN SLAT - OCEAN CLEANUP PROJECT
BRIGHTON - WEST PIER - MARINE PALACE PIER
CLEANER OCEANS FOUNDATION - TRUSTEES
CLEVEDON PIER - GRADE I LISTED BUILDING
CLIMATE CHANGE - AGREEMENT DECEMBER 2015 - UN PARIS GLOBAL MARCH - BAN KI-MOON & JOHN KERRY
CONFERENCES - 2016
CROWN ENTERTAINMENT CENTRES - CUERDEN LEISURE -
DAILY EXPRESS - 26-1-16
DAME ELLEN MACARTHUR - MORE PLASTIC IN THE OCEAN THAN FISH BY 2050
DATES, IMPORTANT
DIVE PLANIT - MYTH BUSTING OCEAN CLEANUP MACHINES
DIVING - SCUBA
EASTBOURNE PIER - AMUSEMENTS - ARSON - BLESSING - PARTNERS - SHEIKH ABID GULZAR 21-10-15
£1-2 CHARGE - PLANNING APP 141413 - HERALD 22-9-15 - DAVID TUTT -
CHAMBER COMMERCE - INDEPENDENT 7-11-15 - EUGENIUS BIRCH -
FREQUENTLY ASKED QUESTIONS - FOUNDATION - GEORGE OSBORNE
GOING FOR GOLD - PERMISSION GRANTED
ENERGY MATTERS - SEAVAX OCEAN CLEANER 23 FEBRUARY 2016
FITNESS - KEEPING FIT
GLOBAL OCEAN COMMISSIONERS - LINKS
GLOBALSPEC INSIGHTS - IHS 360 ENGINEERING, ROBOT VESSEL
GYRES 5, FIVE - TECHNO FIX TO PLASTIC POLLUTION
HASTINGS - PIER
HERITAGE LOTTERY FUND - EASTBOURNE PIER
INDEPENDENT - OCEAN CLEANUP PROJECT 19-1-16
INTERNATIONAL - 2017
INTERVIEW TOPICS
ITV -
JANET COLES - MAYOR OF EASTBOURNE
JO JOHNSON - OPENS MARINE ROBOTICS CENTRE AT THE NOC
LAURA PEREGRIN - SWAMPY
LINKS PAGE, EVENTS
LORD BRETT MCLEAN - ESCC ECONOMIC ADVISORY BOARD
LUKE GARDENER - VIRAL VIDEO, ARGUS 30-11-15
MICROBEADS BAN - PRESIDENT OBAMA GETS TOUGH ON PLASTIC
MPs - PENNY MORDAUNT - DAVID CAMERON - GEORGE OSBORNE
MUSEUM ATTRACTIONS MARITIME - NATURAL HISTORY
NATIONAL PIERS SOCIETY - WATCHDOGS OR WHAT?
OCEAN FILM FESTIVAL - 2016 - WORLD TOUR 2015
OCEAN CLEANUP PROJECT - MEDIA REVIEWS, BOYAN SLAT 2016 - JUNE NORTH SEA
OCEANS DAY - COP21 UN CLIMATE CHANGE TALKS, PARIS
PACIFIC OCEAN - WOMEN'S ROWING RECORD 2016
PETER LINDSEY - PR MAN
PIERS - TOP 10 FIRES, HARD TIMES & INSURANCE SCAMS
PLYMOUTH HO - FORT BOVISAND
POTHOLE POLITICS - CONSERVATIVE PARTY AGENDA
RNLI -
RULES, COMPETITION
SEABIN - SURFER'S TRASHCAN, MIAMI MARINA
SEAVAX - INNOVATE 2015, OLD BILLINGSGATE, LONDON 9 NOV
SKY -
SOUTH PARADE PIER, SOUTHSEA, PORTSMOUTH
SWACHH BHARAT ABHIYAN - CLEAN UP INDIA MISSION
TERRAMAR PROJECT, THE - ROBOTIC BOAT TO SUCK UP PLASTIC WASTE UNVEILED INNOVATE UK
TRADEMARKS - PRIORITY REGISTRATION
VOLUNTEERS - WORK EXPERIENCE, ELDERS
WESTON SUPER MARE - PIER CHARGES
WORLD OCEANS DAY - 8th JUNE 2016
WORLD SURF LEAGUE - COLUMBIA UNIVERSITY PARTNERSHIP: PURE
YOUTH OCEAN CONSERVATION SUMMIT -
EQUALITY - Miss ocean is not a beauty pageant, it is a water sports pageant, where the character and achievement of the contestants is paramount. Being attractive will not be held against you, but we are looking for women with skills who care about the ocean and want to use the competition as an opportunity to do something about the present inaction on the part of most governments.
This website is copyright © Cleaner Oceans Club Ltd (Company No: 4674774) June 2016
Solar Studios, BN271RF, United Kingdom. The name Miss Ocean™ is a trade mark of the Cleaner Oceans Club™.