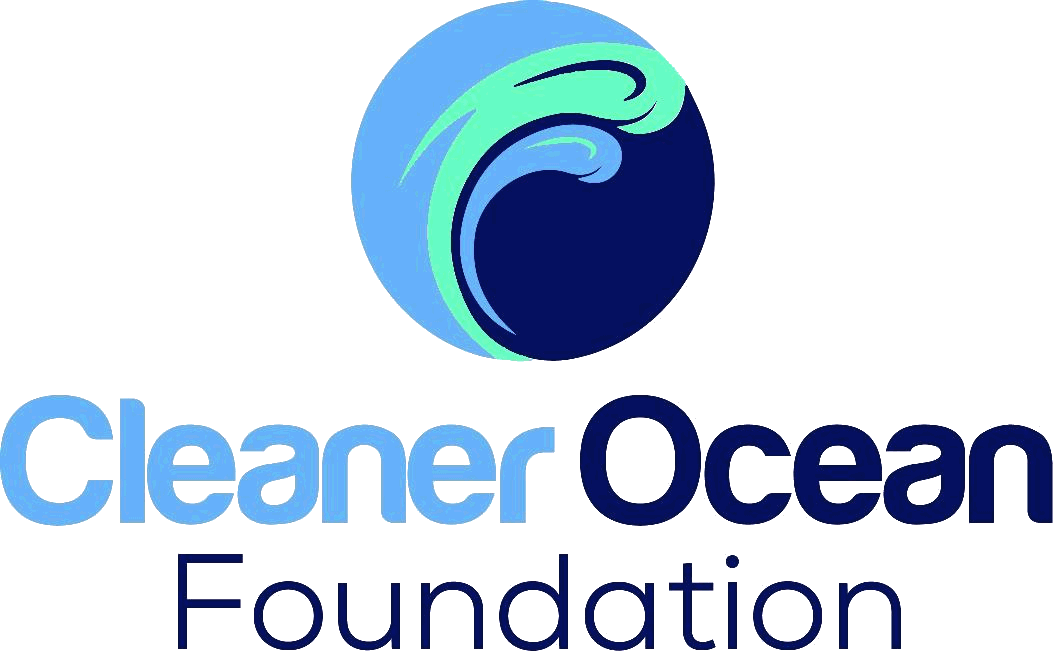 Please use our A-Z INDEX to navigate this site to avoid third party links
WELCOME ALL! The 'Cleaner Ocean Foundation' is a charitable entity dedicated to conservation, research and ocean awareness. We work with other like minded institutions and academics looking for ways to repair the harm that man has done and is doing to marine life, with especial focus on climate change, plastic waste, ghost nets that kill whales, over-fishing and dwindling wild fish stocks.
We also promote ocean literacy with our Miss Ocean and Mister Ocean water literacy events using our tour bus to attend venues and give talks on Blue Growth.
In May/June of 2017 our Foundation took over the SeaVax project from Bluebird Marine Systems, continuing to collaborate where possible. Since funding has proved to be a problem, we have have determined to continue with our ocean awareness campaigns as we await more proactive policies from grant makers. See our awareness competition below from the 1st August 2020.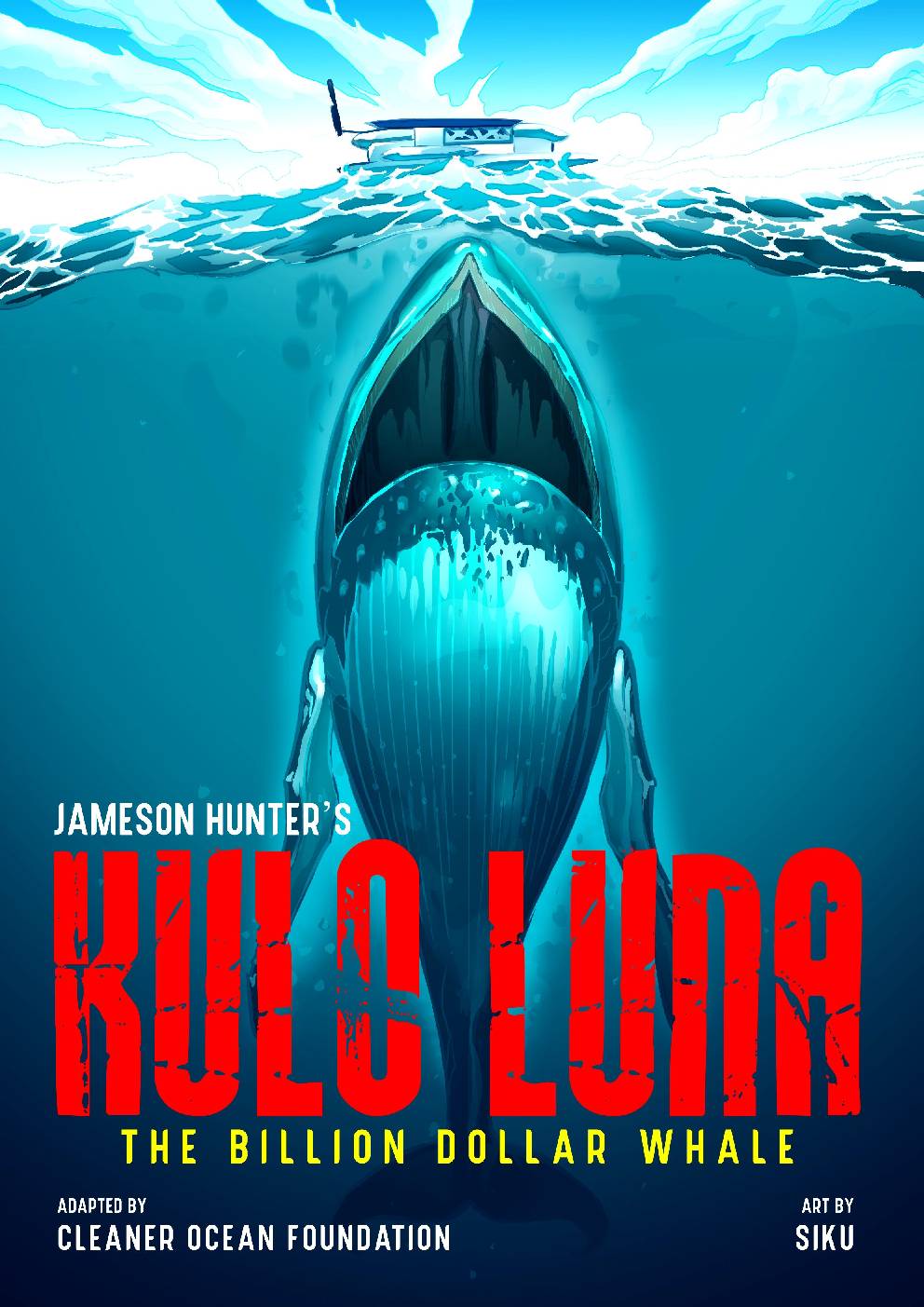 OCEAN AWARENESS - We are hoping to produce a graphic novel about ocean plastic, whales and climate change. Please click on the cover art above to watch a Youtube of the creation process. We need to cover production, printing and distribution costs if anyone can help. Profits will go to ocean plastic and zero carbon research.
VITAL RESEARCH & DEVELOPMENT
We are the only organization designing machines to remove macro and micro plastics from our oceans and rivers. Tackling the problem from the source, which ultimately involves removing microplastics from rivers without harming the extant biology. Our research is therefore unique. The solution we should like to develop relies on advanced autonomous robotic fleet control. We have applied three times for European funding since 2017, under the Horizon 2020 banner, the last applications in 2020. Clearly, by their actions, the EC do not want a solution within a few years, they appear want to fund academic research in tick-box fashion. Organizations like our Foundation do not tick their boxes! Maybe there is another out there who can take on this challenge?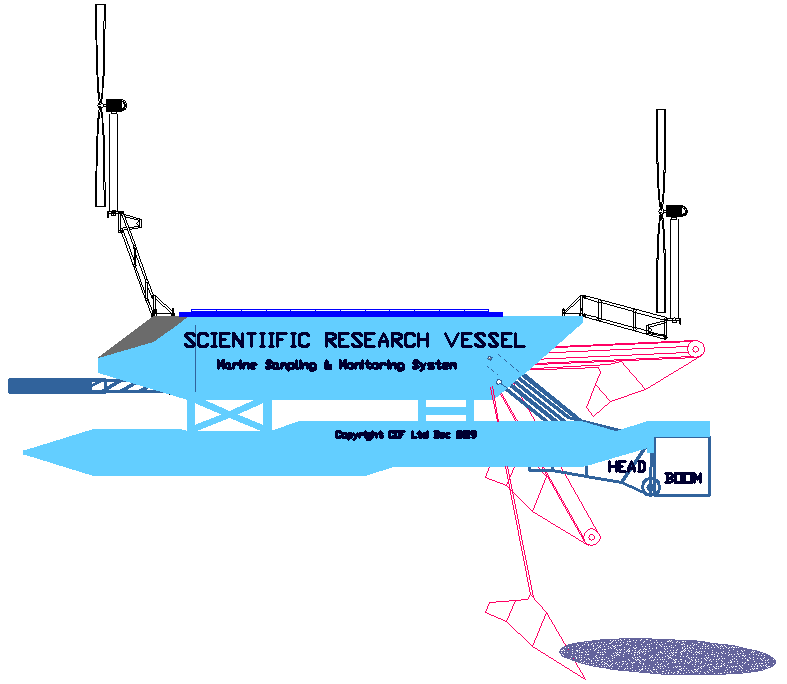 2020 - In January and February of 2020, two separate applications were filed for H2020 funding, where SeaVax was part of the consortiums, both were unsuccessful, Statistically then, a pattern is clear, the EU do not want oceans and rivers cleaned this way. We hope they have something pretty amazing up their sleeves instead. Because fish stocks are running out and marine mammals like sperm and humpback whales are being caught in discarded fishing nets at an alarming rate, causing death in many cases - and the UN are powerless to do anything about it at the moment, other than gather data.
The above 17m machine was to be designed and built with a dream team of UK and EU engineers and scientists for river and shore harvesting, then to be tested in Norway and Greece for up to 12 months for data collection and analysis - on a budget of under €6m euros. Meantime, we continue with our Awareness campaigns and lobbying.
SeaVax will be a fully autonomous machine (when finally developed) that has the ability to differentiate and separate marine biota from man-made polymer. It will collect micro to macro sized plastic via non-invasive ocean filtration with minimal –ve impact for maximal +ve effect. SeaVax may also be configured to harvest ghost fishing nets in the hope of saving whales, turtles, sharks and dolphins from a agonizingly slow death.
You can help us by supporting our research with any size donation. Where our applications for funding may not be well received as a small entity, larger concerns may fare better. We would make our research available on a free basis to anyone taking up the torch.

JULY 2018 - The test tank built while developing SeaVax in 2016/17 took another leap forward with the fabrication of the powered lifting and lowering mechanism for the wheeled carriage that takes the SeaVax proof of concept model out into the middle of the water basin and lowers the test craft into the water. Chris Close inspects his welding after lifting the rather heavy assembly into position on the stainless steel rails. Copyright © photograph July 15 2018. All rights reserved. You will need the permission of the Cleaner Ocean Foundation to reproduce this picture except for educational use in school and colleges or for private research.
LACK OF CONVENTIONAL FUNDING - Funding is not available for our kind of Blue Growth innovation. Our work falls in between pure research on the one hand (academics) and business development on the other, where social innovation is not about making money, meaning that a conventional for-profit business plan cannot be drawn up.
Projects like ours are somewhere in between and not catered for in the world of international finance such as United Nations projects, European Union initiatives or UK Government programmes where there is no end user to bill. This leaves SeaVax looking for other ways of raising operating funds - such as crowd funding and philanthropic donations - that are generally only very rare occurrences and cannot be relied on where the time for action is pressing. We have at least shown what might be possible. Maybe such inspiration will trigger responsible corporations to divert a percentage of their resources to such R&D and eventually, operations. We are available to advise.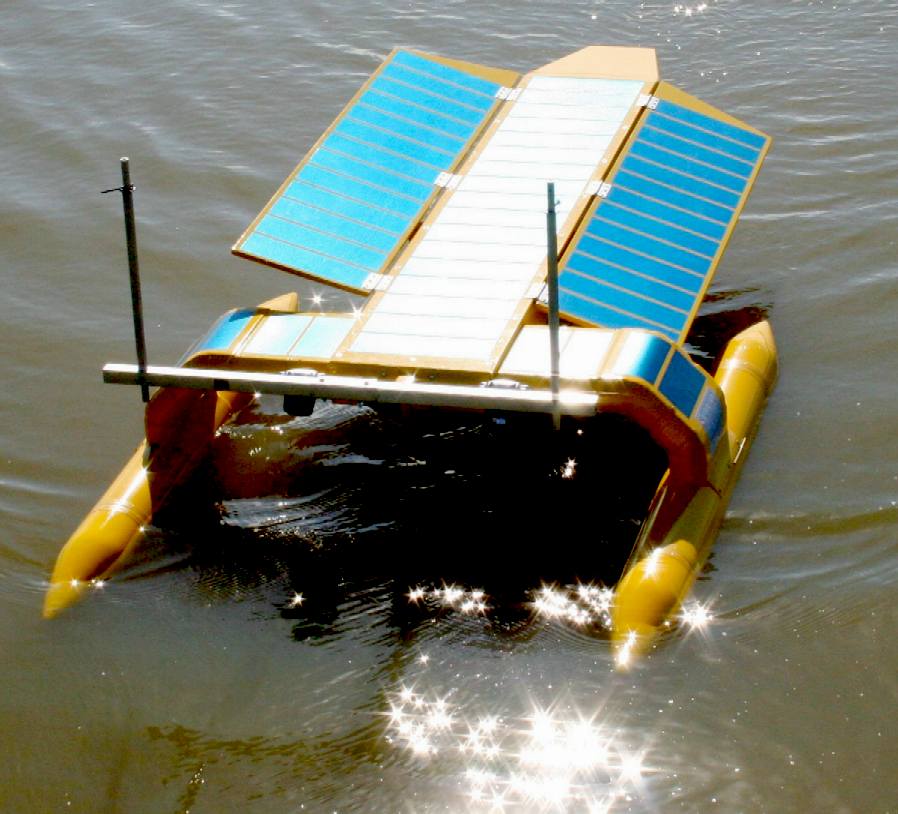 ONGOING R&D - Development of the solar powered ocean regenerating machine concept known as SeaVax continues with necessary improvement to the test tank facilities in Sussex, UK. The proof of concept model above has successfully filtered plastic waste from water in our test basin. Experiments will resume once the building works are completed. The machine is suitable for adaptation to river cleaning.
OCEAN CLEANING INNOVATION - This amazing autonomous boat called "SeaVax", was on display at the Old Billingsgate exhibition centre in London on the 9-10th of November 2015 for Innovate 2015. Since that time a company called Bluebird Marine Systems has built a test tank and a robotics laboratory - and worked out a low cost method of launching and recovering the full size vessel. All of this was achieved on a small budget at cost, with the help of volunteers, students and an experienced steering committee.
THE OCEAN ECONOMY - The ocean is a vast resource that is underutilized in terms of energy generation and over fished to feed a growing world population as land is being absorbed to build on for housing and factories, so reducing agricultural potential. In short, we are exhausting our natural resources in order of ease - for maximum profits - a short term strategy. It is easier for us to take all the fish we can in the short term and fill the ocean with garbage and not worry about the consequences.
The use of plastic for packaging is just one horrifying example of major stakeholders using the most convenient means to get their product to market, while ocean literate policy makers watch marine life suffer as they grapple with ways to juggle economics and morals, hoping for a miracle. Prince Charles and the Ellen MacArthur foundation have joined forces by issuing a prize to help reduce plastic in packaging. We hope that initiatives like this will make the job of cleaning the ocean less daunting and perhaps one day: not needed at all. So well done to everyone involved in that endeavor.
SEAVAX - SeaVax technology could help to put us back onto a path to ocean recovery. We aim to undertake vital research in the field of marine robotics, to try to understand what is possible if we apply some of the best innovations - such as the use of satellites to track ocean changes and currents - that may be applied to ocean cleaning techniques.
'SEAVAX' is just one of the many ocean cleanup projects that in our view holds the potential to make a difference if it can be applied effectively. There are many organizations working to clean the oceans, all contributing valuable input of which we are just one aiming to do our bit.
The Cleaner Oceans Foundation is inviting funding to be able to manage research to establish if ocean cleaning using dedicated selective fishing machines is a viable option in the search for a truly circular, blue economy.
This website is copyright © Cleaner Ocean Foundation Ltd (COF) (Company No: 4674774) 2019
Solar Studios, BN271RF, United Kingdom. COF is a charity without share capital. The name Miss Ocean™ is a trade mark of the Cleaner Oceans Foundation™. *Subject to funding.