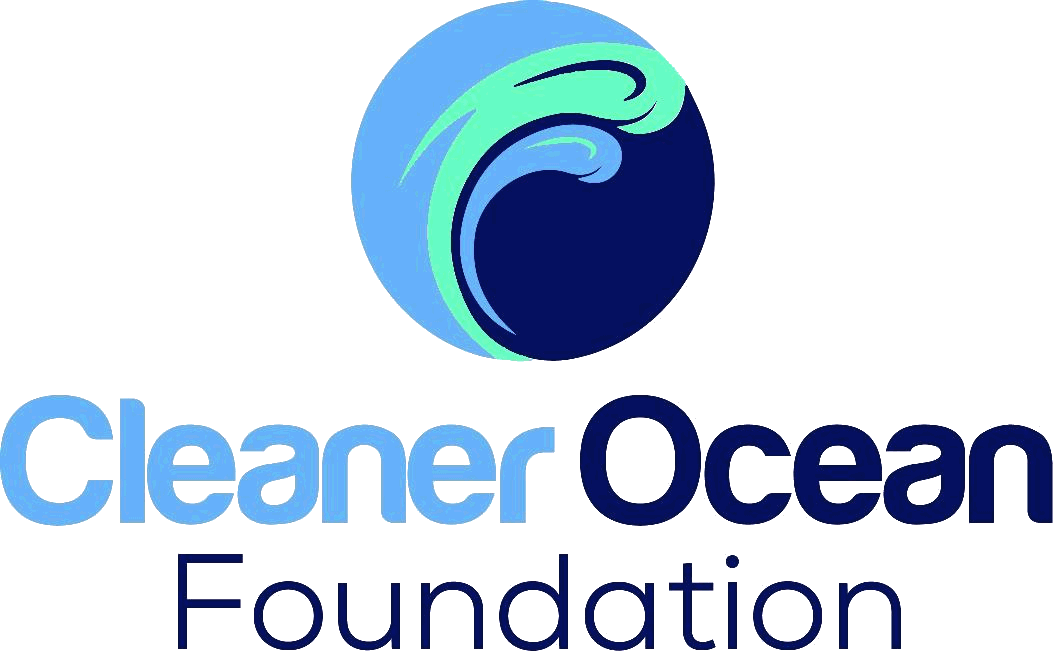 CLEANER OCEAN FOUNDATION LTD
WELCOME ALL! The 'Cleaner Ocean Foundation' is a charitable entity dedicated to conservation, research and ocean awareness. We work with other like minded institutions and academics looking for ways to repair the harm that man has done and is doing to marine life, with especial focus on climate change, plastic waste, over-fishing and dwindling wild fish stocks. We also promote ocean literacy with our Miss Ocean and Mister Ocean water literacy events using our tour bus to attend venues and give talks on Blue Growth and from 2020 demonstrate our Ocean 3D Virtual Reality experience*. In May/June of 2017 our Foundation took over the SeaVax project from Bluebird Marine Systems.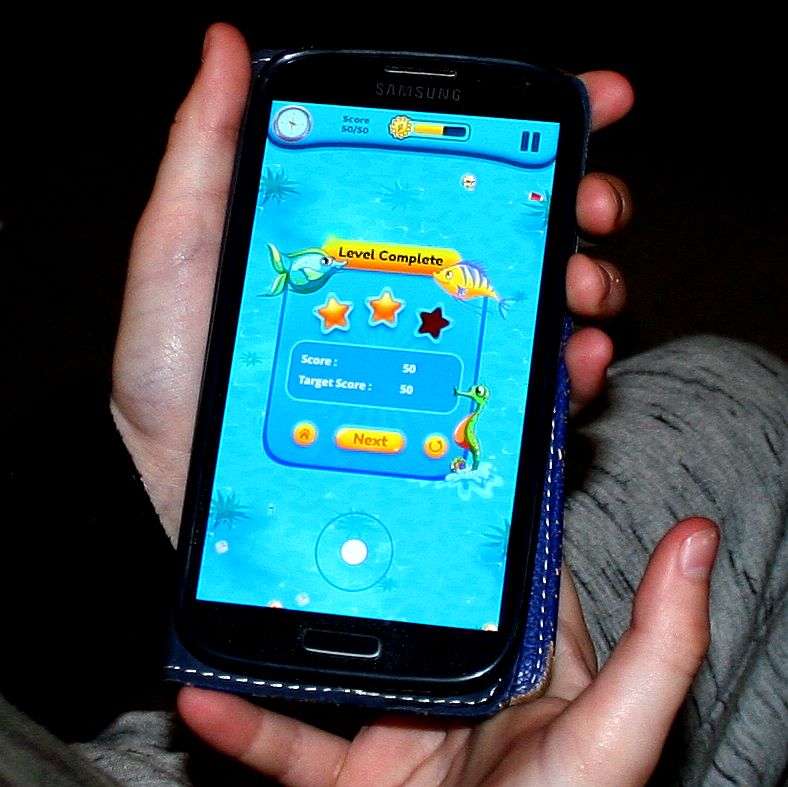 OUR FIRST CROWDFUNDING CALL GOES LIVE END OF APRIL 2019 - Children love playing games on smartphones. What better way to help them learn about ocean pollution than to let them clean the oceans of marine litter with a solar powered vacuum ship. We only need to raise £15,000 to make this happen.
Your children can have a lot of fun steering a SeaVax vacuum cleaner through a series of oceans to catch marine waste. In playing the game children and young adults learn that marine pollution is a bad thing - and that if we don't keep on top of it, we lose. How much do we lose? Potentially a very serious loss where plastics are sponges for carcinogenic toxins that are entering our food chain. We are poisoning ourselves through ignorance and inaction at the rate of 8-12 million tons a year! As a result of your generosity this game will be available on popular App Stores for every youngster to download free of charge.
A SMALL contribution from you this year can make a BIG difference collectively. By working together we can CHANGE THINGS for the common good. Click on the picture above to see more.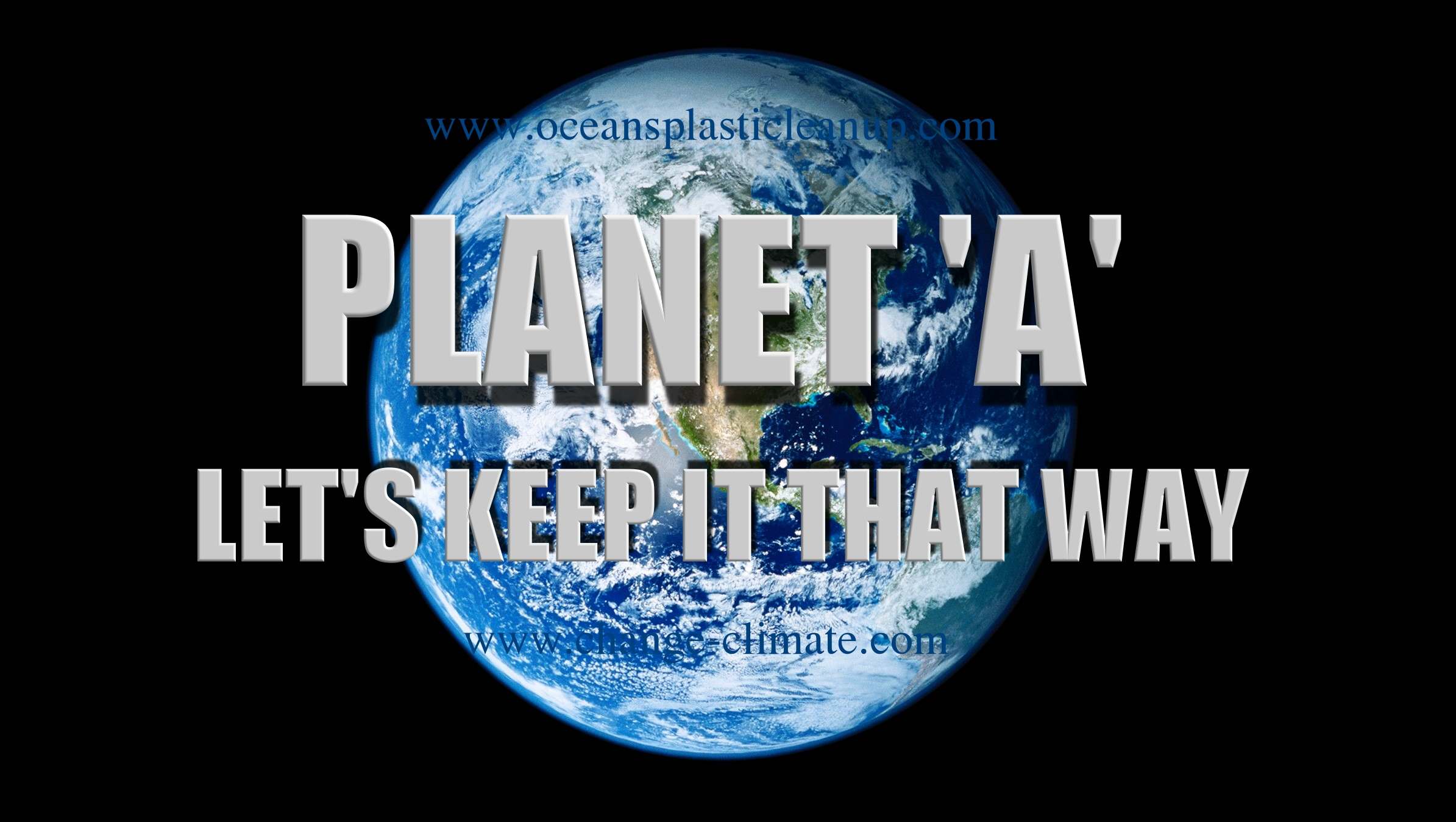 KATOWICE - The United Nations' climate summits are known as COP = Conference Of the Parties. This was the 24th, meaning twenty-four years during which these global discussions have been unable to put in place a binding action plan to save us from global warming. In December 2018 the latest summit will took place in Katowice in Poland due to their high conferencing standards. This event is unique in starting with an open letter from fifty high profile companies to the UN calling for solid action to curb climate change. The next summit is in Santiago, Chile.
VITAL RESEARCH & DEVELOPMENT
We are the only organization working to remove macro and micro plastics from our oceans. Tackling the problem from the source, which ultimately involves removing microplastics from the ocean without harming the extant biology. Our research is therefore unique.

SeaVax will be a fully autonomous machine that has the ability to differentiate and separate marine biota from man-made polymer. It will collect micro to macro sized plastic via non-invasive ocean filtration with minimal –ve impact for maximal +ve effect. You can help us by supporting our research with any size donation.

OCT/NOV 2018 - The European Parliament voted to ban single use plastics and in England, record numbers of volunteers turned out to clean the beaches against warnings of shocking levels of plastic.
PROGRESS REPORT
Before May 17, Bluebird Marine Systems had done an outstanding job developing the design and testing of the SeaVax concept - with generous financial assistance from Avaaz crowd funding. Bluebird Marine will continue to provide us with technical services and other know-how as a project partner - as before - on a not-for-profit basis.
In June 2017 we began by improving the water testing facilities in Sussex, England, with a covered way from the robotics workshops to the tank where they were separated by some 12 meters of uneven mud and grass. We are seeking grant funding and/or sponsors to take the 1/20th scale proof of concept model to a 1/2 scale ocean going prototype cleaning machine and beach launcher/recovery vehicle. We are also seeking risk share associates for the Miss Ocean and Mister Ocean competitions and the follow-on ocean awareness tours.
In February of 2018:
1. We improved the portable power supply capability in our robot lab, with additional batteries and charging facilities. This year we are building a gimbal head for a powered lift/lowering mechanism to test SeaVax and other advanced low carbon craft in our test tank.
2. We sourced additional robot parts for the Amphimax, where we will replace rigid caterpillar bogies with swivel axles to be able to see how much better the traction will be over a rough beach - and if it is worth incorporating such a feature in the full size portable boatyard.
3. We fitted banks of fans to simulated high winds for our test tank experiments.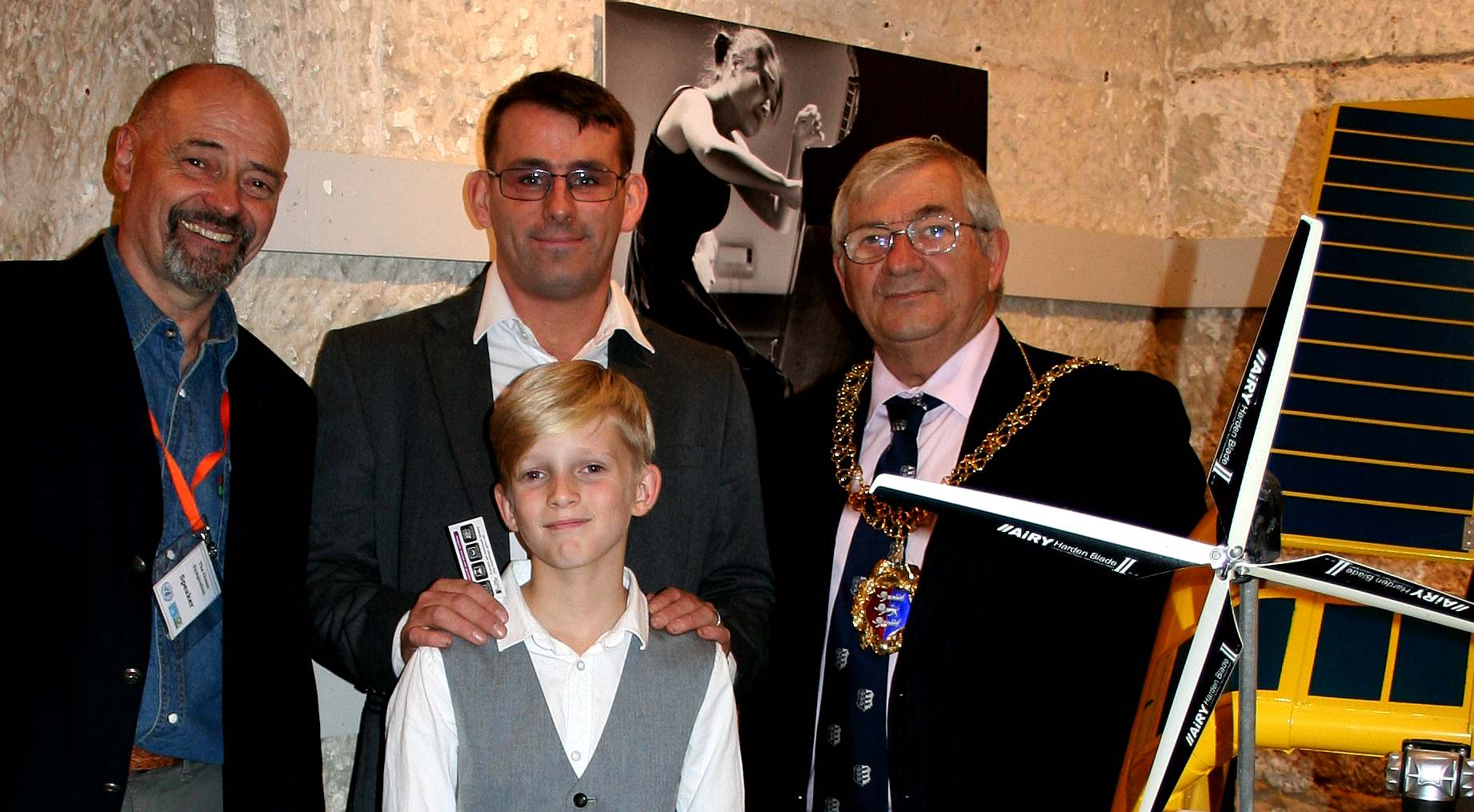 SYMPOSIUM HASTINGS - Three of our volunteer crew were at this event in Hastings thanks to the sterling efforts of Gonzalo Alvarez, Sarah Ward and other members of the Bexhill branch of the UK United Nations Association. The youngest team member was Ryan Dusart, 10, who helped to man the stand in the Crypt, and explain how SeaVax works to visitors. The Mayor of Hastings, Councillor Nigel Sinden, is seen here before he welcomed delegates and declared the event open. Copyright © photograph September 22 2018. All rights reserved. You will need the permission of the Cleaner Ocean Foundation to reproduce this picture except for educational use in school and colleges or for private research.
From March 2018 we needed to improve the state of our courtyard to make workshop deliveries safer and complete the rainwater goods on our lab where damp is an issue. We hoped such works will be completed by June 2018 so that a series of filmed robotic experiments can get under way.
1. We backfilled against the outer wall of our laboratory, made an aqueduct to direct rainwater from a high bank around the building to the rear and inset an underground drain to transfer water forward and down to a natural run off.
2. We also tanked and lined the inside of the lab, including fitting shelves for the robotic equipment. These measures cured the damp issue.
In April we:
1. Lined the underground water storage chamber with GRP.
2. Part concreted our driveway entrance.
3. We set in paths to the rear of our test tank to be able to be able to test larger machinery.
4. We created our figurehead in outline to be completed later in the year once other pressing building tasks are complete. We made the test tank carriage.
In May we attended the Maritime Day in Bulgaria. We also opened negotiations with the EU and UK in respect of potential cooperation past Brexit.
JULY 2018 - The test tank built while developing SeaVax in 2016/17 took another leap forward with the fabrication of the powered lifting and lowering mechanism for the wheeled carriage that takes the SeaVax proof of concept model out into the middle of the water basin and lowers the test craft into the water. Chris Close inspects his welding after lifting the rather heavy assembly into position on the stainless steel rails. Copyright © photograph July 15 2018. All rights reserved. You will need the permission of the Cleaner Ocean Foundation to reproduce this picture except for educational use in school and colleges or for private research.
In June we:
1. Made custom swivel caterpillar drives for the 1/20th scale Amphimax.
2. We designed test roller guides that will help during recovery simulations in our test tank.
3. We also coated our test tank in G4 sealant.
In July we coated (the G4) in our test tank in epoxy paint. We repaired/sealed a small leak in one corner of the sluice gate. We also improved our facilities to comply with heath and safety regulations, with separate washing arrangements for male and female volunteers. Finally, we installed an electric motor lift to the sluice gate.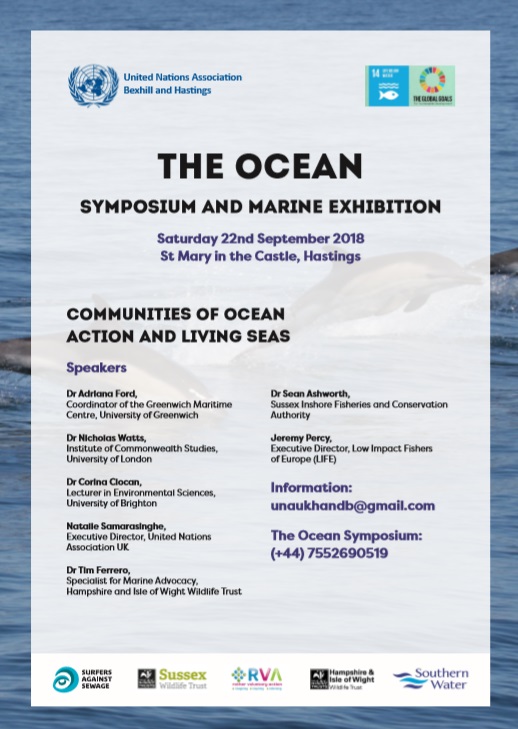 In September (22) we are at the Ocean Symposium at St Mary's in the Castle at Hastings in Sussex, England.
In January (26) we are at the 'Refill' event in the Enterprise Centre in Eastbourne.
LACK OF CONVENTIONAL FUNDING - Funding is not available for our kind of Blue Growth innovation. Our work falls in between pure research on the one hand (academics) and business development on the other, where social innovation is not about making money, meaning that a conventional for-profit business plan cannot be drawn up.
Projects like ours are somewhere in between and not catered for in the world of international finance such as United Nations projects, European Union initiatives or UK Government programmes where there is an end user to bill. This leaves SeaVax looking for other ways of raising operating funds - such as crowd funding and philanthropic donations - that are generally only very rare occurrences and cannot be relied on where the time for action is pressing.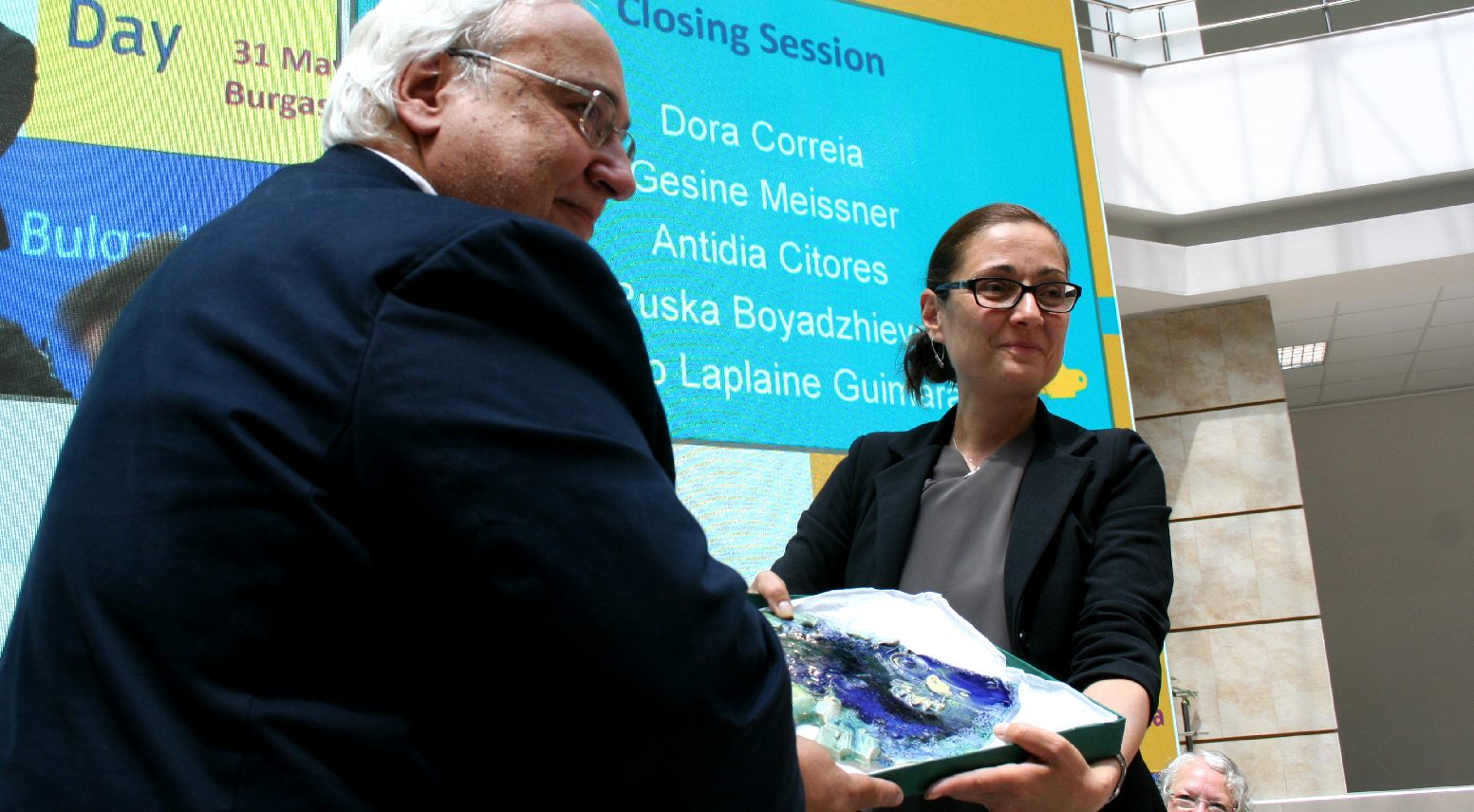 HANDOVER CEREMONY - Dr Alberto Guimarães accepts a gift of maritime art from Ruska Boyadzhieva, the deputy Mayor of Bulgas, Bulgaria. Alberto is the Secretary General of Lisbon City Council, Portugal. Copyright © photograph June 1 2018 Cleaner Ocean Foundation.
UNEA3 - The third meeting of the UN Environment Assembly was held on an exceptional basis, from 4-6 December 2017, with the high-level segment taking place on 5-6 December, and the Open Ended Committee of Permanent Representatives (OECPR) from 29 November to 1 December in Nairobi, Kenya. It was agreed that marine litter should be prioritized. Read more on by clicking on the picture above.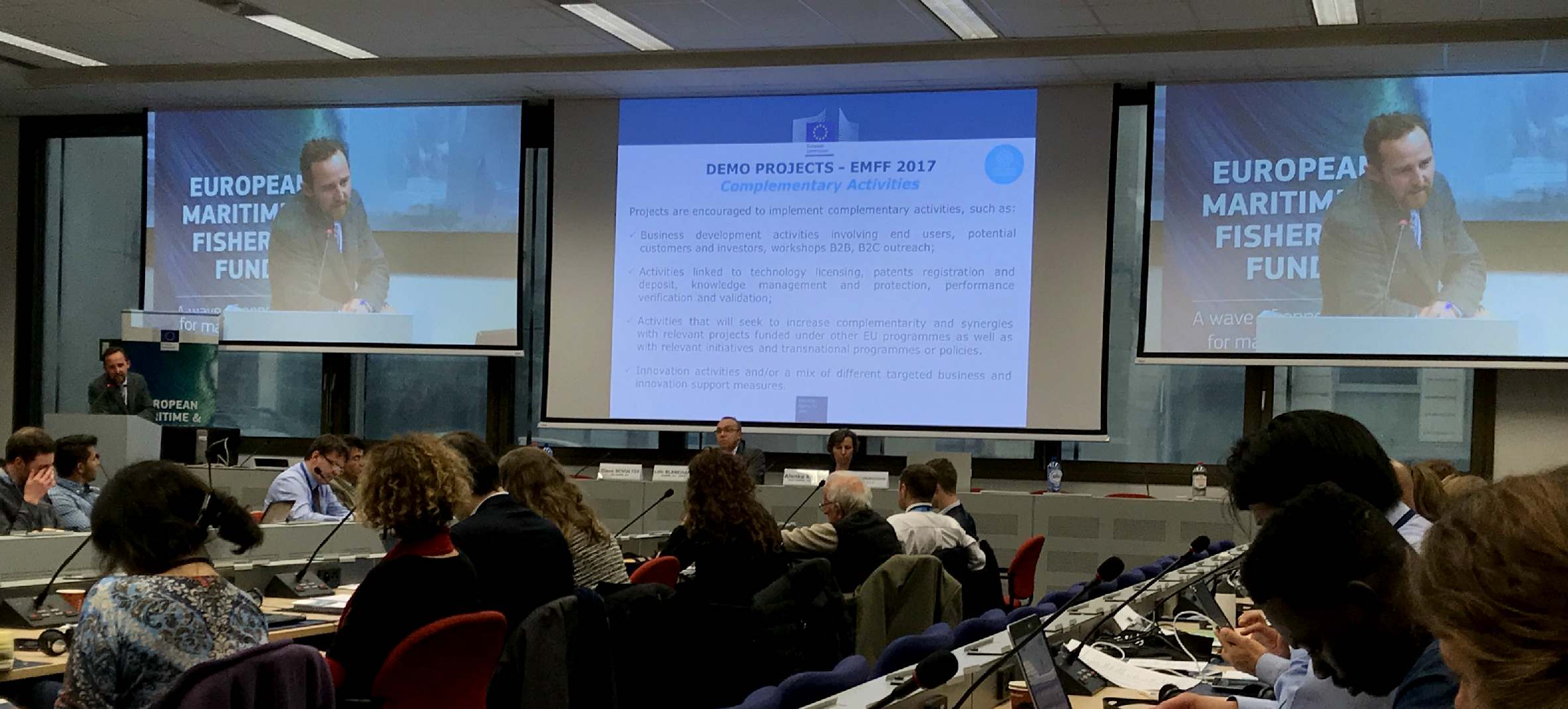 BRUSSELS 9 NOV 2017 MARINE LITTER LATEST: Claus Schultze from the DG MARE maritime innovation and marine knowledge & investment section of the European Union is seen here giving a passionate talk on marine litter to a packed house of some 247 delegates that, the present EMFF call was a pilot action and that it was up to the stakeholders represented by those in the audience, to provide feedback. In this speech it was acknowledged that desperately needed innovation "can only happen if we invest." The EU was taking this action in the hope of bridging the "financing gap," what he described as the "valley of death." The focus was on drivers and innovation. We could not agree with the speaker more and thank the EMFF for putting marine litter on their agenda. Our man in Brussels asked the question about Brexit and how that might affect any UK involvement as to project proposals.
OCEAN CLEANING INNOVATION - This amazing autonomous boat called "SeaVax", was on display at the Old Billingsgate exhibition centre in London on the 9-10th of November 2015 for Innovate 2015. Since that time a company called Bluebird Marine Systems has built a test tank and a robotics laboratory - and worked out a low cost method of launching and recovering the full size vessel. All of this was achieved on a small budget at cost, with the help of volunteers, students and an experienced steering committee.
THE OCEAN ECONOMY - The ocean is a vast resource that is underutilized in terms of energy generation and over fished to feed a growing world population as land is being absorbed to build on for housing and factories, so reducing agricultural potential. In short, we are exhausting our natural resources in order of ease - for maximum profits - a short term strategy. It is easier for us to take all the fish we can in the short term and fill the ocean with garbage and not worry about the consequences.
The use of plastic for packaging is just one horrifying example of major stakeholders using the most convenient means to get their product to market, while ocean literate policy makers watch marine life suffer as they grapple with ways to juggle economics and morals, hoping for a miracle. Prince Charles and the Ellen MacArthur foundation have joined forces by issuing a prize to help reduce plastic in packaging. We hope that initiatives like this will make the job of cleaning the ocean less daunting and perhaps one day: not needed at all. So well done to everyone involved in that endeavor.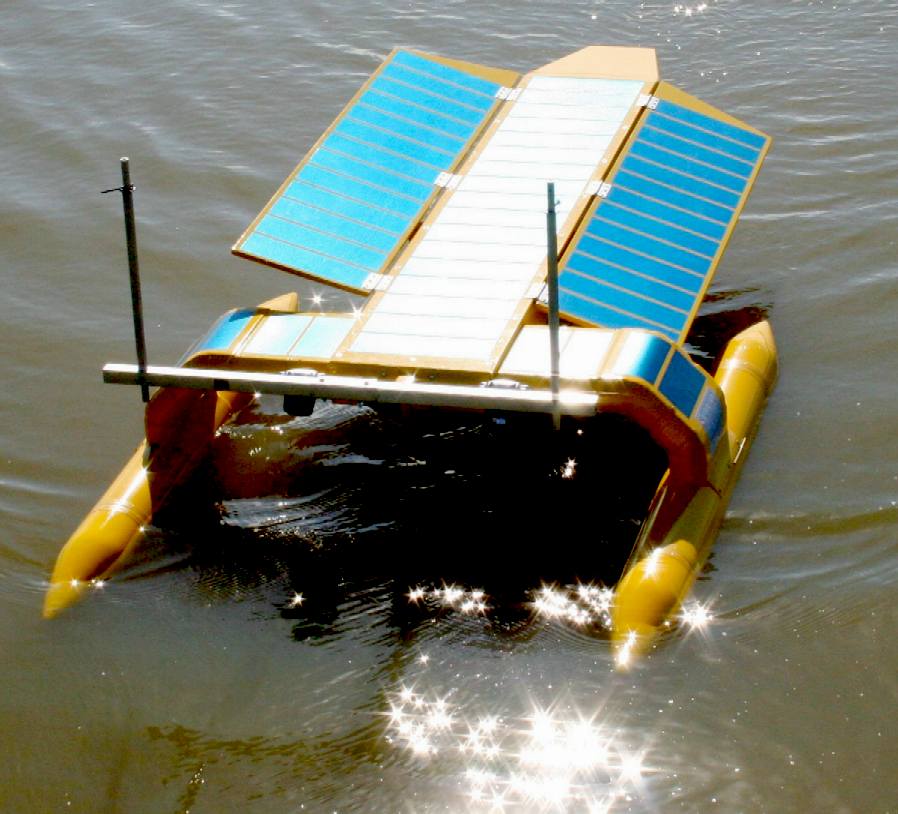 ONGOING R&D - Development of the solar powered ocean regenerating machine concept known as SeaVax continues with necessary improvement to the test tank facilities in Sussex, UK. The proof of concept model above has successfully filtered plastic waste from water in our test basin. Experiments will resume once the building works are completed. The machine is suitable for adaptation to river cleaning.
SEAVAX - SeaVax technology could help to put us back onto a path to ocean recovery. We aim to undertake vital research in the field of marine robotics, to try to understand what is possible if we apply some of the best innovations - such as the use of satellites to track ocean changes and currents - that may be applied to ocean cleaning techniques.
'SEAVAX' is just one of the many ocean cleanup projects that in our view holds the potential to make a difference if it can be applied effectively. There are many organizations working to clean the oceans, all contributing valuable input of which we are just one aiming to do our bit.
The Cleaner Oceans Foundation is inviting funding to be able to manage research to establish if ocean cleaning using dedicated selective fishing machines is a viable option in the search for a truly circular, blue economy.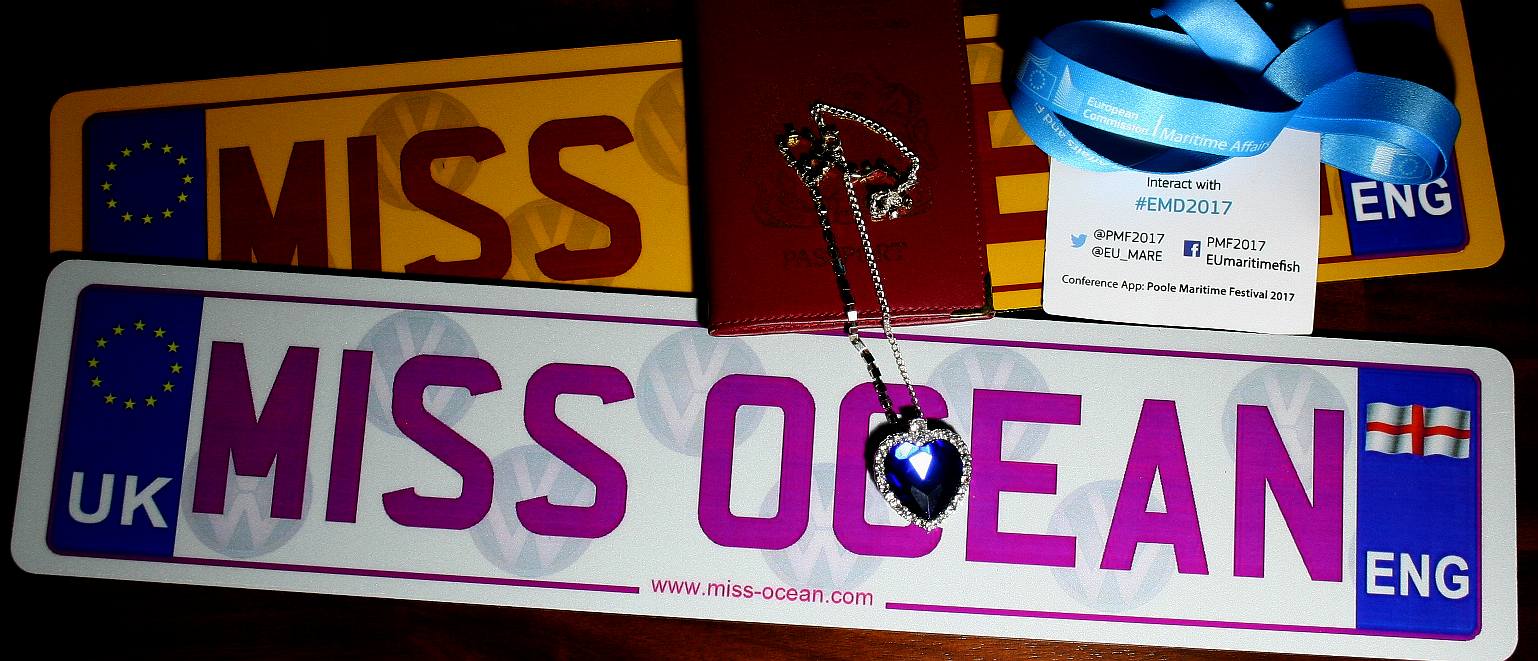 MISS OCEAN 2017 - European Maritime day was packed with ocean insight, as informed presenters shared their knowledge on the stage at the Lighthouse arts centre in Poole. One of the problems identified at this prestigious event was the lack of ocean literacy, hence apathy on the part of international stakeholders. We are perfecting the design of our crown for the Miss Ocean awareness campaign in the hope of gaining media attention for important marine matters. The Heart Of The Ocean is a bit of movie magic and is not real (though many wish it was), whereas our tiara is taking shape for the fortunate wearer in years to come. We are presently working on the vinyl wrap of our Miss Ocean tour bus and our studio where potential mermaids will be interviewed.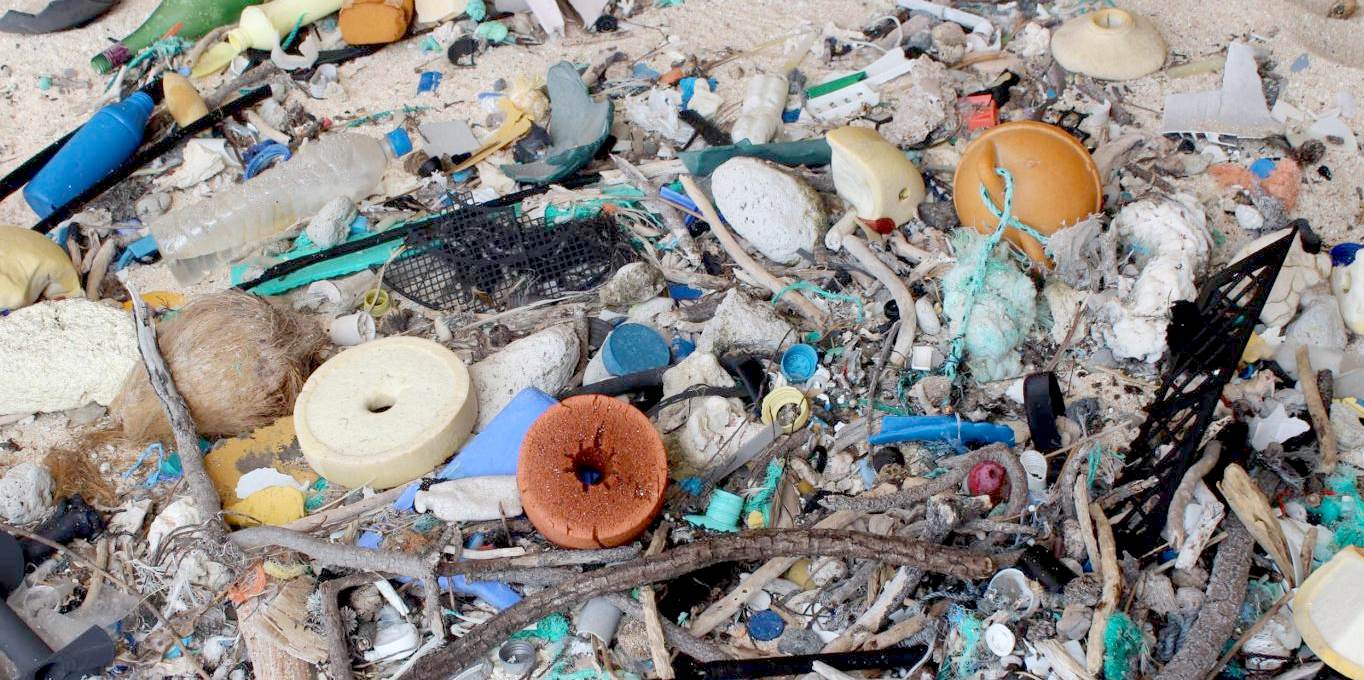 THE INDEPENDENT HENDERSON ISLAND - Beaches of a remote British island in the South Pacific are littered with an estimated 37.7 million pieces of plastic, scientists have discovered. The level of plastic pollution at uninhabited Henderson Island, part of the UK's Pitcairn Islands territory, is worse than anywhere else in the world. Investigators visiting the island found up to 671 items of plastic on every square metre (10 sq ft) of its otherwise pristine beaches. Henderson Island was designated a World Heritage Site by the United Nations in 1988.

This website is copyright © Cleaner Ocean Foundation Ltd (COF) (Company No: 4674774) 2018
Solar Studios, BN271RF, United Kingdom. COF is a charity without share capital. The name Miss Ocean™ is a trade mark of the Cleaner Oceans Foundation™. *Subject to funding.