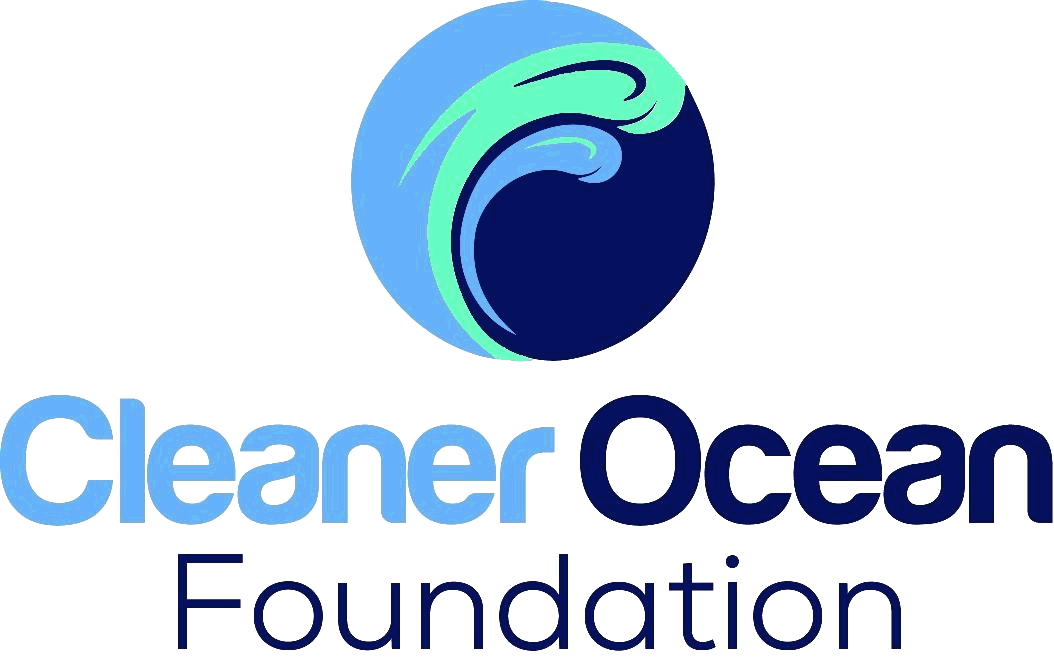 SEAVAX PROJECT DIARY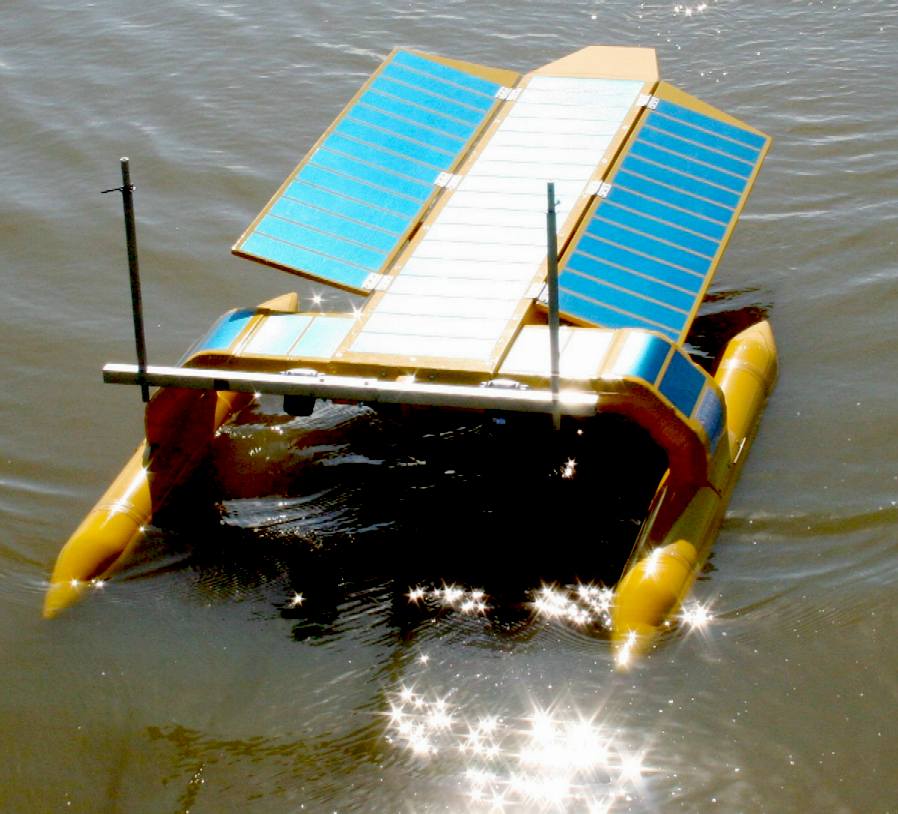 ONGOING R&D - Development of the solar powered ocean regenerating machine concept known as SeaVax continues with necessary improvement to the test tank facilities in Sussex, UK. The proof of concept model above has successfully filtered plastic waste from water in our test basin. Experiments will resume once the building works are completed. The machine is suitable for adaptation to river cleaning.
PROGRESS DIARY 2018
Before May 17, Bluebird Marine Systems had done an outstanding job developing the design and testing of the SeaVax concept - with generous financial assistance from Avaaz crowd funding. Bluebird Marine will continue to provide us with technical services and other know-how as a project partner - as before - on a not-for-profit basis.
In June 2017 we began by improving the water testing facilities in Sussex, England, with a covered way from the robotics workshops to the tank where they were separated by some 12 meters of uneven mud and grass. We are seeking grant funding and/or sponsors to take the 1/20th scale proof of concept model to a 1/2 scale ocean going prototype cleaning machine and beach launcher/recovery vehicle. We are also seeking risk share associates for the Miss Ocean and Mister Ocean competitions and the follow-on ocean awareness tours.
In February of 2018:
1. We improved the portable power supply capability in our robot lab, with additional batteries and charging facilities. This year we are building a gimbal head for a powered lift/lowering mechanism to test SeaVax and other advanced low carbon craft in our test tank.
2. We sourced additional robot parts for the Amphimax, where we will replace rigid caterpillar bogies with swivel axles to be able to see how much better the traction will be over a rough beach - and if it is worth incorporating such a feature in the full size portable boatyard.
3. We fitted banks of fans to simulated high winds for our test tank experiments.
From March 2018 we needed to improve the state of our courtyard to make workshop deliveries safer and complete the rainwater goods on our lab where damp is an issue. We hoped such works will be completed by June 2018 so that a series of filmed robotic experiments can get under way.
1. We backfilled against the outer wall of our laboratory, made an aqueduct to direct rainwater from a high bank around the building to the rear and inset an underground drain to transfer water forward and down to a natural run off.
2. We also tanked and lined the inside of the lab, including fitting shelves for the robotic equipment. These measures cured the damp issue.
In April we:
1. Lined the underground water storage chamber with GRP.
2. Part concreted our driveway entrance.
3. We set in paths to the rear of our test tank to be able to be able to test larger machinery.
4. We created our figurehead in outline to be completed later in the year once other pressing building tasks are complete. We made the test tank carriage.
In May we attended the Maritime Day in Bulgaria. We also opened negotiations with the EU and UK in respect of potential cooperation past Brexit.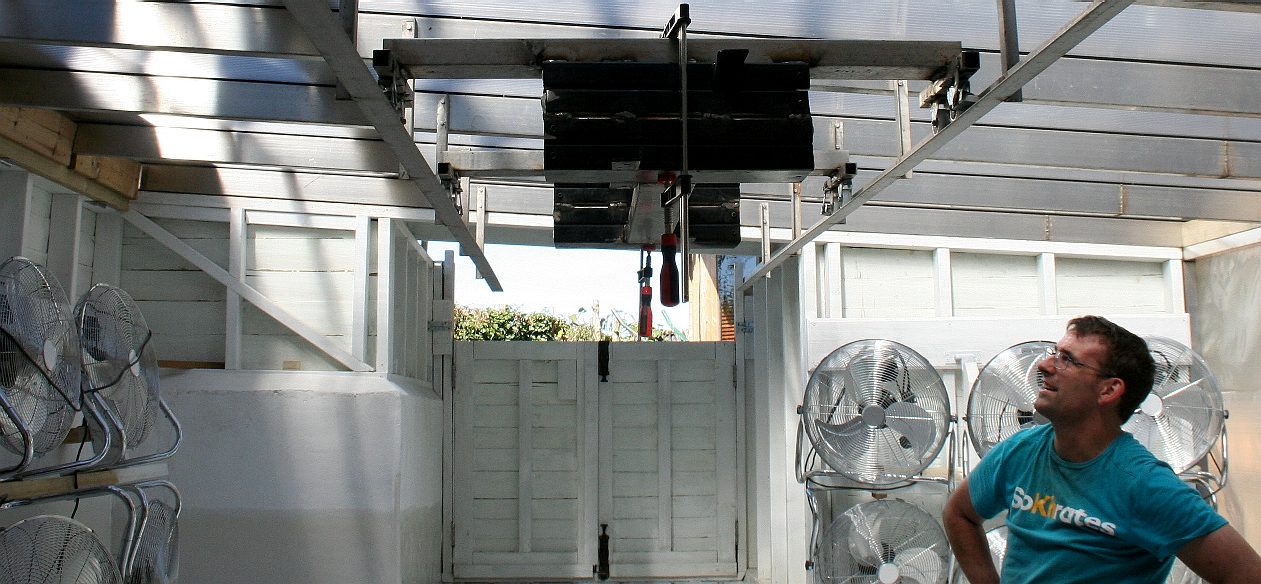 JULY 2018 - The test tank built while developing SeaVax in 2016/17 took another leap forward with the fabrication of the powered lifting and lowering mechanism for the wheeled carriage that takes the SeaVax proof of concept model out into the middle of the water basin and lowers the test craft into the water. Chris Close inspects his welding after lifting the rather heavy assembly into position on the stainless steel rails. Copyright © photograph July 15 2018. All rights reserved. You will need the permission of the Cleaner Ocean Foundation to reproduce this picture except for educational use in school and colleges or for private research.
In June we:
1. Made custom swivel caterpillar drives for the 1/20th scale Amphimax.
2. We designed test roller guides that will help during recovery simulations in our test tank.
3. We also coated our test tank in G4 sealant.
In July we coated (the G4) in our test tank in epoxy paint. We repaired/sealed a small leak in one corner of the sluice gate. We also improved our facilities to comply with heath and safety regulations, with separate washing arrangements for male and female volunteers. Finally, we installed an electric motor lift to the sluice gate.
In September (22) we are at the Ocean Symposium at St Mary's in the Castle at Hastings in Sussex, England.
In January (26) we are at the 'Refill' event in the Enterprise Centre in Eastbourne.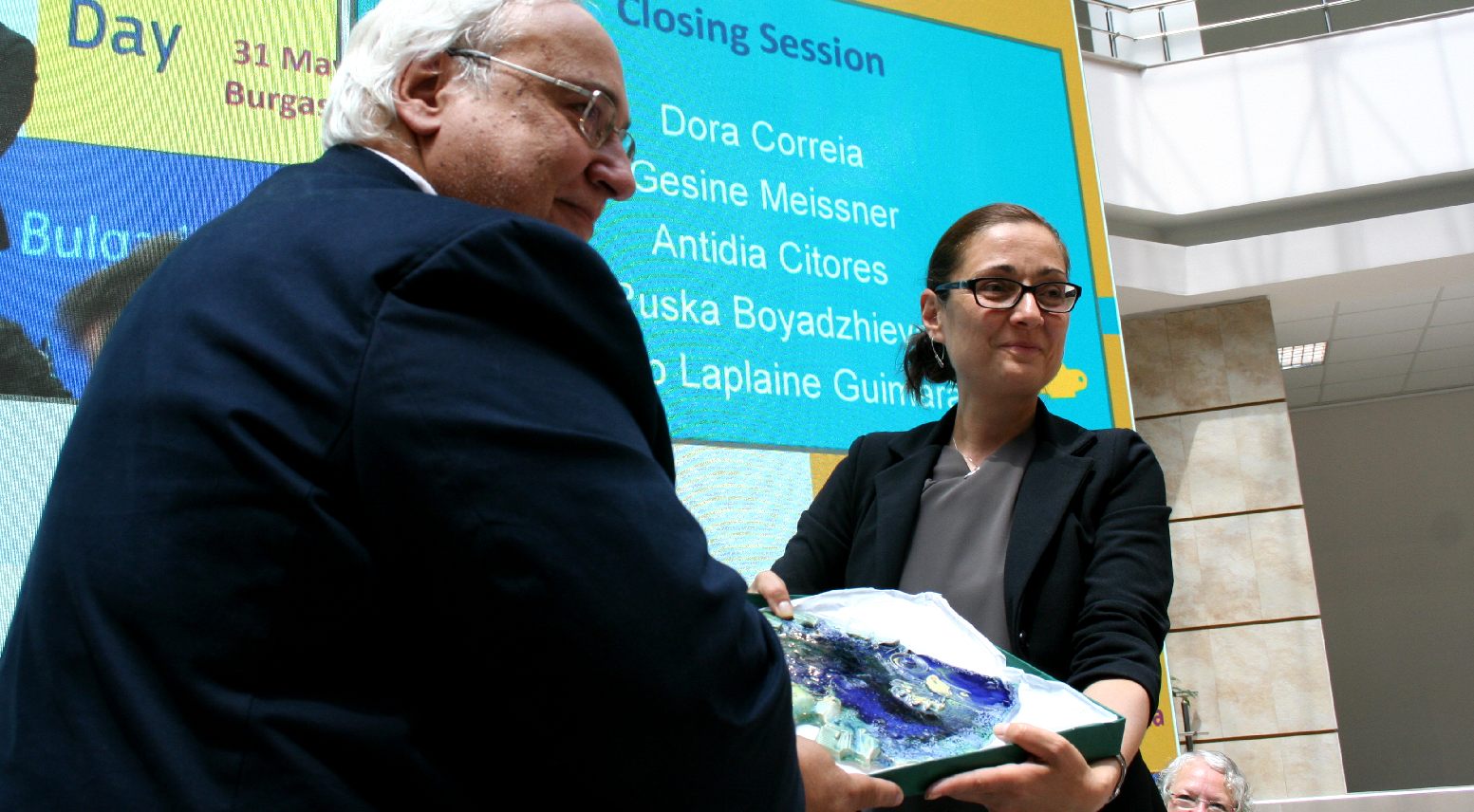 HANDOVER CEREMONY - Dr Alberto Guimarães accepts a gift of maritime art from Ruska Boyadzhieva, the deputy Mayor of Bulgas, Bulgaria. Alberto is the Secretary General of Lisbon City Council, Portugal. Copyright © photograph June 1 2018 Cleaner Ocean Foundation.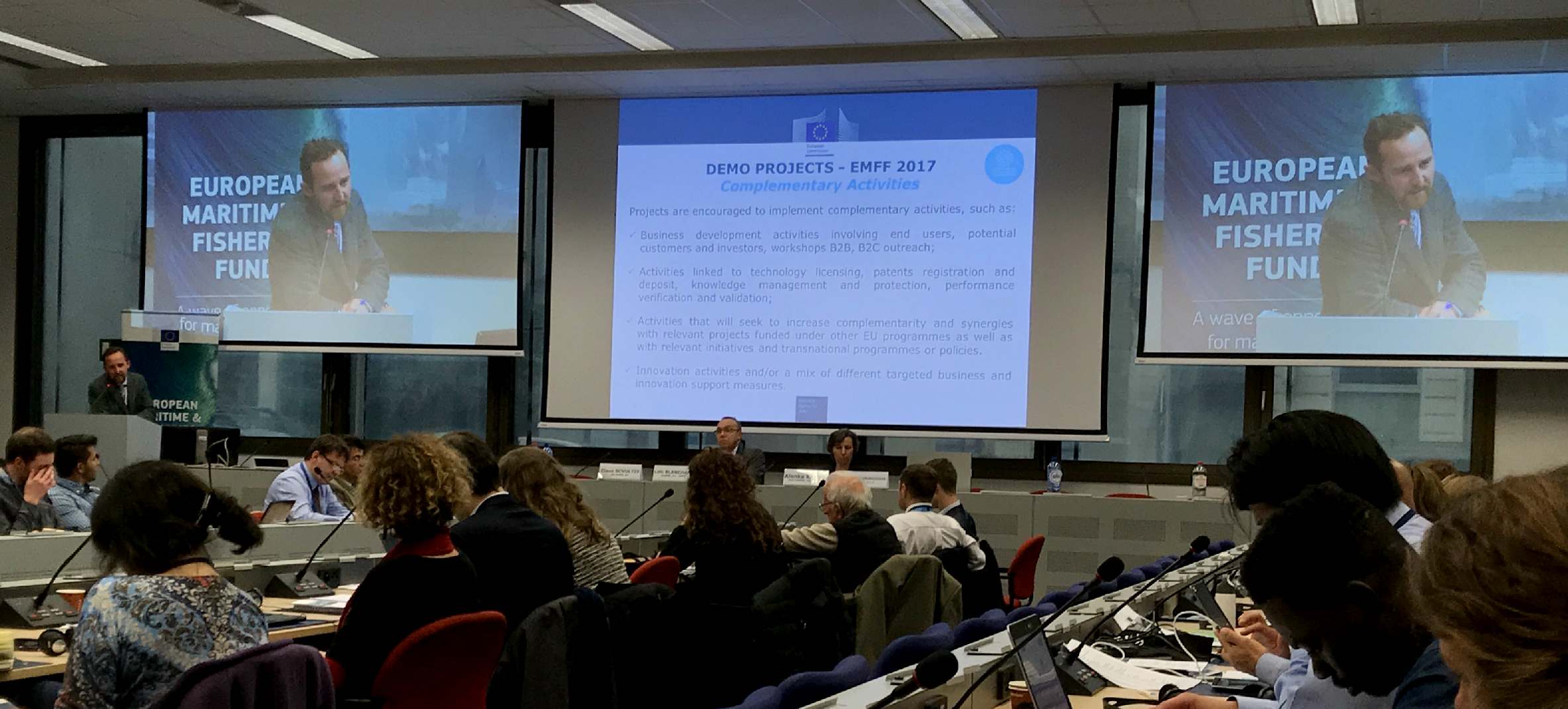 BRUSSELS 9 NOV 2017 MARINE LITTER LATEST: Claus Schultze from the DG MARE maritime innovation and marine knowledge & investment section of the European Union is seen here giving a passionate talk on marine litter to a packed house of some 247 delegates that, the present EMFF call was a pilot action and that it was up to the stakeholders represented by those in the audience, to provide feedback. In this speech it was acknowledged that desperately needed innovation "can only happen if we invest." The EU was taking this action in the hope of bridging the "financing gap," what he described as the "valley of death." The focus was on drivers and innovation. We could not agree with the speaker more and thank the EMFF for putting marine litter on their agenda. Our man in Brussels asked the question about Brexit and how that might affect any UK involvement as to project proposals.
This website is copyright © Cleaner Ocean Foundation Ltd (COF) (Company No: 4674774) 2019
Solar Studios, BN271RF, United Kingdom. COF is a charity without share capital. The name Miss Ocean™ is a trade mark of the Cleaner Oceans Foundation™. *Subject to funding.