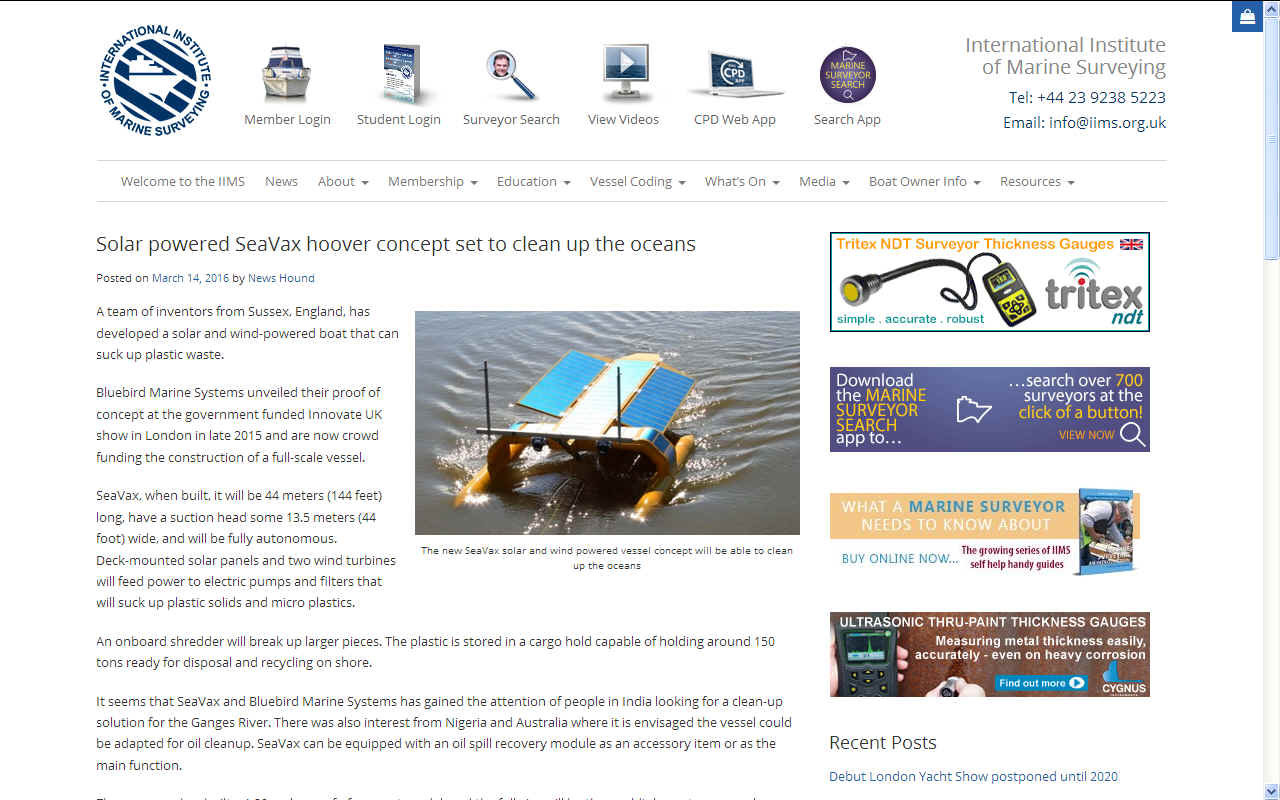 OCEAN VACUUM - Filtration is the name of the game. This solar and wind powered boat could provide the answer to macro and micro plastic accumulations in the five gyres, allied to other ocean plastic cleanup projects such as that of Boyan Slat. The main issue to overcome with social enterprises such as this is how to fund such development.
SOLAR POWERED SEAVAX HOOVER CONCEPT SET TO CLEAN UP THE OCEANS

A team of inventors from Sussex, England, has developed a solar and wind-powered boat that can suck up plastic waste.

Bluebird Marine Systems unveiled their proof of concept at the government funded Innovate UK show in London in late 2015 and are now crowd funding the construction of a full-scale vessel.

SeaVax, when built, it will be 44 meters (144 feet) long, have a suction head some 13.5 meters (44 foot) wide, and will be fully autonomous. Deck-mounted solar panels and two wind turbines will feed power to electric pumps and filters that will suck up plastic solids and micro plastics.

An onboard shredder will break up larger pieces. The plastic is stored in a cargo hold capable of holding around 150 tons ready for disposal and recycling on shore.

It seems that SeaVax and Bluebird Marine Systems has gained the attention of people in India looking for a clean-up solution for the Ganges River. There was also interest from Nigeria and Australia where it is envisaged the vessel could be adapted for oil cleanup. SeaVax can be equipped with an oil spill recovery module as an accessory item or as the main function.

The company has built a 1:20 scale proof of concept model, and the full-size will be the world's largest vacuum cleaner. Posted on March 14, 2016 by News Hound
ABOUT IIMS

The International Institute of Marine Surveying (IIMS) is an independent, non-political organisation promoting the professionalism, recognition and training of marine surveyors worldwide.

The IIMS defines marine surveying as: "The service provided to maritime and transport organisations in general and the production of guidance reports for all other bodies connected with maritime operations or maritime trade".

The IIMS is the professional body for marine surveyors and has a worldwide membership of around 1,000 individuals in over 90 countries. It is the largest organisation of its kind and seeks to represent its industry to government and non-governmental organisations such as the International Marine Organisation (IMO), Coastguards, insurance companies and ship owners.

The IIMS provides a range of services and benefits to its members, allied organisations and to the wider shipping and boating world, including:
• Maintaining a comprehensive database of member marine surveyors
• Professional training courses for marine surveyors
• A distance learning Professional Qualifications education programme in yacht and small craft and commercial ship marine surveying
• The Report, a well-produced, editorially rich quarterly publication highlighting key marine surveying topics and news
• Conferences and meetings internationally providing a place for the marine surveying industry to meet and network
• Acting as an MCA approved vessel coding certifying authority duly authorised by the Maritime & Coastguard Agency

The IIMS is led by a President, supported by a Vice President and a Management Board. This structure is supported by a Chief Executive Officer and head office team based at Portchester in the UK. In addition, there are overseas representatives in 17 regions worldwide.

The Management Board has 23 members all with many years experience in the marine surveying industry. Of those 10 board members are UK based and the remaining 13 are located in the areas in which the IIMS operates around the world.

In 2016 IIMS came of age when it celebrated its 25th Anniversary.

The global regions covered by IIMS board members and overseas representatives are: Asia, Australasia, Bangladesh, Cameroon, China, Croatia/Adriatic, Dubai, East Africa, Germany, India, Ireland, Italy, Malaysia, Maldives, Malta, Mexico, New Zealand, Panama, Pakistan, Peru, Philippines, Qatar, Reunion Island & Mauritius, Sweden, Turkey, Trinidad, Tunisia, UK, USA.

The Institute holds conferences each year in many of these regions and a Conference and Annual General Meeting in the UK. Members travel from all over the world to network with peers, learn about marine industry developments and get updates on the wider work of the IIMS.

Branches of the Institute are located in Australia, Canada, India, Nigeria, Pakistan and UAE. Each branch has a Chairman and full working committee.
CONTACT IIMS
International Institute of Marine Surveying
Murrills House
48 East Street
Portchester
Hampshire
PO16 9XS
United Kingdom

Telephone +44 (0) 23 9238 5223

Email: info@iims.org.uk
Skype: marinesurveying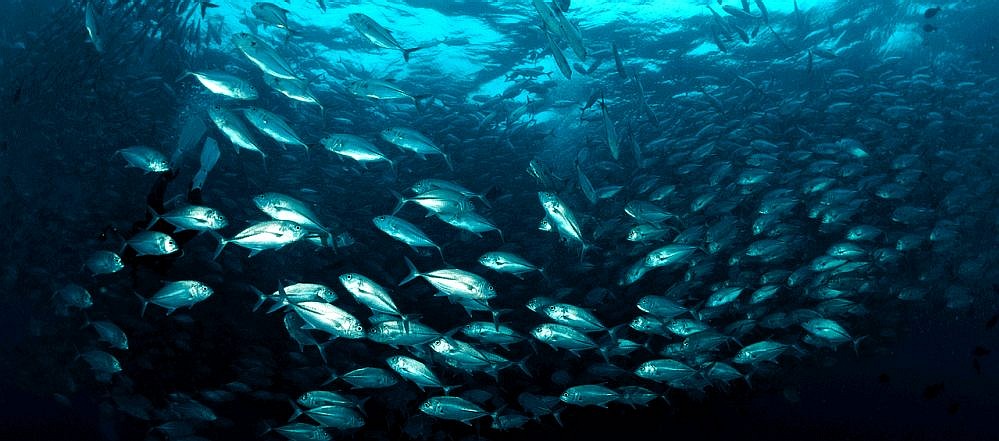 PLASTIC SEAS - While the coral below is being bleached by changing ocean chemistry, marine life now has to cope with micro plastic particles, fishing nets and other manmade pollution. It's a brave new world where the industrialist mankind is free to plunder and destroy our natural resources for profit. Fortunately, some responsible corporations have a conscience and are trying to do something about our dwindling wild fish stocks.
LINKS & REFERENCE
https://www.iims.org.uk/solar-powered-seavax-hoover-concept-set-to-clean-up-the-oceans/
https://goumbook.com/meet-seavax-solar-wind-powered-ship-suck-plastic-waste-oceans/
ACIDIFICATION - ADRIATIC - ARCTIC - ATLANTIC - BALTIC - BAY BENGAL - BERING - CARIBBEAN - CORAL - EAST CHINA SEA
ENGLISH CH - GOC - GULF GUINEA - GULF MEXICO - INDIAN - IOC - IRC - MEDITERRANEAN - NORTH SEA - PACIFIC - PERSIAN GULF - SEA JAPAN - STH CHINA - PLASTIC - PLANKTON - PLASTIC OCEANS - SEA LEVEL RISE - UNCLOS - UNEP WOC - WWF