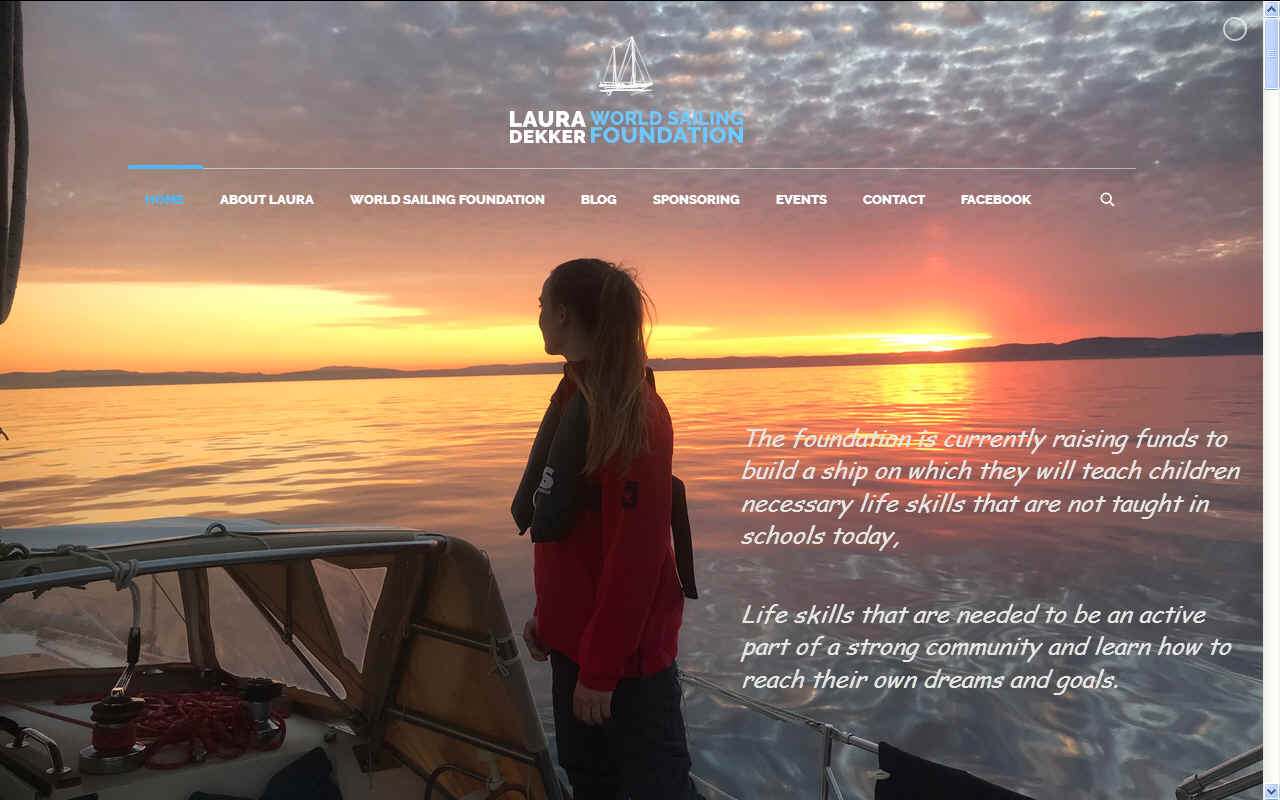 CHRISTENING - On Tuesday morning 28 May, sailor Laura Dekker officially christened the first Dutch solar boat for the open sea. Subsequently, the TU Delft Solar Boat Team showed its new solar boat to the world for the first time. The TU Delft Solar Boat Team is a student team from TU Delft that designs, produces, tests and finally races alongside a solar boat in one year. With this boat they plan to win the world championship for solar boats in Monaco next summer and to break the world record by crossing the Channel as the fastest solar boat in the world.
Laura Dekker is the youngest sailor ever to sail the world solo.
As a 14-year-old she left Gibraltar to realize her big dream. After a journey of 50,000 kilometers, she arrived in Sint Maarten in 2012 and had successfully completed her world tour.
Kristian Ruiter, team manager of the TU Delft Solar Boat Team, thinks it is logical that Laura Dekker baptizes the boat: "Not everyone welcomed her plan to sail the world solo. Yet she was determined to pursue her dreams, no matter how young she was. In this way she has demonstrated what you can achieve with enormous perseverance and determination.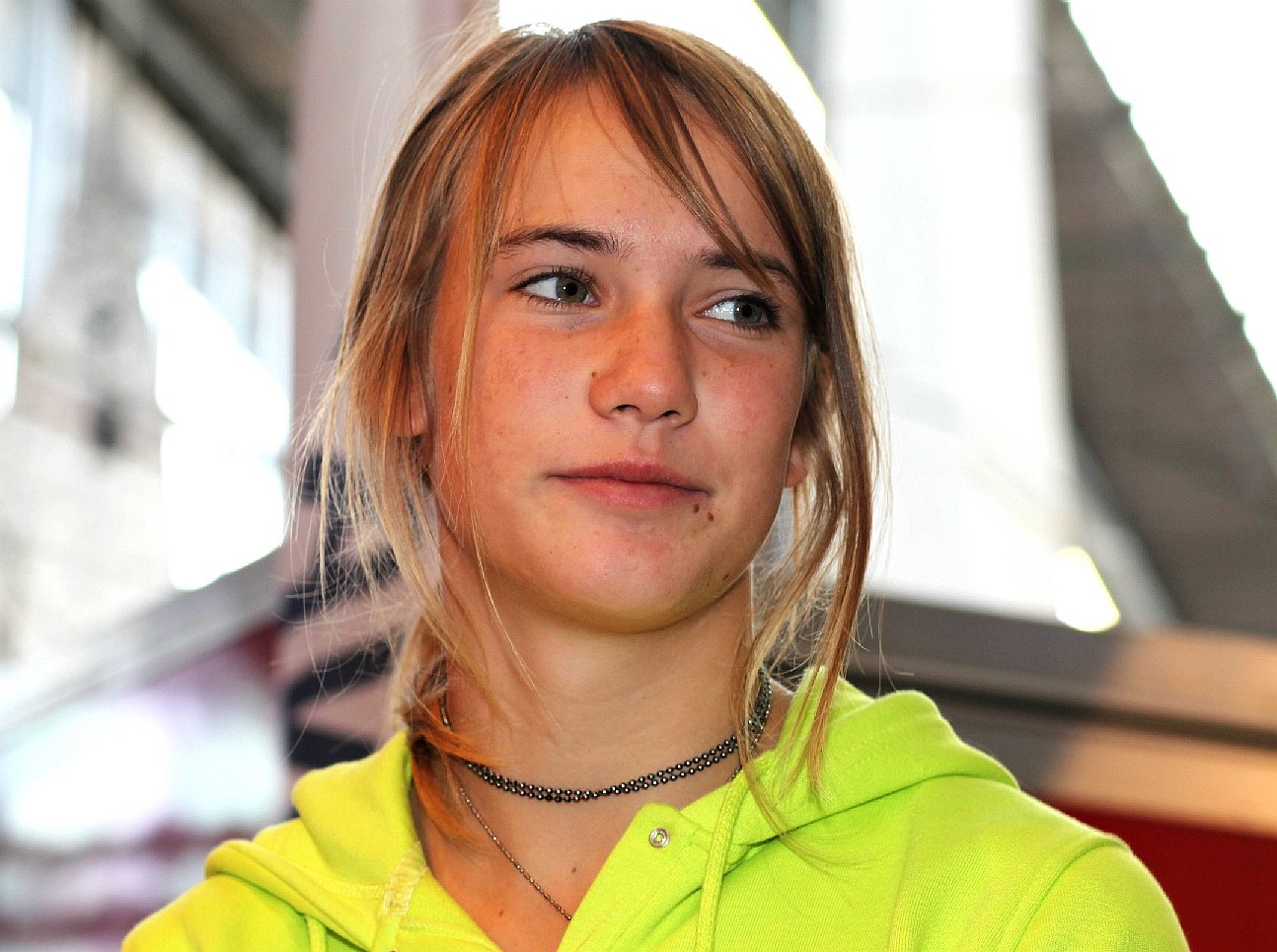 Laura Dekker: "But just like me, the TU Delft Solar Boat Team also received some skewed eyes when they announced their project. It would be impossible and crazy work, certainly at such a young age.
And at that time it was of course impossible, just as many people thought it would be impossible for a 14-year-old girl to sail around the world. "This is exactly what inspires our team to win the world championship for solar boats in Monaco next summer and to break the world record by crossing the Channel as the fastest solar boat in the world ".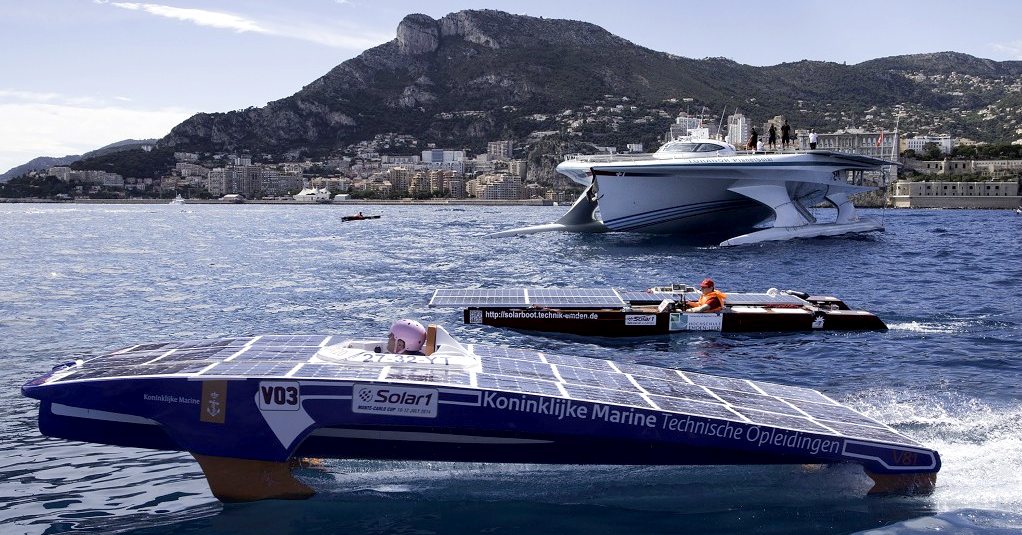 IN GOOD COMPANY - Laura is part of a move to zero carbon boating that could be the trigger for green ocean cargo ships and cruise liners.
World championship and world record attempt
The TU Delft Solar Boat Team is the first student team to take on the challenge of building a solar boat that will brave the rough sea. To cope with the high waves and strong gusts of wind on the open sea, this year's boat is shaped like a trimaran. This is a boat with three hulls, making the boat wide enough to provide the required stability. With a larger solar boat of eight meters long and six meters wide, there will also be a considerably larger sun deck. The sundeck covers no less than 28 square meters, which is the same size as nine double beds put together. The sundeck provides enough energy to use three kettles at the same time Thanks to the use of supporting wings, the trimaran can not only sail but also fly above the water at high speed. These bearing wings lift the three hulls out of the water, drastically reducing the water resistance. This allows the solar boat to achieve a high speed on the energy that is only obtained from the sunlight. Furthermore, not one, but three passengers can sail in the boat this year. This is a major step towards passenger shipping, with which the team demonstrates that solar-powered sailing is also a good option in practice.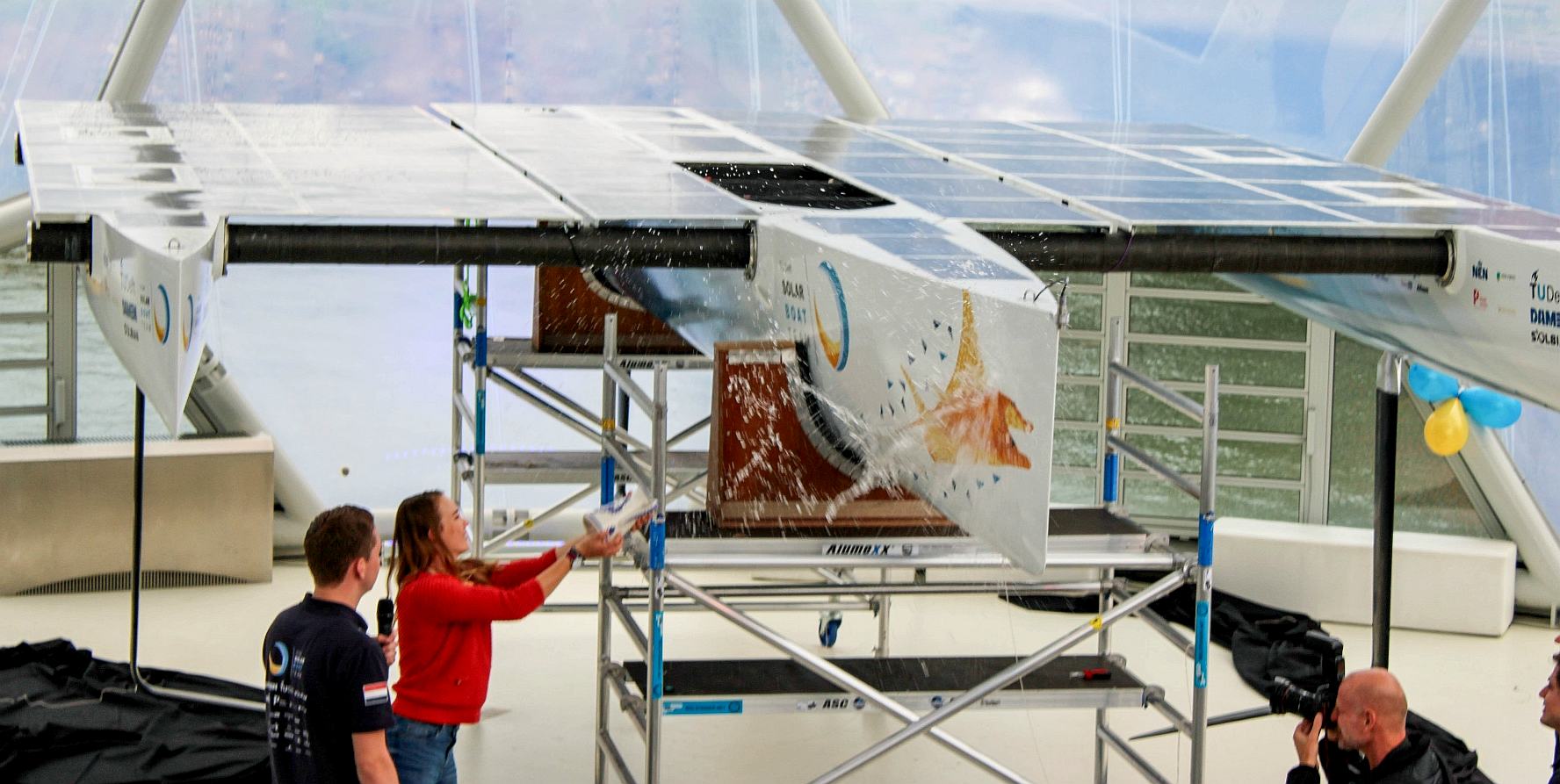 CHRISTENING - 8 metres long, 6m wide with deck space to accommodate 28 square metres of solar panels - enough power to boil three kettles at once.
The team will participate this summer in the largest international competition for solar boats: The Solar & energy boat challenge. The race consists of two stages of more than 90 kilometers between France and Italy. To win the competition, the fastest time will have to be set at both stages.
The team will do everything they can to win the competition, although that will be a real challenge because there is a fight against companies and individuals. In addition to winning the competition, the goal next year is to break the world record by crossing the English Channel as the fastest solar boat ever.
At the end of July the team will try to cover this famous stretch of sea between Calais and Dover in record time. By participating in the race in Monaco and the world record attempt, the team wants to show that a great deal is already possible with sustainable technologies, even on the open sea, and thereby inspire the maritime sector.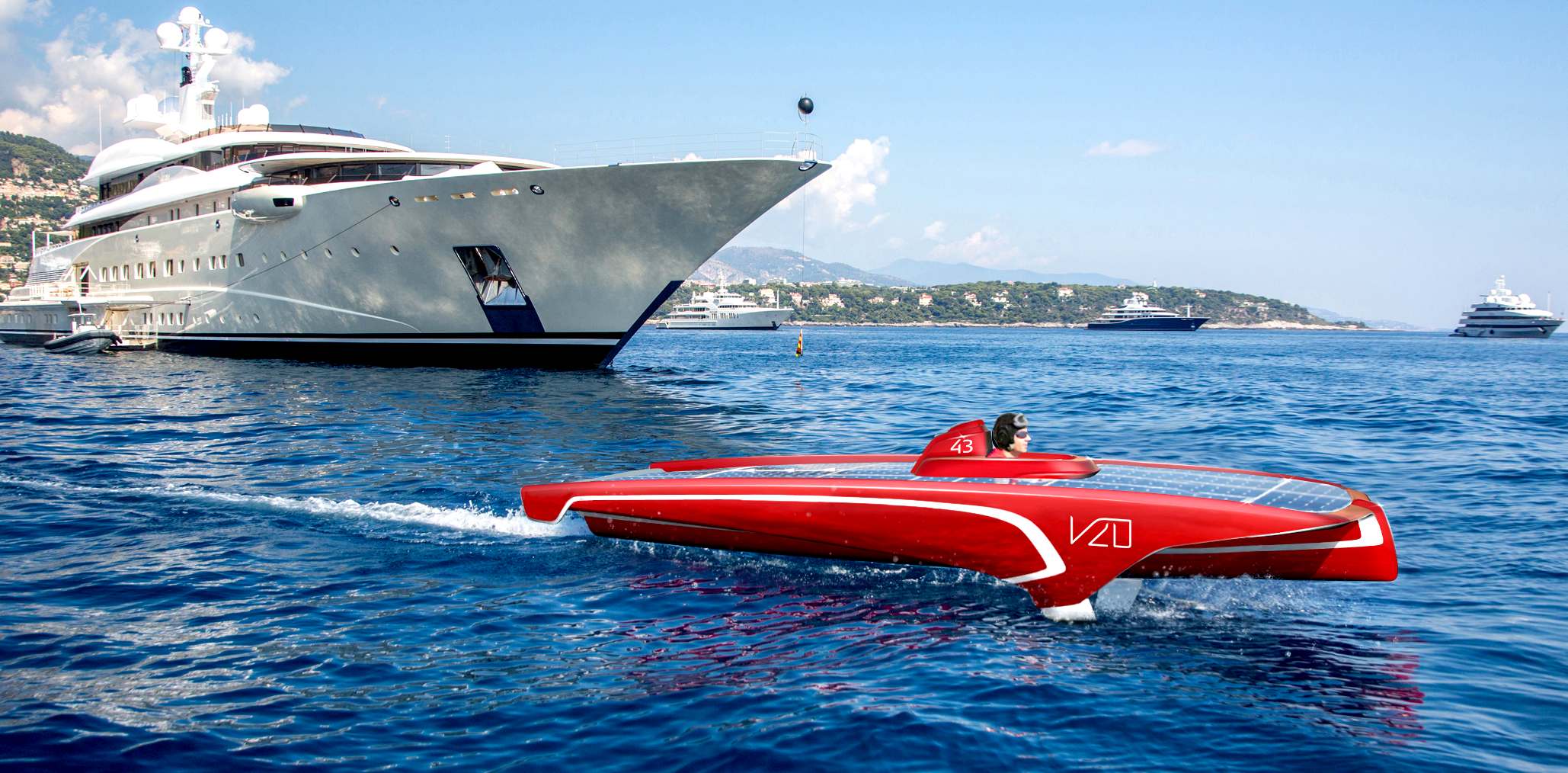 MONACO - Solar boat racing is popular at this Mediterranean venue, with support from Prince Albert and the Monaco Yacht Club.
The TU Delft Solar Boat Team

The TU Delft Solar Boat Team consists of 28 students from ten different faculties at TU Delft. In one year, the students of the team go through the process of designing, producing, testing and finally racing with a solar boat. Since its foundation in 2005, the TU Delft Solar Boat Team has been trying to inspire the maritime sector to sail with fewer emissions. Until last year the students did this by participating in races for inland waterway solar boats. With this they have shown what a student team can achieve through the use of solar energy.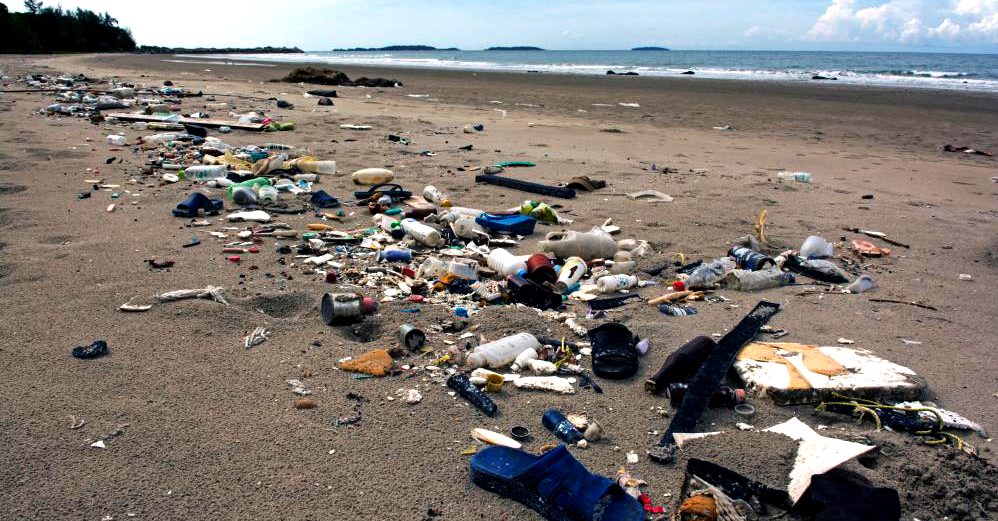 OCEAN UNDER FIRE - Waste in the ocean is threatening all marine life, potentially ruining the environment for mariners in all walks of life. Clean solar and sailing craft are no danger to the oceans, offering us an alternative. Plastic was a by-product of petroleum, but is now a full-on industry looking for sustainable solutions.
MORE ABOUT LAURA
Laura was born at Whangarei, New Zealand on the 20th of September 1995 during a circumnavigation by her parents. She holds New Zealand and Dutch nationalities and speaks English, Dutch & German.
Laura lived with her father after their parents divorced. Her dad was building a 70ft Norwegian fishing cutter from scratch at that time. She helped him with this project inspiring her to build her first raft when 6 years old.

Laura began racing her own Optimist and later a Mirror on the Dutch rivers where they were living.

By the time she was 10 she had convinced a friend of her father to let her repair and use an old Hurley 700 (7 meter seaworthy sailboat).

The following summer Laura sailed the Hurley boat solo around Holland and the Wadden Islands for seven weeks.

She loved to sail alone with her dog Spot. Laura cleaned shops, performed on a unicycle in the streets and delivered newspapers to make money to buy her own yacht.

Aged 11, Laura bought her own Hurley 700, spending her free time maintaining and sailing this boat.
When 13 she sailed alone to England. From here Laura decided to chase her dream to sail around the world, but the Dutch government stepped in to take permission from her parents.
Laura's plan and the intervention by the government received considerable international attention. The issues discussed included, aside from personal matters, the topic of to what degree the government has a right to intervene when minors engage in risky behaviour that is parentally supported.

According to Dutch inland shipping regulations, it is prohibited for a captain younger than sixteen years to sail a boat longer than seven meters in Dutch waters; thus Dekker would not be allowed to use the boat for any solo excursions within the Netherlands until 2012.
Typically, and something we greatly admire is that she still did so. Unfortunately, with the effect that the police required her father to come and sail the boat home together with her. The circumnavigation, however, would not start in the Netherlands, thus Dutch naval regulations did not apply to her voyage.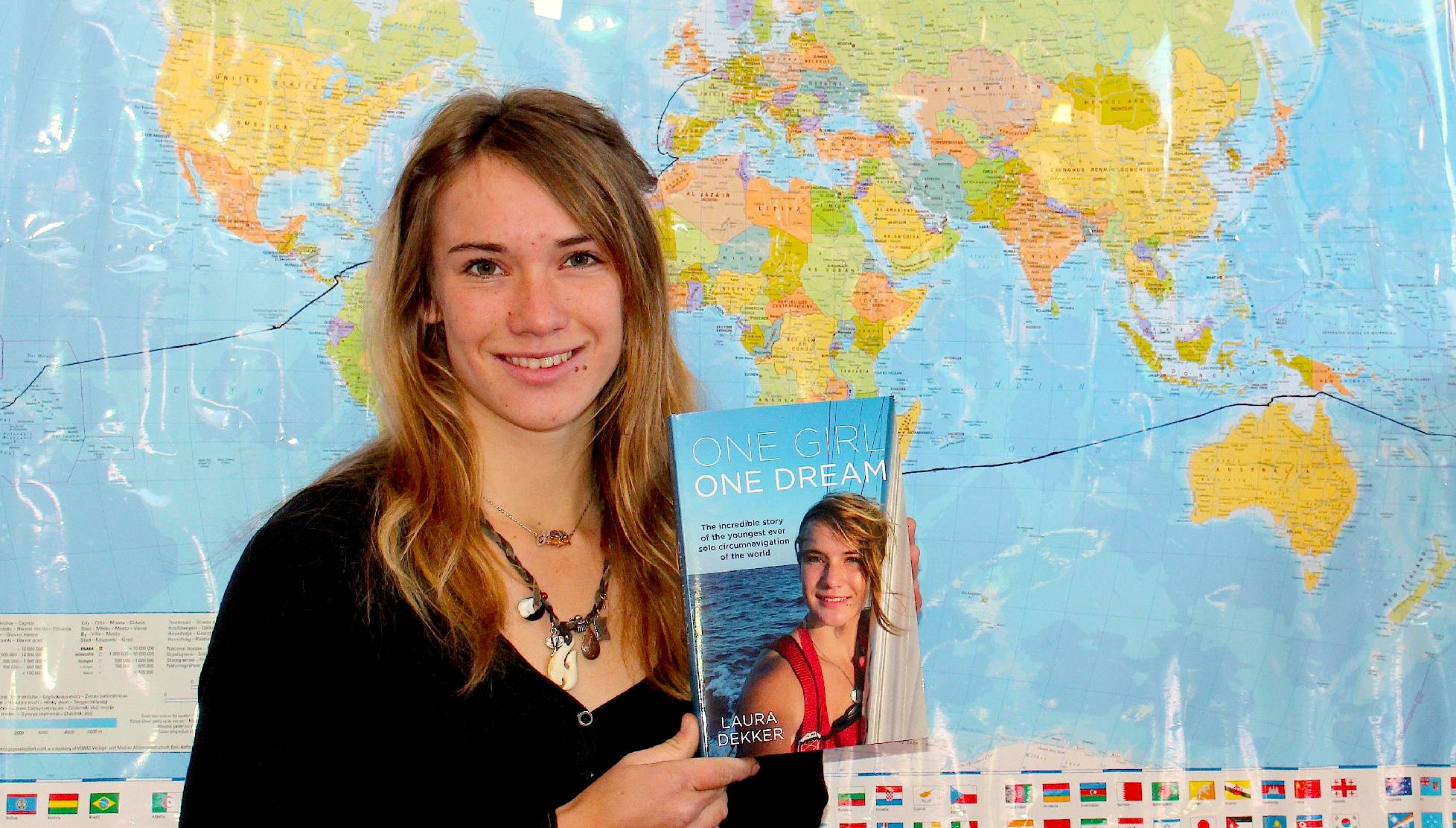 On 18 December 2009, a member of Dekker's family reported her missing to the police. A farewell letter was left for her father, although her boat remained in the port of Maurik. On 20 December, Dekker was found safely on Sint Maarten. Two days later she returned to Amsterdam where she was questioned by the police.
On 26 December 2009, it was reported that another court in the Netherlands overruled the objections of the social workers and permitted her to begin her circumnavigation in September of the following year when she turned 15.

On 27 July 2010, the Dutch court ended supervision of Dekker, and decided it was "up to the girl's parents to decide whether she can make the trip." Dekker reported that she would depart "within two weeks".
So it was that ten months and eight Court cases later her parents allowed her to leave on her voyage.
Aged 14 she set off on her great adventure onboard a bright red Ketch (12m or 38-ft Jeanneau Gin Fizz) called Guppy.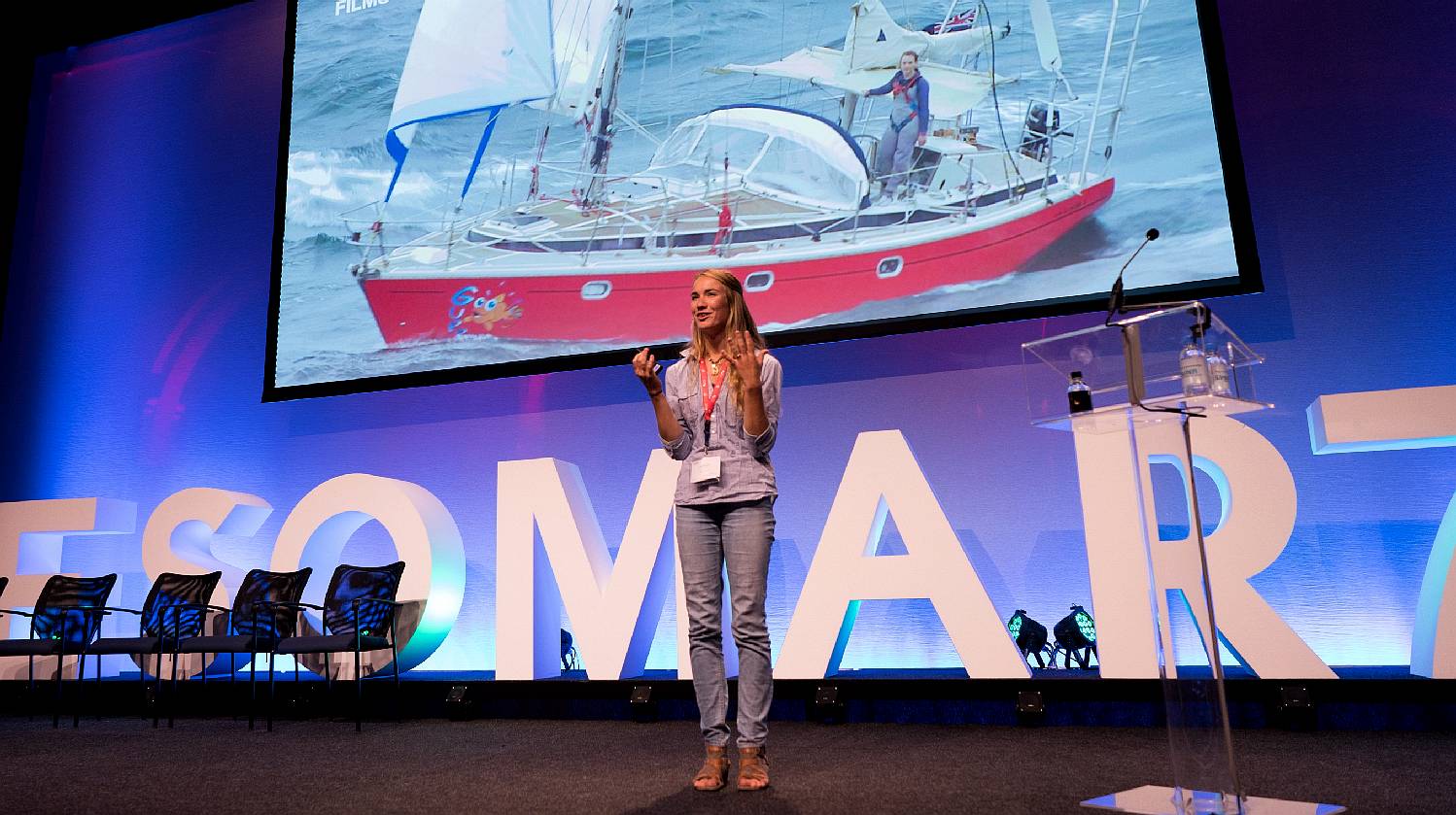 An Iridium tracking system onboard allowed the family in the Netherlands to monitor her course closely. She planned to avoid the stormy roaring forties (although the South Africa route gave her at least one big storm).

Her education was conducted through the Wereldschool (Worldschool), an educational institution that provided her with material for self-learning.

From the beginning of her solo circumnavigation in late August 2010, Laura wrote a weekly column for the Algemeen Dagblad of Rotterdam. English and German translations of her columns are available.
Laura was 16 years old when she arrived back in the Caribbean, successfully finishing her solo circumnavigation of the world. This made her the youngest single handed world navigator.
She is qouted as saying: "Her dad and the ocean are the best teachers she ever had."
Laura is a motivational speaker, author, world traveler and a professional yacht skipper.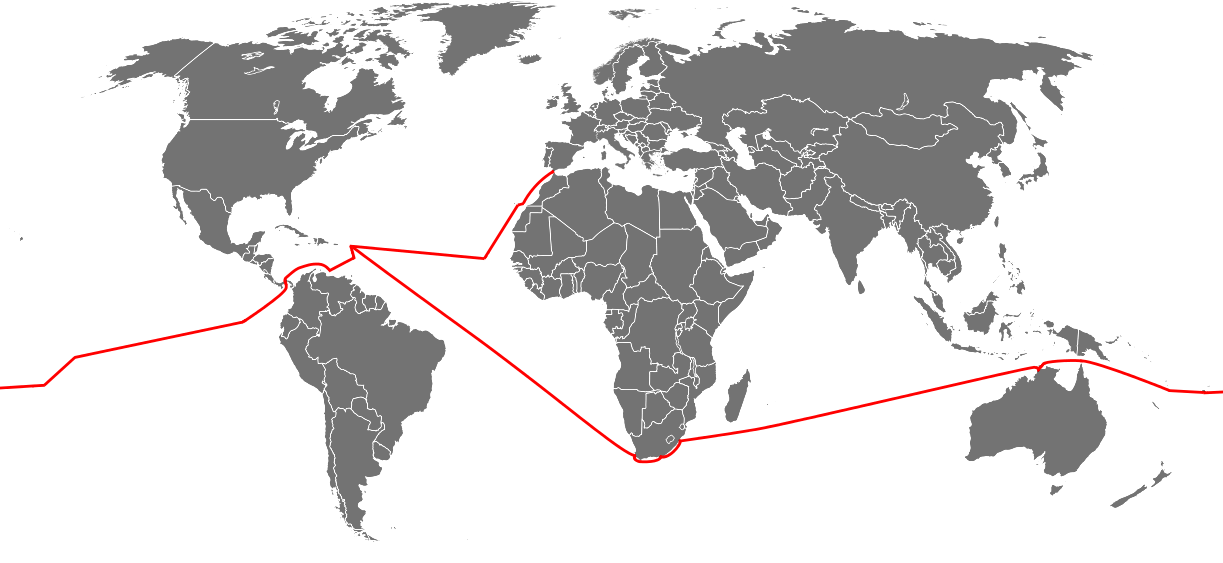 ACHIEVEMENTS

* Record holder youngest to single-handedly sail around the world. from 2010 - 2012, Age 14 - 16
* Author of book called ''One Girl One Dream'' now published in 4 languages including Dutch, English, German and Polish.
* 2014 Winner of Expedition Poolcirkel, competition, doing extreme physical task in extreme environments of Iceland, made for Dutch Tv.
* 2013 Took part in Expedition Atlas. Competition, doing several extreme physical and mental task in Morocco, Made for Dutch TV.
* Youngest to get Yacht Master Ocean 200gt Certificate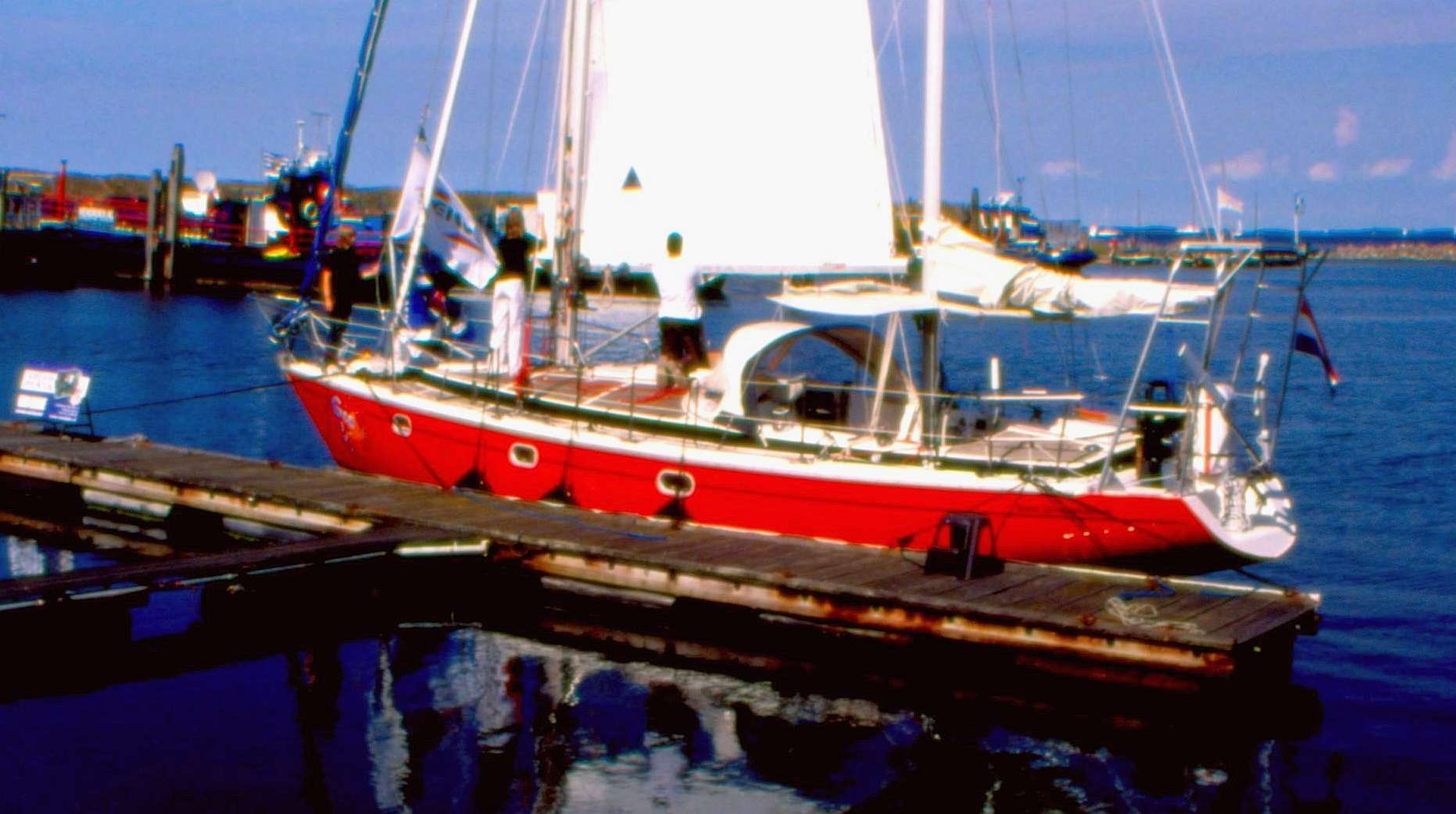 AWARDS
* Challenger of the Year Award. Received in 2012 by Faust A.G in Tokyo, Japan.
* Award of Merit, Received in 2013 by the Ocean Cruising Club in Whangarei, New Zealand.
* AYS Speakers Program, Received in 2012 by the American Yacht Club.
* Certificate of Appreciation, Received in 2016 by the Lighthouse club Hong Kong.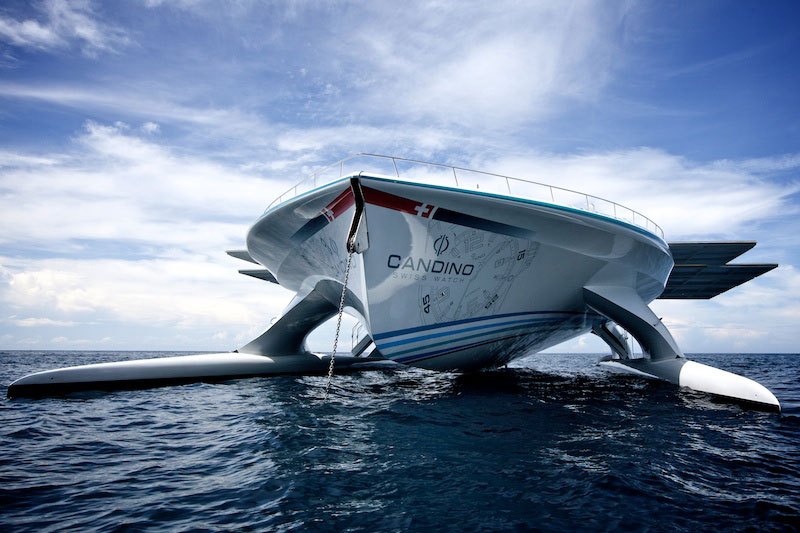 TURANOR PLANETSOLAR - This amazing boat set a world solar powered circumnavigation record in 2012, blazing a zero carbon trail (hopefully) for others to follow.
SIX STEPS TOWARD A COOLER PLANET
1. TRANSPORT: Phase out polluting vehicles. Governments aim to end the sale of new petrol, and diesel vehicles by 2040 but have no infrastructure plan to support such ambition. Marine transport can be carbon neutral using solar and wind energy. An EV energy infrastructure is urgently needed. Plans for solutions have been known since 1992 but not acted on.
2. RENEWABLES: Renewable energy should replace carbon-based fuels (coal, oil and gas) in our electricity, heating and transport.
3. HOUSING: On site micro or macro generation is the best option, starting with new homes that are cheaper to build, lock up carbon and are energy self sufficient. Affordable houses create less CO2 in the build. Energy self sufficient homes do not add to global warming. Making them a permitted development cuts out carbon from wasteful administrative hours that kleptocratic councils deliberately increase to hike up costs - where they want more expensive units in their geographical region to increase tax revenues.
4. AGRICULTURE: We need trees to absorb carbon emissions from a growing population and air travel, and for use to build new homes. Reducing food waste and promoting less energy intensive eating habits such as no meat Mondays. We must keep our oceans healthy for the fish we eat to prevent cancer from toxic catch.
5. INDUSTRY: Factories should be aiming for solar heating and onsite renewable energy generation.
6. POLITICS: - Local empire building is happening all over the world, on the basis that what they are doing will not add to climate change. Multiply this attitude by your country and then by all countries - and that gives you the reason why we have global warming. National governing bodies need to adopt rules to eliminate administrative wastages, scale down spending on war, increase spend on educating the public and developing supporting sustainable social policies that mesh with other cultures. Transparency is key. Governments need to be 100% accountable. This includes the Courts, where in Europe the ECHR gives no reasons for decisions. How then are such bodies to be trusted.
....

COP 25 is expected to be held in November 2019 or January 2020. (COP 25/CMP 15)
1995 COP 1, BERLIN, GERMANY
1996 COP 2, GENEVA, SWITZERLAND
1997 COP 3, KYOTO, JAPAN
1998 COP 4, BUENOS AIRES, ARGENTINA
1999 COP 5, BONN, GERMANY
2000:COP 6, THE HAGUE, NETHERLANDS
2001 COP 7, MARRAKECH, MOROCCO
2002 COP 8, NEW DELHI, INDIA
2003 COP 9, MILAN, ITALY
2004 COP 10, BUENOS AIRES, ARGENTINA
2005 COP 11/CMP 1, MONTREAL, CANADA
2006 COP 12/CMP 2, NAIROBI, KENYA
2007 COP 13/CMP 3, BALI, INDONESIA
2008 COP 14/CMP 4, POZNAN, POLAND
2009 COP 15/CMP 5, COPENHAGEN, DENMARK
2010 COP 16/CMP 6, CANCUN, MEXICO
2011 COP 17/CMP 7, DURBAN, SOUTH AFRICA
2012 COP 18/CMP 8, DOHA, QATAR
2013 COP 19/CMP 9, WARSAW, POLAND
2014 COP 20/CMP 10, LIMA, PERU
2015 COP 21/CMP 11, Paris, France
2016 COP 22/CMP 12/CMA 1, Marrakech, Morocco
2017 COP 23/CMP 13/CMA 2, Bonn, Germany
2018 COP 24/CMP 14/CMA 3, Katowice, Poland
2019 COP 25/CMP 15/CMA 4 Chile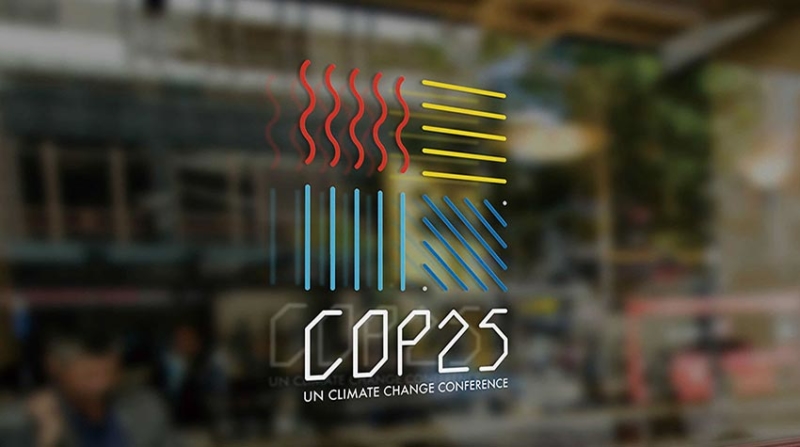 LINKS & REFERENCE
https://www.theguardian.com/world/laura-dekker
http://www.lauradekker.nl/English/Home.html
https://lauradekkerworldsailingfoundation.com/
https://uk.linkedin.com/
https://www.facebook.com/
Copyright © 2019 Cleaner Oceans Foundation.