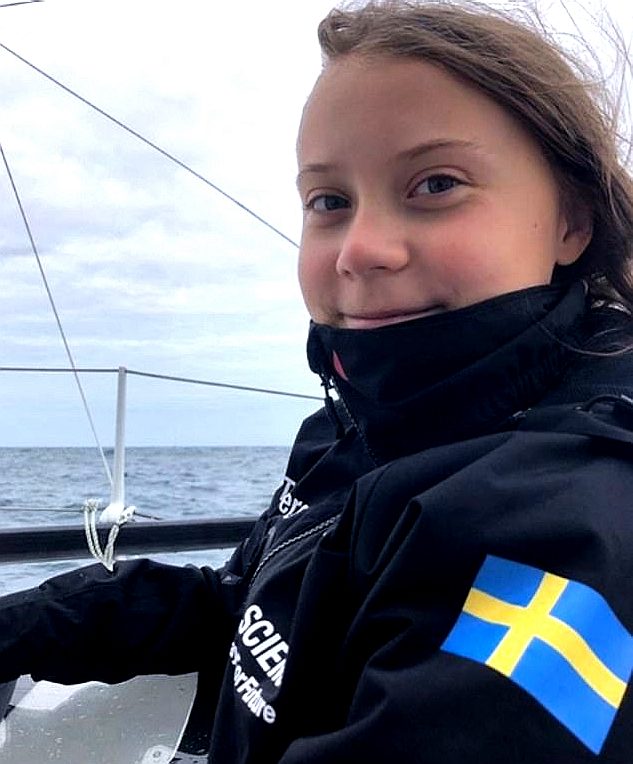 GRETA THUNBERG - is a Swedish climate activist. In Poland last week at the COP24 climate talks, Thunberg addressed the Secretary-General of the United Nations and was seated on a World Bank panel. She received a standing ovation for one of her talks.

She's behind a global strike Thursday created to call attention to climate change. She is a rebel. With a cause. Thunberg is 15 and autistic. And, the newest, youngest and most powerful voice on the world stage demanding the world address global warming.
DAILY MAIL 17 AUGUST 2019

Greta Thunberg's trans-Atlantic voyage on a 'zero-carbon yacht' has been rocked by revelations that crew will fly to New York in a gas-guzzling plane to bring the boat back to Europe.

It is claimed that this would generate more emissions than the yacht saves and threatens to leave the 16-year-old's plans to chart an environmentally friendly route to the United States in tatters.

On Wednesday, the Swedish eco-campaigner left Plymouth on the Malizia II for a two-week journey to the United Nations headquarters where she will address a climate change meeting. But last night, it was confirmed that two crew will have to fly to the US east coast city to man the 60ft yacht on its return.

'We added the trip to New York City at very short notice, and as a result two people will need to fly over to the US in order to bring the boat back,' a Team Malizia spokeswoman told the Times.

She added: 'The world has not yet found a way to make it possible to cross an ocean without a carbon footprint.'

And a further two sailors who are currently on board the Malizia II with Greta may use air travel to get back to Europe.
Torqeedo is supporting climate activist Greta Thunberg on her zero-carbon travels to the upcoming UN climate summits in New York and Chile. The 16-year-old Swedish activist is on board the Malizia II, a racing yacht. Torqueedo adds its electric port and harbour vessels.

As there are not yet purely electric ships that can cross the Atlantic, Thunberg is using the only zero-emissions travel option – the initiator of the Friday's for Future movement will have to spend two weeks on a sailing boat. However, the Malizia II yacht is fitted with solar panels and underwater turbines that produce electricity on board, to make the journey zero-carbon.

To avoid using the sailing boats small onboard engine entirely, Torqeedo will assist Team Malizia with docking, towing, passenger transport and general harbour support. Torqeedo claims that driving a with a single 80-horsepower outboard for one hour emits as much pollution as more than 350 automobiles driving at highway speed for the same amount of time.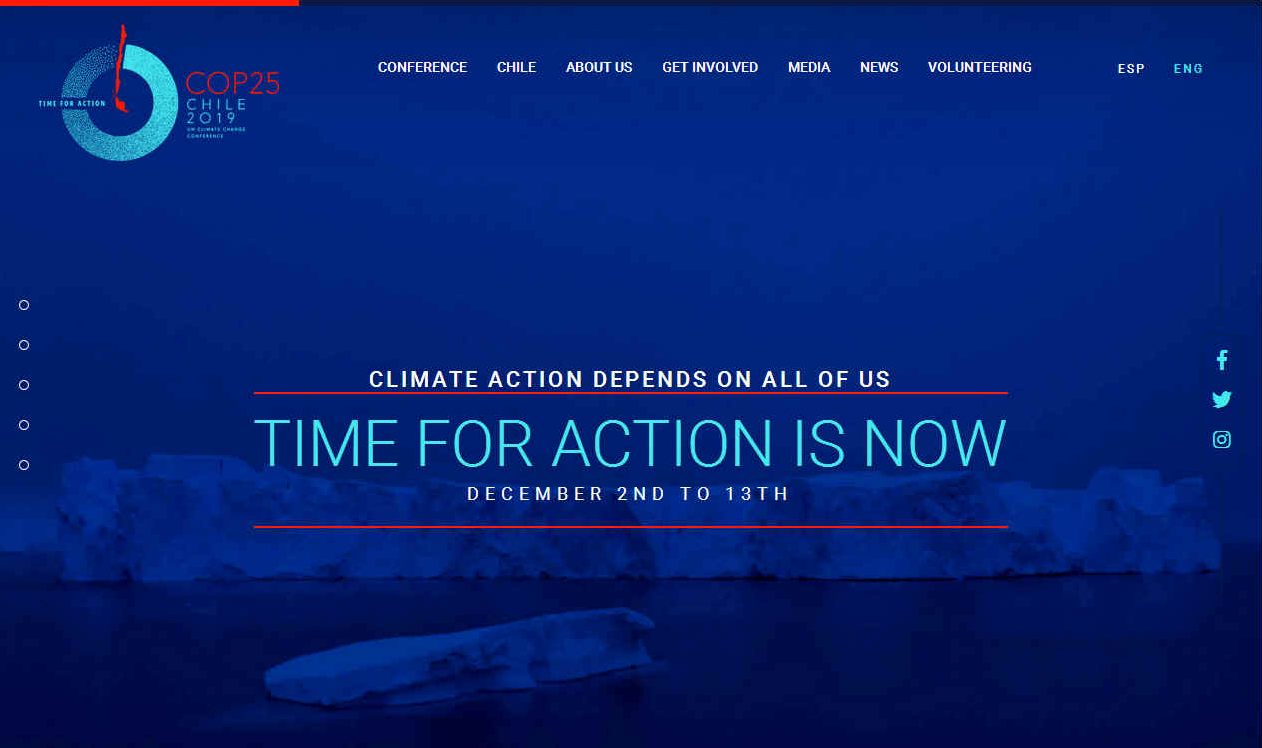 The non-profit Atmosfair estimates that a round trip between the UK to New York per plane contributes roughly 3.4 metric tons of CO2 per passenger to the atmosphere. According to Eurostat, that is equivalent to almost half the entire yearly carbon footprint per person in the EU (7.2 tons). CEO and co-founder, Dr Christoph Ballin says "We strongly support Team Malizia and the work they do and are thrilled to play a part in helping them complete their mission".

Pierre Casiraghi, the founder of Team Malizia and co-skipper, said: "Team Malizia and I are proud to take Greta across the Atlantic in this challenging mode of transport. Unfortunately, sailing is still the only way to do so without fossil fuel emissions. Hopefully, this will change in the near future." Stay tuned.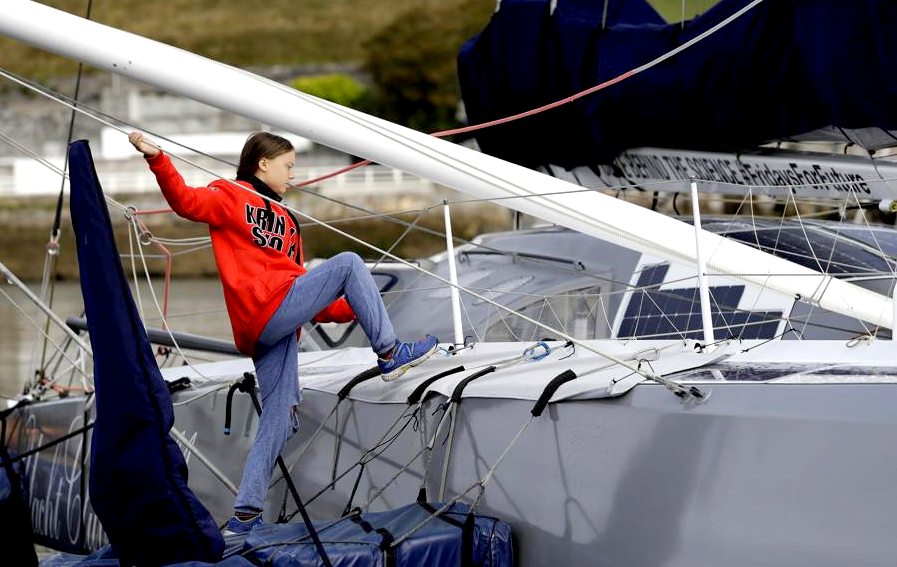 LONELY PLANET AUGUST 2019 - Dilemma: you're a climate change activist who needs to get from your hometown in Sweden to a conference in New York but taking a flight is out of the question. How do you get there?
Climate change activist Greta Thunberg is inspiring a new generation of green travelers.

If you're Greta Thunberg, you'll sail across the Atlantic in a "zero emissions" racing yacht. The 16-year-old Swedish climate change activist is speaking at the United Nations Climate Action Summit in New York in September and has plans to visit Canada, Mexico and Chile in December, as well as other places in South America "that are important in tackling the climate crisis."

To reach her first destination, Thunberg will sail aboard the Malizia II, a 60ft sailing yacht equipped with solar panels, wind turbines and underwater hydrofoils to run on zero emissions. The yacht is sponsored by Yacht Club de Monaco and was offered to Thunberg from its owner, German property developer Gerhard Senft, who came across the Nobel Peace Prize-nominee's travel dilemma on Twitter.

Thunberg will be joined by her father on the nonstop transatlantic journey, along with Swedish documentary maker Nathan Grossman, captain Boris Herrmann and founder of Team Malizia, Pierre Casiraghi (grandson of Monaco's late Prince Rainier III and actress Grace Kelly).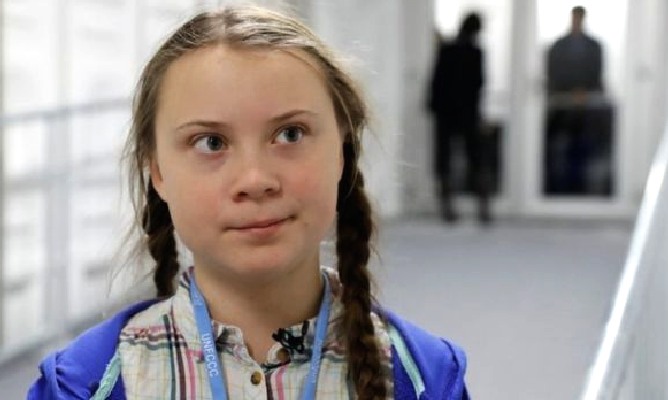 SPEAKER - Greta is small, but she packs a powerful punch. More powerful than many world leaders put together. We are fans of her bravery and dedication that puts many of us to shame. COP 25 takes place in Santiago, Chile between 2-13 December 2019.
SIX STEPS TOWARD A COOLER PLANET
1. TRANSPORT: Phase out polluting vehicles. Governments aim to end the sale of new petrol, and diesel vehicles by 2040 but have no infrastructure plan to support such ambition. Marine transport can be carbon neutral.
2. RENEWABLES: Renewable energy should replace carbon-based fuels (coal, oil and gas) in our electricity, heating and transport.
3. HOUSING: On site micro or macro generation is the best option, starting with new build homes. Making the construction of sustainable low cost, or self-build housing a permitted development to encourage young families to take up a low carbon lifestyle free of costly planning fees - at the same time reducing the numbers renting for a life of financial slavery to wealthy landowners who do not give back to society. The idea being to give security to families sustainably.
4. AGRICULTURE: We need trees to absorb carbon emissions from a growing population, flying, and to build new homes. Reducing food waste and promoting less energy intensive eating habits such as no meat Mondays.
5. INDUSTRY: Factories should be aiming for solar heating and onsite renewable energy generation.
6. POLITICS: - National governing bodies need to adopt rules to eliminate administrative wastages, to include scaling down spending on war machines, educating the public and supporting sustainable social policies that mesh with other cultures. Transparency is key. Governments hate being accountable. So called independent courts are equally to blame, the reason being control of the electorate - without scrutiny.
COP 25 will be held in Santiago from 2nd to 13th December 2019
1995 COP 1, BERLIN, GERMANY
1996 COP 2, GENEVA, SWITZERLAND
1997 COP 3, KYOTO, JAPAN
1998 COP 4, BUENOS AIRES, ARGENTINA
1999 COP 5, BONN, GERMANY
2000:COP 6, THE HAGUE, NETHERLANDS
2001 COP 7, MARRAKECH, MOROCCO
2002 COP 8, NEW DELHI, INDIA
2003 COP 9, MILAN, ITALY
2004 COP 10, BUENOS AIRES, ARGENTINA
2005 COP 11/CMP 1, MONTREAL, CANADA
2006 COP 12/CMP 2, NAIROBI, KENYA
2007 COP 13/CMP 3, BALI, INDONESIA
2008 COP 14/CMP 4, POZNAN, POLAND
2009 COP 15/CMP 5, COPENHAGEN, DENMARK
2010 COP 16/CMP 6, CANCUN, MEXICO
2011 COP 17/CMP 7, DURBAN, SOUTH AFRICA
2012 COP 18/CMP 8, DOHA, QATAR
2013 COP 19/CMP 9, WARSAW, POLAND
2014 COP 20/CMP 10, LIMA, PERU
2015 COP 21/CMP 11, Paris, France
2016 COP 22/CMP 12/CMA 1, Marrakech, Morocco
2017 COP 23/CMP 13/CMA 2, Bonn, Germany
2018 COP 24/CMP 14/CMA 3, Katowice, Poland
2019 COP 25/CMP 15/CMA 4 Chile, Santiago
LINKS & REFERENCE
https://www.cop25.cl/en/
https://www.electrive.com/2019/08/15/torqeedo-to-support-greta-thunberg-crossing-the-atlantic/
https://www.dailymail.co.uk/news/article-7365909/Greta-Thunbergs-Atlantic-trip-zero-carbon-yacht-generate-emissions-saves.html
https://www.usatoday.com/story/news/world/2019/08/14/climate-change-greta-thunberg-sets-sail/2010820001/
https://www.newstalkz.com/2019/08/14/climate-change-greta-thunberg-sets-sail/
https://www.lonelyplanet.com/news/2019/07/31/greta-thunberg-nyc-eco-friendly-yacht/
https://metro.co.uk/2019/08/13/greta-thunberg-will-sail-us-boat-no-toilet-avoid-flying-10566606/
https://www.telegraph.co.uk/news/2019/07/29/swedish-activist-greta-thunberg-set-sail-new-york-un-climate/
https://www.dailymail.co.uk/news/article-7365909/Greta-Thunbergs-Atlantic-trip-zero-carbon-yacht-generate-emissions-saves.html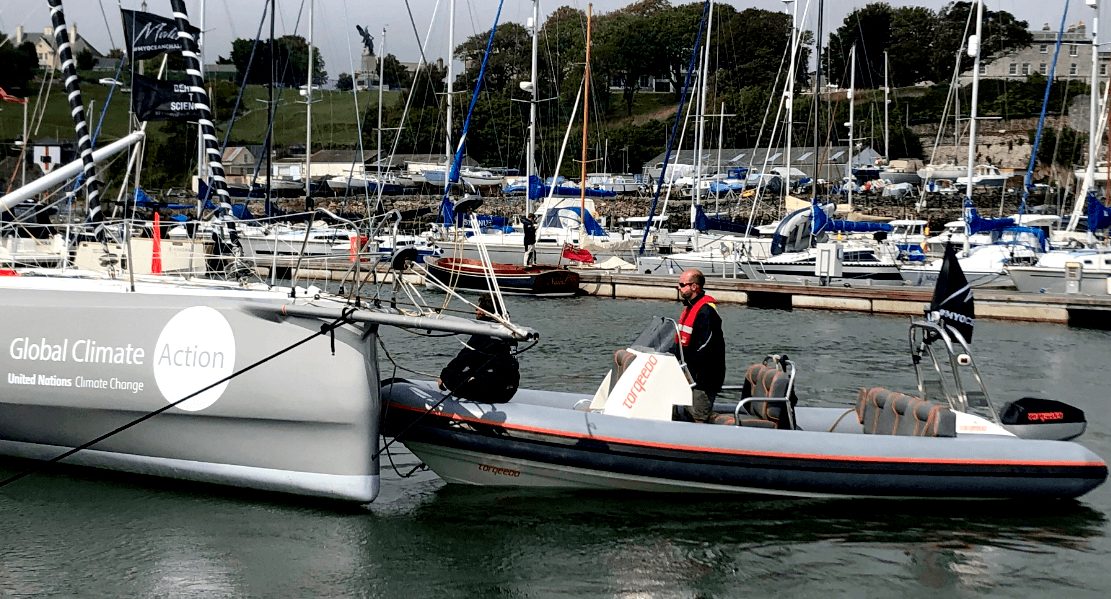 Copyright © 2019 Cleaner Oceans Foundation.