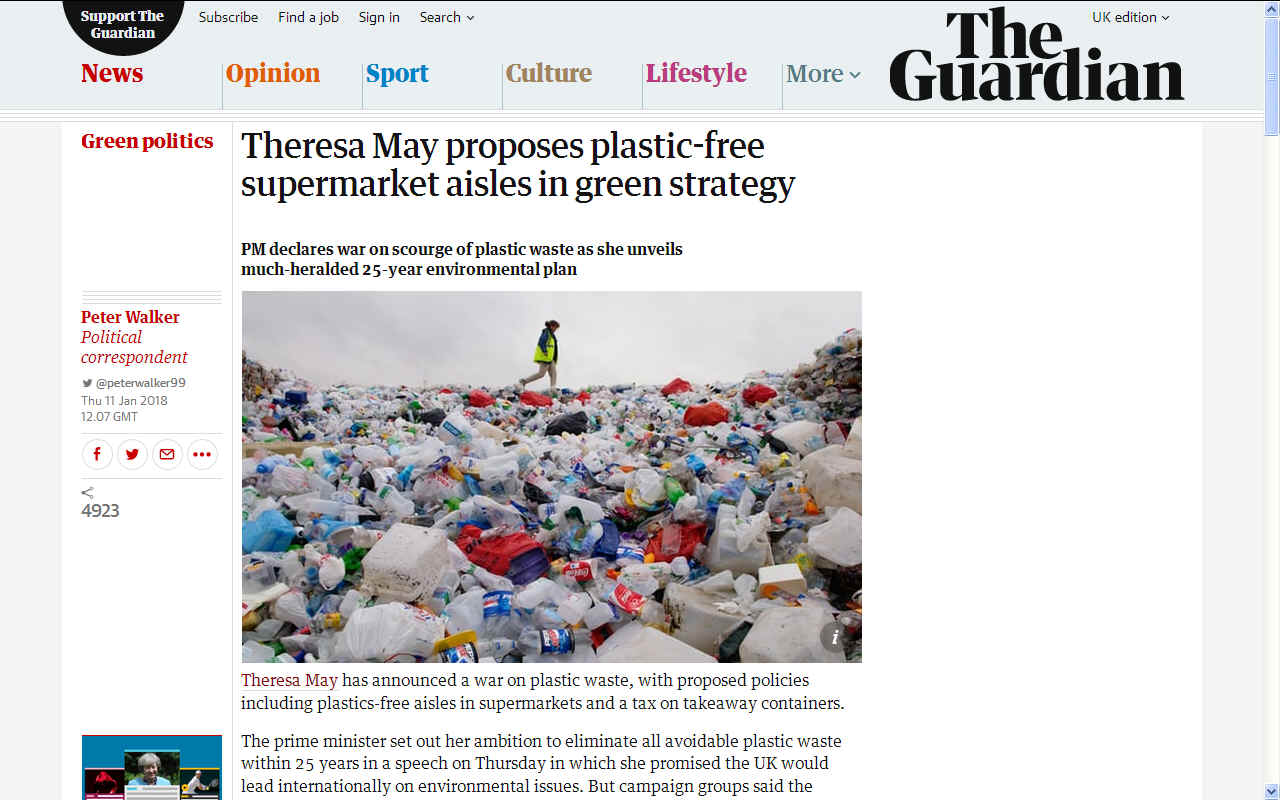 THE GUARDIAN - Theresa May proposes plastic-free supermarket aisles in green strategy. The PM declares war on scourge of plastic waste as she unveils much-heralded 25-year environmental plan as China bans plastic waste being imported. Is this just a knee-jerk reaction to the fact that nobody wants our rubbish, leaving the Government to look for other ways to clean up - so why not raise a few bob more in taxes and look good at the same time. Whatever the combination of drivers we are delighted that action of some sort is being considered and we look forward to reporting on the details.
THE GUARDIAN - 11 JANUARY 2018 - PLASTIC FREE SUPERMARKETS
Theresa May has announced a war on plastic waste, with proposed policies including plastics-free aisles in supermarkets and a tax on takeaway containers.

The prime minister set out her ambition to eliminate all avoidable plastic waste within 25 years in a speech on Thursday in which she promised the UK would lead internationally on environmental issues. But campaign groups said the aspirations would need to be backed up by legislation.

They also warned that leaving the EU risked weakening environmental protections, and called for the government to promise it would not water down green standards in exchange for rapid post-Brexit trade deals.

May's speech, unveiling a much-heralded 25-year plan for the environment in England drawn up by Michael Gove's environment department with input from pressure groups, focused heavily on plastic waste, which she called "one of the great environmental scourges of our time".

As reported before the speech, May promised to extend the hugely successful 5p levy on plastic bags to smaller shops, and seek evidence on a possible charge on single-use plastic containers such as takeaway boxes.

Other initiatives include a plan to urge supermarkets to introduce aisles without any plastic packaging, where all food is sold loose, along with new research funding for "plastics innovation" and aid to help developing nations deal with their plastic waste.

May said: "In years to come, I think people will be shocked at how today we allow so much plastic to be produced needlessly."

Much of this waste ends up in waterways and oceans, May said, with one in three fish caught in the Channel containing pieces of plastic.

She said: "Today I can confirm that the UK will demonstrate global leadership. We must reduce the demand for plastic, reduce the number of plastics in circulation and improve our recycling rates."

Greenpeace said the announcements on plastics were "a missed opportunity", with a particular omission being no plans for a deposit return scheme for plastic bottles, which the group said was shown to work well.

Sue Hayman, the shadow environment secretary, said the 5p bag charge was already in place for smaller shops in Scotland and Wales, meaning the government was "simply playing catch-up".

The overall plan was "a cynical attempt at rebranding the Tories' image and appears to contain only weak proposals", she said.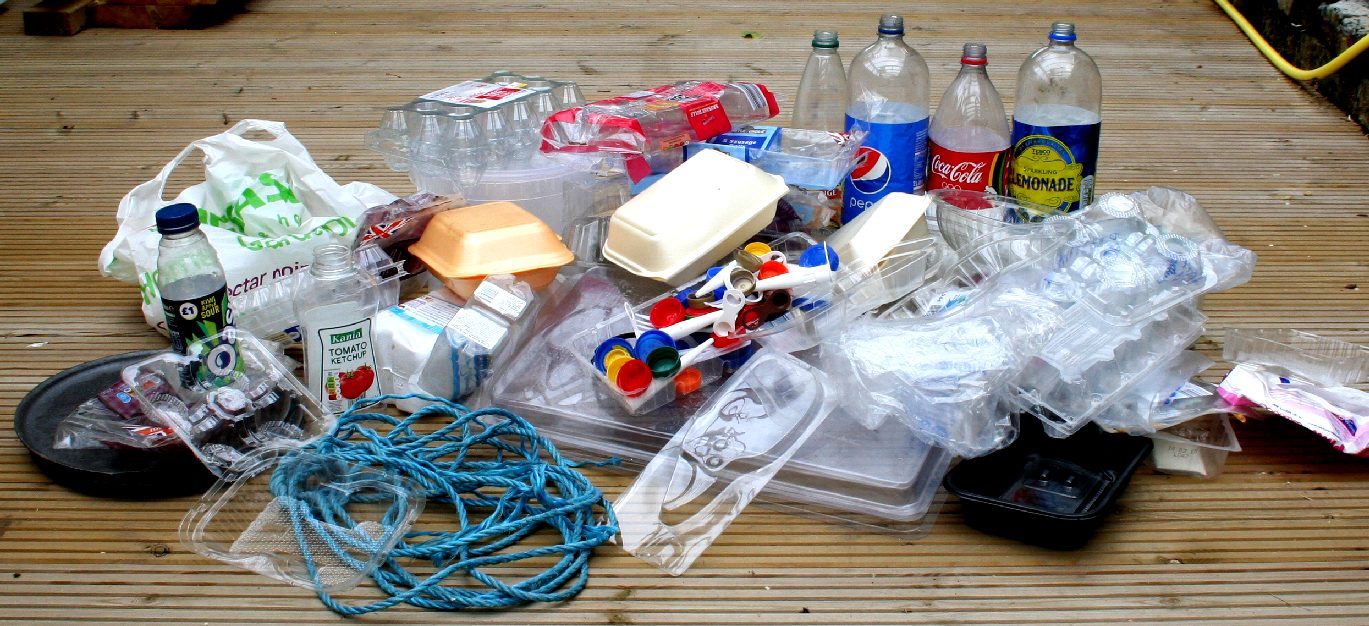 CARRIER - This is just a small sample of the plastic packaging that you will find in retails stores all over the world (and some fishing rope). A good proportion of this packaging - around 8 millions tons a year, will end up in our oceans, in the gut of the fish we eat, in the stomachs of seabirds and in the intestines of whales and other marine mammals, taking with it POPs in greater concentrations that will end up in the food you eat. Photograph 22-7-17 Cleaner Ocean Foundation Ltd.
Speaking before the speech on Thursday, Gove said he was "reflecting on" ideas such as a mandatory 25p charge for takeaway coffee cups, but denied that the proposals were limited in terms of immediate action.

"We're also, I have to say, taking action on a wide variety of ideas already," he told BBC Radio 4's Today programme. "No one could say that during the period that I've been at the environment department that we have been sloths or slouches. We have been taking action in a wide variety of areas in order to make sure that we enhance our environment."

He added that Brexit would not result in a reduction in environmental protection: "I've already said that we want to set the global gold standard when it comes to the environment, and for animal welfare."

The wider 25-year plan, with the stated aim of ensuring the current generation is the first to leave the natural world in a better state than it was before, was published on Thursday.

Environmental groups were shown the plan before the speech, and it is understood some felt it remained vague in sections. For example there is a chapter on holding the government to account on its green record, but it is not clear how this will happen.

It is also understood that one section of the plan, on how to make planning and development more environmentally friendly and protect the green belt, remained blank in the copies, possibly because it had not been finalised.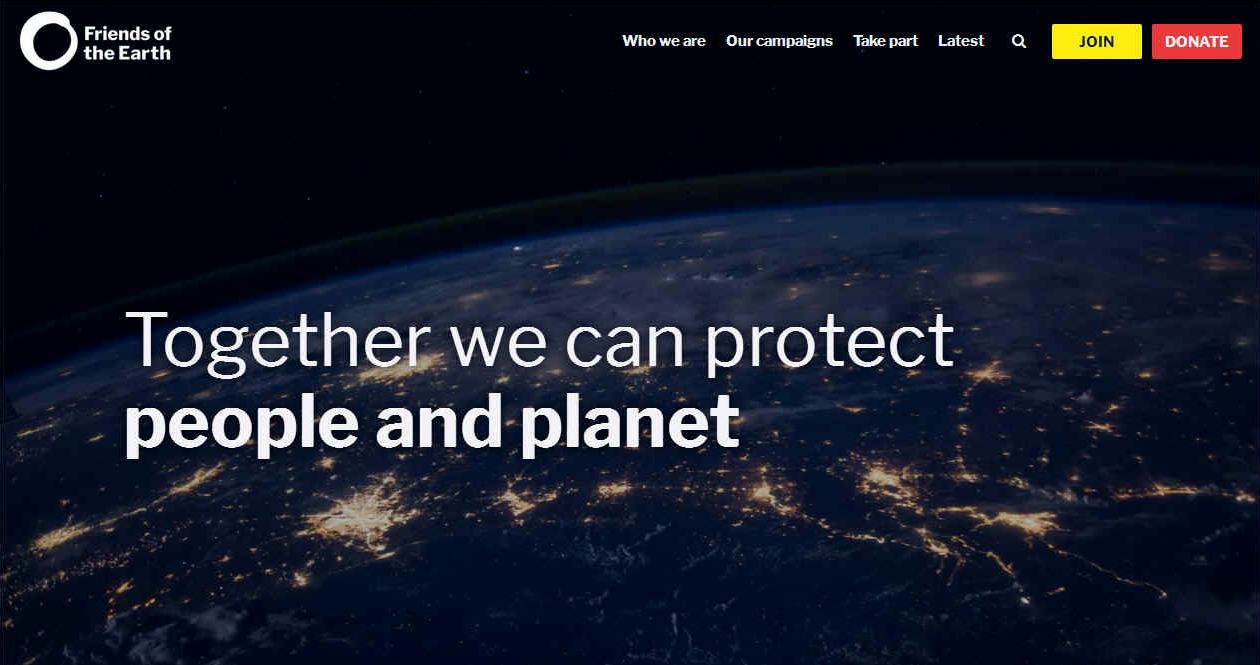 The chief executive of Friends of the Earth, Craig Bennett, said the government's record on green issues such as air quality and fracking meant he was sceptical about its future ambitions.

"It's easy to make lots of commitments about things that will be done when you're no longer in office," he said. "And the point is, if you look at the government's performance on some key issues over the last year, there's some real reasons to be concerned."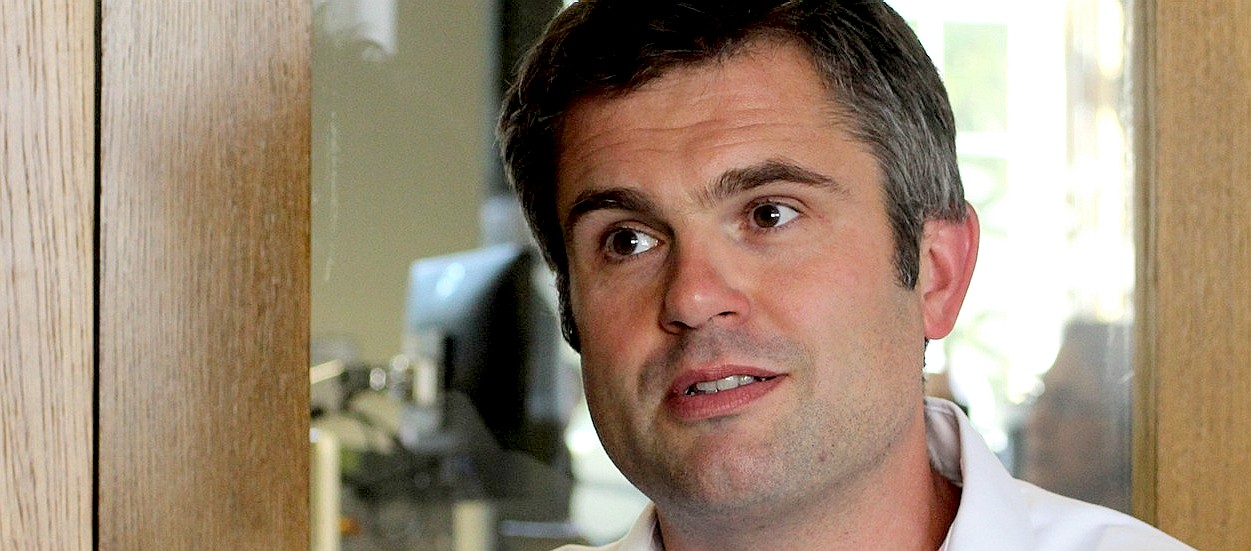 EARTH FRIEND - Craig Bennet took the helm as Director of Friends of the Earth in September 2010. Previously, he was the policy and campaigns director at the environmental charity, where he has worked since 1999, as well as the director of the Prince of Wales's Corporate Leaders Group on Climate Change. He is a senior associate at the University of Cambridge Institute for Sustainability Leadership, where he was once the deputy director.

Craig Bennett originally worked at Friends of the Earth as a Senior Trade and Corporate Accountability Campaigner and Wildlife Campaigner from 1999 – 2007. During this time he successfully led the campaign for a legal requirement on UK companies to report on social and environmental impacts, represented the charity at the 2002 Johannesburg Earth Summit and ran high profile campaigns against some of the world's largest companies. As Wildlife Campaigner, he played a key role in pushing through the Countryside and Rights of Way Act 2000 and in saving some of the UK's largest lowland raised peat bogs.
Ben Stafford, the campaigns director of the conservation group WWF, said: "We would say that you need more comprehensive and ambitious legislation with far-reaching targets if you're going to get into a position where you're actually improving the environment in the longer term. It's a very good question as to whether they've got the commitment to do that."

It was vital that Brexit did not lead to any deterioration in standards, he added. "We would expect that future trade policies need to have the environment at their heart. These should be embedding high environmental standards and not trading them off for any sort of competitive advantage."

In her speech, May announced a plan to use the Commonwealth heads of government summit in April to push for a charter across member states to reduce the amount of plastic waste in oceans.

Stafford said that with the UK a "relatively small contributor" to plastic waste by global standards compared with the likes of India and Sri Lanka, this sort of action in the wake of Brexit was likely to be crucial.

"We and others have welcomed the statements Michael Gove has made as environment secretary, but the real test will come in what we hear tomorrow, and the sense of what kind of leadership the UK is going to give on the world stage and through trade policy," he said.
By Peter Walker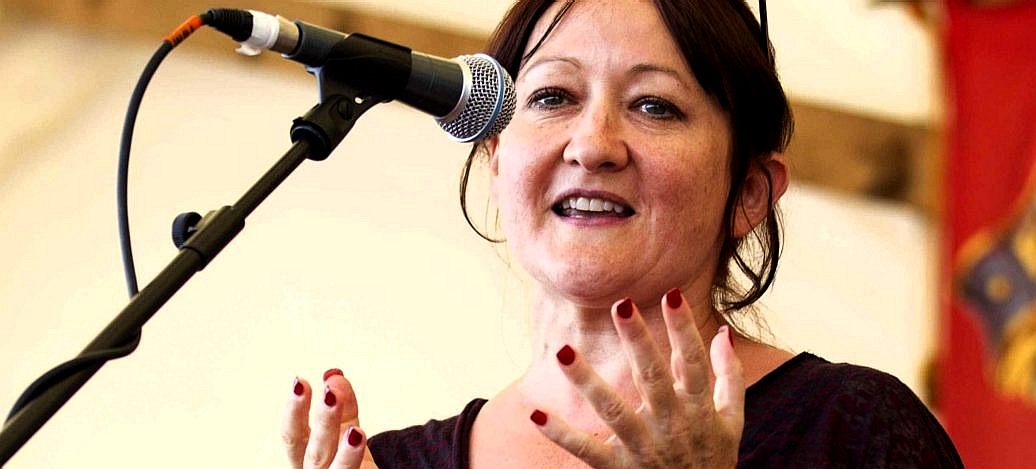 PASSIONATE - Kerry McCarthy is a British Labour Party politician with strong beliefs who has been the Member of Parliament (MP) for Bristol East since 2005 and was the Shadow Secretary of State for Environment, Food and Rural Affairs from September 2015 to June 2016. On the 19th of January 2017 Kerry and Thangam Debbonaire and launched a new Facebook page to feed back on the work they were doing in Parliament on marine plastic pollution. It looks as if all of that has paid off with the Prime Minister finally chiming in after David Attenborough and the BBC Blue Planet II series.
THE PLAN IN BRIEF
Closing the plastic bag charge loophole

One of the most heavily trailed announcements is the end of an exemption for small shops from England's 5p plastic bag charge. The loophole was an anomaly compared with similar schemes in Scotland, Wales and Northern Ireland. It was also imposed against the wishes of corner shop owners at the time, with three small business trade associations opposing being exempted on the grounds it would be confusing for customers. "Its abolition is long overdue," said Mary Creagh, chair of the environmental audit committee of MPs. The change will affect 3.4bn bags handed out at about 200,000 stores each year.

Encouraging plastic-free supermarket aisles

Wrap, the government's waste action body, will explore whether supermarkets can introduce aisles where there is no plastic packaging and all the food is loose. The British Retail Consortium, which represents supermarkets, said its members were cutting plastic but that it was sometimes necessary to avoid food waste. It cited shrink-wrapped cucumbers, saying they last five times as long as ones without plastic. The eye-catching proposal is not something that campaigners have pushed hard for, though shoppers often protest on social media against egregious examples such as single bananas encased in plastic. All avoidable plastic waste should end by 2042, the government said.

Creating more habitat for wildlife

To arrest the decline in wildlife numbers in the face of intensive farming and land lost to housing and development, the environment department will investigate establishing 500,000 extra hectares of wildlife habitat. About 17,000 hectares of land is lost to new building each year. The measure is part of an effort to connect up large areas of nature to reflect the fact that animals need to move around the country – an increasingly difficult task with new roads and other developments. The environment secretary, Michael Gove, also promised to plant 11 million trees, which sounds like a lot but is the amount planted in England under government schemes during the coalition years. Experts at Kew said it was critical the right tree species were chosen to maximise benefits to wildlife and capturing carbon.

Changing local planning rules to boost biodiversity

Today, when a developer wants to build a new housing estate, supermarket or other building, local authorities have to ensure there is a net benefit to biodiversity – the variety of species in the area – when possible. The government said it will now consult on making this requirement mandatory. However, in the small print it also said it would consider "any exemptions that may be necessary." It also said the measure should avoid increasing the burden on developers.

New environmental watchdog

Underpinning all the actions is the pledge of a "world-leading" and independent environmental watchdog to hold ministers' feet to the fire. Gove has previously said that such a body would ensure standards on clean air, water and soil will be maintained post-Brexit. The 25-year plan today confirms that the government will consult on plans for the statutory body. It's worth noting that the UK previously had an environment watchdog, known as the Sustainable Development Commission, before it was axed by the coalition in 2010 as part of the "bonfire of the quangos".

Deciding on new protected areas around the coast

By July 2019, ministers will designate a third round of marine conservation zones, a network of areas in English seas designed to protect species from overfishing and other threats. Gove said he will ensure that: "these stretches of environmentally precious maritime heritage have the best possible protection." The Marine Conservation Society said that while the timeline was welcome, it was concerned that the measures to enforce the areas lacked teeth. Previous governments have been criticised for watering down the number of zones.

What's not in it

Gove mentions waste four times in his short foreword to the report, but there is no tangible plan or policy for how the government will move the dial on recycling. Recycling rates stalled in England in 2012 and in 2015 fell for the first time in more than a decade. Diverting waste away from landfill and into recycling centres largely falls on the shoulders of local authorities, which have been hit by austerity budget cuts. A 25p charge on disposable coffee cups, of which only one in 400 is recycled, is not mentioned in the environment plan.

Campaigners also expressed disappointment at the absence of a bottle collection scheme, which existed in the UK decades ago. Louise Edge of Greenpeace said: "The most glaring gap is support for deposit return schemes. These are tried-and-tested ways to keep plastic bottles out of the environment and have strong public backing, yet there's no trace of them in the government announcement." Creagh said such a scheme was the only way to "deliver true behavioural change."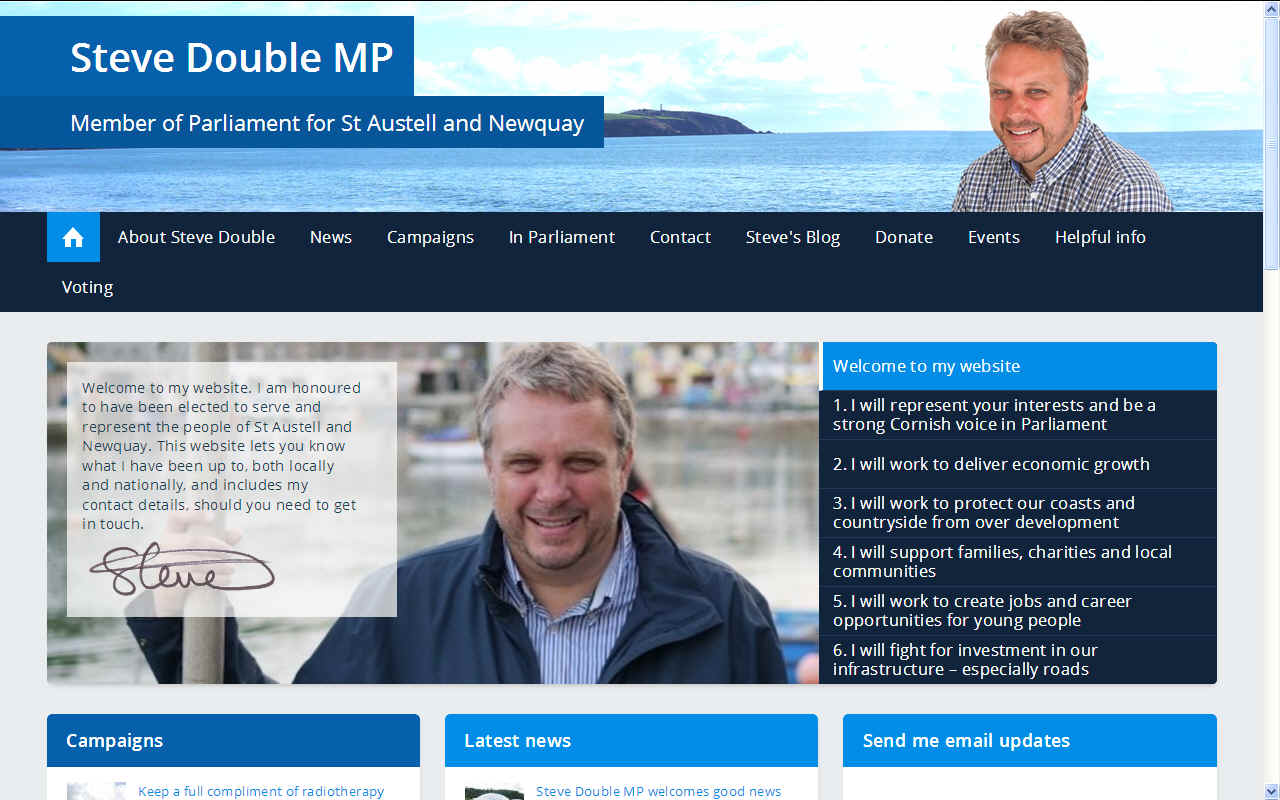 STEVE DOUBLE - Is the Conservative MP for St Austell and Newquay, claims the coastlines of his constituency were all under threat by the marine menace of waste plastic. He is quoted as saying: "MPs ... have our own role to play in raising awareness and setting an example on this important matter."

In 1950, the world's population of 2.5 billion produced 1.5 million tons of plastic; in 2016, a global population of more than 7 billion people produced over 320 million tons of plastic. This is set to double by 2034. Every day approximately 8 million pieces of plastic pollution find their way into our oceans and there may now be around 5.25 trillion macro and microplastic pieces floating in the open ocean, altogether weighing up to 269,000 tonnes.

UK-wise, approximately 5000 items of marine plastic pollution have been found per mile of beach and on average over 150 plastic bottles can be found on each mile of UK beaches.

On top of this, recent studies have revealed marine plastic pollution in 100% of marine turtles, 59% of whales, 36% of seals and 40% of seabird species examined. 100,000 marine mammals and turtles and 1 million sea birds are killed by marine plastic pollution annually.
CONTACTS

Theresa May
Prime Minister
House of Commons
London
SW1A 0AA

Phone:
Email:
LINKS & REFERENCE
https://friendsoftheearth.uk/
http://www.kerrymccarthymp.org/
http://www.debbonaire.co.uk/
https://www.facebook.com/LetsStopPlasticPollution/
https://skyoceanrescue.com/
ACIDIFICATION - ADRIATIC - ARCTIC - ATLANTIC - BALTIC - BAY BENGAL - BERING - CARIBBEAN - CORAL - EAST CHINA SEA
ENGLISH CH - GOC - GULF GUINEA - GULF MEXICO - INDIAN - IOC - IRC - MEDITERRANEAN - NORTH SEA - PACIFIC - PERSIAN GULF - SEA JAPAN - STH CHINA - SOUTHERN - PLASTIC - PLANKTON - PLASTIC OCEANS - SEA LEVEL RISE - UNCLOS - UNEP WOC - WWF