WORLD OCEANS DAY 8th JUNE 2016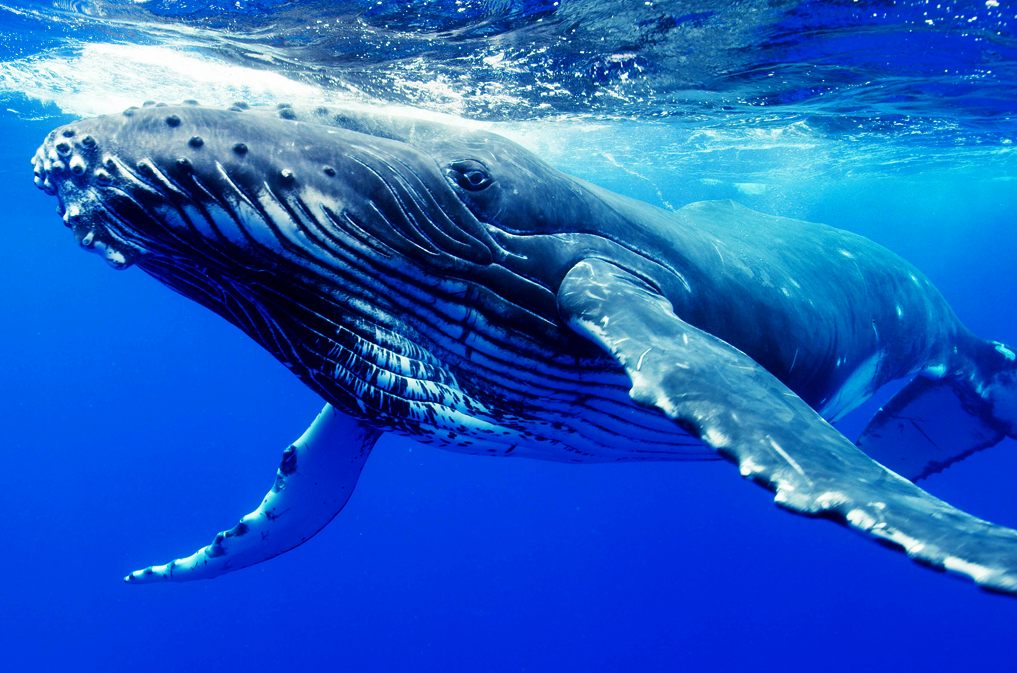 PLASTIC SEAS - While the coral below is being bleached by changing ocean chemistry, marine life now has to cope with micro plastic particles, fishing nets and other pollution. It's a brave new world where mankind is free to plunder and destroy our natural resources for profit.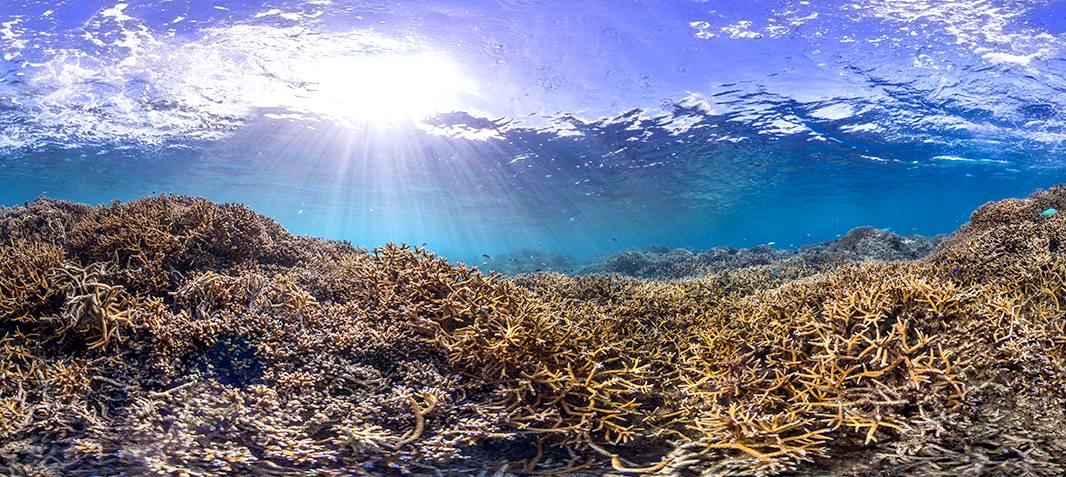 CORAL - Reefs are taking a major bashing as the climate warms up.
THE TERRAMAR PROJECT JUNE 8 2016
We are living in a time of unprecedented change. As we celebrate our marine treasures this World Oceans Day, we at UNESCO are also reflecting on the work needed to sustain them as sea levels rise, and the water grows warmer and more acidic. This year, the effects of climate change have been multiplied by a strong El Niño that has brought record-breaking temperatures to much of the Pacific Ocean.
Perhaps the most visible effect of this temperature spike has been mass bleaching of coral reefs. The latest scientific data suggests that up to 15 of the universally outstanding coral reef systems on UNESCO's World Heritage List might be affected by the time the current bleaching event is over.
"The ongoing global coral bleaching event has been disastrous to many of the world's reefs" said Dr. C. Mark Eakin, Coordinator of NOAA's Coral Reef Watch, which predicted the 2016 El Niño would be the worst in recorded history. "Many spectacular, remote, and well-protected reefs have suffered severe bleaching and death of corals. An unprecedented number of World Heritage sites, from the well-known Great Barrier Reef to the more remote Aldabra Atoll, Phoenix Islands Protected Area, and Papahānaumokuākea have been harmed by high temperatures brought on by global warming and El Niño."
Climate change is a global problem demanding a global solution. The Paris Agreement has created a framework for climate action around the world. At its last session in Bonn, the World Heritage Committee—which has had a carbon neutral policy for its sessions since 2007—voiced its hope that an agreement would be reached at COP21, and called on all States Parties to mobilize global climate action on the ground. For coral reefs and many other marine ecosystems, keeping climatic warming to the Paris Agreement's long-term goal of 1.5°C is essential. UNESCO has been working for years to track and manage climate impacts.
In our day-to-day work, we help governments and site managers reduce stressors like overfishing, shipping, pollution, and coastal development so these fragile systems can build stronger resilience. Healthy ecosystems are better equipped to withstand and recover from bleaching events, more frequent storms, and rising temperatures.
No one World Heritage site has all the solutions, and that is why it is essential that we work together to exchange ideas. UNESCO plays a vital role in facilitating this kind of international cooperation. In August, the World Heritage Marine Programme will bring site managers from around the world together in the Galápagos Islands to share strategies for adaptive management. By reducing other pressures on these ocean gems, we can provide a chance for them to bounce back from this year's devastating El Niño, and safeguard their Outstanding Universal Value in the face of climate change.
Now is the time to stand together and unite our efforts to protect our common ocean legacy so we can pass it on to future generations.
Happy World Oceans Day!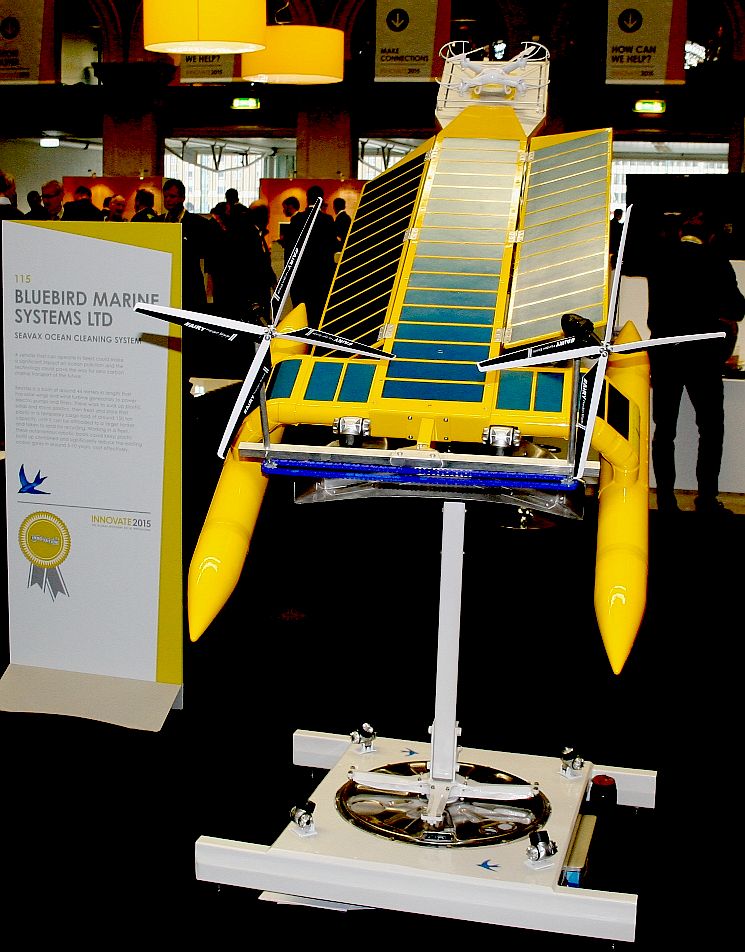 CLIMATE ACTION - Not just talk, this amazing autonomous boat was on display at the Old Billingsgate exhibition centre in London on the 9-10th of November 2015. This ocean cleaning workboat could pave the way for zero carbon cruise liners and cargo ships of the future. The platform harvests energy from nature to power onboard pumps and filtration equipment. That same energy could be used to propel larger vessels at reasonable speeds to deliver goods around the world, without acidifying the oceans. The solutions are out there, the politicians are just not looking! BMS has not had a single enquiry for a government as to wind and solar power for shipping. Yet, $billions are spent of defence. There is no point having a navy if the population that you are seeking to defend are dying slowly as the planet soils itself.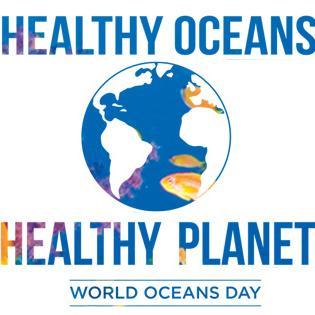 WHAT IS WORLD OCEANS DAY?

World Oceans Day has been unofficially celebrated every 8 June since its original proposal in 1992 by Canada at the Earth Summit in Rio de Janeiro, Brazil. It was officially recognized by the United Nations in late 2008. It has been coordinated since 2003 by The Ocean Project, with greater participation each year.


WORLD OCEANS DAY MANTRA

World Oceans Day is an annual observation to honour the world's oceans, celebrate the products the ocean provides such as seafood as well as marine life itself for aquariums and pets and a time to appreciate its own intrinsic value. The ocean also provides sea-lanes for international trade. Global pollution and over-consumption of fish have resulted in drastically dwindling population of the majority of species. World Oceans Day also provides a unique opportunity to take personal and community action to conserve the ocean and its resources.

The Ocean Project, working in partnership with the World Ocean Network, Association of Zoos and Aquariums, and many other partners in its network of 2,000 organizations, has been promoting World Oceans Day since 2003. World Oceans Day events include a variety of activities and actions, such as special outdoor explorations, beach cleanups, educational and action programs, art contests, film festivals, and sustainable seafood events.


World Oceans Day 2015

The world celebrated "Healthy oceans, healthy planet" in the first year of a two-year theme for World Oceans Day. Nearly 1,000 events were held at aquariums, zoos, museums, recreational centers, youth clubs, schools, businesses, and countless individuals marked the day by doing something to keep our ocean healthy. Thousands took The Better Bag Challenge for World Oceans Day – promising to use reusable bags rather than disposable plastic bags for a year to help address the problem of marine debris.

Action online increased tremendously around World Oceans Day 2015. Millions learned about the Day and ways to help through social media, and tens of thousands were talking about it. The volume of discussion online doubled again in 2015.

More high profile events were held, including celebrities getting more involved:

United Nations Headquarters in New York City. The Division for Ocean Affairs and the Law of the Sea held a reception honoring the Day and the winners of the 2nd Annual World Oceans Day Photo Contest.

UNESCO in Paris: The Intergovernmental Oceanographic Commission of UNESCO organized a full day dedicated to the critical role of the ocean for a healthy climate. The program brought together scientists, political decision-makers, civil society, and youth to develop strategies to reduce climate pollution.

UNEP report on microplastics in cosmetics released. The study, entitled Plastic in Cosmetics: Are We Polluting the Environment Through our Personal Care: Plastic ingredients that contribute to marine microplastic litter is a compilation of currently available knowledge on the linkages between cosmetics and plastic pollution in the oceans.

The Economist in Lisbon, Portugal: The Economist's third World Ocean Summit was held just prior to World Oceans Day with the aim to set a new global agenda for the ocean economy. The Summit convened more than 250 leaders from various sectors and ignited a constructive dialogue on developing a blue economy in which economic opportunity is balanced by responsible investment in sustainability.

The US Department of State, in 16 cities worldwide: The US Department of State's annual Fishackathon event was organized to make fishing more sustainable through a weekend of connection and coding. Coders volunteered their talents at institutions including aquariums and universities to develop new tools that help fishers work smarter, more safely, and more sustainably.

Support from great ambassadors: Jack Johnson celebrated with 5 Gyres and youth in the Bahamas, SpongeBob Squarepants went on a tour to zoos and aquariums across the US, Jeff Corwin and Jack Hanna made a splash on TV through a World Oceans Day campaign with Litton Entertainment, and the Octonauts were in many locations and highlighted in numerous publications around the planet to celebrate World Oceans Day.


World Oceans Day 2014

The World Oceans Day 2014 theme was "Together we have the power to protect the ocean", and focused on raising awareness and promoting personal and community action in fun and positive ways, leading to a more aware, engaged, and sustainable society, and a healthier ocean. Events numbered more than 700. Twitter reach doubled in 2014 from 2013.


World Oceans Day 2013

The World Oceans Day 2013 & 2014 theme was "Together we have the power to protect the ocean." Events totaled more than 600.


World Oceans Day 2012

The World Oceans Day 2012 theme was "Youth: the Next Wave for Change".

The Ocean Project launched a completely revamped site for World Oceans Day 2012. There were over 500 events in 55 countries.


World Oceans Day 2011

The World Oceans Day 2011 theme was the same as its 2012 celebration. Events increased worldwide.


World Oceans Day 2010

In partnership with Dr. Seuss and the Census of Marine Life, World Oceans Day 2010's theme of "Oceans of Life: Pick your favorite * Protect your favorite" saw an increase in participation.

The Ocean Project and World Ocean Network recorded over 300 events for WOD 2010, a 26% increase over 2009. Participation in the United States increased by 32% (with participation in 37 states, as compared to 25 states the previous year). 45 countries participated in World Oceans Day 2010, including Bangladesh, Belgium, French Polynesia, Nigeria, Ghana, Kenya, Malta, Malaysia, Venezuela, and Portugal.


First UN-recognized World Oceans Day in 2009

On the first UN-recognized World Oceans Day events number over 200 worldwide, and the Secretary-General of the United Nations gave the following message:

The first observance of World Oceans Day allows us to highlight the many ways in which oceans contribute to society. It is also an opportunity to recognize the considerable challenges we face in maintaining their capacity to regulate the global climate, supply essential ecosystem services and provide sustainable livelihoods and safe recreation.

Indeed, human activities are taking a terrible toll on the world's oceans and seas. Vulnerable marine ecosystems, such as corals, and important fisheries are being damaged by over-exploitation, illegal, unreported and unregulated fishing, destructive fishing practices, invasive alien species and marine pollution, especially from land-based sources. Increased sea temperatures, sea-level rise and ocean acidification caused by climate change pose a further threat to marine life, coastal and island communities and national economies.

Oceans are also affected by criminal activity. Piracy and armed robbery against ships threaten the lives of seafarers and the safety of international shipping, which transports 90 per cent of the world's goods. Smuggling of illegal drugs and the trafficking of persons by sea are further examples of how criminal activities threaten lives and the peace and security of the oceans.

Several international instruments drawn up under the auspices of the United Nations address these numerous challenges. At their centre lies the 1982 United Nations Convention on the Law of the Sea. It provides the legal framework within which all activities in the oceans and seas must be carried out, and is the basis for international cooperation at all levels. In addition to aiming at universal participation, the world must do more to implement this Convention and to uphold the rule of law on the seas and oceans.

The theme of World Oceans Day, "Our oceans, our responsibility", emphasizes our individual and collective duty to protect the marine environment and carefully manage its resources. Safe, healthy and productive seas and oceans are integral to human well-being, economic security and sustainable development.


World Oceans Day 2008

Annual participation increased to over 100 events.
World Oceans Day 2003-2007

In the early years of coordinated efforts by The Ocean Project, with World Ocean Network, events numbered in the dozens. During this time, www.WorldOceansDay.org launched, to help promote the event and generate more involvement through dissemination of resources, ideas, and tools free for everyone to use to celebrate World Oceans Day. Also during this time, TOP and WON launched a petition to the United Nations to officially recognize June 8th as World Oceans Day (UN General Assembly passed resolution in December 2008 officially recognizing the Day).

CONTACTS
Phone: +1 401.709.4071
Address: P.O. Box 2506 , Providence RI , 02906
Email: info@worldoceansday.org
LINKS
http://www.worldoceansday.org/
http://facebook.com/WorldOceansDay
https://twitter.com/Climate_Action_
http://theterramarproject.org/thedailycatch/world-oceans-day-healthy-oceans-healthy-planet/
https://en.wikipedia.org/wiki/World_Oceans_Day
http://twitter.com/CelebrateOceans