1:20 SCALE MODEL - SmartNet™ EV service stations are dual fuel, hydrogen and battery, suitable for load levelling grids as renewable energy takes over from coal, oil and nuclear power. This is a concept, designed to give third parties a little bit of inspiration. With electricity prices rising in the UK under the Conservatives, we badly need a cure. Anyone got any better ideas?
You'd need 135 of these beauties to = the 1GW current EU capacity. So 810 units in Europe to satisfy 'Phase 1' (6GW) by 2024. 'Phase 2' would need 5,400 SmartNet™ stations to equal 40GW by 2030. Subject to confirmation during RIA R&D, it could be that these smart service facilities are part of the solution that Europe seeks in meeting their green hydrogen targets.

There are 600,000 fossil fuel stations in the world that need to be replaced to eliminate our reliance on ICE vehicles in the long term. We need to work with stakeholders to ensure a smooth transition, hoping for the reciprocal. Consider also, robotrucks and taxis that will need refuelling vending style, automatically for the next generation of autonomous delivery vehicles, now coming online thick and fast, also without and supporting infrastructure.
We offer that patent fees should be waived internationally for such (genuine) climate change solutions - where such applications are from very small entities or not for profit institutions. As you may imagine, Nelson is spearheading a campaign for exemptions with the WIPO, asking them to consider changing their rules to speed up green tech development, with each signatory to the convention, to adopt such policies. As an IP specialist, Nelson researched and drafted the application on behalf of the Cleaner Ocean Foundation, on a free basis. Filed in May, granted in August 2021. He advises a number of good causes as to effective intellectual property strategy.
UN75 & BEYOND - CHEAP ENERGY & TRANSPORT - Stakeholders need to be given the time to adjust and reinvest. We should not pull the plug on fossil fuels, until civilization is completely prepared to change, including fiscal policy revisions - such as not to destabilize economies. The cost of development of smart flat-pack service stations represents a huge risk to the developers, that would need to be spread, where capitalization must be weighed against the likely acceptance of such proposal, balanced against vested interests. In other words, though in principle a solid idea, it is a long-shot. If this subject is of interest, click on the picture to read more.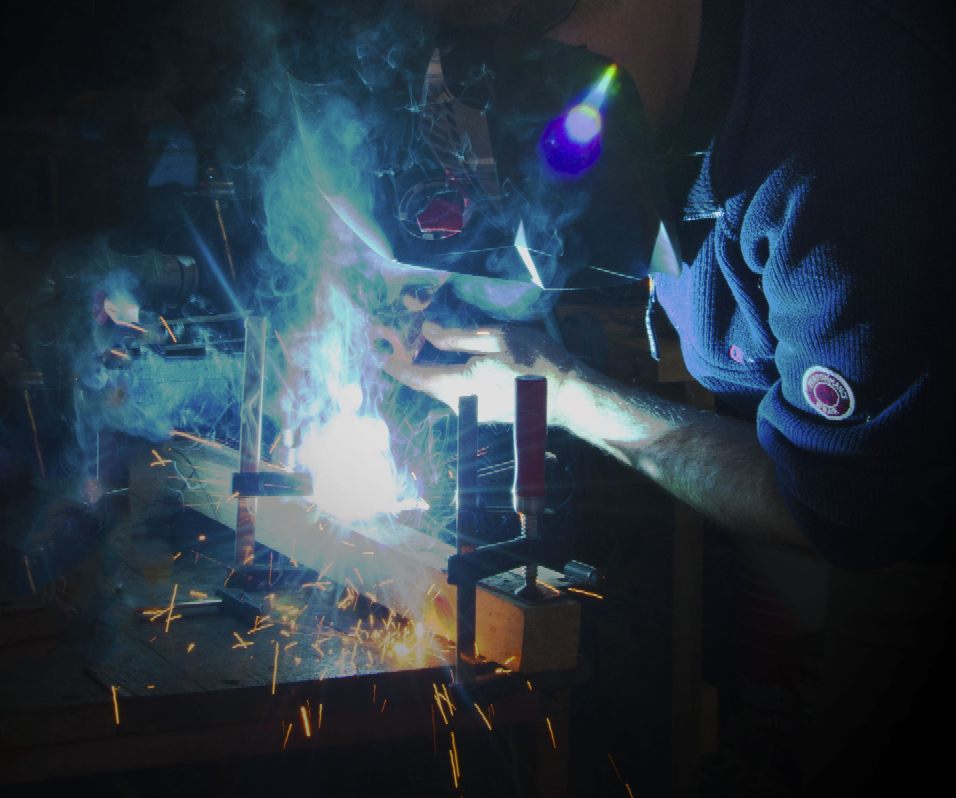 MASTER FABRICATOR - Construction in metals is a core skill that helps during the design process. As in thinking things through to the workshop floor. Nelson is seen here making a part in steel. This photograph by Karl in 2014 really captures the energy release that accompanies every joining using electric MIG, power wire fed welding equipment. Welding by electricity can also be TIG (Tungsten Inert Gas) or Arc using flux coated sticks. The TIG method is similar to gas welding using oxygen and acetylene to produce a very hot flame. In the TIG method, the oxygen and acetylene is replaced by argon gas, with electricity supplying the heat as an arc of electrons flowing from the tungsten torch tip to the work piece. If you cannot weld, you may as well give up if you want a career in practical prototyping.
WORLD ZERO CARBON CHALLENGE
The infrastructure problem is the same for road transport. For example, there are only 14 hydrogen filling stations in the UK, insufficient to refuel HGVs, hence zero emission road haulage is staid. The fuel crisis (petrol and electricity) in September 2021, illustrates the lack of preparedness. A sign of things to come. If electricity increases are based on fossil fuel imports, the electric car has lesser chance of general acceptance - unless - every country has a supporting infrastructure for hydrogen self-sufficiency and load levelling of renewably generated electricity.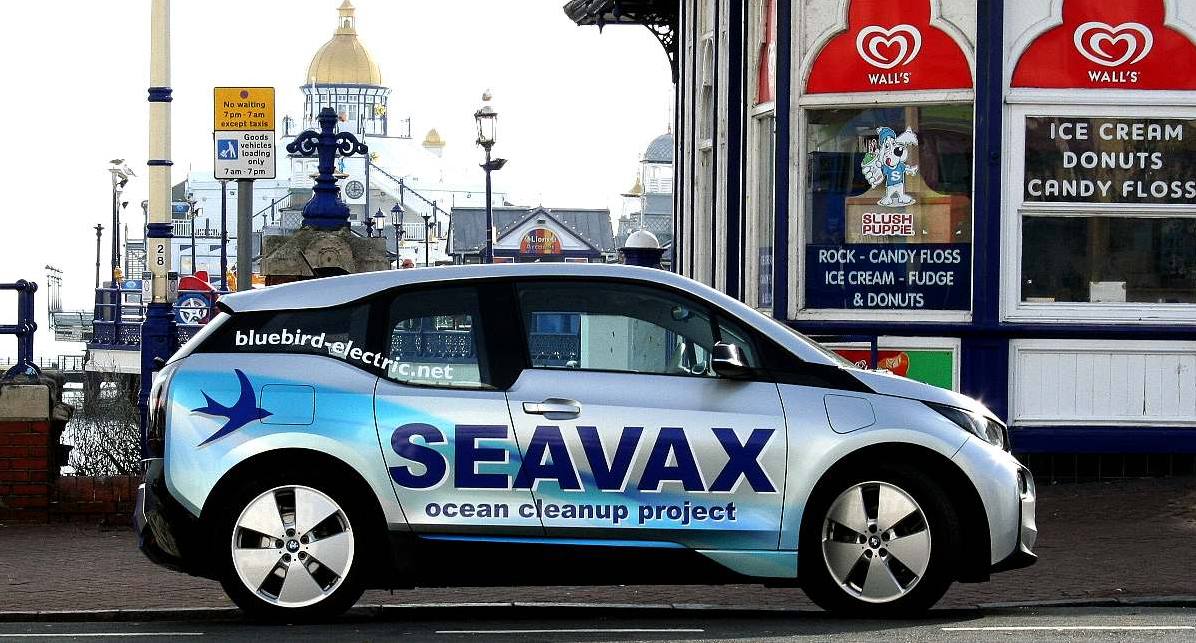 i3 - Once you have driven one of these little beauties you'll not want to get back into a petrol or diesel car. The performance is staggering for a town car, with 170 horsepower on tap. The sooner these cars are on the roads at more affordable prices the better. You soon get used to plugging in once every three or four days, and there is a generator onboard should you forget, increasing the range by another 100 miles, or until the next petrol station. We need more charging points, or battery exchange to make the transition to all electric motoring.
[LEFT] GULL WING HYDROGEN ECO CAR - This incredibly compact electric car features gullwing doors and when fully loaded, four wheel drive and 300hp (200kW), making it potentially one of the nippiest electric city cars around. The most important feature is a cartridge system that enables this concept car to offload old battery cartridges unassisted and load a fresh one using built in servos. Or exchange for a compatible hydrogen, ammonia or methanol energy cartridge, incorporating fuels cells. Thus, allowing swift transition from energy source to another, without having to buy another vehicle. Great for truckers who buy a battery HGV today, but want to upgrade to methanol or hydrogen fuel cells tomorrow - for greater range. Or even as a range extender. Methanol, hydrogen and battery cartridges already exist - and could easily be tailored to fit within this vehicle (using the same dimensional hard points) and the vast majority of vehicles being made today.
The loading system has been timed at 80 seconds using small motors, but this could come down to 20 seconds with the latest brushless motor technology - making this (potentially) the fastest electric vehicle recharging/transition system in the world. Dedicated service forecourts for vehicles so equipped could be a major contributor in the fight against climate change and power cuts. Also ideal for robotrucks and robotaxis.
In the quest for affordable clean energy (SDG7) cars like this could be the way, especially for sustainable cities as per SDG11. Copyright photograph © July 5 February 2017. You will need the permission of the Cleaner Ocean Foundation to be able to use these pictures, except for educational use and private study. The 'Ecostar' project was put on ice in favour of SeaVax, though may one day get a carbon fibre body and who knows what mechanicals.
[RIGHT] CITY CAR - A solar assisted electric car with (ammonia, battery, hydrogen, methanol) cartridge exchange built in. The EcoStar is seen here in an early stage of construction with the team that helped Nelson to build her in 2014, including Christina Dusart, Terry Valeriano and Chris Close. The young man in the front is Ryan Dusart, a budding engineer who is learning how to program using Raspberry and Arduino computers. This vehicle was designed by Nelson to give experience to the volunteers who were keen to pick up new skills. Four of the helpers became involved in the SeaVax project. This vehicle is ideal to test out the Hydrogen Battery concept, perhaps more beneficial for trucks and Smart Grid load levelling.
RESTORATION - This 1978 camper van is being restored for ocean awareness events. Nelson teaches students how to weld thin panels and structural chassis members. He also demonstrates body filling and spray painting techniques. This vehicle has been customized with a wider track and eco alloy rims, oil sump cooler and a stainless exhaust system. The bodywork has been modified to fit a special towbar designed so that servicing of the engine is easier. The vehicle will be wrapped over the white 2-pack. Copyright photographs © September 2018 and August 2019.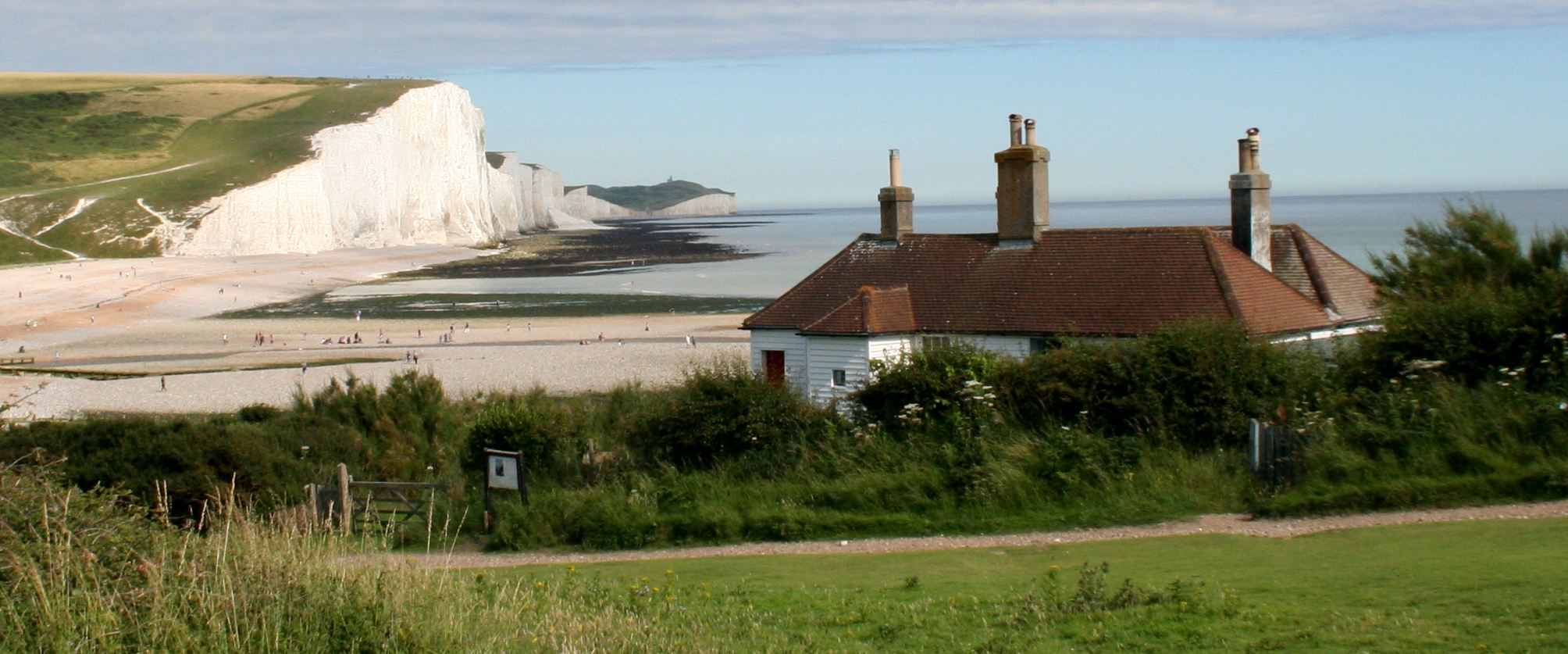 FAVOURITE WALKS - This famous view is also one of Nelson's much-loved walks. These are the old coastguard cottages, now privately owned, seen from above when walking to the beach from the car park. Who would not want to live with such a beautiful view, the sea winds and waves lapping on the beaches below. Copyright © 18 July 2016, all rights reserved.
LINKS & REFERENCE
https://www.
Copyright © 2021 Cleaner Oceans Foundation.