Rt Hon CAROLINE ANSELL MP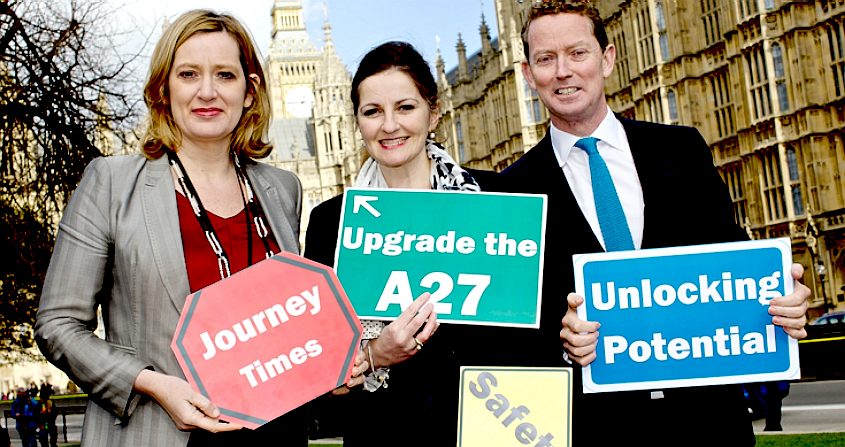 TRANSPORT - Amber Rudd and Gregory Barker join forces with Caroline Ansell on the subject of choking road traffic restrictions. Improve the A27 by all means, but that is not all that is wrong with Eastbourne. Don't get us wrong, it is a good start, but what about the bottlenecks strangling tourism in Eastbourne? ESCC Highways appear to have got their sums wrong in widening the A27, when it should have been a dual carriageway at least. Then there is Polegate and those traffic lights. The secret to improving trade anywhere in the world is to make it easy to get to where you want the goods to go. In the case of Eastbourne the goods are people as passengers. People who might want to visit interesting places. ESCC probably viewed Eastbourne as a sleepy coastal resort with an aging population that did not need a first class transport network. Thank heavens that Mrs Ansell thinks otherwise. Now what about our potholes?
Eastbourne is living in the transport dark ages, not even with dual carriage-ways all the way in/out of the town to give visiting families sensible access times.

When they finally arrive all hot under the collar from the delays, tourists are greeted by potholes just about everywhere, guaranteed to damage their suspension and put them off wanting to re-visit. Why?

Only around 5% of the tax we pay for roads ends up going on roads - misrepresentation at best, fraud at worst. See the Fraud Act 2006 and the duty that presents to those in trusted positions of power @ Section 4. Fuel for thought! As far as we can see, this statute applies to governments and government ministers. Nobody should be above the law.

Drive along any single lane road, and the moment it becomes dual-carriageway, all those myopic drivers traveling at below the speed limit, that were choking the road, suddenly turn into Stirling Moss and speed up to the point where they are going almost as fast as those now in the fast lane overtaking them. Does ESCC Highways not know this? The moral of this story is to give the less confident motorists the roads they need to get up to speed.

It is economic madness not to improve roads to and from Eastbourne, to at least dual carriageway, if not motorway standard access, as close to the town as possible.

Where motorways have taken over from dual carriageways, transport becomes effective. Businesses that rely on deliveries and delivering goods in this geographical region are at a huge disadvantage.

Road transport that is needed for a Circular Economy, requires efficient roads. Trains are no longer as sustainable in trade terms because they use more energy to transport goods and passengers than modern super minis and eco trucks. Rolling stock simply weighs too much for the passengers that rail networks carry.

We (Cleaner Oceans Club) hope to be able to commission a photographer to capture suitable images for a follow up campaign this year. If we can stretch to that, we will publish them here and on an associated transport related site: www.speedace.info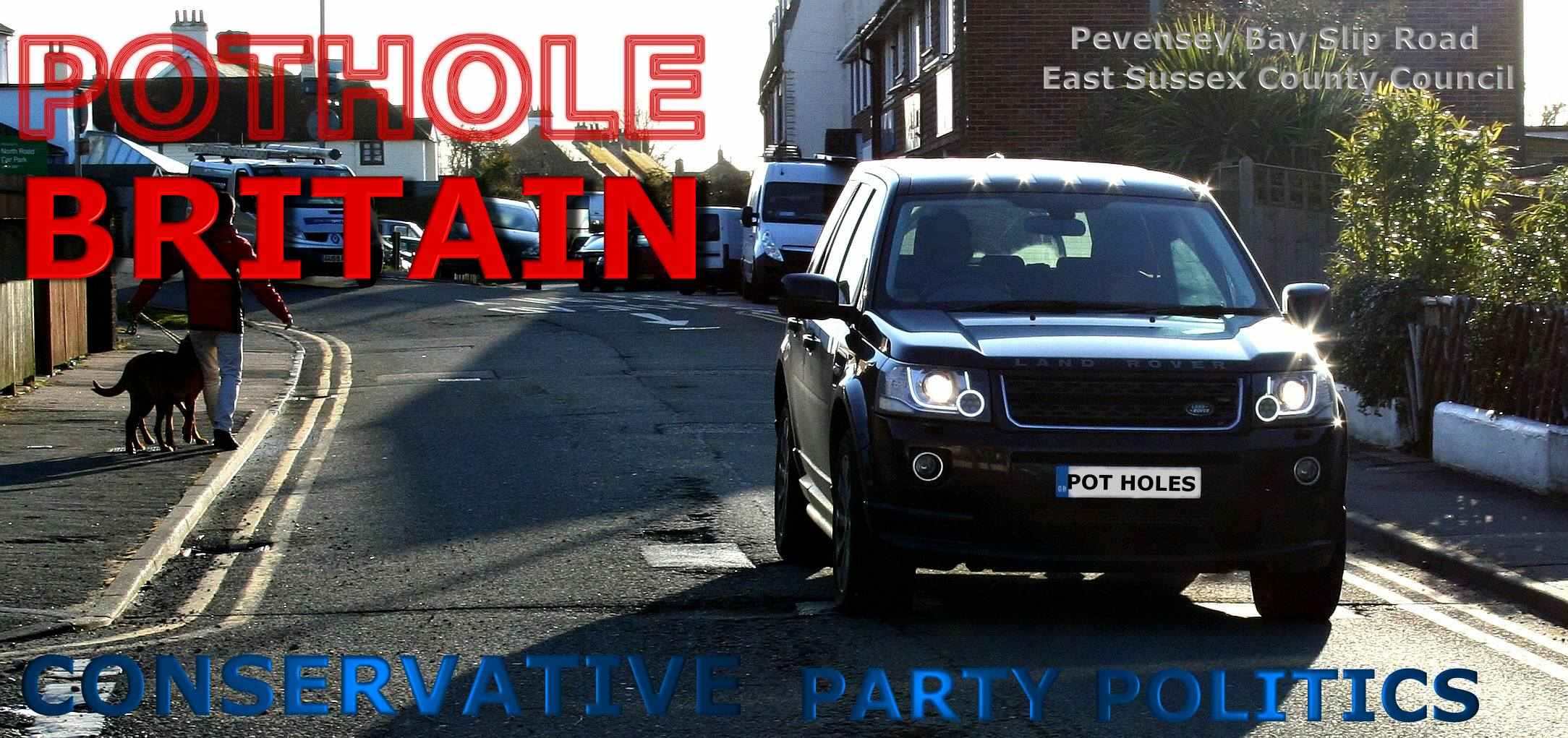 OUR LETTER TO CAROLINE 29 MARCH 2016
F.A.O. Rt Hon Caroline Ansell MP Recorded Post
House of Commons
London, SW1A 0AA Ask for: T Valeriano

29 March 2016
Dear Mrs Ansell

RE: EASTBOURNE PIER AT RISK MONUMENT & TRANSPORT

Thank you for your letter dated the 24th of November 2015.

We could not agree with you more that the pier is vital to Eastbourne's tourist economy. All the more important then that it is available to the visiting public in the form it was listed, rather than the vacant-lot look it has today.

We are interested in helping any owner of the pier to restore it and put in place a sustainable mechanism for ongoing maintenance. At the moment and not wanting to detract from the good intentions of the current owner, what appears to be on the agenda seems to us to be unlikely to render that situation – leaving the historic site on the "At Risk" register. The pier as it is, is questionably viable in commercial terms.

We have done all that we can to assist, but if that is not sufficient to get the job done, we would be interested in purchasing the whole of the site, should it come onto the open market. We should like all of those concerned to please bear this in mind. As a not for profit organization, we are better placed to secure the necessary funding to ensure that restorations are carried out to a suitable standard. We could add to this with the income stream from our Water Sports pageant. Is that not where Donald Trump made part of his fortune?

Other issues that we think you might like to take a look at are the restrictive road network that services Eastbourne and the diabolical state of the roads in Eastbourne. We are sure that we are not alone in wondering why it is that we are paying a Road Fund Licence, when the roads that we are supposed to be funding are this bad. It could be argued that the Conservative administration is in Breach Of Contract, when it comes to providing an efficient transport network and should perhaps refund road users.

We would like to hear from you as to the above issues, but most especially what plans any Conservative Government might have for improving our local transport network.

Yours sincerely,






Cleaner Oceans Club Ltd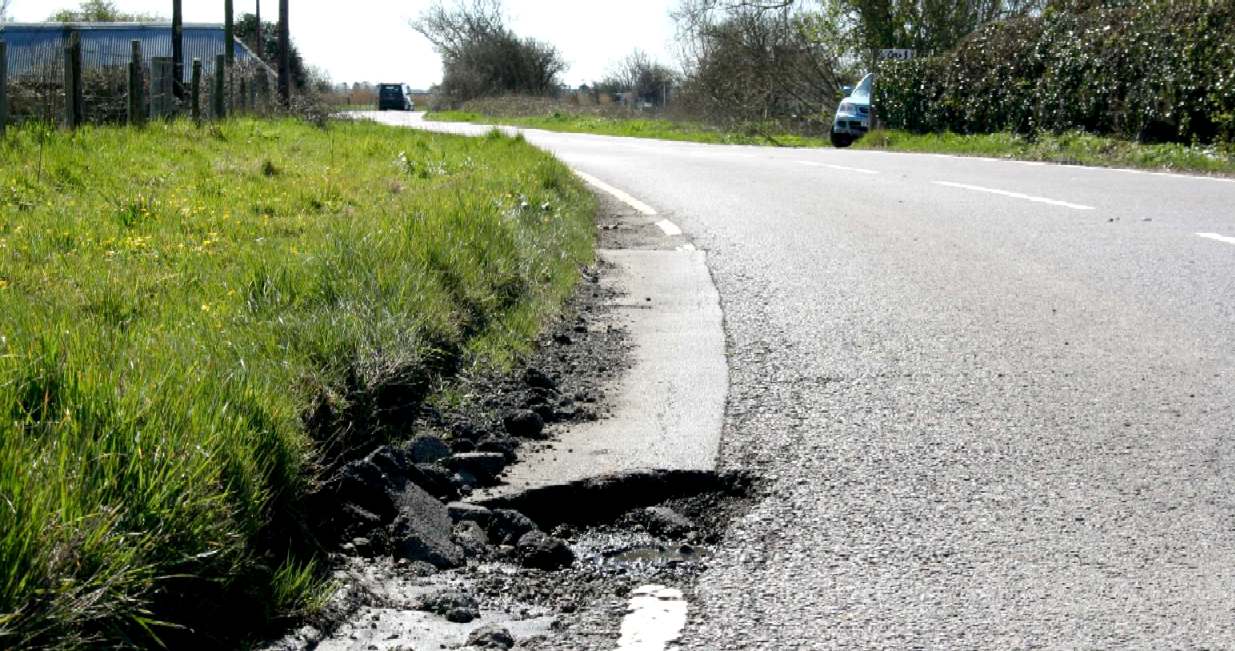 PEVENSEY LEVELS - Right on another bend. Who is repairing these roads and why are the repairs so short lived? Taxing us for roads and then not providing roads of merchantable quality is taxation fraud.
DAILY MAIL MARCH 26 2016

Fixing all the potholes would take councils 14 YEARS and £11.8bn - and they cost motorists £684m in repairs every year in the meantime

A new report looking at the state of the nation's tarmac has offered a damning verdict on the resources required to repair all the potholes currently scattered up and down England and Wales' roads.

Despite claiming that a pothole is repaired every 15 seconds, the new report said councils are failing to contend with the overwhelming backlog of new-found craters appearing on routes in their areas.

According to the Asphalt Industry Alliance, it will take an £11.8 billion investment and 14 years to fill all the potholes currently littering UK roads.

Last year, motorists had to pay out £684 million to have their cars fixed after driving through a pothole.

The annual Annual Local Authority Road Maintenance (ALARM) survey released on Wednesday said it could taken up to 168 months for councils to get around to every pothole in England and Wales, though this figure will have to be extended in light of recent budget cuts.

That's because councils have faced a 16 per cent decline in their road maintenance allowances.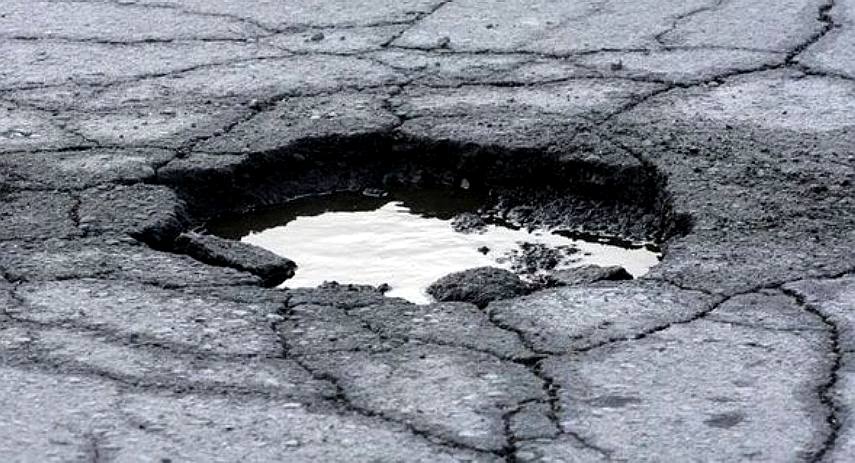 CAUGHT IN A RUT - Is the state of our roads indicative of our general well being as a nation. When we were young we were told that the state of a person's shoes is a good indicator of their prosperity. Hmmmmm.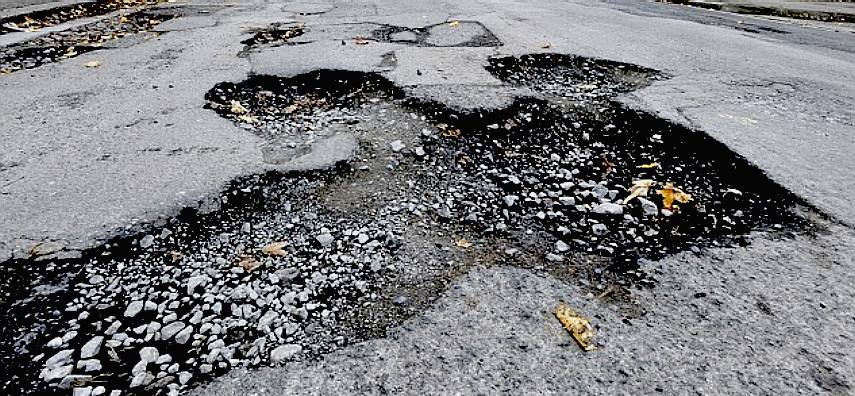 SHABBY - Councils ought to be ashamed of these potholes. Why not make council officers and members do community service. Arm them with a shovel and tarmac to make up for their lackluster performance.
Warranty Direct has seen a 159 per cent increase in axle and suspension damage linked to potholes since 2010. It says the average repair bill is £247 and reckons the total UK cost last year was a staggering £729million.
BE PROACTIVE, HIT THEM IN THE WALLET
With potholes estimated to cause as many as 1 in 10 mechanical failures on UK roads and costing motorists an estimated £730 million every year, Potholes.co.uk has been created to help you avoid the cost and misery they cause...

Whether your car's been damaged by a pothole and you want to know how to make a claim against a local council or you just want to report a poor piece of road, this is the place you'll find the information you need.


Potholes are the blight of anyone who uses the roads in the UK. According to a survey, 7 in 10 drivers have had problems with them, yet, only two-thirds of cars that have been damaged by them have successfully claimed some compensation.

Which!!! did some research and found that 4 out of every 10 drivers who had hit a pothole didn't bother claiming because they didn't know how to, while some said that they didn't bother because it wasn't worth the hassle.

However, 55% of satisfactorily resolved claims got some money, paying out an average of £188, which means drivers are missing out and should be submitting claims to the Highway Agency or local authority.

According to the research, successful claims usually depend on whether or not a pothole has already been reported. Local authorities have a statutory defence thanks to Section 58 of the Highways Act 1980, which basically says that, if an authority can show that reasonable care was taken to make the road safe and that it wasn't dangerous to drivers, they're covered. However, if a local authority knows about a pothole and hasn't repaired it, drivers could put a claim in.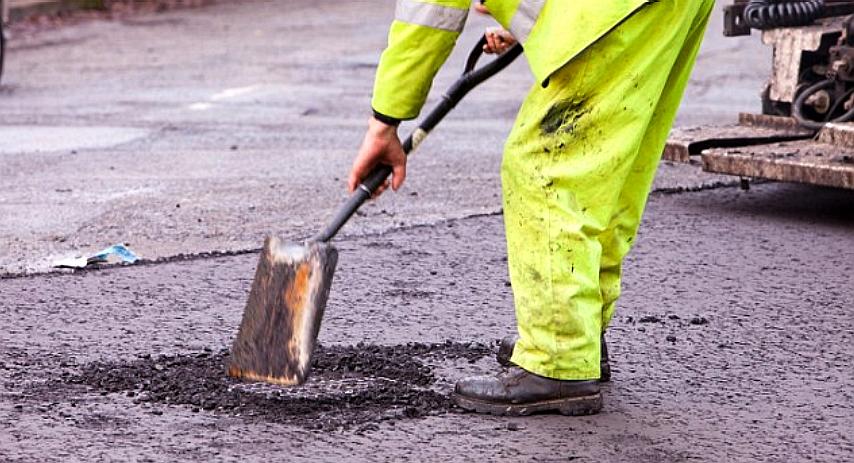 THE CHANCELLOR - George Osborne is seen here in his spare time doing what he can to shore up our economy. His other efforts in this direction on paper, are nowhere near as effective to date. At least he is trying.

HOW TO MAKE A CLAIM

Before making a claim, it's a good idea to get a quote to fix any damage, or if you have repair work done, make sure you keep your receipts.

Before making a claim, it might be worth calling the council or the Highways Agency responsible for maintaining the road to check whether they will reimburse you if you undertake repair work.

They may have a specific claims protocol which requires you to provide certain information prior to making a claim.

The more supporting evidence you can provide, including copies of any receipts, the easier making your claim will be.


DON'T BE AFRAID OF NEGOTIATING

If the council or relevant authority makes an offer, you may be able to negotiate.

While you can claim the cost of car repairs, you won't necessarily be compensated for additional travel expenses or the inconvenience caused.

However, if you had to pay for alternative transport while your damaged vehicle was being repaired and have kept receipts, for example, you may be able to claim compensation for this too.


WHAT IF A COUNCIL REJECT A CLAIM ?

If your claim is rejected, you can use the small claims court to pursue your claim.

However, Which suggest that you seek legal advice first, as you may be liable for costs if you lose the case.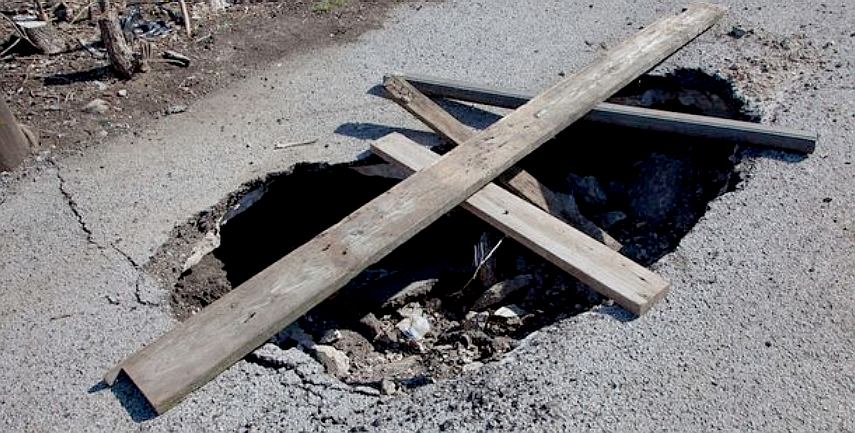 PLANKS - Is our administration run by wooden heads? It sure looks that way. We might as well go back to saddles and spurs, if we cannot sustain an infrastructure that is suitable for our horseless carriages. Thomas Telford would turn in his grave.
In the Chancellor's Autumn Budget statement he confirmed £250 million had been set aside in a pothole fund to help fill the ruts.

However, the total shortfall in the annual carriageway maintenance budget was £791 million last year, an increase of £230 million on 2014.

Split across the varying councils in England, each faces an average of £69 million to repair its cavity-cluttered roads.

As well as causing headaches for councils enduring complaints, motorists are feeling the burden of badly maintained roads more so than ever.

A new KwikFit report said motorists are having to fork out £684 million a year to have their cars fixed after driving through a pothole.

Based on a survey of 2,051 drivers conducted by the car maintenance group, it found 6.3 million drivers had to pay an average of £108 each last year to have tyres replaced or wheels, suspension and bodywork repaired due to the damage caused by cavities in the tarmac.

Peter Box, transport spokesman at the Local Government Association, said: 'Local authorities are proving remarkably efficient in how they use this diminishing funding pot but they remain trapped in a frustrating cycle that will only ever leave them able to patch up our deteriorating roads.

'Councils share the frustration of motorists having to pay to drive on roads that are often inadequate.

'Our polling shows that 83 per cent of the population would support a small amount of the existing billions they pay the Treasury each year in fuel duty being reinvested to help councils bring our roads up to scratch.

'Our roads crisis is only going to get worse unless we address it as a national priority.

'The Government's own traffic projections predict a potential increase in local traffic of more than 40 per cent by 2040.

'Councils desperately need long-term and consistent funding to invest in the resurfacing projects which our road network desperately needs over the next decade.'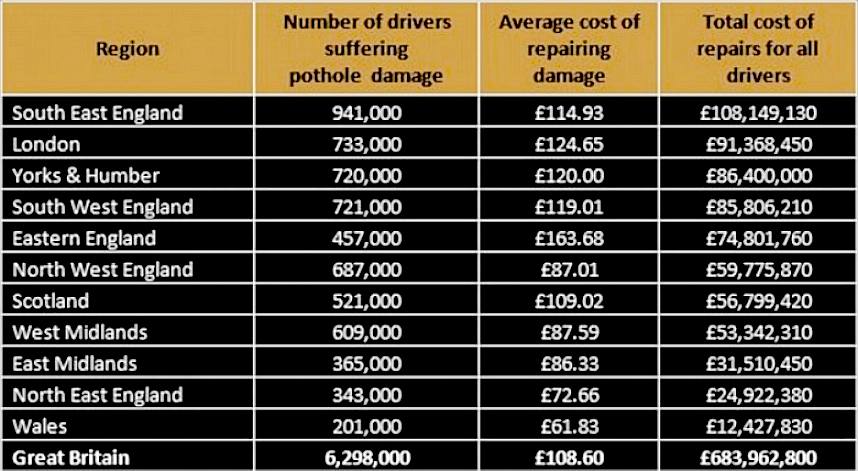 GROSS NEGLIGENCE - The above figures are proof of the failure of our elected local officials to remedy a known danger to society. When a council or minister does not conduct themselves as expected, this is known as misfeasance in public office, a civil wrong. Where there is impropriety, such as with the expenses scandal, that is called malfeasance in public office and is a criminal issue, where MPs go to prison for fraud. Our economy appears to be heading in the direction of malfeasance, unless ministers can show us where our money has been spent. Judging by the state of the economy and if there were an investigation, a number of ministers might well expect a spell of time at Her Majesty's Pleasure.
The ALARM survey also reveals that only £13.5 million has been paid out in compensation in England and Wales, just 2.1 per cent of the total cost of damage, KwikFit calculated.

It also found that potholes in the South East and London cause more damage than anywhere else in the country.

Based on the AIA's estimations, if every road in England and Wales was to be resurfaced to provide a silky smooth drive up and down the country, it would take a mind-melding 65 years to complete.

Roger Griggs, communications director at Kwik Fit, commented: 'We all understand that council budgets are stretched right across the country, but this research shows the financial burden being placed upon individual motorists.

'And that's purely the repair bill - it doesn't take into account the inconvenience to people in having their cars off the road for repairs.

'One pothole can cause misery for countless motorists, so it's vital that local authorities make it as easy as possible for people to report the presence of a pothole.'

RAC chief engineer David Bizley added: 'These findings are disappointing, but unfortunately not surprising. While around £1bn a year has been allocated by central government for local roads in England between now and 2020, their condition appears to be getting worse rather than better.

'While the Government's Road Investment Strategy is ensuring the future 'fitness-for-purpose' of the strategic road network in England there is a very real danger that local roads will suffer ongoing decline through insufficient investment and no long-term strategy to improve them.

'What use would it be having excellent motorways, major roads, railways, ports and airports if, when getting to or from them, you are faced with pothole-ridden, crumbling local roads where, of course, all journeys start and finish.'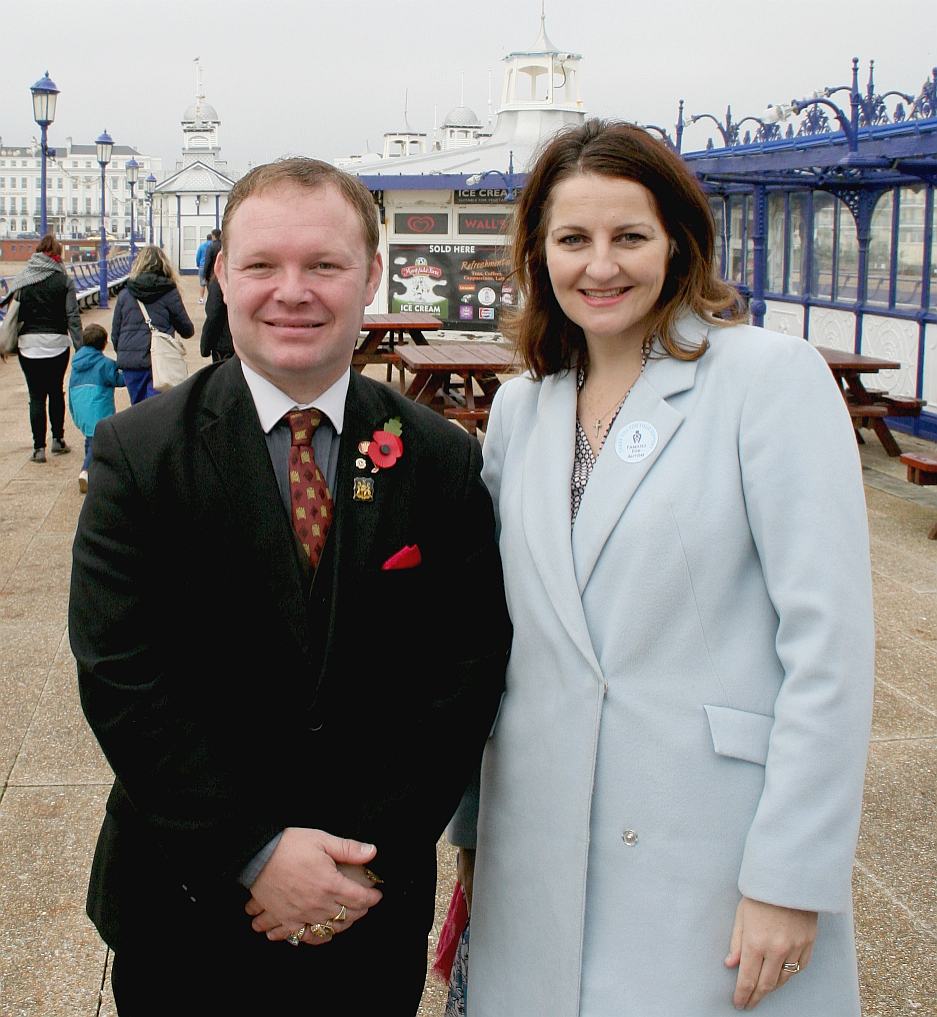 OCTOBER 31 2015 - Lord Brett McLean and Caroline Ansell on Eastbourne pier during the public question and answer session hosted by Mr Abid Gulzar. Lord Brett is chairman of the East Sussex Economic Advisory Board and an ambassador for Locate, an organisation that promotes the Sussex area for business location and growth. Copyright photograph © Cleaner Ocean Club Ltd Oct 2015. Please ask for permission before reproducing this photograph.

SOMETHING MISSING - The twisted steel structure has been removed and the boarding replaced thanks to Crown Entertainment Centres. Now all we need is for the Blue Room to be rebuilt to bring the pier back to its former glory. Anyone taking on the pier would, we are sure, join with us in lobbying for better roads. Especially when considering installing attractions that will pull the crowds. Because, you cannot pull the crowds if they cannot get to the attraction.
The cost of rebuild of the missing monument to the Victorian era where sea air was in vogue, is estimated to be in the region of £5 million pounds. Without the former music pavilion the pier is not the attraction that is should be. Visitors do not have any attractions to entice them onto this historic site, other than to see what is missing. Strangely, people are coming to look at nothing, but for how long. Copyright photograph © Cleaner Ocean Club Ltd Oct 2015. Please ask for permission before reproducing this photograph.
BBC NEWS JUNE 2014 - Pothole fund of £168m allocated to councils in England

Details of where money set aside to fix potholes in England will be spent have been released by the government - with extra cash going to "model" councils.

Ministers say the £168m, split between 148 councils, will help to fix some three million potholes by March 2015.

All councils which applied for money will get a share, but extra has been given to those which "demonstrate best practice in highways maintenance".

But the Local Government Association said the sum was "a drop in the ocean".

The AA welcomed the funding but said more work on road surfaces was needed.
'Menace'

Transport Secretary Patrick McLoughlin said: "Potholes are the bane of all our lives and the funding announced today is an important step in ridding our roads of this menace.

"But it is only one part of a massive programme of investment to get our country up to speed as part of this government's long-term economic plan."

It costs an estimated £53 to fix every pothole, the Department for Transport said.

BBC transport correspondent Richard Westcott said the money would "bring some relief to drivers", but added: "Councils have been saying for years that they need billions, not millions, to really fix our roads."

Councils in London will receive £10m of the latest funding - enough to fix an estimated 188,000 potholes - while £5.1m will go to North Yorkshire, with Cumbria to get £4.8m.

The money must be used to "repair potholes or to ensure that they do not appear in the first place" and councils must publish monthly updates on how many repairs have been carried out.

A "greater share" is being given to those which have "invested in new technology and initiatives".

These include Northamptonshire - which has "set up systems to track pothole repairs in real time" - and Hampshire - where new pothole fixing equipment can be converted to grit roads in icy weather.

The Department for Transport said the money, first announced in Chancellor George Osborne's Budget in March, was "part of the biggest investment in roads since the 1970s".

It said £24bn would be spent on England's strategic road network - meaning motorways and many A-roads maintained by the Highways Agency - from 2010-21.

Local councils are responsible for other roads, and the government said £7.4bn would be "committed to local roads in the next Parliament", along with money from other funds given to councils.

The latest pothole funding is separate from the £183m allocated to English councils in March to repair roads damaged by the winter's severe weather.
'Sticking plaster'

An LGA spokesman said: "While we welcome any extra funding, £168m is a drop in the ocean compared to the £12bn backlog in roads maintenance.

"Moreover, we are disappointed to see the government tie this funding to monthly reports on pothole repairs.

"Fixing potholes is a sticking plaster-approach which does nothing to address the fundamental decay of the underlying road infrastructure.

"What we need is a considered, long-term approach to road maintenance not annual announcements of emergency funding."

AA president Edmund King said: "Potholes in the UK have been a long-running scourge that has cost tens of thousands of car owners millions of pounds in repair bills, and councils millions in compensation claims.

"The new government money is very welcome but it will only be truly effective if roads are re-surfaced on time and not just patched up after each winter."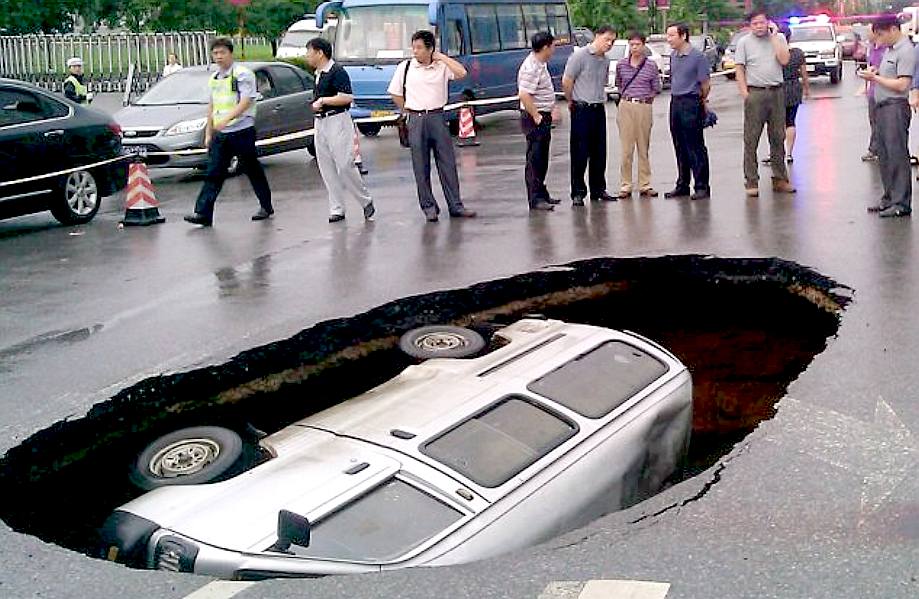 WORLD RECORD POTHOLE, JUNE 2013 - This picture is indicative of our budget deficit under the Tories. They have known about the pothole issue since 2010, but done very little about it.
As fears grew over the Government's plans to privatise Britain's already battered roads in 2013, this picture shows just how hairy potholes can be in communist China.

As the driver of this minibus cruised through the city of Guilin, in south China's Guangxi Zhuang autonomous region, the last thing he would have expected was drive headlong into a sinkhole.

Without warning, the 2m-deep pit opened up and engulfed his vehicle as he drove along the Fuxing Road in the city's Qixing district.

The driver - the only person in the vehicle - was rushed to hospital, where the extent of his injuries are unknown, an officer from Giulin's traffic management department said.

According to reports the pit, which was about 13ft long, 8ft wide and 6ft deep, came after heavy rains weakened the eroded the road's asphalt surface.

The cause of the accident is under investigation, People's Daily Online reported.

Last month (May 2013) Prime Minister David Cameron announced controversial Government plans to privatise England's motorway and major trunk roads.

Under the proposals they would be run and maintained by private sector firms and investors, who would be allowed to levy pay-as-you drive tolls on new roads or lanes which they create.

The aim is to improve the biggest and busiest roads on the UK's ailing 362,598 mile road network. China's entirely state-run road network is, of course, much bigger.

Does that not mean that English motorists would be paying twice to travel by road? The road fund licence, or road tax, is to build new roads, as well an maintain our existing stock. Tell you what, why not build another nuclear submarine or aircraft carrier that we don't need, and forget about roads. Invest in a pony and trap. That kind of sums up Conservative policy on roads and quite a lot more according to the opposition.
CONTACT CAROLINE
The Office of Caroline Ansell MP
42 Grove Road
Eastbourne, BN21 4TY

office@carolineansell.co.uk

Telephone: 01323 409000
House of Commons
London, SW1A 0AA

Tel: 020 7219 6863

Email: caroline.ansell.mp@parliament.uk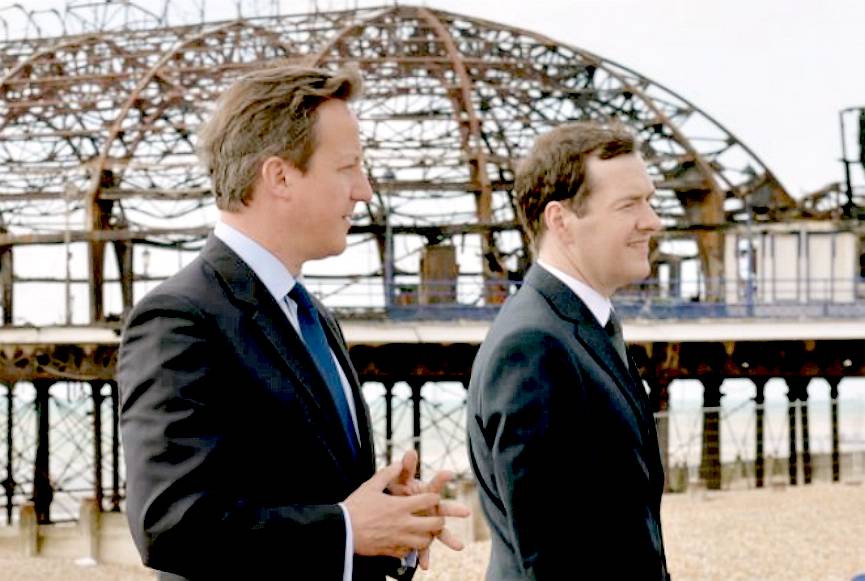 PONY & TRAP - David Cameron and George Osborne visited Eastbourne in 2014, to see Eastbourne's pier for themselves. They were so concerned at the hardship that this disaster might cause local traders that they immediately offered £2 million in aid. That two million seems to have gone up in smoke like the pier and our roads. The duo must have noticed the state of the roads, but offered nothing more to help a region that is suffering more than others.
LINKS & REFERENCE
http://www.fillthathole.org.uk/
http://legalservice.which.co.uk/
http://www.which.co.uk/consumer-rights/action/how-do-i-report-a-pothole-and-claim-compensation--
http://www.bitterwallet.com/7-in-10-drivers-hit-potholes-and-how-to-claim/83890
http://www.mirror.co.uk/news/uk-news/potholes-plague-worst-ever-winter-3038269
http://www.dailymail.co.uk/money/cars/article-3506197/It-councils-14-years-11-8bn-fix-pothole-ravaged-roads.html
http://www.bbc.co.uk/news/uk-27935282
http://www.potholes.co.uk/
https://www.gov.uk/report-pothole
https://www.conservatives.com
https://new.eastsussex.gov.uk
http://www.eastbourneindependent.co.uk/news/13954191.Row_over_Eastbourne_MP_s_pay_rise_rumbles_on/
http://carolineansell.co.uk/
http://carolineansell.co.uk/new-owner-for-eastbourne-pier/
https://twitter.com/caroline_ansell
http://www.parliament.uk/biographies/commons/caroline-ansell/4512