Rt Hon GEORGE OSBORNE MP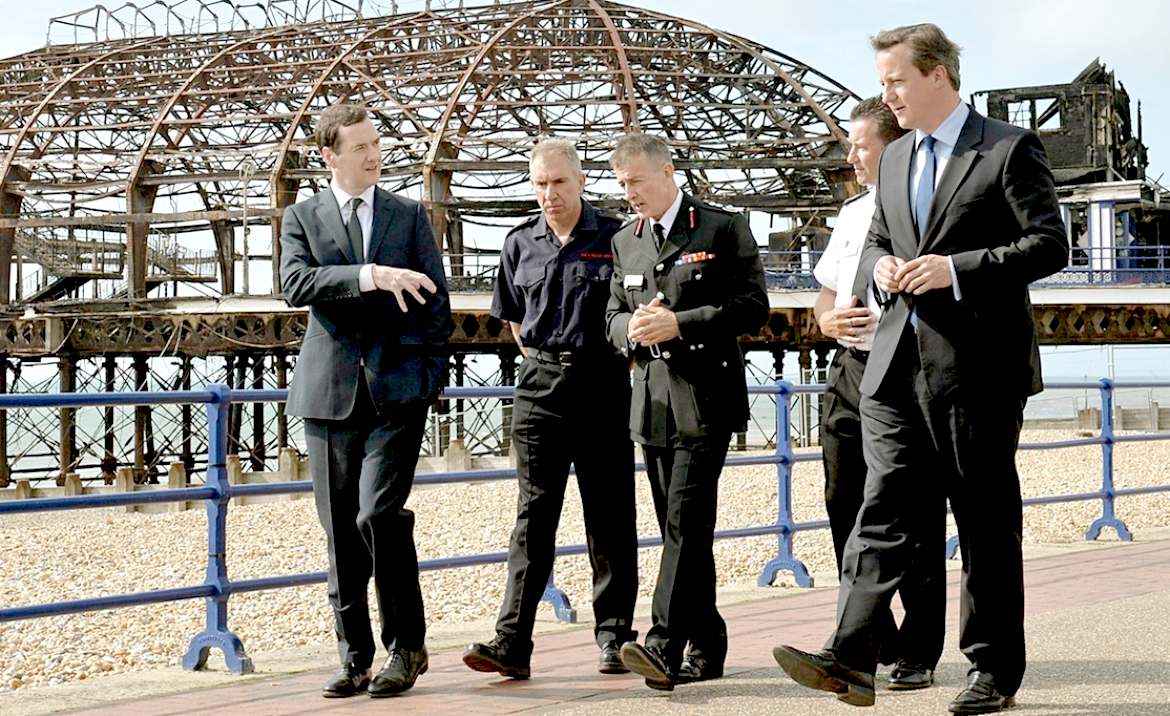 PRIME MINISTER - David Cameron and George Osborne visited Eastbourne in 2014, to see the carnage for themselves. They were so concerned at the hardship that this disaster might cause local traders that they immediately offered £2 million in aid. That did nothing for the pier itself, although judging by the Eastbourne Herald blog, many locals were left with the impression that it would. Who knows what the future might bring with a government that cares about coastal communities.
THE ARGUS, 1 AUGUST 2014

Visit comes two days after a fire on Eastbourne Pier. The Prime minister will today pledge £2 million to help the town's tourism industry.

11:32am - "But of course all public services have had to make difficult, long term decisions on how they can be more effective and efficient. They demonstrated with this fire they were capable of doing the job they were asked to do."

11:30am - " I was also impressed to hear about the mutual support arrangements with West Sussex and Kent. They worked well..."

11:29am - On Government fire cuts, David Cameron said: "I asked the fire fighters what lessons there were to learn from this fire and they said they were able to get the number of fire engines they required on time at the site. They did a brilliant job in saving as much of the pier as they did."

11:23am - "In particular we are talking about the traders. The money is there to be used how they think best, whether in a hardship fund or making alternative facilities available for businesses to trade from or promoting the town as a tourist destination. It is up to the council. I believe in localism and I want to give the Eastbourne people the decision."

11:21am - "These are hard working people who have seen their businesses taken away on the pier. We've given £2 million to Eastbourne council and said they can use that money in a way they think is best and to help the people of this town who may be suffering after this terrible incident"

11:20am - "We talked about how we were going to get out the message that Eastbourne is open for business and how we will try and put things back together again as fast as we can"

11:19am - "I went to the pier itself and met some of the people who work there and had a good session with the firefighters themselves, plus local businesses and council representatives"

11:18am - Cameron told The Argus: "We went to the RNLI to see what the lifeboats had done. It is clear they played an absolute key role..."

10:21am - Stephen Lloyd MP said he was delighted to hear the town would receive a £2 million helping hand.

10:04am - All media have been rushed to Eastbourne's fire house in Whitley Road, where the PM will answer questions from the press.

The Chancellor and the PM both took a look at the gutted structure, greeted by Eastbourne MP Stephen Lloyd and Chief Fire Officer Des Pritchard.

10:02am - Two days on, the smell of burnt pier still lingers across Eastbourne's treasured seafront. Joggers, walkers and tourists all stop to take pictures of the monument's skeletal remains, for which David Cameron pledged £2 million yesterday to help restore.

Eastbourne resident Donna McCluskey said: "What great news to wake up to. There has been a real community spirit in the town since what happened and it is really refreshing to see."

Another resident, who did not want to be named, said: "When it is rebuilt I don't want to see any nightclubs or arcades. Let's use this opportunity to get some heritage back on the pier."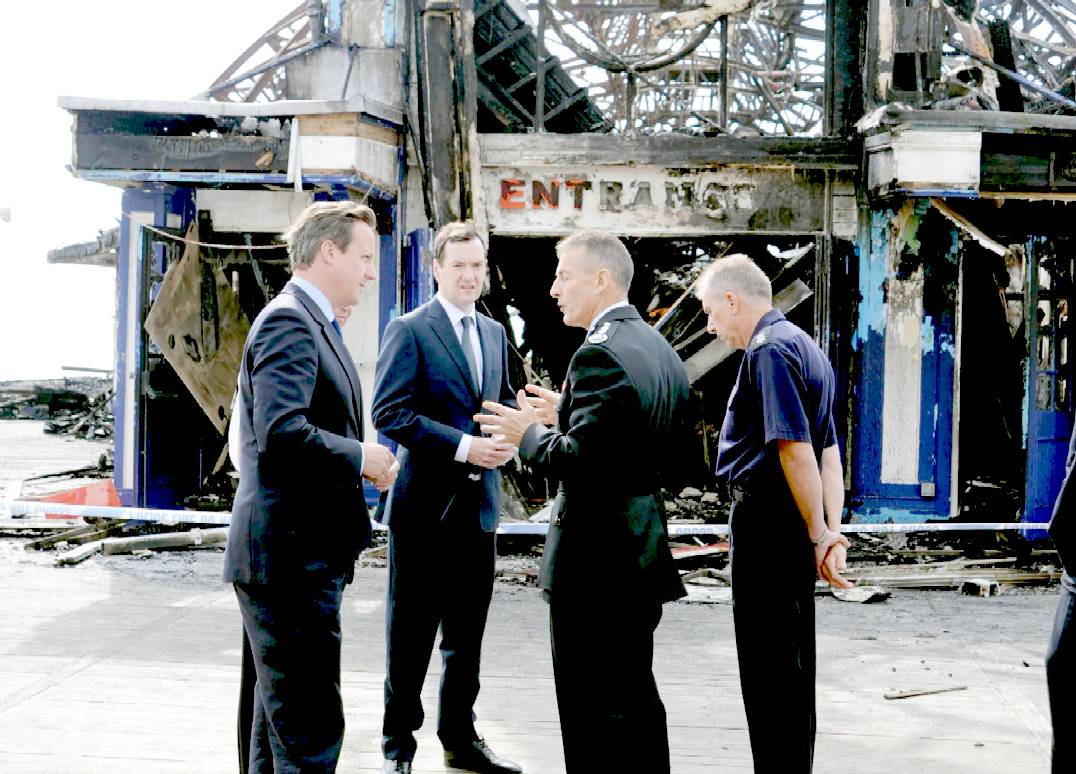 THE GUARDIAN 1 AUG 2015

Announcing the injection of funds to restore the historic pier earlier in the day, Cameron said: "I know that the loss of one of Eastbourne's most prominent and well-loved landmarks will have hit the town hard and I am determined to do all I can to help local businesses recover."

The chancellor added: "Eastbourne pier is a much-loved local attraction and this fire is devastating news. I am therefore delighted to be able to provide financial support so we can minimise the effect on business and tourism.

"We will work with Eastbourne as a matter of urgency to ensure that the funding is provided without delay so people can start enjoying the pier again."

The move will be overseen by Penny Mordaunt, the new minister for coastal communities, amid fears among Conservatives about the strength of Ukip in many marginal seaside towns that could swing to Labour at the election.

Mordaunt named 10 coastal towns which will receive £8.5m from the fund in the latest round of applications, designed to boost tourism, regenerate historic sites and provide new flood defences. The biggest chunk of money will go to Eastbourne, where the 144-year-old Grade II listed pier was all but destroyed in a fire this week.

The government will also be giving around £1m to help repair the south-west path damaged in storms earlier this year and almost £2m to help restore a Grade II listed lido in Penzance.

The newly created job of minister for coastal communities given to Mordaunt in the reshuffle appeared to be an attempt to neutralise the threat of Ukip in seaside towns. Eastbourne, a marginal seat which is likely to be a target in the 2015 general election, is currently held by the Lib Dems, with the Tories close behind.

Mordaunt's appointment came just weeks after Nigel Farage hinted he may stand in the coastal area of Thanet South at the next election. Last year he told The Times: "What's become really interesting is the phenomenon that no one has really noticed, which is that by accident we're becoming the seaside party."

Ukip is strong in places such as Waveney, Great Yarmouth, Skegness and Margate.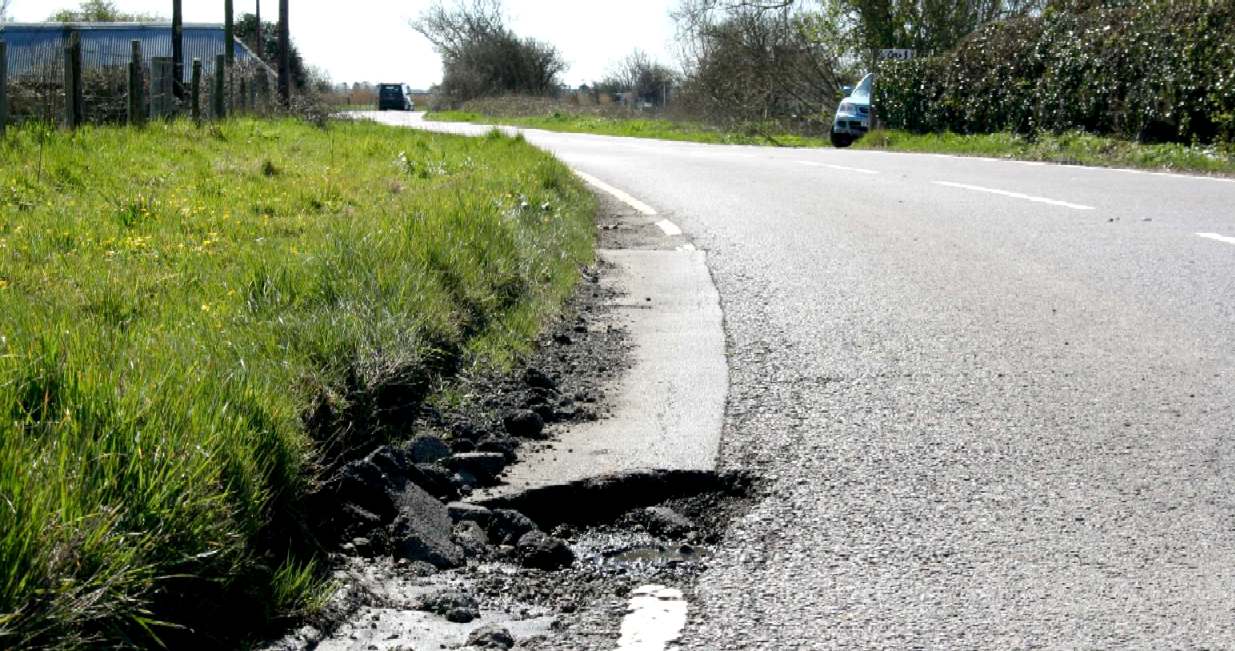 POTHOLE POLITICS - Taxing us for roads and then not providing roads of merchantable quality is taxation fraud. Are they taking our money under false pretences and spending it on contracts that will benefit party coffers. One thing is for sure, the state of our roads is indicative of the state of our economy.
EASTBOURNE HERALD - Friday 31 July 2015

Eastbourne council still has high hopes for Eastbourne Pier despite the news that the owners of the seafront landmark are considering selling up.

Cuerden Leisure announced yesterday (Thursday) it was evaluating its options on the future of the pier after council planners turned down plans for a Victoria fairground with rides on newly installed decking.

The news came on the one year anniversary of the pier blaze, which destroyed the iconic Blue Room.

Cuerden Leisure had hoped the fairground project would help boost takings but said it was hugely disappointed the scheme had been rejected.

On Thursday council leader David Tutt spoke to the Herald about his hopes that something could soon be installed on the decking.

http://www.eastbourneherald.co.uk/news/video-hopes-for-eastbourne-pier-one-year-after-the-blaze-1-6880247

[Please note that although we include the URL for to be able to reference their story, that the Eastbourne Herald website is extremely slow and unresponsive due to top heavy advertising, soaking up serious energy on the internet, hence is not climate friendly - we do not recommend visiting this site unless absolutely necessary - surf responsibly]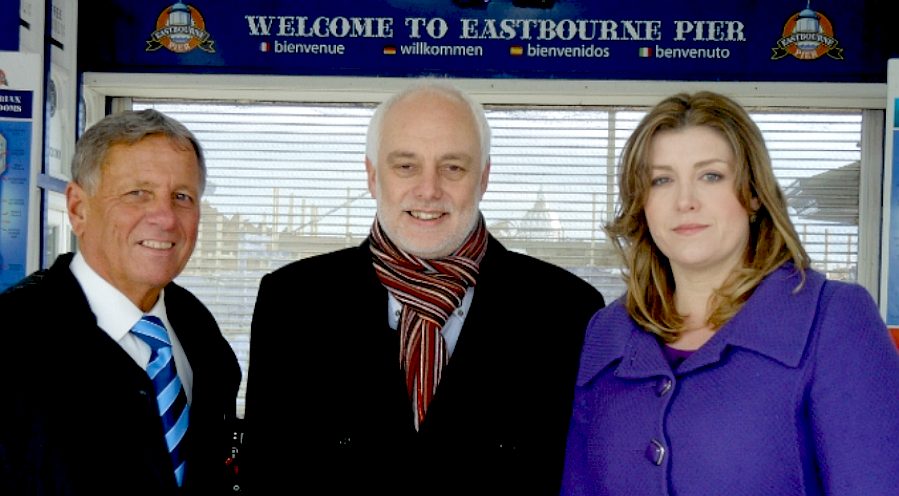 JAN 2015 MINISTERIAL VISIT - Councillor David Elkin, Councillor David Tutt and Penny Mordaunt MP. Coastal Communities Minister Penny Mordaunt visited Eastbourne Pier today on Monday January 19 2015 to view progress on its restoration following the fire.

She was accompanied by Leader of Eastbourne Borough Council, Councillor David Tutt, and Leader of the Opposition, Councillor David Elkin, on a tour of the Victorian attraction which is undergoing extensive repairs after last summer's blaze destroyed a third of the structure.

The removal of the pier's fire-damaged steel dome is almost complete and the next stage will be to strengthen the steel substructure of the pier and install new timber decking beneath the arcade.

Meanwhile the pier owners are currently assessing which architectural practice should be awarded the prestigious and unusual task of designing a new building for the pier.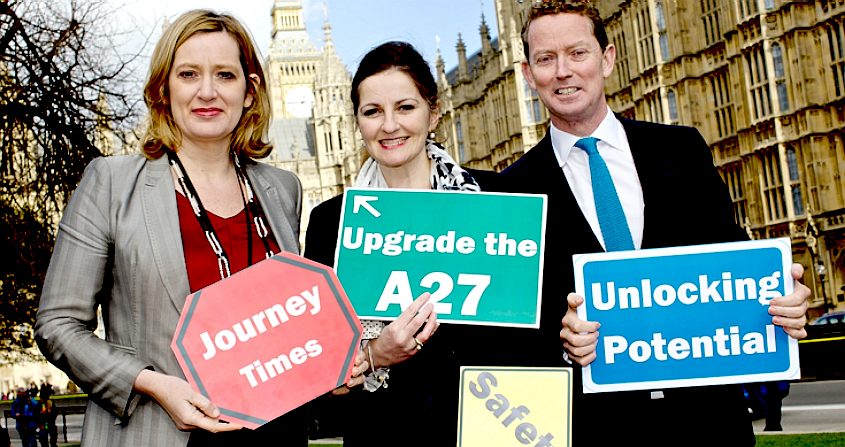 TRANSPORT - Improve the A27 by all means, but that is not all that is wrong with Eastbourne. Don't get us wrong, it is a good start, but what about the bottlenecks strangling tourism in Eastbourne? ESCC Highways appear to have got their sums wrong in widening the A27, when it should have been a dual carriageway. Then there is Polegate. The secret to improving trade anywhere in the world is to make it easy to get to where you want the goods to go. In the case of Eastbourne the goods are people as passengers. People who might want to visit interesting places. ESCC probably viewed Eastbourne as a sleepy coastal resort with an aging population that did not need a first class transport
CONTACTS
Write to the Prime Minister:

The Rt Hon David Cameron MP
Prime Minister
10 Downing Street
London
SW1A 2AA

Contact the Conservative Party:

Conservative Campaign Headquarters
4 Matthew Parker Street
London
SW1H 9HQ

+44 (0) 20 7222 9000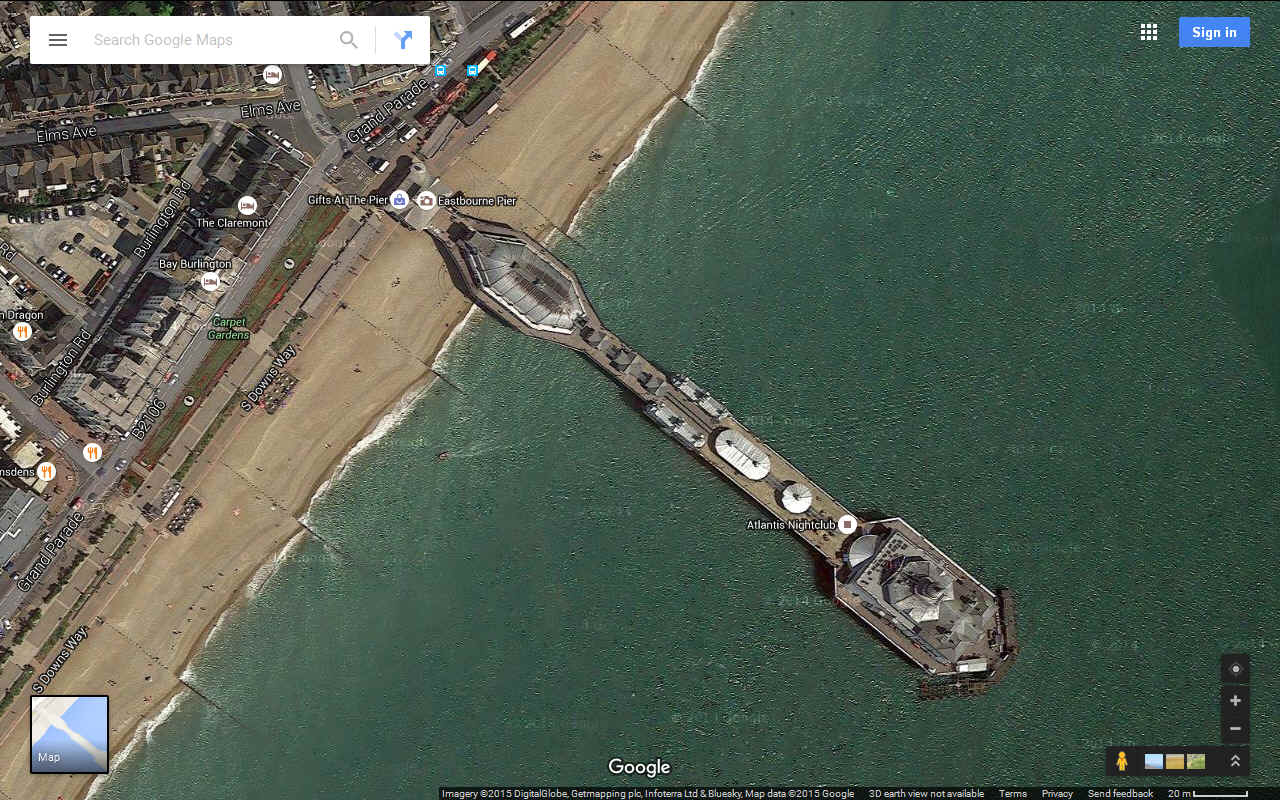 GOOGLE MAPS - The above is a satellite view from one of the most famous search engine companies. The snapshot was taken in September 2015, but still shows the Blue Room intact.
LINKS
Big Lottery Fund Coastal Communities Fund
Democracy East Sussex Councillor David Tutt
The Argus news and politics David Tutt victory_was_massive_vote_of_confidence
Eastbourne Herald Coastal Communities minister Penny Mordaunt visits pier to check on progress after blaze
The Argus UK news David_Cameron_and_George_Osborne_visit_Eastbourne
http://www.theargus.co.uk/news/11381458.David_Cameron_and_George_Osborne_visit_Eastbourne/
http://www.eastbourneherald.co.uk/news/local/minister-visits-eastbourne-pier-to-check-on-progress-after-blaze-1-6529990
http://www.theargus.co.uk/news/politics/12941820.Victory_was____massive_vote_of_confidence___/
https://democracy.eastsussex.gov.uk/mgUserInfo.aspx?UID=19
https://www.biglotteryfund.org.uk/ccf
http://www.eastbourne.gov.uk/
http://www.hlf.org.uk/
http://www.historicengland.org.uk/
southeast@HistoricEngland.org.uk