Rt Hon PENNY MORDAUNT MP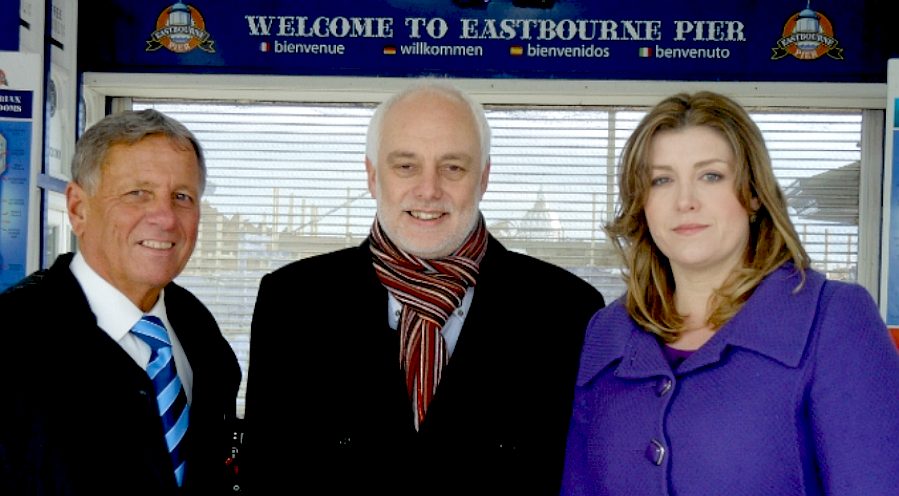 JAN 2015 MINISTERIAL VISIT - Councillor David Elkin, Councillor David Tutt and Penny Mordaunt MP. Coastal Communities Minister Penny Mordaunt visited Eastbourne Pier today on Monday January 19 2015 to view progress on its restoration following the fire.

She was accompanied by Leader of Eastbourne Borough Council, Councillor David Tutt, and Leader of the Opposition, Councillor David Elkin, on a tour of the Victorian attraction which is undergoing extensive repairs after last summer's blaze destroyed a third of the structure.

The removal of the pier's fire-damaged steel dome is almost complete and the next stage will be to strengthen the steel substructure of the pier and install new timber decking beneath the arcade.

Meanwhile the pier owners are currently assessing which architectural practice should be awarded the prestigious and unusual task of designing a new building for the pier.

Councillor Tutt said, "It has been wonderful to see people returning to the pier so soon after the fire and traders open for business as usual.

"It's a testament to the hard work of the pier's renovation team that good progress is being made, and we look forward to the completion of the next stage which will bring us closer to seeing the pier fully returned to its former glory."

Councillor Elkin said, "The speed at which work is progressing to restore the pier is amazing and reflects the true grit commitment of the Eastbourne community and business partnerships."

Penny Mordaunt said, "It is fantastic that Eastbourne's beloved pier is back on its feet and partly reopened to the public so quickly thanks to the hard work of the local community, the Council, and our emergency services.

"This government is committed to doing all it can to help the local economy recover and our £2m funding will make a real difference."
EASTBOURNE HERALD - Friday 31 July 2015

Eastbourne council still has high hopes for Eastbourne Pier despite the news that the owners of the seafront landmark are considering selling up.

Cuerden Leisure announced yesterday (Thursday) it was evaluating its options on the future of the pier after council planners turned down plans for a Victoria fairground with rides on newly installed decking.

The news came on the one year anniversary of the pier blaze, which destroyed the iconic Blue Room.

Cuerden Leisure had hoped the fairground project would help boost takings but said it was hugely disappointed the scheme had been rejected.

On Thursday council leader David Tutt spoke to the Herald about his hopes that something could soon be installed on the decking.

http://www.eastbourneherald.co.uk/news/video-hopes-for-eastbourne-pier-one-year-after-the-blaze-1-6880247

[Please note that although we include the URL for to be able to reference their story, that the Eastbourne Herald website is extremely slow and unresponsive due to top heavy advertising, soaking up serious energy on the internet, hence is not climate friendly - we do not recommend visiting this site unless absolutely necessary - surf responsibly]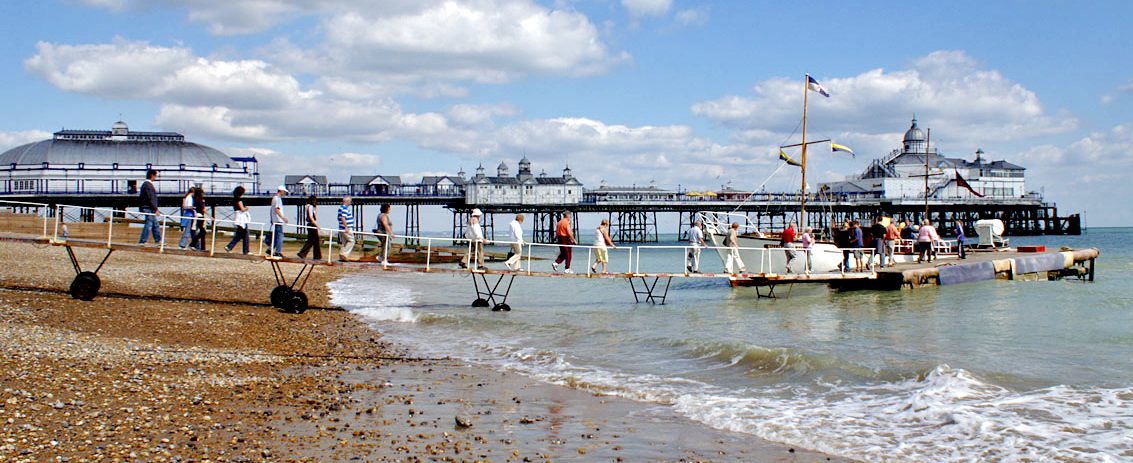 MEMORIES - Do you remember the sound of a crackling analogue radio made from brown bakelite and a television without colour? If you do you may well have ridden on the William Alchorn, or maybe taken a ride on one of the Bluebird speedboats from the rear of the pier, where that jetty is all but collapsed. These attractions no longer exist (Sept 15). Now imagine that you can take your kids on one of these rides, and that was after a visit to the amazing Maritime Museum on the pier. What a day out. You can't do any of these things yet, but if the Cleaner Oceans Club get their hands on the pier - it will come alive.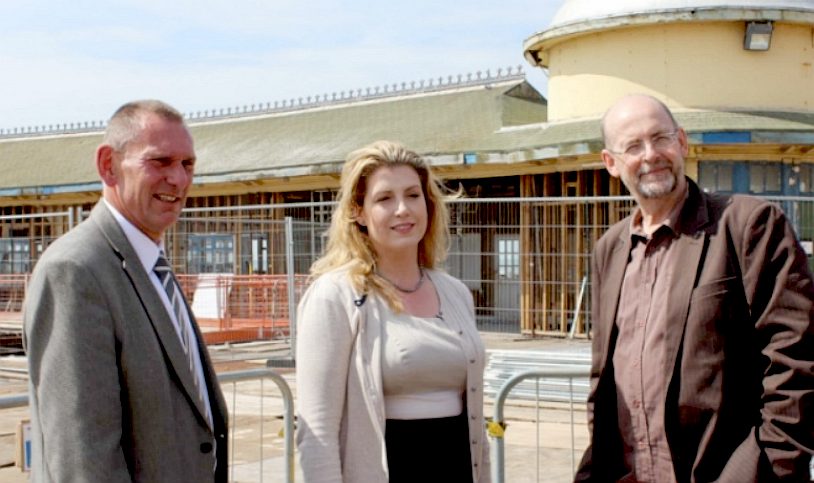 CONTACTS
Eastbourne Borough Council
1 Grove Rd
Eastbourne
East Sussex
BN21 4TW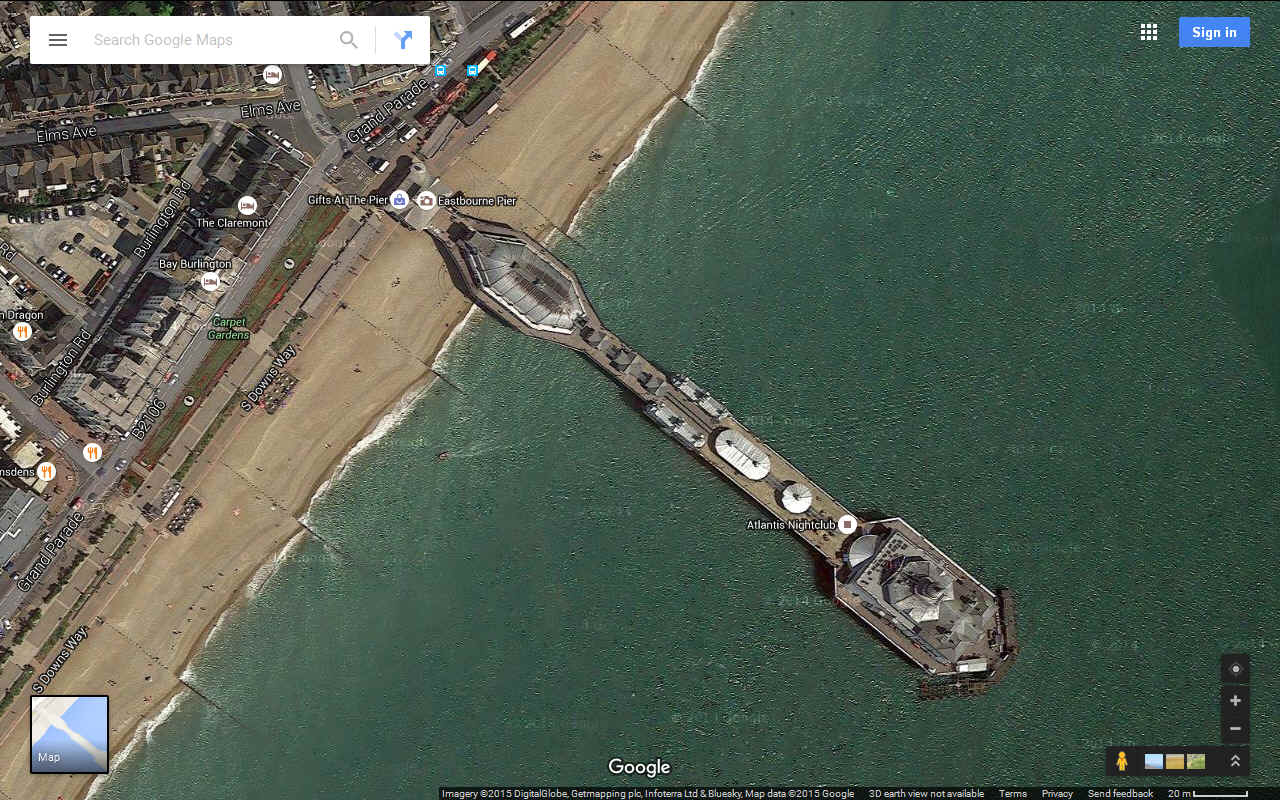 GOOGLE MAPS - The above is a satellite view from one of the most famous search engine companies. The snapshot was taken in September 2015, but still shows the Blue Room intact.
LINKS
Big Lottery Fund Coastal Communities Fund
Democracy East Sussex Councillor David Tutt
The Argus news and politics David Tutt victory_was_massive_vote_of_confidence
Eastbourne Herald Coastal Communities minister Penny Mordaunt visits pier to check on progress after blaze
http://www.eastbourneherald.co.uk/news/local/minister-visits-eastbourne-pier-to-check-on-progress-after-blaze-1-6529990
http://www.theargus.co.uk/news/politics/12941820.Victory_was____massive_vote_of_confidence___/
https://democracy.eastsussex.gov.uk/mgUserInfo.aspx?UID=19
https://www.biglotteryfund.org.uk/ccf
http://www.eastbourne.gov.uk/
http://www.hlf.org.uk/
http://www.historicengland.org.uk/
southeast@HistoricEngland.org.uk