Rt Hon CAROLINE ANSELL MP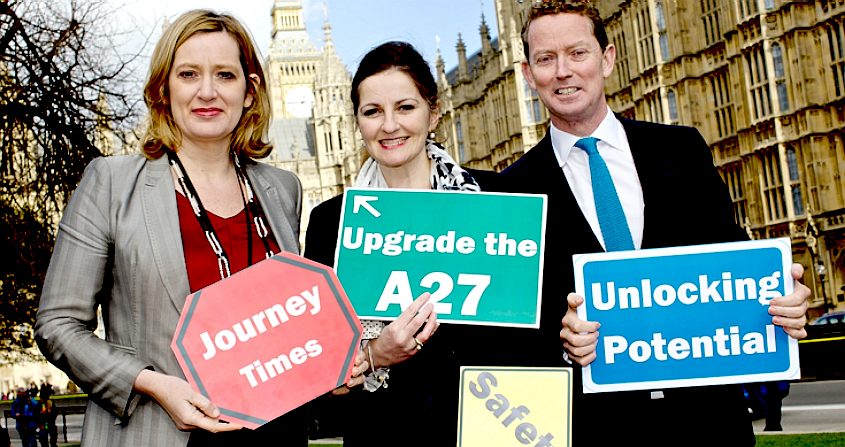 TRANSPORT - Amber Rudd and Gregory Barker join forces with Caroline Ansell on the subject of choking road traffic restrictions. Improve the A27 by all means, but that is not all that is wrong with Eastbourne. Don't get us wrong, it is a good start, but what about the bottlenecks strangling tourism in Eastbourne? ESCC Highways appear to have got their sums wrong in widening the A27, when it should have been a dual carriageway. Then there is Polegate and those traffic lights. The secret to improving trade anywhere in the world is to make it easy to get to where you want the goods to go. In the case of Eastbourne the goods are people as passengers. People who might want to visit interesting places. ESCC probably viewed Eastbourne as a sleepy coastal resort with an aging population that did not need a first class transport network. Thank heavens that Mrs Ansell thinks otherwise. Way to go Caroline. See our page on Eastbourne potholes by clicking on the picture above.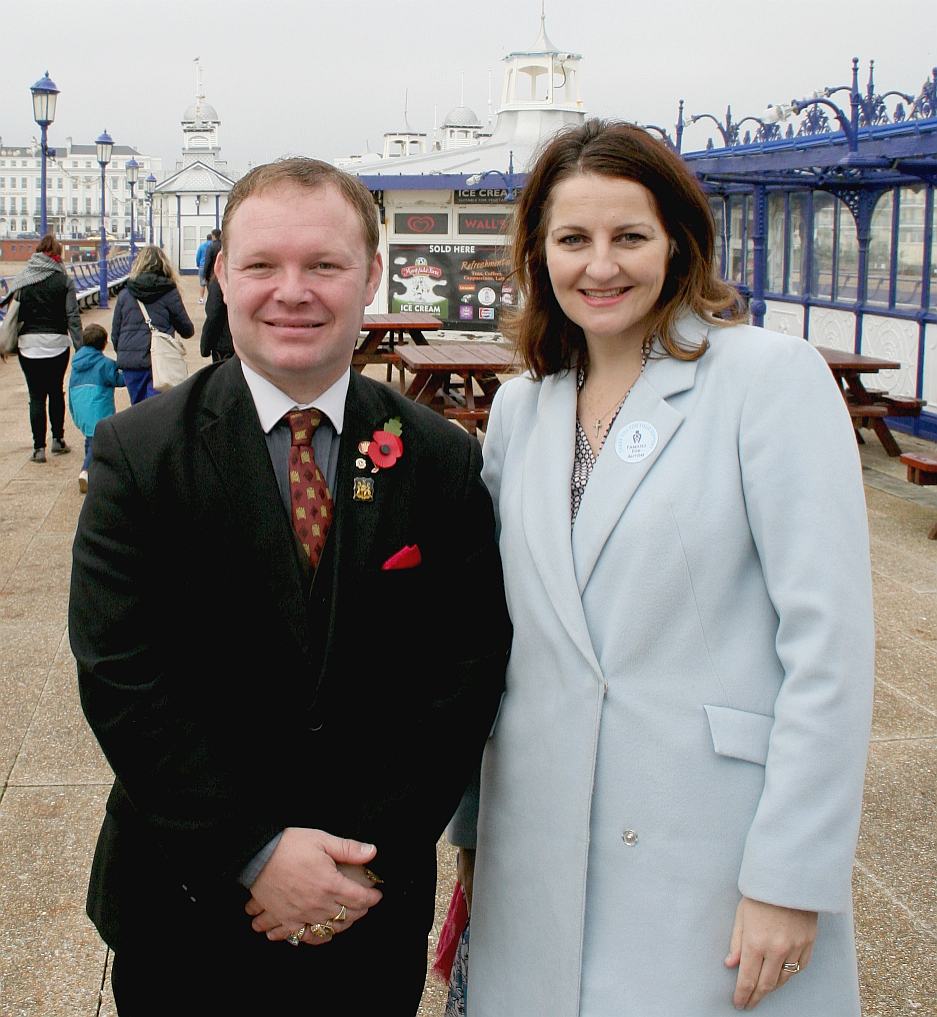 OCTOBER 31 2015 - Lord Brett McLean and Caroline Ansell on Eastbourne pier during the public question and answer session hosted by Mr Abid Gulzar. Nice coat Caroline. Lord Brett is chairman of the East Sussex Economic Advisory Board and an ambassador for Locate, an organisation that promotes this area for business location and growth. Copyright photograph © Cleaner Ocean Club Ltd Oct 2015. Please ask for permission before reproducing this photograph.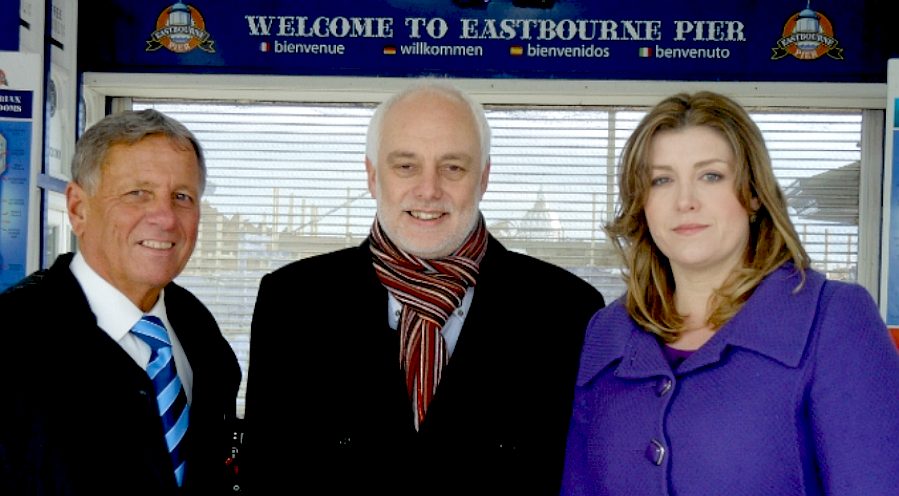 JAN 2015 MINISTERIAL VISIT - Councillor David Elkin, Councillor David Tutt and Penny Mordaunt MP. Coastal Communities Minister Penny Mordaunt visited Eastbourne Pier today on Monday January 19 2015 to view progress on its restoration following the fire.

She was accompanied by Leader of Eastbourne Borough Council, Councillor David Tutt, and Leader of the Opposition, Councillor David Elkin, on a tour of the Victorian attraction which is undergoing extensive repairs after last summer's blaze destroyed a third of the structure.

The removal of the pier's fire-damaged steel dome is almost complete and the next stage will be to strengthen the steel substructure of the pier and install new timber decking beneath the arcade.

Meanwhile the pier owners are currently assessing which architectural practice should be awarded the prestigious and unusual task of designing a new building for the pier. We doubt that many or those who represent us are fully aware of climate change and acid oceans, despite living by the seaside.
EASTBOURNE INDEPENDENT - 9 NOVEMBER 2015
The dispute over Eastbourne MP Carole Ansell accepting her £7k pay rise rumbles on today.

Nigel Jones, who stood for UKIP in May's general election, has attcked both Caroline and former LibDem MP Stephen Lloyd.

He said, 'I was very interested in your item on the outrageous £7K MPs' pay rise in the current EI.

'As UKIP's Parliamentary candidate for Eastbourne in May's General Election I attended an election hustings at King's Church, Hampden Park at which I publicly promised before hundreds of people that if elected I would give 10 % of my Parliamentary salary including this rise to local charities such as food banks and our hospital - and challenged my fellow candidates, including Caroline Ansell and Stephen Lloyd, to follow suit. None did so.

'Allow me, therefore, to take Mr Lloyd's declaration to you that if he were still an MP he would have given the money to deserving causes with a very large pinch of salt. So easy to say that now Eastbourne has booted him out!

'And why didn't Ms Ansell not use that opportunity to similarly pledge this disgraceful pay hike to the people of Eastbourne she is supposed to serve?
Share article

'With behaviour like this it is small wonder that the politicians of our three Establishment parties are seen by the public as greedy snouts-in-the-trough chancers serving themselves first and foremost and the public last.'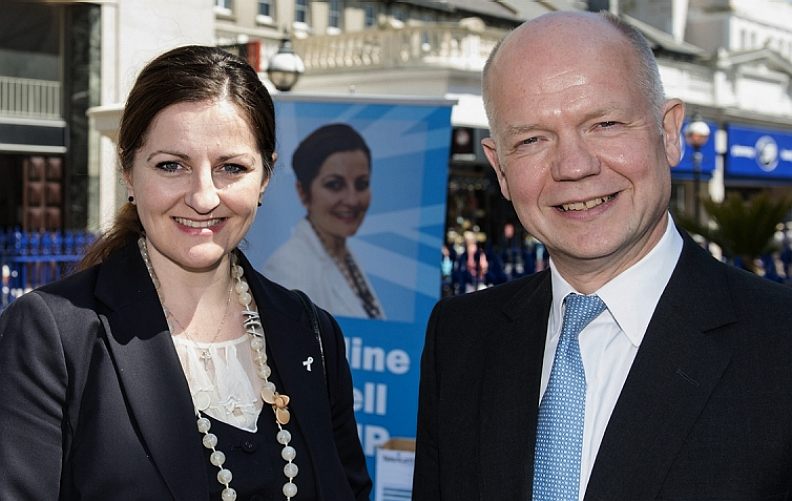 EASTBOURNE PIER UPDATE 23 OCTOBER 2015
"I wish Abid Gulzar every success in his exciting venture of becoming the custodian of Eastbourne's most famous landmark.

This is a great opportunity for him and the town to build up this iconic structure once again.

I'm sure that traders will welcome his 'hands on' approach, and we would encourage the council to work closely with him going forward.

I have had the opportunity to see early plans of what Mr Gulzar wants to do on the pier, and if this comes to fruition, it looks very exciting indeed.

I'm looking forward to meeting Mr Gulzar again over the next few days to be updated on his plans now that deal is confirmed."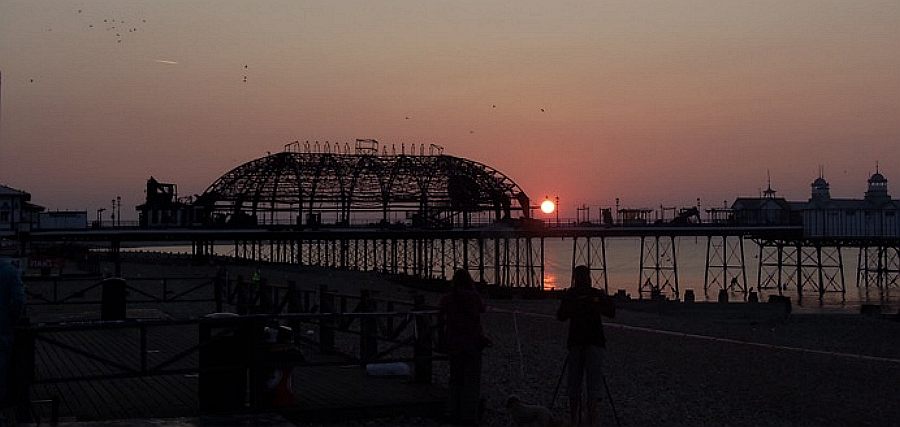 BURNED OUT - The sad remains of a once proud skyline. It might have been better to leave it like this, than not to rebuild the Blue Room. At least that way there would be something for visitors to see. At the moment there is nothing but thin air. It would be totally inappropriate to put a fun fair in this location. By the same token, penny arcades are not sufficiently high earners for high-maintenance structures like this. What is needed is something really special to turn this (or any other) pier into a real crowd puller.
EASTBOURNE HERALD - Friday 31 July 2015

Eastbourne council still has high hopes for Eastbourne Pier despite the news that the owners of the seafront landmark are considering selling up.

Cuerden Leisure announced yesterday (Thursday) it was evaluating its options on the future of the pier after council planners turned down plans for a Victoria fairground with rides on newly installed decking.

The news came on the one year anniversary of the pier blaze, which destroyed the iconic Blue Room.

Cuerden Leisure had hoped the fairground project would help boost takings but said it was hugely disappointed the scheme had been rejected.

On Thursday council leader David Tutt spoke to the Herald about his hopes that something could soon be installed on the decking.

http://www.eastbourneherald.co.uk/news/video-hopes-for-eastbourne-pier-one-year-after-the-blaze-1-6880247

[Please note that although we include the URL for to be able to reference their story, that the Eastbourne Herald website is extremely slow and unresponsive due to top heavy advertising, soaking up serious energy on the internet, hence is not climate friendly - we do not recommend visiting this site unless absolutely necessary - surf responsibly]

SOMETHING MISSING - The twisted steel structure has been removed and the boarding replaced thanks to Crown Entertainment Centres. Now all we need is for the Blue Room to be rebuilt to bring the pier back to its former glory. The cost of rebuild is estimated to be in the region of £5 million pounds. Without the former music pavilion the pier is not the attraction that is should be. Visitors do not have any attractions to entice them onto this historic site, other than to see what is missing. Strangely, people are coming to look at nothing, but for how long. Copyright photograph © Cleaner Ocean Club Ltd Oct 2015. Please ask for permission before reproducing this photograph.
SUN NATION April 9, 2015

The Tories have blasted claims they have a "women problem" by revealing a record one in three new election candidates will be female.

Ahead of today's deadline for polling day nominations, the Conservatives are neck and neck with Labour when it comes to gender equality for the first time in years. And they have a higher proportion of new candidates from black and ethnic minority backgrounds than both Labour and the Lib Dems.

Excluding those seeking re-election, some 125 women are standing on May 7, almost 33 per cent of Tory candidates up from 24 per cent in 2010.

Labour will be fielding 139 women candidates, just under 34 per cent of their total of 413. But only 27 per cent of new Lib Dem candidates are women, and just 11 per cent of those standing for Ukip.

But despite having the first female MP in 1919 and Margaret Thatcher being the only woman to move into No10, the Tories have been dogged by a failure to get enough women into Westminster.

Labour had a far higher number of female MPs in the 2010 intake – 86, compared to the Conservatives' 46. And David Cameron was slammed last July when a reshuffle left just five women in the Cabinet. This saw the UK slip to 75th in global rankings of female ministers, below Uzbekistan, Macedonia and Kyrgyzstan .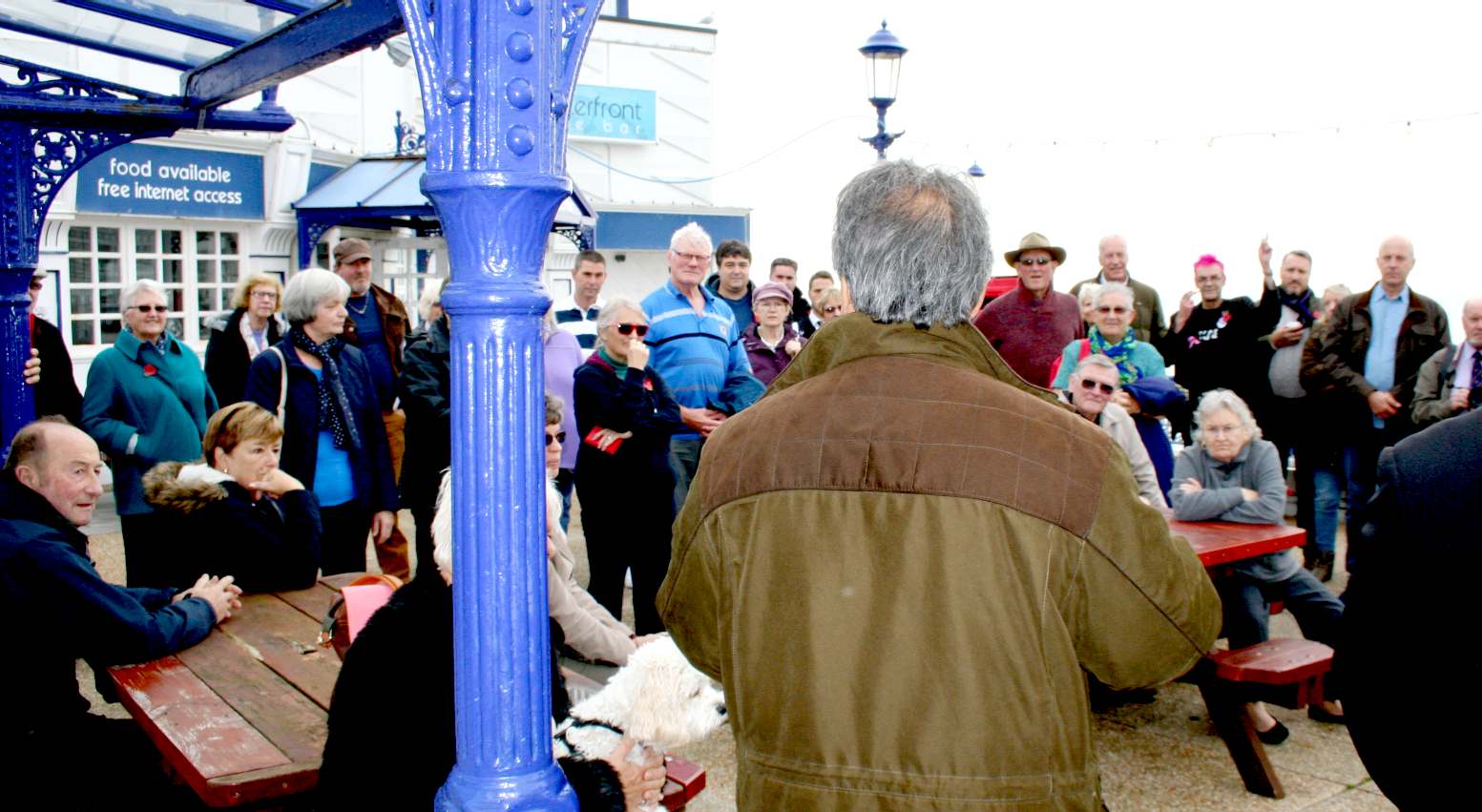 PIER PRESSURE - Sheikh Abid Gulzar answers questions about his plans for the pier at Grand Parade, Eastbourne. Apart from changing to LED lighting, the only revelation at this meeting was confirmation that Mr Gulzar is planning to rebuild the landing jetty to enable operation of pleasure cruises along the coast. Of that we heartily approve. Copyright photograph © Cleaner Ocean Club Ltd Oct 2015. Please ask for permission before reproducing this photograph.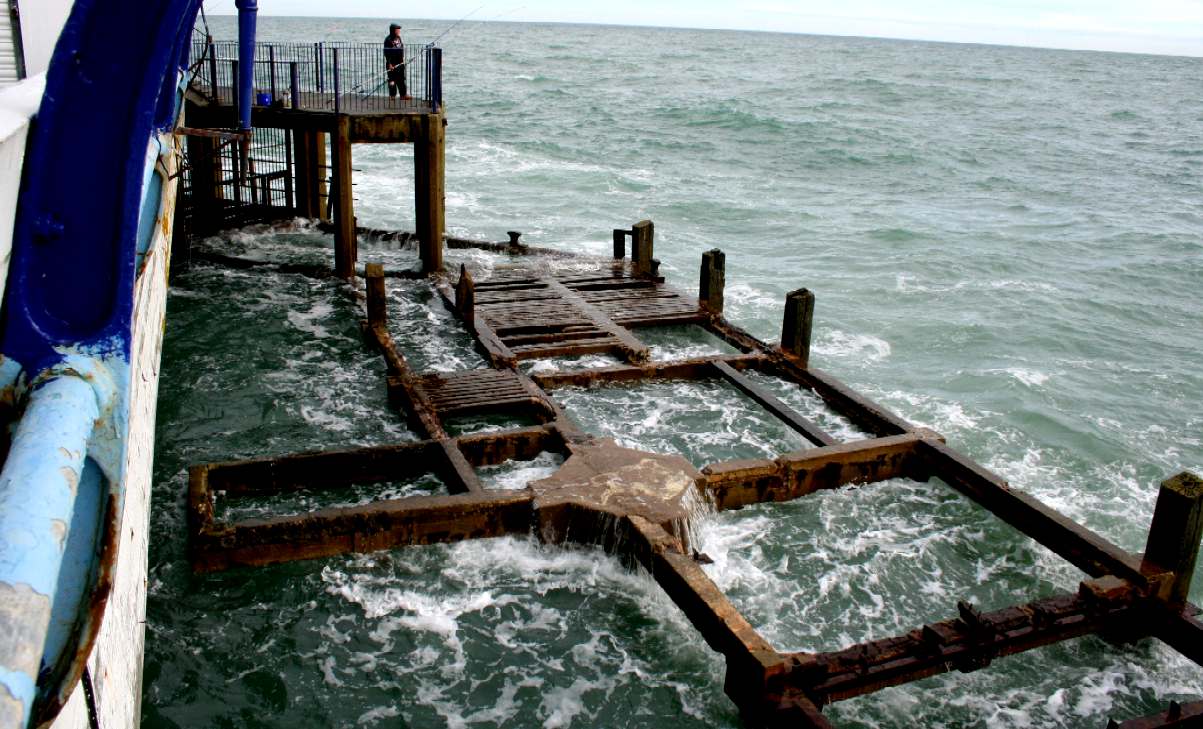 ALL THE WORLD IS A STAGE - But not this one. This is the rotting remains of the original landing stage, where in days gone by wealthy Victorians would delight at a sedate passage from one pier to another. Later, speedboat rides were operated from here, but all that came to a stop as visitor numbers dwindled, taking away the income that was and is needed to keep structures like this properly maintained. Copyright photograph © Cleaner Ocean Club Ltd Oct 2015. Please ask for permission before reproducing this photograph.
CONTACTS
The Office of Caroline Ansell MP
42 Grove Road
Eastbourne, BN21 4TY

office@carolineansell.co.uk

Telephone: 01323 409000
House of Commons
London, SW1A 0AA

Tel: 020 7219 6863

Email: caroline.ansell.mp@parliament.uk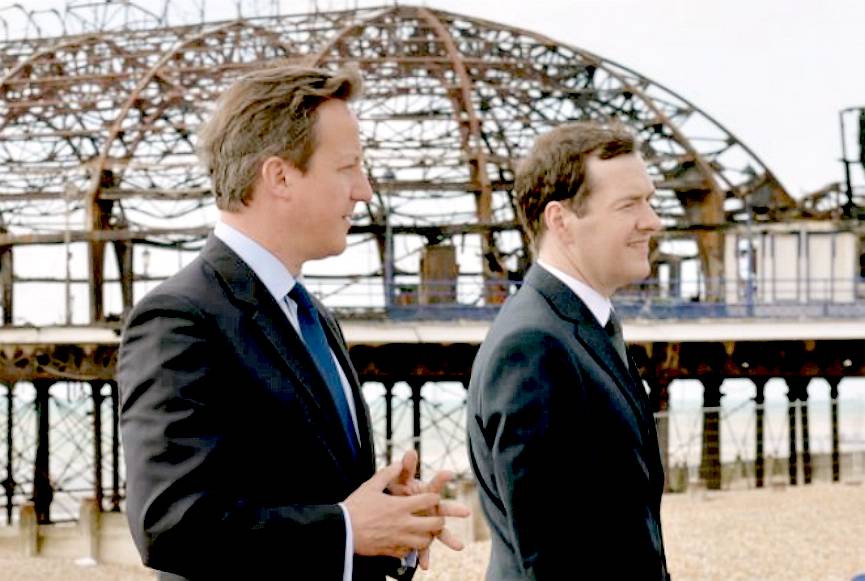 PRIME MINISTER - David Cameron and George Osborne visited Eastbourne in 2014, to see the carnage for themselves. They were so concerned at the hardship that this disaster might cause local traders that they immediately offered £2 million in aid. Where that two million went is anyone's guess. It seems to have gone up in smoke like the pier.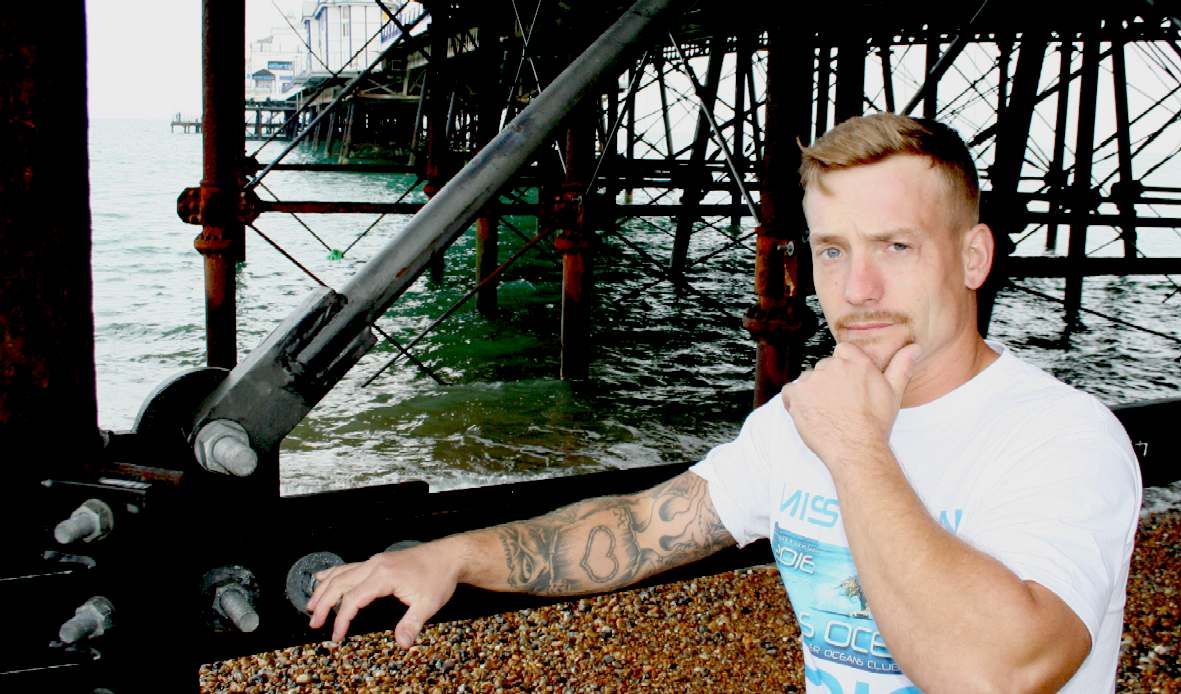 TERRY VALERIANO - Wonders where the money is going to come from to keep this pier in good condition. The ideas being touted about by the present owners are not exactly ground breaking. Clearly, from the ongoing petition(s) and the other social media sites, the public think that it is a priority to re-build the Blue Room as quickly as possible. All the while this heritage asset in missing, Eastbourne is losing visitors and tourists equals income! Copyright photograph © Cleaner Ocean Club Ltd Oct 2015. Please ask for permission before reproducing this photograph.
LINKS & REFERENCE
Big Lottery Fund Coastal Communities Fund
Democracy East Sussex Councillor David Tutt
Eastbourne Herald Coastal Communities minister Penny Mordaunt visits pier to check on progress after blaze
Sun Nation UK the party with the most diverse set of new candidates may surprise you
Parliament UK biographies House of Commons Caroline Ansell
Caroline Ansell new owner for Eastbourne pier
https://www.conservatives.com
https://new.eastsussex.gov.uk
http://www.eastbourneindependent.co.uk/news/13954191.Row_over_Eastbourne_MP_s_pay_rise_rumbles_on/
http://carolineansell.co.uk/
http://carolineansell.co.uk/new-owner-for-eastbourne-pier/
https://twitter.com/caroline_ansell
http://www.parliament.uk/biographies/commons/caroline-ansell/4512
http://www.sunnation.co.uk/the-party-with-the-most-diverse-set-of-new-candidates-may-surprise-you/
http://www.eastbourneherald.co.uk/news/local/minister-visits-eastbourne-pier-to-check-on-progress-after-blaze-1-6529990
https://democracy.eastsussex.gov.uk/mgUserInfo.aspx?UID=19
https://www.biglotteryfund.org.uk/ccf
http://www.eastbourne.gov.uk/
http://www.hlf.org.uk/
http://www.historicengland.org.uk/
southeast@HistoricEngland.org.uk