LORD BRETT MCLEAN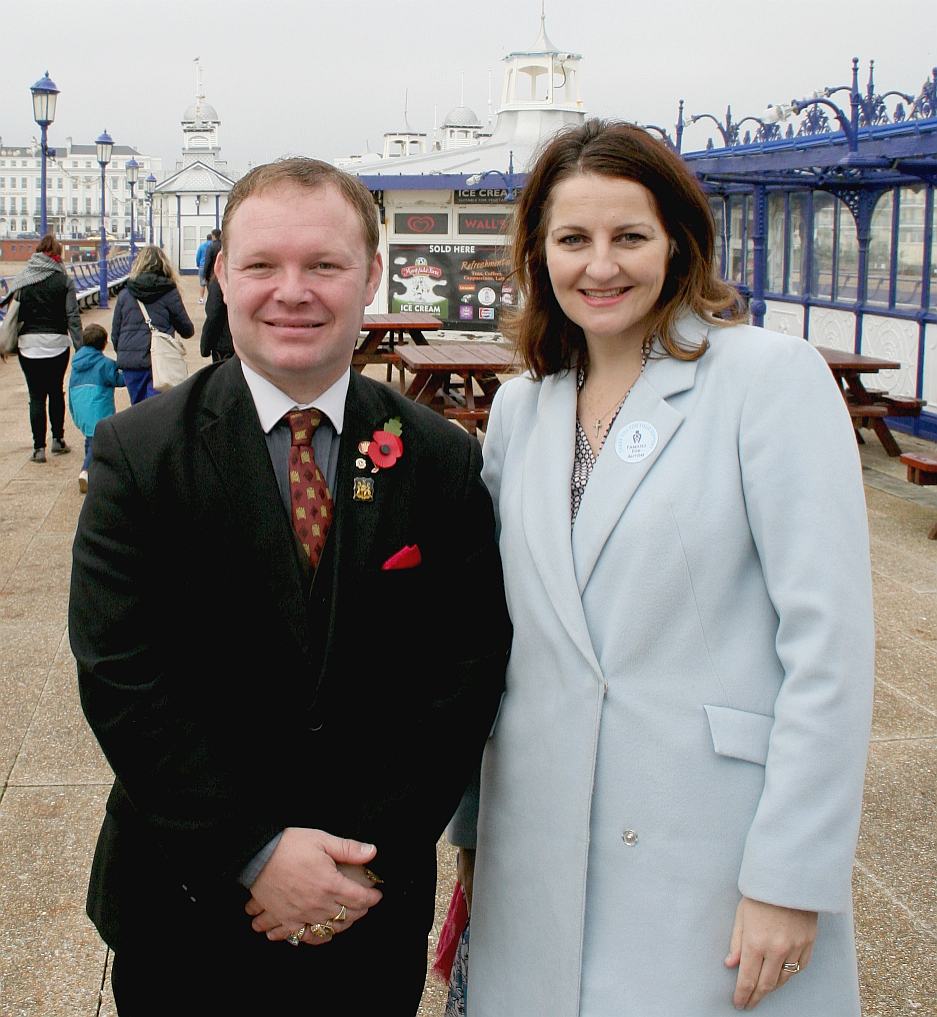 OCTOBER 31 2015 - Lord Brett McLean and Caroline Ansell MP on Eastbourne pier moments before a public question and answer forum, chaired by Lord Brett. According to her website, Mrs Ansell is due to meet with Mr Gulzar soon to hear about his detailed plans for the pier. Copyright photograph © Cleaner Ocean Club Ltd Oct 2015. Please ask for permission before reproducing this photograph.


THE ARGUS SATURDAY 31 OCTOBER 2015 - New owner wants to build a berth at the end of Eastbourne Pier

The flamboyant new owner of Eastbourne Pier wants to add a berth for large ships at the end of the Victorian structure.

Sheikh Abid Gulzar, chairman of Lion Hotels, officially gained control of the pier yesterday and is already steaming ahead with his plans.

Speaking to The Argus yesterday he said he was working with his "heart and mind" and with "love and affection".

He is currently finalising the designs with his architects and said one of his priorities is to have a berth at the end pier to allow pleasure ships to dock for day trips.

The West Pier in Brighton used to play host to steamers in its heyday, as did Worthing Pier.

The new owner said repairs are already underway with the focus on the damaged parts of the structure – replacing damaged timber, flooring, and fused lighting.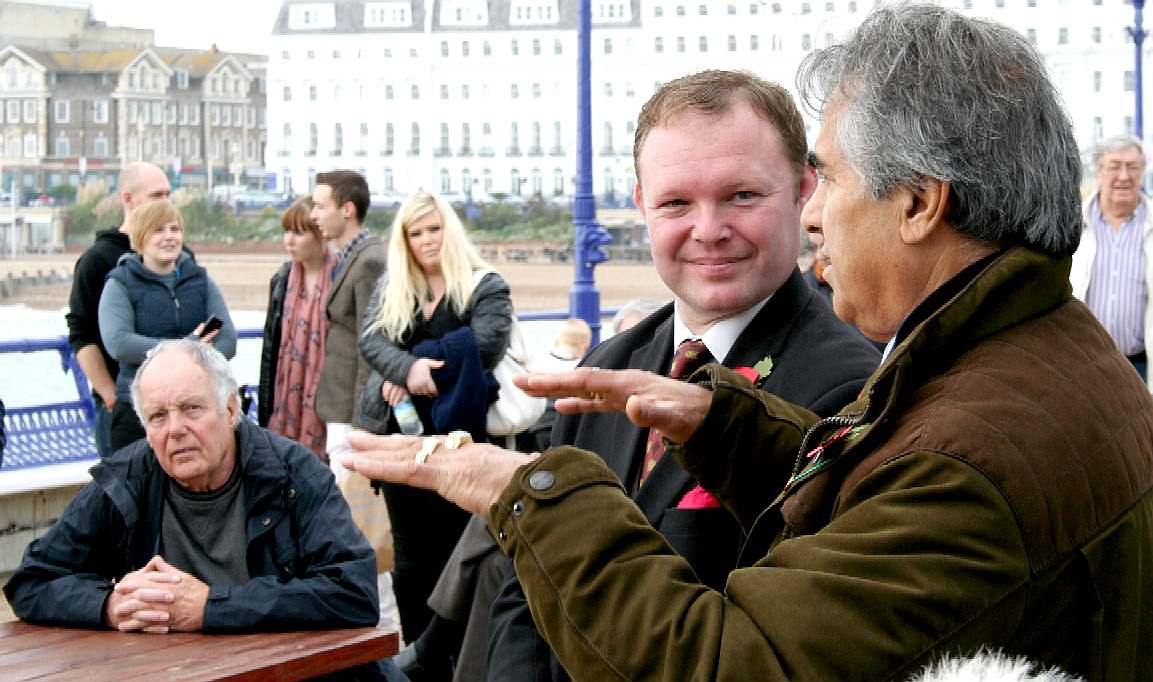 Abid Gulzar answering public questions about his plans for the Eastbourne pier. Copyright photograph © Cleaner Ocean Club Ltd Oct 2015. Please ask for permission before reproducing this photograph.
Today he will host an open surgery to allow members of the public to give their thoughts and suggestions on the pier.

He said: "I am going make the pier a very very high standard - that is my top priority.

"Eastbourne Borough Council and I have a very good understanding and we are going to have a meeting.

"We want to improve the business of Eastbourne and the more we do to the pier, making it better decorated and more fun, the more that will improve.

"I love the pier, I walk at least two or three times a day. I am very proud of Eastbourne."

He added: "There is a lot of working going on and if I list it all I would be going for two hours.

"I have a good team which I have worked with before and new people who have joined.

"We are like a family and we must work with our hearts and minds and with love and affection."

He also said any collections which have been carried out for the restoration of the pier he will match and then donate to a local charity.

Residents can meet Mr Gulzar and his team between midday and 2pm today at the entrance to the pier. If the weather is poor then they will move into the bar area.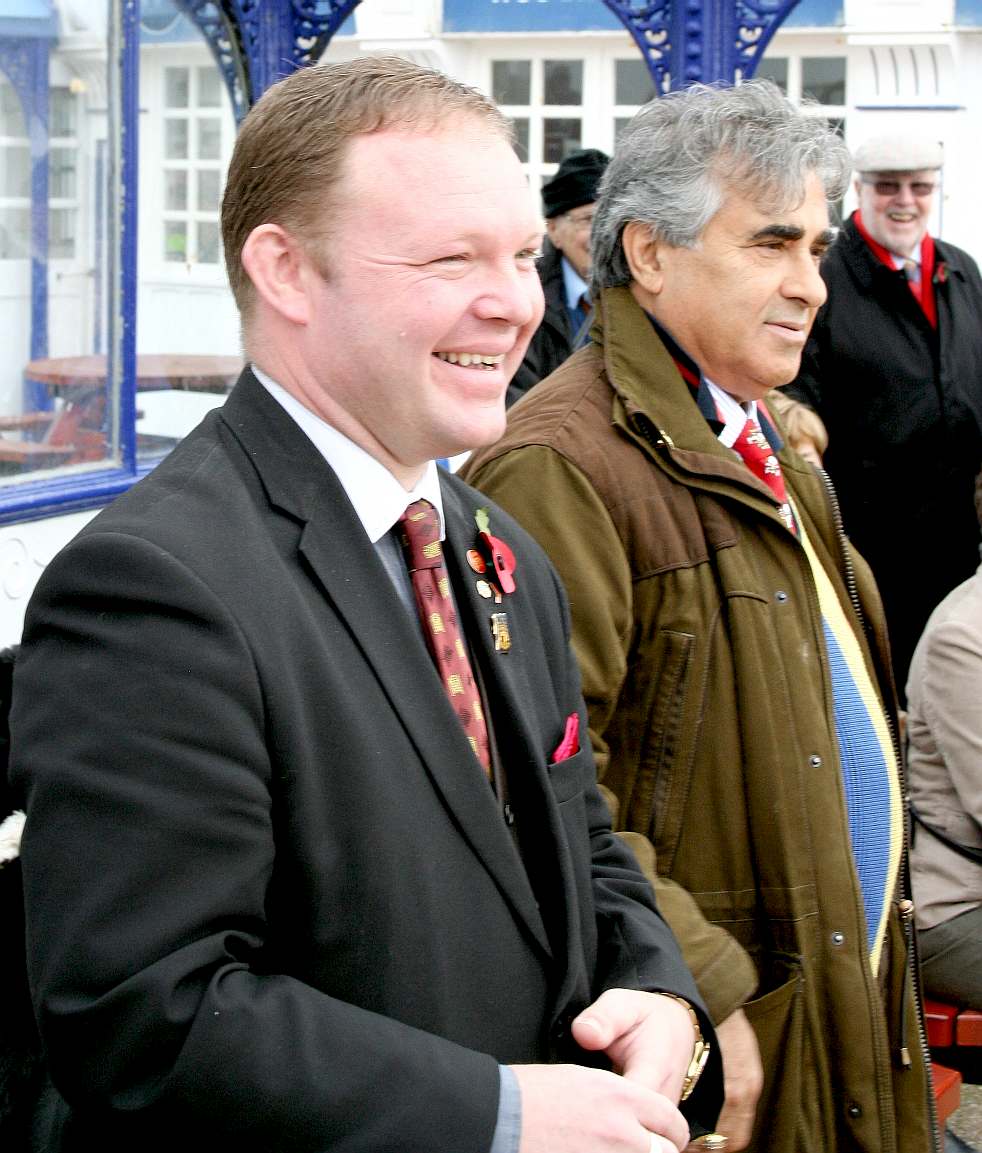 PUBLIC OPINION - Several questions were tabled, but nobody asked about the timescale until the Blue Room might see the light of day again. The meeting was held outside the bar at the seaward end of the pier. Later, inside the bar, a belly dancing troupe gave those gathered a treat as they graced the floor with their exotic moves, see below. Copyright photographs © Cleaner Ocean Club Ltd Oct 2015. Please ask us for permission to reproduce any of the pictures on this page.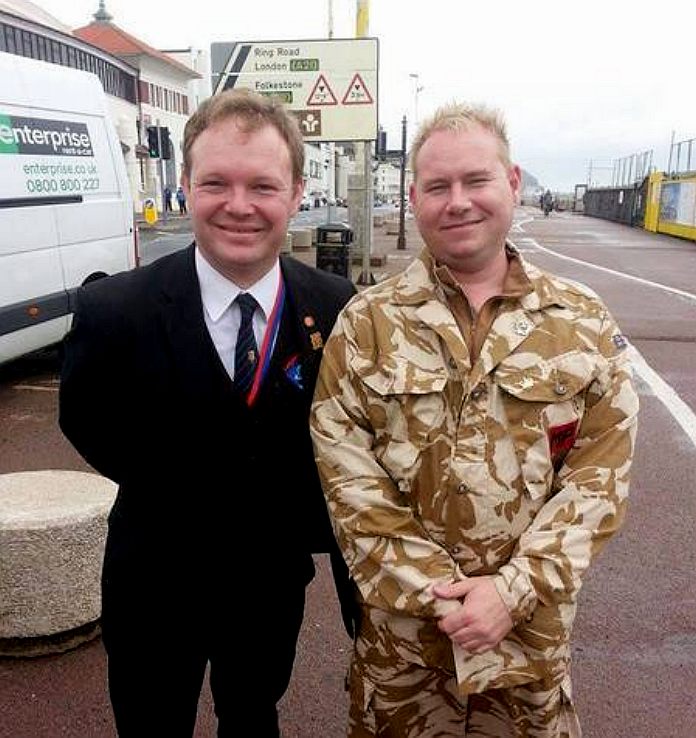 PEER PIER WALK - Sunday 6th March 2014 was Lord Brett's 11th Pier Walk Challenge. Lord Burr was honoured to meet with Lord Brett of Hastings for the first time. They, along with many others endured a 16.8 mile walk from Hastings pier to Eastbourne pier in aid of numerous charities in Hastings. Lord Burr has said it was a most wondrous day and hopes to meet with Lord Brett again. He also said the Pier Walk Challenge will be an event he will most definitely participate in again. We doubt that many who sit on advisory boards are fully aware of climate change and acid oceans, despite living by the seaside.
CONTACTS
East Sussex County Council
County Hall
St Anne's Crescent
Lewes, BN7 1UE
Tel: 0345 608 0194
Email: lordbrettofhastings@aol.co.uk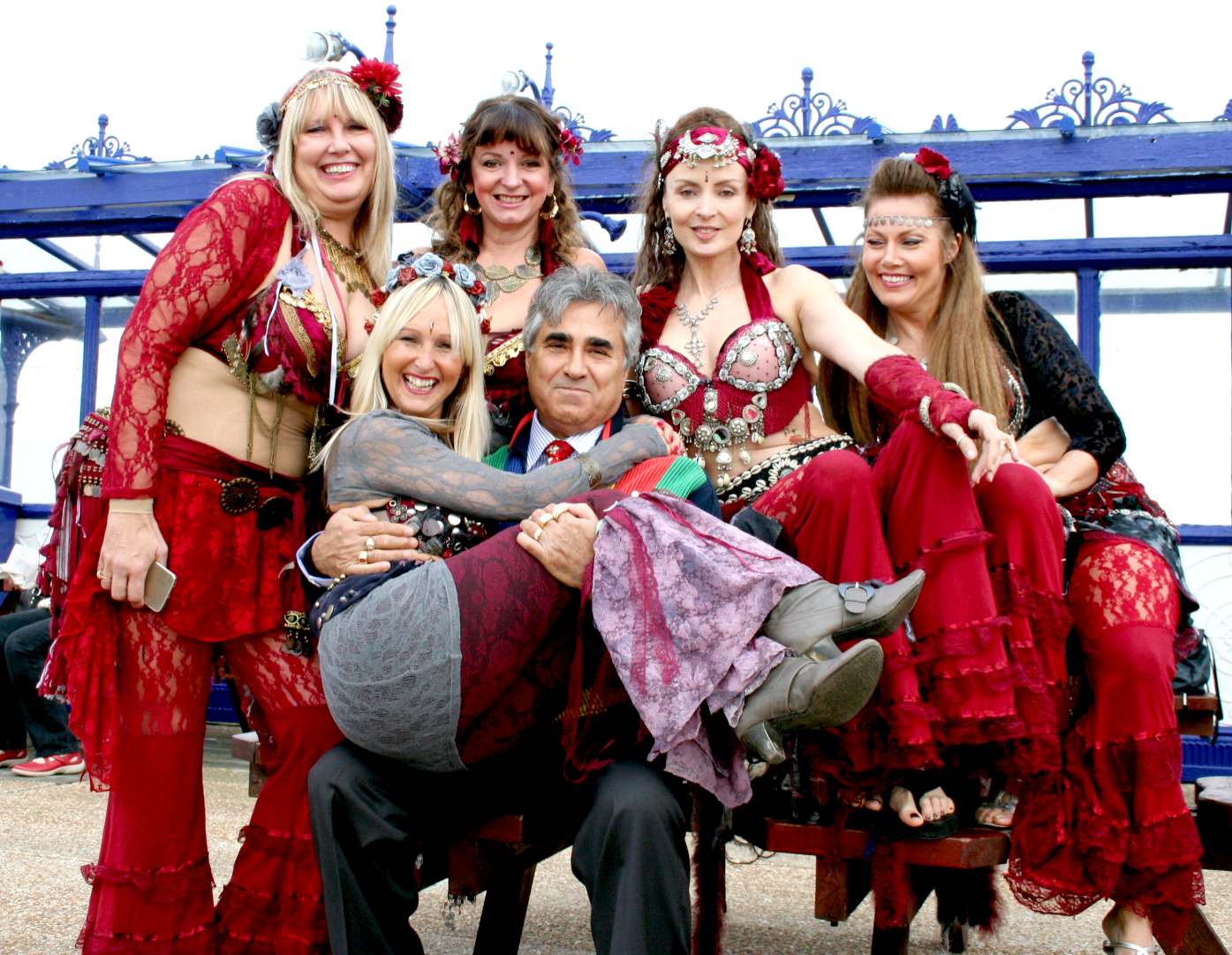 EXOTIC DANCERS - A local belly dancing troupe graced the pier. Mr Gulzar posed for pictures with these lovely ladies much to the amusement of the crowd. Copyright photograph © Cleaner Ocean Club Ltd Oct 2015. Please ask for permission before reproducing this photograph.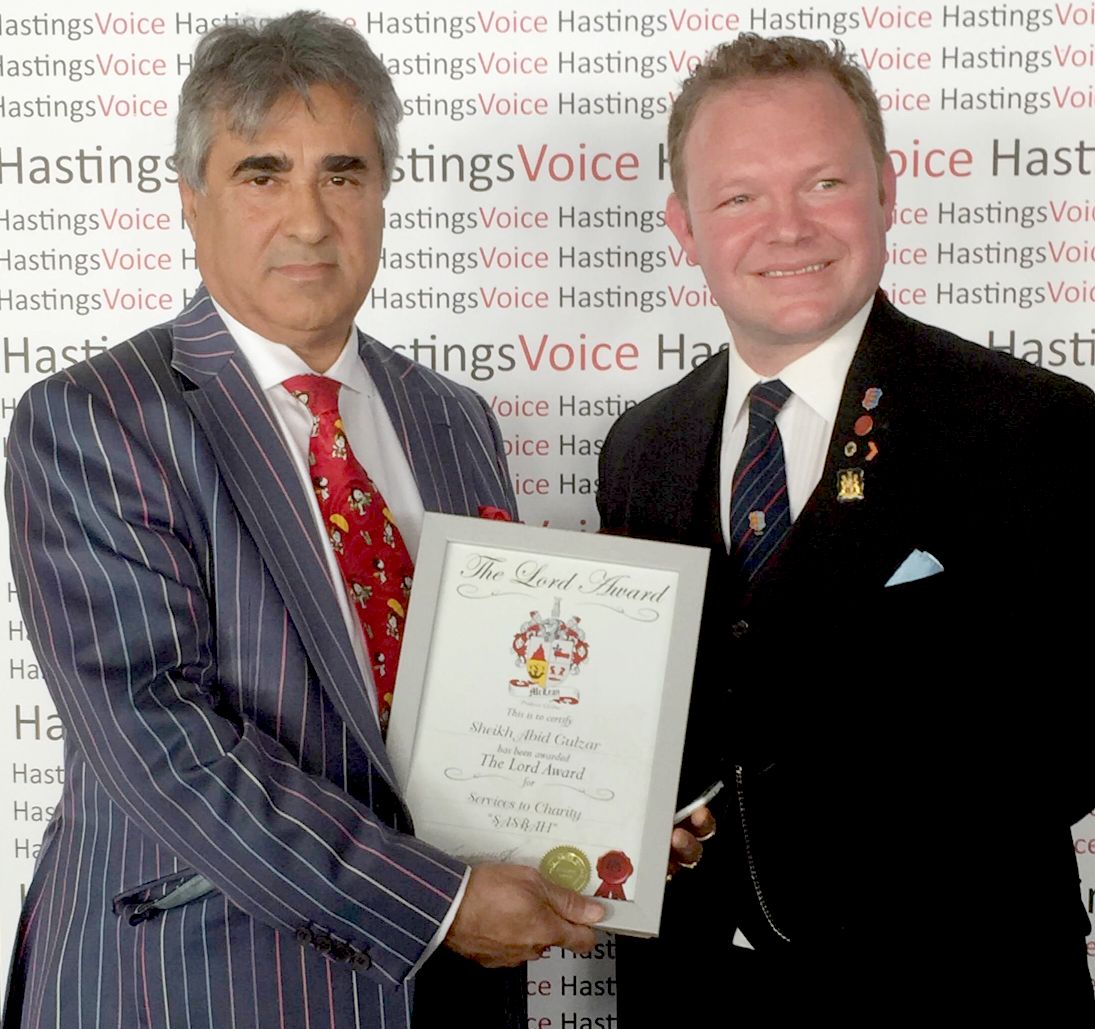 THE LORD AWARD - The Lord giveth and the (Good) Lord may taketh away, but what of the urgently needed works to Eastbourne Pier? Helicopters and entry charges, where will it all end? Everything under the sun is being considered but the one thing that matters; the penny arcade.
EASTBOURNE INDEPENDENT 19 OCT 2015 - LORD AWARD - Eastbourne hotelier Sheikh-Abid Gulzar won a top award yesterday (Sunday) for his work supporting charities in Sussex. He received The Lord Award in a special presentation at the Hastings and Rother charities fair held at the Azur in Hastings. Mr Gulzar received the award from Lord Brett McLean and said he was very honoured to be recognised in this way.
LINKS
Big Lottery Fund Coastal Communities Fund
Democracy East Sussex Councillor David Tutt
The Argus news and politics David Tutt victory_was_massive_vote_of_confidence
Eastbourne Herald Coastal Communities minister Penny Mordaunt visits pier to check on progress after blaze
The Argus UK new_owner_wants_to_build_a_berth_at_the_end_of_Eastbourne_Pier
http://www.itv.com/news/meridian/update/2015-10-31/new-owner-of-eastbourne-pier-open-to-locals-ideas/
http://www.eastbourneindependent.co.uk/news/13923959.Eastbourne_Pier_sale_completion_date_tomorrow/
Hastings Oobserver UK news local the 11th pier walk challenge
lordbrettofhastings@aol.co.uk
http://www.lorddeandavidburr.co.uk/
http://www.hastingsobserver.co.uk/news/local/the-11th-pier-walk-challenge-1-6174051
http://www.eastbourneindependent.co.uk/news/13923959.Eastbourne_Pier_sale_completion_date_tomorrow/
http://www.itv.com/news/meridian/update/2015-10-31/new-owner-of-eastbourne-pier-open-to-locals-ideas/
http://www.theargus.co.uk/news/13927892.New_owner_wants_to_build_a_berth_at_the_end_of_Eastbourne_Pier/
http://www.eastbourneherald.co.uk/news/local/minister-visits-eastbourne-pier-to-check-on-progress-after-blaze-1-6529990
http://www.theargus.co.uk/news/politics/12941820.Victory_was____massive_vote_of_confidence___/
https://democracy.eastsussex.gov.uk/mgUserInfo.aspx?UID=19
https://www.biglotteryfund.org.uk/ccf
http://www.eastbourne.gov.uk/
http://www.hlf.org.uk/
http://www.historicengland.org.uk/
southeast@HistoricEngland.org.uk