EASTBOURNE PIER - NEW OWNER 21-10-15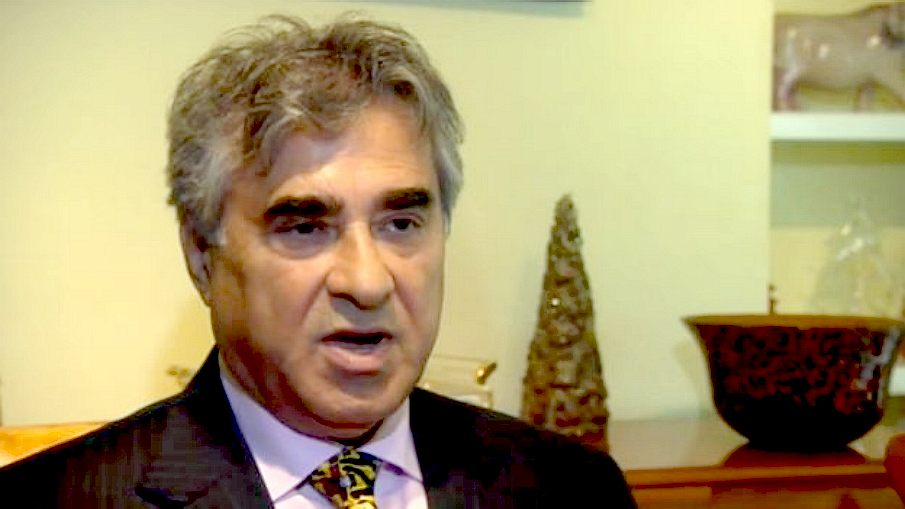 | | | |
| --- | --- | --- |
| | MEET MR GULZAR - Sheikh Abid Gulzar, who was 70 this year, could be the answer to Historic England's monument At Risk dilemma. The flamboyant hotelier said to local newspapers earlier in October 2015 that he had bought the pier at Eastbourne from the previous owners; Crown Entertainment Centers (Cuerden Leisure). We review these media reports below. Since 2015, Mr Gulzar's love affair with glitter has potentially landed him in hot water with Historic England, inviting a retrospective planning application No: 160872. | |

SUFFOLK FREE PRESS - 20:15 Thursday 22 October 2015

Historic Eastbourne Pier was sold late today (October 22) to flamboyant local hotelier Sheikh Abid Gulzar.

The exchange of contracts came at the end of a day of confusion, with the iconic landmark's owners initially categorically denying it had been sold.

Crown Entertainment Centre issued a statement stating no contracts had been exchanged and no cash had changed hands for the listed building, despite Mr Gulzar's claims the previous day that the sale had gone through.

Then came the dramatic news that Mr Gulzar had, indeed, been successful in the purchase. Completion is due next Friday (October 30).

Mr Gulzar, who owns two seafront hotels, a nursery and a hotel on the A22, said he wanted to be the "daddy of Eastbourne Pier" and make it "the best in the country".
SUSPICIOUS - DAILY STAR 1 AUGUST 2014 By Ayeesha Walsh

They now fear the fire – which engulfed around a third of the 1000ft structure on Wednesday afternoon – was started either "deliberately or accidentally" The incident is being treated as an arson attack following the discovery of "clear evidence".

Detective Inspector Mark O'Brien of Sussex Police said: "As a result of our investigation we have received information to suggest that the fire may have been started by someone and our investigation is now focusing on that line of inquiry."

During the blaze 80 firefighters were aided by RNLI crews as they battled to save the 144-year-old, Grade II-listed pier.

Earlier today Prime minister David Cameron and Chancellor George Osborne visited the pier.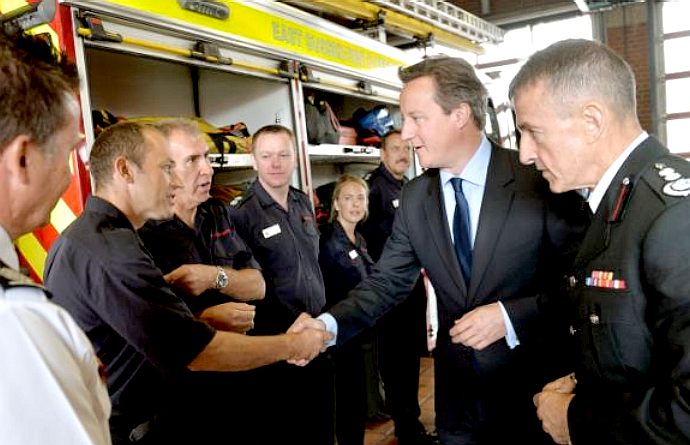 During the trip the PM revealed that the pier was insured and it's owners hope to be able to rebuild it. The fire broke out behind wood paneling in the arcade section of the pier before quickly escalating to engulf the entire building.
Officers have asked for visitors in the hours before the blaze to supply them with any images or video footage they may have.

Supt Laurence Taylor said: "The area around and under the pier is still very hazardous and there is a security team deployed to stop people putting themselves in danger."
BBC NEWS 22 OCTOBER 2015
The sale of Eastbourne Pier, badly damaged by fire 15 months ago, has been agreed according to a local hotel chain owner.

Sheikh Abid Gulzar said he agreed the deal with owner Cuerden Leisure on Wednesday.

He would not disclose the cost, but the BBC understands it is less than the £5.5m asking price when the pier was last for sale in 2009.

Cuerden said the sale was not completed and it would comment later.

'DADDY OF THE PIER'

About one third of the 1870 Grade II* listed structure was destroyed in the blaze on 30 July 2014.

It was partially reopened in September 2014 but a large section remains empty.

The pier was put up for sale this summer when Eastbourne Borough Council refused Cuerden Leisure permission to install temporary children's rides on the vacant section of the structure.

Sheikh Gulzar, who owns two hotels in Eastbourne and another near Hailsham, said he was now "the daddy of the pier" but would work with the council to ensure any plans had its full approval.

"I have got a lot of love and affection for it and I will look after it," he said. "I can see the pier from my bedroom."

'DELIGHTED'

Cuerden director St John Stott said: "A sale of Eastbourne Pier did not complete yesterday. "We will let you have a statement if and when anything happens."

Chamber of Commerce chief executive Christina Ewbank said she was delighted a local business person was investing in the pier.

"If Abid Gulzar is looking at a series of changing events that will bring people on to the pier that can only be good," she said.

Council leader David Tutt said the council was keen to work with whoever owned the pier to ensure it remained the landmark attraction for Eastbourne.
EASTBOURNE HERALD Wednesday 21 October 2015

Eastbourne hotelier Sheikh Gulzar says he has snapped up the town's pier and plans to make it 'the best in the country'.

He signed the contract to buy the pier on Wednesday afternoon, said Mr Gulzar's spokesperson.

Sheikh Gulzar added, "I am very proud to have bought the pier. I have lived in this country for 50 years and I care passionately about Eastbourne and the people who live here.

"I want to make it the best pier in the country and I will put whatever investment is needed to achieve this.

"Eastbourne is a wonderful town full of wonderful people and I want the pier to be wonderful as well.

"We were all devastated when the big fire hit the pier last summer and it was never going to be easy to recover from that, but it has, and now I have bought it, Eastbourne Pier will flourish in a big way.

"We have massive plans to improve and enhance the pier, much of which are in the early stages, but make no mistake – Eastbourne Pier will be the talk of the town.

"We are already planning what we will do for Christmas – I want the pier to be at the heart of the community, and that means involving the community. My team and I will be doing that in the coming months and years."

Councillor David Tutt, the Leader of Eastbourne Borough Council, said, "The Council is keen to work with whoever owns the pier to ensure it remains the landmark attraction for Eastbourne."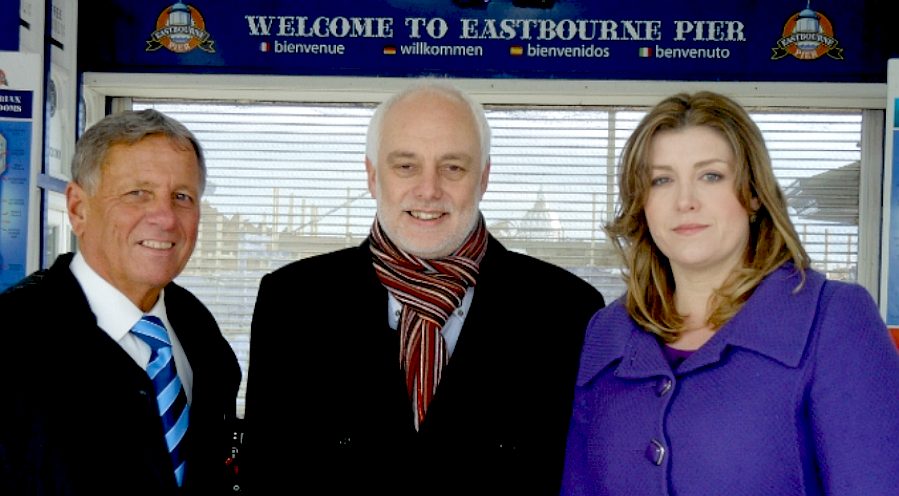 JAN 2015 MINISTERIAL VISIT - Left to right: Councillor David Elkin, Councillor David Tutt and Penny Mordaunt MP. The Coastal Communities Minister Penny Mordaunt visited Eastbourne Pier on Monday January 19 2015 to view progress on its restoration following the fire. Ms Mordaunt was accompanied by Leader of Eastbourne Borough Council, Councillor David Tutt, and Leader of the Opposition, Councillor David Elkin, on a tour of the Victorian attraction which is the subject of extensive restoration plans after the blaze in 2014 that destroyed a third of the structure.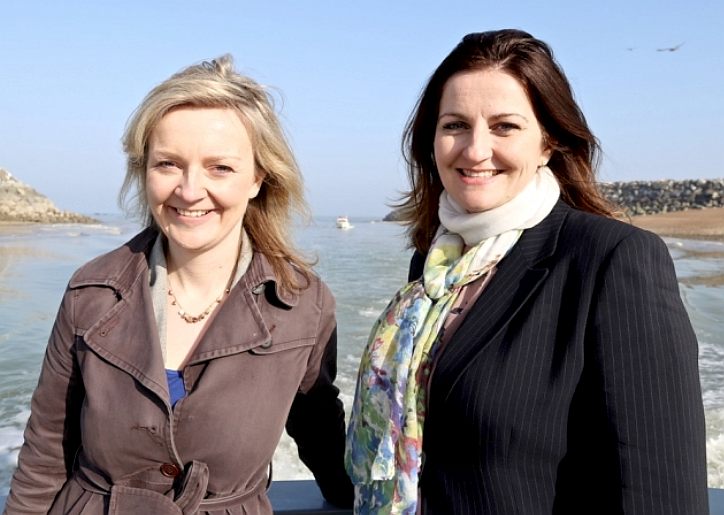 EASTBOURNE, MARCH 18 2015 - Liz Truss, Secretary of State for Environment, Food, and Rural Affairs met with Caroline Ansell MP for Eastbourne to discuss the potentially disruptive sea defences at Sovereign Harbour. The MPs met with Ian and Jan Weeks of Sovereign Harbour Residents Association. Sea defences are paid for by the residents of Sovereign Harbour, who have given around £8 million since 2003. Out of 12,000 km of coastline in the UK, all but 800 metres (in Sovereign Harbour) is paid for by the government, which does seem a little unfair.

Ian Weeks is quoted as saying of the visit: "we're very appreciative of Caroline Ansell's support in our struggle against the injustice of the Marina Rent Charge that all Harbour property owners are obliged to pay."
On the subject of lobbying, with so many pier fires, is it not about time that it was law that pier owners were obliged to fit dedicated fire prevention and fighting equipment.
EASTBOURNE PIER UPDATE 23 OCTOBER 2015 - A MESSAGE FROM CAROLINE ANSELL MP
"I wish Abid Gulzar every success in his exciting venture of becoming the custodian of Eastbourne's most famous landmark.

This is a great opportunity for him and the town to build up this iconic structure once again.

I'm sure that traders will welcome his 'hands on' approach, and we would encourage the council to work closely with him going forward.

I have had the opportunity to see early plans of what Mr Gulzar wants to do on the pier, and if this comes to fruition, it looks very exciting indeed.

I'm looking forward to meeting Mr Gulzar again over the next few days to be updated on his plans now that deal is confirmed."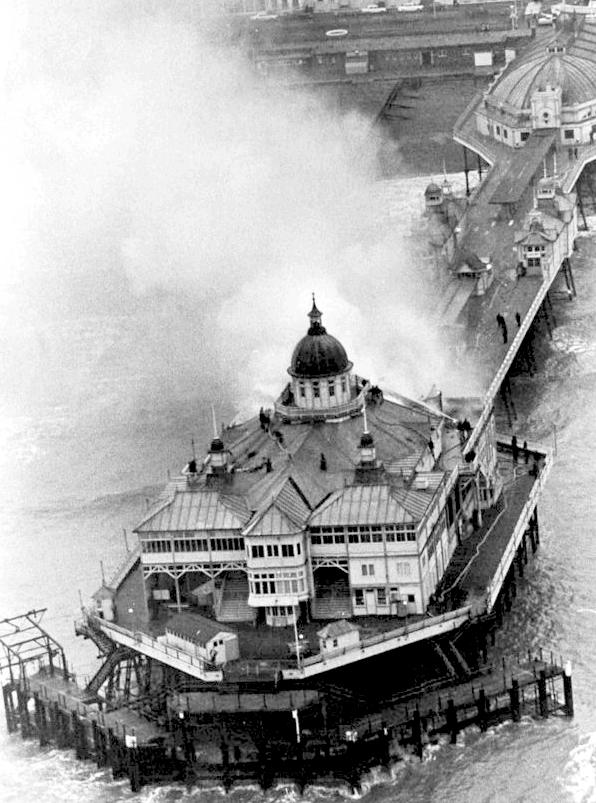 EASTBOURNE PIER 1970 - Is seen in the picture above on fire at the southern end in 1970. This is an example of a heritage asset that could be put to better use to pull a community together. With a track record of fires, any new owner will have to be extra vigilant to do their utmost to ward off potential arson attacks. Security will thus play a major part in forward planning.
BBC NEWS SATURDAY 22 January 2000 - A nightclub where more than 100 people were evacuated after a fire is expected to reopen on Saturday night.

The Atlantis club, on the pier in the south coast resort of Eastbourne, was cleared when a neon sign above the entrance to a bar caught fire. Some 25 firefighters were called in to tackle the blaze, which spread to a wooden facade on the Victorian structure. The club, which is covered by a landmark dome, was emptied as security staff launched an evacuation procedure.

COULD HAVE BEEN WORSE - Ambulances were called to the scene, but there were no injuries. The fire, which began at 22:15 GMT, was brought under control 45 minutes later.

Assistant Divisional Officer Frank Davis, district fire safety officer for Eastbourne and Hastings, said: "It could have been much, much worse. There is a lot of wood out there, and because it is so exposed it could have spread very quickly. "However, the pier's evacuation operation worked perfectly and everyone in the nightclub was out quickly."

Eastbourne pier was renowned for its annual National Birdman Championships held every August. Crowds flocked to see people in fancy dress running off the end of the pier and attempting to fly using home-made contraptions. In 2014 another fire engulfed the Blue Room from where the structure was added to the At Risk register by English Heritage.
FIRE HAZARDS - Until such times as pier owners in the UK are required by law to install detection and fire damping equipment, many piers will be at risk as to arson attacks.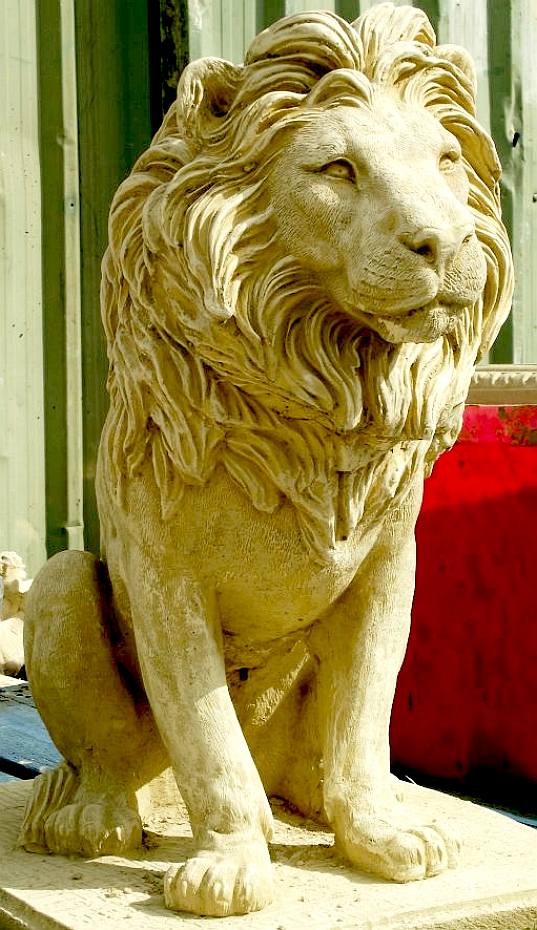 STONE LIONS - This is not one of the actual lions that caused such offence, but is one of many items stocked by garden and landscape suppliers. Stone lion statues are very popular in the United Kingdom, being that they are on many official seals and buildings, particularly in London, where they abound.

SUSSEX BUSINESS BOSS ORDERED TO TAKE DOWN HIS LIONS - Thursday 7 October 2010

A roar of disapproval has greeted a council order to remove a village "tourist attraction".

Sheikh Abid Gulzar has been told he has less than a month to remove six stone lions that sit on plinths outside his property at Pevensey Levels in Pevensey.

Yesterday he accused Wealden District Council of wasting resources on the move instead of tackling the fly tipping which he claims is blighting the area.

Mr Gulzar, who runs the Albany Lions hotels in Eastbourne, had appealed against the council's enforcement notice ordering him to remove the statues.

The authority said the statues did not have planning permission and were backed by a Government planning inspector at the appeal. Mr Gulzar said he thought the order to remove the statues was a drastic step but now has until November 14 to remove them. by James Wallin
NOTE: It is true that Wealden have wasted significant sums of money on petty enforcement actions. In this case two lion statues were placed at the entrance to a parcel of land at the Pevensey Levels, a site of special scientific interest - and apart from a barn or two and a farmhouse, a stretch of land that is devoid of features, until you reach Wartling village. It is probably because of the large number of complaints from locals, including Gregory Barker MP, that Wealden enforced in this instance.

HISTORIC ENGLAND LISTING NOTES:
SEASIDE PIER. It opened on 13th June 1870 and was designed by Eugenius Birch, the contractors Messrs Head, Wrighton and Co of Stockton on Tees. It was completed in 1872 and modified at the landward end following a storm of 1877. The seaward Pavilion theatre with 'camera obscura' and two games pavilions are of 1901 designed by Noel Ridley AMICE. The central windscreens were erected betweeen 1902-03, and a music pavilion was added in 1925 designed by P D Stoneham. Further kiosks were added in 1971, and an entrance building in 1991 in matching style.

MATERIALS: Substructure of cast iron screwpiles with some surviving combined cast iron side railings and seating. Wooden decking except for the centre which was replaced in concrete slabs after the Second World War. The pier buildings are constructed of wood with some structural cast iron and zinc roofs.

PLAN: As originally built in 1872 it was 1000ft long by 22ft wide, with two projecting bays on each side increasing the width to 68ft at the shore end and 52ft halfway along. The pier head had a diamond-shaped end approximately 115ft wide. After the storm of 1877 the shoreward end was rebuilt 5ft higher and the width of the pier increased to 52ft. By 1901 the pier end was much enlarged to accommodate the Pavilion theatre and in 1925 a section near the shore end was widened for a new music pavilion.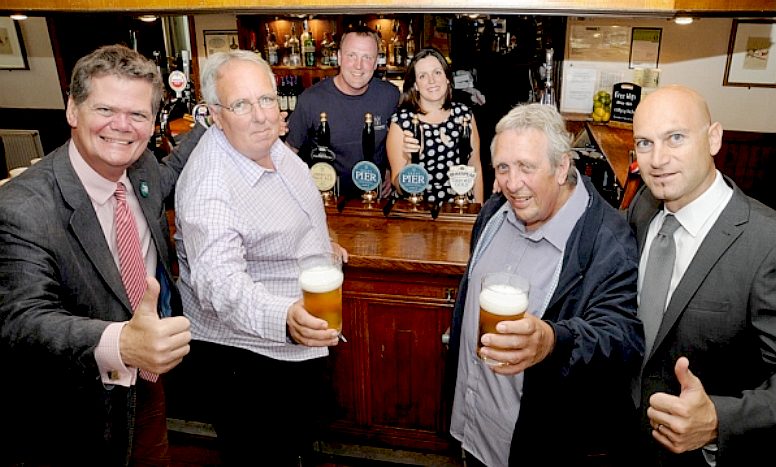 HISTORY: The first pile of Eastbourne Pier was screwed into the seabed on 18th April 1866, and the pier was officially opened on 13th June 1870 by Lord Edward Cavendish. The pier was one of 14 designed by Eugenius Birch (1818-1884). By the official opening date only half the projected 1000ft length had been constructed and it was not completed until 1872. It was originally 22ft wide with two projecting wings on each side and a small diamond-shaped pier head with two kiosks and a bandstand.

On New Year's Day 1877 a violent storm washed away a large part of the shoreward end of the pier. To counteract the effect of waves surging over the shingle below the shoreward end was rebuilt 5ft higher. Also the pier was rebuilt to the width of the former projecting bays, from 22ft to 52ft. In 1888 a large building was constructed at a cost of £250 on the pier head to form a theatre, but was taken off 'in one piece' to Lewes for use as a cattle shed when it was proposed in 1899 to produce a grander building. The plans, drawn up by Noel Ridley, were for a new pavilion theatre housing a 'camera obscura' in the dome surmounting the structure. The building, completed in 1901, could accommodate 1000 people, it had no pillars to obstruct the view and the balconies were cantilevered. It contained a bar, a cafe and the pier offices. An open verandah just above ground level was later filled-in. The camera obscura was the largest in the country when constructed. Very few now remain and this is thought to be the only camera obscura on a pier in the world. Visitors could watch a moving coloured picture of the view outside on an emulsioned dish in a darkened room.

In 1901 the two games saloons were erected on either side of the central ramp. Between 1902 and 1903 the central windscreens were erected and a ten-sided bandstand which was removed in 1945.

In 1912 the original octagonal front entrance kiosks, together with the central octagonal pay kiosk, were removed. The central pay kiosk still survives in the middle of the Redoubt Pavilion Gardens.

In 1925 a section of the upper deck level was widened near the shore end and a new music pavilion with domed roof constructed which could seat 900. It was used for many years as a ballroom and later became an amusement arcade.

During World War II there was an order to blow up the pier but, luckily, it was spared; wooden decking was removed from the centre to prevent an enemy landing and gun platforms installed in the theatre to repel any attempted enemy landing. In 1945 the bandstand was removed and in 1951 the Edwardian entrance kiosks were replaced by a flat-roofed building.

In 1970 a pier employee set fire to the Pavilion Theatre and severe damage was caused to its shoreward end, including the destruction of the access staircase to the camera obscura. As a result the theatre was closed down and the remaining part of the building converted into a nightclub. In the 1970s two steel-framed glass fibre amusement arcade buildings were added betweeen the ramp and the old theatre, followed by three kiosks between the ballroom and the ramp.

In 1991 the entrance building of 1951 was replaced by a new entrance, in a similar style to the original octagonal turrets, with shops and a weatherproof covered way. In 2003 the camera obscura was re-opened to the public.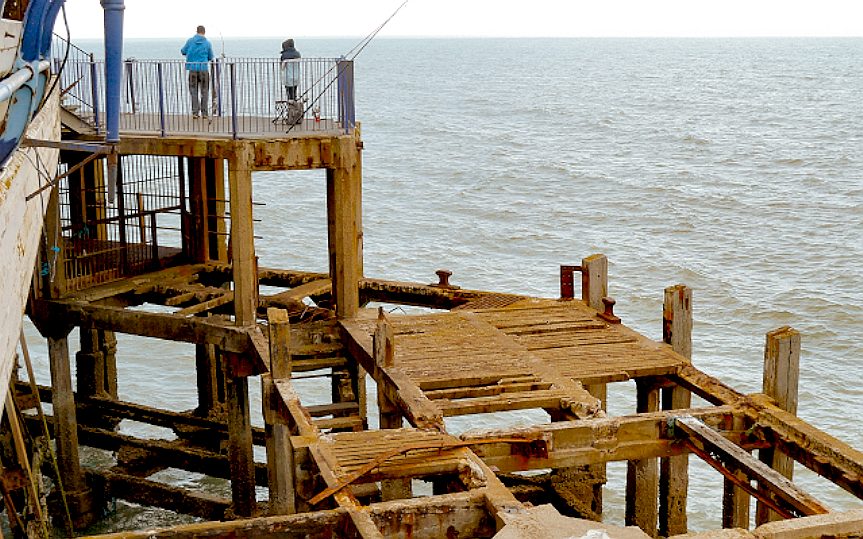 SOURCES: Supplement to "The Illustrated London News", June 25, 1870. Print of original pier. "The British Builder", July 1925, pp.281-283 for the musuc pavilion. The Oxford Dictionary of National Biography entry for Eugenius Birch. Simon H Adamson, "Seaside Piers", 1977. "Eastbourne Argus", 14/06/1982. John D Clarke and Partners, "Eastbourne Pier Conservation Strategy". Report of December 2007. Arthur J Gill, "Camera Obscura", April 1976. James Fenton, "Journal of Photography and Motiuon Picture Photography of the International Museum of Photography at George Eastman House, Rochester, New York, USA". Vol 27, No 4, Dec 1984, pp.9-15 for surviving 'camera obscura' in Great Britain.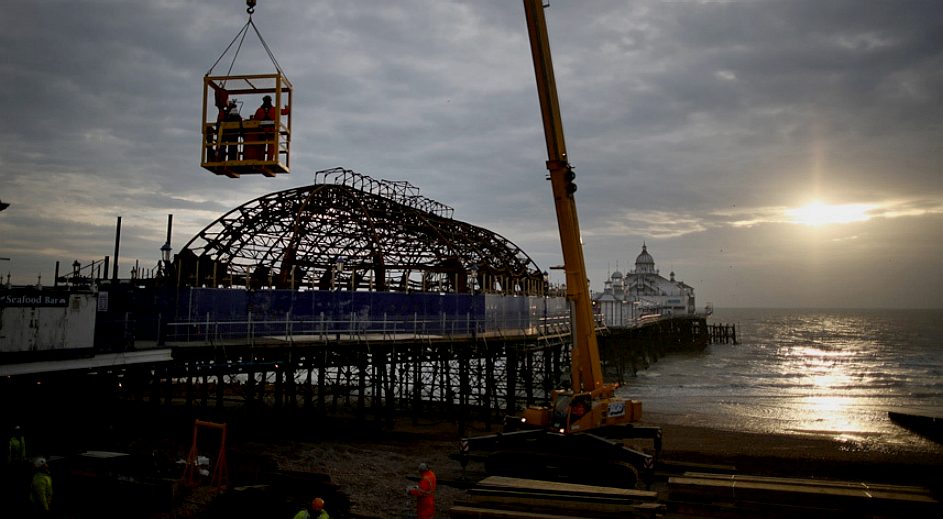 REASONS FOR DESIGNATION: * Following the loss of a number of Eugenius Birch's 14 seaside piers and most notably the almost complete destruction of Brighton West Pier by storm damage and fire, Eastbourne is now the finest of Birch's surviving seaside piers. * Eastbourne and Brighton Palace Pier, by St John Moore, are now the best surviving Victorian seaside piers on the South Coast for the number of remaining Victorian and Edwardian structures. * Eastbourne Pier has a rare surviving example of a 'camera obscura'; it was the largest example in Great Britain when built in 1901, and seems to be the only example of a camera obscura on a seaside pier in the world. * Eastbourne Pier is a good example of a promenade pier, later adapted into a full blown pleasure pier with good quality late C19, Edwardian and 1920s structures. Later replacement buildings have imitated the style of the earlier structures, so that the pier retains a stylistic coherence.

National Grid Reference: TV6185098847. List entry Number: 1353116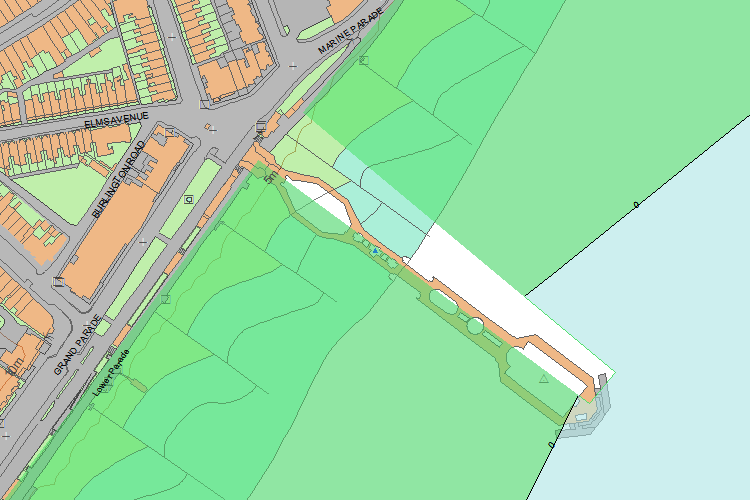 Wednesday 21 October 2015

Eastbourne Pier has been sold to hotelier Sheikh Abid Gulzar, according to the flamboyant businessman.

Mr Gulzar, who owns the Mansion and Albany Hotels along the seafront, and the Boship Farm on the A22, confirmed the sale had gone through this week.

He says he has paid an undisclosed amount to current pier owners Cuerden Leisure, which announced in the summer it was considering an option to sell.

It began talks with interested parties after council planners turned down a proposal to put children's rides on the decked area where the Blue Room stood, before it was damaged by fire in July last year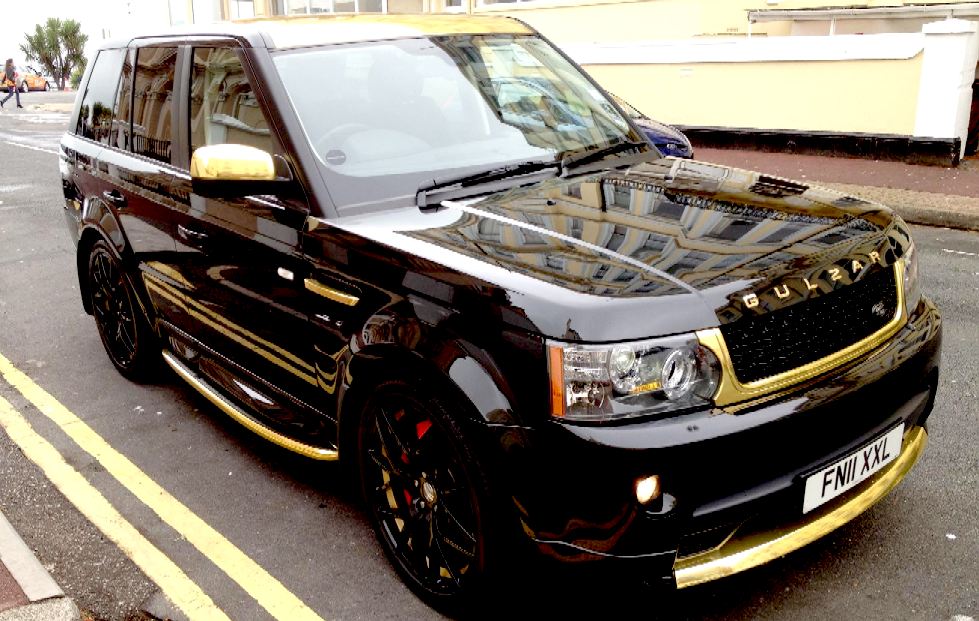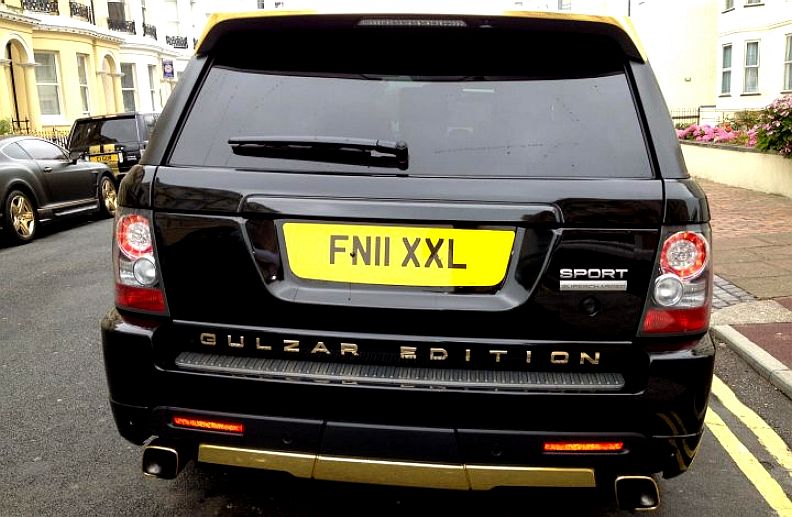 BLING - The Sheikh is known for his glitter taste in transport. He also pimped up a Mercedes with similar gold films and is said to be very fond of lions, though tigers may also feature, as Mr Gulzar was born in India, land of the fabulous Taj mahal, and the background to Rudyard Kipling's Jungle Book. We understand that Mr Gulzar no longer owns the Range Rover above which is seen here parked outside the Mansion Lions hotel.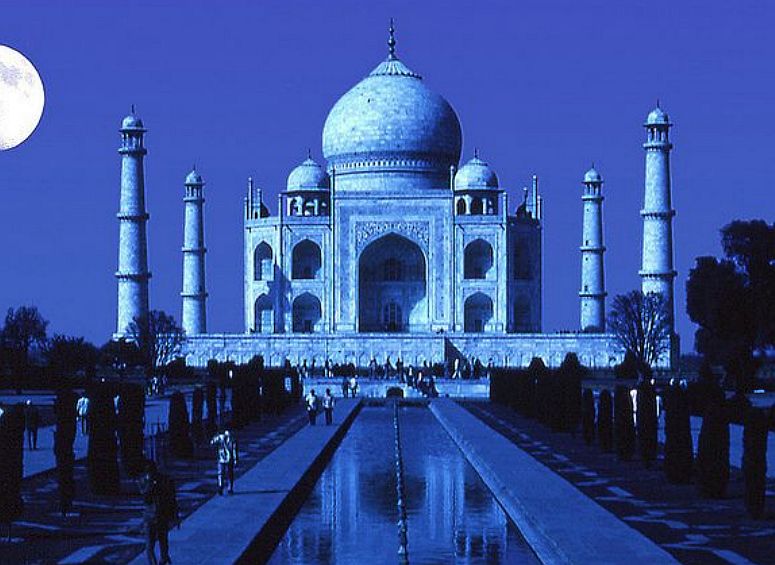 The Taj Mahal is a white marble mausoleum located on the southern bank of the Yamuna River in the Indian city of Agra. It was commissioned in 1632 by the Mughal emperor Shah Jahan (reigned 1628–1658) to house the tomb of his favorite wife of three, Mumtaz Mahal.
There are some slight resemblances between Eastbourne pier and the Taj Mahal. Both have (had) domed roofs, are near water and attract visitors. On a moonlit night the Taj Mahal appears blue, just like the Blue Room on the pier. On some occasions the pier must remind anyone from exotic India of home.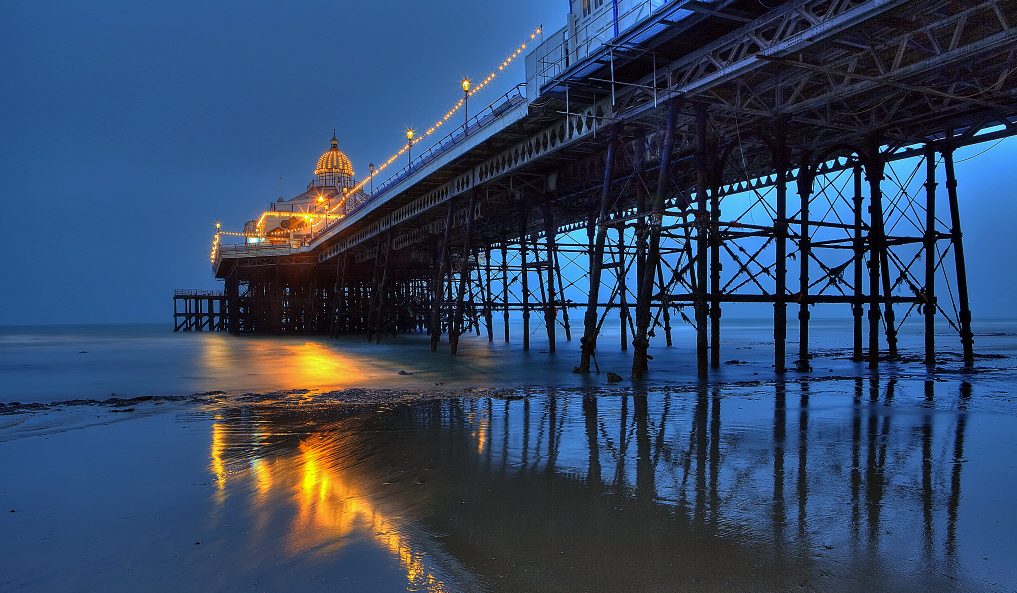 Construction of the mausoleum was essentially completed in 1643 but work continued on other phases of the project for an additional ten years. The Taj Mahal complex is believed to have been completed in its entirety in 1653 at a cost estimated at the time to be around 32 million Indian rupees, which in 2015 would be valued at around 52.8 billion Indian rupees ($827 million US). The construction project employed around 20,000 artisans under the guidance of a board of architects led by Ustad Ahmad Lahauri. The domed marble tomb is part of an integrated complex consisting of gardens and two red-sandstone buildings surrounded by a crenellated wall on three sides.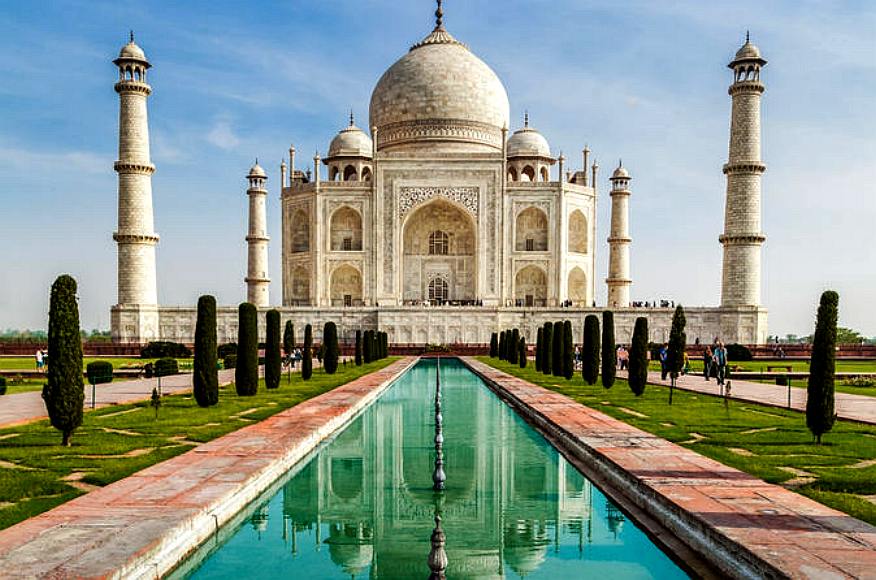 The Taj Mahal is regarded by many as the best example of Mughal architecture and is widely recognized as "the jewel of Muslim art in India". It is one of the world's most celebrated structures and a symbol of India's rich history. Designated a UNESCO World Heritage Site in 1983, the Taj Mahal attracts some 3 million visitors a year, 3 million less than Brighton pier, apparently. On 7 July 2007 it was declared one of the Seven winners of New7Wonders of the World (2000–2007) initiative in Lisbon.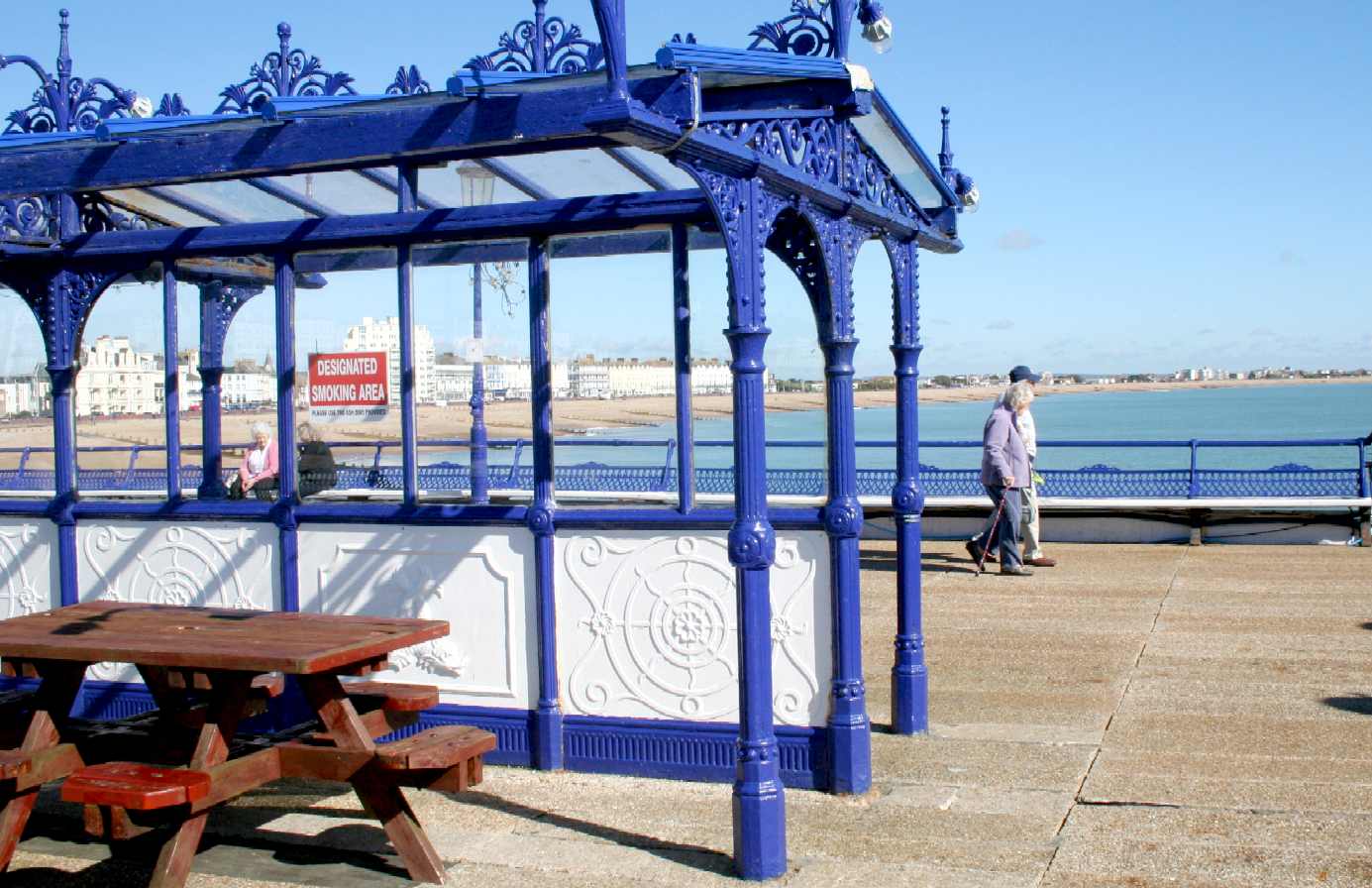 TEA ROOMS - The lack of custom during peak opening times is one of the main reasons why the pier took a financial pounding during 2010-2014. Of course the pier should be open to all for their enjoyment, but we would expect to see more activity and a mix of holiday makers. To make that happen you need better attractions. At the moment during the day there is nothing that one might describe as a national draw, let alone international lure.
The pier is listed under the Planning (Listed Buildings and Conservation Areas) Act 1990 as amended for its special architectural or historic interest. List entry Number: 1353116.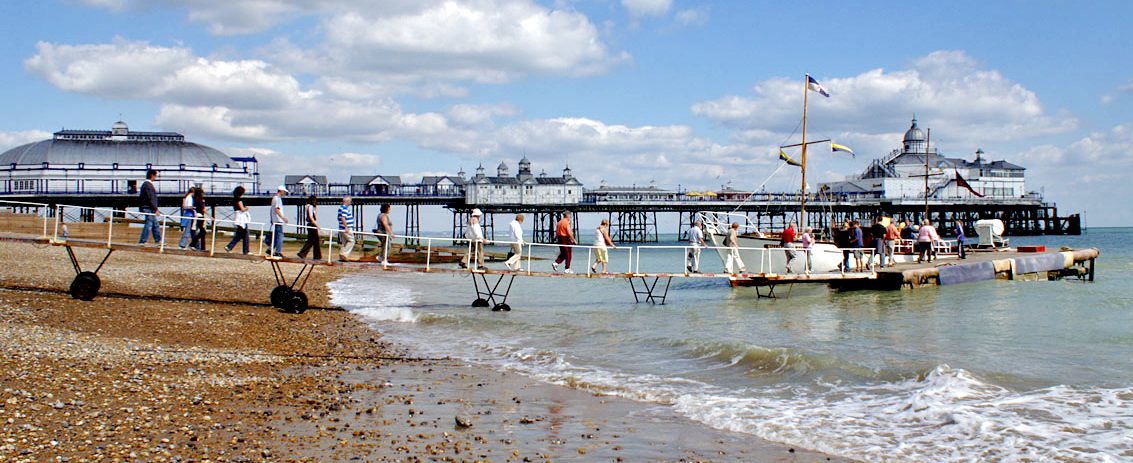 MEMORIES - Do you remember the sound of a crackling analogue radio made from brown bakelite and a television without colour? If you do you may well have ridden on the William Alchorn, or maybe taken a ride on one of the Bluebird speedboats from the rear of the pier, where that jetty is all but collapsed. These attractions no longer exist (Sept 15). Now imagine that you can take your kids on one of these rides. What a day out. You can't do any of these things yet, but we wonder if Mr Gulzar has any plans for his pier that includes boat rides.
FACEBOOK
According to the Eastbourne Independent there are over 650 postings on the Pier Memorial Facebook page.
You can see these for yourself by clicking here: https://www.facebook.com/arcadememorial/

CONTACTS
Eastbourne Pier
Grand Parade
EASTBOURNE
East Sussex
BN21 3EL
Eastbourne Borough Council
1 Grove Rd
Eastbourne
East Sussex
BN21 4TW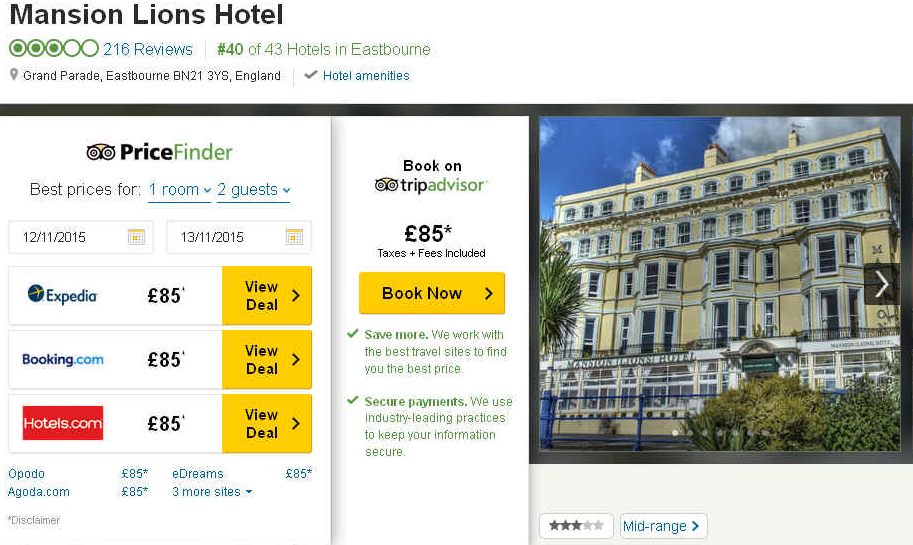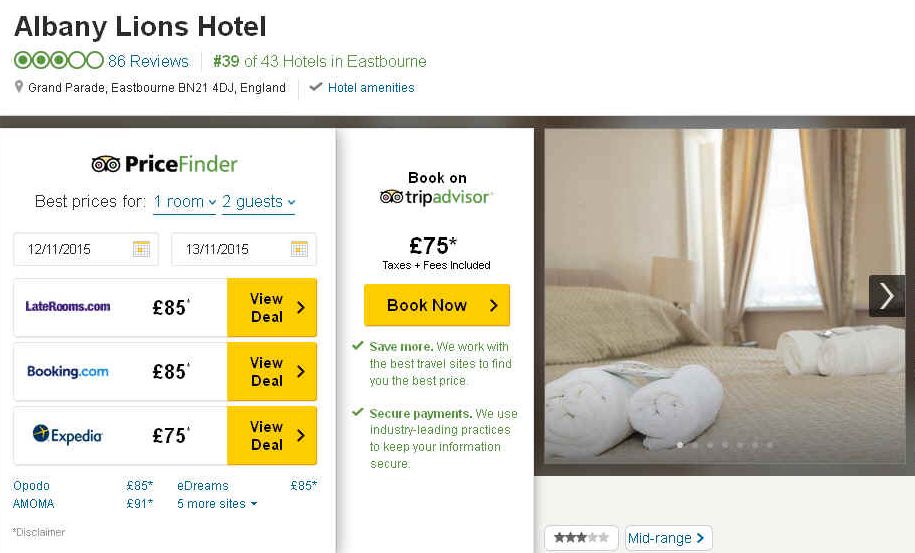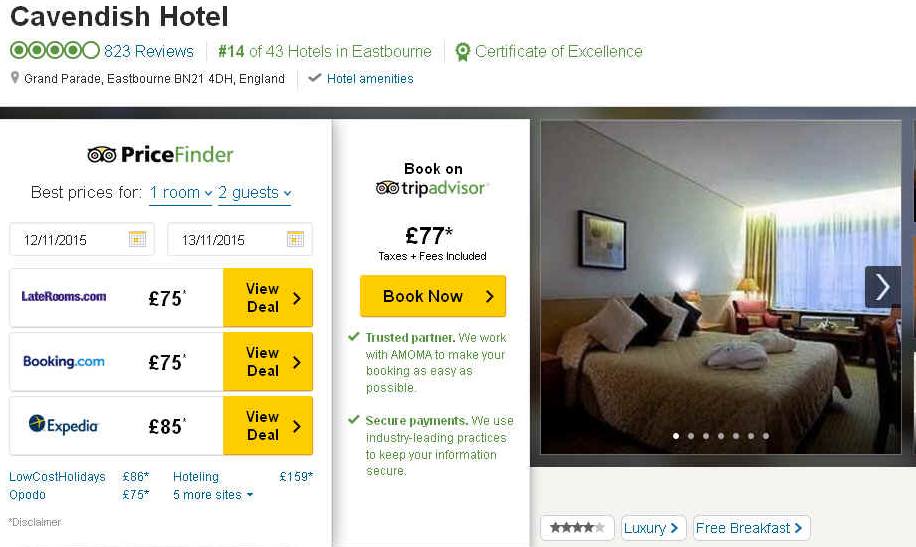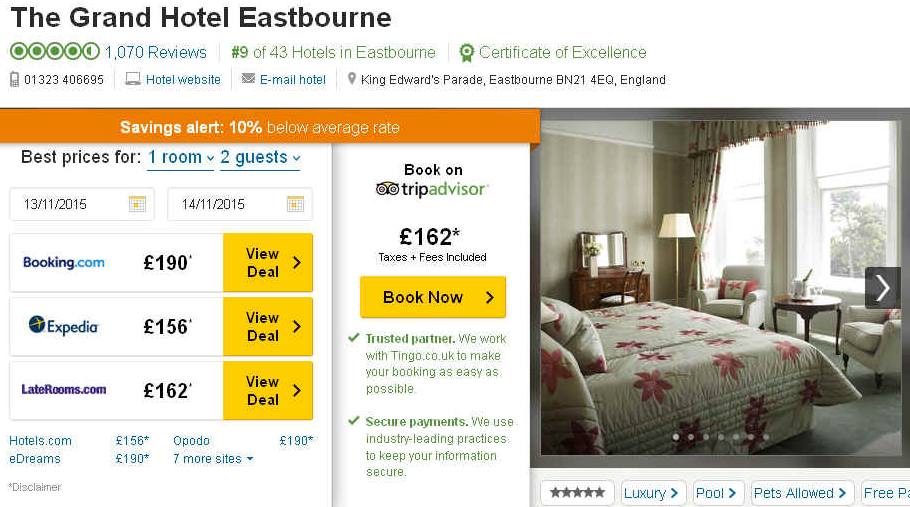 GO COMPARE - Unless you have a particular memory in mind, it is always worth comparing prices of hotel rooms online. We checked a few of the dozens of hotels in Eastbourne and were surprised to find that the Cavendish, a 4 **** star hotel is better value than some of the 3*** hotels. The only 5***** star hotel in Eastbourne is the Grand. The cost of a stay in this hotel is twice that of the others - if you fancy treating yourself. But, don't let this information put you off trying to get a better deal. This is just a snapshot example. We found the deals on offer over the telephone could also yield results. Good hunting.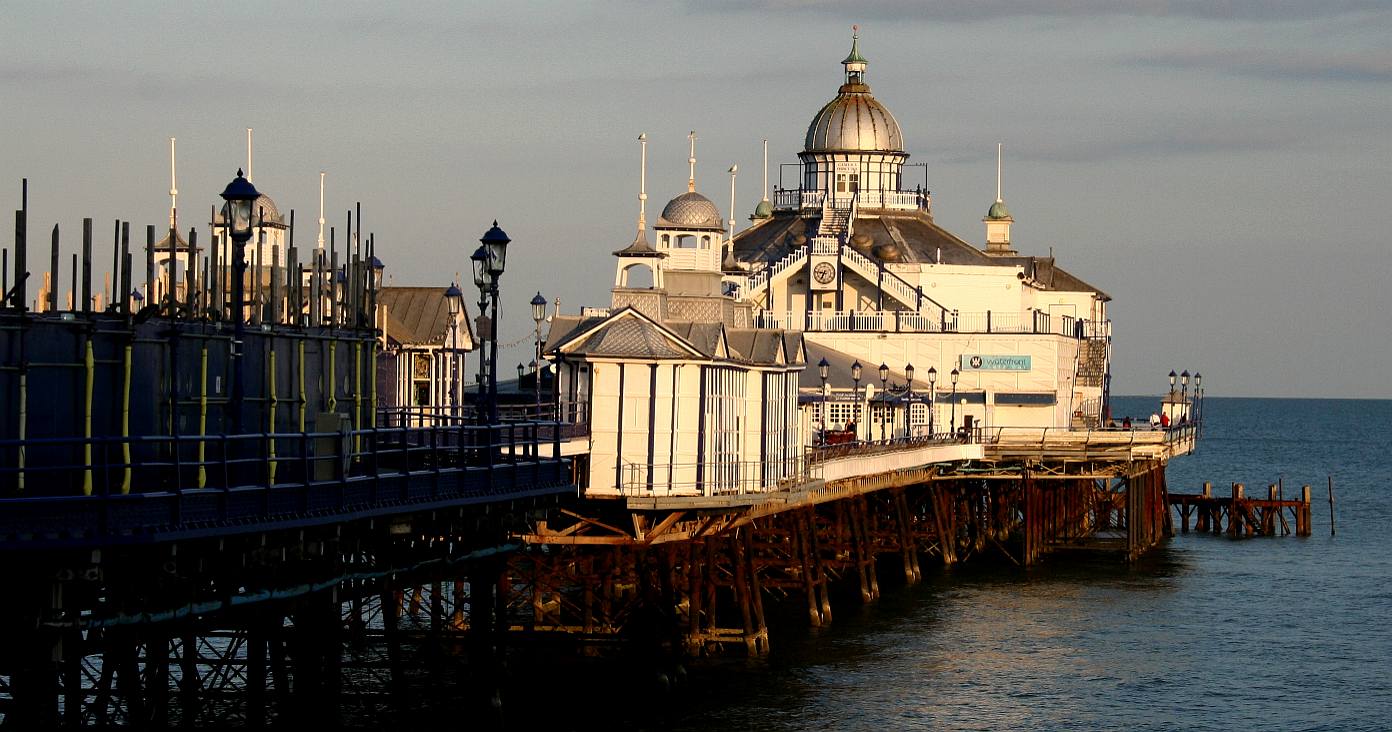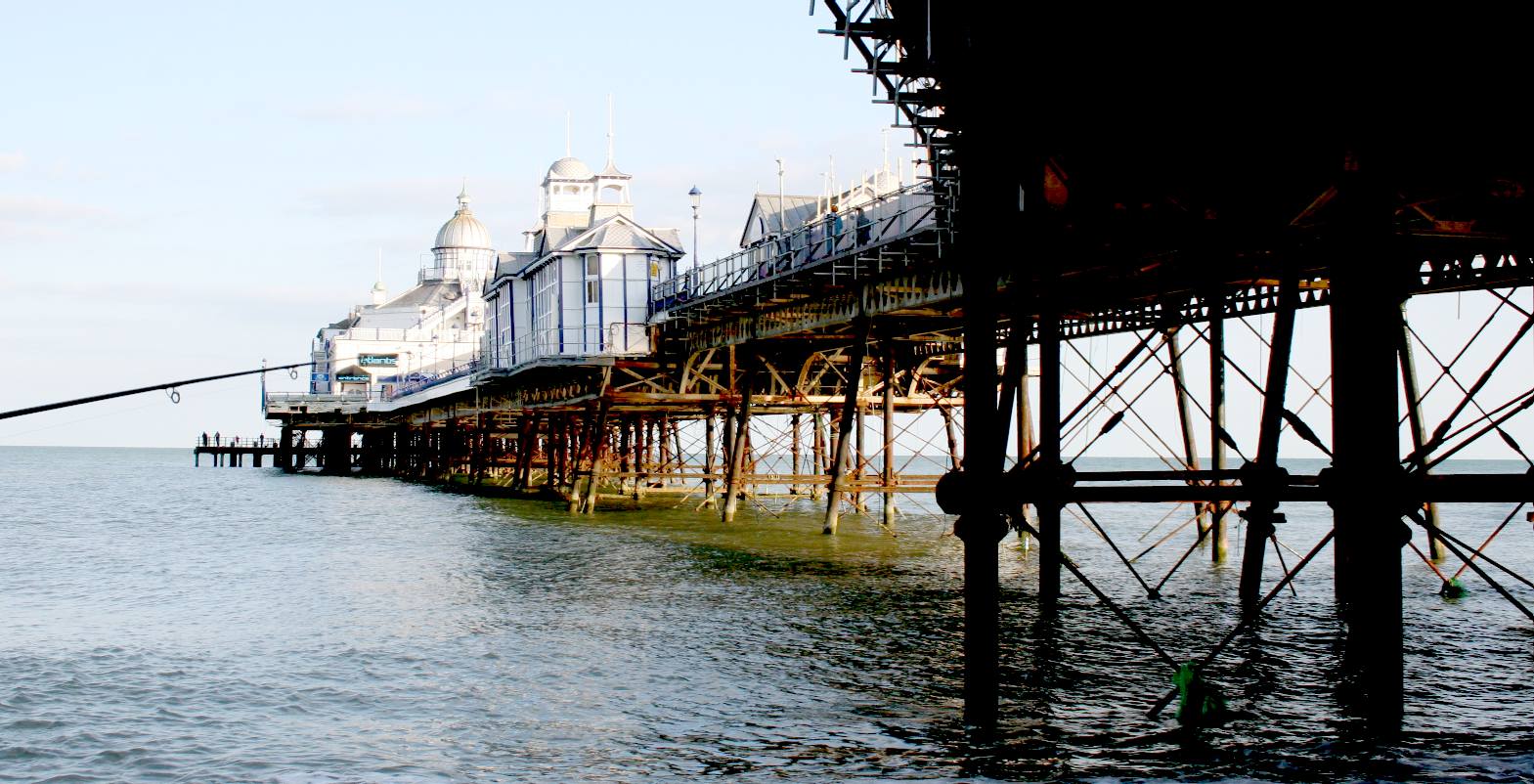 LINKS
Dailymail-Eastbourne-2million-windfall-fire-destroyed-Grade-II-listed-pier-2014-Prime-Minister-knows-hit-town-hard
IOL news world England Hastings pier gutted by fire 2010
Historic-England-news-and-features/news/english-heritage-reveals-south-east-heritage-at-risk-register-2014
EastbourneHerald breaking-news-hotelier-claims-he-s-bought-eastbourne-pier
Eastbourne Herald news local sheikh-says-he-plans-to-make-eastbourne-pier-best-in-the-country
http://www.bbc.co.uk/news/uk-england-sussex-34600926
The Argus news leading_hotelier_reveals_interest_in_buying_Eastbourne_Pier
Facebook BBC South East Today
Eastbourne Independent Eastbourne_MP_welcomes_Pier_sale_to_Sheikh_Abid_Gulzar
Eastbourne Independent Mr_Gulzar_speaks_out_after_buying_Eastbourne_Pier
Daily Star UK latest news Eastbourne pier fire suspicious police launch arson probe
http://www.theargus.co.uk/news/8435345.Sussex_business_boss_ordered_to_take_down_his_lions/
http://www.dailystar.co.uk/news/latest-news/392202/Eastbourne-Pier-fire-suspicious-police-launch-arson-probe
http://www.theargus.co.uk/news/13586800.Leading_hotelier_reveals_interest_in_buying_Eastbourne_Pier/
https://www.facebook.com/BBCSouthEastToday
http://www.eastbourneindependent.co.uk/news/13895593.Eastbourne_MP_welcomes_Pier_sale_to_Sheikh_Abid_Gulzar/
http://www.eastbourneindependent.co.uk/news/13886702.Mr_Gulzar_speaks_out_after_buying_Eastbourne_Pier/?ref=ar
http://www.bbc.co.uk/news/uk-england-sussex-34600926
http://www.eastbourneherald.co.uk/news/breaking-news-hotelier-claims-he-s-bought-eastbourne-pier-1-7023854
http://www.eastbourneherald.co.uk/news/local/sheikh-says-he-plans-to-make-eastbourne-pier-best-in-the-country-1-7024118
https://en.wikipedia.org/wiki/Eugenius_Birch
http://www.mirror.co.uk/news/uk-news/blackpool-pier-goes-market---5322640
http://www.britanniahotels.com/
http://www.elitehotels.co.uk/
http://www.hotelcumberland.co.uk/
http://www.simplonpc.co.uk/Sussex-Piers.html
https://historicengland.org.uk/news-and-features/news/english-heritage-reveals-south-east-heritage-at-risk-register-2014/
http://www.historicengland.org.uk/listing/the-list/list-entry/1353116
http://news.bbc.co.uk/1/hi/uk/614286.stm
https://www.biglotteryfund.org.uk/ccf
http://www.eastbourne.gov.uk/
http://www.hlf.org.uk/
http://www.historicengland.org.uk/
southeast@HistoricEngland.org.uk