EASTBOURNE PIER IS A MONUMENT AT RISK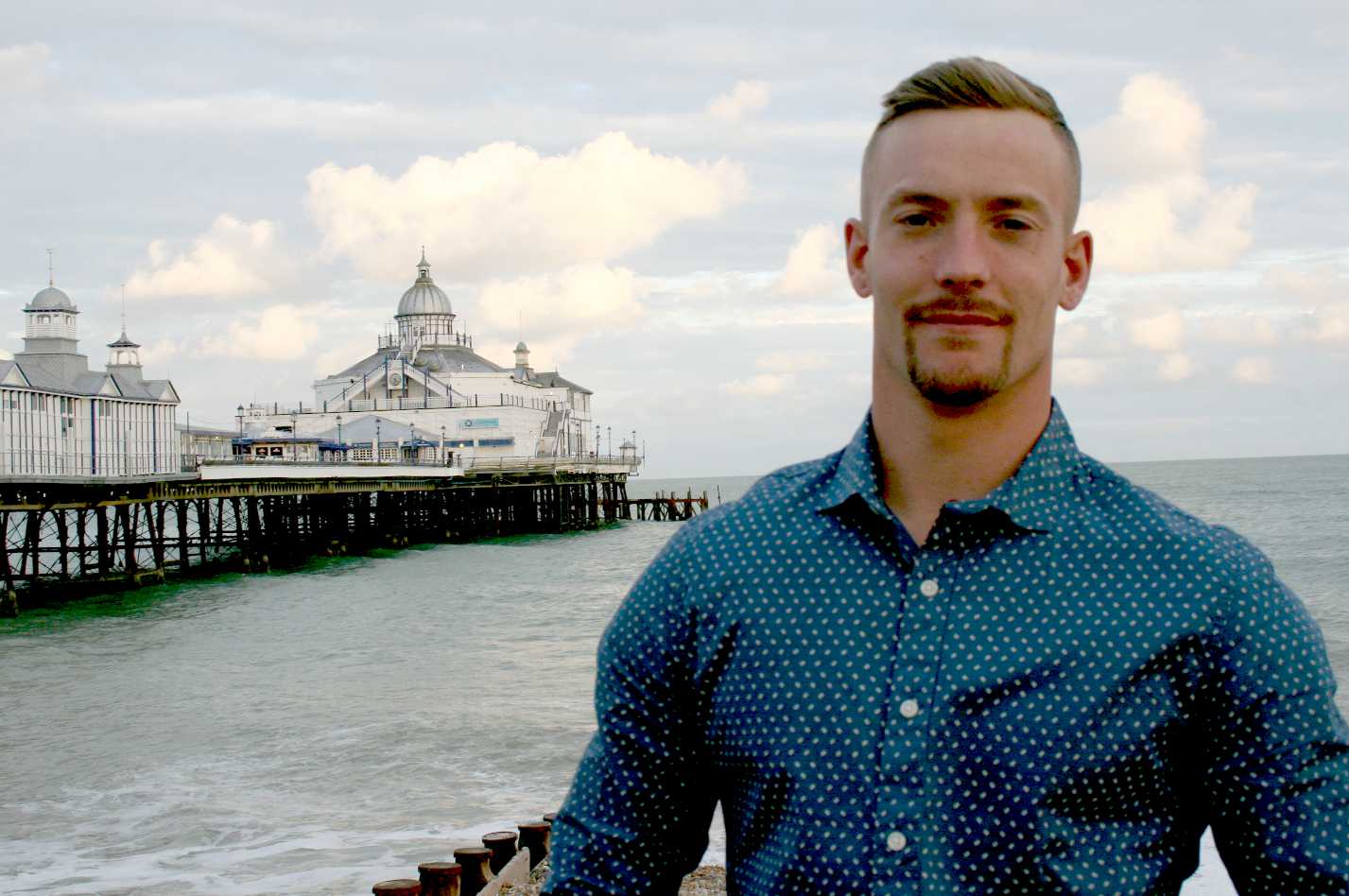 TERRY VALERIANO - Terry is a trustee of the Cleaner Oceans Club and our security specialist. Having lived in Eastbourne for most of his life, he is keen to see Eastbourne pier restored. Terry says: "It is going to be an uphill struggle for the whole team, but if we all pull together, we can move mountains."
EASTBOURNE HERALD ONLINE - 15:47 Tuesday 22 September 2015

An ambitious plan to take over Eastbourne Pier and turn it in to a community museum and rebuild the Blue Room has been revealed.

Also in the pipleline is bringing the Allchorn Pleasure Boats back in to action and holding water sports events such as surfing and conferences on ocean pollution.

Cleaner Oceans Club Ltd is in talks with the pier's current owners about taking on the liability of the seafront landmark as a not for profit concern.

The company says it wants to restore the pier to its former glory with the help of lottery funding and is looking for partners or other organisations to join forces in the project.

Eastbourne Pier is currently owned by Cuerden Leisure and is up for sale after a fall out with council planners who turned down Cuerden's plans for fairground rides on the site of the Blue Room, destroyed by fire in July last year.

Frustrated at the council's decision, Cuerden Leisure said it was evaluating its options earlier in the summer.

Terry Valeriano from Cleaner Oceans Club Ltd said this week the company was interested in the pier becoming "a focal community point".

"We have been prompted to consider taking what is quite a large leap into the heritage world, because we understand that nobody as yet is looking at a rescue package that involves repairing the old music pavilion known locally as the Blue Room," said Mr Valeriano.

"We have been speaking to Historic England and subsequently the Heritage Lottery Fund. We filed a pre-application enquiry form yesterday, hence know that funds are available up to £5 million for such projects. But, we would have to match fund to the tune of 10 per cent

"The pier is a grade II* listed building that is at present on the Monuments At Risk register, because it seems, there is no legal obligation for the owners to repair the Blue Room.

"We would only get involved on the basis of restoring what is a focal point for Eastbourne and vital for tourism - hence, the local economy.

"It would suit us to change the use of the pier aiming for more community involvement. We'd rather it was a museum open to the public on a free basis with a maritime exhibition being a full time attraction.

"That would of course involve charitable donations and we are looking for partners or other organisations which might offer financial contributions is exchange for major billing, or even help from the public in exchange for a mention on our website, with certificates depending on their generosity."

Cleaner Oceans Club Ltd is the organiser of the Miss Ocean 2016 water sports pageant, an ocean awareness initiative.

Mr Valeriano said, "This will involve swimming, rowing and maybe even surfing events that could involve the pier. We also plan to run conferences on ocean pollution. We feel this sort of rescue package will benefit Eastbourne far more than anything we have seen or heard to date.

"As a second and third stage, we'd also like to see the Allchorn boats running again."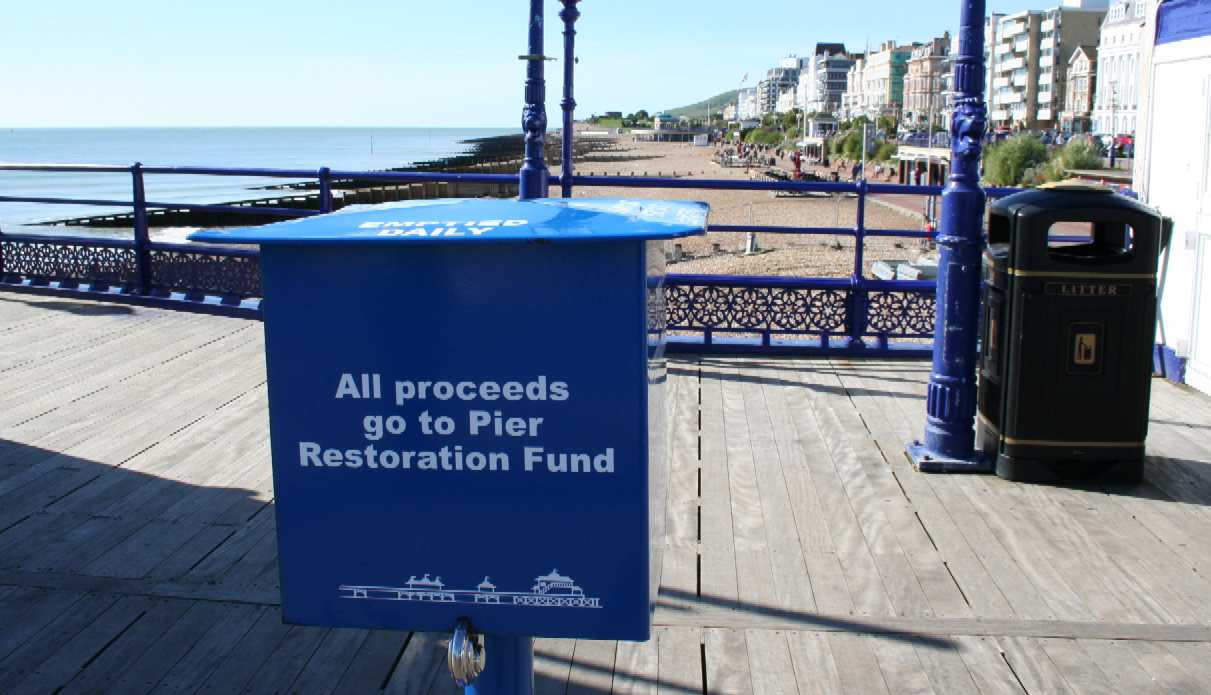 EASTBOURNE HERALD CONTACTS

If you wish, you can contact us using any of the methods below.

Berkeley House
26, Gildredge Road,
Eastbourne
England
East Sussex
BN21 4SA

Email: eastbourne.herald@jpress.co.uk

Telephone: 01323 414488
EASTBOURNE HERALD COMMENT CORNER, 13 COMMENTS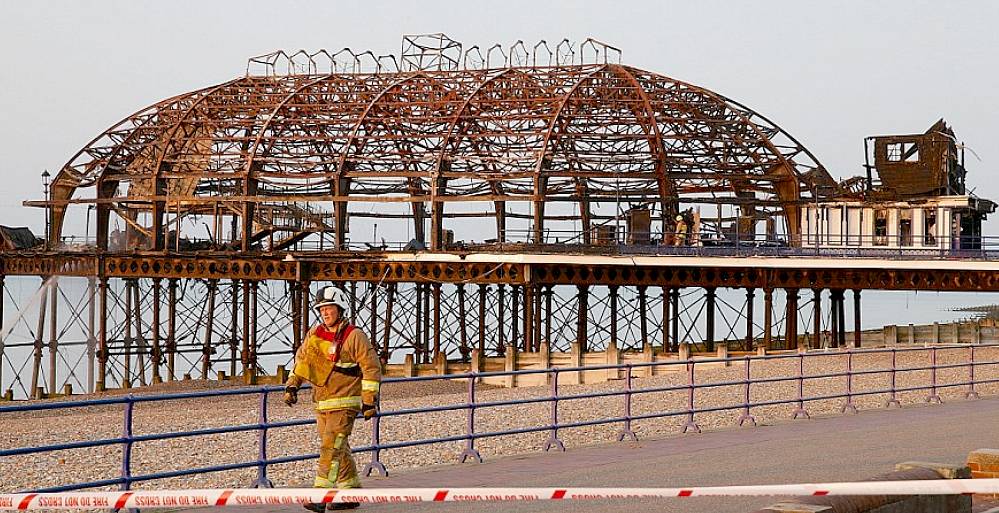 FIRE TRAGEDY - It made many people weep to see this icon reduced to a pile of scrap steel. The problem with steel in fires is that the rolled girders twist and distort, making it impossible to repair. The only way is to take it down and start again.
GETTING THE COMMUNITY INVOLVED
If we are successful in restoring the pier we want to get the community involved. The room that was used as a penny arcade will be made available to performing artists for plays and exhibitions. The Blue Room was built as a music pavilion with moderate seating capacity. Hours of opening will be strictly controlled so as not to cause neighboring premises inconvenience.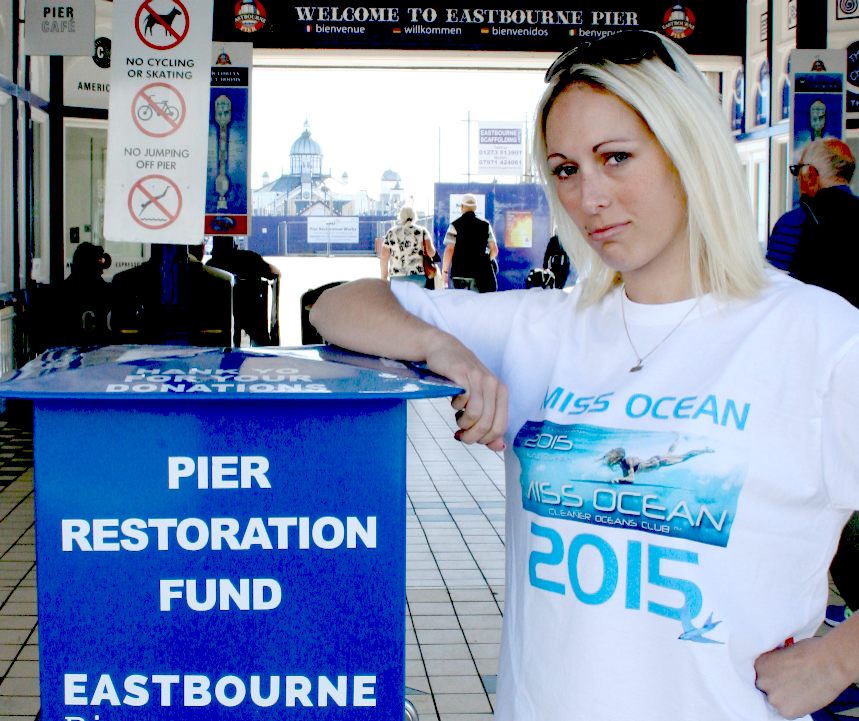 FUNDING - We cannot see the point of contributing to a fund that has not published rescue plan. If that is not correct, for goodness sake let us know straight away. If another group are serious about restoring the old music pavilion, then the Cleaner Oceans Club will not need to use their resources in that direction.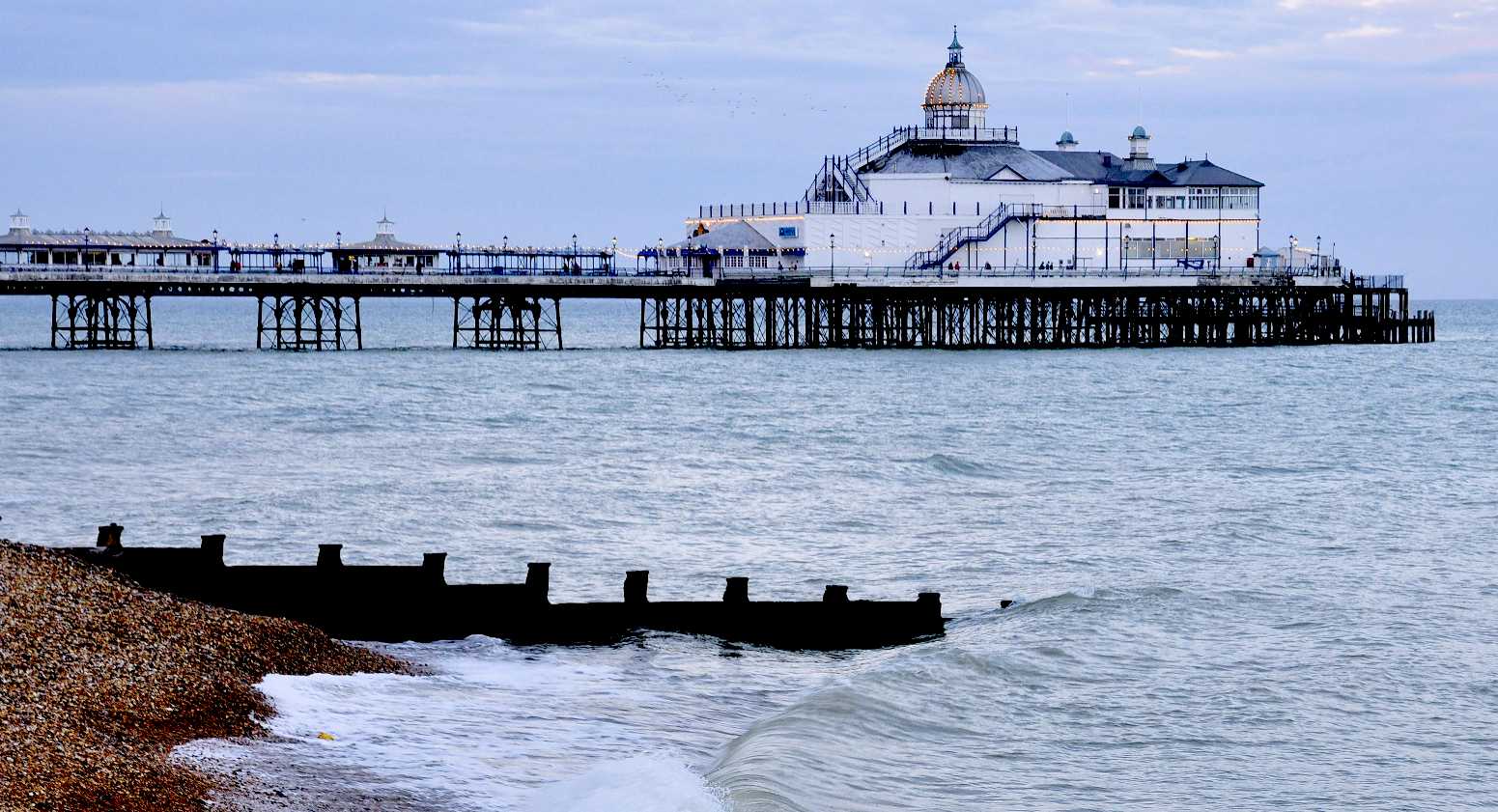 EASTBOURNE PIER - Is a monument at risk. A fire ravaged the 144 year old Victorian icon in 2014, but there is no legal requirement to rebuild the Blue Room from the insurance payout. The pier is a loss maker at the moment, leaving the owner to foot the bills for repairs. Unless an extremely wealthy private owner can stump up something in the order of $4.6 - 6.1 million dollars (£3-4 million pounds), there is little chance that the Blue Room will see the light of day again. The final figure is likely to be far more of course.
The present owners are caught between a rock and a hard place. Obviously the pier has some commercial value, with the Atlantis night club and a few other minor enticements bringing in some revenue. Not though enough to warrant major investment.
An alternative to a private developer is a 'Heritage Trust' that might attract a mix of state funding, private patrons and commercial sponsors, with the specific aim of raising the finance to rebuild the once proud structure that Eastbourne was famous for. If you, your organisation, or your company might be interested in joining such a consortium, please contact the Cleaner Oceans Club Ltd. We are a not for profit concern with charitable objects, one of which is the conservation of historic buildings. We also have an in-house planning consultant who is prepared to work on such a project on a free basis.
The pier could be operated on a not for profit basis, as a museum and for social projects concerning the sea for the benefit of mankind.

CONTACTS
Project address:
Eastbourne Pier
Grand Parade
EASTBOURNE
East Sussex
BN21 3EL
enquiries@piers.org.uk
Local authority address:
Eastbourne Borough Council
1 Grove Rd
Eastbourne
East Sussex
BN21 4TW

Tel: 01323 410000
Contacts: Hayley Stebbings (events manager)
Terry Valeriano (events security)
Christina Dusart (events admin)
Tel: +44 (0) 1323 831727
Email: pageant@miss-ocean.com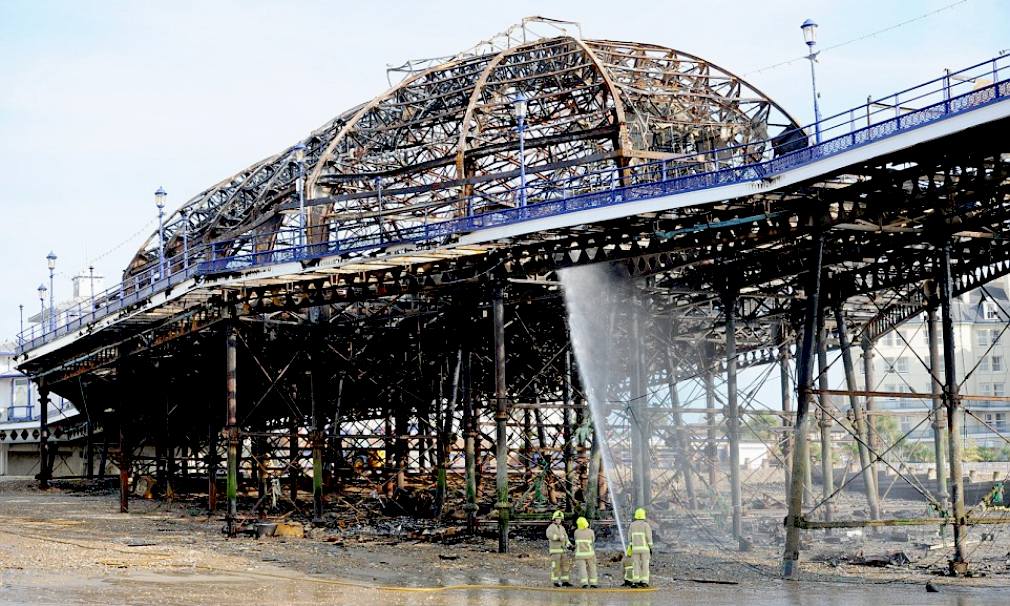 FIRE BRIGADE - It took 80 fire fighters to bring the blaze under control. Not though in time to save the music pavilion. Indeed, one could argue that with all the combustible materials consumed, the fire was simply prevented from spreading to other substantial buildings. What then was the pier constructed of to make it burn so fiercely?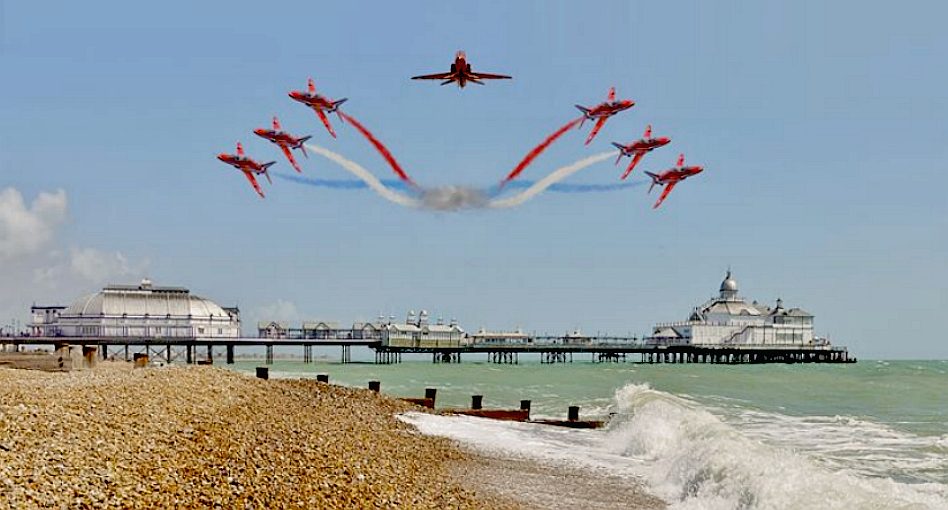 RED ARROWS FLYOVER - If the pier is recognized as being a monument at risk by English Heritage, why are the local authority encouraging the RAF to fly over the historic site? During World War II (26 November 1944) a Royal Air Force Hawker Typhoon fighter plane hit Brighton's west pier, subsequently crashing onto the beach. It's just a matter of time before acrobatics like that seen above end in tragedy.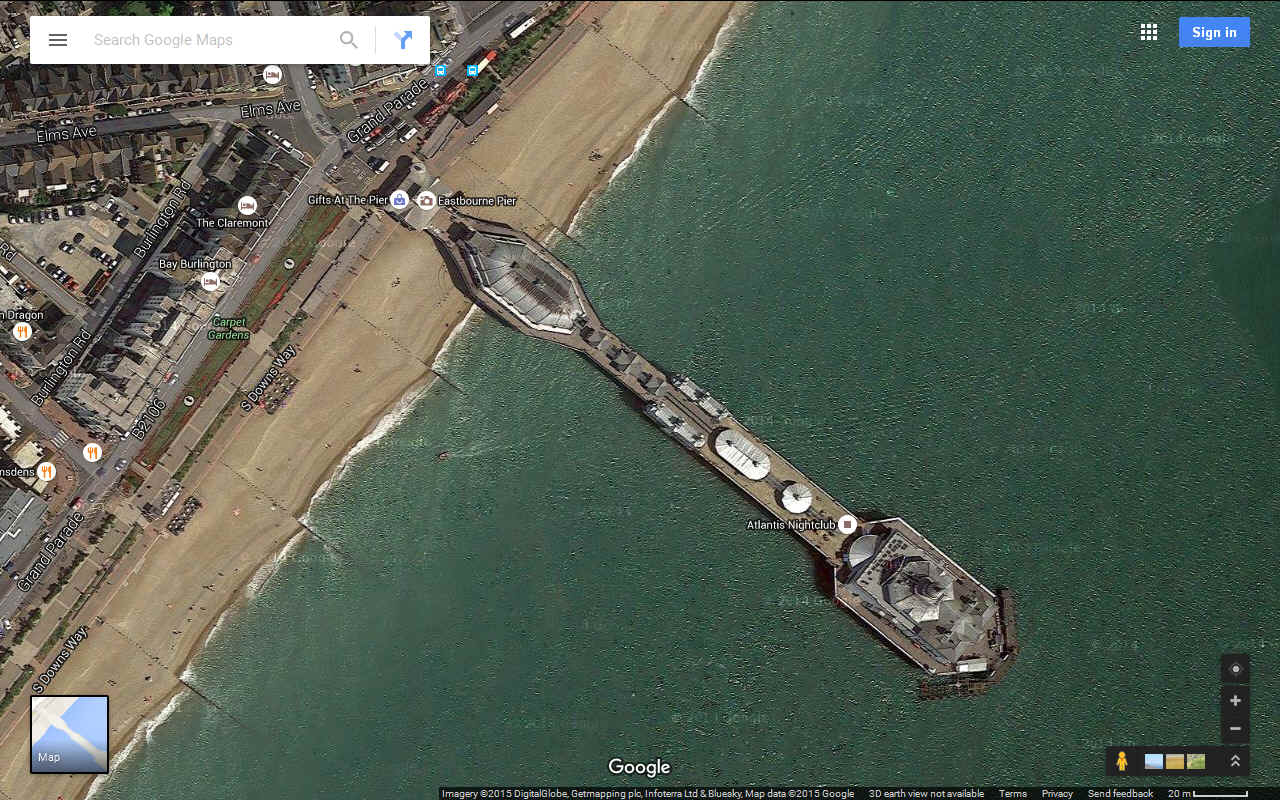 GOOGLE MAPS - The above is a satellite view from one of the most famous search engine companies. The snapshot was taken in September 2015, but still shows the Blue Room intact.
News A to Z directories. Click on the links below to find your favourite news or to contact the media to tell your story:
CNN CABLE NETWORK NEWS

HELLO MAGAZINE

INVINCIBLE MEDIA GROUP

NEWS DESK

NEWS of the WORLD

NEWSPAPERS

THE WASHINGTON POST

TIME MAGAZINE

TOP GEAR MAGAZINE

USA TODAY

WALL STREET JOURNAL

YACHTING MONTHLY

YACHTING WORLD
LINKS
Dailymail-Eastbourne-2million-windfall-fire-destroyed-Grade-II-listed-pier-2014-Prime-Minister-knows-hit-town-hard
IOL news world England Hastings pier gutted by fire 2010
Big Lottery Fund Coastal Communities Fund
http://www.eastbourneherald.co.uk/news/takeover-of-eastbourne-pier-plan-1-6971012
https://www.biglotteryfund.org.uk/ccf
http://www.eastbourne.gov.uk/
http://www.hlf.org.uk/
http://www.historicengland.org.uk/
southeast@HistoricEngland.org.uk