CROWN ENTERTAINMENT (CUERDEN LEISURE)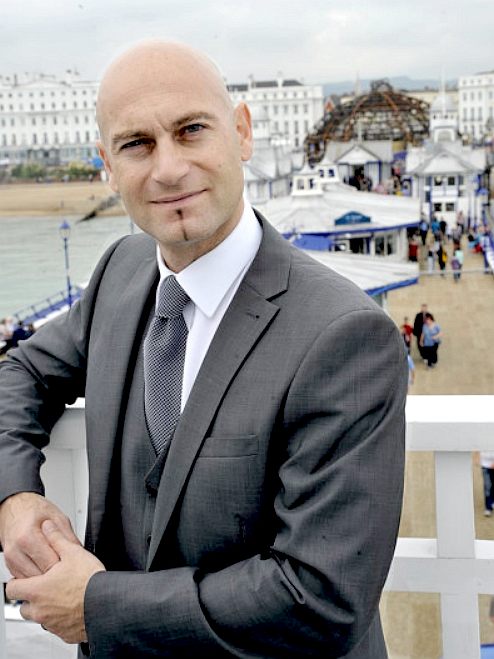 PRESENT PIER MANAGER - Christos Stylianou, was the pier manager for Cuerden Leisure Ltd, a company that we cannot seem to get hold of despite Eastbourne Herald reports that they are the owners. The Mirror reports the owners as Crown Entertainment Centres and we note that the two companies share the same postal address. Then it is Crown Entertainment who we should congratulate for at least getting the wooden boarding back in place under difficult circumstances.

SUFFOLK FREE PRESS - 20:15 Thursday 22 October 2015

Historic Eastbourne Pier was sold late today (October 22) to flamboyant local hotelier Sheikh Abid Gulzar.

The exchange of contracts came at the end of a day of confusion, with the iconic landmark's owners initially categorically denying it had been sold.

Crown Entertainment Centre issued a statement stating no contracts had been exchanged and no cash had changed hands for the listed building, despite Mr Gulzar's claims the previous day that the sale had gone through.

Then came the dramatic news that Mr Gulzar had, indeed, been successful in the purchase. Completion is due next Friday (October 30).

Mr Gulzar, who owns two seafront hotels, a nursery and a hotel on the A22, said he wanted to be the "daddy of Eastbourne Pier" and make it "the best in the country".
MEDIA COVERAGE REVIEW: WEDS 10 JUNE 2015 - EASTBOURNE HERALD
Eastbourne Pier has reacted with "shock and disbelief" at the council's decision to run children's rides from its decking during the summer season.

Owners of the seafront landmark say it now means that having so far sunk £4million into the high-quality re-build following last summer's crippling fire, they can now see no way of recouping their investment.

The pier's management has denied that the pier, owned buy Cuerden Leisure is now up for sale.

Pier general manager Christos Stylianou said the decision by Eastbourne Borough Council's planning committee which refused listed building consent last Tuesday, "beggared belief".

"When I heard the council had refused temporary permission for a handful of children's rides on the pier I was absolutely stunned," he said.

"They were eager for us to re-build the pier as quickly as possible so that they could send out a positive message about working together, but now I feel they have completely let us down."

The pier wanted to install a helter skelter, carousel, waltzers, dodgems and stalls on the decked area where the Blue Room stood until it was destroyed by a blaze on July 30 last year.

Planning councillors refused to grant consent because they were unable to impose any conditions restricting the opening times of the rides and after a flurry of objections from residents living on the seafront.

"English Heritage supported our plans for temporary children's rides to help us through the crucial summer period," Christos said. "So why has the council's planning committee turned it down? Are they really saying that our wonderful seafront area is not the right place for families and children to have fun?"

Pier owners Cuerden Leisure believe the decision will impact massively on the popularity and viability of the pier.

They fear that visitor numbers will fall and that the pier shops, who they say had a "wretched time" during last year's fire, will once again see their trade being knocked sideways.

"On top of all this, the rides would have acted as wind breaks for visitors to the pier. Without the rides, the wind could whip along the seafront and may pose a danger to visitors. To ease this, the pier will have to keep the hoardings up for a much longer period of time than had been planned.

"There is a real question-mark now over the future viability of Eastbourne Pier.

"We are all in a state of complete shock and disbelief at the council's decision, especially after all the hard work and huge investment that has been put into getting the pier back open after such a terrible fire last summer. This was our chance to begin to recoup some of the £4million invested to date."

Cuerden Leisure says it is currently considering their options for appeal but believe they've missed the window of opportunity for this summer.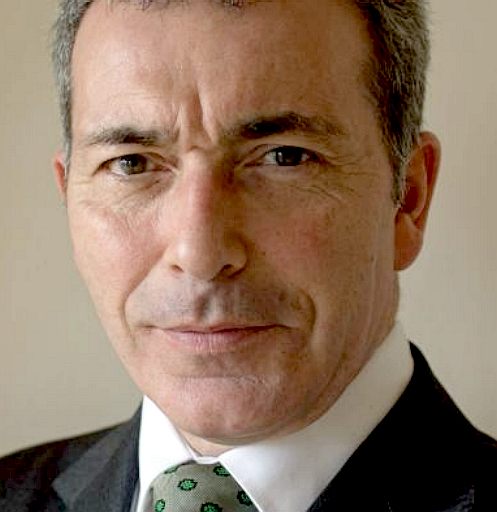 ARGUS 27 OCT 2015 FORMER PIER MANAGER - It has been confirmed that the body found at the Eastbourne Royal Golf Club is that of missing person Graeme Sanderson.

Graeme, 52, was very well known locally and is a former manager at Eastbourne Pier. He had gone missing late on Friday evening after leaving The Lamb pub. The Independent first broke news of his disappearance yesterday and there was a huge Facebook campaign to locate him. He leaves a wife and two children.
At this time we have no idea if the police are treating his death as suspicious.
CUERDEN CONTACTS
Cuerden Leisure Limited
Unit 1 Hillridge Road
Martland Mill Industrial Estate
Martland Park, Wigan WN5 0LS
Cuerden Leisure Limited
Gleadhill House, Dawbers Lane
Euxton, Chorley
Lancashire
PR7 6EA
Company No. 03127511

Telephone : +44 (0) 1942 210860
Fax :+44 (0) 1942 210870

Email : info@cuerdenleisure.co.uk
CROWN ENTERTAINMENT CONTACTS
Crown Entertainment Centres Limited
Gleadhill House, Dawbers Lane
Euxton, Chorley
Lancashire
PR7 6EA
Company No. 05684128

Previous Names and date of change:

18/11/2014 SIX PIERS LIMITED
15/02/2006 HALLCO 1280 LIMITED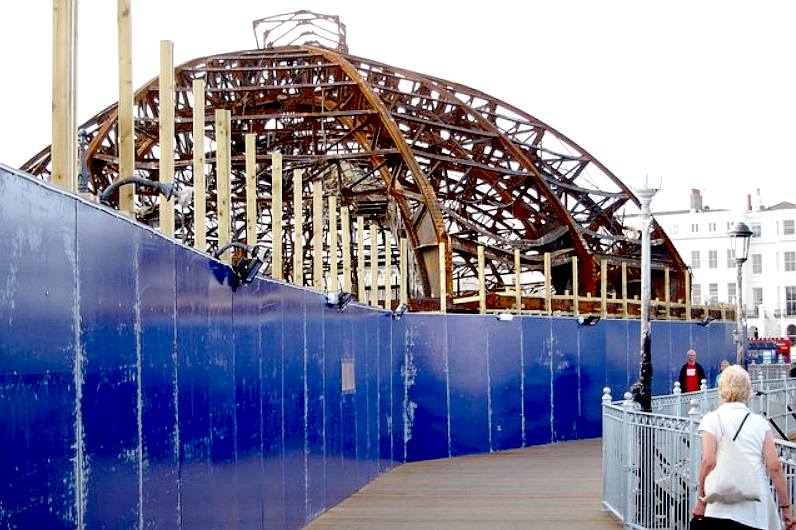 BLUE BOARDS - Work in progress behind barriers to prevent the public injuring themselves. Steel construction is preferred for pier buildings because they are stronger against constant wind buffeting, lighter, and are more flexible against movement.
LISTED BUILDING CONSENT - EXPLANATION
Eastbourne pier has never been a big earner or top attraction in the pier stakes. That is because, apart from the penny arcade type amusements in the Blue Room (that is no more) there are none of the traditional funfair rides that one might expect such as at Brighton's Palace pier (potentially unlawfully) or at the Blackpool piers. If that was what they wanted, Cuerden and now Crown Entertainments should not have bought into this pier, but of course they could not foresee the fire that would remove the one source of income (and the only real attraction) that was keeping this pier's head above water.
As it stands, bereft of the arcade, the situation has changed. The problem being how to fund extensive repair works from a structure with a lesser income.
Any planning consent has to be as sympathetic to the original architecture and nature of use as one might deem reasonable. Even a temporary permission can turn into a permanent situation that would then mean England loses another part of it's heritage - hence, being placed on the At Risk register.
Changing the use of the Blue Room to helter skelter rides and dodgems is not in keeping with the surroundings, in that for over a hundred years the Blue Room has graced the sky line at Eastbourne. It is nonsense that the wind is a danger to walkers. The pier is exposed along its length. You might as well argue that all piers should be closed to prevent people being blown into the sea. This is just a ruse to keep unattractive boarding in situ for reasons one might only guess at.
On the other hand you cannot blame Crown Entertainment Centres (CEC) for testing the water, they are a business, not a charity and this pier poses something of a problem. Though CEC applied for fairground rides to make a mini Blackpool/Brighton type pier to generate profits to be able to reinstate the lost heritage, a laudable aspiration) they could then have disposed of the pier in that state to other concerns in the town with more political clout (or who at least think they have more clout) - and that could have seen such "temporary" attractions becoming semi-permanent - as is the present situation with Brighton's Palace pier. CEC are simply trying to realize as much as they can from an asset that at present is fast becoming a liability. We also know from the media reports that the Blackpool piers they owned until July 2015 were eventually sold for nearly double the asking price. CEC's strategy must therefore be to ramp up the ante wherever possible in this high stakes poker game.
As to permanence, while some councillors might have been persuaded to extend fairground usage on the basis that profits were insufficient to rebuild a Blue Room replacement, eventually that kind or bazaar bartering would not have washed with Historic England who have a duty to protect our heritage - but it is not that simple, because they have no powers to enforce. That kind of use could be dragged out for years by an unscrupulous owner. Brighton Marine Palace pier was granted consent for their fairground on a temporary basis - and that has now become permanent - a lesson learned - and surely not to be repeated. It would take a petition along the lines of the one for Southsea pier, to get Brighton & Hove City Council to enforce reinstatement of the original theatre.
The secret is to nip such applications in the bud, or they might eventually lead to a compulsory purchase order at the ratepayer's expense, where in the wrong hands, liberties would be sure to be taken. CEC could not be held accountable for such a disposal, unless there was some concrete proof of collusion to negate heritage duties, or where there was no realistic prospect that a new purchaser could restore the heritage. We are not for one second suggesting that that is the case here, we are simply pointing out possible scenarios that are valid planning considerations - or at least they should be.
It follows that if a business cannot support a rebuild of the former dance hall, amounting to an estimated £3 million for starters, that they would only add to the RISK of the AT RISK pier. This is sure to be the case where pier turnover at present would not repay bank interest on loans of that order. It is commercially unsound to consider offers from private bidders that do not have private cash (liquidity) or other substantial business assets to cover such restorations. This does not rule out cooperation between rival bidders, which in our opinion would be a good thing. It is obvious that there are other people out there with genuine concerns about restoring this valuable community asset. They are to be applauded and if possible, we should all pull together: WHO CARES WINS.
A charity has the obvious advantage in such cases, where charitable status allows such body to apply for grants to undertake major works that do not have to be repaid, because the works being done are for the common good. In this case restoring a national heritage asset. Private businesses run for profit are not eligible for charitable grants above £50,000 - effectively putting them out of the running - where there is a legal requirement to restore that lost part of the pier - and that then becomes a liability that no banking institution could support - save where an exceptional business plan is presented with realistic hopes of obtain planning consents. Other advantages for a charity include exemption from business rates.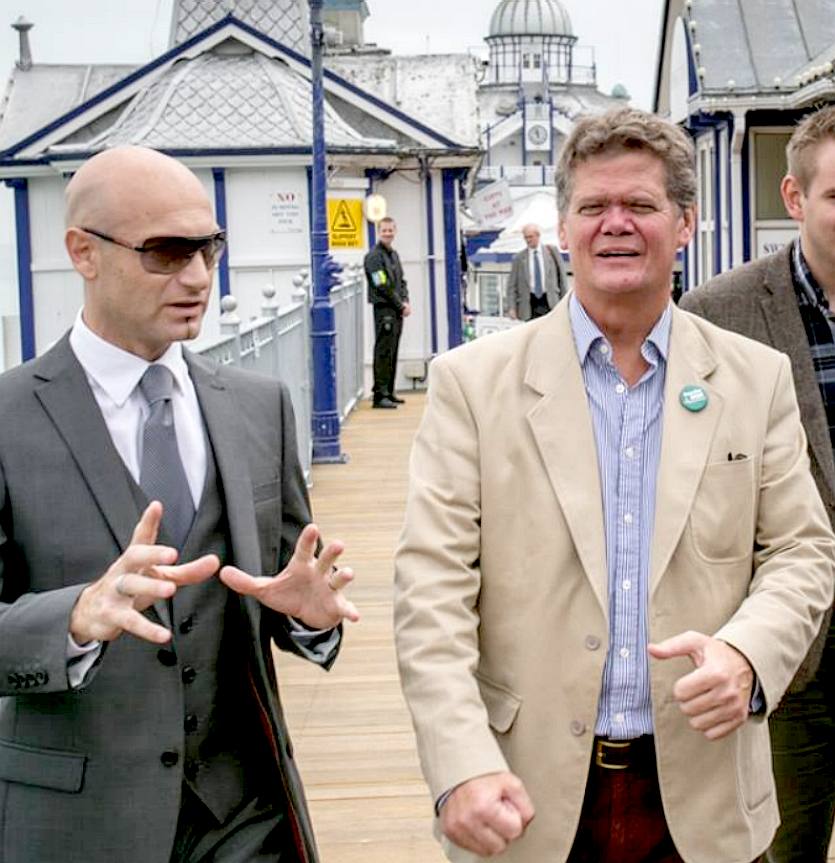 THE NITTY-GRITTY - VICARIOUS LIABILITY
In the event that the pier is sold and the new owner fails to restore the Blue Room, the previous owners may be vicariously liable.
Vicarious liability comes into play where one person (or business) encourages another to engage in a practice which he or the business ought to have known would lead to enforcement, and/or compulsory purchase. In such a case the seller is also liable for the actions of a subsequent purchaser, vicariously. Vicarious liability is a form of strict, secondary liability that arises under the common law doctrine of agency – respondeat superior – the responsibility of the superior for the acts of their subordinate, or, in a broader sense, the responsibility of any third party that had the "right, ability or duty to control" the activities of a violator. It can be distinguished from contributory liability, another form of secondary liability, which is rooted in the tort theory of enterprise liability.
In English law, a corporation can only act through its employees and agents so it is necessary to decide in which circumstances the law of agency or vicarious liability will apply to hold the corporation liable in tort for the fiduciary failings or frauds of its directors or senior officers. In this case it is the duty of upkeep of a valuable heritage asset: a failing.

A common misconception involves the liability of the employee for tortious acts committed within the scope and authority of their employment. Although the employer is liable under respondeat superior for the employee's conduct, the employee, too, remains jointly liable for any harm caused - such as causing the expenditure (wasted) of public funds in seeking to secure heritage assets for the nation.
Simply put, if the owners of Eastbourne pier are looking to sell this asset, they must ensure that the buyer(s) are fully versed with their duty to put back the Blue Room. Assurances should be obtained to that effect.
CONTRIBUTORY LIABILITY
This may not apply concerning the sale or operation of Eastbourne pier.
Contributory liability or contributory infringement has been widely defined as a form of liability on the part of someone who is not directly infringing (usually confined to intellectual property rights) but nevertheless is making contributions to the infringing acts of others. Material contributions to the act (or enabling thereof), as well as knowledge of the act itself, are key elements of contributory liability.

Contributory liability is rooted in the tort theory of enterprise liability. Contributory liability holds the third party liable for the primary act based on the third party's relationship with the actual harm - either by enabling or by benefiting from it. The pier owners must therefore make their heritage duties known along with any consequences, should they put the pier up for sale. It must form part of the offer document or prospectus. They cannot benefit from a third party seeking to evade the duty to restore the heritage asset, even though they may not know that that is the (innocent) intent of a/the third party.
ENTERPRISE LIABILITY
Enterprise liability may apply, but only where assurances are not obtained as to the duty to restore damaged heritage assets.
The idea of enterprise liability was supported by the Court of Appeal in DHN Food Distributors Ltd v Tower Hamlets London Borough Council, a case on piercing the corporate veil. Enterprise liability is a legal doctrine under which individual entities (for example, otherwise legally unrelated corporations or people) can be held jointly liable for some action on the basis of being part of a shared enterprise. Enterprise liability is a form of secondary liability.

Piercing the corporate veil or lifting the corporate veil is a legal decision to treat the rights or duties of a corporation as the rights or liabilities of its shareholders. Usually a corporation is treated as a separate legal person, which is solely responsible for the debts it incurs and the sole beneficiary of the credit it is owed. Common law countries usually uphold this principle of separate personhood, but in exceptional situations may "pierce" or "lift" the corporate veil.

A simple example would be where a businessman has left his job as a director and has signed a contract to not compete with the company he has just left for a period of time. If he sets up a company which competed with his former company, technically it would be the company and not the person competing. But it is likely a court would say that the new company was just a "sham", a "cover" or some other phrase, and would still allow the old company to sue the man for breach of contract. On the other hand, if shareholders allow their company to do such things as they ought to know would be fraudulent or a breach of a duty, they might be held to personally (vicariously) liable.
FRAUD ACT 2006
Where any person causes loss to another by doing something, or in this case by failing to do something that he is bound by law to do, that is fraud as defined by the 2006 Act. Should CEC not take the appropriate steps to bring back the heritage asset, or reasonably ensure that any future owner has that intention, that would cause Eastbourne Borough Council loss - in having to expend public monies on enforcement, injunctions and/or in a worst case scenario; compulsory purchase orders. See sections 4(1) (a) (b) and (c) and 4(2) of the Fraud Act 2006.
LEGAL ESTOPPEL
The Grade II* listed status of Eastbourne pier effectively binds any new pier owner to do certain things. The "At Risk" status compels them to take steps to repair any structure that has brought about the At Risk registration. This applies as much as when Cuerden Leisure transferred the heritage asset to Crown Entertainment, as to any forward operator.
One reason that the twisted steel was removed so quickly from Eastbourne pier was because of the danger to the public, and imminent service of a Site Tidy or Repairs Notice. The replacement of timber boarding is another move to stave off enforcement, but the move to install fairground rides is heading for legal confrontation.
Any transfer of ownership can only take place with this in mind and so any new owner could never claim that they did not understand the consequences of their actions, nor can the existing owner(s) deny their duty to the historic built environment. They are thus estopped from doing anything other than seeking to restore the heritage asset. This is despite any lack of a formal document detailing the "duty," such as a 106 agreement, that in this case we understand does not exist - such agreement is implied.
The proper authority, in this case Eastbourne Borough Council (EBC), can thus seek injunctions and other court orders, forcing the owners of the pier to restore the Blue Room. If that were to become necessary the costs would be considerable, probably leading to a compulsory purchase situation by way of seizing a tangible asset or assets and/or freezing company bank accounts until such restoration is enacted - a potential total loss for CEC shareholders, or forced liquidation (insolvency) of a company presently trading equitably. This is though unlikely with £8 million in the bank from the recent sale of three other piers.
If that were to happen, EBC could turn over what is a loss maker to an organisation that is specifically set up to reinstate the pier without the commercially insane financial risks. There is no such thing as "risk-free" of course, but what one can do is to minimize the risks that they become commercially acceptable.
An alternative to a charity, would be a company with really deep pockets that might afford the several millions for repairs without seeking grant aid. There are many corporations with such financial clout, and such a project could be a tax write off.
We are sure the reader will understand that this puts CEC in a difficult position and potentially at risk as to substantial costs, should they be unable to put the dance hall back on the pier, or transfer the pier to another person or organisation that has that as their objectives. They are caught between a rock and a hard place. It is possible that the disposal of the Blackpool and Llandudno piers was to finance the reinstatement of the Blue Room by way of consolidating assets, in which case the recent refusal of planning permission for fairground rides comes sharply into focus.
With creative investment and suitable management it is possible for CEC to turn this potential loss maker into a commercial success, if they utilize the Blue Room and other pier assets to the full. If they were to do so, this would obviate the need for charities to lend a shoulder. There are of course many heritage assets on the south coast of England that could do with a leg-up. Another pier at risk is the South Parade pier at Southsea that failed to sell at auction in December 2012 and was still in the hands of an owner that is taking no restorative action. Then in February 2015 Portsmouth City Council issued a legal Repairs Notice specifying how the pier must be safeguarded for the future, the result of a petition on 38 Degrees that attracted 7,128 signatures. If that notice is not complied with this could lead to lead to a compulsory purchase situation as happened with Hastings pier.
DUE DILIGENCE
Any failure on the part of an owner, to restore damaged buildings may give rise to a claim in principle the moment that the failure to act causes tangible loss to a district.
In the case of a seaside town that depends on tourism for income, every season lost where it can be shown by visitor statistics, trading figures, or witness testimony that it is the missing attraction that has caused such loss, may give rise to a claim against loss of revenue, be it taxable income from traders or loss of or wasted business rates, or other secondary claims.
The business rates on the pier stand @ £100,000 yielding £49,300 for Eastbourne Borough Council. Even though they collect such duty for the government, this is a loss, if for any reason that income reduces.
It must be therefore that plans to reinstate the Blue Room should be put in place in principle by the end of 2015, or early 2016. There is a moral and legal obligation to do so.
BACK TO BUSINESS
So much for the legals, but we should aim to steer clear of that and be positive.
What Historic England (HE) are looking for is a solid business plan that will get the Blue Room reinstated on a sustainable basis as soon as possible.
HE have a duty to be reasonable in this regard, giving them and any developer a degree of flexibility in approach. But once again the council and HE will not want liberty takers wasting time with proposals that don't hold water - or worse - will not see this heritage asset come back to life in a sensible timeframe. For that would constitute negligence and breach of a deemed contract. Whoops, more legals.
Cleaner Oceans are not yet sure if an unsolicited offer will be well received, but at least an offer has been made, not pointing out any of the above to Bilfinger GVA, because as professional agents they would know this and be advising CEC as to the law.
The offer by Cleaner Oceans Club is of course subject to a successful application for funding from the Heritage Lottery Fund and other sources. It was made to alert CEC to the existence of an organization that could solve their duty to restore Eastbourne pier to its former glory.
Cleaner Oceans would take on the pier and the heritage liability (duty) giving CEC an indemnification to that effect. Cleaner Oceans believe that such indemnity would be required from any prospective purchaser, to protect CEC from forward claims in the event of default. Cleaner Oceans are more than willing to work with CEC in a joint venture, if that was deemed to be an appropriate way forward and to the benefit of CEC at any point in the future.
LOSS OF REVENUE & LOST OPPORTUNITY
The problem here is that Eastbourne needs the pier restored as soon as possible. Again, if possible, the town would benefit by an operator with a creative flair for turning around loss making concerns - and as you can see from the above this also involves a high degree of legal expertise in the mix.
Normally, the pier would not be losing money, but the moment that they had the fire, that brought into play a new financial burden for CEC to overcome. We are sure the reader will feel some sympathy for their plight - we do.
What the town needs is an attraction that keeps the pier profile intact, but that houses a real crowd puller within that will not upset the neighbours. That is not a penny arcade, and Cleaner Oceans do not approve of gambling in any event. If you want fairground rides, go to a fairground. Brighton pier is your local destination and Hastings beach for penny arcades. A fair comes to Eastbourne about once a year, opposite Fort Fun. Fort Fun is a place for children to take fun rides, the pier is not.
If you read the comments posted on the Herald website (reproduced below for convenience), it should be clear to any town planner and/or conservationist, that the general public do not understand the intricacies of the planning game or the law applying to listed buildings and those that are trustees of our heritage. They are in effect innocent to the dark side of local politics - and/or the commercial realities. The "comment" (blog) service is though useful in allowing everyone to have a say. We would though warn of the Herald's website that uses gallons of energy where a few drops would do the job, and as such is an environmental nightmare - perhaps they need an eco webmaster. Surf responsibly dudes!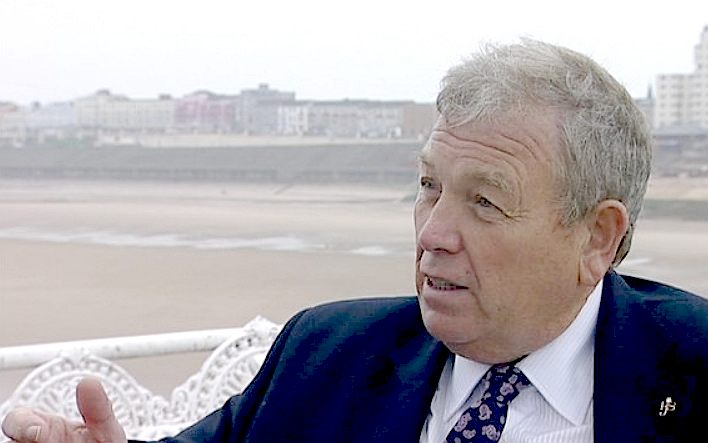 PETER SEDGWICK - Bought two piers from Crown Entertainment Centres for around £8 million pounds. One reason for this was that he proposed to his wife on one of these piers and as a joke said that one day he'd buy it for her. Nice one Peter.
EASTBOURNE HERALD COMMENTS - MEDIA REVIEW
MEDIA REVIEW: BBC NEWS 9 JULY 2015 - CENTRAL & SOUTH PIERS SOLD FOR £8 MILLION

Blackpool's Central and South piers have been sold for about £8m to a family with close ties to the town.

They were put on the market in March and bought by the Sedgwick family, who bought the town's North Pier in 2011.

Present owners Crown Entertainment Centres sold the pair of piers to Peter Sedgwick, who currently operates rides on both piers.

Central Pier - which is 341m (1,118ft) long - houses a distinctive 33m high (108ft) Ferris wheel.

The Central Pier and Blackpool South Pier, which is 150m (492ft) long, do not benefit from listed status, despite opening in 1864 and 1892 respectively.

At the time the sale was announced, a spokesman for the National Piers Society - which promotes the preservation and continued enjoyment of seaside piers in the UK - described them as "in good order and trading successfully".
'Extremely exciting'

Richard Baldwin, director at Bilfinger GVA Retail, Hotels and Leisure, which completed the sale on behalf of the leisure operator, said: "After considerable interest in both piers, we are delighted to have completed these two sales in such a short timescale.

"The conclusion of these sales... is a clear illustration of a strengthening in the alternative leisure markets, which is extremely encouraging."

St John Stott, [finance] director at Crown Entertainment Centres, said: "Peter Sedgwick is an experienced, longstanding leisure operator and we are delighted to have sold both the Central and South Piers to him."

The North Pier was badly damaged in storms in 2013 which cost about £1m to repair.

Mr Sedgwick said: "To add these two iconic piers to our portfolio is extremely exciting and we hope to capitalise on a group ownership of all three Blackpool Piers to ensure that many thousands of visitors continue to enjoy these wonderful attractions for years to come."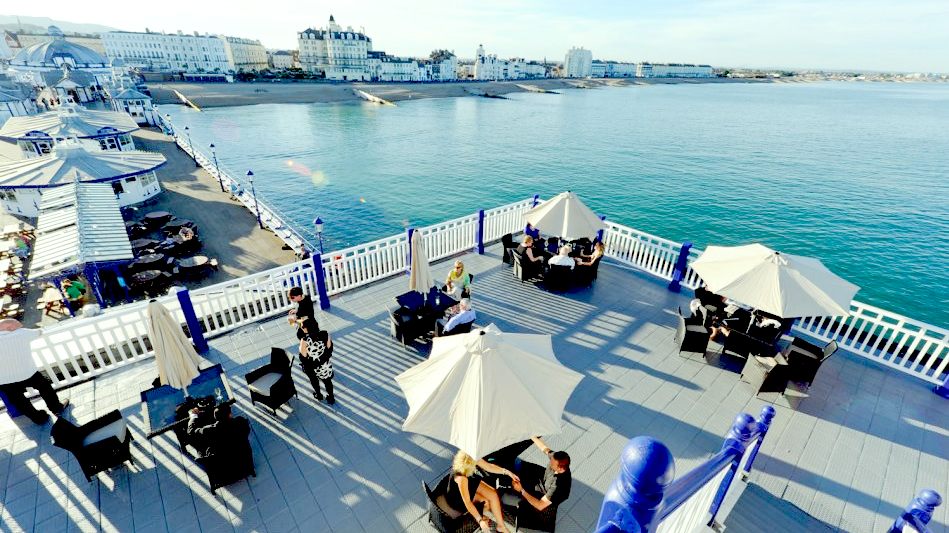 The Ocean Suite caters for weddings come rain or shine. Summer Package May - September Room Hire, Sunday-Friday £1400.00. Saturday - £1750.00 prices include VAT. A winter package deal is offered based on 40 day guests and an additional 40 evening guests (80 total guests) with more guests added at a charge per guest.
The winter package includes Arrival Drink, 3 Course Wedding Breakfast, Toasting Drink, Linen, Crockery, Cutlery, Glasswear, Front of House Waiting Staff and Events Manager, Chefs and Kitchen Support Staff, for an advertised £3,500 including VAT and room hire.
For general enquiries contact Leanne Deakin: Tel: 01323 410466, Fax: 01323 738918 Email: leannedeakin@cuerdenleisure.co.uk
FORMER MANAGER, DAVID BOWMAN - JAN 2006 to JUNE 2011
According to his Facebook page(s) David Bowman is an experienced multi-site manager, He was appointed as operations executive for Cuerden Leisure, covering the southern region of the UK. At that time the company provided Family Entertainment facilities to 17 Pontin's and Haven holiday parks in East Anglia, Wales and the North West. This also included 6 seaside Pier sites including Eastbourne and Llandudno, which generates a regional turnover of £7.5 Million annually. Llandudno sounds like a great pier.
All of these sites had at least one AGC (adult gaming centre) with the Pontin's sites. The post involved the line management of a large team of staff through 3 Area managers, 2 Pier General Managers and 3 Area Technical Managers. The focus was on high levels of customer service and maximizing the fun aspect of the experience.

Key projects undertaken by David include the planning and opening of Victorian tea rooms, a Costa Coffee outlet, and a corporate 5 star venue mainly for weddings as seen at: www.theoceansuite.co.uk. These projects all concerned Eastbourne Pier.
David also provided support during the takeover of 6 Piers Ltd, a company that owned most of the key piers in the UK, and organised the sales of Eastbourne and Southsea Piers - presumably to Crown Entertainments.

David Bowman was educated at St Cuthberts Grammar school. Before his extensive management stints, David enlisted into the Royal Corps of Signals. For 23 years he served all over the world as a communication specialist. He retired as a Warrant Officer Class One, the highest non-commissioned rank and undertook the appointment of Yeoman (of which there can be only 55 in UK).
He was the operations manager for the Noble Organisation between March 2003 and July 2004, where he transferred to the Seaside Division of the company which consisted of the company's major flagship sites such as Coral Island Blackpool, Brighton Pier, Margate and Redcar on promotion to this role.
David was tasked with focussing on setting up new arcade facility on Greenfield sites, as well as managing a range of other ad-hoc projects such as the set up of a coffee shop, tanning booths, donuts, fast food, mini supermarkets and hair salons. His specialty was in trouble shooting new business acquisitions and moving into existing units to analyze problems and produce solutions. Primarily, he was tasked with identifying and resolving business issues and rapidly arresting the decline of the business, successfully generating an annual turnover in excess of £30 Million. It sounds like Crown Entertainment could do with a dynamo like David on their team right now.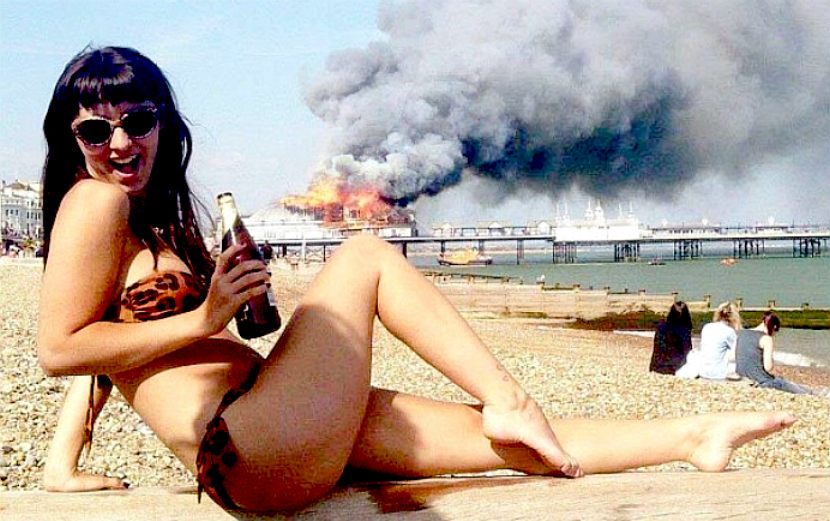 SMOKIN - Louisa Foley was one of the bathers soaking up the last of the August sunshine when the pier was ablaze. Those gathered watched the RNLI and Fire Brigade do their thing to try and bring the pyre under control. Nobody could have done that, but they did manage to stop the fire spreading to the other pier buildings. The pier is pretty un-saleable now, imagine if the whole lot had gone up in smoke. They could not give it away. Let us hope that their insurance is paid up.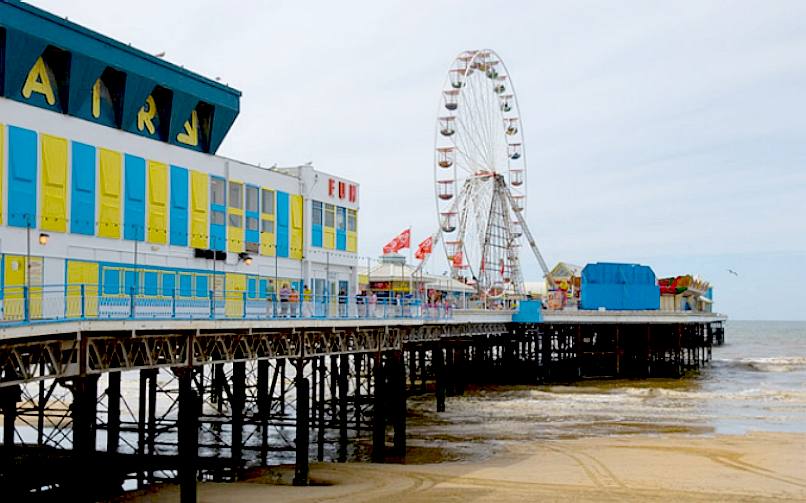 SIZE MATTERS - Blackpool central pier is huge by comparison to other piers around the country, and it is not the biggest. The profits though are not massive suggesting that visitor numbers are not what they could be.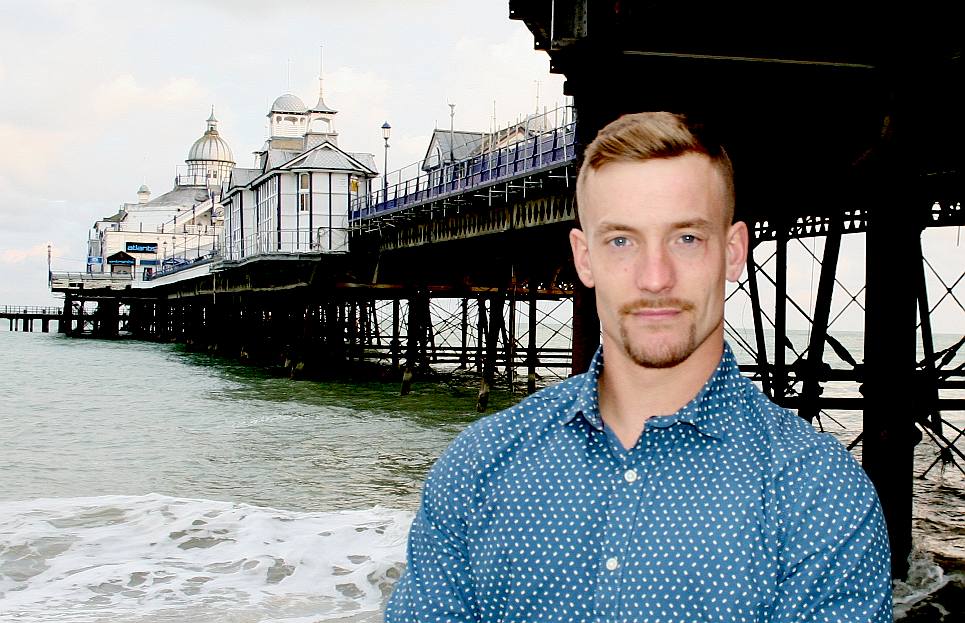 EASTBOURNE PIER 2015 - Is a monument at risk and a potential liability for any new owner. Terry is seen here on a site visit to check the condition of the underlying structure. What he found was not encouraging. There is a lot of work to do to bring this important coastal attraction back into a condition to be proud of - and to remove it from Historic England's "At Risk" register.
Cleaner Oceans Club's business plan included developing a marine/natural history display that will make this location a place to visit on the south coast of England. At the moment Cleaner Oceans have a deal with a company that leads the world in subtle attractions and displays, but we are not at liberty to disclose the details of such proposals lest imitators poach the creative lead. Crown Entertainment Centres were not interested in exploring such proposals. They have had enough and simply want to bow out.

LINKS & REFERENCE
Wikipedia Central_Pier,_Blackpool
The heritage trail UK Blackpool central pier
BBC UK news England Lancashire Blackpool piers sold
Daily Mail UK news Blackpool Central Pier sale 5million
https://en.wikipedia.org/wiki/Eugenius_Birch
Attractions Blackpool Central_Pier
Eastbourne Herald news Eastbourne pier owners upset after fairground plan rejected
Wikipedia Enterprise_liability
Suffolk free press UK latest breaking news contracts exchanged on Eastbourne pier
http://www.suffolkfreepress.co.uk/news/latest-news/breaking-news-contracts-exchanged-on-eastbourne-pier-1-7027155
http://www.legislation.gov.uk/ukpga/2006/35/contents
https://en.wikipedia.org/wiki/Enterprise_liability
https://en.wikipedia.org/wiki/Secondary_liability
https://en.wikipedia.org/wiki/Vicarious_liability
leannedeakin@cuerdenleisure.co.uk
https://uk.linkedin.com/pub/david-bowman/31/41a/147
http://www.theoceansuite.co.uk/
https://www.facebook.com/permalink.php?story_fbid=1150014048362065&id=116997308330416
https://twitter.com/ibheritage
http://www.eastbourneherald.co.uk/news/eastbourne-pier-owners-upset-after-fairground-plan-rejected-1-6789494
http://www.centralpierblackpool.co.uk/
http://www.attractionsblackpool.co.uk/Central_Pier.htm
http://www.bbc.co.uk/news/uk-england-lancashire-33467234
http://www.dailymail.co.uk/news/article-2992584/Blackpool-Central-Pier-sale-5million.html
https://en.wikipedia.org/wiki/Eugenius_Birch
https://en.wikipedia.org/wiki/Central_Pier,_Blackpool
http://www.theheritagetrail.co.uk/piers/blackpool%20central%20pier.htm
http://www.centralpierblackpool.co.uk/