BLACKPOOL'S PIERS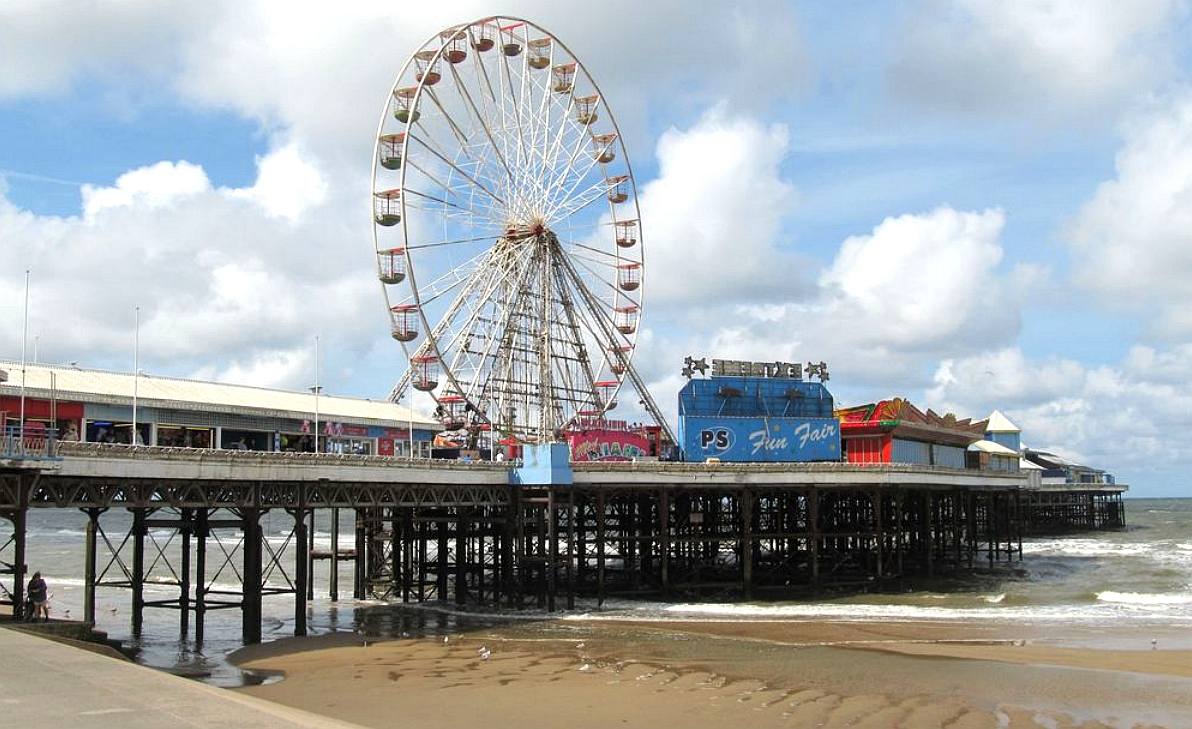 FUN FAIR - Blackpool pier is more of a seaside fun fair in flavour, rather than a Victorian curiosity. It is crammed full of entertainments for the family and so represents a commercial operation that yields a profit each year. The £8 million paid does though seem a little on the high side, meaning that the sellers played their hand rather well.
BBC NEWS 9 JULY 2015 - CENTRAL & SOUTH PIERS SOLD FOR £8 MILLION

Blackpool's Central and South piers have been sold for about £8m to a family with close ties to the town.

They were put on the market in March and bought by the Sedgwick family, who bought the town's North Pier in 2011.

Present owners Crown Entertainment Centres sold the pair of piers to Peter Sedgwick, who currently operates rides on both piers.

Central Pier - which is 341m (1,118ft) long - houses a distinctive 33m high (108ft) Ferris wheel.

The Central Pier and Blackpool South Pier, which is 150m (492ft) long, do not benefit from listed status, despite opening in 1864 and 1892 respectively.

At the time the sale was announced, a spokesman for the National Piers Society - which promotes the preservation and continued enjoyment of seaside piers in the UK - described them as "in good order and trading successfully".
'Extremely exciting'

Richard Baldwin, director at Bilfinger GVA Retail, Hotels and Leisure, which completed the sale on behalf of the leisure operator, said: "After considerable interest in both piers, we are delighted to have completed these two sales in such a short timescale.

"The conclusion of these sales... is a clear illustration of a strengthening in the alternative leisure markets, which is extremely encouraging."

St John Stott, director at Crown Entertainment Centres, said: "Peter Sedgwick is an experienced, longstanding leisure operator and we are delighted to have sold both the Central and South Piers to him."

The North Pier was badly damaged in storms in 2013 which cost about £1m to repair.

Mr Sedgwick said: "To add these two iconic piers to our portfolio is extremely exciting and we hope to capitalise on a group ownership of all three Blackpool Piers to ensure that many thousands of visitors continue to enjoy these wonderful attractions for years to come."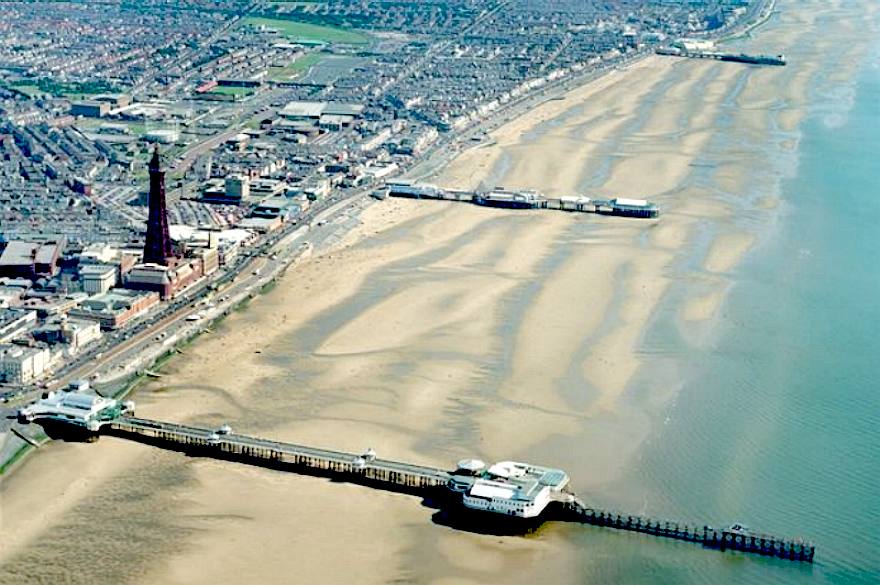 SPOILT FOR CHOICE - The three piers at Blackpool. What is surprising about this is that having visited one pier, you'd imagine that a family would have had enough. Perhaps they come back another day to visit a different pier.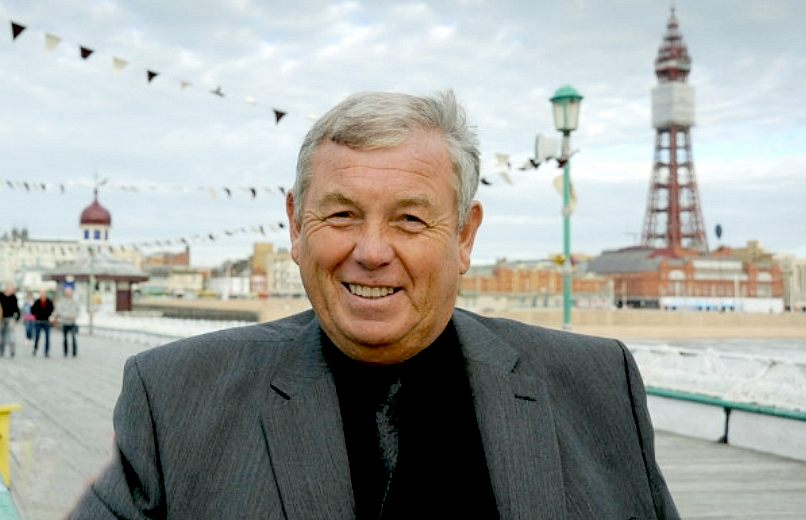 BBC NEWS 12 April 2011 - The new owner of Blackpool's North Pier has said he had always vowed to buy the Lancashire seaside attraction for his wife Sue.

"When I met my wife, jokingly I said one day I'll buy it for you," Peter Sedgwick said.

He did not reveal how much he had paid for his late wedding gift.

Mr Sedgwick's family have a long association with the resort. His Victorian ancestors pioneered early cinematic entertainment with the Sedgwick Bioscopic Showfront.

His great grandfather captured early footage of people enjoying the delights of Blackpool and the North Pier. Archive film of the family's touring Sedgwick's Menagerie, a travelling collection of exotic animals, can also be found in the National Fairground Archive at the University of Sheffield.

TOLL-FREE - During the summer months of 1961, Peter came to work at Blackpool's South Pier as an arcade attendant. He used to empty the machines and used a wheelbarrow to cart the money to the family's safe.

Mr Sedgwick decided that he wanted to settle in Blackpool, and it was where he met his wife-to-be.

He says he proposed to her on the North Pier and pledged to one day buy it for her. The couple have now been married for about 40 years and have three children in their twenties. "You think of the people who have been on this pier, they used to come in their Sunday best from the mines and pits," Mr Sedgwick said.

"It's fantastic to own, a Victorian pier, we want to bring it back to its Victorian look, bring back its tram and not charge a toll to come on it."

Blackpool's North pier opened in 1863 and Mr Sedgwick intends to focus on providing family entertainment. Over the past 18 years, the Sedgwick family has developed a number of rides and attractions on Blackpool's South and Central Piers, including the famous Big Wheel.

The North pier was sold by Six Piers Ltd, which is owned by Chorley businessman Trevor Hemmings.

MIRROR 12 MARCH 2015 - BLACKPOOL PIER GOES ON THE MARKET FOR £4.8 MILLION

The historic attraction is one of three piers which have been put on the market by owners Cuerden Leisure for a collective asking price of £12.6 million

Blackpool Pier is facing an uncertain future after being put up for sale for £4.8 million.

The historic attraction is one of three piers which have been put on the market by owners Cuerden Leisure for a collective asking price of £12.6 million.

Blackpool Central Pier - home to the famous 108ft high Ferris wheel and the closest of three piers to Blackpool Tower - Blackpool South Pier and Llandudno Pier in Wales, were all constructed in the 19th century.

But Llandudno, which is 2,280ft long, is the only pier which is grade two listed, meaning any future owners would require Listed Building Consent to make changes to the structure.

Blackpool Central Pier, which stands at 1,118ft long, and Blackpool South Pier, which is 492ft long, do not benefit from listed status, despite opening in 1864 and 1892 respectively.

But Richard Baldwin, a director at Bilfinger GVA, who are selling the piers for Cuerden Leisure, said it would be very unlikely that a new owner would make significant changes.

He said: "In order to sustain their value and ensure that value appreciated, they would not change dramatically under new ownership.

"In our opinion, the value is in the existing use and this is unlikely to change at either of the Blackpool piers."

The Victorian piers, which were constructed using cast iron piles, steel frames and wooden decking, all boast amusement arcades and rides and generate a collective income of around £1.6 million a year for Cuerden Leisure through annual concession agreements.

St John Stott, director at Cuerden Leisure - which also owns Eastbourne Pier - said the group was selling three of the four piers as it was "restructuring its assets".

He said: "These assets are jewels in the crown of the UK's coastline and we are delighted to offer them to the market either as separate lots or collectively."

Mr Baldwin added: "Each of these piers are truly iconic structures, having been popular visitor attractions in two of the UK's best known resorts for over a century.

"Each pier is being offered for sale freehold, subject to the various concession agreements in place.

"As profitable attractions, we're confident this sale will attract major interest."

A spokesman for the National Piers Society, which promotes the preservation and continued enjoyment of seaside piers in the UK, said: "These piers are all in good order and trading successfully, and, given that Easter is almost upon us, I have no doubt that they will quickly find a buyer or buyers." Reporter: Eleanor Steafel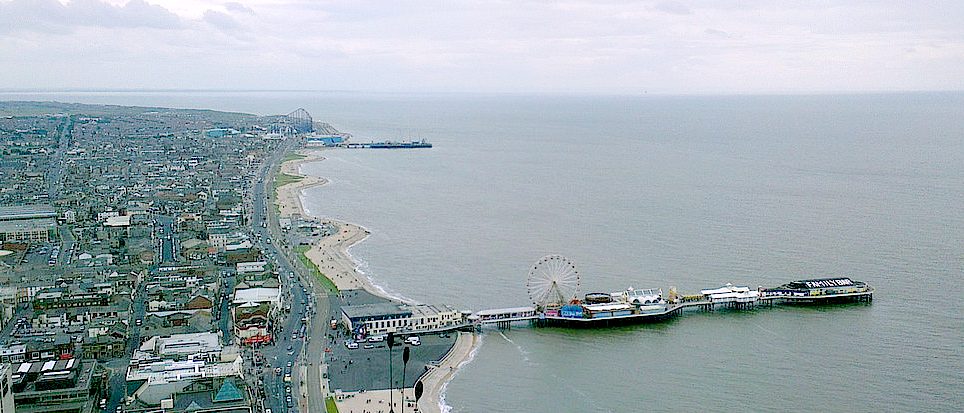 PIER HISTORY
Central Pier is one of three piers in the town of Blackpool, England. The pier is central in that it is located between the other two, but it was close to the site of the now-defunct Blackpool Central railway station about 500 metres south of Blackpool Tower. Since the coastline is very straight and flat, the pier simply extends at right angles to the sea front, roughly level with the promenade.

The success of the North Pier prompted the formation of the Blackpool South Jetty Company one year later in 1864. Impressed with the construction of Blackpool Pier (North Pier), the company hired the same contractor, Richard Laidlaw and Son of Glasgow for the project. This time, however, the company used the designs of Lieutenant-Colonel John Isaac Mawson rather than those of Eugenius Birch. When the pier was opened on 30 May 1868, it was 460 metres in length, 120 metres of which was a landing jetty for use at low tide. The first manager of the pier was Robert Bickerstaffe, coxswain of the first Blackpool lifeboat. Blackpool's lifeboat station is located next to Central Pier.

From the start, the new pier's emphasis was on fun rather than the genteel relaxation provided at North Pier. In the early days fun was provided mainly by dancing facilities, but in the 20th century, roller skating was introduced along with fairground rides and amusement machines. Steamboat excursions departed from the landing jetty as they did from North Pier. The dance halls became less popular after the Second World War and the facilities were adapted into a theatre, bars and amusement arcades by the 1970s.

The pierhead theatre was modernised in 1986 and became known as "Peggy Sue's Showboat". A striking addition came in 1990 when a 33 metre high Ferris wheel was erected, a half-scale reference to the Victorian attraction that had been part of the Winter Gardens complex a century earlier.

The pier now known as South Pier was built 30 years later.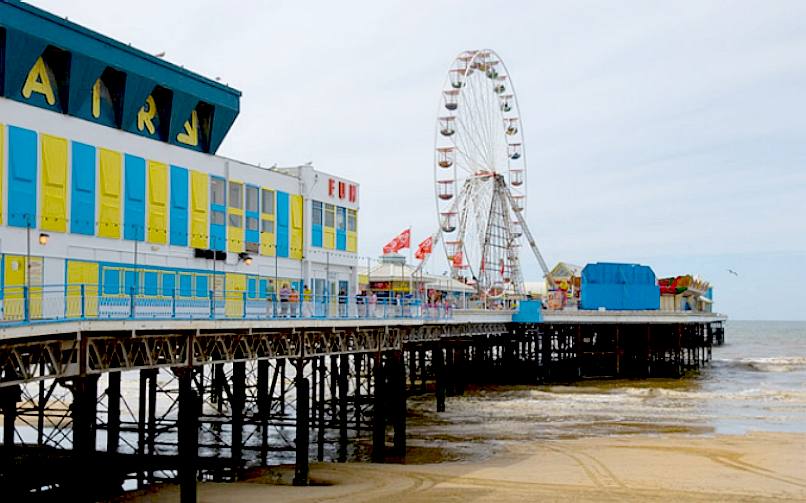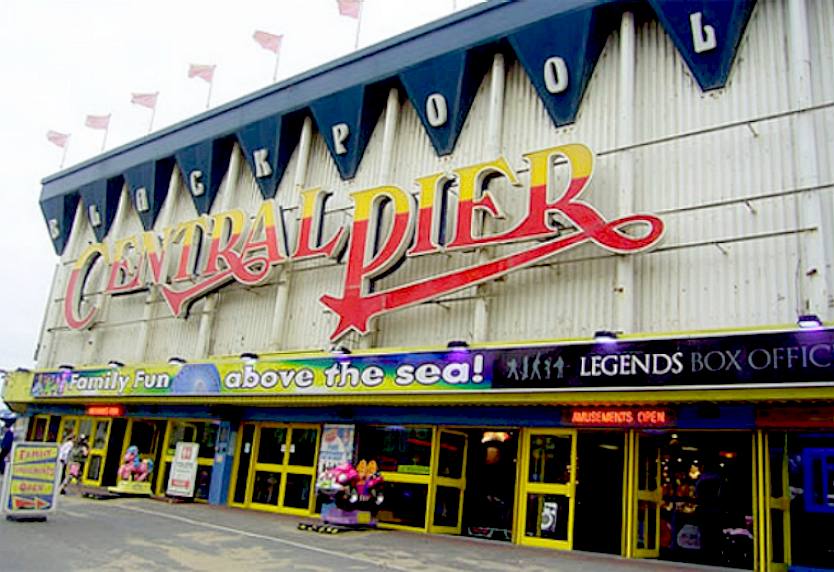 SIZE MATTERS - Blackpool central pier is huge by comparison to other piers around the country, and it is not the biggest. The profits though are not massive suggesting that visitor numbers are not what they could be.
CONSTRUCTION

Central Pier is constructed mostly of cast iron with wooden decking. The piles on which the structure rests were driven using the screw pile method pioneered by Eugenius Birch. This involved twisting screw-tipped cast iron piles down through the sand until they hit bedrock. The materials and building techniques were similar to those used for North Pier but the structure of Central is a little more delicate in appearance.

The pier has suffered relatively little damage save for fires in 1964 and 1973 which gutted the theatre buildings. The main structural alterations have been the removal of the obsolete 120-metre low tide jetty in 1975 and the construction of the Ferris wheel in 1990. The addition of the wheel required the midsection of the pier to be strengthened to cope with the extra weight.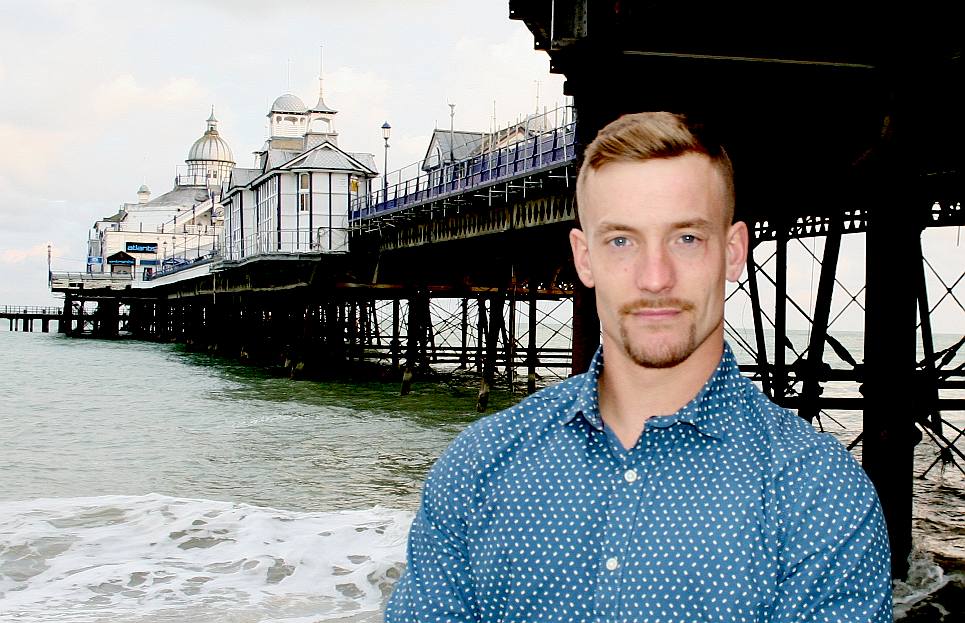 EASTBOURNE PIER 2015 - Is a monument at risk and a potential liability for any new owner. Terry is seen here on a site visit to check the condition of the underlying structure. What he found was not encouraging. There is a lot of work to do to bring this important coastal attraction back into a condition to be proud of - and to remove it from Historic England's "At Risk" register.
Cleaner Oceans Club's business plan includes developing a marine/natural history display that will make this structure the place to visit on the south coast of England. At the moment they have a deal with a company that leads the world in subtle attractions and displays, but we are not at liberty to disclose the details of such proposals lest imitators poach the creative lead.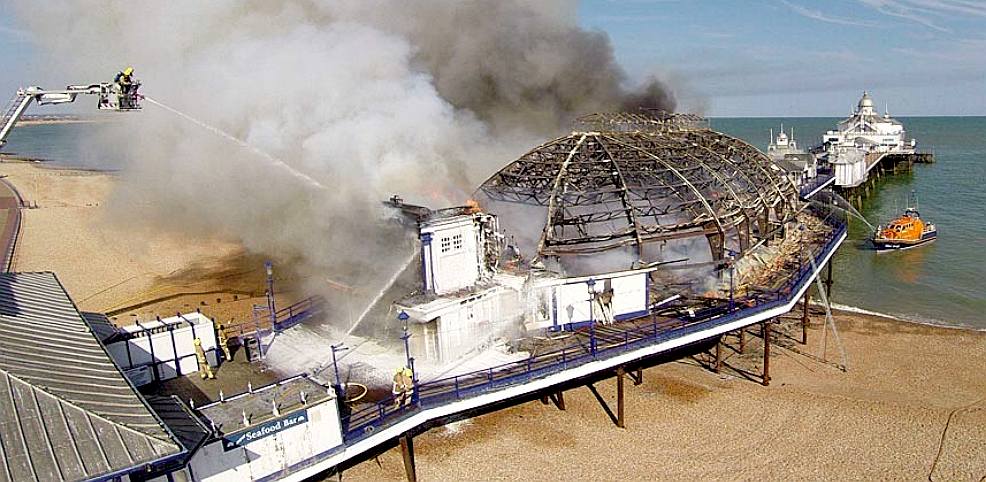 EASTBOURNE PIER AUGUST 2014 - In view of the number of pier fires, the Cleaner Oceans Club proposes that all piers should be equipped with fire suppressant equipment. This is part of our restoration proposals for Eastbourne pier. Alternatively, Cleaner Oceans will offer the system that they develop to other pier operators at reasonable prices by way of an enticement to safety.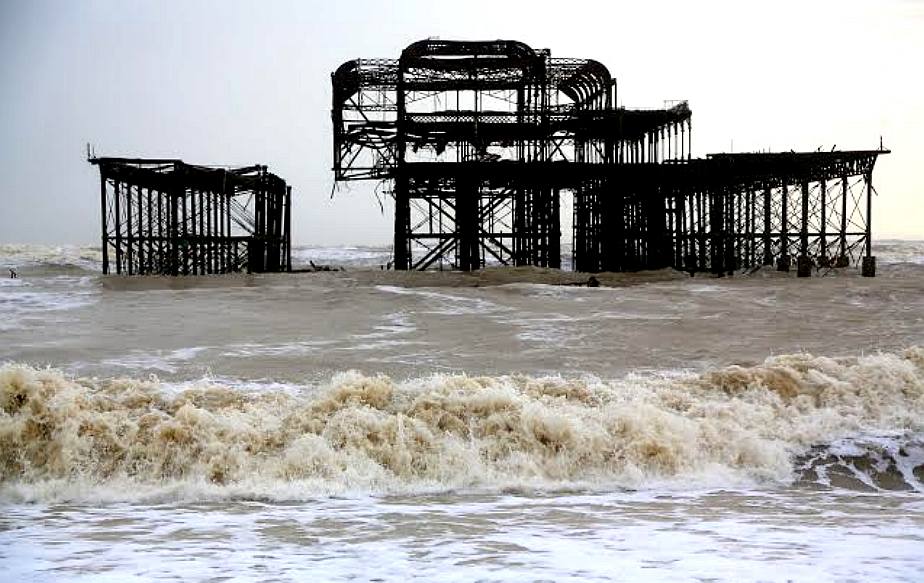 BRIGHTON WEST PIER - The West Pier was a magnificent pier in Brighton, England. As with Eastbourne's pier, it was designed by Eugenius Birch, opening in 1866 and closing in 1975. The pier was the first to be Grade I listed in Britain but became increasingly derelict after closure. Listing is therefore no security, but almost a death sentence in some circumstances due to the increase in costs in planning terms. List Entry Number: 1381655

LINKS
Dailymail-Eastbourne-2million-windfall-fire-destroyed-Grade-II-listed-pier-2014-Prime-Minister-knows-hit-town-hard
IOL news world England Hastings pier gutted by fire 2010
Big Lottery Fund Coastal Communities Fund
News BBC UK England Brighton Pier granted planning permission
Risk Historic England register 46600 pier Hastings
Telegraph UK news 200 years of historic British piers in pictures
Wikipedia Central_Pier,_Blackpool
The heritage trail UK Blackpool central pier
BBC UK news England Lancashire Blackpool piers sold
Daily Mail UK news Blackpool Central Pier sale 5million
https://en.wikipedia.org/wiki/Eugenius_Birch
Attractions Blackpool Central_Pier
Blackpool Gazette UK safety check for pier after wind damage
http://www.blackpoolgazette.co.uk/what-s-on/going-out/safety-check-for-pier-after-wind-damage-1-7153043
http://www.bbc.co.uk/news/uk-england-lancashire-13047878
http://www.centralpierblackpool.co.uk/
http://www.attractionsblackpool.co.uk/Central_Pier.htm
http://www.bbc.co.uk/news/uk-england-lancashire-33467234
http://www.dailymail.co.uk/news/article-2992584/Blackpool-Central-Pier-sale-5million.html
https://en.wikipedia.org/wiki/Eugenius_Birch
https://en.wikipedia.org/wiki/Central_Pier,_Blackpool
http://www.theheritagetrail.co.uk/piers/blackpool%20central%20pier.htm
http://www.centralpierblackpool.co.uk/