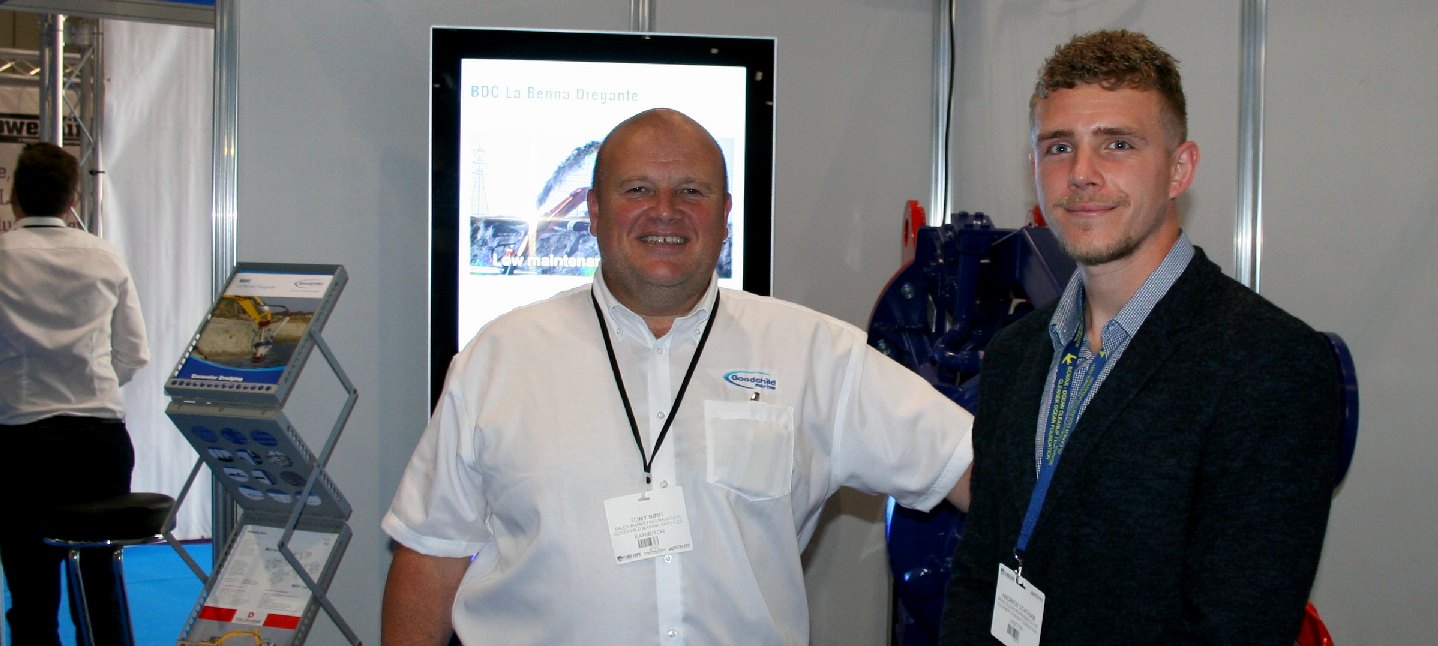 GOODCHILD MARINE - Tony Birr (Business Development Manager, Goodchild Marine Services Ltd) and Andrew Statham (Ocean Awareness Campaign, Cleaner Ocean Foundation Ltd) at the event on the 27th. Since 1978 Goodchild Marine has developed into a yard that designs, builds, repairs, refits and maintains all sorts of commercial and leisure craft from modern facilities with enthusiastic, professional managers and workforce. Goodchild Marine is the sole UK agent for the Italdraghe range of dredging equipment – specialists in cutter suction dredging and heavy duty pumps. Copyright © photograph 27 September 2017 COF Ltd.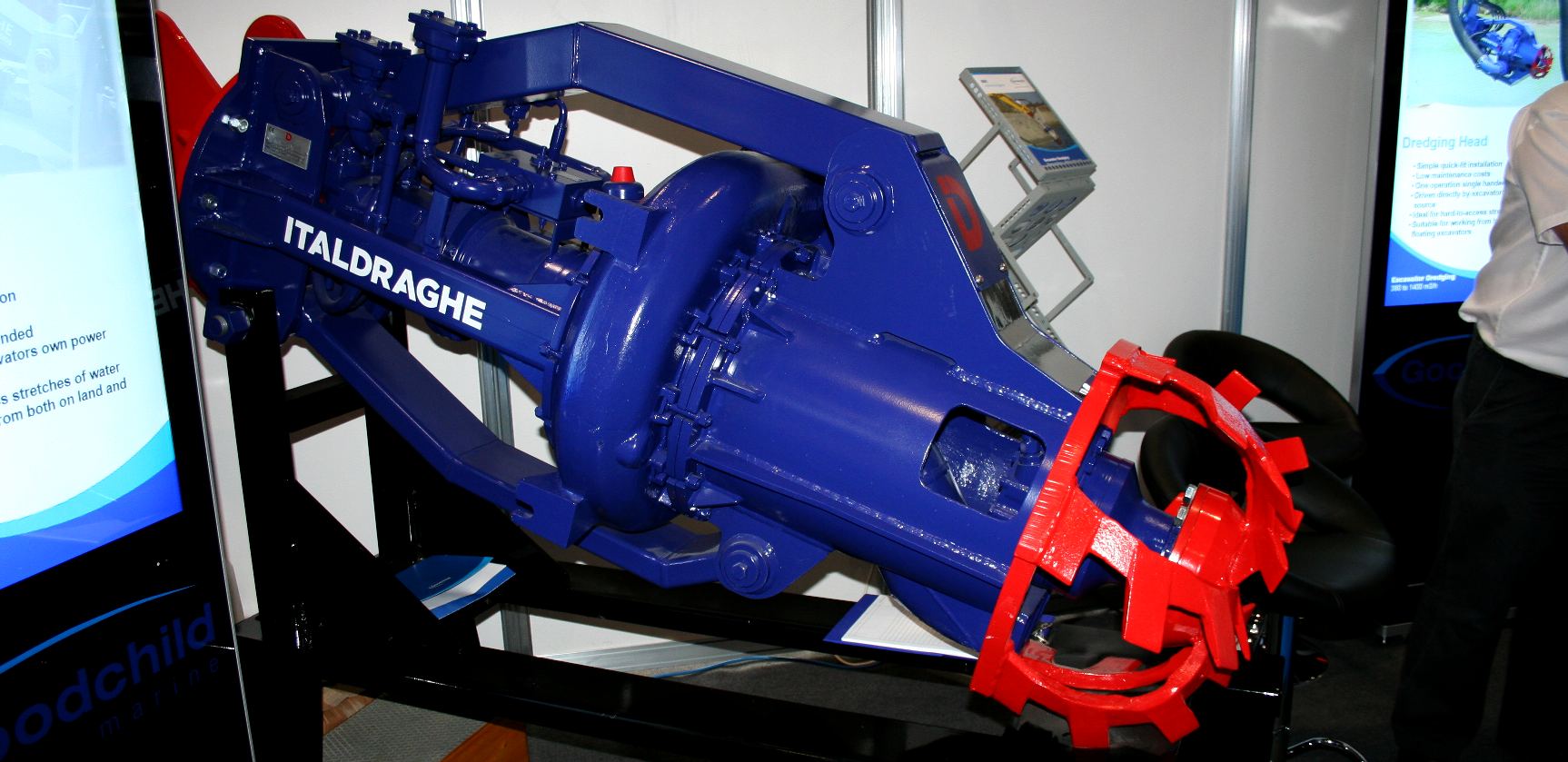 CONTACTS - To find out more about this solidly built machinery contact: Goodchild Marine Services Ltd, Burgh Castle Yacht Station, Butt Lane, Burgh Castle, Great Yarmouth, Norfolk, NR31 9PZ. Tel: +44 (0) 1493 782301 Email: info@goodchildmarine.co.uk
27 - 28 SEPTEMBER 2017
The Marine & Coastal Civil Engineering Expo 2017 is the UK's leading event in presenting global solutions and innovative concepts to professionals working in hard engineering, coastal & river management, subsea engineering and flood risk.
Over 2,000 contamination professionals will flood the exhibition hall to engage with over 150 innovative environmental suppliers, 120 CPD-accredited and expert-led seminars, interactive debates, live demonstrations, one-to-one advice from industry experts, unparalleled networking opportunities, and much more.

Guests can filter between areas dedicated to hazardous materials, land remediation, spill response, clean air technology, geotechnical & geoenvironmental, nuclear decommissioning, and more, as well as the Flood Expo and M&CCE Expo adjacent.
CLEANER OCEAN FOUNDATION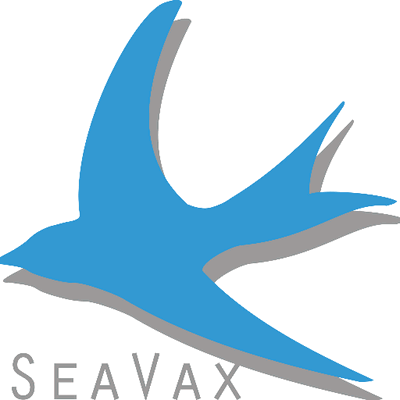 For the Cleaner Ocean Foundation this year was an opportunity to look at the latest technology on offer in relation to pumping & shredding of waterborne waste materials, sensors, geodata and digital management and data sharing software and services.
Two members of the Ocean Cleanup Project team plied the halls looking for ideas and manufacturers of parts that might be suppliers to the SeaVax project. The team were also on the lookout for potential UK Horizon 2020 partners for forthcoming Food Security and Blue Growth calls. COF already has several European consortium members to validate any bid.
As with SeaVax, a lot of the equipment on show was driven by hydraulic motors and pumps.
DOROTEA MEKANISKA AB - The TRUXOR amphibious tool carrier is made in Sweden from marine grade aluminium alloy to a very high standard. The vehicle can be used in many ways depending on the heads that are fitted.
AWARDS
The M&CCE Expo team were delighted to announce the Award finalists for the Marine and Coastal Civil Engineering Expo Series 2017, September 27th & 28th at ExCel London.

The MCCE Awards 2017 celebrate the industry's most outstanding examples of innovation through equipment, product or service, and the marine & coastal engineering project that stands out for its scale and impressive nature.

The winners of the show's two prestigious awards - the Innovation Award and Project of the Year - are chosen by a judging panel comprising of some of the biggest industry voices.
The finalists will present to the judges panel at the show, giving them a chance to pitch their product, project or service and the reason they should win.
This year's finalists are:
Innovation Award

* Enka Solutions - Low & Bonar
* Kongsberg GEO Acoustics Ltd
* Seabed Scour Control Systems Ltd
* Temporary Works Design
Project of the Year Award

* Red 7 Marine
* TMS Maritime
* Fosroc Limited
* Sheet Piling UK
We await the outcome of judging and will report on that when the results are in.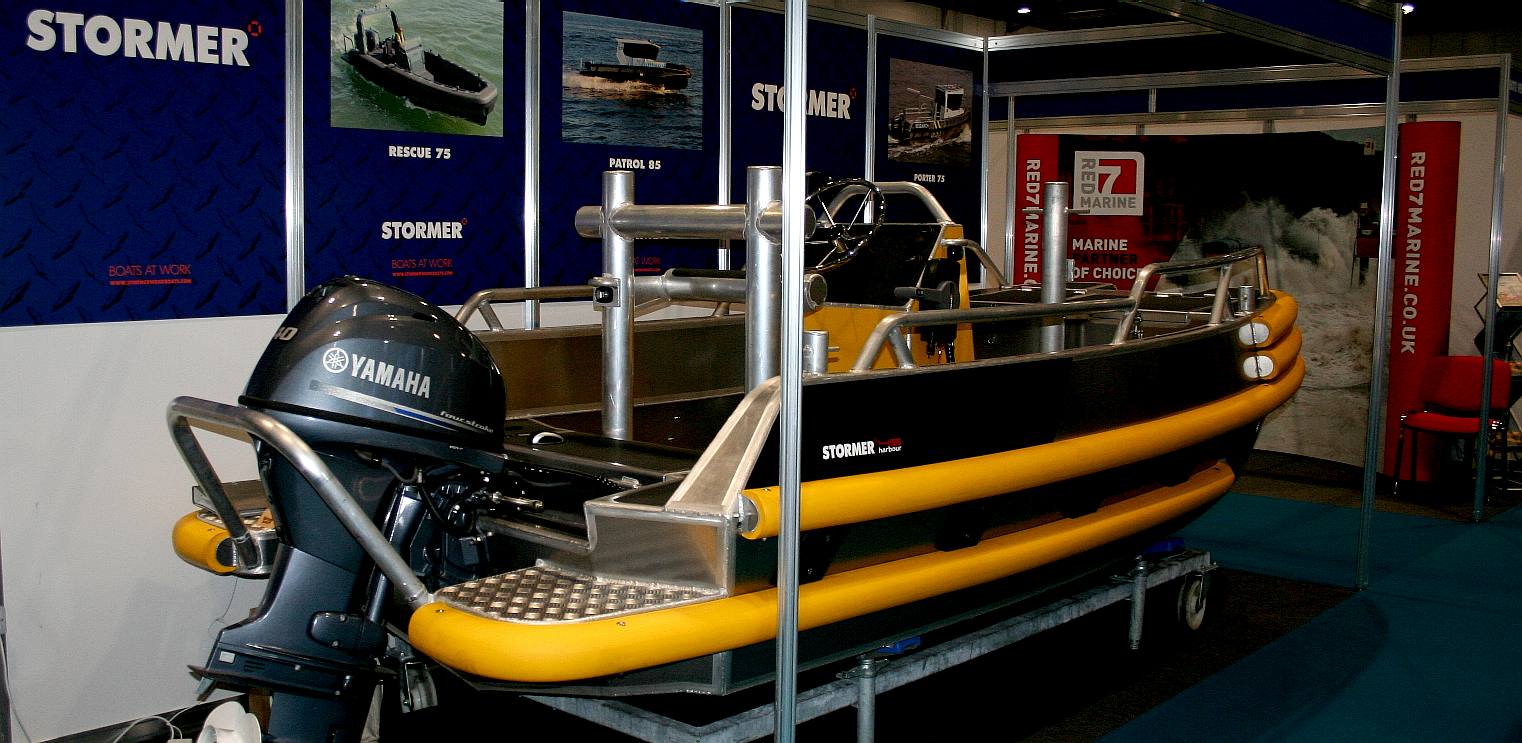 STORMER WORK BOATS: COF delegates met the builders of this fine aluminium workboat, noting the high quality welding of the alloy hull. Stormer work boats are rugged and fast and are used by the Dutch police for law enforcement duties as well as fire and rescue services.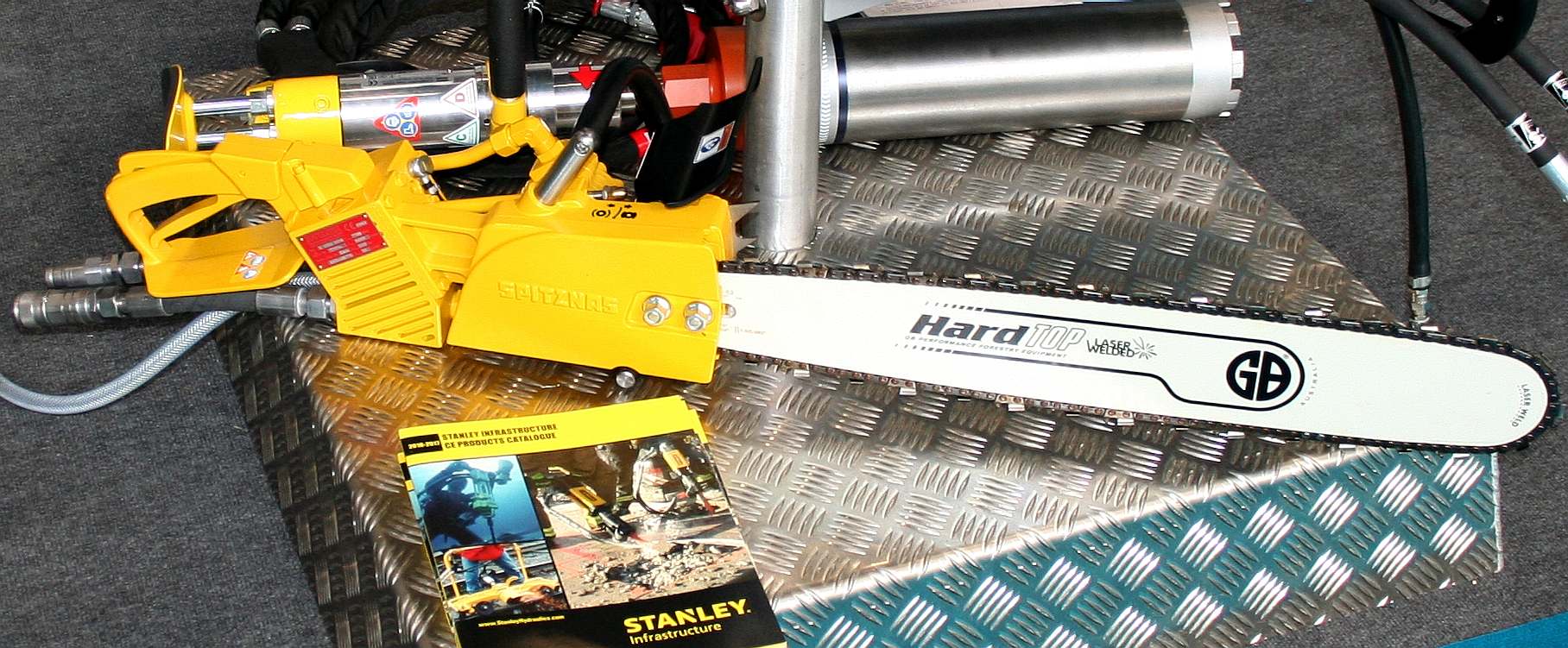 HYDRAULICS: When working in water or at depths underwater, hydraulic motor driven pumps and accessories are more dependable. For example, Stanley Infrastructure sell hydraulic chainsaws that can be used where petrol units cannot go in extremely harsh environments. Copyright © photographs 27 September 2017 COF Ltd.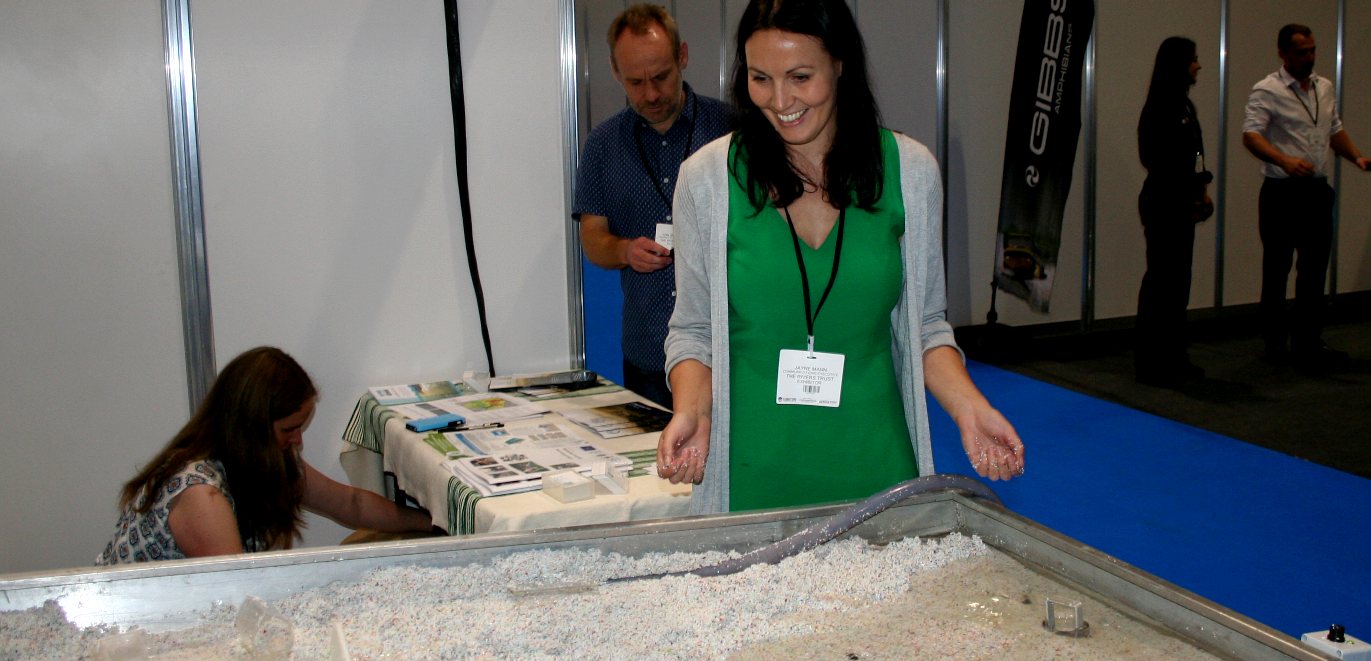 RIVERS TRUST: Jayne Mann is seen here operating a portable scale model of a river that shows how they work at different speeds. The Rivers Trust are the umbrella body of the rivers trust movement in the UK, working to protect, promote and enhance our freshwater ecosystems for both people and wildlife. With the support of over 40 member trusts across the UK, the Rivers Trust work on the ground, in the heart of the community, to promote a sustainable future for our river environments. Originally named the 'Association of Rivers Trust' in 2001, they were granted charitable status in 2004 and later changed name to 'The Rivers Trust' in 2011. Charity No: 1107144
CONTACT - The Rivers Trust, Rain-Charm House, Kyl Cober Parc, Stoke Climsland, Callington, Cornwall, PL17 8PH, United Kingdom. Tel: 01579372142 Email: info@theriverstrust.org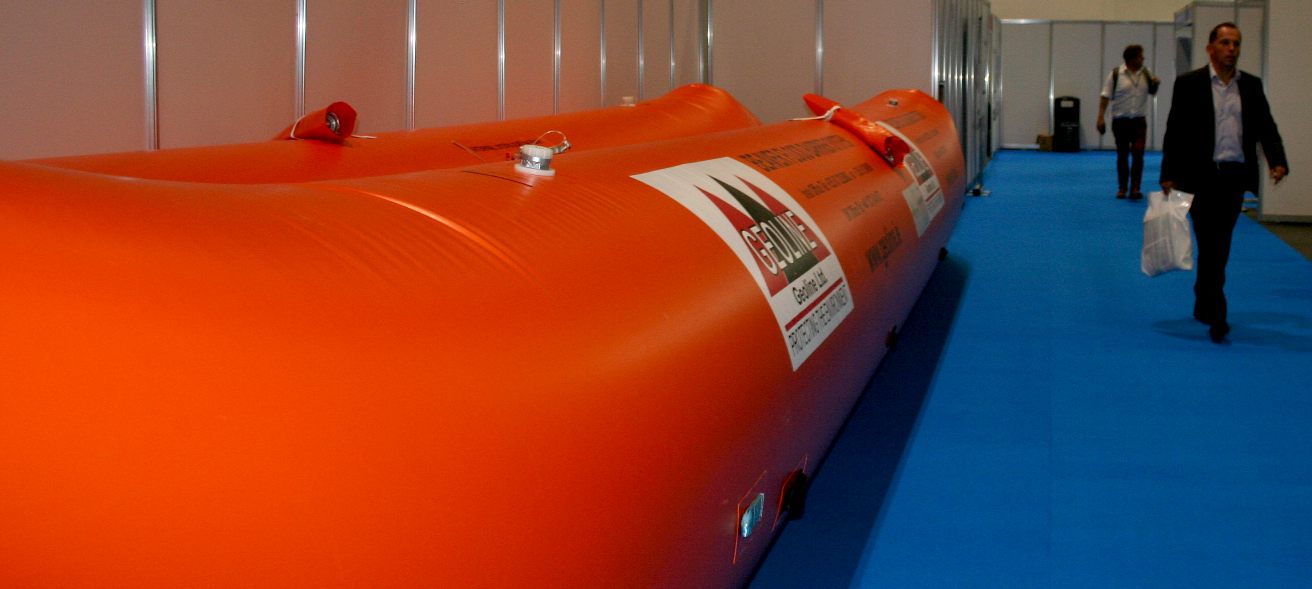 FLOOD BARRIERS: Geoline inflatable flood barriers were recently on display at the Flood Expo in Cumbria UK, here seen at the Excel event in London. The Beaver M50 model inflatable dam has proven its worth – most frequently in emergency situations. These dams can be easily transported and assembled quickly when and where they are needed. Similar technology is being employed by Boyan Slat for his giant ocean booms that are designed to catch plastic and other waste.
CONTACTS: Find out more about Inflatable Flood Barriers from Ann Tracy, Manager, at Geoline Ltd, UK +44 1372 434 672 / Ireland +353 51 294090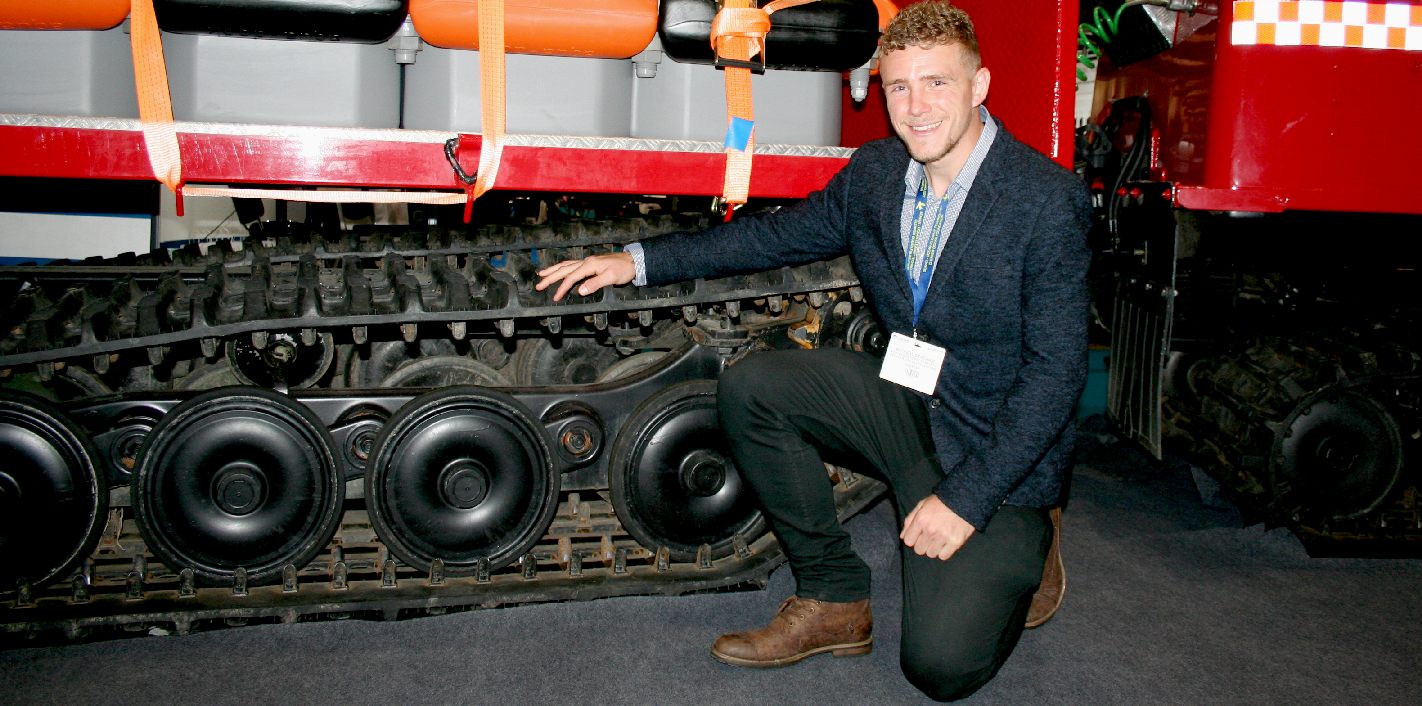 CATERPILLAR TRACKS: Not that far removed from the eight bogies that will be used on the AmphiMax, these rubber coated tracks also operate in submerged conditions. The Foundation are looking for development partners for the AmphiMax launch and recovery vehicle as part of the SeaVax ocean regeneration project. Copyright © photographs 27 September 2017 COF Ltd.
EXHIBITORS
If you work in or provide products or services in the following areas then you may want to consider exhibiting at Marine & Coastal Civil Engineering 2017:

Anchor Piles
Barriers
Beach Restoration
Work Boats
Coastal and River Management
Cements
Concrete Pumps
Concrete Pumping Equipment
Concrete Silos
Consultancy
Cliff Stabilization
Desilting
Diving & Dive Support
Dredging Boats
Erosion Control
Flood Walls
Groyne Construction & Maintenance
Harbour Wall Renovation
Hooper Dredgers
Hydraulic Dredgers
Insurance
Jetty Construction
Long Reach Excavators
Marine & Offshore Demolition
Mechanical Dredgers
Pile Drivers/Cutters/Wrapping
Pontoons
Ports and Harbours
Pumps and Dredge Components
Pumping Foamworks
Quay Wall Renovation
Retaining Walls
Rock Armour Construction
Seawalls
Sheet Piling
Slipway Construction
Surge Barriers
Tetrapods
Water Safety/Rescue Training Products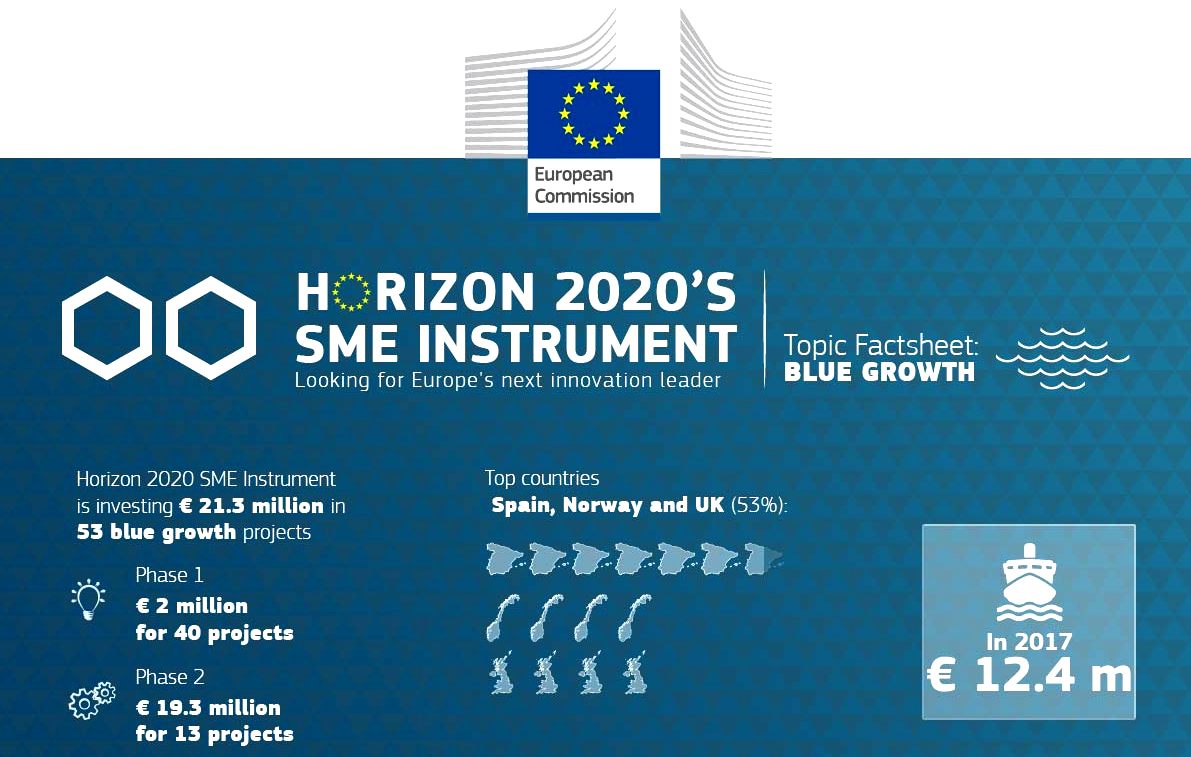 HORIZON 2020: Limited funding for blue growth is likely to be the stumbling block when it comes to incentivising innovation leaders. €21.3 million Euros is just a drop in the ocean where the sea is vast and so needs significantly more tending than has been budgeted for to date. The good news is that the United Nations have upped the urgency of blue growth on their international agenda, we might assume with attendant pro-rata increases.

OIL SPILL RESPONSE
The Spill Response Expo is the UK's largest event designed to showcase the latest innovations that further the prevention, detection and management of chemical spills on water and on land. The emergency response industry was represented in force with several organizations exhibiting.
Oil producing companies may contribute to companies like Oil Spill Response Limited or Spill Response Group Holland for an agreed level of service in the event of an emergency, by way of a Service Level Agreements (SLA). An SLA is a clear statement of what a Member can expect from such a service.
For example, Oil Spill Contingency Plans (OSCPs) are key to obtaining a licence to operate and are needed to illustrate how a company will respond in the event of a spill. If an oil spill does happen such as that of the Deepwater Horizon in the Gulf of Mexico, it can have serious and wide-ranging consequences; affecting a variety of resources and calling for a fast and effective response by a number of different organizations. An ineffective service could render oil producers like BP, liable for additional damages as a result of inadequate provisions. In the case of the BP rig, there seemed to be very little done by way of emergency response, suggesting that there is room for improvement. The fines rolled into the $Billions of US dollars.
The Spill Response Group Holland (SRGH) represents a wide selection of companies and organizations active in the maritime sector with a focus on spill prevention, preparedness, response and control for all aspects of marine, inland waters and coastal pollution control worldwide. According to their website, in recent years Spill Response Group Holland members have proven their skills across the globe and have become international leaders in their fields of expertise. Members include manufacturers of spill response equipment and materials, spill response organizations, oil disposal contractors, consultancy companies, R&D institutes, training providers, salvage companies, contractors and shipbuilding companies.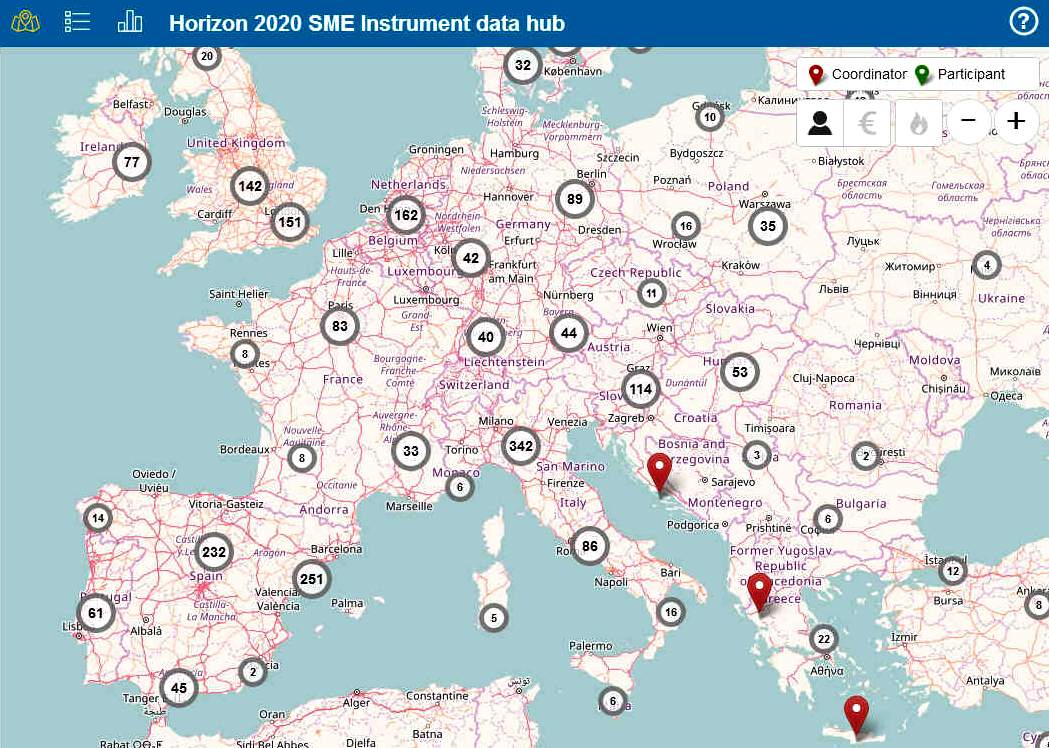 SME HUB - The above map of Europe shows the relative percentages of Small to Medium Enterprises operating in the field of research and innovation for the European Commission.
SAMPLE OF SLA PROVISIONS & BENEFITS

A Duty Manager will call the Member within 10 minutes of receiving notification of an incident. Response is on a first-come-first-served basis.

Onsite technical advice and response support is available to members at no cost for up to five days.

The resources to simultaneously respond to a range of incidents in terms of size, nature, complexity and sensitivity.

Highly trained response personnel operating via dedicated Spill Response Specialists assigned to three Global Response Teams across our global response bases.

Cooperation with partner services to support aviation requirements. Logistics, modeling and other specialised services can be called upon as and when needed, such as satellite imagery.

Spill response equipment is typically housed in secure facilities and is customs-cleared for rapid deployment. Members get access to large-scale dispersant delivery systems and aircraft as well as 24/7 access to a global network of cargo and passenger charter services through dedicated brokers.

Oil spill trajectory and tracking - 2D and 3D oil spill tracking and trajectory services are available on request. We utilise different software to provide trajectory, stochastic, backtrack and subsurface modelling.

Industry Outreach - Such service providers communicate key industry messages with their Members, governments and stakeholders through Industry Outreach programmes.
SRGH - Spill Response Group Holland has joined forces with the Contamination Expo Series 2017 as an official partner ahead of the event's highly anticipated return on the 27th & 28th of September at ExCeL London.

The Contamination Expo Series is simply unique; it's Europe's largest event designed to further the prevention of contamination and the protection of water, land and air by bringing together the latest solutions, the most innovative suppliers, and the industry's greatest schedule of ground-breaking seminars led by the world most prominent experts.

This standout exhibition regularly attracts partnerships with major players from across the industry. Spill Response Group Holland's inclusion in the 2017 show only reinforces this reputation further and adds to the growing roster of large organisations choosing this event to showcase their latest offerings and ground-breaking innovations.
OIL SPILL CONTACTS


Spill Respinse Group Holland
Koningin Wilhelminastraat 35
3265 BH Piershil
The Netherlands

Telephone: +31 (0)6 1229 2303
Email: info@srgh.nl

Oil Spill Response Limited
Lower William Street
Southampton
SO14 5QE
United Kingdom
+44 (0)23 8033 1551
+44 (0)23 8033 1972
southampton@oilspillresponse.com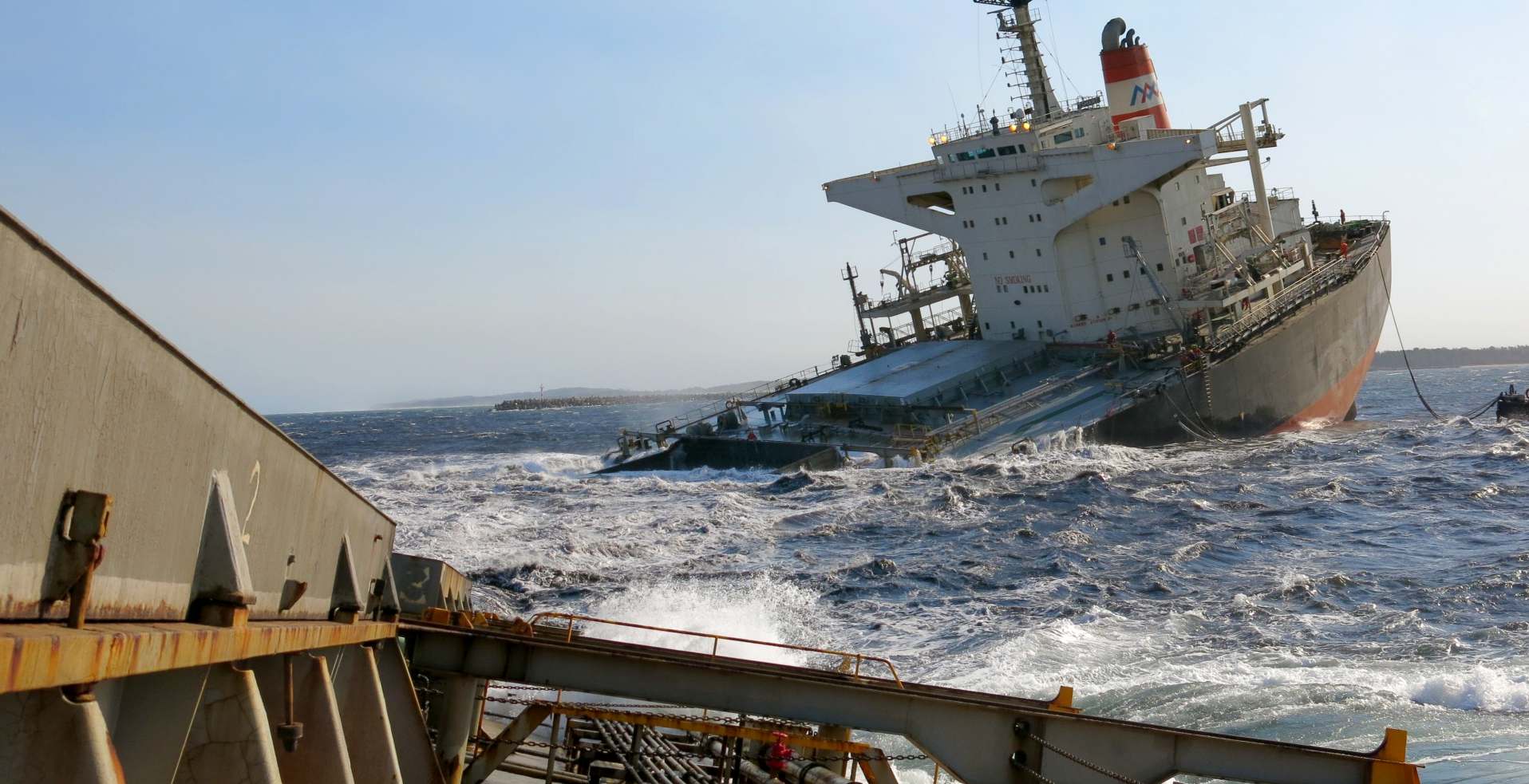 OIL SPILLS - The reason we need oil spill services is that at the moment we need to transport fuel oils around the world using tankers that infrequently run aground or otherwise get into difficulties. Until such time as renewable energy takes over completely, the planet will remain at risk as to carcinogenic contaminations of a regular basis. The Deepwater Horizon is an example of just how much damage oil drilling can cause and how unprepared the operators, British Petroleum, were for the havoc their accident caused to surrounding marine life. Other examples include the Tory Canyon and Exxon Valdez.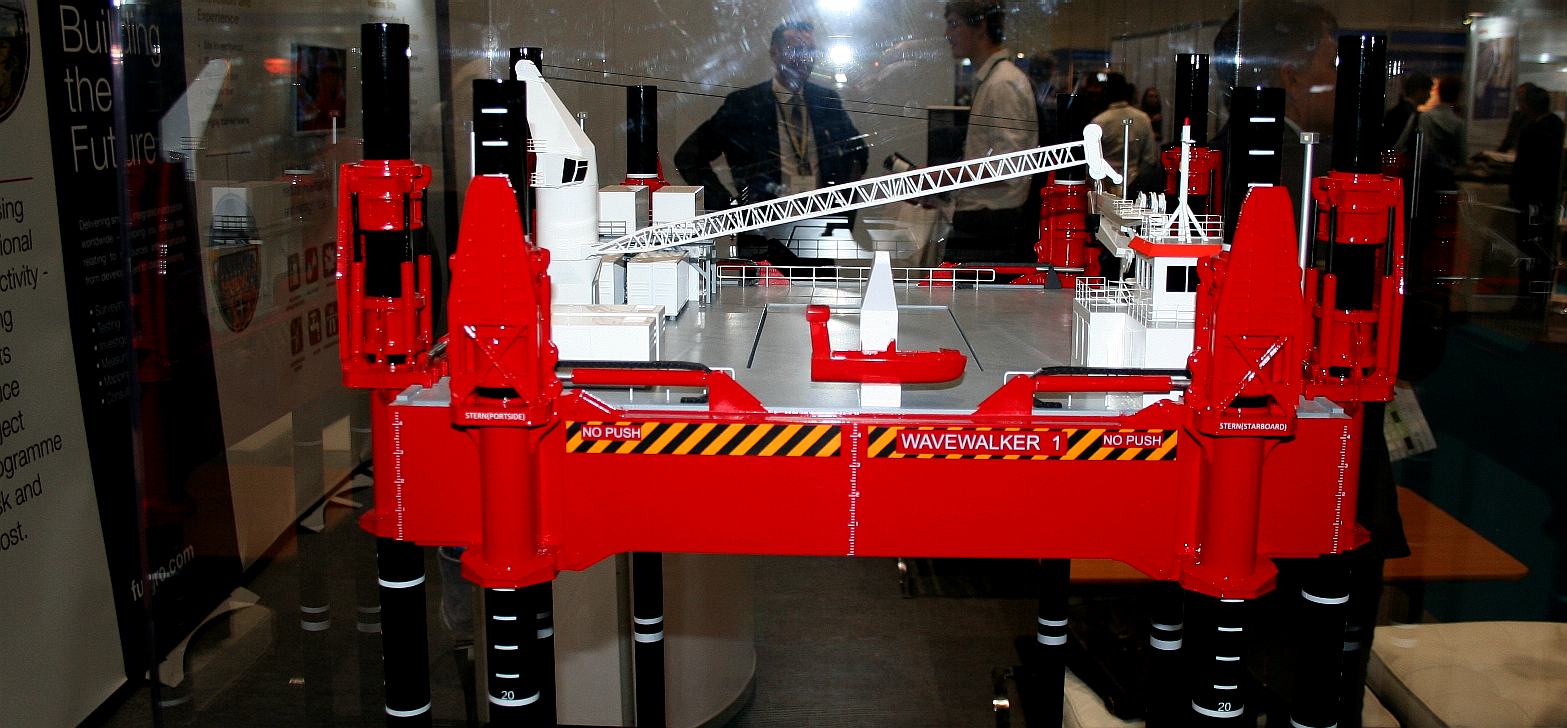 FUGRO: The Fugro stand sported this fine model of the Wavewalker 1 oil rig, the theme being to reduce the risks of construction of such large structures with careful project planning and management methods. Copyright © photographs 27 September 2017 COF Ltd.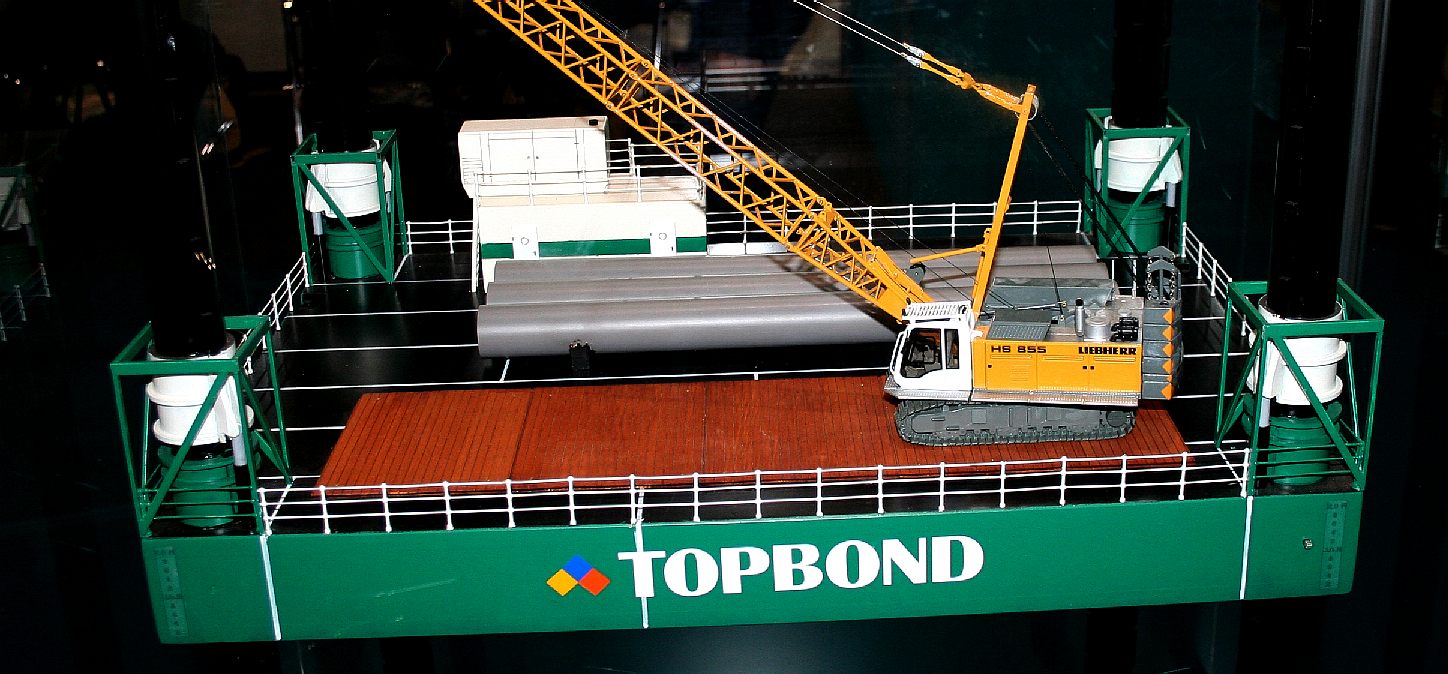 TOPBOND: Another fine model on display at the M&CCE exposition at the Excel in London, this one depicting the early stages of construction of an oil drilling platform.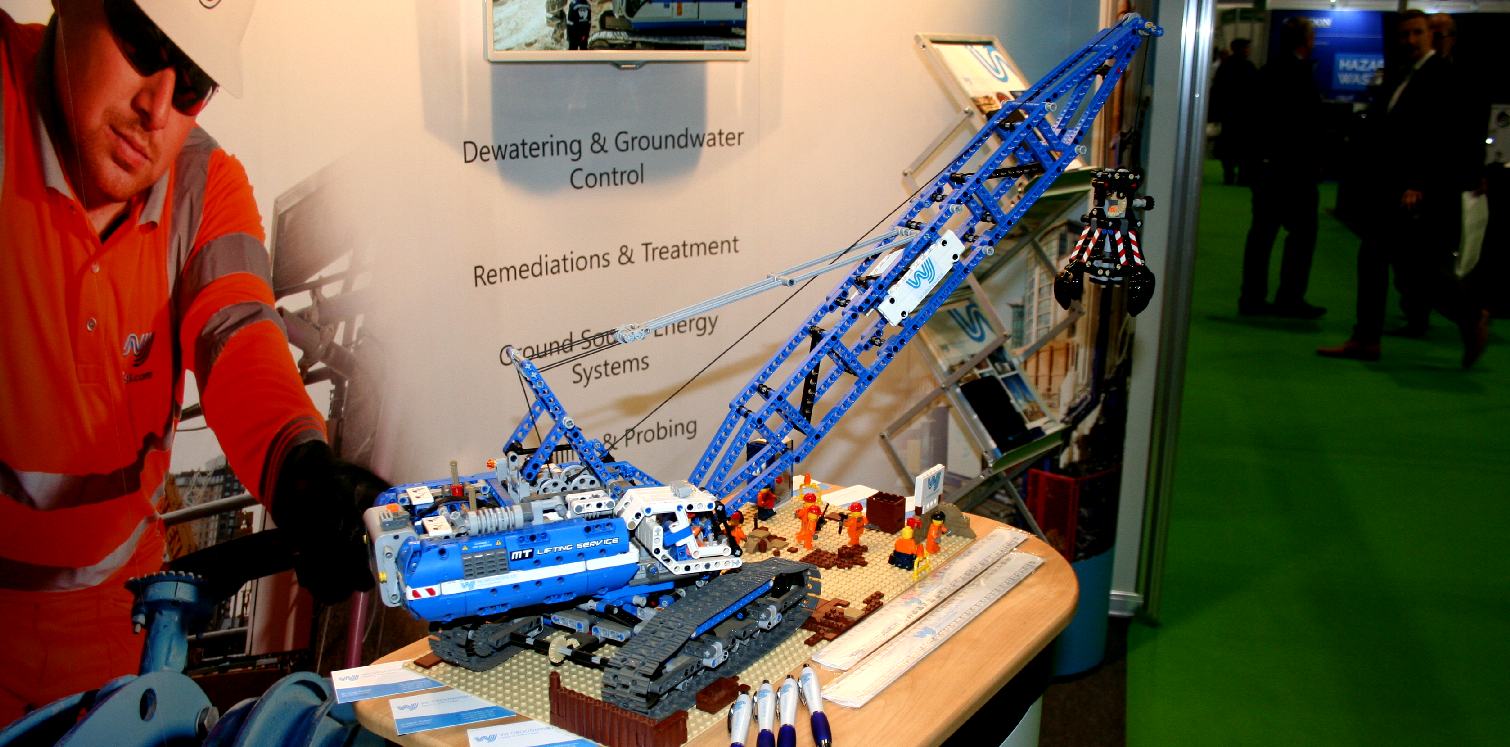 W J GROUNDWATER: We liked this model crane that was commissioned for the exhibition and made of Lego technical components, rather like a plastic version of the steel Meccano sets that started so many young engineers on the path to construction. Copyright © photographs 27 September 2017 COF Ltd.

FLOOD EXPO
The Flood Expo is the world's largest exhibition and conference designed to help the most progressive flood professionals and property owners discover the latest innovative products, services and strategies that transform the way flooding is predicted, prevented, and managed.
KEYNOTE SPEAKERS 2017
| | | | | |
| --- | --- | --- | --- | --- |
| | | | | |
| | | | | |
| | | | | |
| EDF's Hinkley Point C Nuclear major issues & talking points | Gravitas International - Geomodular Block Systems | Ravestein - Flood defense system for ports | FUGRO - Nearshore marine characterisation & risks | Professional Diving Academy. Marine Engineering Projects |
| | | | | |
| | | | | |
| | | | | |
| | | | | |
| Arup - Choosing digital survey methods for marine projects | Snug Architects - Milford on Sea beach huts sea defence | Vector Corrosion Technologies - Protecting marine concrete | Geobrugg - Coastal slope stabilisation projects | RPS Group - Addressing Constraints To Coastal Works |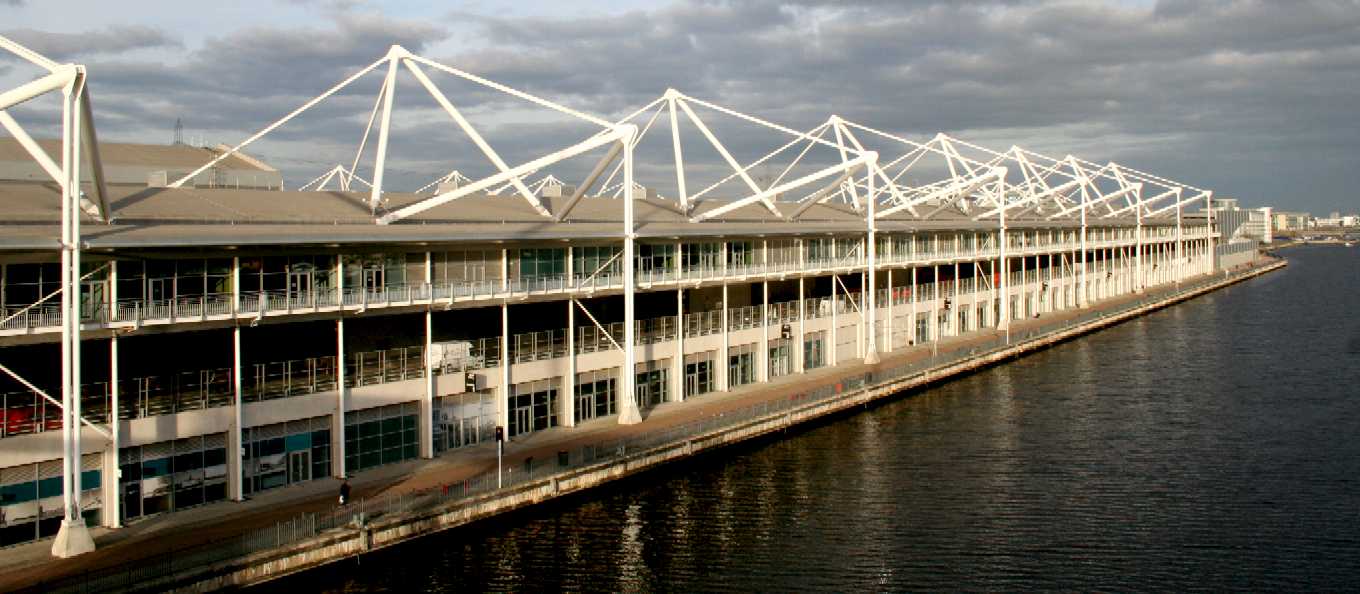 ROYAL DOCKS
The Royal Docks comprise three docks in east London - the Royal Albert Dock, the Royal Victoria Dock and the King George V Dock. They are more correctly called the Royal Group of Docks to distinguish them from the Royal Dockyards, Royal being due to their naming after royal personages rather than Crown ownership. The three docks collectively formed the largest enclosed docks in the world, with a water area of nearly 250 acres (1.0 km2) and an overall estate of 1,100 acres (4.5 km2). This is equivalent to the whole of central London from Hyde Park to Tower Bridge. The area was designated a special enterprise zone in 2012.
The three docks were completed between 1855 and 1921 on riverside marshes in East Ham and West Ham (now the London Borough of Newham). The Victoria and Albert docks were constructed by the London & St Katharine Docks Company, to provide berths for large vessels that could not be accommodated further upriver. They were a great commercial success, becoming London's principal docks during the first half of the 20th century. They specialized particularly in the import and unloading of foodstuffs, with rows of giant granaries and refrigerated warehouses being sited alongside the quays.
The docks' great size and provision of numerous finger quays gave them a collective span of over 12 miles (19.3 km) of quaysides, serving hundreds of cargo and passenger ships at a time. Following the opening of the Royal Albert Dock in 1880, giving the Royals access to Gallions Reach, 11 miles (17.7 km) below London Bridge, the rival East & West India Docks Company responded with the construction of Tilbury Docks even further down river. The ruinous competition led eventually to all the enclosed docks being taken over by the Port of London Authority (PLA) in 1909. The PLA completed the King George V Dock in 1921 and reserved land to the north for a fourth dock, never built.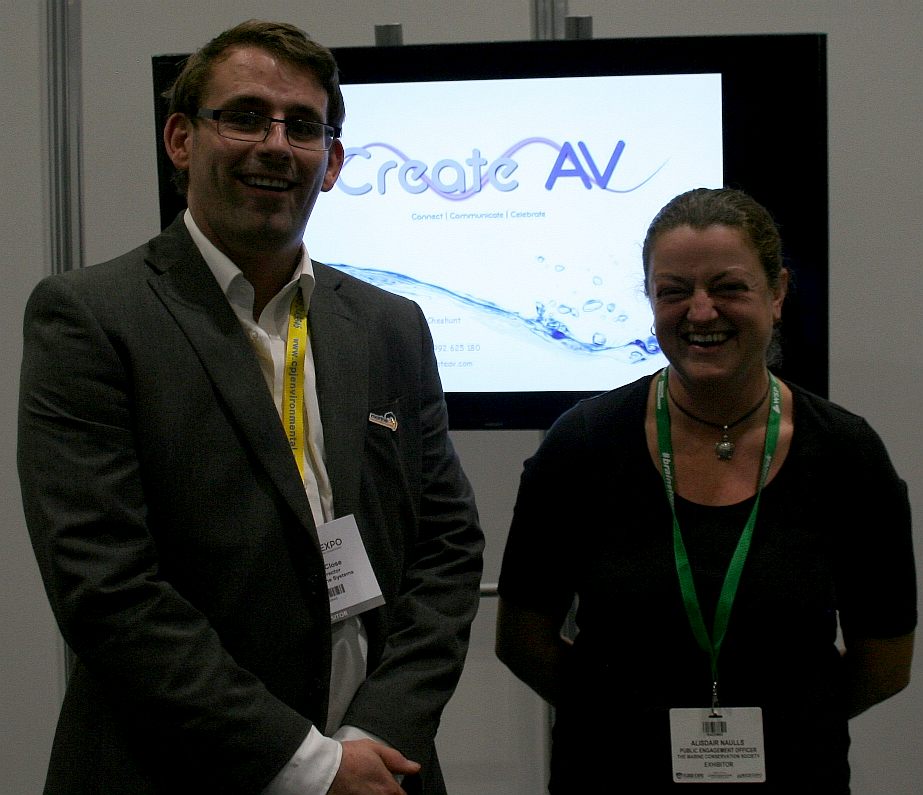 MARINE CONSERVATION SOCIETY - Chris Close with Emma Cunningham at the 2016 event in London last year. Emma gave a superb talk about the efforts of the Marine Conservation Society to coordinate beach cleaning events and most importantly of all, to record that data so that meaningful efforts to cooperate with other organizations would give force to both national and international work to curb ocean plastic waste. Copyright © photograph 12 October 2016. You will need the permission of Bluebird Marine Systems Ltd to be able to use this picture except for private research and educational purposes.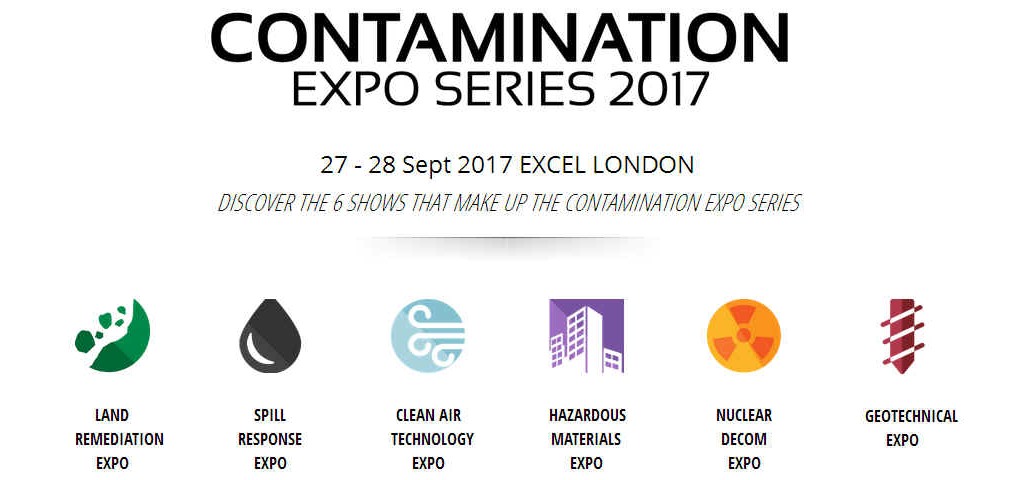 VENUE & CONTACTS

The exhibition is being held between the 12-13 October 2016 at the ExCeL London.
ExCeL London
One Western Gateway
Royal Victoria Dock
London, E16 1XL

General enquiries and event Information

T: +44 (0)20 7069 5000
E: info@excel-london.co.uk
London is the natural meeting point for the world's business networks. It is a leading city in the world's economy and a centre of international trade and finance. Located in the London Borough of Newham, this exhibitions and conference centre is an excellent venue in England.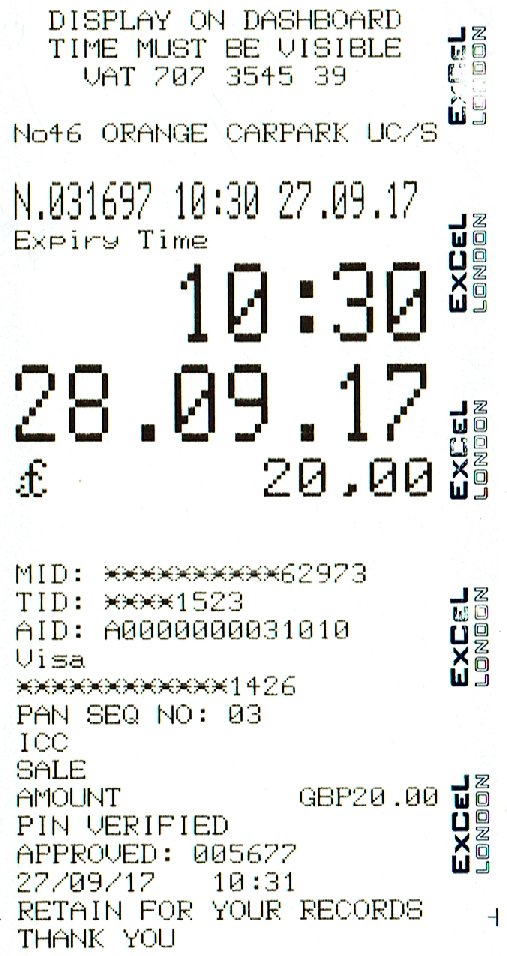 PARKING CHARGES - The £20 (twenty pounds) price of attending an event influences the attendance both in terms of exhibitors and visitors. Last year the charges were very much lower, but when considering the cost of visiting an event in Birmingham for those in the south of England, and the cost of parking in London where public transport is not user-friendly for business people - the hike seems less burdensome.
Lying adjacent to Canary Wharf, ExCeL London is the latest cultural quarter which possesses every facility that an event demands. Accommodating thousands of visitors in its huge event halls, state of the art conference suites and 45 meeting rooms, this multifaceted event venue is often preferred for flexible selection of space.
ExCeL London, the international exhibition and convention centre, is the host venue for a variety of events from award winning exhibitions and conferences to international association meetings, product launches, banquets, award ceremonies, sporting events and more. ExCeL London is the UK capital's largest exhibition centre. ExCeL London is owned by Abu Dhabi National Exhibitions Company (ADNEC). Its portfolio also includes the Abu Dhabi National Exhibition Centre and the Al Ain Convention Centre.



LINKS & REFERENCES
http://www.contaminationexpo.com/
http://www.thefloodexpo.co.uk/
http://www.goodchildmarine.co.uk/
http://www.theriverstrust.org/
http://www.thefloodexpo.co.uk/
http://www.mcceexpo.co.uk/
http://www.contaminationexpo.com/
https://www.fugro.com/
http://www.mcsuk.org/plasticchallenge/
https://www.mcsuk.org/
http://www.mcceexpo.co.uk/
http://watercontaminationexpo.com/
http://www.thefloodexpo.co.uk/
https://www.linkedin.com/groups/7474470/profile
https://www.facebook.com/MarineandCoastalcivilengineerinngexpo/
https://twitter.com/MCCE_Expo
http://www.srgh.nl/
https://www.oilspillresponse.com/contact-us/