TEST RIG CARRIAGE
WATER BASIN TESTING FACILITIES
BRICKS & MORTAR - CARRIAGE - DRAINAGE - FACILITIES - FILTRATION - GLASS & PAINT - GANTRY - GIMBALS - HATCHES - HYDRODYNAMICS HISTORY - INSTRUMENTS - LABORATORY - LAMINATING - LOGISTICS - OUR TEST TANK - PROOFING - REVIEWS - SCREEDING - SEAVAX TEST VIDEOS - SLUICE GATE - SOLAR BATTERIES - WAVE MAKING - WIND MACHINE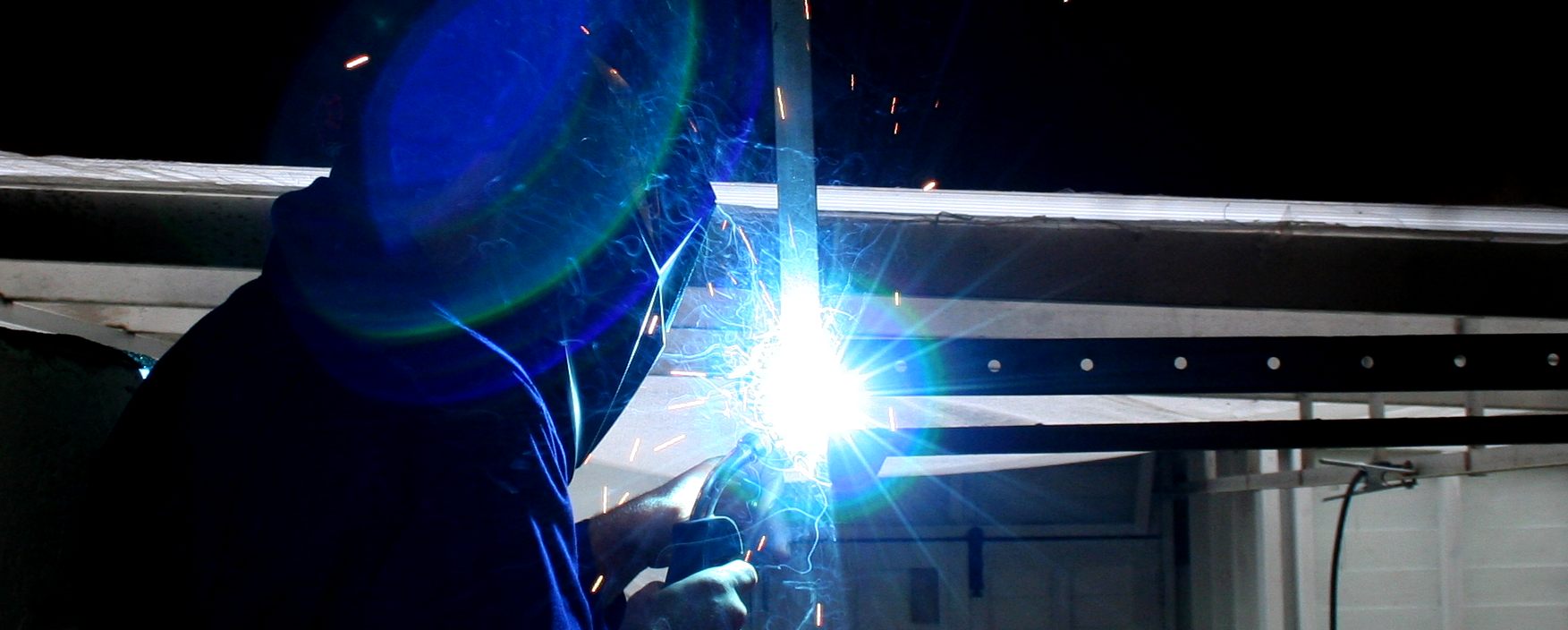 WELDING STAINLESS STEEL - Chris Close using a R-Tech inverter based welding machine with digital electronic controls to join the stainless steel uprights to the test-tank gantry rails. This 240 amp machine is suitable for use with a spool-on-gun, and is portable enough for operators to move around the site. These improvements to the water tank facilities are demountable, with the baffles and outboard motor based electric water drives also temporary installations, to enable the filming of various experiments set for 2018, provided that funding is achieved during this period to enable such endeavour.
Transporting the proof of concept model boats from one end of the water basin to a central test area is achieved using a stainless-steel carriage that rolls on overhead rails, suspended from the steel beams that provide support for temporary covers to allow us to create controllable/repeatable conditions for comparison purposes.

FABRICATING TECHNIQUES
Stainless steel is harder to cut and drill than mild steel. The carriage needs to be built of a corrosion resistant material to reduce maintenance while also being strong enough to withstand some of the more rigorous tests that we need to perform.
On this page you will see how we made the carriage that not only transports the SeaVax and other test vehicle, but also contains the instruments that will allow us to measure what is happening .....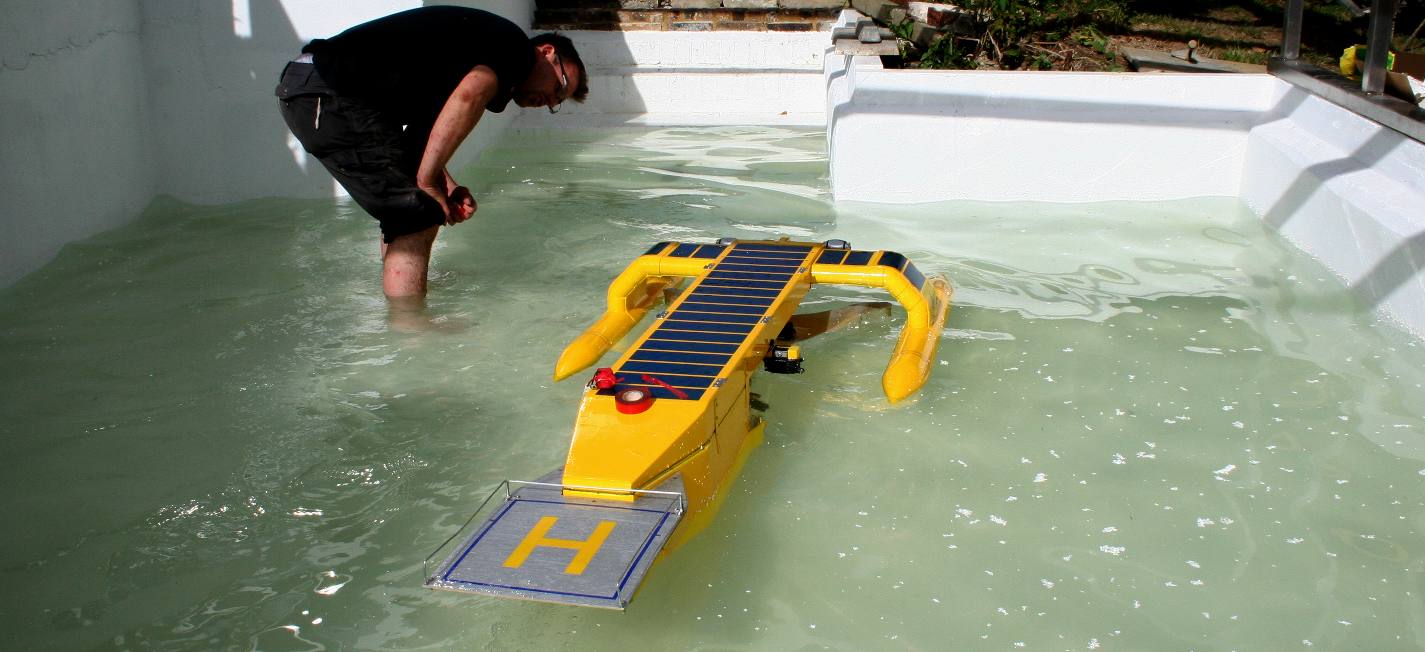 JULY 2016 - Chris Close checks the progress as SeaVax scoops up plastic from this test tank basin in Sussex that is typically used as a pool. We used onboard batteries for this experiment, rather than solar panels. Copyright © photograph July 2016 Bluebird Marine Systems Ltd. Research like this is vital if we are to be able to keep our oceans cleaner using technology derived from these humble beginnings.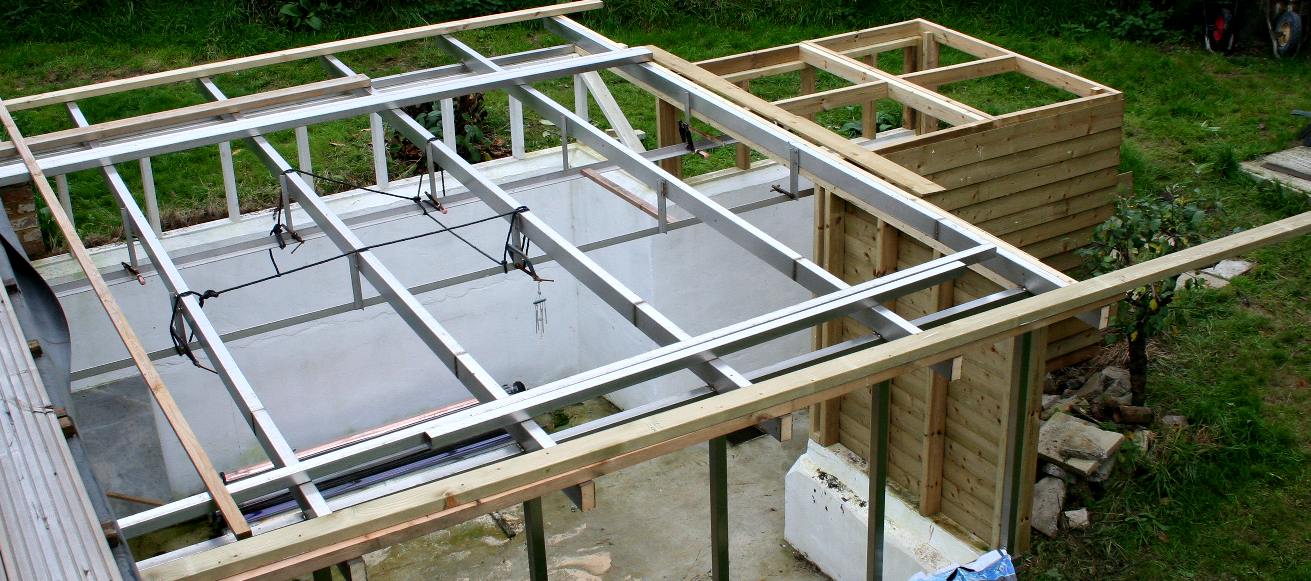 WEATHERPROOFING - The timber walls were rotten and overgrown when the clean up first began in May of 2016. An outdoor pool is only useful in the summer months. Garden boarding is used to prevent wind from upsetting experiments, while also helping to keep leaves and insects out of the water. The boat type hatch on the right of this picture is too low for people to pass under, without lifting the hatch upright until it is vertical and even then you have to stoop, so unless a very low angle is needed to film work, it stays locked. A flexible canvas cover that can be easily rolled up will suffice to keep the rain at bay during filming, otherwise the pool will revert to an open area, save where a pool-cover may floor from going green from stagnant water when not in use. Copyright © photographs Bluebird Marine Systems Ltd.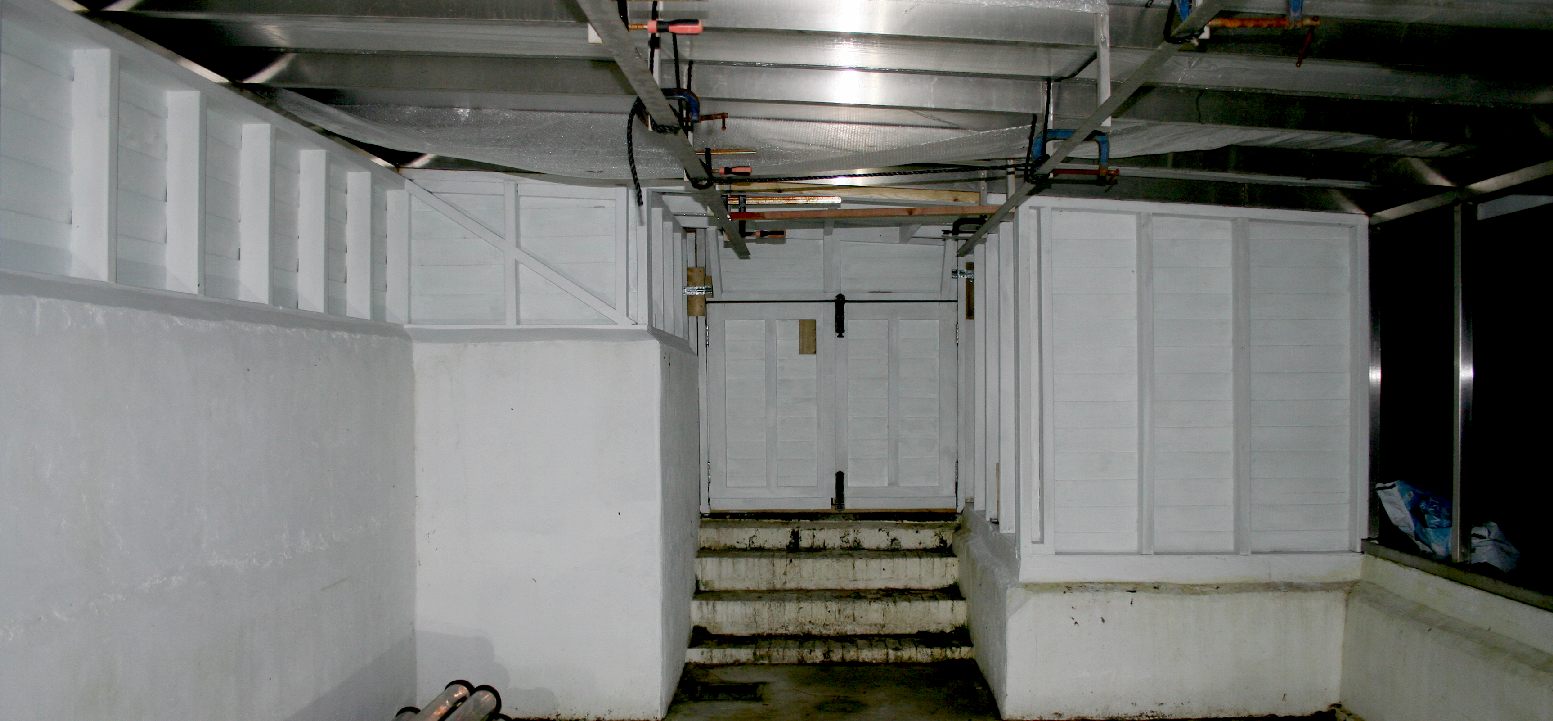 SOLAR HEATING - With wind breaks and solar heated water, bathing or tank testing model boats will not be so demanding. This tank converts to a pool in 30 minutes. For example, because the water is heated, underwater filming with a go-pro or other waterproof camera systems will not always require a man/woman in a wet suit. Copyright © photographs Bluebird Marine Systems Ltd.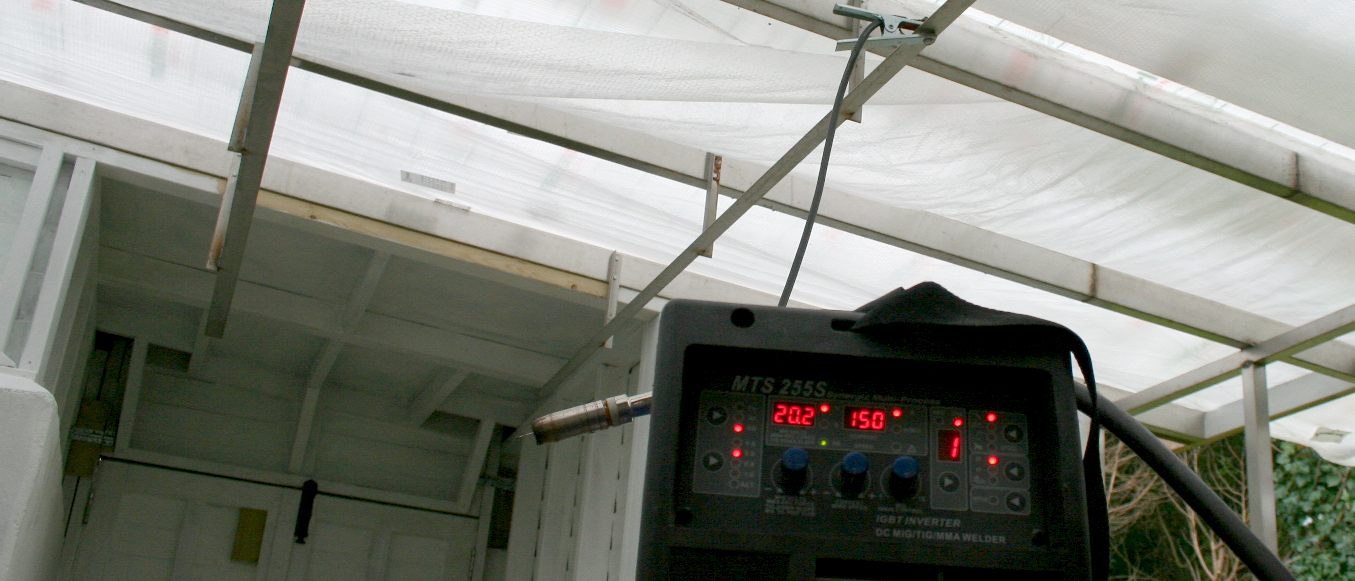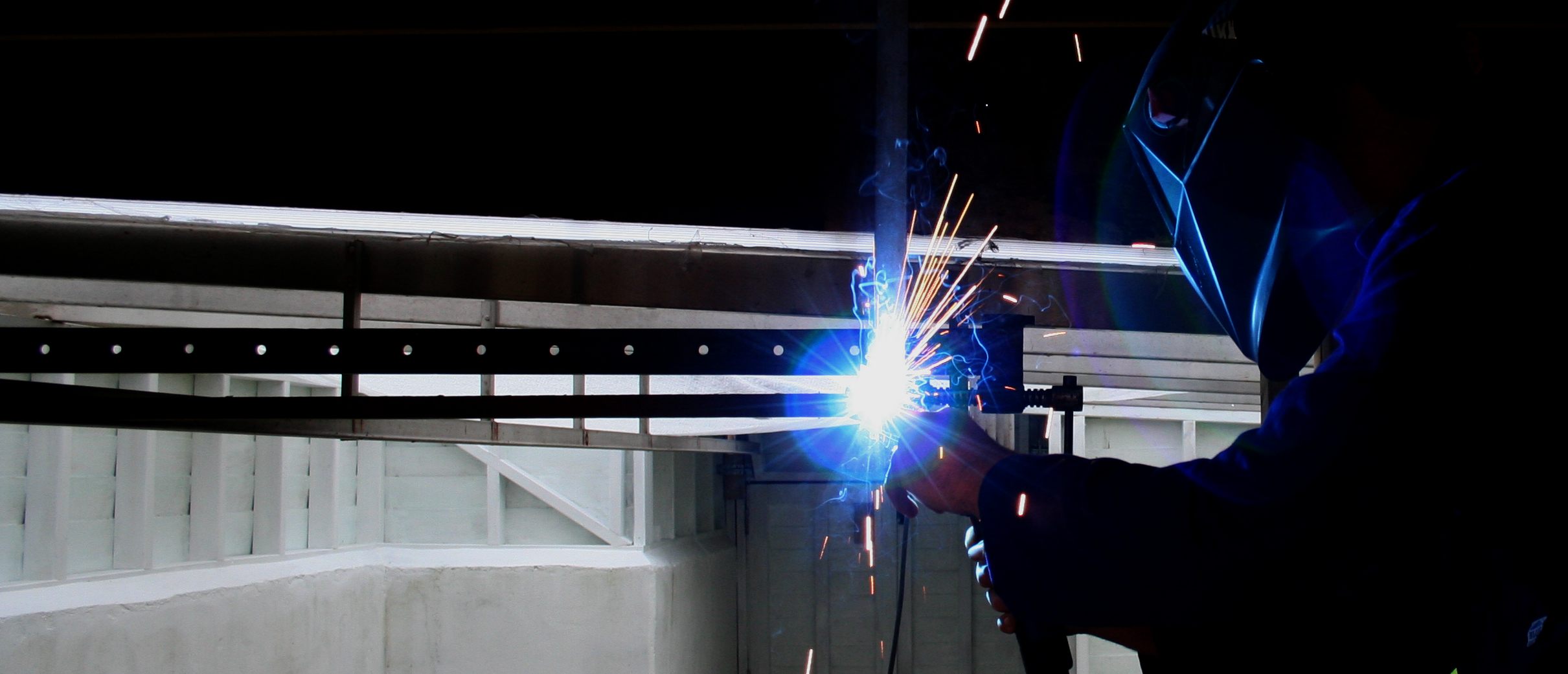 SKILLS - The ability to weld and the right equipment are essential to the SeaVax project as is the space to be able to work. For a charity like the Cleaner Oceans Foundation it is difficult to find low cost facilities to be able to keep going with ocean cleaning developments. Fortunately, there are some very generous people that are supporting our projects.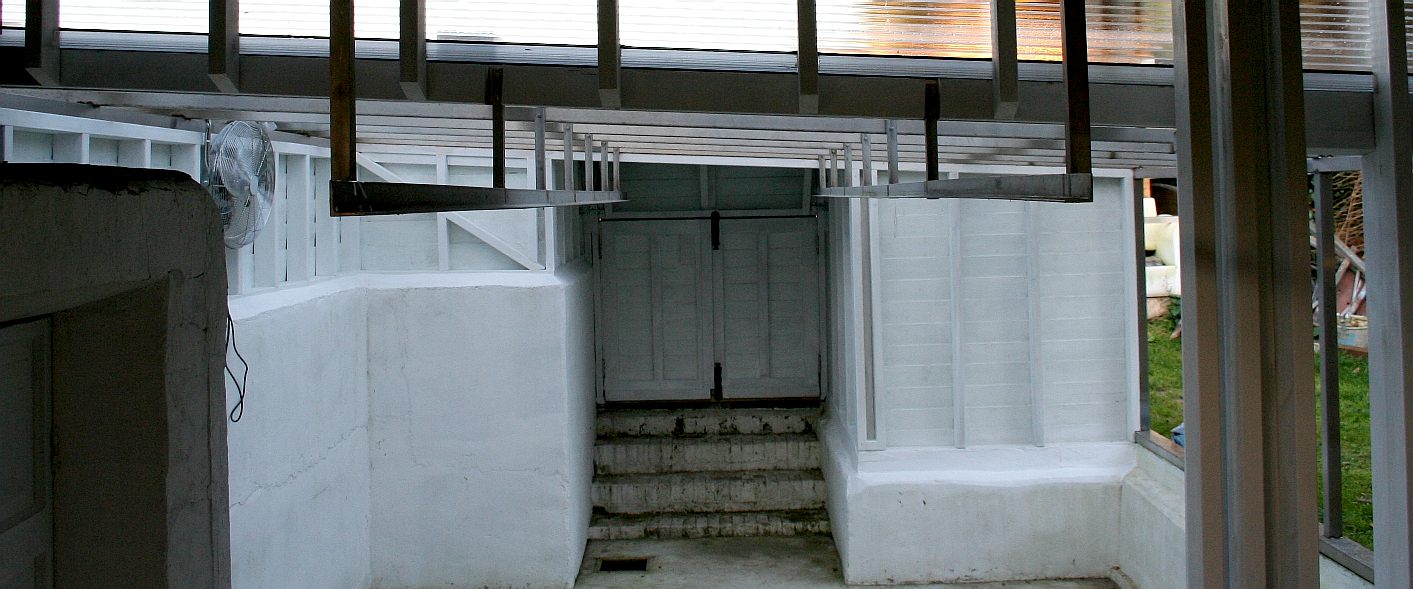 TRACKS - With the tracks of the overhead gantry welding complete, we can now move on to the carriage itself that can be powered out to the tank centre from either end of the test tank when transporting boat models. The carriage is to be self aligning to compensate for any track accumulations, etc. This gantry unbolts for maintenance and storage elsewhere.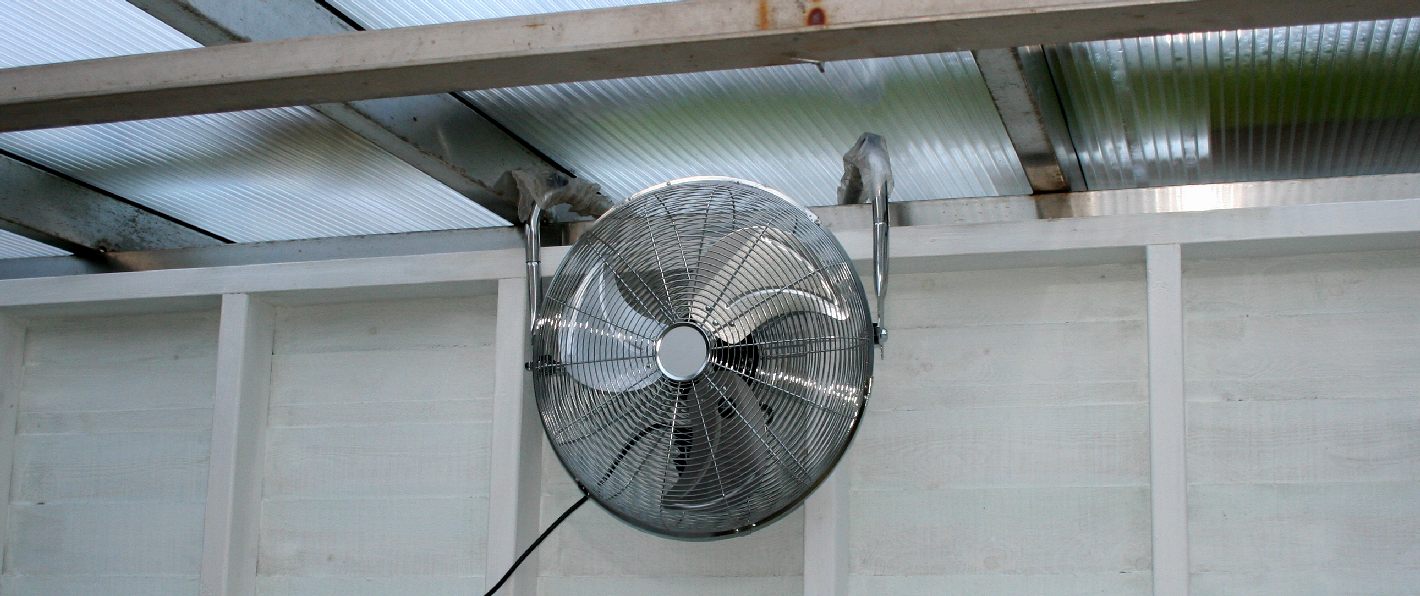 STORM SIMULATION - Eight of these fans can be aimed in any direction to create some serious windage. They are rated as supplied to provide 1.16 horsepower (880w) of power @ 1,350rpm and around 31,251 CFM (885 m3/min) of air movement. That is 14.75 cubic meters of air per second (520 cubic feet of air per second) in a sealed tank with an internal airspace volume of around 50 cubic meters. Hence, the air in the chamber will rotate completely every 3.4 seconds, simulating a 100- 140mph revolving storm in 1/20th scale. The challenge will be to configure our fans for rear, side and head on winds, and to change configuration for a revolving storm.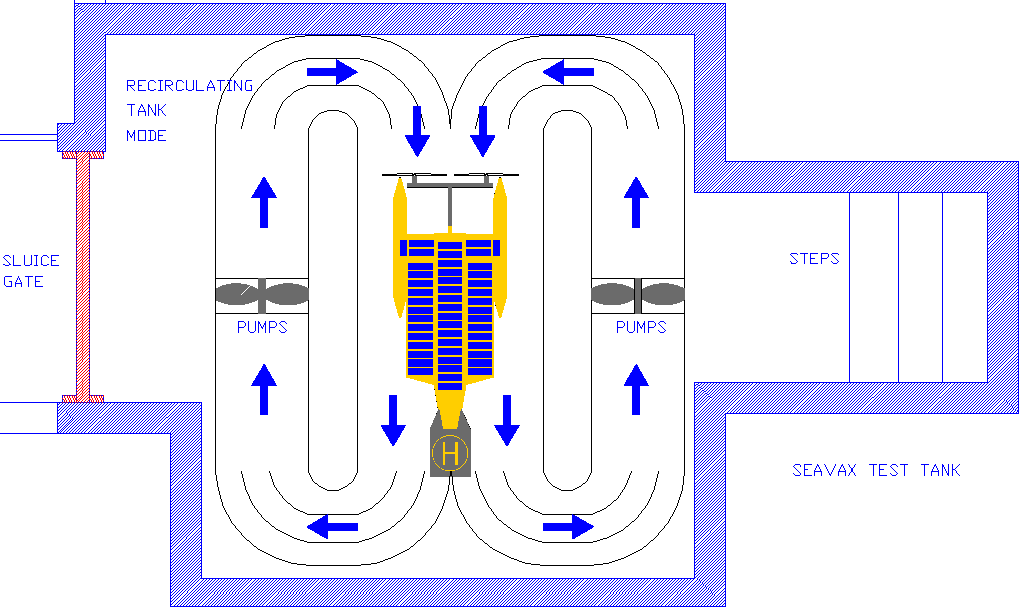 CENTRAL TEST AREA - This diagram shows where the pumps are for our hull drag and plastic collection experiments. The carriage is designed so that it can be rotated to change the angle of attack during wind and wave experiments. Copyright © diagram 2016 Bluebird Marine Systems Ltd. Once the testing and filming is complete the tank reverts to being a dry courtyard area when drained, or a garden pool when full. A pool is a permitted development enjoyed by millions of people, but very few choose to carry out such experiments in their back yard.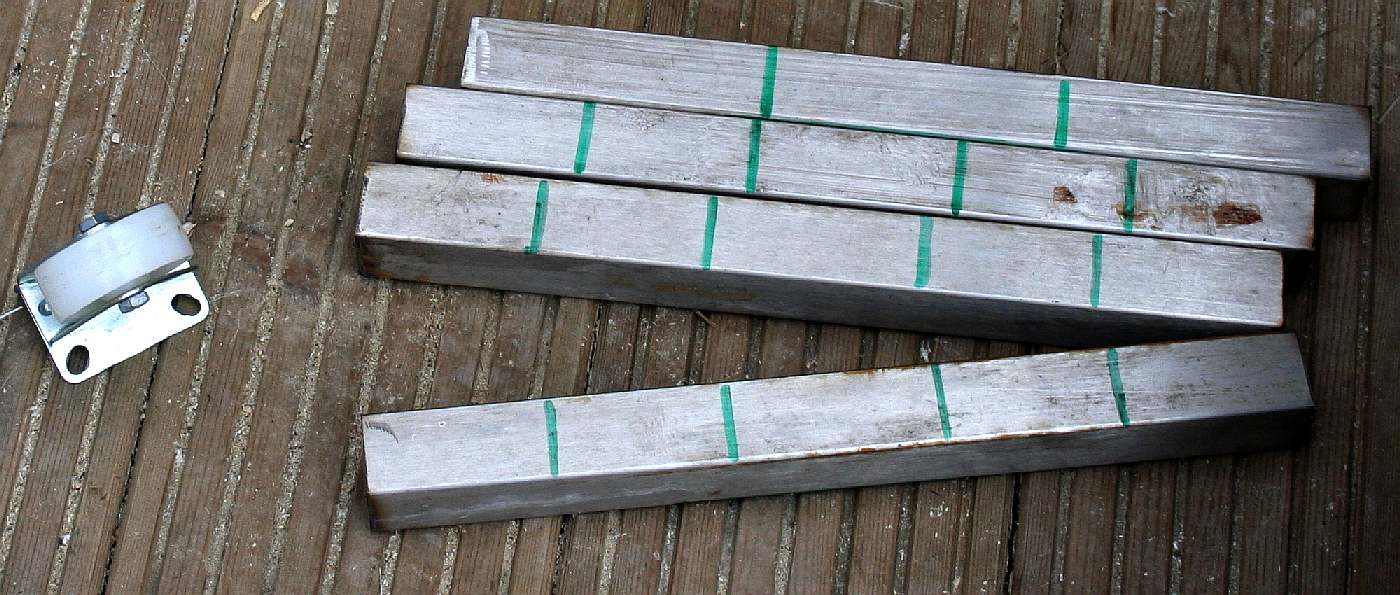 BOGIES - Eight wheels are mounted on four 30mm x 30mm box section steel bogies that are welded to the main "H" section carriage frame using 316 stainless steel MIG wire and Argon CO2 mix shielding gas. Copyright © photograph April 26 2018 Cleaner Ocean Foundation Ltd. All rights reserved.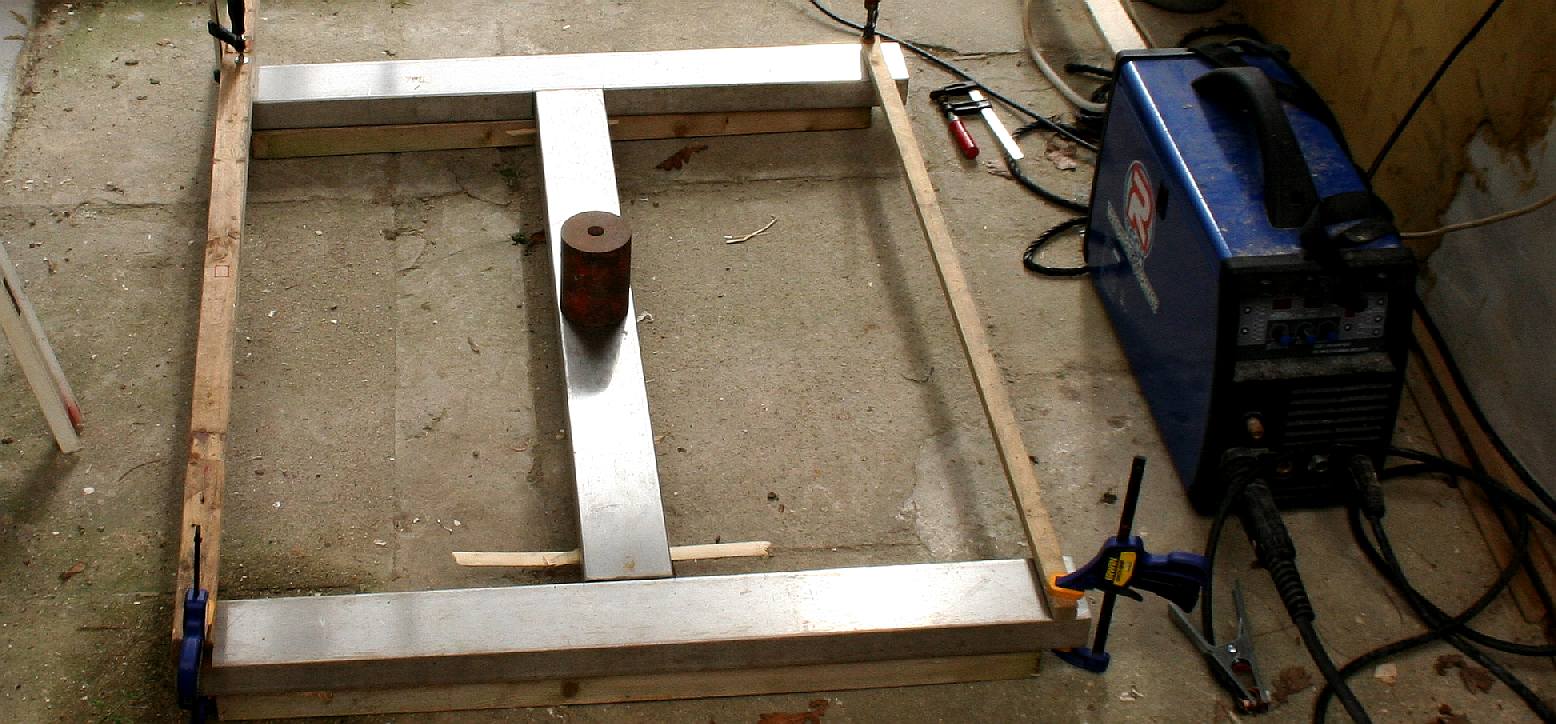 "H" FRAME - Heavy gauge 50mm x 100mm box section steel is used for the carriage frame. This frame carries the lowering mechanism as two scissor jacks working in reverse. Copyright © photograph April 26 2018 Cleaner Ocean Foundation Ltd. All rights reserved.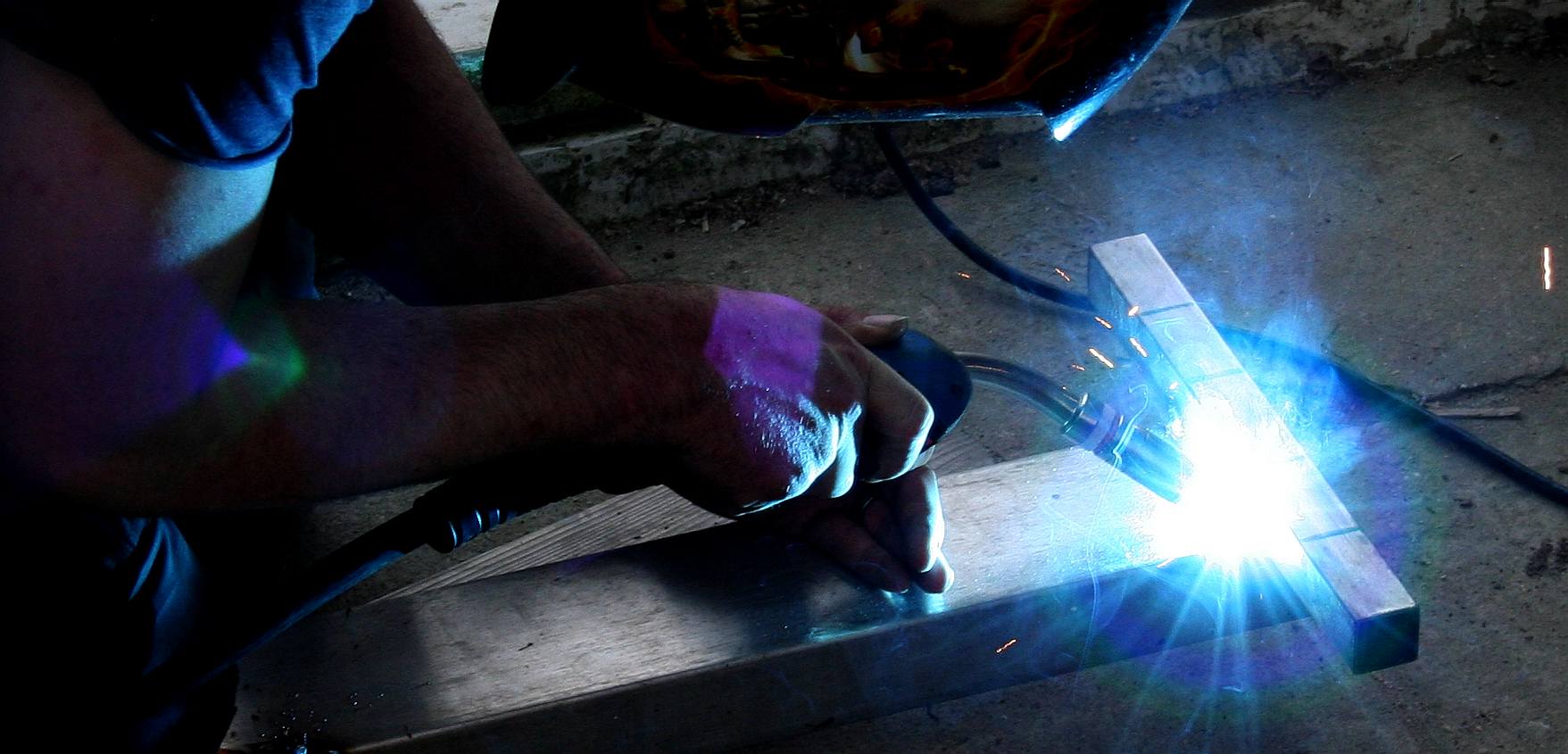 WELDING - Chris Close (SeaVax Project Director) is seen here brushing up on his welding skills. The R-Tech equipment is a joy to use. We used this same machine to repair the VW camper van for our ocean awareness tours. Copyright © photograph April 26 2018 Cleaner Ocean Foundation Ltd. All rights reserved.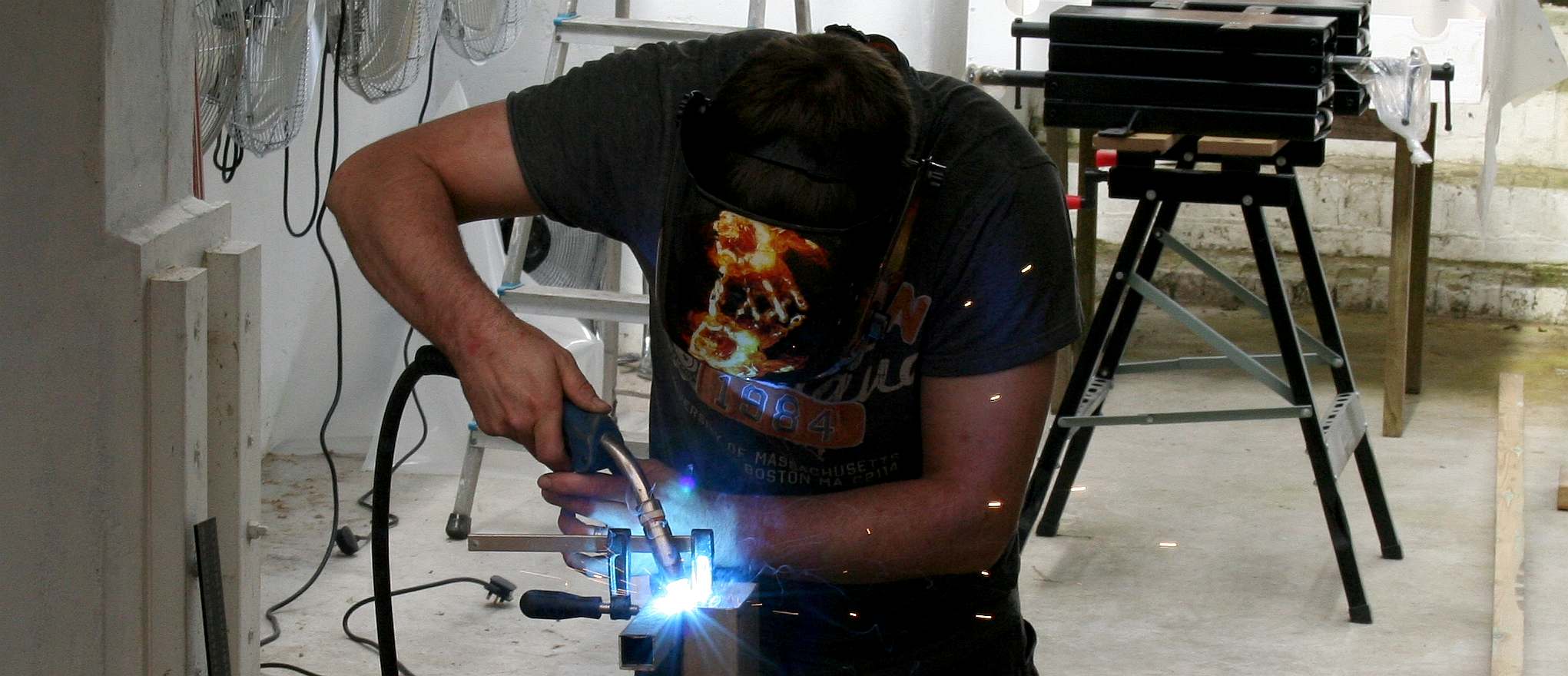 ON SITE - As with SeaVax, much of the installation will be completed on site, once the main hulls are jigged into position and joined. Fabrication skills are essential for any engineer and the ability to work anywhere, for example, to effect repairs while afloat. SeaVax is to be made from 5083 aluminium alloy, a grade of metal that is particularly resistant to corrosion at sea from a high magnesium content. Copyright © photograph April 26 2018 Cleaner Ocean Foundation Ltd. All rights reserved.

CARRIAGE - With the rollers tacked in position the carriage framework is rolled up and down the tracks to make sure that the clearances are sufficient. It is a tight fit with 1.5mm of clearance on either side. There are four side rollers in addition to the eight load bearing wheels, to prevent the wheel bolts from scraping along the tracks for a smoother ride. Copyright © photograph April 26 2018 Cleaner Ocean Foundation Ltd. All rights reserved.
LINKS & REFERENCE
https://www.r-techwelding.co.uk/
http://www.manbat.co.uk/
http://www.lucaselectrical.co.uk/batteries.html
http://www.aoc-resinsuk.co.uk/
http://www.corrosionresins.com/
https://www.fibreglassdirect.co.uk/
http://ec.europa.eu/
http://horizon2020projects.com/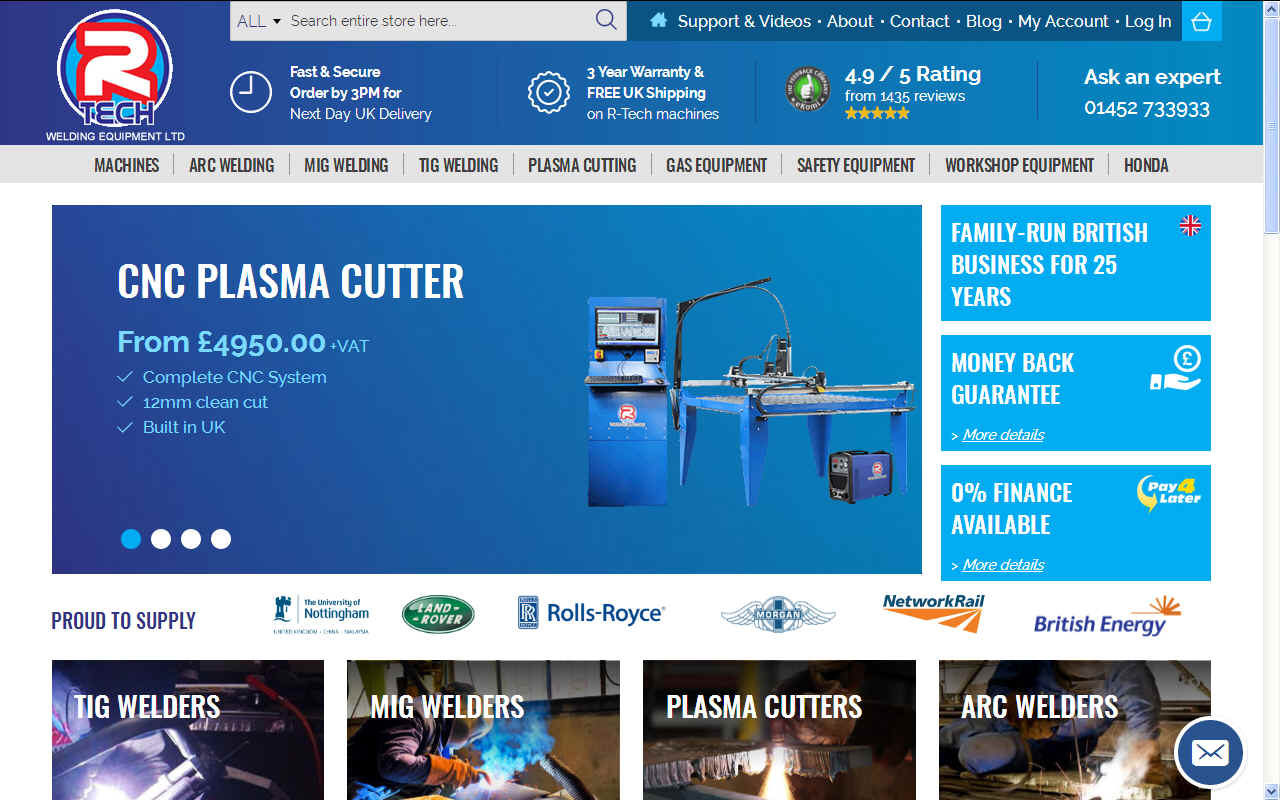 BRICKS & MORTAR - CARRIAGE - DRAINAGE - FACILITIES - FILTRATION - GLASS & PAINT - GANTRY - GIMBALS - HATCHES - HYDRODYNAMICS HISTORY - INSTRUMENTS - LABORATORY - LAMINATING - LOGISTICS - OUR TEST TANK - PROOFING - REVIEWS - SCREEDING - SEAVAX TEST VIDEOS - SLUICE GATE - SOLAR BATTERIES - WAVE MAKING - WIND MACHINE
This website is copyright © Cleaner Oceans Club Ltd (COCL) (Company No: 4674774) April 2018
Solar Studios, BN271RF, United Kingdom. COCL is a charity without share capital. The name Miss Ocean™ is a trade mark of the Cleaner Oceans Foundation™. The names AmphiMax™, RiverVax™ and SeaVax™, are a trade marks used under license. Site Navigator