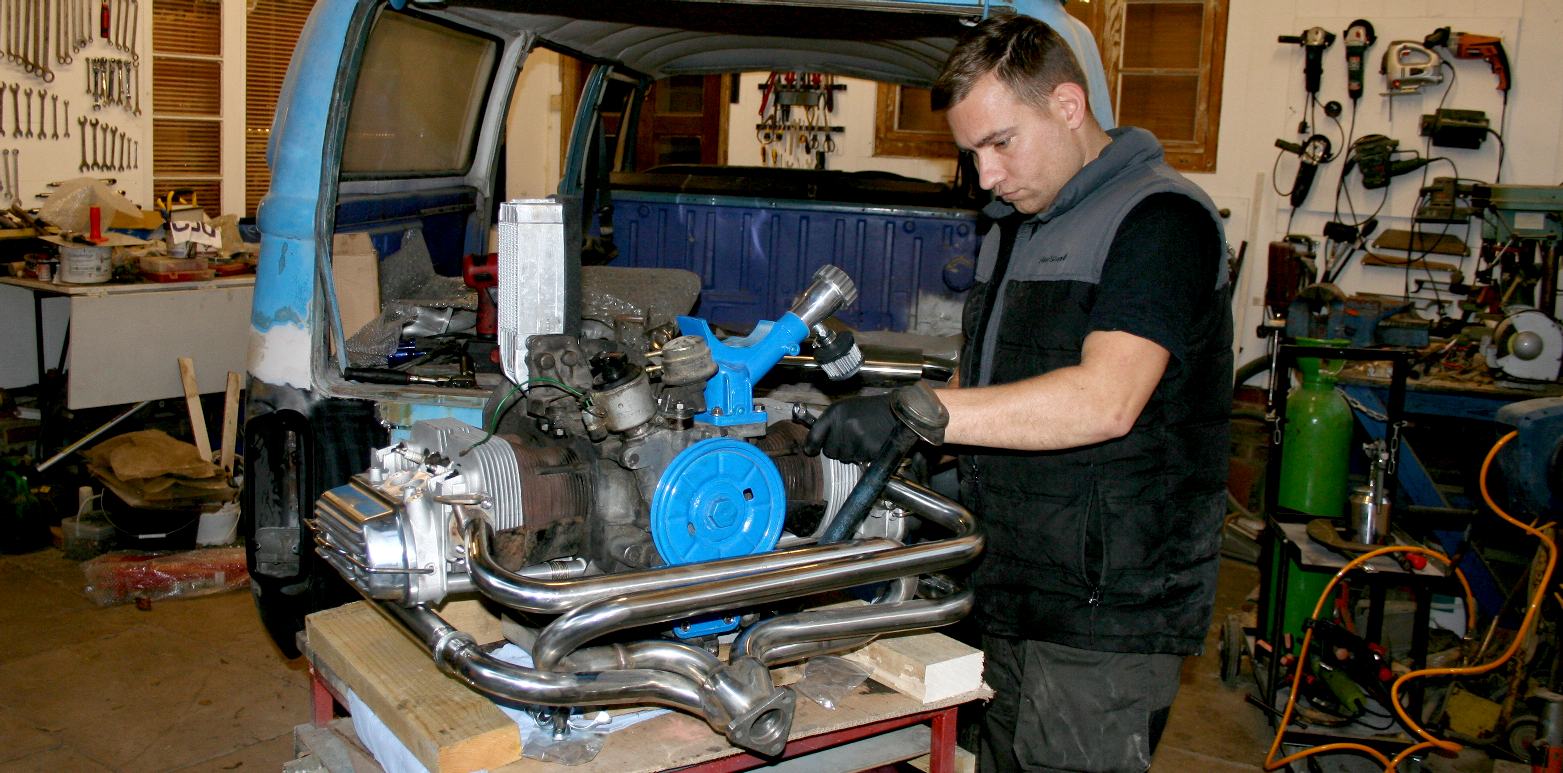 ENGINE UPGRADE 2017 - The Volkswagen air cooled engine is a masterpiece of design from Professor Ferdinand Porsche. That is when looking at technology before World War Two. Today, you can source a lot of very high quality performance parts that will add to the longevity or driving pleasure of your cherished vehicle. Darren is a skilled mechanic and part-time volunteer who will be helping with the diesel engines and hydraulic installation during the build of our portable shipyard: AmphiMax. Copyright © photograph 1 November 2017, all rights reserved.
Well, it is November already in 2017 and Bonfire Night is looming as we write this article. Incredibly, after such a wet summer, the autumn looks to be relatively dry and sunny. Cold of course, but we like it crisp.
The Miss Ocean tour bus is to be used to campaign against ocean plastic and promote blue growth. She is sure to get a lot of use and for that reason needs a little help in the engine department. Fortunately, performance tuning parts are relatively easy to source these days with Amazon, Ebay, Bing, Google and Yahoo all lending a hand.
DECOKE - Decarbonising and engine is almost a thing of the past with some of the new fuel additives that help to keep an engine running clean, but we found that the pistons needed scraping with a blunt tool very gently, so as not to mark the piston heads. Use a light lubricating fluid like WD40 to help break down the hard carbon deposits and wash afterwards with a clean solvent and then give it a blast of compressed to to remove any remaining dust. Copyright © photographs 1 November 2017, all rights reserved.
LUBRICATION - One of the secrets to a cool engine is increasing the oil flow. The pump on the left has a greater capacity than the standard item, being a bit taller that the unit it replaces. The finned alloy rocker covers on the right look a lot nicer than the pressed steel originals and also add to the cooling of the engine oil with the fins that increase the surface area in contact with the air. Copyright © photographs 1 November 2017, all rights reserved.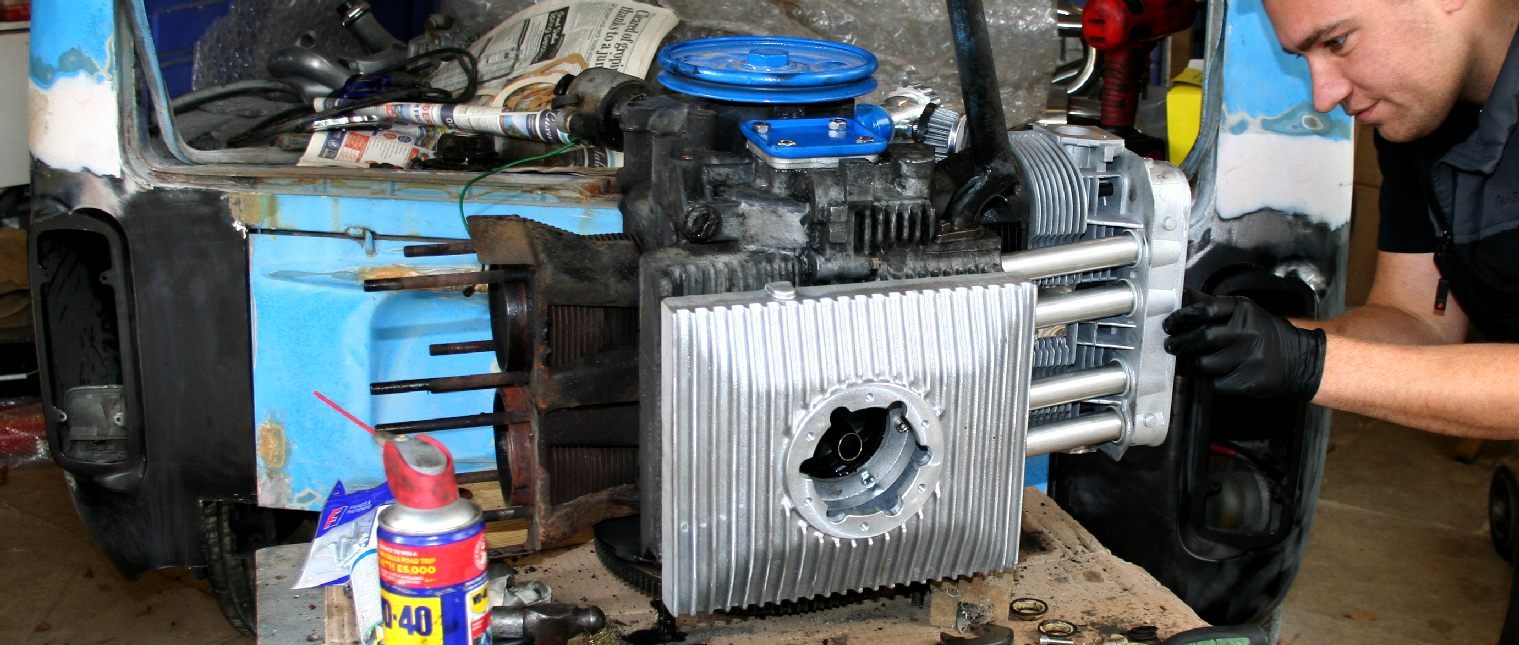 OIL CAPACITY - If you want to improve the stamina of your Camper or Beetle you can fit one of these super sump enlargers for another 500ml of lubricating oil. They also add more cooling power with aluminium fins as part of the design. Professor Porsche did not use a paper filter to keep the oil clean, he used the centrifugal force of the circulating oil to fling heavy metal particles into a collection point where they could be removed at every service. Copyright © photograph November 2017, all rights reserved.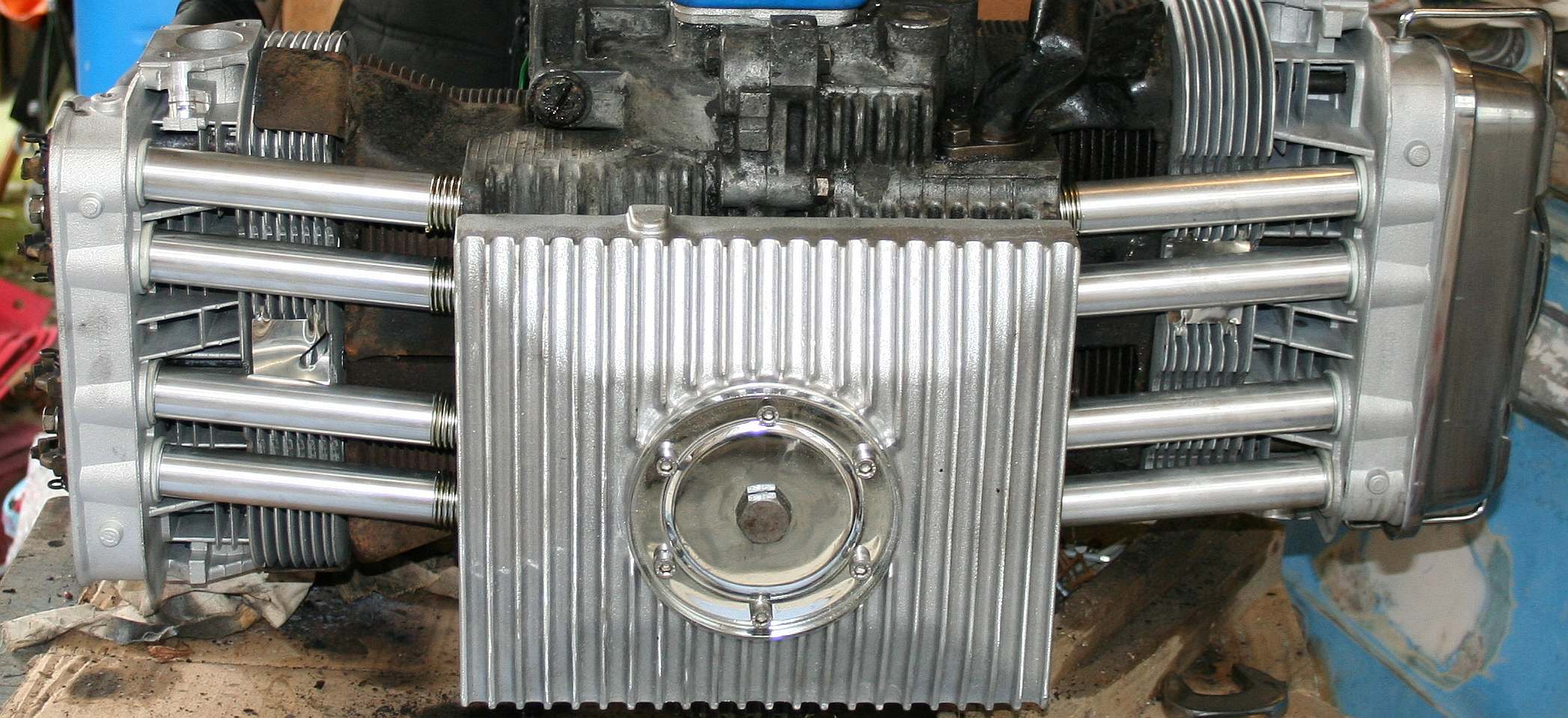 ALLOY PUSHRODS - These aluminium pushrod tubes are from EMPI. They are anodized to prevent corrosion and spring loaded to stop leaks to keep your garage floor clear of oil drips. Time will tell if they work as well and they look. Copyright © photograph 1 November 2017, all rights reserved.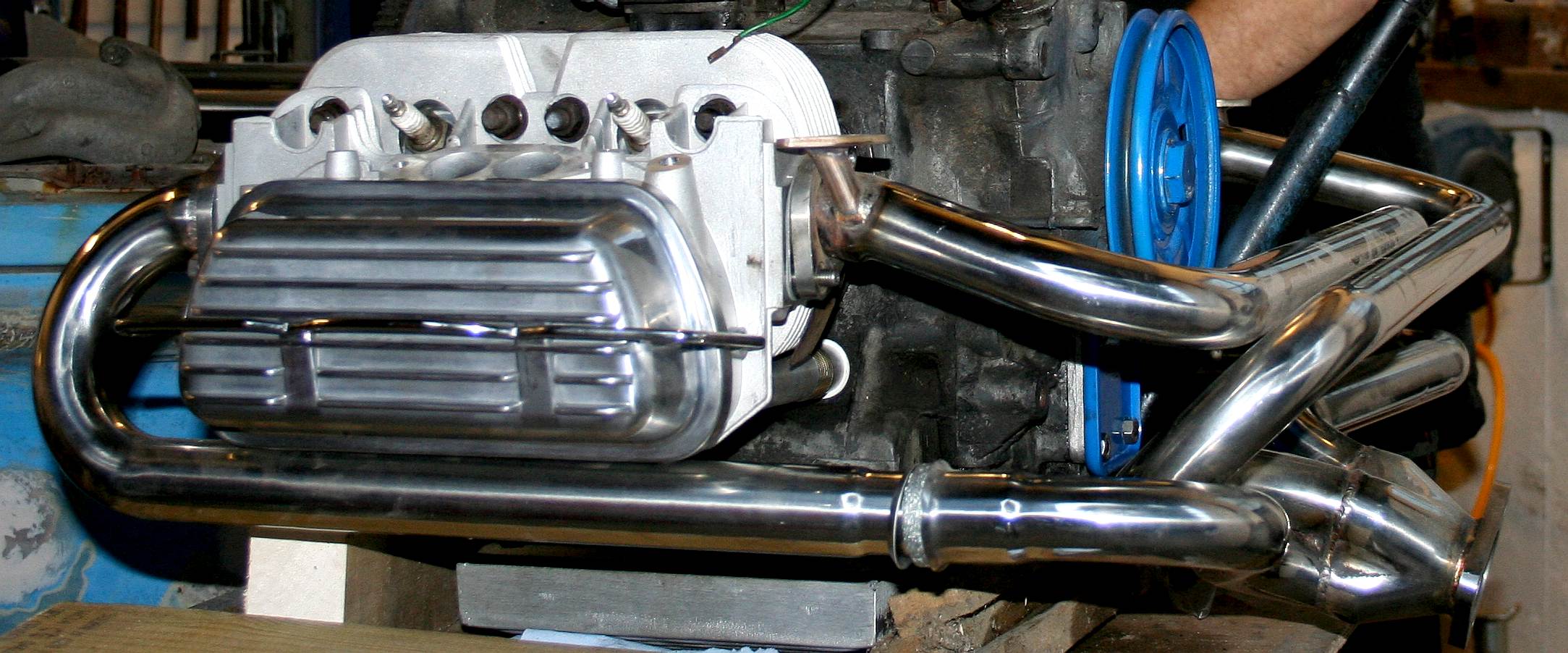 STAINLESS STEEL - Not only will this exhaust system last a bit longer than the original mild-steel counterpart, but it also improves the performance of the engine. Copyright © photograph 1 November 2017, all rights reserved.
RECONDITIONING - The alternator and centrifugal fan unit are the main components of the Volkswagen air cooling system. Air is drawn into a shroud and blasted over the oil cooler and engine cooling fins. It is a brilliant design and extremely simple in concept, except that the fan unit requires carefull assembly during manufacture. Copyright © photograph 6 November 2017, all rights reserved.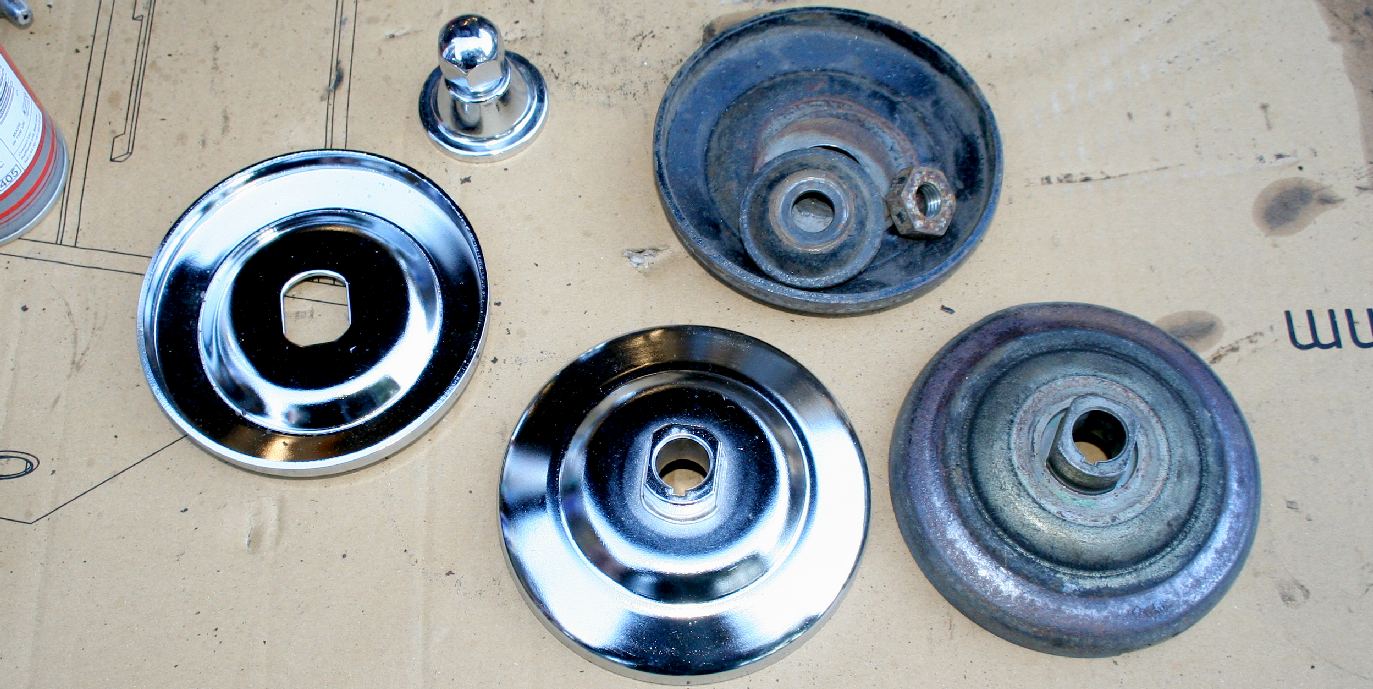 OLD & NEW - Not for your die-hard VW enthusiasts who would rather die than replace their black painted engine parts, we replaced the old alternator pulley wheel with a shiny new chrome plated custom part, keeping the original part of course - just in case of a return to the historic vehicle. Copyright © photograph 6 November 2017, all rights reserved.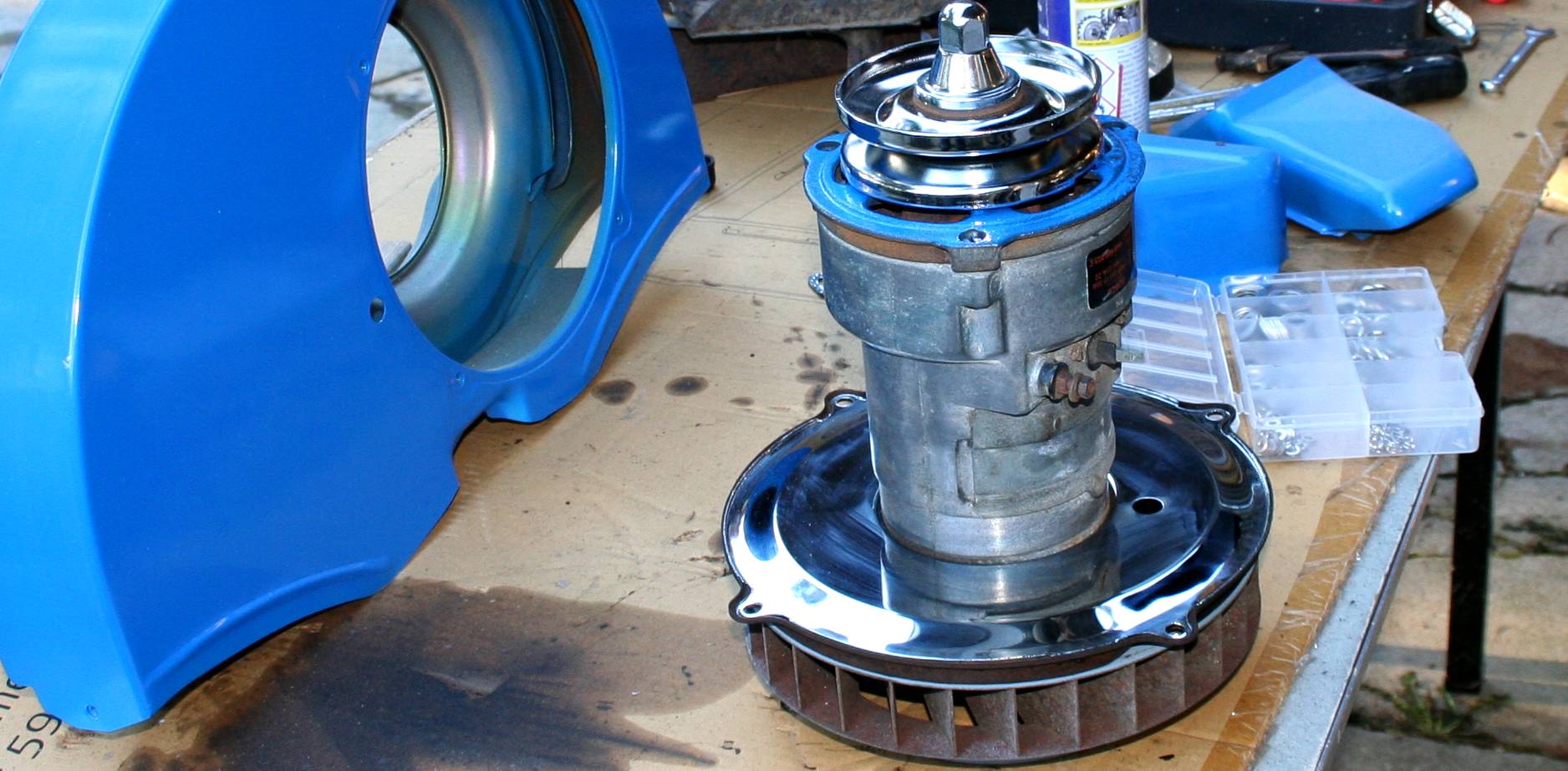 ASSEMBLY - The Bosch alternator is seen here assembled with the chrome mounting plate and pulley before it is fitted into the shroud and bolted in. Copyright © photograph 6 November 2017, all rights reserved.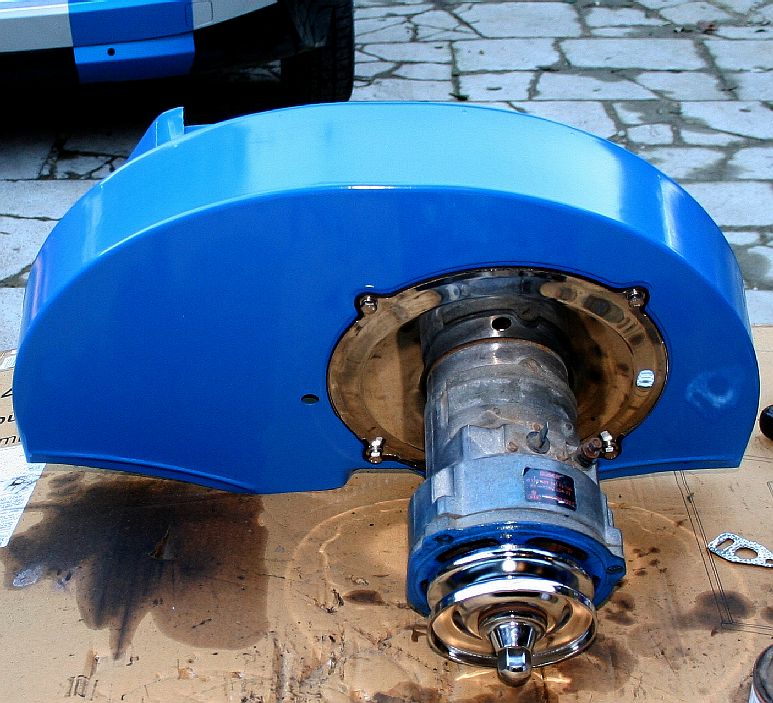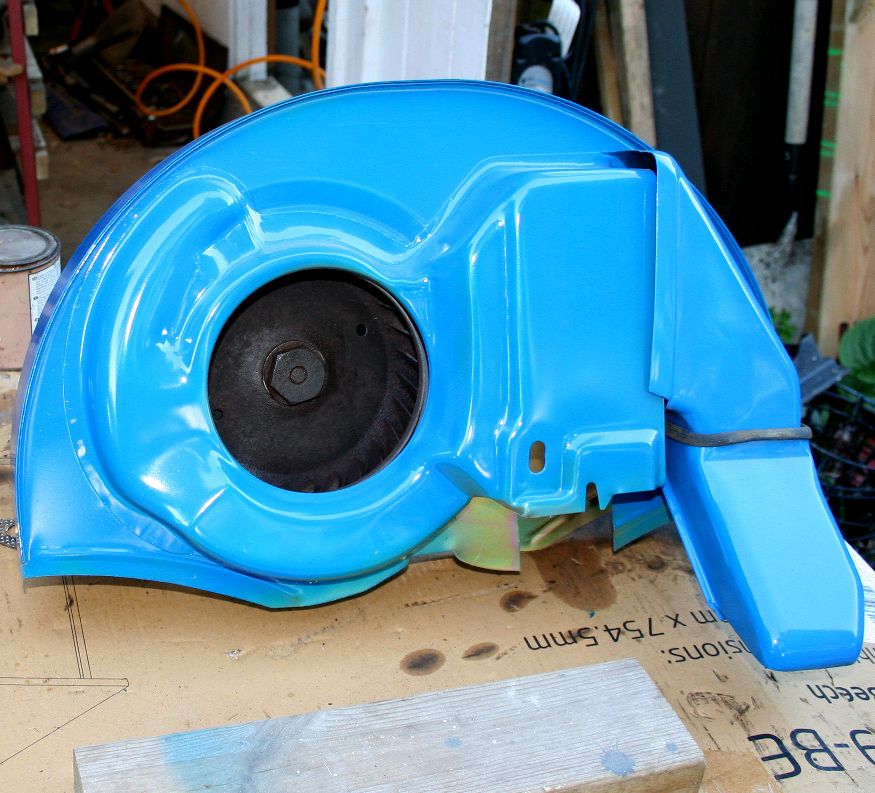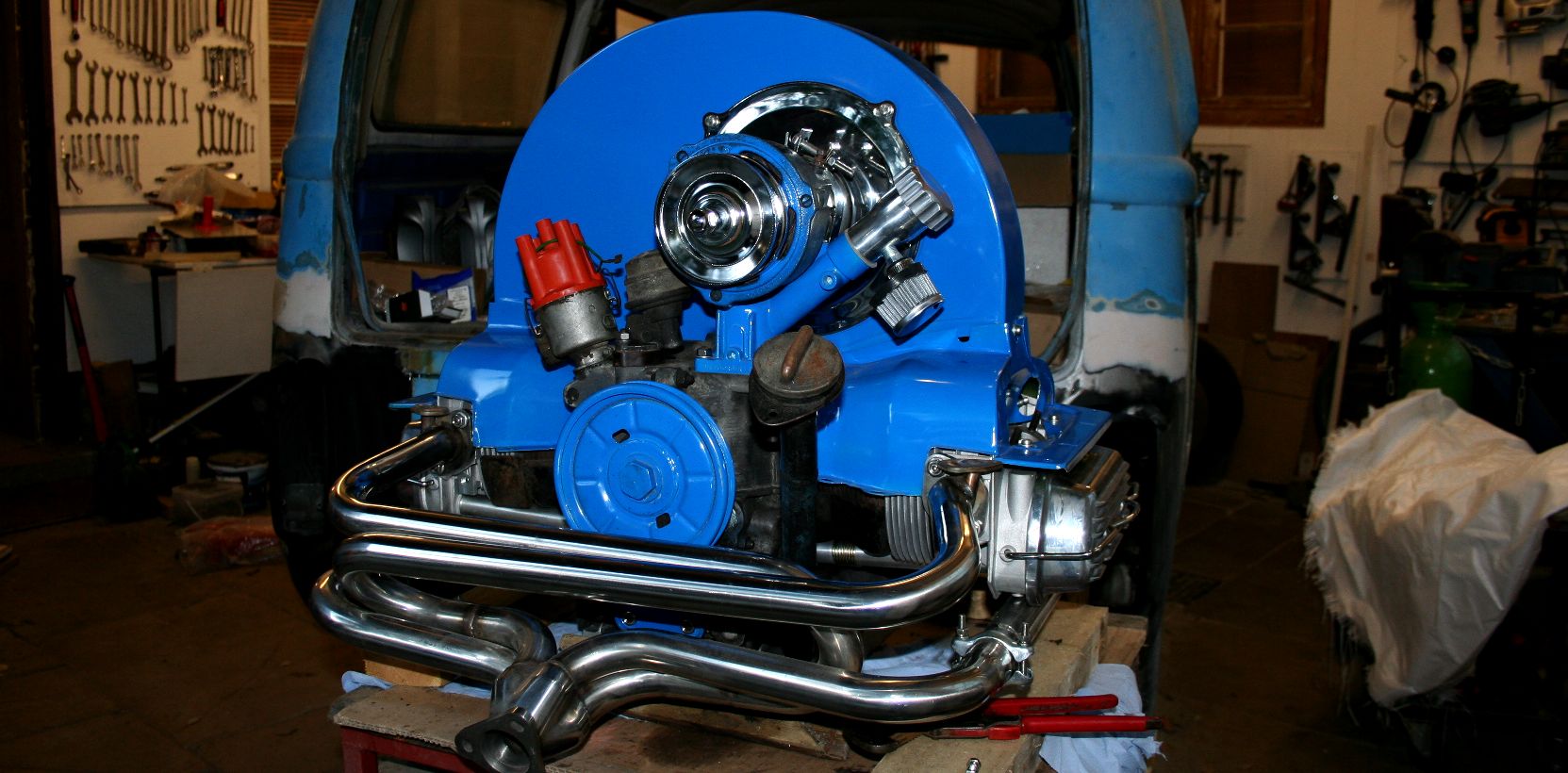 CLASSIC - Looking good, we have not lost the character of the original engine, just as a woman sparkles when wearing diamonds and rubies, we have simply adorned it with trinkets that will enhance its performance and longevity. This engine is the heart of our ocean awareness campaign. Copyright © photograph 6 November 2017, all rights reserved.
ART - A well presented VW engine, as with any other brand, can qualify as automotive art. To complete this picture the inlet manifold would have to be polished and anodized, but at the moment we are going to install the original carburetor to get our MOT and for the vinyl wrap and interior trim. After that we may install the performance twin-choke Webber and manifold. Copyright © photograph 6 November 2017, all rights reserved.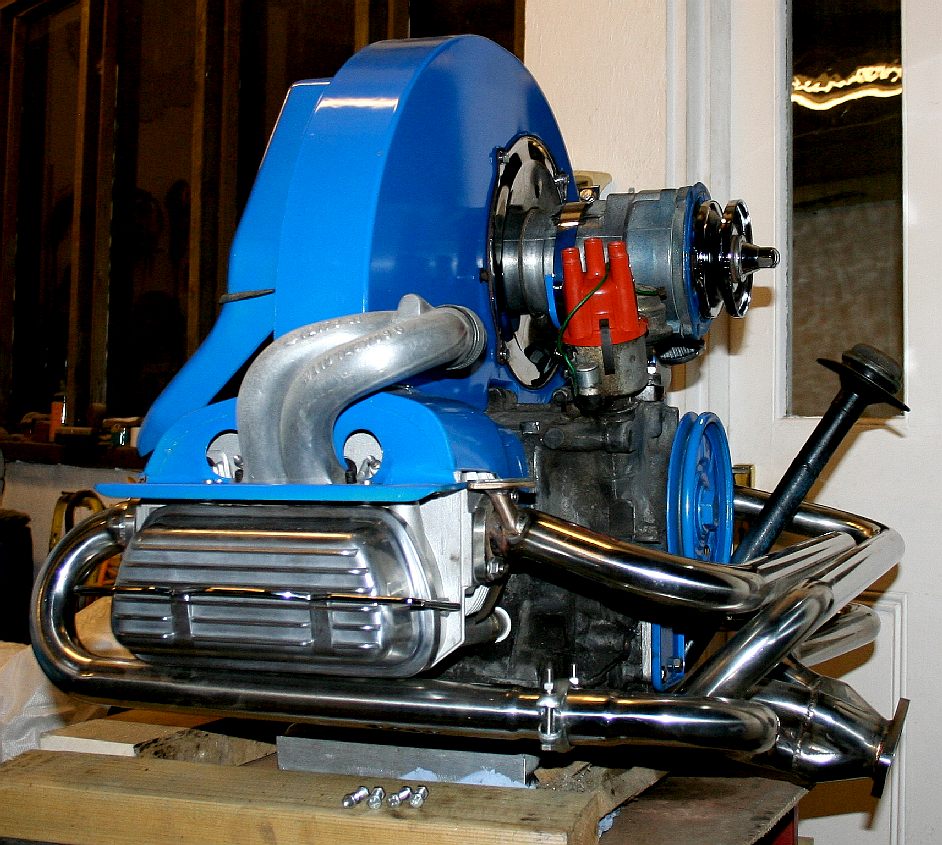 TEST FIT - Some of the performance tinware does not fit as well as the original German made engine parts and requires some fettling and some serious modification. Once you accept this it is not too difficult for any panel beater or welder to make the adjustments. You must assemble the engine in the correct order. The inlet manifold comes before the fan housing, and the headers go on at the same time, or the studs will get in the way. Copyright © photograph 6 November 2017, all rights reserved.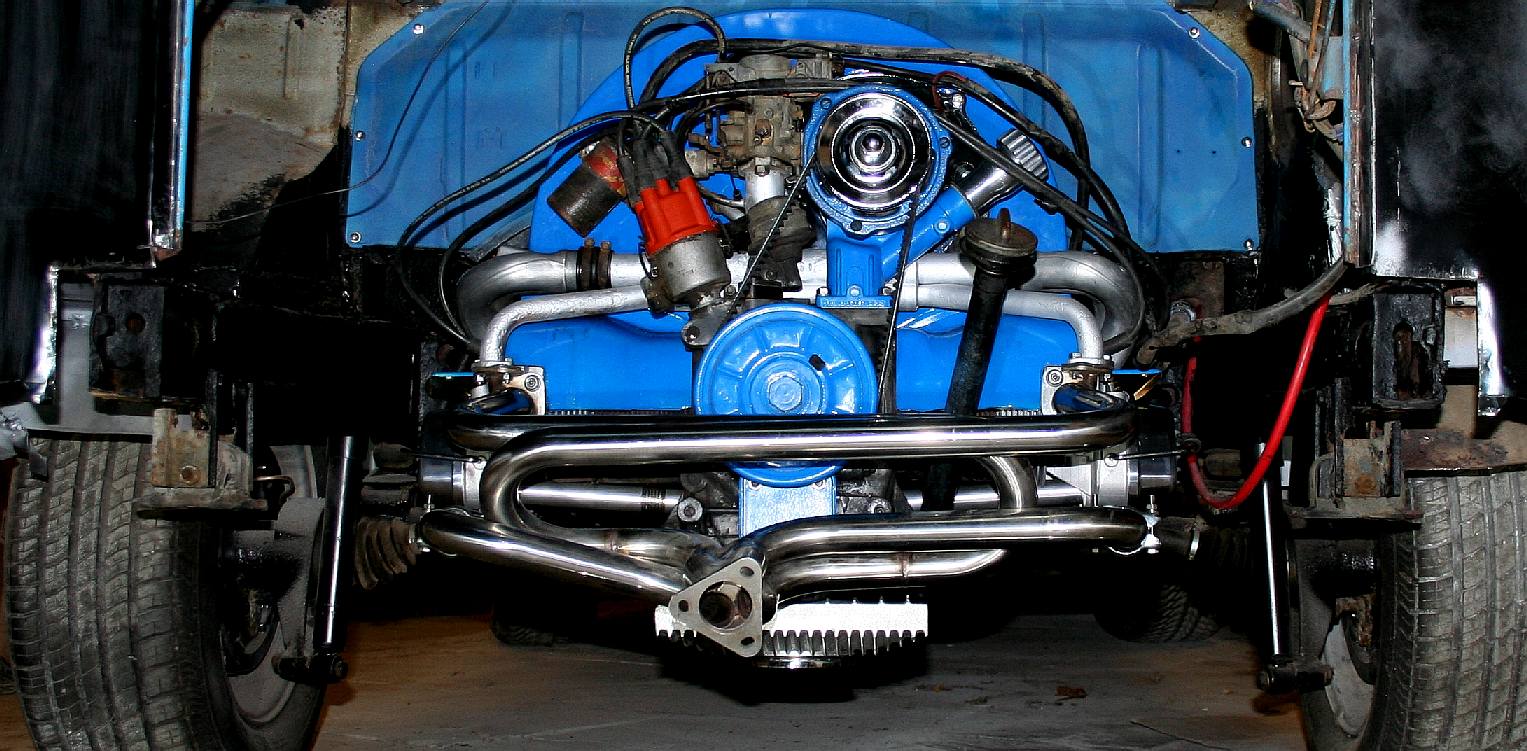 BACK HOME - After quite a time waiting to be worked on, the engine is finally mated to the bell-housing and is filled with oil. It took a lot of effort to fit the tinware so that the fan ran smoothly, requiring some cutting of metal. Even the alloy rocker covers needed a notch here are there, where they were fouling on the heads and so potentially not sealing correctly. Fitting the fuel tank was also tricky, with the rubber being hard after nearly 40 years of ageing. The petrol pipe also needed renewal and the Vee belt, but finally the engine is back in with petrol in the tank. Next comes the silencer and rear engine cross bracing mount. Copyright © photograph COF Ltd, 7 November 2017, all rights reserved.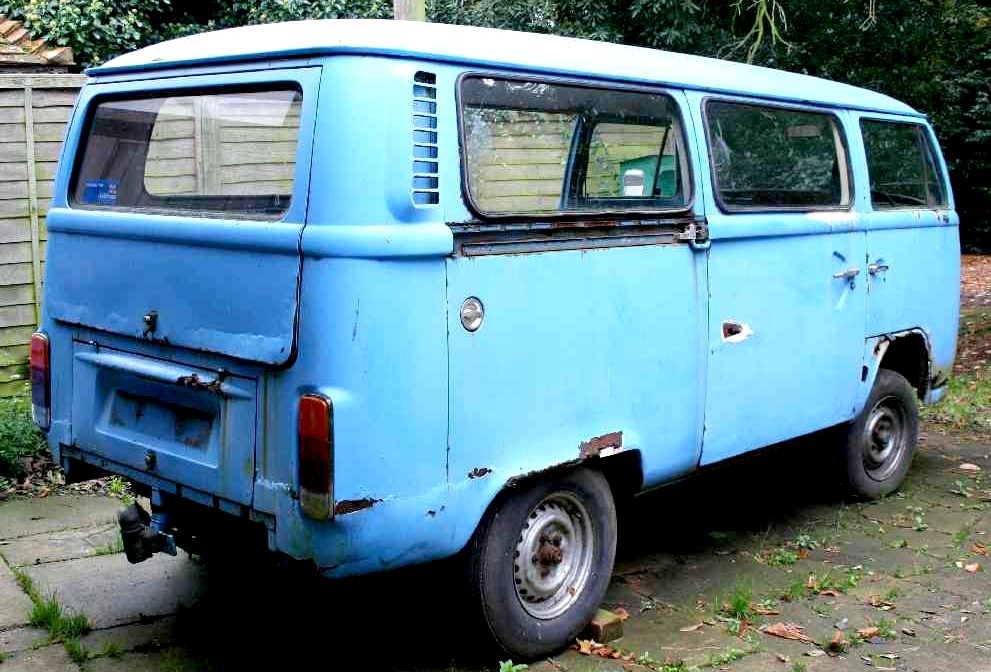 DONOR VW CAMPER - Compared to the look of the donor vehicle above, the engine unit in rebuilt form has upped the game plan. If you've ever restored a classic vehicle you will know that as you progress, what seemed like a relatively simple job soon escalates into something else.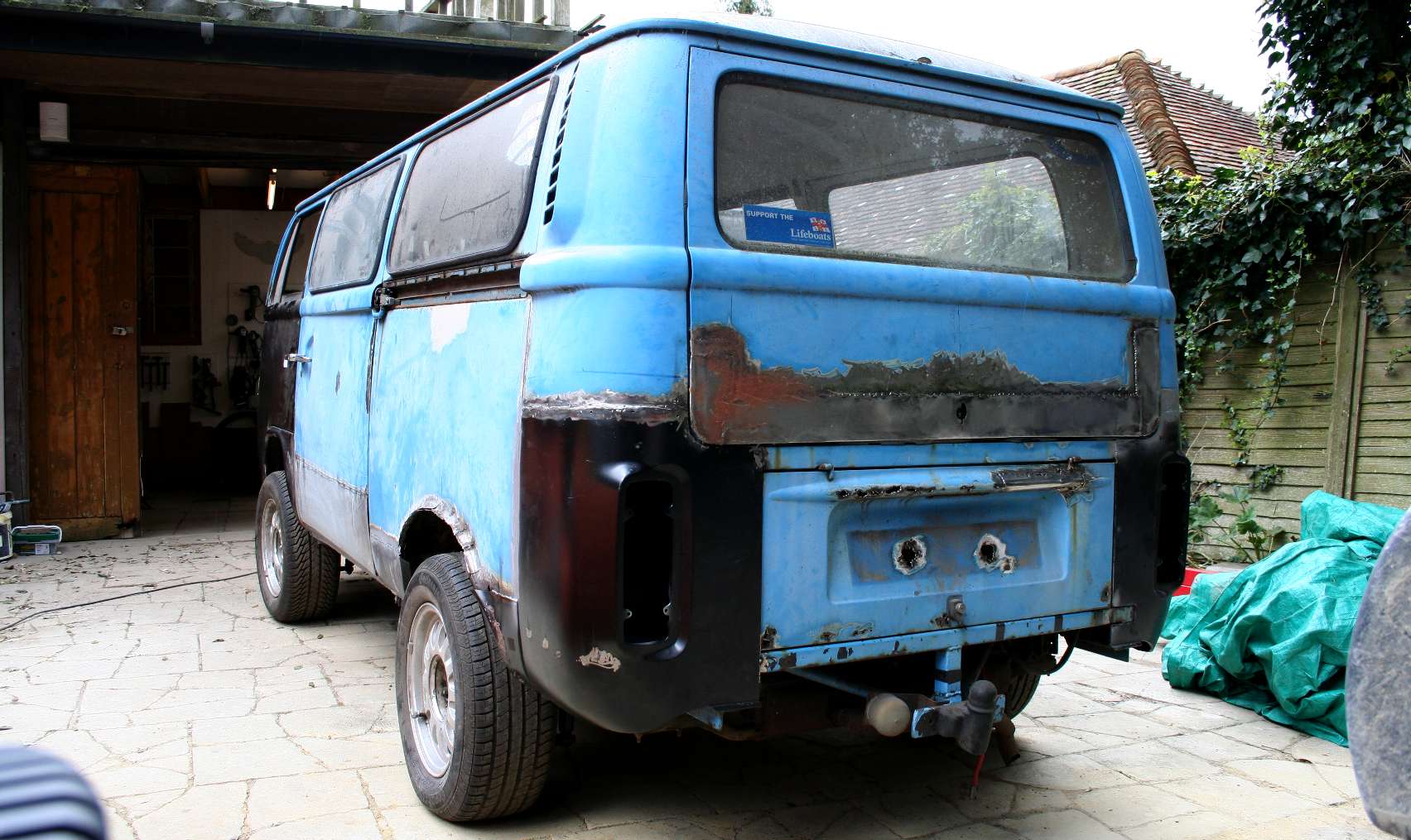 IN PROGRESS - It's nice to reflect on the stages of the rebuild. The picture above was taken after a few months hard graft. We can't wait to see and report on the next stages, let alone get out on the road and start telling people about ocean plastic waste. The same way we fixed this VW camper van, we believe that is we all work together we can fix the mess that we have made of our seas. Copyright © photograph April 2017, all rights reserved.
An older vehicle can give you hours of fun in keeping it running nicely. These vans are a reminder of where we came from as we fast forward to a cleaner world where electric vehicles rule the road.
VW LINKS & REFERENCE
http://www.vwshows.com/shows.php?&country=united%20kingdom
http://www.classicvolks.com/vw-events-calendar.html
http://www.vanfest.org/vanfest/
http://www.busfest.org/busfest/
http://www.busfest.org/
https://en.wikipedia.org/wiki/Antique_car
https://en.wikipedia.org/wiki/Classic_car
http://www.r-techwelding.co.uk/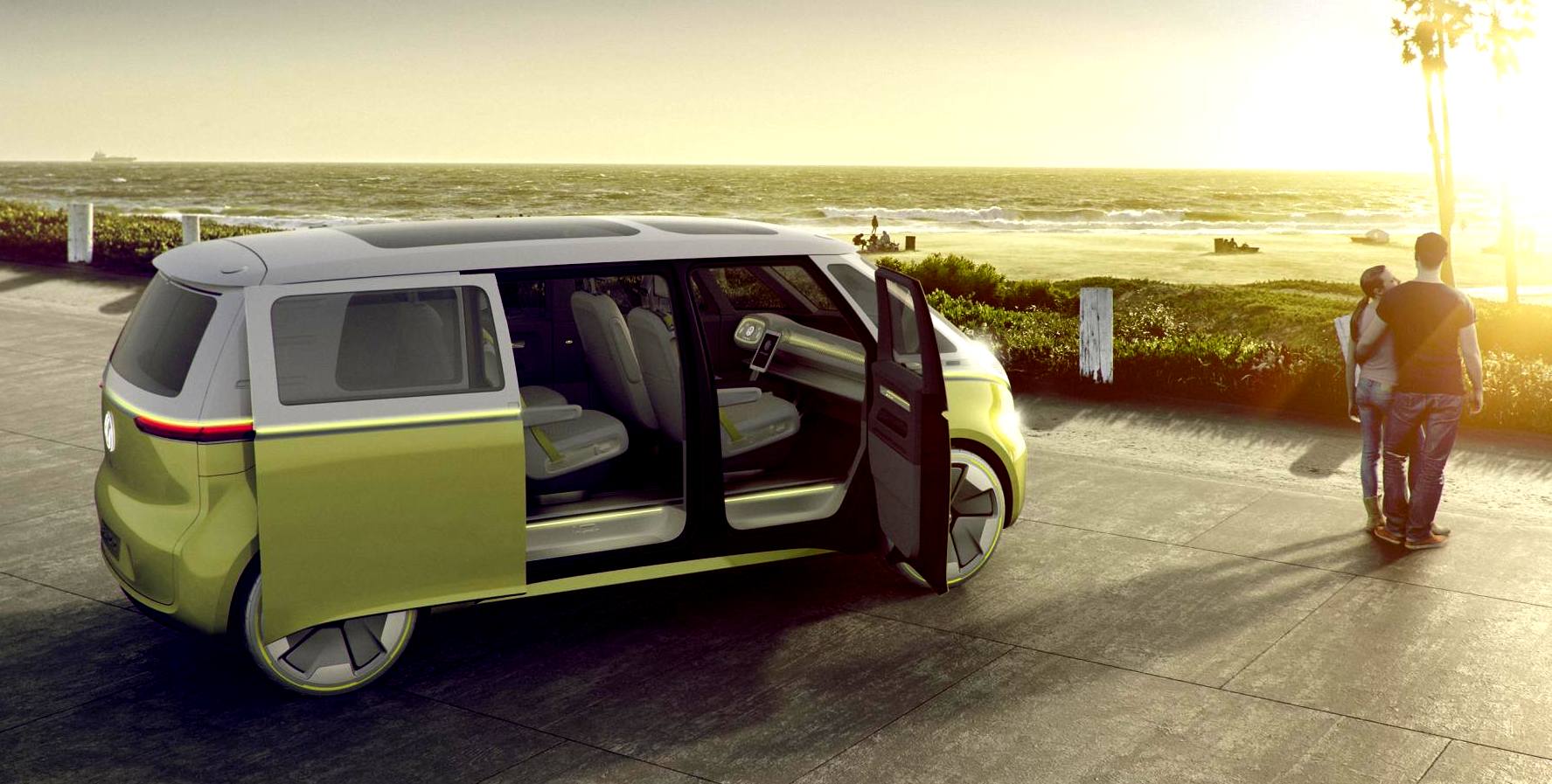 VW BUZZ - This is the latest minibus concept from Volkswagen. The T6 is electrically powered by two motors. It has sliding side doors just like our ocean awareness tour bus - and is also a cool looking vehicle - another thing they have in common.
VW HOME - BODYWORK - ELECTRICS - ENGINE REBUILD - GOLF - JEEP HOME - LOGISTICS
STAINLESS STEEL - SUSPENSION & BRAKES - TOUR BUS - VINYL WRAPPING - WELDING