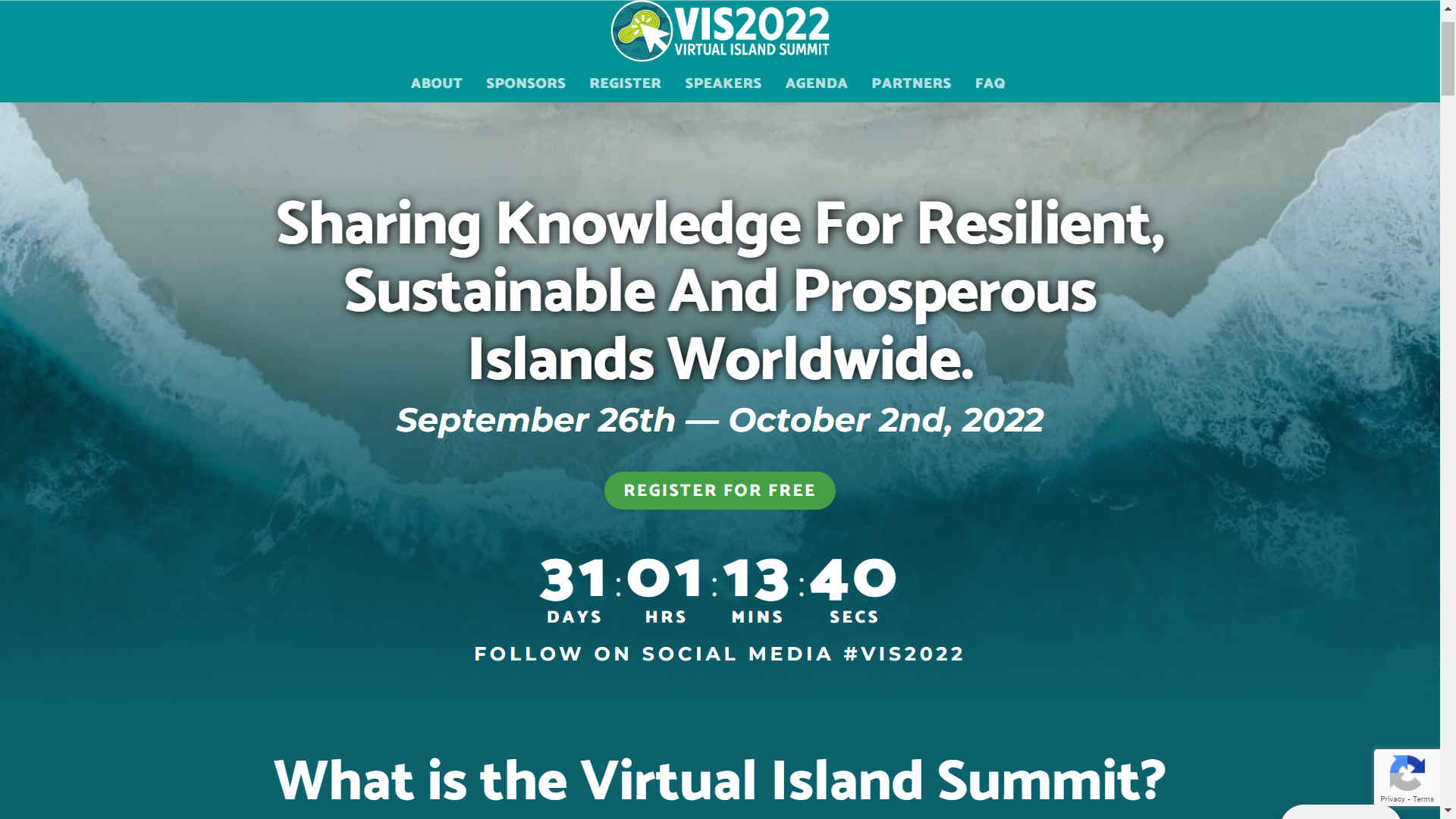 SEPTEMBER 26th - OCT 2nd 2022 - Virtual Island Summit is a Zero Carbon conference focusing on the United Nations' Sustainability Development Goals (SDGs). In the UK, Nelson is worried about over-development and under-infrastructure support, where water supply and treatment companies cannot cope with the irresponsible number of new house builds, and so are pumping raw sewage into the sea. Illegally! All of that sewage, combined with fertilizer and other run off from farming nations, has combined with the uncontrolled warming of the planet to cause massive sargassum blooms, that are harming the economy and ecology of the Caribbean Sea and Gulf of Mexico. The Cleaner Ocean Foundation are booked to attend this event.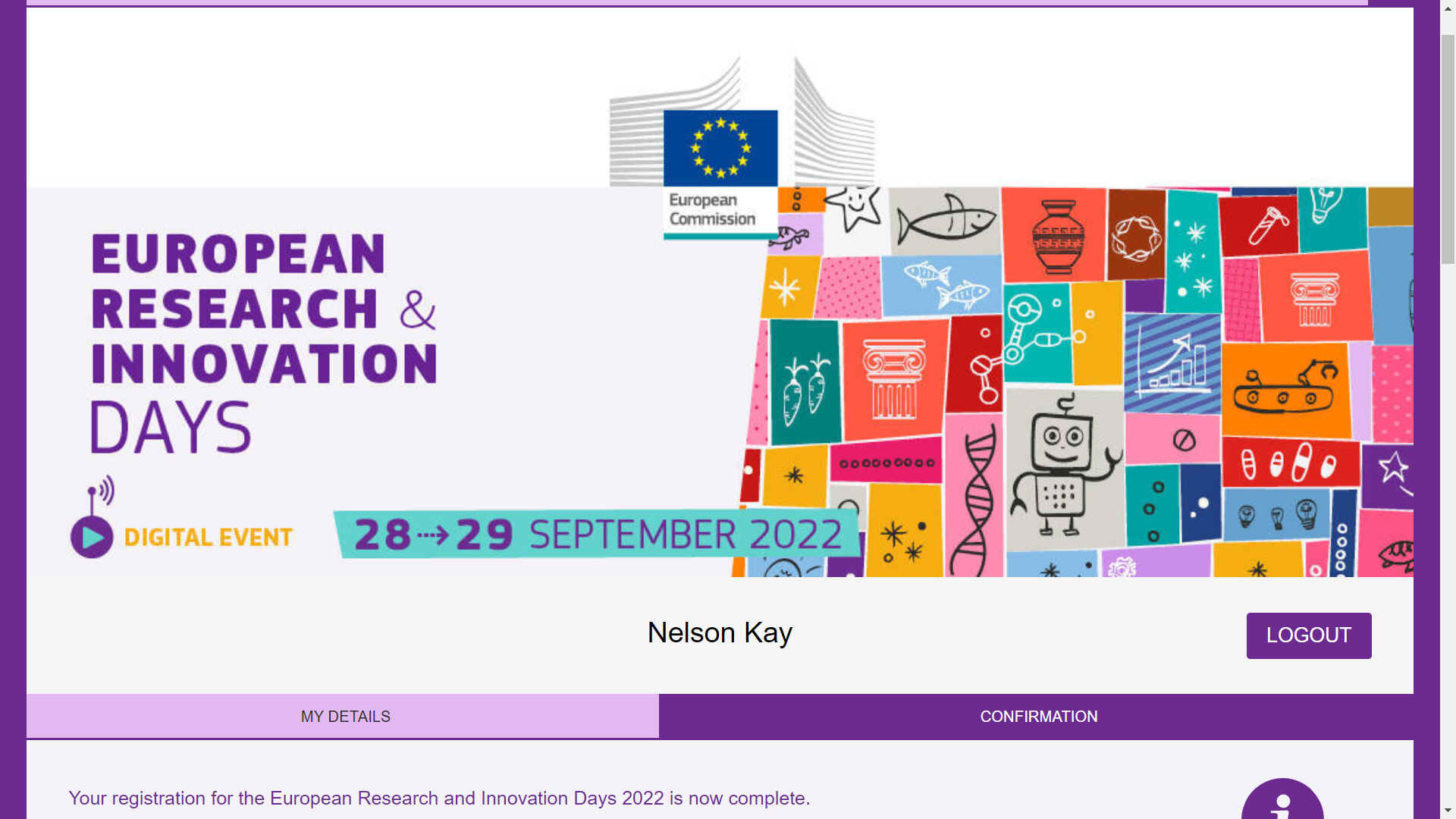 SEPTEMBER 26 - 29 2022 - The European Research and Innovation Days gave you the opportunity to debate how EU research and innovation could help build the world we want to live in. This was a chance to discuss the new European Innovation Agenda, the European Year of Youth, the richness of European cultural creativity, the EU Missions and many more topics. The EU/EC acknowledge that burning fossil fuels, cutting down forests and farming livestock are increasingly influencing the climate and the earth's temperature. In the UK, the PM's cabinet are currently betting on a growth strategy, when there is no room on the planet to support such economic madness. Naturally, the £pound has plummeted in value. The UK is no longer an EU member. Nelson advocates a grass roots approach, concentrating on renewables, to replace expensive coal, gas and oil, coupled with EV infrastructure, low cost housing and slashing civil servant pay (non productive workers) by up to 30% - since many of them work, or can work from home. Measures like this may bolster the failing economy, making the UK stronger, energy-wise, compared to fossil fuel nations.

BFI - SEPTEMBER 23rd 2022 - Launch of Screen Culture 2033, a move to transform the British Film Institute, taking the organization into the digital age, while also reducing their carbon footprint, aiming for net zero by 2033 or before. This is very important as films and television entertain just about everyone on the planet, generating substantial greenhouse gases in the process. Thus, everyone in the industry, a major employer of creative talent, should do their bit to cool it. This can be by using the medium to educate and inform others to reduce their emissions. For example, after watching a movie with a climate theme, some members of the audience might add another solar panel, to offset the energy used by watching a good movie. Also, film makers might decide to drive electric vehicles, and power their studios with renewable electricity and green hydrogen. The Cleaner Ocean Foundation was suitably impressed and inspired by the BFI's commitment.
SEPTEMBER 21-23 2022 - Dear SDG Champions and Allies, As the likelihood of 'keeping 1.5 alive' is diminishing, there has never been a greater need for ambitious and unprecedented climate action through cross-sector coalition and intergovernmental collaboration. The SDG Action Zone will highlight the innovative climate solutions being driven by global and local champions alike, whilst urging governments and companies to do more to prevent ecological disaster.
General Assembly: #UN SDG Action Zone. If zero carbon and equality, are your thing, why not join in the program and hear from the world's top sustainability speakers, including Antonio Guterres and Canadian Prime Minister, Justin Trudeau. Since FLOP26 in 2021, the world has moved backwards, with Russia invading Ukraine, highlighting the folly of dependence on the importation of cheap fossil fuels, that are in reality extremely expensive when compared to wind or solar energy. So progress of sorts, in the Imperialist actions of a climate and war criminal, telegraphing the urgency of our sloth - and a lesson perhaps, to would be aggressors in economics versus conflict: "Why are you pushing me?" [Sylvestor Stalone - Rambo]

It is a law of physics, that for every action, there is an equal and opposite reaction. In the end, it pays to play fair. Every country should be energy self-sufficient, so as not to be fiscally bullied (or otherwise duped), into turning a blind eye to illegal aggression. The Cleaner Ocean Foundation is registered for this event.
SEPTEMBER 4th 2022 - Aboard the good ship Novara. By George you should have seen us. The Sovereign Harbour, was a splendid venue. The speakers kept us engrossed and the Yacht Club provided the perfect background to embrace the arctic adventures.
Marinas like this one at Sovereign Harbour in Eastbourne, Sussex, UK, are unlikely to be invaded by sargassum, due to the latitude, and relatively cool waters of the English Channel, that do not suit Sargassum Natans or Fluitans. Though, as we accelerate past the 1.5 degree target set in Paris in 2015, hurtling toward the newly predicted 2.4 degree expectation, all that may change. Terry and Nelson are both volunteers working in their free time for the Cleaner Ocean Foundation. Terry is a fitness coach and equality champion. Nelson is a CAD qualified boat builder/welder/fabricator and conceptual engineer, turned conservationist.
JUNE 21 SOUTHAMPTON, SEAWORK - Seawork hosts high quality exhibitors and speakers, and a conference format that focuses on innovation, trends and industry insight, drawing crowds from around the globe for the three-day exhibition and conference. Meet face to face with over 7,700 high calibre, maritime industry professionals.
IS PLASTIC PACKAGING TOXIC TO HUMANS ? 15 JUNE 2022 - This event was about the chemistry of plastics, as it may contain toxins that affect foods that are packaged in it. The general consensus of opinion, of the presenters and panelists in this UK Research Innovation event, was that any possible effect of carcinogens on humans, in relation to recovered marine plastics, is not understood, nor have there been studies to determine if food wrapped in plastic is safe for human consumption.

A modified version of SeaVax, at RiverVax scale, or similar research vessel, could be equipped to autonomously conduct toxicity data assimilation, with a shared geo-data function to inform scientists, for policy makers to be able to decide if labeling on plastic packaging should include a Government Warning,' as to the likely effects of buying plastic wrapped products; may have on sea life.

This is especially important where plastic is being discharged in uncontrolled fashion, via rivers, into the sea.
ABOUT OCEAN ELDERS
An Ocean Elder, is a person who cares about the marine environment, taking into account all aspects of life cycles that impact on sea life, not just the immediate biology. An Ocean Elder is active in the field, or has been a past contributor to ocean projects. This can be physical, or policy steerage. Leading by example.
NELSON
Nelson is currently networking, securing partners, supplier quotes, and generally coordinating special projects as a volunteer for the Cleaner Ocean Foundation. They are developing the world's fastest hydrogen boat aiming at a 2024 launch. This includes design studies using L2, LH2, Ammonia and Methanol, as H2 molecule storage.
Between 2015 and 2020 Nelson Kay was one of the key conceptual designers of the SeaVax development vehicles and a project driver, coordinating EU funding applications with up to 16 academics. His services in relation to conservation issues are provided to not-for-profit organizations on a free basis. This includes conception and development of strategies for the sustainable use of planet earth, aiming for a truly circular economy. Some of the ideas will inspire others. Some remain as ideas, others are completed in house - action, not words. The Foundation is more a Do-Tank, but also a Think-Tank.
A SeaVax Proof Of Concept (POC) vessel approximately 2.5 meters x 0.75 meters was deployed in a specially constructed test tank filled with simulated micro/macro plastic of varying sizes - successfully demonstrating the concept, by harvesting the floating debris using a large submerged head and filtration system suspended between the trimaran hulls. In December 2021 the amphibious 'AmphiMax' (POC radio controlled) support vehicle successfully transported the SeaVax POC vessel, proving the beach launch and recovery concept (tracked floating dock). These tests concluded the SeaVax project satisfactorily.
This is the kind of transformation from rhetoric to product, politicians can only dream of bringing about, yet fail to support, with policies designed to stifle action, and encourage theoretical research - and more words. That is not to downplay the importance of research, but to encourage stimulating innovation. Nelson says: "The world does not need more speakers, telling us about the problems, it needs people who act to cure the problems. The world needs policy makers with the guts to help those who can, to get things done, even where that means rocking the boat."
He is an advocate of electric vehicles, fuel cells and green hydrogen (via electrolyzers), where a suitable combination with supporting smart infrastructure, holds the potential to provide sustainable zero carbon heavy goods transport in the fight to halt global warming. In connection with this ambition, in 2014 (with students), he constructed a gull-wing electric sports car with a built in hybrid hydrogen cartridge system for quick energy exchanges at service stations that don't at present exist. In 2021, he built a 1:20 model of a proposed dual fuel hydrogen & battery, load-levelling service station.
As a volunteer to such projects, Nelson is a gifted metal fabricator and woodworker, skills that allow him to take ideas from his drawing board and bring them to life as fully working prototypes: vehicles or machinery. He enjoys sharing these skills with other volunteers, showing serious students the practical side of theoretical design.
Nelson is strongly opposed to using nuclear power for electricity generation & pink hydrogen production. He would also like to see a scale down of nuclear weaponry, and an outright ban on the re-purposing of retired weapons being sold to the power industry for re-processing. Since that encourages generators to consider nuclear over renewables - that are in any event cheaper - with no long term waste storage radiation problems. For which there is no solution. Nuclear waste must not be allowed to be exported or dumped in international waters, or in the sea at all. He would like to see the introduction of a new crime of Ecocide on the Rome Statute books, to be able to report irresponsible and earth exploitive corporations and countries to the International Criminal Court.
Nelson has lived in and around the East Sussex area for most of his life and loves the Sussex coast and countryside. He attended Eastbourne College of Further Education, Sussex Downs Lewes College and Brighton College, studying engineering, welding and computer aided design. He is mostly self-taught, where in his day there were no courses in fabricating or conceptual design. There are today, but you cannot teach creativity or vision, you can only encourage people to use their imagination to ignite that spark in all of us, to become imagineers, who act on their ideas. Where most people only dream of doing.
Nelson trained as a BSAC scuba diver at Fort Bovisand near Plymouth, Devon and with the Newhaven & Seaford branch of the British Sub Aqua Club in Sussex. He is a multi-talented all rounder in a world where versatility counts. He says; "We all share the same DNA, we all have these latent skills. They just need to be awakened."
Nelson paints portraits when he has the time, and enjoys sculpting figureheads - again - time permitting. There is not much of that these days.
His heroes are John Harrison (inventor of the marine chronometer) Barnes Wallace (WWII designer of the bouncing bomb) and lately, Greta Thunberg.
ELIZABETH SWAN - The graceful lines of this lithe ocean sprinter cannot be fully appreciated from these pictures of the 1/20th scale tank test model under construction, the rights to which have been recently acquired by Jameson Hunter on behalf of the Cleaner Ocean Foundation, for an attempt on the Jules Verne (Hydrogen) Trophy. This small ship has an trimaran hull for minimal water resistance. Reduced wave drag means faster transit times, something that is crucial for large ocean vessels that are transporting goods around the world to keep the global economy healthy. This vessel is also solar assisted, by way of an energy reserve. If all ships were zero carbon like this, just imagine what that would mean for climate change and acid oceans. the boat is named after the Governor's daughter in Disney's Pirates of the Caribbean, played by Kiera Knightley. Further testing and development is planned from 2022 into 2023. You can enter a boat to set/beat the Around the World in 80 Days target.
WORLD ZERO CARBON CHALLENGE
Looking forward to 2022-25, Nelson is helping the Foundation put a team together to man a solar and hydrogen powered cruiser, as a demonstrator of sustainable Zero Emission Waterborne Transport. The main issue being that most ports around the world are not prepared for transition to the age of renewable energy. The team is likely to comprise a mix of volunteers and professionals. Volunteers will help forge the project, while a professional skipper is sought for ocean going events, after construction of the craft. The Foundation has found from experience they are ineligible for state aid, looking to other ways to support their aims. The patent system is geared for commerce, not social achievement. Leaving sport as a possible trigger. Such as a race around the world.
The infrastructure problem is the same for road transport. For example, there are only 14 hydrogen filling stations in the UK, insufficient to refuel HGVs, hence zero emission road haulage is staid. The fuel crisis (petrol and electricity) in September 2021, illustrates the lack of preparedness (in the UK). A sign of things to come. If electricity price increases are based on fossil fuel imports, the electric car has less chance of general acceptance - unless - every country has a supporting infrastructure for hydrogen self-sufficiency and load levelling of renewably generated electricity.
HEALTHIER LIVING - Eating well and keeping fit is one way to stay on top of the stresses of modern living. Nelson is keen to see more Pescatarian, Vegetarian and Vegan dieting, as one way of reducing greenhouse gases. Even a couple of meat free days a week, will make a tremendous difference worldwide, as our population grows. As an IP specialist, Nelson researched and drafted the above application on behalf of the Health & Wellbeing Trust, on a free basis. Vikeen™ is operated from a gym in Eastbourne, with (ocean elder) Terry Valeriano as the lead personal trainer. Filed in December 2021, granted in April 2022, with thanks to the IPO, for their user friendly interface.
LOBBYING FOR CHANGE - Nelson is helping to spearhead a campaign for patent fee exemptions with the World Intellectual Property Organization (WIPO), asking them to consider changing their rules to speed up green tech development, as another way to beat climate change - with each signatory to the Convention, to adopt such policies. As an IP specialist, Nelson researched and drafted the above application on behalf of the Cleaner Ocean Foundation, on a free basis. Filed in May, granted in August 2021, with especial thanks to the UK's IPO, for their incredible efficiency as to climate connected IP. He advises a number of good causes as to effective intellectual property strategy - without charge.
EVENTS & NETWORKING
Nelson attends many brokerage, briefing events, conferences and exhibitions in connection with his conservation work.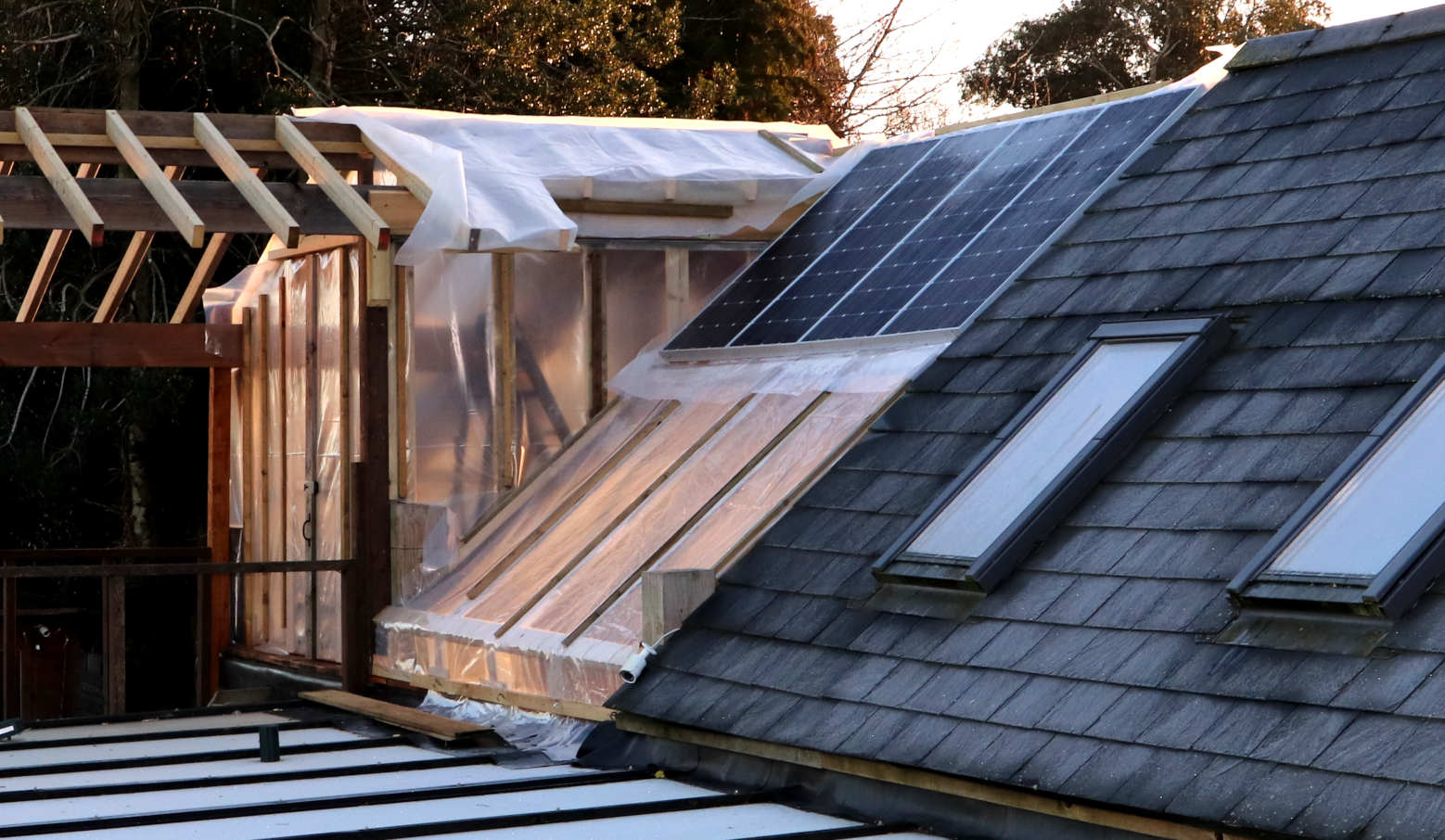 RENEWABLES FEBRUARY 7 2022 - Sunrise, winter, showing the frost on the north facing slate roof, contrasted against the sunlight passing through the solar conservatory. Normally, you'd not have solar panels on north and south ridges of a roof. But with a tilting roof, the panels can be made to face south, simply by raising them, turning the frame on its hinges through 90 degrees. It also means that the panels on the other ridge, can track the sun as it passed overhead, so harvesting more energy. This is called solar tracking. By fitting solar panels to this building we are reducing the occupier's carbon footprint, and helping to save all those islands from sinking. The installation could save over £1,000 pounds a year on energy bills.
CLIMATE CHANGE
Where solar powered vehicles are now relatively common, Nelson's other passion is zero carbon ocean transport. He was a pioneer in this field proposing working designs for a solar powered circumnavigation as early as 1994. Then in 2012 a friend from Switzerland completed the first world record with PlanetSolar, so proving the concept.
One design that he is contributing toward for Jameson Hunter, is the Elizabeth Swan, a solar and wind powered vessel, that in theory, is more than capable of cruising at a 10 knot average 24 hours a day and 365 days a year, more than doubling the transit speed of most solar boats today. Nelson's dream come true would be to help set a clean energy circumnavigation in a boat that he played a part in designing and constructing.
The Elizabeth Swann is a contender for the Jules Verne Hydrogen Trophy in 2024, the 150th anniversary of the author's hydrogen prediction.
Such a platform could pave the way for pollution free cargo and passenger ships of the future that could help reduce CO2 and acid oceans. If combined with zero carbon electric cars, perhaps with a low cost service stations network, that might act as a load leveler for the National Grid working in conjunction with wind and solar farms to eventually phase out coal and nuclear powered generating stations - for true sustainability.
PRACTICAL CARPENTER - In another life, Nelson was a self employed builder and decorator, where he converted houses to flats, fitted kitchens and bathrooms, partitioned, tiled, re-wired and re-plumbed houses and then finished off with wallpaper or emulsion, even including glossing the woodworks. In those days sole traders needed to be a jack of all trades. He finds these tasks relaxing, but none so rewarding as the construction phase of a project from ground up to the rafters, including (on occasion) roofing. He became CAD qualified, such as to design houses and vehicles. Carpentry is a useful basic skill to have if you are looking to construct your own home, whether to reduce mortgage liability, build a boat, or the wooden buck for a car (see below). The transition to boat/car builder was inevitable, stemming from his natural creativity. There is a chronic shortage of affordable housing in the UK. If built out of timber that is sustainably managed, homes will also contribute to carbon lock. Nelson won a planning appeal for a client, so saving a low cost (flatpack) timber log cabin from demolition - also setting a valuable case precedent for others in the process. He has suggested that such timber homes could solve the housing crisis. Unfortunately, there is no rolling stock of affordable land, for such projects, despite it being a requirement for local authorities to provide; according to the UK's National Planning Policy Framework. The solution is on the table, demonstrable and proven - but property developers won't go for it because the profits are too small, and councils no longer have to provide social housing. If you do decide to build your own home, Nelson says: "Please build in timber."
AFFORDABLE HOUSING ADVOCATE
In 2011 Nelson designed a low cost flatpack unit made of timber, to help youngsters escape a life of renting, but mainly as a carbon lock and a virtually energy self-sufficient unit in line with SDG11 of the United Nations goals for 2030. At the time there were no takers, though some friends have built their own units having been inspired and witnessed the procedure. He wonders if perhaps those local authorities approached in 2012 should have been less negative (or a little more proactive), where the present housing shortage is staggering. The real snag is finding affordable building land. Councils in the UK are tasked with earmarking land for affordable self-builds, with none so far stepping up to the lectern. The conclusion being that councils are part of the problem, with wishy-washy policies that allow them to under-perform. Flat pack housing is the cheapest option.
In some cases of hardship, Nelson is available as an advocate in enforcement planning appeals concerning flat-packs and self-build housing, on a no-win, no-fee basis, having set the benchmark caselaw precedent for timber mobile homes in Sussex, England.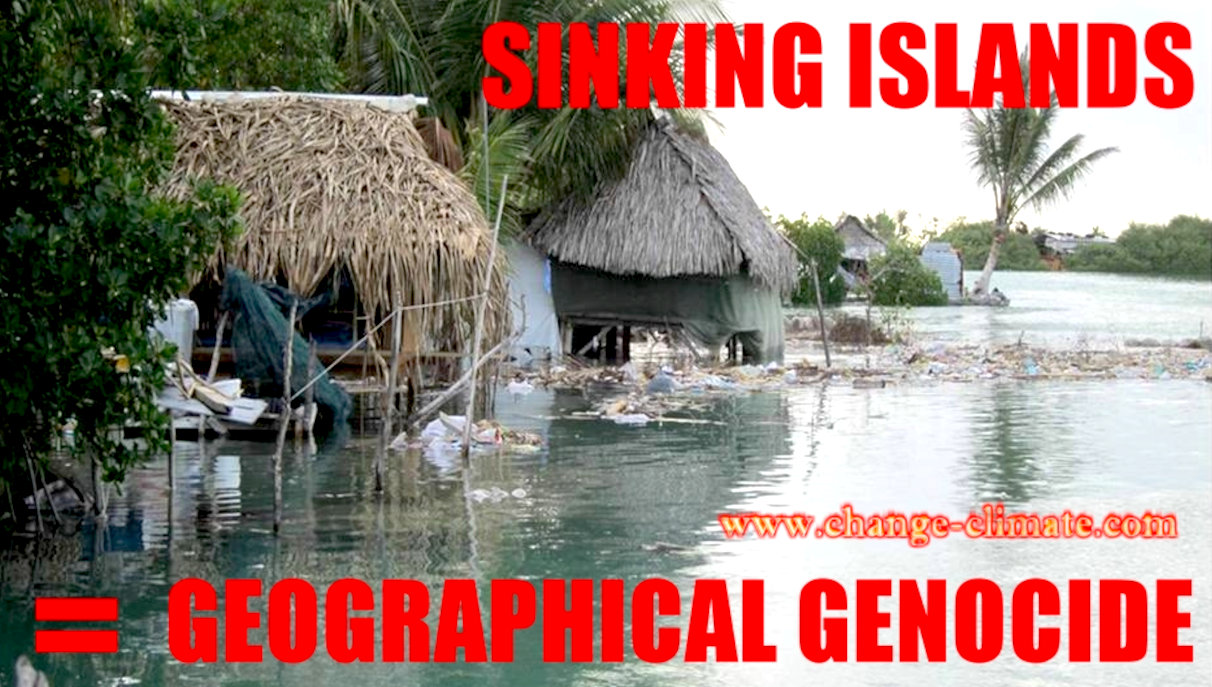 LOSS OF HABITAT - How would you like it if your home was being systematically targeted by politicians hell bent on industrial expansion using fossil fuels. Knowing full well that such use is causal of sea level rise. Islanders all over the world are helpless to defend themselves against such displacement - without any rescue or alternative accommodation - displaced persons are treated as second class citizens, as those responsible protect their borders against migration. Having at first created the problem. Hundreds are dying using small boats to cross perilous oceans, desperate to find new accommodation. Including the English Channel.
GEOGRAPHICAL GENOCIDE
Victims of displacement and Man Made Famines, caused by desertification and global warming, are of extreme concern to the innovator, following on from his work on sustainable housing and food supplies. Where Genocide is internationally recognised as an abhorrent crime against humanity, Nelson is proposing that the statute books be updated to include sea level rise and loss of agricultural land as resulting from lack of action on climate change. Failing to act, being just as bad as direct action. He says, "we shouldn't need another world war to trigger changes in societal values, we need to absorb the current crisis and react proactively in anticipation."
[LEFT] DIVER - Nelson trained to BSAC Class 2 at Newhaven & Seaford Sub Aqua club, Brighton, and Fort Bovisand, Plymouth. In those days it was wet suits, until learning to weld underwater. These days it's dry suits and a Kirby Morgan, with communications, including lights and cameras. The picture above is of the casements at Fort Bovisand [CENTRE], that made for damp sleeping quarters. A hearty fry up for breakfast cured that, followed by a jog along the twisty lanes and a wooly bear.
[RIGHT] MASTER FABRICATOR - Construction in metals is a core skill that helps during the design process. As in thinking things through to the workshop floor. Nelson is seen here making a part in steel. This photograph by Karl in 2014 really captures the energy release that accompanies every joining using electric MIG, power wire fed welding equipment. Welding by electricity can also be TIG (Tungsten Inert Gas) or Arc using flux coated sticks. The TIG method is similar to gas welding using oxygen and acetylene to produce a very hot flame. In the TIG method, the oxygen and acetylene is replaced by argon gas, with electricity supplying the heat as an arc of electrons flowing from the tungsten torch tip to the work piece. If you cannot weld, you may as well give up if you want a career in practical prototyping. So knuckle down and practice. Welding is the backbone of most vehicle projects.
FOOD, CARBON & PLASTIC FOOTPRINTS
What impact are you having on the planet? Being obsessed with engineering efficiency, as in machines that work well, Nelson uses only what he needs. He hates food and energy waste that translates to a higher carbon footprint. His food bill is typically less than £30 a week, including smoothies. But his protein intake is high without eating too much red meat. He only weakens once or twice a year in the burger department, hoping that one day someone will produce a really tasty (high protein) vegetarian substitute. He eats fish about once a week, but mainly nuts and cereal products and bread, though his dairy intake needs curbing where he loves whole milk and organic yogurts. He eats a lot of fruit, bananas being his favourite. One of the secrets of eating well and sustainably is not to waste anything. Where others throw chips away from the night before, Nelson reheats them in a way that brings them back to life. He says you have to keep an eye on old food in the fridge and be sure to eat whatever is getting out of date, no matter what you fancy. It's just good housekeeping. Anything you throw away multiplies your food footprint. On Sundays he only eats a bowl of cereal by choice, unless there is a family gathering and a roast on offer.
Those who can, might consider changing their diets from red meat to poultry, from poultry to fish and from fish to vegetables and grains, or you might go the whole hog and become a vegan. There is no need to become obsessed about it, just be kind to the planet when you can. He says a big well done to those already doing their bit.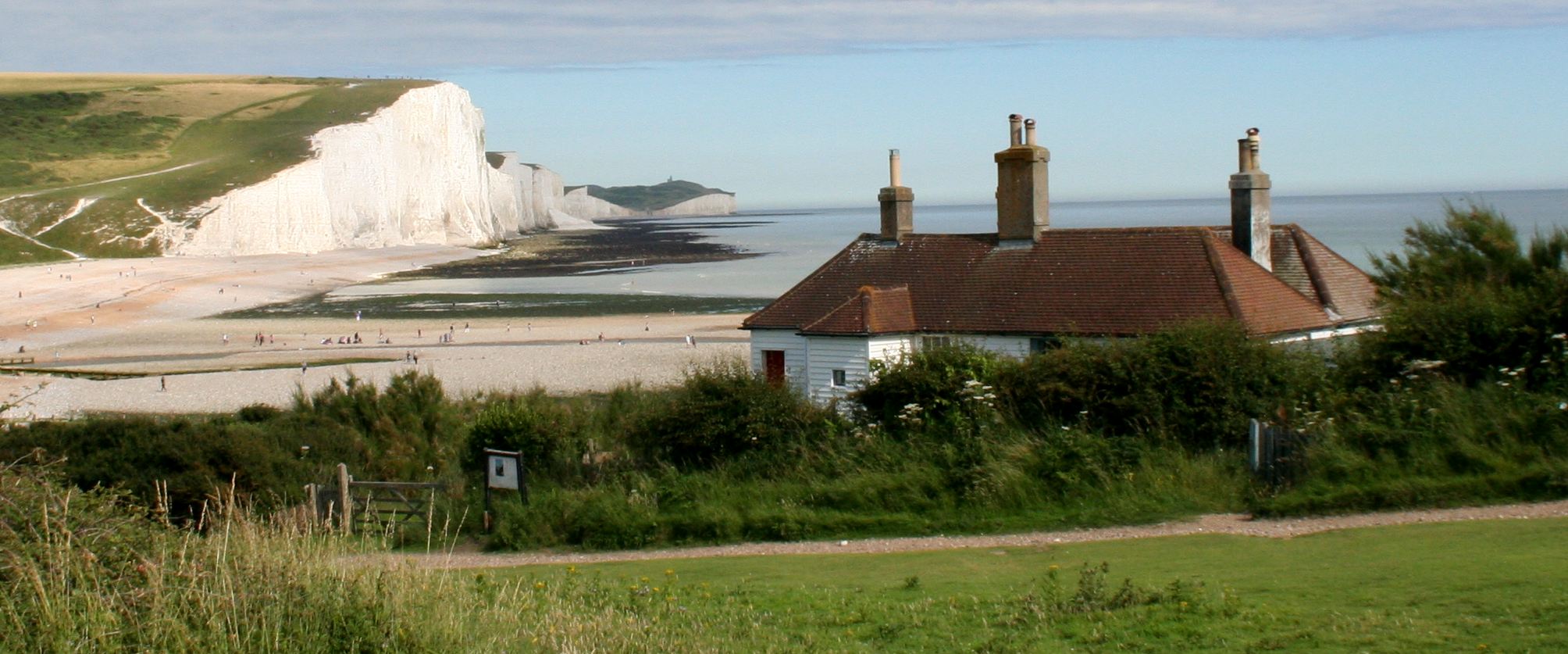 FAVOURITE WALKS - This famous view is also one of Nelson's much-loved walks. These are the old coastguard cottages at Seaford Head, now privately owned, seen from above when walking to the beach from the car park. Who would not want to live with such a beautiful view, the sea winds and waves lapping on the beaches below. See the picture below for a view looking up from the beach. Copyright © 18 July 2016, all rights reserved.
Being single and having no immediate dependents (nieces, nephews & cousins excepted) Nelson can be frugal with heating. His accommodation and workspace is largely solar heated in any event. He only drives in connection with conservation issues and uses an electric car wherever practical. He is kind and caring but says that he would not make a good partner because of his workaholic tendencies. He is a non-smoker and non-drinker and would recommend that everyone should do their best to stay away from alcohol and tobacco, except for the occasional toast at Christmas and weddings. Nelson loves snow and cozy winter nights in with a good movie, or a good book. And of movies, these are some favourites: Indiana Jones, Titanic, King Kong, Jaws. Yes, mostly adventure. But Blades of Glory always get him laughing, Erin Brockovich quells his need to put things right against all odds, as does Jason Bourne, where the system is liable to corruption.
As to plastic, just about everything you buy these days is wrapped in the stuff. Nelson reuses old plastic paint buckets to save purchasing those sold at Wickes and B&Q for £1 one pound. They are so cheap it is tempting to join the disposable society we are becoming. He disposes of all single use plastic responsibly, for recycling.
Looking at his steerage in such matters, you might agree with us that Nelson is a progressive Thought Leader who likes a bit of a creative challenge, not to be confused with Kay Nelson, the Hollywood costume designer or the events manager from Ohio.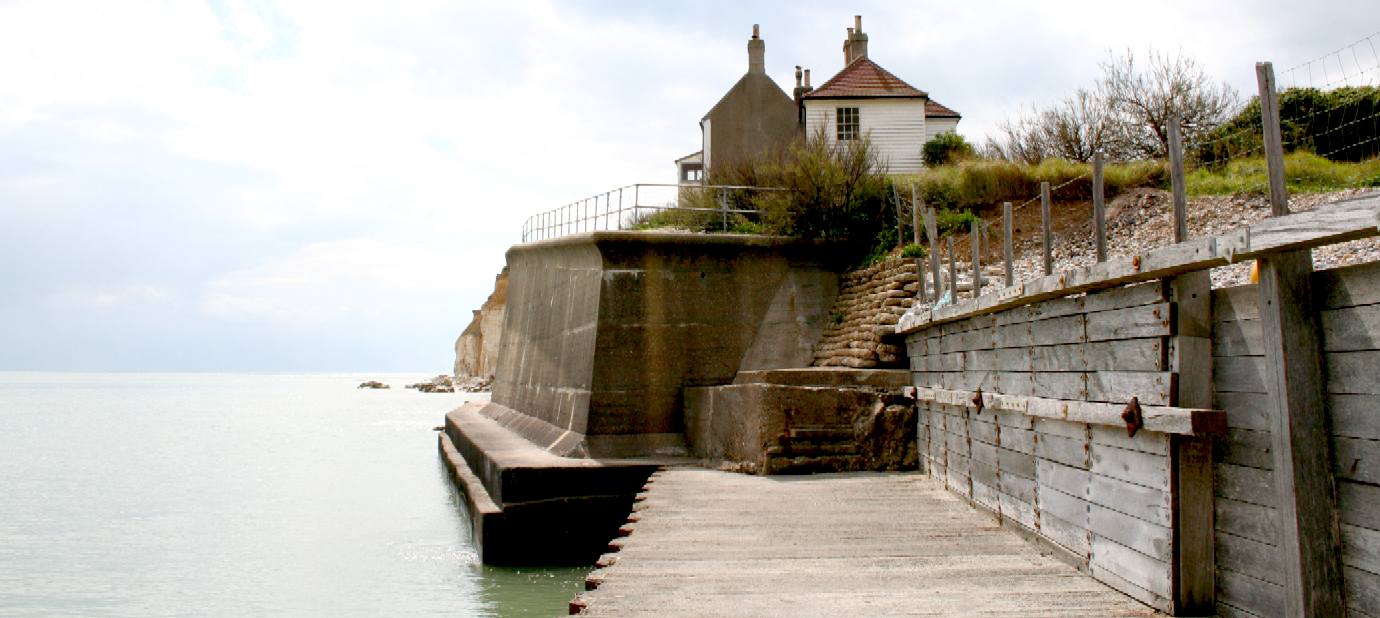 SUSSEX COAST - The views from Cuckmere Haven along the south coast are some of the most breathtaking. These are the old coastguard cottages at the foot of Seaford Head, one of Nelson's favourite panoramas and a place to come at any time of year to forget the devastation that human civilization is causing to the planet and to think positively about a solution, except that is for the plastic littering the beach even here. Copyright © 30 May 2006, all rights reserved.
LINKS & REFERENCE
https://www.bsac.com/
Please use our NAVIGATOR page to surf this site, or see HOME
Copyright © 2022 Cleaner Oceans Foundation.