TOP 10 TEN PIER FIRES IN THE UK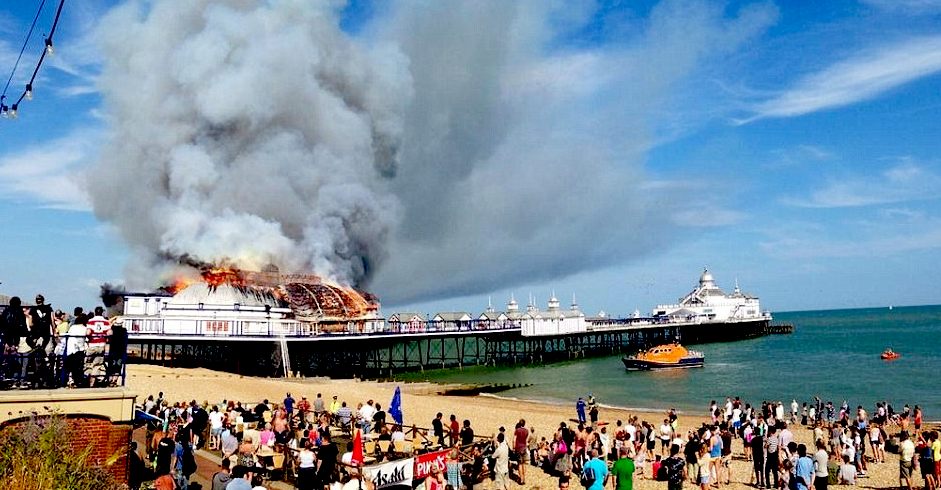 NO SMOKE WITHOUT FIRE - That is for sure. Why did it take so long for the alarm to be raised and why were there no in-situ fire prevention measures.
LEGAL ISSUES

A fire can do a number of things. It can destroy an icon in hours. It can bring people to tears of frustration, and it can restore a loss making operation prior a hasty disposal: a fire-sale. It is notoriously difficult to bring charges against a pier owner in a case of arson, or plain simple negligence. Negligence would only apply in the case of a listed structure.
One reason for this is that pier owners are typically canny operators who would set things up to look like an accident. Another reason is that the local constabulary might well know the operator well and so not look for evidence as carefully as they might - or worse.
For all these reasons there should be an independent Pier Arson Squad, to survey an surveil pier operators to fend off future fraudulent claims. This is justifiable snooping where so many piers are being lost in hard times.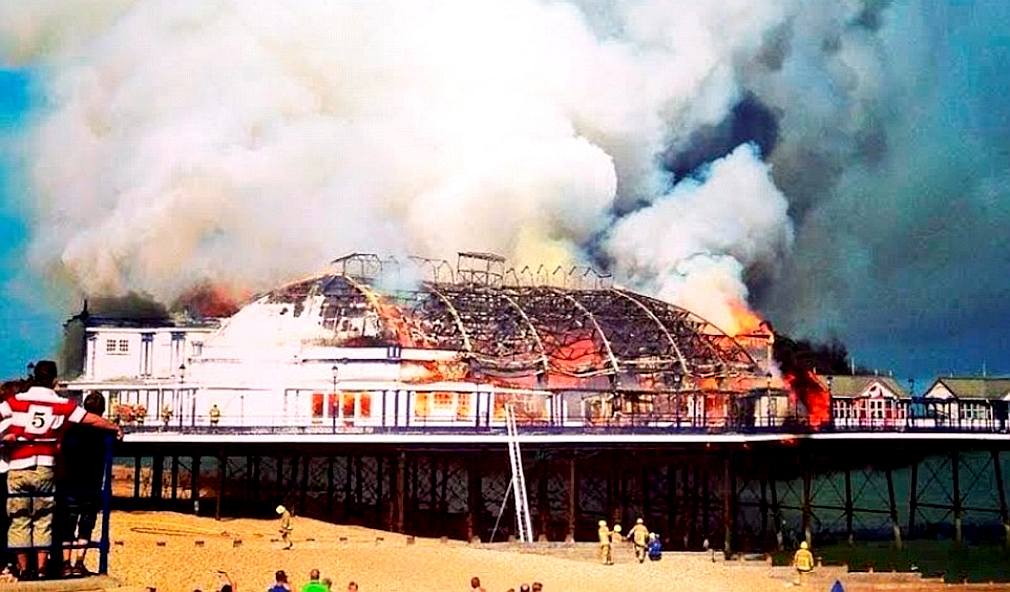 HOT TOPIC - Onlookers had a burning desire to put these flames out.
EASTBOURNE PIER 2011, 2014
This pier has been subjected to more than one fire. The Atlantis night club was the first area under attack.
Des Prichard, chief fire officer of East Sussex Fire and Rescue, said: "Pier fires are notoriously difficult to fight because there is one way on and one way off – and the tide can caused additional problems." If you were an insurer, would you want to insure a pier in the UK? A police investigation left many stones unturned.

FIRE SALE - No sooner than there is a fire than there is a payout or a sale. The pattern is inescapably etched in our mind. Statistics don't lie, rather they reveal the awful truth and that is that all pier fires should be treated as arson, even if it is the owner setting fire to his own property.
BRIGHTON WEST PIER 2003
Opened in 1866 Brighton's west pier survived more than a century before being closed over safety concerns in 1975. When a fire broke out in March 2003 firefighters were unable to reach the blaze due to a collapsed walkway caused by a storm four months before.

Just two months later the pier was ablaze again, destroying most remnants of the concert hall. Unable to access the site for safety reasons investigators failed to identify the cause of the blaze, although arson was suspected.

Isolated, blackened and skeletal the structure now cuts a ghostly, eerie structure adrift from the shore. If you were an insurer, would you want to insure a pier in the UK?

STRIKE A LIGHT - Yes, and someone probably did, with the alarms somehow failing to go off in time for an effective response.
GRAND PIER WESTON SUPER MARE 2008
An alarm company was found to be negligent by a court over the fire that effectively destroyed the Grand Pier in 2008. Although the fire alarm went off at 1:35am after a blaze started in an area containing deep fat fryers, the fire brigade was not alerted until nearly 7:00am.

System 2 Security subcontracted the monitoring of fire alarms to Yeoman Monitoring Ltd, which reached an out-of-court settlement with the pier owners. The presiding judge said the first breach was a failure to insist that the pier owners provide the name and contact details of more than one key holder. The second was in failing to warn the new owners that the fire alarm system had been subjected to filtering while a previous fault was fixed.

The judge also noted that it was "more probable that S2S had forgotten to reverse the filtering instruction after the alarm had been repaired".

The pier was rebuilt and reopened in October 2010. If you were an insurer, would you want to insure a pier in the UK?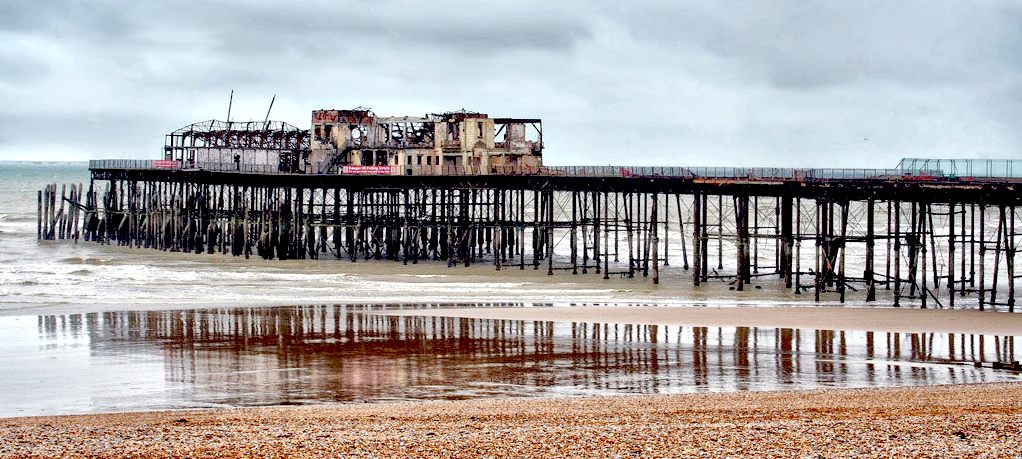 A NICE CHEERY BLAZE - Destroyed Hasting pier. Arson was suspected, but were the right suspects arrested and quizzed by police?
HASTINGS PIER 2010
Hastings pier was effectively destroyed with 95% of the upper structure up in smoke just days after architects had been invited to submit designs for redevelopment. The pier had been closed since 2006 because of fears it was unsafe.

Two teenagers were arrested for arson although charges were never brought. If you were an insurer, would you want to insure a pier in the UK?
SOUTHEND PIER 1976
Blamed on a dropped cigarette the 1976 Southend pier fire spread quickly. Special pumps were brought in because firefighters were hampered by the low pressure of the pier's water main.

An agricultural aviation expert, Ladislav "Ladi" Mormol, dive-bombed the pier with his crop-spraying aircraft, dumping 400 gallons of water at a time. Two firefighters were injured jumping from a building to escape the 'rifle range' bullets that were spontaneously firing in the heat. One broke his ankle the other received burns when the main ammunition store exploded.

Eleven fire engines and more than 100 fire fighters took four hours to bring the blaze under control. If you were an insurer, would you want to insure a pier in the UK?
BOGNER REGIS PIER FIRE 1974
The pier at Bognor Regis is the oldest of the piers mentioned in this article. It survived two fires in three months in 1974 and in August 2011 a fire in a storage unit at the end of the pier caused thousands of pounds worth of damage.

In 1999 part of the pier was lost to the sea and in 2008 an 80ft section was removed for safety reasons. The owners had recently invested £50,000 into renovations. If you were an insurer, would you want to insure a pier in the UK?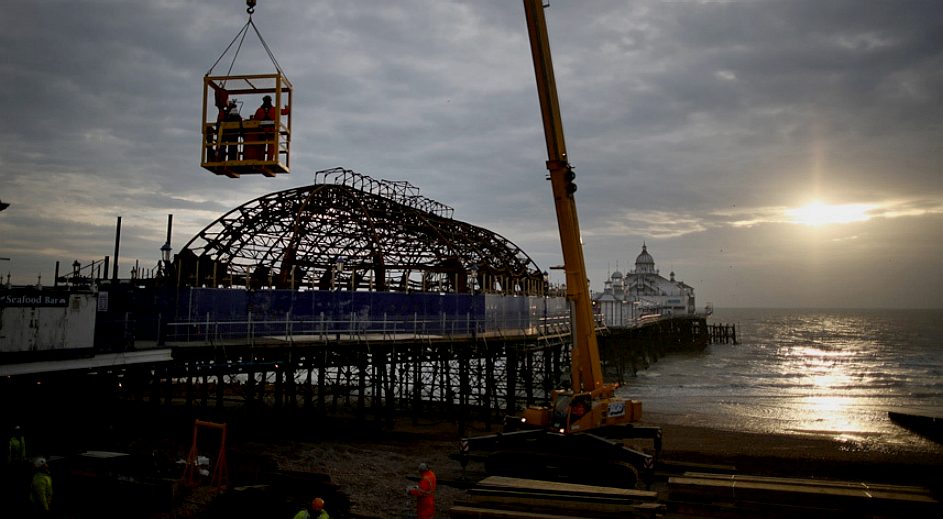 THE AWARD FOR MOST FIRES - Goes to Eastbourne Pier. We are counting down the days until the next event. So should you, because at the moment the owner does not have the reserves to install decent fire fighting equipment. This is the burned out husk of the former amusement arcade.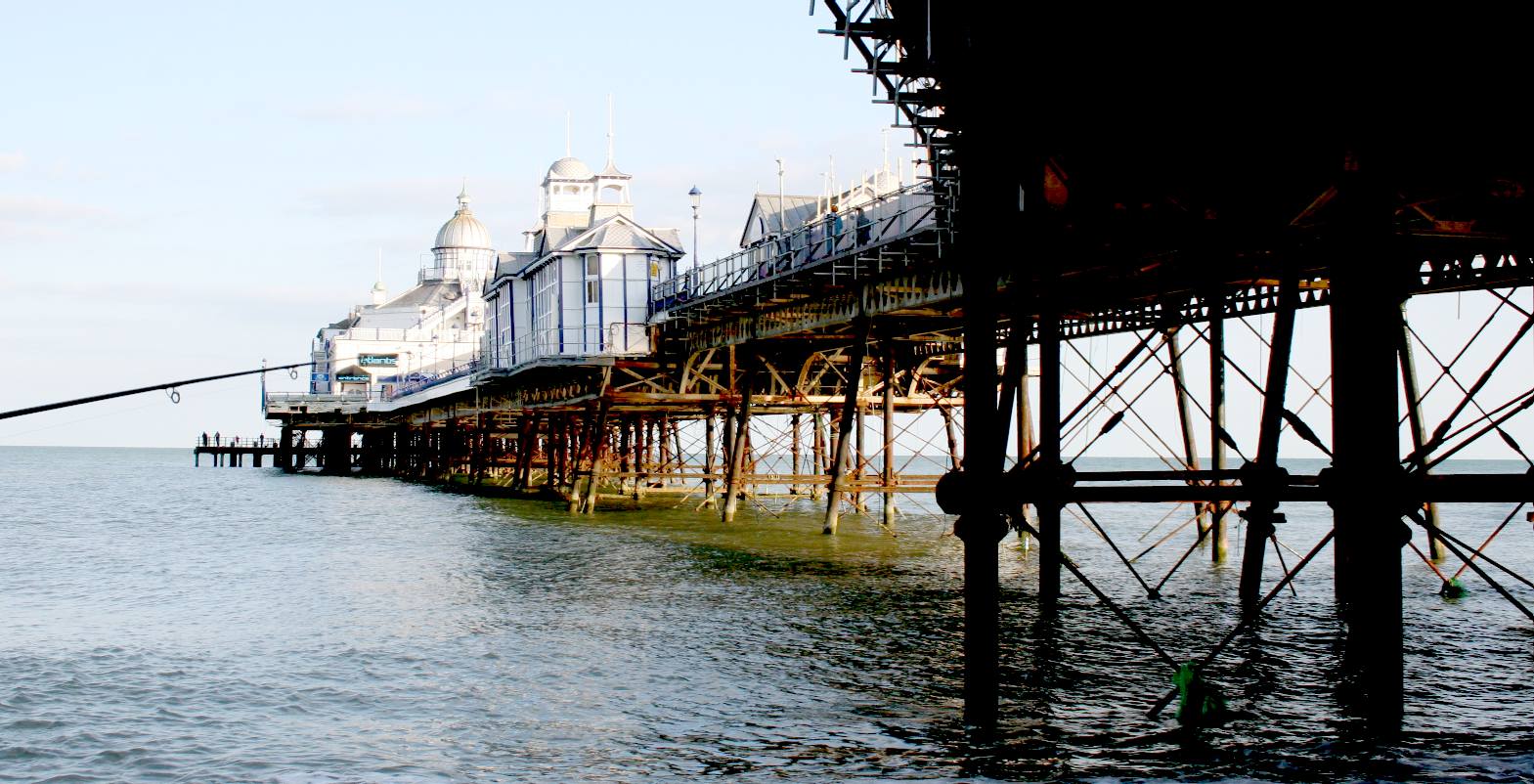 LINKS & REFERENCE
Dailymail-Eastbourne-2million-windfall-fire-destroyed-Grade-II-listed-pier-2014-Prime-Minister-knows-hit-town-hard
IOL news world England Hastings pier gutted by fire 2010
Daily Star UK latest news Eastbourne pier fire suspicious police launch arson probe
Countryfile countryside top 10 UK piers
IFSEC Global heartbreaking history of Victorian pier fires
http://www.countryfile.com/countryside/top-10-uk-piers
http://www.ifsecglobal.com/heartbreaking-history-victorian-pier-fires/
http://www.theargus.co.uk/news/8435345.Sussex_business_boss_ordered_to_take_down_his_lions/