SUSSEX POLICE NON-INVESTIGATION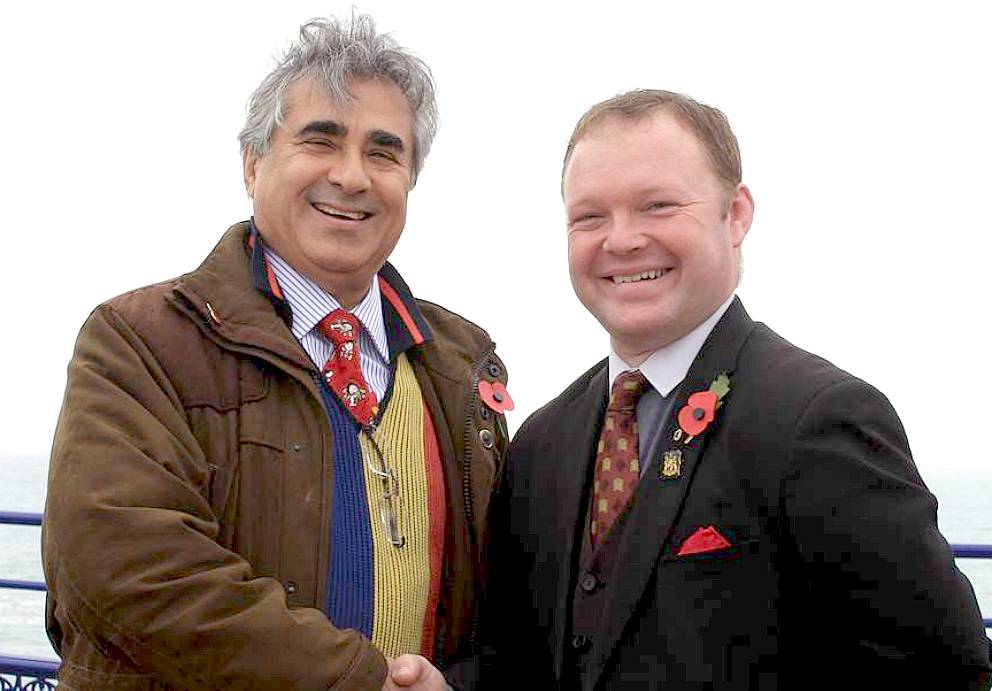 SUSPECTED ARSON - So far the police have drawn a blank, but what will the future hold. How many fires does it take before the police raid the offices of the owners past and present to try and find any link to a suspected arsonist. The clues are not likely to be found in the ashes of the fire and on the site, but in the offices of the operators. Sadly, that is the nature of fraud. We doubt very much that Sussex police looked at any of the paperwork belonging to the previous owners, let alone seizing their computers. Please correct us if we are wrong. The identity of an employee with a grudge might have been revealed. The present owner, Mr Gulzar, seen here with Lord Brett McLean of Hastings, provides many jobs in the town for aspiring Europeans from several countries by way of work in his hotels, and gives money from his earnings to charity. He also drives a gold Mercedes Benz that has been pimped to the eyeballs.
EASTBOURNE PIER FIRE INVESTIGATION PROVES INCONCLUSIVE - 2 JULY 2015

Exhaustive enquiries into a fire which badly damaged Eastbourne Pier on 30 July last year have concluded with no clear picture of what caused the blaze.
Detectives trawled through more than 120 hours of closed circuit television (CCTV) footage - much of it recovered by scientists who rebuilt heat-damaged hard drives to obtain images - but discovered nothing of significance.

Additionally, phone data and witness interviews, combined with extensive information supplied by members of the public, all contributed to a detailed and thorough investigation.

Working closely with East Sussex Fire and Rescue Service and the pier's management team, the consensus is that the fire started near a machine in an amusement arcade at the landward end of the Victorian pier.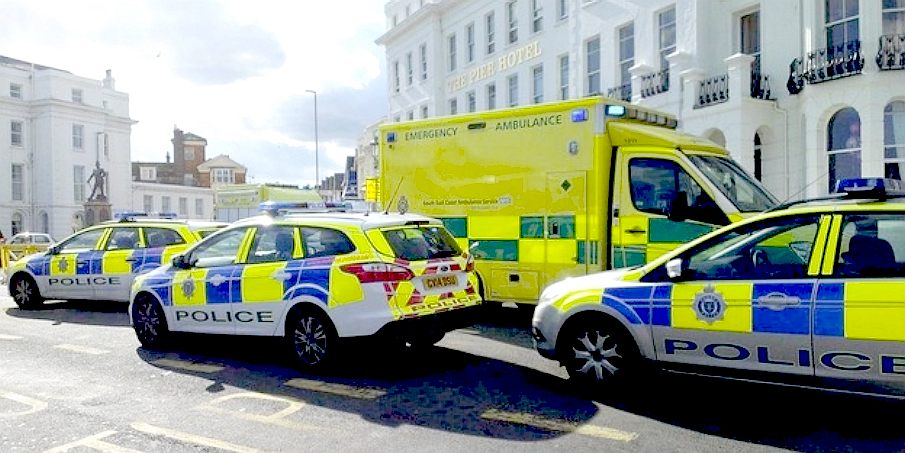 This was one of two seats of fire found by ESFRS and is believed to have been the one that led to the huge devastation to the pier. The second, in public toilets a short distance from the arcade, caused little damage but prompted firefighters to suspect human involvement.

This was one of several theories considered, others including an electrical fault or - despite the pier's "no smoking" policy - a discarded cigarette, but because the intensity of the fire destroyed the scene and recoverable evidence it has been impossible to reach a firm conclusion.

Detective Inspector Mark O'Brien, of Eastbourne CID, said: "No further lines of enquiry have emerged at this time and so the case will now be closed."

He added: "While it is disappointing to have no definite answer to what happened here last summer, it has been an exhaustive investigation.

"All those who have been involved, including ESFRS, pier management and police officers, are acknowledged for their detailed and thorough work.

"I am also grateful to the public for the information and material they have provided. I remain open minded about the case and if there is anyone with further information I'd ask them to make contact with Sussex Police."

This can be done by emailing: 101@sussex.pnn.police.uk or phoning 101, quoting Operation Barsham.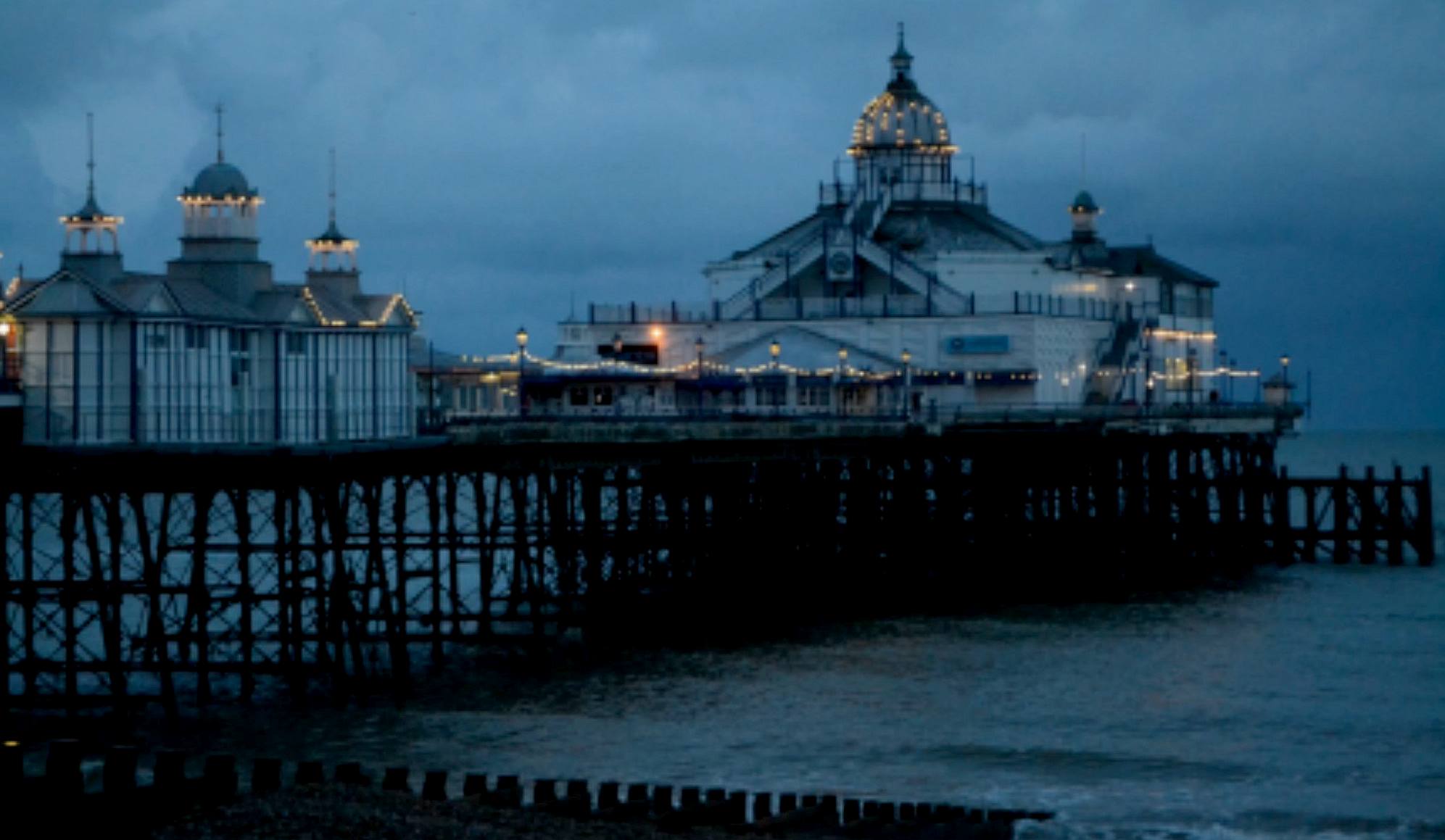 PLANNING BLUNDERS - It might have been better if the listed consent to remove the burned out steel structure was tied to a specific condition to restore the Blue Room within a specific timeframe, rather than leave it to the owners to take reasonable steps to restore. Any shrewd businessman would see this as a way to get out of having to make repairs within a sensible timescale. He or she would know that the local authority would have a fight on their hands because of the potentially ambiguous wording that some operators would see as a 'get out clause.' With government cuts to planning budgets it is possible for developers to get away with blue murder, gambling that the council will roll over and play dead. Any deliberate action on the part of any owner, including not doing something that they ought to know they should be doing - may constitute fraud, under the provisions of the Fraud Act 2006.
One way of ensuring that councils carry out their statutory function is to seek a Judicial Review when their administration is not doing what it should be doing.
Judicial review is a type of court proceeding in which a judge reviews the lawfulness of a decision or action made by a public body, focusing on procedural correctness. You can see from the decision making process, the thinking behind the grant of a permission, or the refusal of a planning consent, that if appropriate remedies are not used concerning a heritage asset of some importance, that that sloth would be challengeable in law.

In other words, judicial reviews are a challenge to the way in which a decision has been made, rather than the rights and wrongs of the conclusion reached. In this case a review could focus on the failure to take action, when action is in the public interest. At the moment (20-11-15) that may not be an issue, but it could well become an issue in not very long. The people of Eastbourne want their pier restored to that before the fire in July 2014.

A Judicial Review is not really concerned with the conclusions of that process and whether those were 'right', as long as the right procedures have been followed. The court will not substitute what it thinks is the 'correct' decision, but it can rule any decision or refusal to act as being ultra-vires, or misfeasance in public office. In rare cases misfeasance can become malfeasance. Misfeasance is a civil wrong, malfeasance is a matter for the criminal courts.
Interestingly, magistrates form the core of the judiciary, hearing some 97% of all criminal cases. Unbelievably, they are volunteers, requiring no legal qualifications, unlike a judge. The problem with judges is that they can become complacent and aloof and work together to uphold wrongful verdicts in what is called "Noble Cause Corruption." Bearing this in mind, a case should be aimed at the moral high ground and those virtues that a community oriented judge might agree is important.

If a Judicial Review succeeds, this may mean that the public body will be able to make the same decision again, but only so long as it does so in a lawful way. Misfeasance in public office is when any local authority fails to fulfill its administrative function. In cases of lesser importance, a matter can be referred to the Local Government Ombudsman.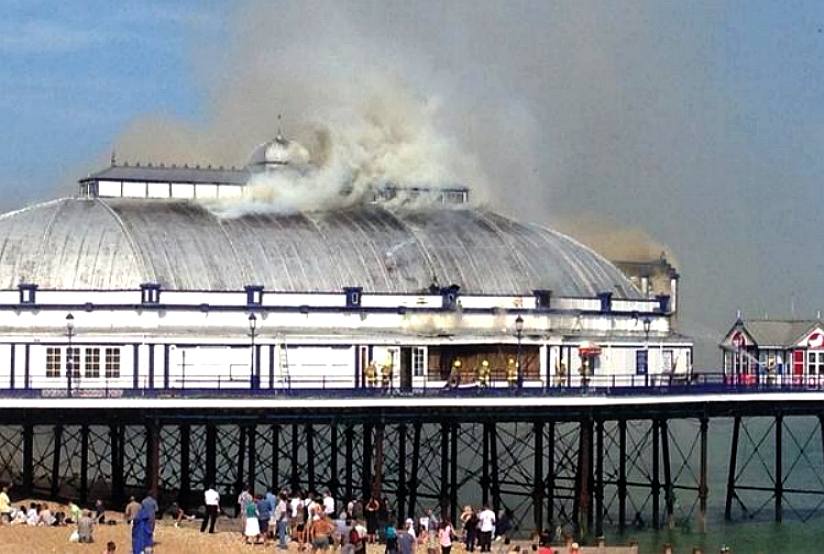 HOT TOPIC - Incredibly, fire fighters were on the scene in sufficient time to save the penny arcade - as you can see from this picture- but for some reason nobody is squirting water at the building. The best way to have tackled this fire was from the entrance from Grand Parade. A fire is a convenient way to dispose of a building that one could otherwise not gain planning consent to remove. In this case the penny arcade would be nowhere near so profitable as a the next proposed fairground rides.
Apparently, there were practically no fire prevention of service devices fitted to this pier. Does that constitute criminal negligence on the part of any pier operator?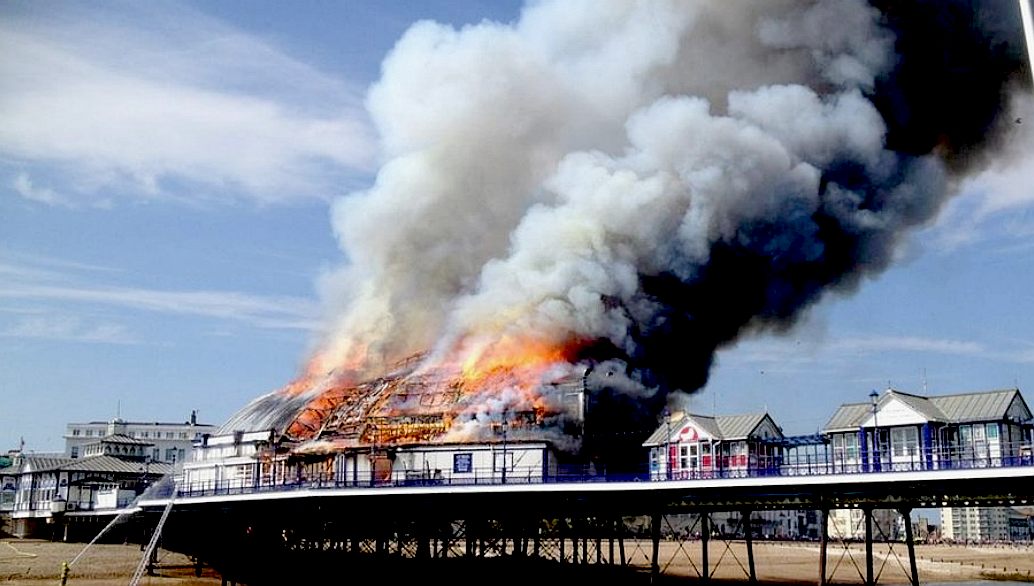 A NICE CHEERY BLAZE - The timing of the fire was spot on if the intention of the/any arsonist was to be sure that water to put the blaze out would be hard to source. How the fire got this far is a mystery. If hoses had been deployed from the entrance to the pier, they could have been aimed at the base of the fire inside the building - a far more effective way of cooling a fire, such that the escalation above would most likely have been stemmed. Has anybody seen a report on the incident?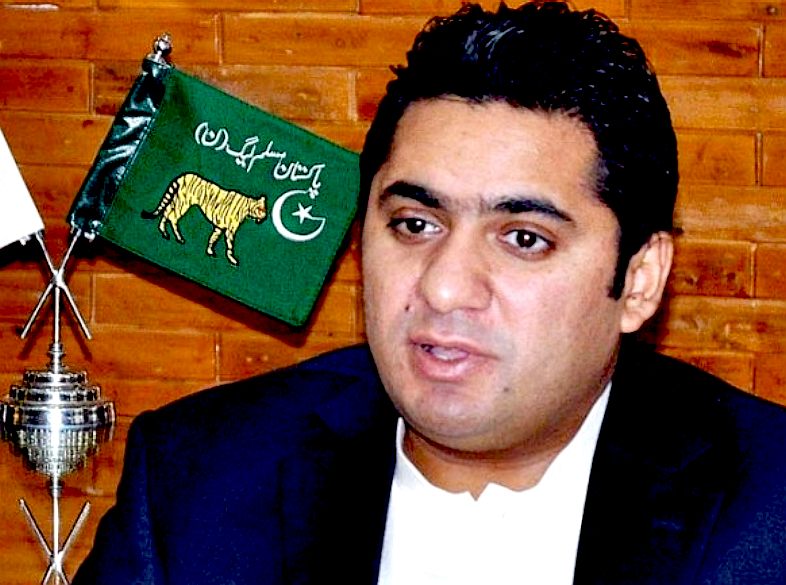 ISLAMABAD - Three new centers would soon be established in Skardu, Attock and Islamabad to accommodate more deserving children, said Pakistan Baitul-Mal (PBM) Managing Director Barrister Abid Waheed Sheikh at a press conference here Tuesday.

The chairman said presently all the sweet homes of Islamabad are sponsored by the philanthropists. He requested them and others to sponsor deserving children of other homes as well.

He said Baitul Mal is encouraging the concept of public-private partnership, adding so far 900 children have been sponsored by private donors.

A four-day carnival for sweet home children titled "We will Rise" would begin from Thursday at Jinnah Sports Stadium, he said. "1,500 children from across the country will participate in the event."

"Pakistan's Sweet Homes (PSH) project is a huge success," he said. According to the chairman, children living at Sweet Homes are enrolled in private schools for better education.

Currently, 28 Sweet Homes across the country are providing boarding to 3,200 children, he added. [Published in The Express Tribune, March 19th, 2014]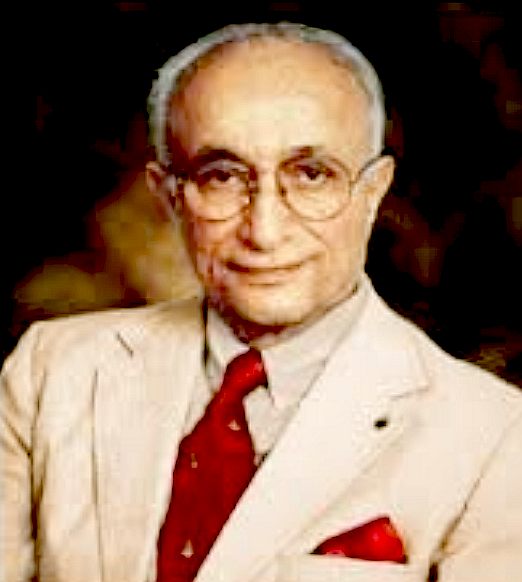 PIER OWNER UK - The Independent newspaper reported that Abid Gulzar is not a Sheikh in the sense of a wealthy person from Saudi Arabia, but that this is Mr Gulzar's family name and is on his passport. It may be that the name is used in various ways in Asian countries, including India, the home of Abid Gulzar.
14TH RICHEST - Sheikh Abid Hussain alias Seth Abid (pictured above) is said to be the 14th most wealthy man in Pakistan during 2014-2015. His net worth is estimated as (USD) $780 million. The name is therefore more popular on the Asian continent that we might imagine in the UK. See Linkedin for more.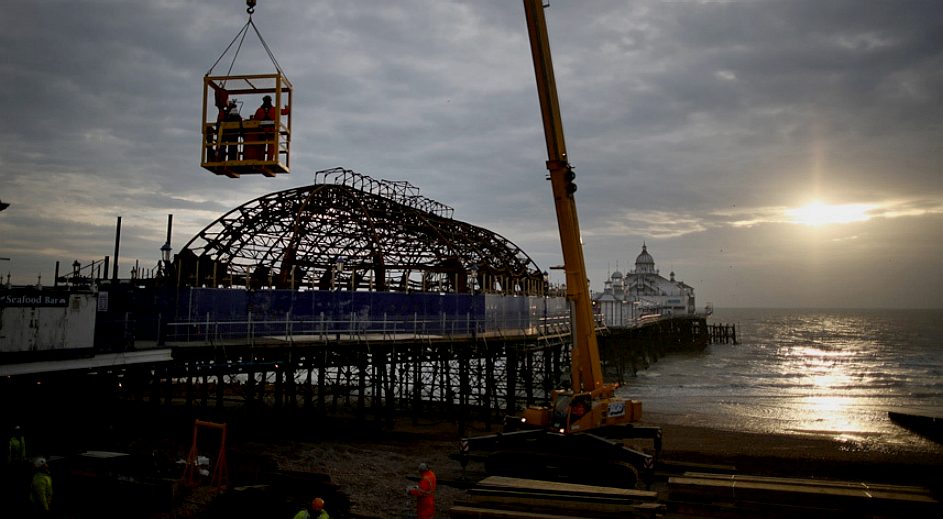 THE AWARD FOR MOST FIRES - Goes to Eastbourne Pier. Also meaning that it is the least profitable, the correlation is statistically unmistakable. We are counting down the days until the next event. So should you, because at the moment the owner does not have the reserves to install decent fire fighting equipment. The penny arcade was one of the most prominent features of this pier for over 90 years. It is as much a part of our heritage as fish and chips. Meantime, there are hundreds of angry people venting spleen on Facebook.
LINKS & REFERENCE
Dailymail-Eastbourne-2million-windfall-fire-destroyed-Grade-II-listed-pier-2014-Prime-Minister-knows-hit-town-hard
IOL news world England Hastings pier gutted by fire 2010
Daily Star UK latest news Eastbourne pier fire suspicious police launch arson probe
Tribune worthy cause three more sweet homes soon says Sheikh Abid
Web Pakistan 2014 top 15 richest men 2015
https://ae.linkedin.com/in/sheikh-abid-958a352a
http://www.web.pk/2014/top-15-richest-man-in-pakistan-2014-2015/
http://tribune.com.pk/story/684431/worthy-cause-three-more-sweet-homes-soon-says-sheikh/
Countryfile countryside top 10 UK piers
IFSEC Global heartbreaking history of Victorian pier fires
Eastbourne Independent news new_owner_wants_to_build_a_berth_at_the_end_of_Eastbourne_Pier
Crown Prosecution Service legal fraud_act
http://www.sussex.police.uk/whats-happening/latest/news-stories/2015/07/02/eastbourne-pier-fire-investigation-proves-inconclusive
http://www.cps.gov.uk/legal/d_to_g/fraud_act/
http://www.cps.gov.uk/legal/d_to_g/fraud_act/#a14
http://www.lgo.org.uk/
https://www.judiciary.gov.uk/you-and-the-judiciary/judicial-review/
http://www.countryfile.com/countryside/top-10-uk-piers
http://www.ifsecglobal.com/heartbreaking-history-victorian-pier-fires/
http://www.theargus.co.uk/news/8435345.Sussex_business_boss_ordered_to_take_down_his_lions/