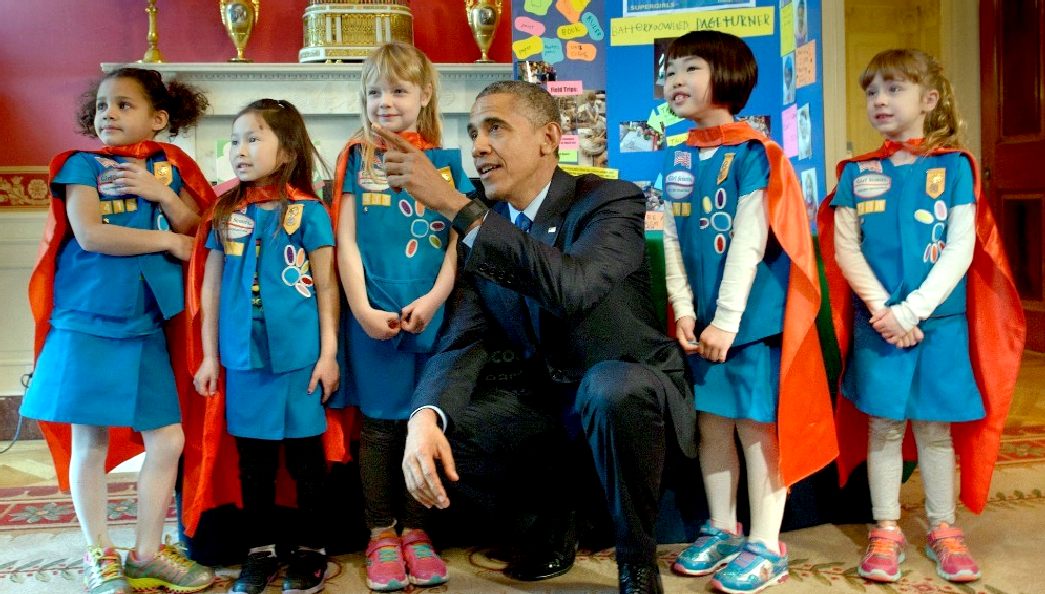 WHITE HOUSE TOUR - President Barack Obama greets Emily Bergenroth, Alicia Cutter, Karissa Cheng, Addy OíNeal, and Emery Dodson, all six-year-old Girl Scouts, from Tulsa, Oklahoma as he viewed their science exhibit during the 2015 White House Science Fair celebrating student winners of a broad range of science, technology, engineering, and math (STEM) competitions, in the Red Room, March 23, 2015. The girls used Lego pieces and designed a battery-powered page turner to help people who are paralyzed or have arthritis.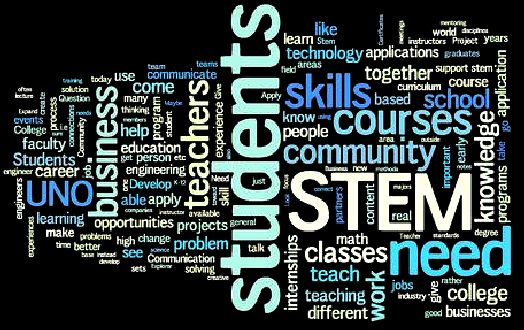 WHAT DOES 'STEM' STAND FOR?
Science, Technology, Engineering and Math = STEM.
The United States has developed as a global leader, in large part, through the genius and hard work of its scientists, engineers, and innovators. In a world thatís becoming increasingly complex, where success is driven not only by what you know, but by what you can do with what you know, itís more important than ever for our youth to be equipped with the knowledge and skills to solve tough problems, gather and evaluate evidence, and make sense of information. These are the types of skills that students learn by studying science, technology, engineering, and math - subjects collectively known as STEM.

Yet today, few American students pursue expertise in STEM fieldsóand we have an inadequate pipeline of teachers skilled in those subjects. Thatís why President Obama has set a priority of increasing the number of students and teachers who are proficient in these vital fields.

A STEM Education Revolution for Elementary and Middle School:

- Key Stages 2 and 3, Primary & Secondary Schools
- Teamwork Challenge: Two teams working together to maximise their score
- Robot Skills Challenge: One robot & driver playing alone against the clock
- Programming Skills Challenge: One robot using sensors to run autonomously
- STEM Research Project: Research and present on a STEM theme
- Local, regional, national, and world competitions
VEX COMPETITIONS
In the VEX Competitions - presented by the Robotics Education & Competition Foundation - teams of students are tasked with designing and building a robot to play against other teams from around the world in a game-based engineering challenge. Classroom STEM concepts are put to the test on the playing field as students learn lifelong skills in teamwork, leadership, communications, and more. Tournaments are held year-round at the regional, state, and national levels; local champions go on to compete against the best in the world at VEX Worlds each April.
The VEX family of competitions, is the largest and fastest growing middle school and high school robotics program globally with more than 16,000 teams from 40 countries playing in over 1,350 tournaments worldwide. Each year, an exciting engineering challenge is presented in the form of a game.

For the 2016-17 season, participants in the VEX IQ Challenge are playing Crossover, while participants in the VEX Robotics Competition and VEX U are playing Starstruck.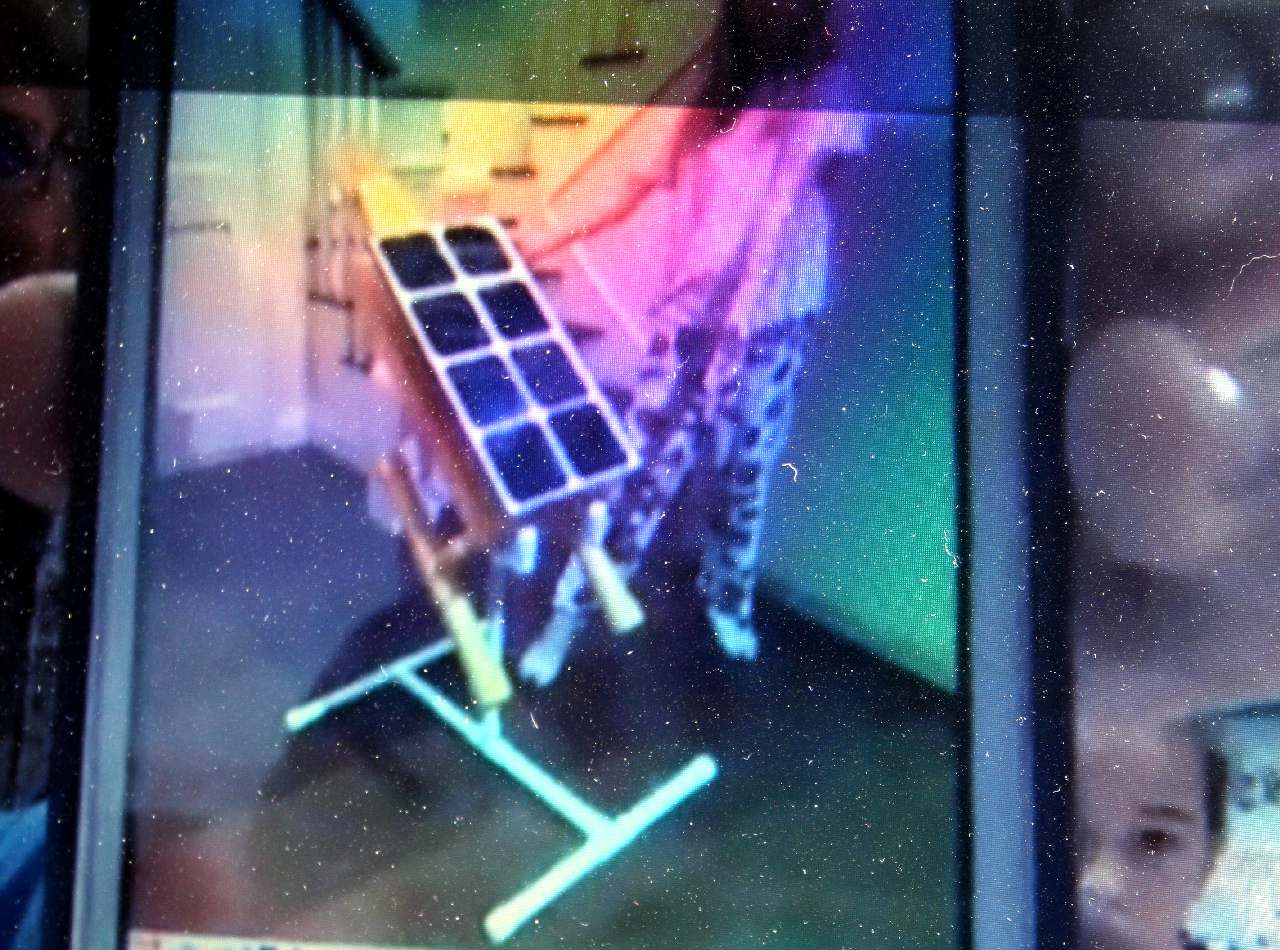 ELEMENTARY SCHOOLS - As part of these STEM activities and to stimulate the minds of budding robotics engineers, schools are encouraged to compete in special events such as the VEX IQ ELEMENTARY WORLD CHAMPIONSHIP, which is to be held in April 2017 in Louisville, Kentucky. Over 29 Countries compete in this competition, meaning that the quality of entries is high. The Coding Queens are a 5th Grade all girls robotics team from California, John S. Malcolm Elementary School in Laguna Niguel, CA. This team of 10 year olds made this superb model of the SeaVax ocean cleanup robot for one of their presentations, even mounting it on a display stand. They researched, prepared for a speech and gave the presentation they had planned for the VEX robotics challenges in 2016. We wish them well in 2017 and future robotics challenges. With this level of interest in the subject the future looks bright for robotics in the US. California is of course famous for silicon valley.
SILICON VALLEY - is in the southern San Francisco Bay Area of California. The region is home to many start-up and global technology companies. Apple, Facebook and Google are among the most prominent. Itís also the site of technology-focused institutions centered around Palo Alto's Stanford University. The Computer History Museum and NASAís Ames Research Center are in Mountain View. The Tech Museum of Innovation is in San Jose.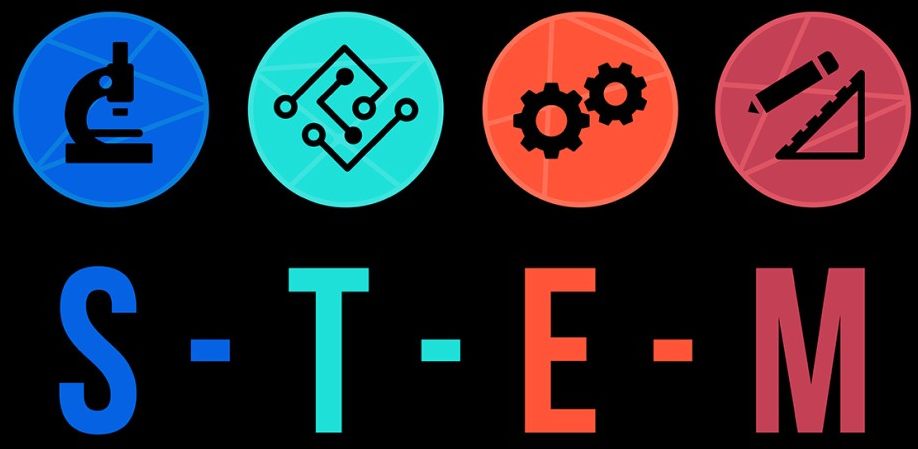 THE WHITE HOUSE
From early in his Administration, President Obama has made improving science, technology, engineering, and mathematics (STEM) education a priorityóhe believes that every American student deserves access to a high-quality education in STEM for both their future and for the Nationís future. Over the past seven years, the Obama Administrationís efforts have resulted in unprecedented levels of public-private collaboration in STEM education; policies and budgets focused on maximizing Federal investment to increase student access and engagement in active, rigorous STEM-learning experiences; and meaningful efforts to inspire and recognize young inventors, discoverers, and makers.

"One of the things that Iíve been focused on as President is how we create an all-hands-on-deck approach to science, technology, engineering, and mathÖ We need to make this a priority to train an army of new teachers in these subject areas, and to make sure that all of us as a country are lifting up these subjects for the respect that they deserve."
The Administrationís actions to accelerate progress include:
* The Administration has secured more than $1 billion in private investment for improving STEM education as part of the Presidentís Educate to Innovate campaign.
* Thanks to deep public and private commitments, our nation is 50% of the way towards achieving the goal the President set in 2011 of preparing 100,000 new math and science teachers by 2021, and a historic 25,000 additional engineers are graduating yearly compared to when President Obama took office.
* STEM education has been incorporated into the priorities of the Department of Education (ED), as illustrated by the Administrationís signature Race to the Top competition.
* This White House has announced more than 350 commitments from college and university leadership and others to provide pathways for underrepresented students to attain STEM degrees.
* President Obama has started traditions such as the White House Science Fair to honor young people using science, technology, engineering, and mathematics to improve their communities and the world.
* And in his final budget announced this week, the President sustains this impressive track record with an investment of $3.0 billion across 14 Federal agencies for dedicated STEM education programs.
MICRO COMPUTERS - Two of the most popular micro computers that are ideal for robotic students to learn on are the Arduino and Raspberry Pi. They actually work better together despite voltage incompatibility issues. The Arduino is better suited to carrying out motor control tasks while the Raspberry is the brains of the operation.
EDUCATION BUDGET
The 2017 Budget also includes additional investments to help narrow STEM course gaps, including a new $80 million competitive program at ED to provide resources for communities to launch Next-Generation High Schools that will be laboratories for cutting-edge STEM teaching and learning, and $500 million for Student Support and Academic Enrichment Grants, a new block grant (also at ED and authorized by the Every Student Succeeds Act (ESSA)) that would provide flexible-formula grant funds to assist school districts in delivering a well-rounded education to their students through a range of locally determined activities, including support for STEM education.
BIAS - Expanding Opportunities for Underrepresented Students in STEM
One of the greatest strengths of the American talent pool and workforce is diversity. But unnecessary barriers and the impact of bias too often limit who pursues, persists, and succeeds in STEM. To engage the diversity of Americans more fully, access the full potential of the STEM talent pool, and provide equitable opportunities, we as a Nation must respond to the growing research on the impact of implicit barriers and unconscious bias driving interested students away from STEM.
PUTTING WORDS INTO ACTION - [LEFT] On February 4, 2014, President Obama spoke on the major progress made toward his ConnectED initiative, which will connect 99% of students to next-generation broadband and wireless technology within five years.

[RIGHT] President Barack Obama presents former NASA mathematician Katherine Johnson with the Presidential Medal of Freedom, as professional baseball player Willie Mays, right, looks on, Tuesday, Nov. 24, 2015, during a ceremony in the East Room of the White House in Washington. (Photo Credit: NASA/Bill Ingalls).
In the Presidentís 2017 Budget, NSF, as part of its Inclusion across the Nation of Communities of Learners of Underrepresented Discoverers in Engineering and Science (NSF INCLUDES) program, through a comprehensive R&D effort, will invest $16 million in alliances to develop new ways to increase diversity in STEM. In addition, ED will invest in a set of programs that have a strong focus on increasing access to STEM education, including $108 million in the Hispanic-Serving Institutions (HSI) STEM and Articulation program, sustained funding for Gaining Early Awareness and Readiness for Undergraduate Programs (GEAR UP), and increased funding for EDís Federal TRIO programs.
This Administration has already taken many steps to reduce barriers and expand STEM opportunities for all students, including starting the tradition of the White House Science Fair, and launching the Educate to Innovate initiative. To build upon past efforts, the Administration is working with the media and entertainment industry to change the image of STEM jobs and the people who do them. This work will provide role models to inspire diverse young people to pursue STEM careers and offer the public a more realistic and positive image of STEM fields than is evident in current programming. In addition, the Administration is convening Federal STEM agencies to delineate policies that would enhance training of Federal employees in mitigating the effects of bias on workplace behaviors.
Progress on the STEM for All goals will increase the number and diversity of students who achieve in STEM education and comprise the future STEM workforce. To turn STEM innovation to address the complex challenges confronting the world today and in the future, the Nation must engage all of the available brainpower, creativity, and talent in the STEM enterprise. We cannot afford to squander the opportunity.
Learn more about the Administrationís STEM for All efforts here, and get involved by making a commitment in in support of STEM for All here.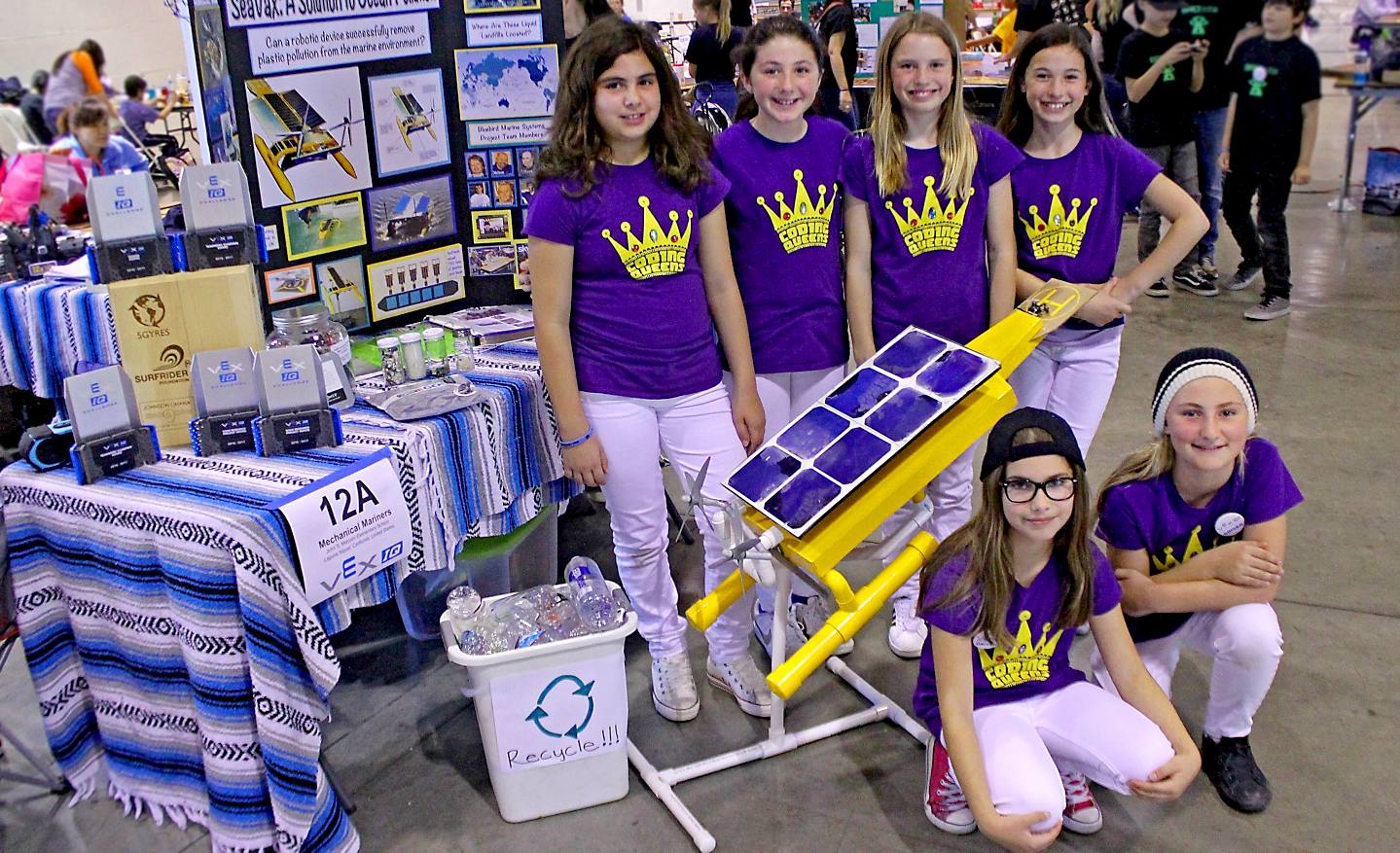 PLASTIC - Yes, plastic is essential to our modern lifestyle, but we must learn to be more careful where we dispose of it. 100% recycling is what is required, or at least as close as we clever humans can get to that.
CONTACTS
Robotics Education & Competition Foundation
P.O. Box 8276
Greenville, TX 75404

Email: support@robotevents.com
SUSSEX, ENGLAND: What can my school do for our STEM day or theme week?
Cost is always a factor when planning a STEM enrichment day or theme week. Here are some suggestions you could consider to make it as affordable as possible.
Our in-school Enrichment Activities are run at cost price. Have a look at the Primary or secondary activity areas on our website. We can discuss ways of making the activity affordable for your school or adapting it for your school's needs.
If you are a primary school, consider doing a CREST Star Award please visit http://www.crestawards.org/run-crest-awards/crest-star/. Free resources for KS1 and KS2.
For all schools Ė visit our ideas and inspiration area. You can filter by subject area and Key Stage to find something to suit your schoolís needs.
Why not enter a competition to win some amazing prizes for your school. For the primary competition calendar, click here. For the secondary competition calendar, click here.
Plan your theme week or STEM day to coincide with your nearest STEMfest. Currently schools in Crawley, Coastal West Sussex and East Sussex can get involved in their local STEMfests.
Unfortunately, schools outside these regions donít have a dedicated STEMfest (yet!) but can attend free events, such as the Big Bang Fair South East.
Can you help us find work experience for our students?
We coordinate the popular Nuffield Research Placements scheme in Sussex and Hampshire, for year 12 students, but unfortunately we do not have the resources to support work experience other than this, and for data protection reasons are unable to share details of our contacts. Occasionally companies will email us offering work experience, and in these instances we will advertise it via our school newsletter. To subscribe to our monthly newsletter please sign up here.
STEM PROJECTS IN SUSSEX
LINKS & REFERENCE
Whitehouse administration committees stem
VEX robotics vexed competition
Gofundme Malcom Elementary Coding Queens
Obama Whitehouse Archives 2016 STEM
https://obamawhitehouse.archives.gov/blog/2016/02/11/stem-all
https://www.gofundme.com/malcom-elementary-coding-queens
https://www.ed.gov/stem
http://www.whitehouse.gov/administration/eop/ostp/nstc/committees/costem
http://www.vexrobotics.com/vexedr/competition/
http://www.roboticseducation.org/