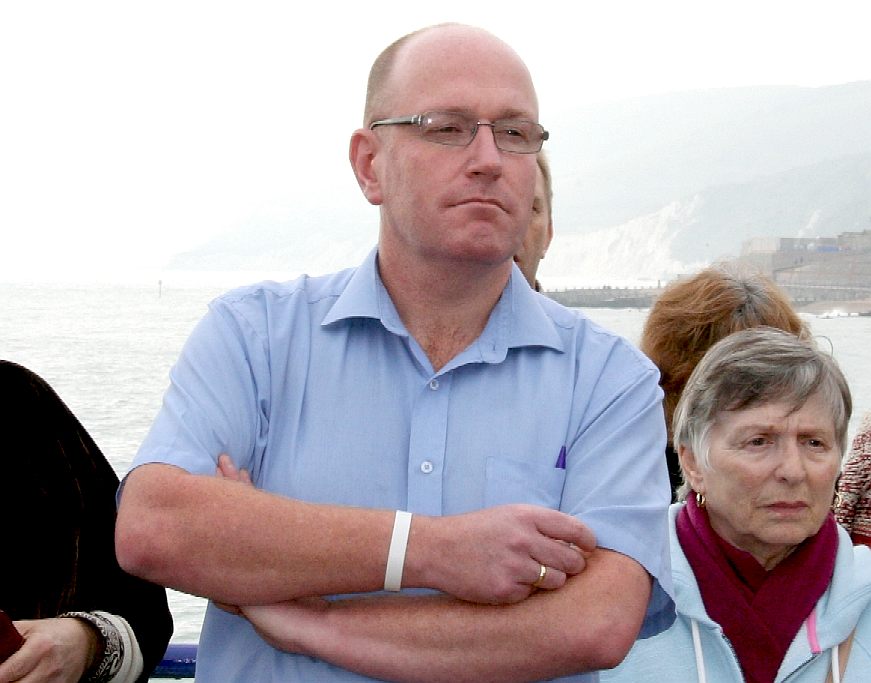 PETER LINDSEY - Peter is seen here on Eastbourne pier on the 31st of October 2015. He handles the PR for the Lions Group of hotels and now the pier at Eastbourne. According to his Linkedin page, Peter is a lecturer in Business Leadership and Management at Hove College. He is also a Public Relations and communications consultant and Media Law Lecturer at the University of Brighton (September 2014 – present, 1 year 3 months). He was the President of Eastbourne AM Rotary Club, with his colleague Faiza Shafeek being President elect. Copyright photograph © Cleaner Ocean Club Ltd Oct 2015. Please ask for permission before reproducing this photograph.


THE ARGUS WEDNESDAY 21 OCTOBER 2015
The big news this week must be that Sheikh-Abid Gulzar has bought Eastbourne Pier. I work very closely with Mr G - as I call him - and probably know him better than most.

Controversial yes, always speaks his mind yes, sometimes says too much yes. But deep down he cares - he cares about our great town and its people. And he will care about Eastbourne Pier more than anyone else, of that there is no doubt.

He may have upset the council in the past, and indeed too Natural England over his development on farmland at Pevensey, but he always does what he thinks is for the best.

I imagine the chiefs at Eastbourne Borough Council might have stirred a little when they heard the escalating rumours over the last couple of weeks, but it's true, reality is Mr G has control of the pier.

The pier - arguably our greatest asset, our biggest tourist attraction - and Mr G wants to make it great again, and I think he will. He wants it to be the best pier in the country - and why not.

We can all think back to last summer and that terrible fire, but the truth is our pier was long in decline before the blaze. And then we had David Cameron and George Osborne come into town offering £2 million of government cash to help Eastbourne in the wake of the blaze.

We know that was electioneering and to an extent it worked, Caroline beat Stephen and was duly elected. But I have long thought that the £2 million should be spent on the pier itself, and ways of attracting new customers and new revenue, not about trying to attract Rick Stein to open up at the Wish Tower.

The £2 million gesture was, and still is, a joke to me, but for Mr G he couldn't be more serious. He already owns two hotels along the seafront, another one in Hailsham and a children's nursery near to the Fisherman's Club.
Let me be clear. Mr G is 100 percent serious about Eastbourne Pier. His commitment to the project is total, and he wants it to become the hub of the community. His vision is for the pier to be the talk of the town - and it will be.
Will there be Lions on the pier? Of course there will be, if he gets planning permission, and why not.

But it's about more than that, it's about creating and developing a pier that will be profitable, that will bring in tourists from across the country, and a pier with personality.

Mr G will bring that personality. You may not agree with everything that he will do, but this is a new project for him, a new world for Mr G at the age of 70.

Speaking with him on Wednesday afternoon, he is excited, he knows the potential is massive, and he knows the importance of taking the town's people with him on this latest project. He has big plans but as we said, one at a time, and slowly, slowly, Rome wasn't built in a day.

He is already thinking about how the pier can play a bigger role in Christmas time around Eastbourne, and how he can play a part in helping the disabled and less privileged.

This summer he hosted two charity BBQs at the Boship Lions Farm Hotel - which I was privileged to organise - and each time they were amazingly well supported.

That support for less able people will continue under Mr G at the pier. Make no mistake about that. And he is serious about making our pier the very best. We should all applaud him for that.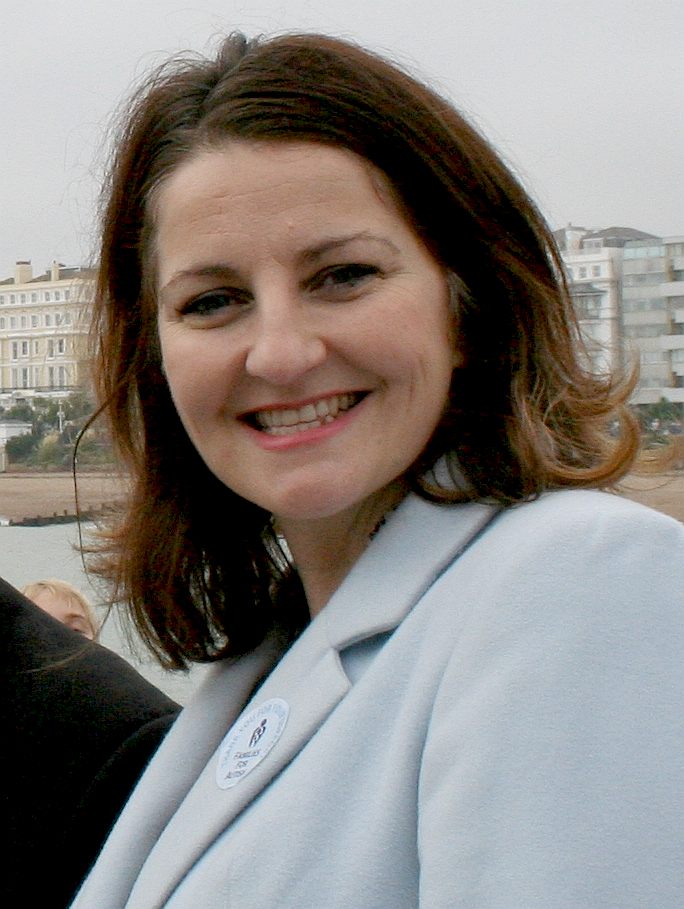 CAROLINE ANSELL MP - We are all hoping that Caroline will be able to make a difference to reverse the decline that Eastbourne is currently suffering from. What we need is some quality in the town and that begins with the reinstatement of the Blue Room.
SEPTEMBER 23 2015 - EDITOR MADE REDUNDANT BY JOHNSTON PRESS RETURNS TO OLD PATCH TO EDIT COMPETING TITLE

Former Eastbourne Herald editor Peter Lindsey is returning to edit a rival newspaper on his old patch some six years after being made redundant.

The Eastbourne Independent is being launched by Newsquest on Friday and will compete with Johnston Press weeklies the Eastbourne Gazette and Eastbourne Herald.

Newsquest publishes The Argus in nearby Brighton. The new launch comes two months after Johnston Press bought the Brighton and Hove Independent and began competing on Newsquest's patch.

Lindsey left when the job of Eastbourne editor was made redundant and Johnston instead opted to have one group editor for Eastbourne and Hastings.

Nowadays Johnston Press has one editor for the whole of Sussex editing weekly titles in Chichester, Haywards Heath, Hastings, Bexhill, Rye, Battle, Eastbourne and elsewhere in the county.

The new Eastbourne title will be distributed in supermarkets and other outlets with a free distribution of 13,500 copies

Newsquest group editor for Sussex Mike Gilson said: "The Argus has always covered Eastbourne as part of its county-wide service but the Eastbourne Independent will get right down into the community, reporting on what is important and celebrating local life.

"In Peter Lindsey we have the ideal journalist to do this. He knows the town and surrounding area like the back of his hand."

Lindsey said: "I will be putting my heart and soul into this new paper. I will be reporting on the news as well as being actively involved in the community – just as I was when editor before.

"Eastbourne is a wonderful place, full of wonderful people, and it will be a privilege to be able to communicate and interact again with the public in this way."

According to Jicreg, the Eastbourne Gazette, which is published on a Tuesday by Johnston Press, has a weekly circulation of just over 2,000 in Eastbourne. The Johnston Press Eastbourne Herald is said to have a circulation of just under 13,000 in the town. Eastbourne has a population of just over 100,000.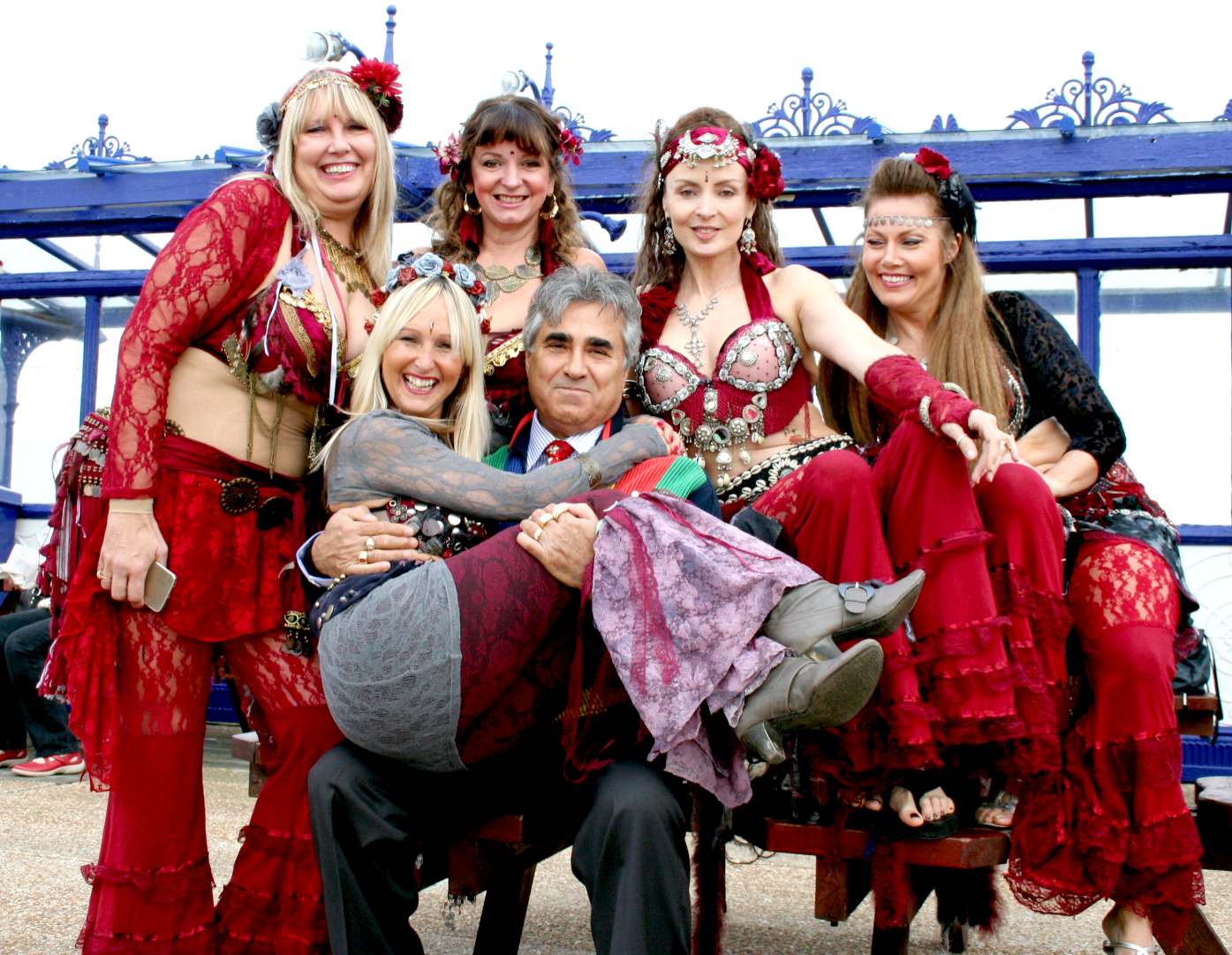 EXOTIC DANCERS - A rather lovely local belly dancing troupe graced the pier on Saturday the 31st October. Mr Gulzar, always the showman, posed for pictures with these lovely ladies much to the amusement of the crowd. Great picture ladies with thanks to Mr Gulzar for being such a good sport. Copyright photograph © Cleaner Ocean Club Ltd Oct 2015. Please ask for permission before reproducing this photograph.
EASTBOURNE PIER UPDATE 23 OCTOBER 2015 - A MESSAGE FROM CAROLINE ANSELL MP
"I wish Abid Gulzar every success in his exciting venture of becoming the custodian of Eastbourne's most famous landmark.

This is a great opportunity for him and the town to build up this iconic structure once again.

I'm sure that traders will welcome his 'hands on' approach, and we would encourage the council to work closely with him going forward.

I have had the opportunity to see early plans of what Mr Gulzar wants to do on the pier, and if this comes to fruition, it looks very exciting indeed.

I'm looking forward to meeting Mr Gulzar again over the next few days to be updated on his plans now that deal is confirmed."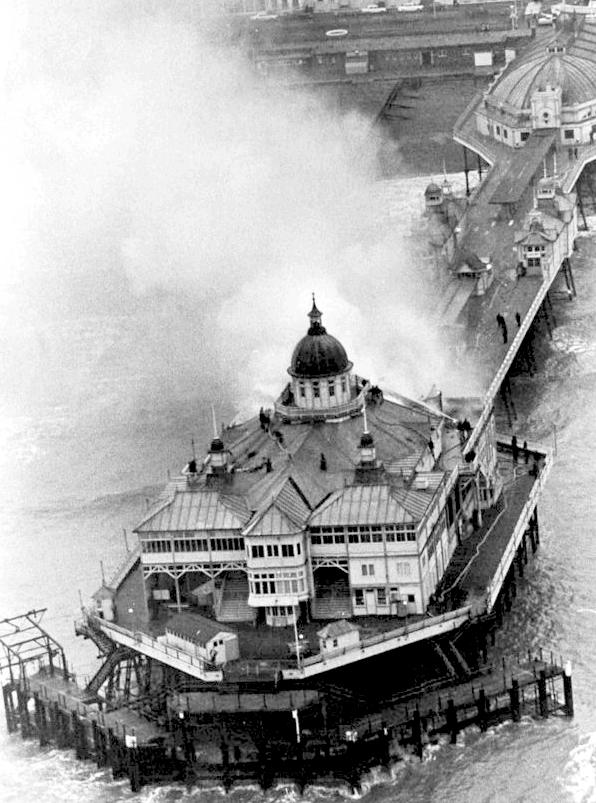 EASTBOURNE PIER 1970 - Is seen in the picture above on fire at the southern end in 1970. This is an example of a heritage asset that could be put to better use to pull a community together. With a track record of fires, any new owner will have to be extra vigilant to do their utmost to ward off potential arson attacks. Security will thus play a major part in forward planning.
BBC NEWS SATURDAY 22 January 2000 - A nightclub where more than 100 people were evacuated after a fire is expected to reopen on Saturday night.

The Atlantis club, on the pier in the south coast resort of Eastbourne, was cleared when a neon sign above the entrance to a bar caught fire. Some 25 firefighters were called in to tackle the blaze, which spread to a wooden facade on the Victorian structure. The club, which is covered by a landmark dome, was emptied as security staff launched an evacuation procedure.

COULD HAVE BEEN WORSE - Ambulances were called to the scene, but there were no injuries. The fire, which began at 22:15 GMT, was brought under control 45 minutes later.

Assistant Divisional Officer Frank Davis, district fire safety officer for Eastbourne and Hastings, said: "It could have been much, much worse. There is a lot of wood out there, and because it is so exposed it could have spread very quickly. "However, the pier's evacuation operation worked perfectly and everyone in the nightclub was out quickly."

Eastbourne pier was renowned for its annual National Birdman Championships held every August. Crowds flocked to see people in fancy dress running off the end of the pier and attempting to fly using home-made contraptions. In 2014 another fire engulfed the Blue Room from where the structure was added to the At Risk register by English Heritage.
FIRE HAZARDS - Until such times as pier owners in the UK are required by law to install detection and fire damping equipment, many piers will be at risk as to arson attacks. The pier may be painted gold and be covered in bright LED lights, but that does nothing to protect this asset.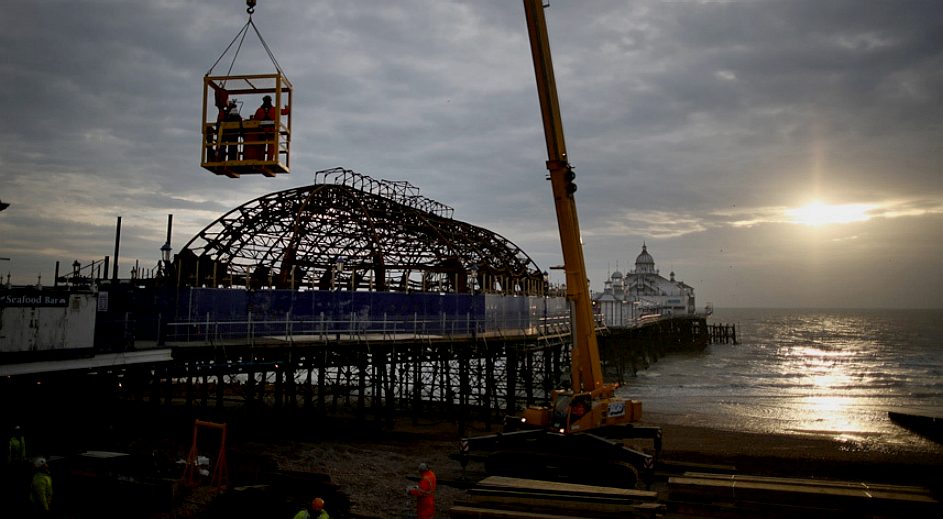 LISTED BUILDING AT RISK - The pier is listed under the Planning (Listed Buildings and Conservation Areas) Act 1990 as amended for its special architectural or historic interest. List entry Number: 1353116. With any structure that is put on the at risk register, the owners are obliged to rectify any lost heritage, in this case the Blue Room, seen here as a burned out steel skeleton.
News A to Z directories. Click on the links below to find your favourite newspaper or to contact the media to tell your story:

CONTACTS
Eastbourne Pier
Grand Parade
EASTBOURNE
East Sussex
BN21 3EL
Eastbourne Borough Council
1 Grove Rd
Eastbourne
East Sussex
BN21 4TW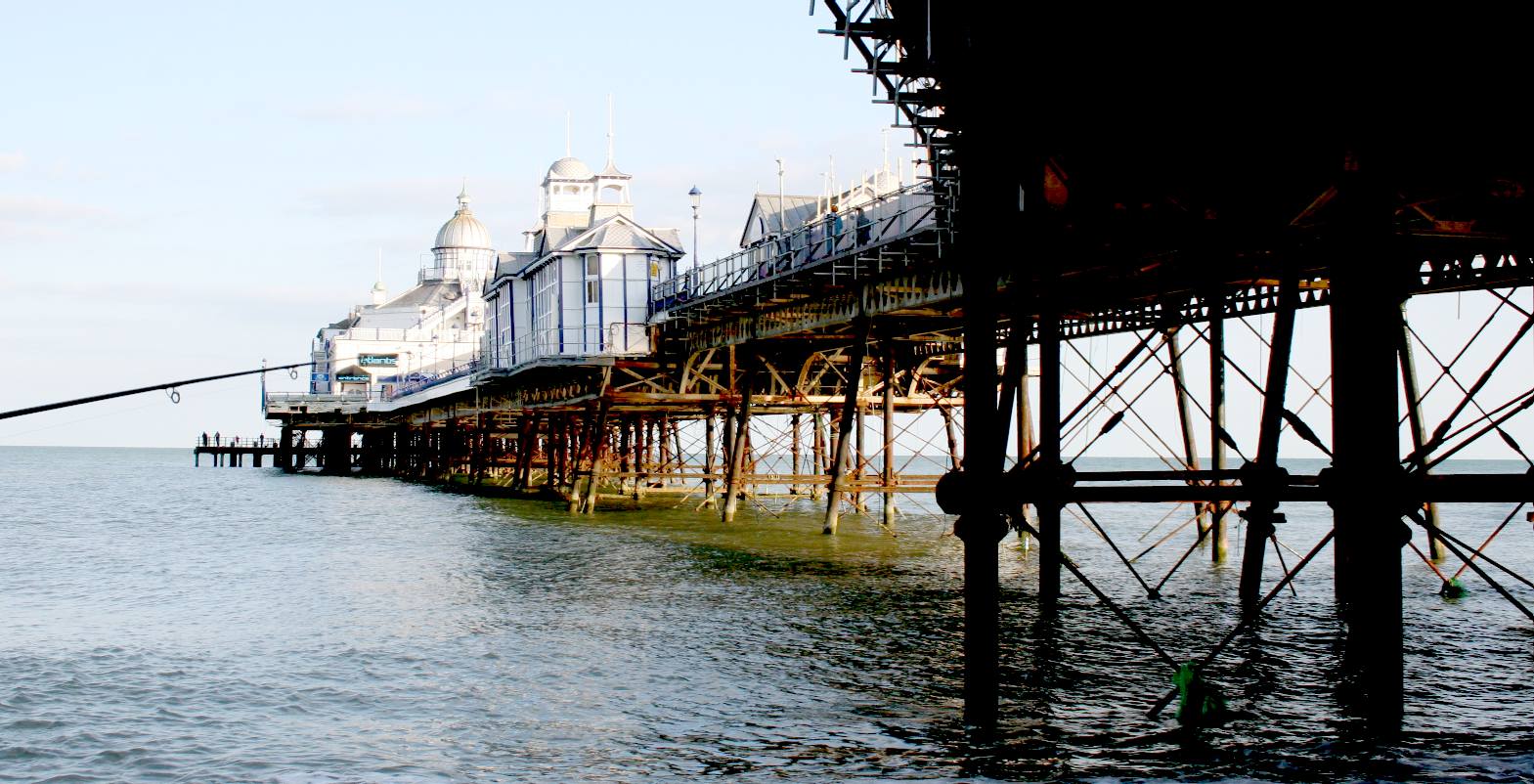 LINKS
TheArgus Eastbourne_Pier_could_be_painted_gold_and_covered_in_lights_after_sale_goes_through
Awards Press Gazette 2015 September 23 editor-made-redundant-by-johnston-press-returns-to-old-patch-for-competing-title
Eastbourne AM Rotary our club officers
TheArgus UK News Mr_G_and_Eastbourne_Pier_a_personal_view by Peter Linsey
http://www.theargus.co.uk/news/13887111.Mr_G_and_Eastbourne_Pier___a_personal_view/?ref=ar
http://www.eastbourneam.org/our-club/officers/
https://uk.linkedin.com/pub/peter-lindsey/4b/481/28
http://www.theargus.co.uk/news/8435345.Sussex_business_boss_ordered_to_take_down_his_lions/
http://www.dailystar.co.uk/news/latest-news/392202/Eastbourne-Pier-fire-suspicious-police-launch-arson-probe
http://www.theargus.co.uk/news/13586800.Leading_hotelier_reveals_interest_in_buying_Eastbourne_Pier/
https://www.facebook.com/BBCSouthEastToday
http://www.eastbourneindependent.co.uk/news/13895593.Eastbourne_MP_welcomes_Pier_sale_to_Sheikh_Abid_Gulzar/
http://www.eastbourneindependent.co.uk/news/13886702.Mr_Gulzar_speaks_out_after_buying_Eastbourne_Pier/?ref=ar