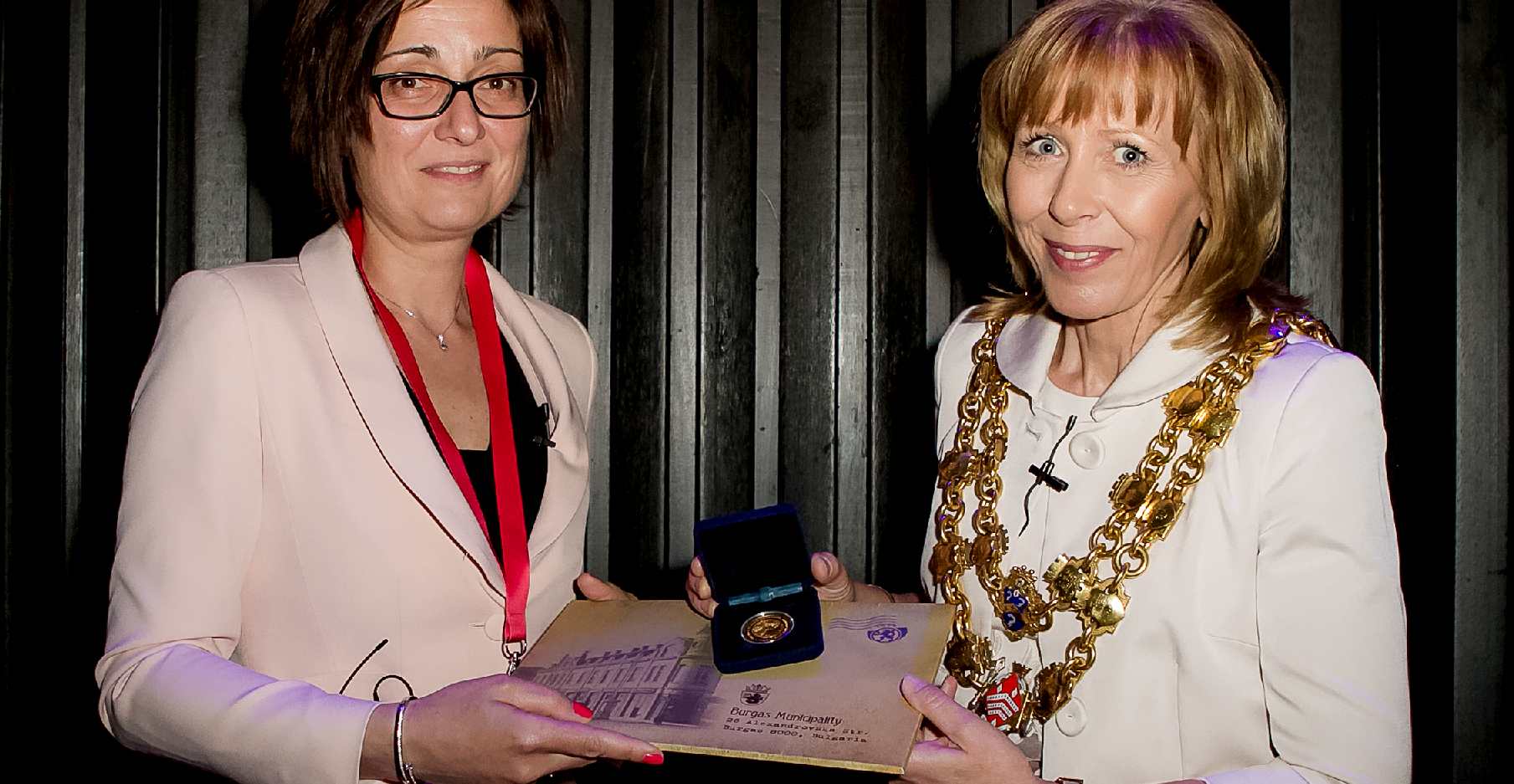 HANDOVER - The Mayor of Poole, Councillor Lindsay Wilson accepts a gift from Ruka Bovadzhieva, the deputy Mayor of Burgas, Friday 19 May 2017.
The hosting baton was passed on by the Mayor of Poole, Cllr Lindsay Wilson, who closed the two-day event, by thanking all those that have supported the conference before passing the baton on to next year's host: "I would like to convey my thanks to all speakers, exhibitors, Borough of Poole staff, volunteers, and many others, who have helped make 2017's European Maritime Day such a successful and pleasurable event.

"I am delighted to hand over the baton to Ruska Boyadzhieva, Deputy Mayor of Burgas, and I wish Bulgaria every success with their European Maritime Day in 2018, when they will host this prestigious event.

"On behalf of everyone in Poole, I would like to thank the Mayor of Burgas for the special gift to the people of Poole."

The Mayor presented Ruska Boyadzhieva, Deputy Mayor of Burgas, with a custom-made decorative plate from local pottery manufacturers, Poole Pottery, while the Mayor of Burgas reciprocated with a gift.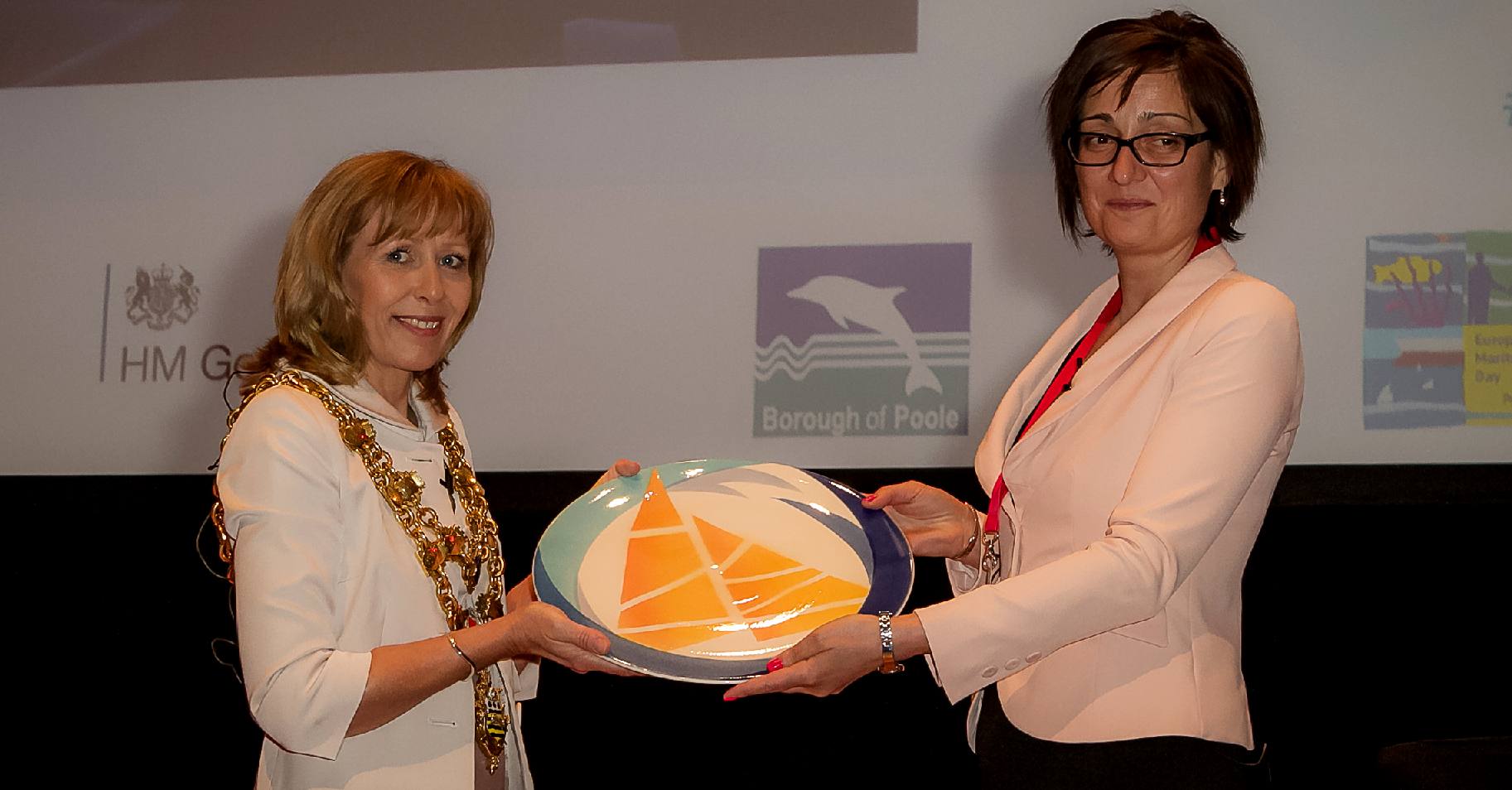 HANDOVER - Councillor Lindsay Wilson presents Ruka Bovadzhieva with a plate from a local pottery maker, Friday 19 May 2017.
ABOUT BURGAS
Burgas is the second largest city on the Bulgarian Black Sea Coast and the fourth-largest in Bulgaria after Sofia, Plovdiv, and Varna, with a population of 211,033 inhabitants, while 277,922 live in its urban area. It is the capital of Burgas Province and an important industrial, transport, cultural and tourist centre.

The city is surrounded by the Burgas Lakes and located at the westernmost point of the Black Sea, at the large Burgas Bay. The LUKOIL Neftochim Burgas is the largest oil refinery in southeastern Europe and the largest industrial enterprise. The Port of Burgas is the largest port in Bulgaria, and Burgas Airport is the second most important in the country. Burgas is the center of the Bulgarian fishing and fish processing industry.
EMD HEADLINE THEMES
* Brussels 2008: "A regional approach to the implementation of Maritime Policy"
* Rome 2009: "Integrated Maritime Policy and the contribution of maritime clusters"
* Gijón 2010: "How to foster innovation?"
* Gdansk 2011: "Maritime Policy: Putting People First"
* Gothenburg 2012: "Sustainable Growth from the Oceans, Seas and Coasts"
* Valletta 2013: "Coastal Development and Sustainable Maritime Tourism"
* Bremen 2014: "Innovation driving Blue Growth"
* Piraeus 2015: "Ports and Coasts, Gateways to Maritime Growth"
* Turku 2016: "Investing in blue growth – smart and sustainable solutions"
* Poole 2017: "The Future of our Seas"
* Burgas 2018: Bulgaria "TBA"
* Lisbon 2019: Portugal "TBA"
* Cork 2020: Ireland "TBA"
* Den Helder 2021: The Netherlands "TBA"
* Ravenna 2022: Italy "TBA"
* Brest 2023: France "TBA"
* Svendborg 2024: Denmark "TBA"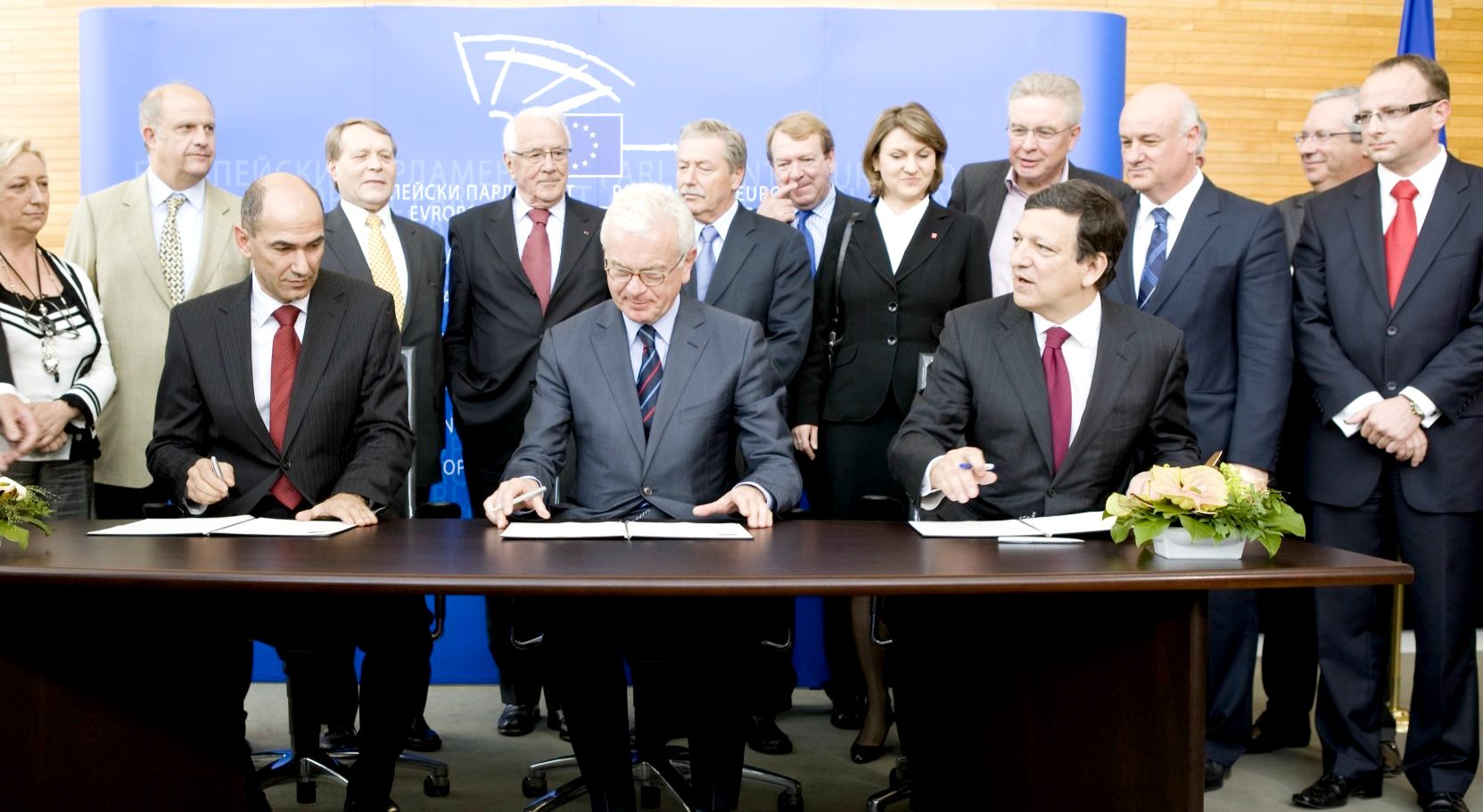 CREATION - The European Maritime Day (EMD) was officially created on 20 May 2008 where the President of the European Parliament Hans-Gert Pöttering, Council President Janez Janša, and Commission President José Manuel Barroso signed a Joint Tripartite Declaration establishing it.
CONFERENCE

Programme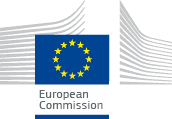 CONTACTS

Enterprise Europe Network South West
Business West, Leigh Court
Abbots Leigh, Bristol, BS8 3RA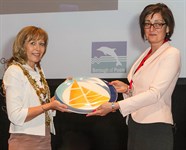 LINKS & REFERENCE
https://en.wikipedia.org/wiki/Burgas
http://ec.europa.eu/maritimeaffairs/maritimeday/en/2014
http://ec.europa.eu/maritimeaffairs/maritimeday/en/home
http://ec.europa.eu/maritimeaffairs/maritimeday/en
http://ec.europa.eu/maritimeaffairs/maritimeday/en/about-emd
http://ec.europa.eu/maritimeaffairs/maritimeday/en/poole-2017
http://ec.europa.eu/maritimeaffairs/maritimeday/en/exhibition
ACIDIFICATION - ADRIATIC - ARCTIC - ATLANTIC - BALTIC - BAY BENGAL - BERING - CARIBBEAN - CORAL - EAST CHINA SEA
ENGLISH CH - GOC - GULF GUINEA - GULF MEXICO - INDIAN - IOC - IRC - MEDITERRANEAN - NORTH SEA - PACIFIC - PERSIAN GULF - SEA JAPAN - STH CHINA - PLASTIC - PLANKTON - PLASTIC OCEANS - SEA LEVEL RISE - UNCLOS - UNEP WOC - WWF