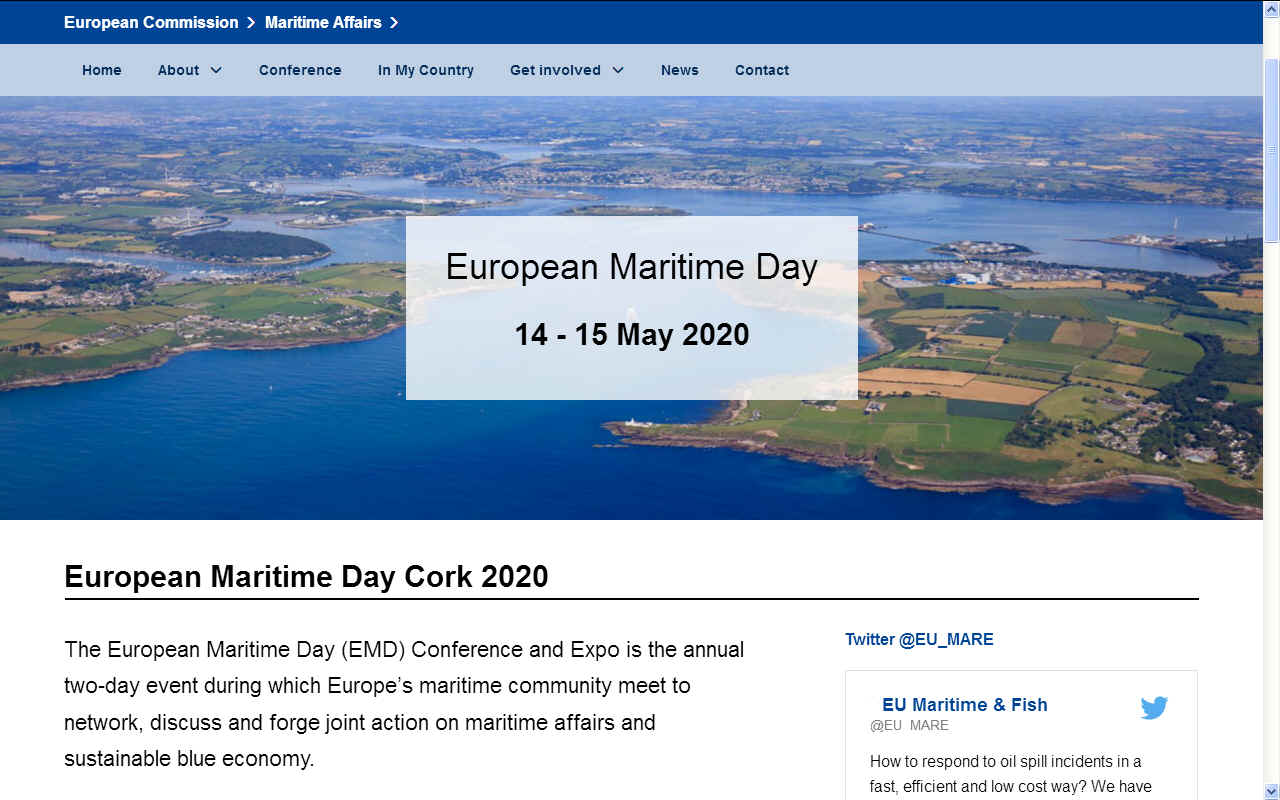 The European Commission kindly invite you to save the date for the European Maritime Day 2020 which will take place on 14-15 May in Cork, Ireland. EMD is the annual EU meeting point on maritime affairs and sustainable blue economy. It targets maritime professionals, entrepreneurs and ocean leaders.
EMD Conference and Expo is the place where 'Ocean Leaders Meet'. It provides an interactive experience to catch up on the current state of play on a broad range of issues concerning the blue economy and the marine environment and discuss ways of moving forward. It features a large number of excellent speakers, multiple breakout sessions and project pitch sessions organised by stakeholders and European Commission services as well as hundreds of B2B meetings. EMD targets professionals from businesses, governments, public institutions, NGOs and academia.
European Maritime Day is an annual celebration of Europe's diverse maritime community and is the flagship event in the European Union's maritime calendar. As part of the celebration is a two day conference which attracts 1,000 stakeholders from across the European Union.

The conference endeavours to be a platform to spark change in issues ranging from the fight against illegal fishing and protecting habitat to developing effective regional strategies and growing the blue economy.

This will be the first time that Southern Ireland has hosted this important flagship event and it's set to be held in conjunction with Ireland's national maritime festival SeaFest which will also take place in Cork that year.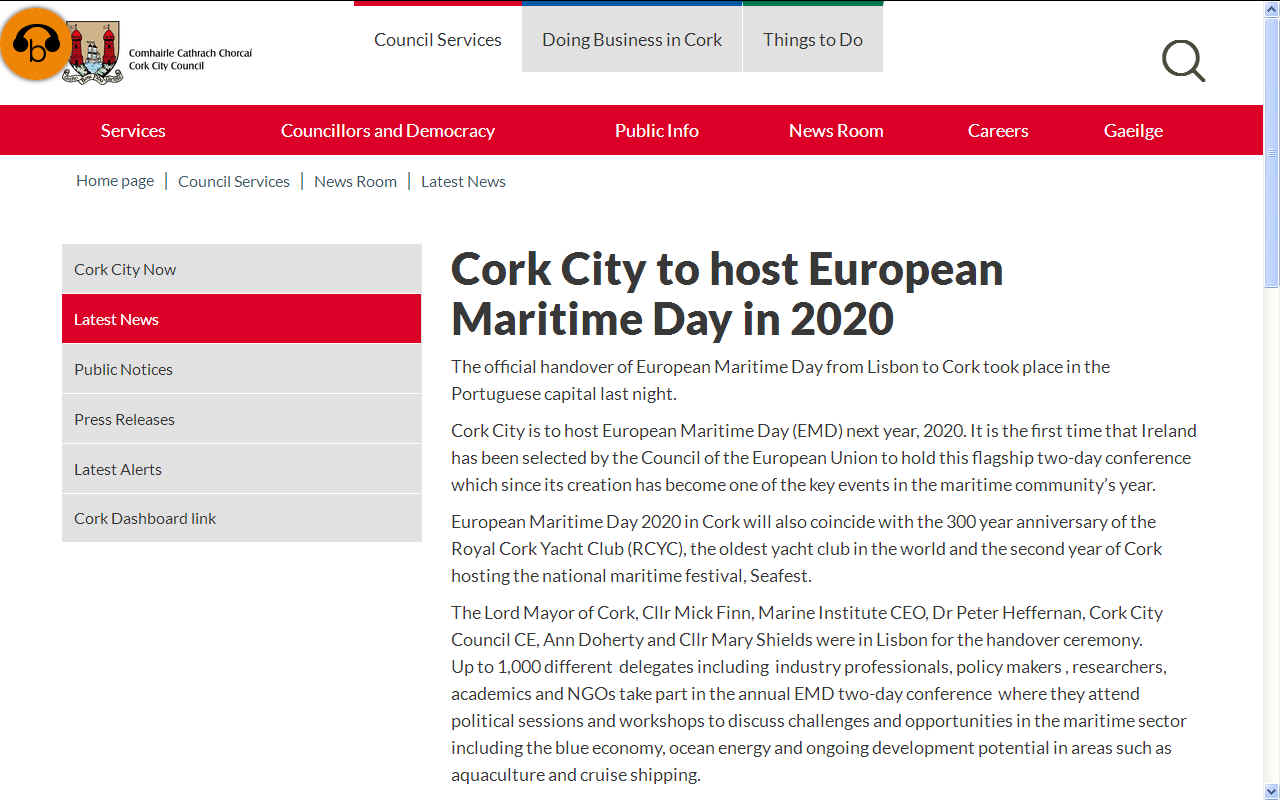 The event and exhibition will take place on 14-15 May 2020 in the City Hall of Cork and is co-organised by the European Commission, the City of Cork and 'Our Ocean Wealth' Summit.
The European Maritime Day (EMD) Conference and Expo is the annual two-day event during which Europe's maritime community meet to network, discuss and forge joint action on maritime affairs and sustainable blue economy.
CORK CITY TO HOST EUROPEAN MARITIME DAY IN 2020 - 14 and 15 MAY 2020

The official handover of European Maritime Day from Lisbon to Cork took place in the Portuguese capital last night.

Cork City is to host European Maritime Day (EMD) next year, 2020. It is the first time that Ireland has been selected by the Council of the European Union to hold this flagship two-day conference which since its creation has become one of the key events in the maritime community's year.

European Maritime Day 2020 in Cork will also coincide with the 300 year anniversary of the Royal Cork Yacht Club (RCYC), the oldest yacht club in the world and the second year of Cork hosting the national maritime festival, Seafest.

The Lord Mayor of Cork, Cllr Mick Finn, Marine Institute CEO, Dr Peter Heffernan, Cork City Council CE, Ann Doherty and Cllr Mary Shields were in Lisbon for the handover ceremony.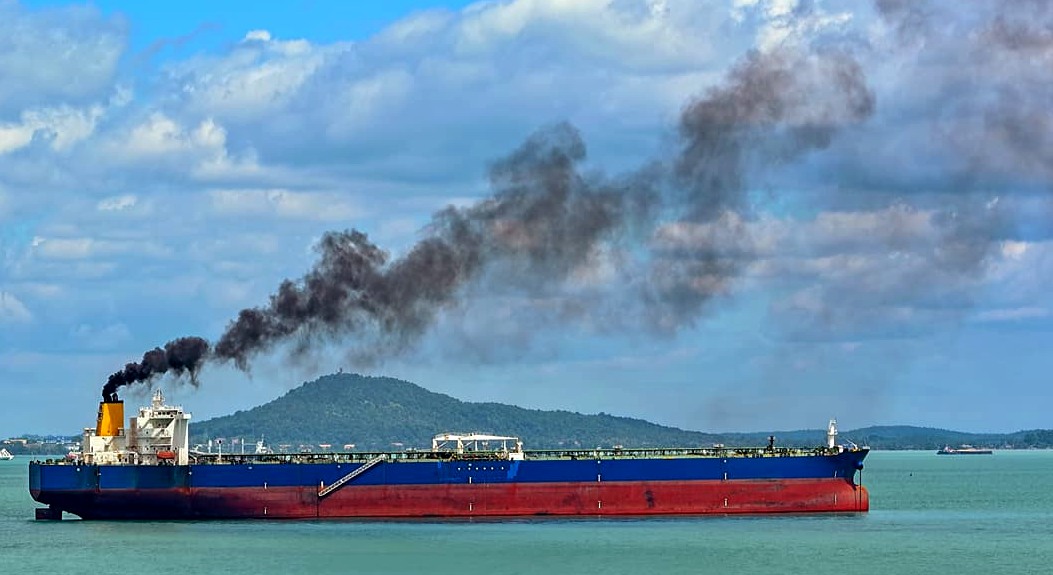 Up to 1,000 different delegates including industry professionals, policy makers , researchers, academics and NGOs take part in the annual EMD two-day conference where they attend political sessions and workshops to discuss challenges and opportunities in the maritime sector including the blue economy, ocean energy and ongoing development potential in areas such as aquaculture and cruise shipping.
Lord Mayor, Cllr Mick Finn said: "Cork hosting European Maritime Day in 2020 - when it will wrap around SeaFest and the RCYC 300 celebrations - is perfect for a city with such a rich maritime tradition. I was honoured to accept the mantle from Lisbon which is another proud port, EU city and I have no doubt it will be a huge success. Greeting 1000 delegates to the city will be a huge boost for tourism and the positioning of the new, larger city in the EU."

Welcoming the news Dr Peter Heffernan, CEO Marine Institute said: "I am delighted that next year's EMD will be held in Cork. Ireland has earned a strong reputation in Europe, and internationally for its marine research and innovation, and for driving collaboration in this area. EMD will bring together Europe's maritime community to exchange ideas and forge partnerships needed for the blue economy. I look forward to important and fruitful discussions on the balance required to manage our collective blue economies while safeguarding our most precious natural resources".

UP to 100,000 people are expected to gather in Cork next month for Seafest, the national maritime festival. SeaFest is a fun, free festival aimed at getting the people of Cork and Ireland to celebrate and enjoy our ocean with seafaring fun, seafood demonstrations and lots of opportunities to hop into boats and leisure craft and ride the waves.

Next year, in 2020, Seafest will once more take place in Cork, but in conjunction with European Maritime Day.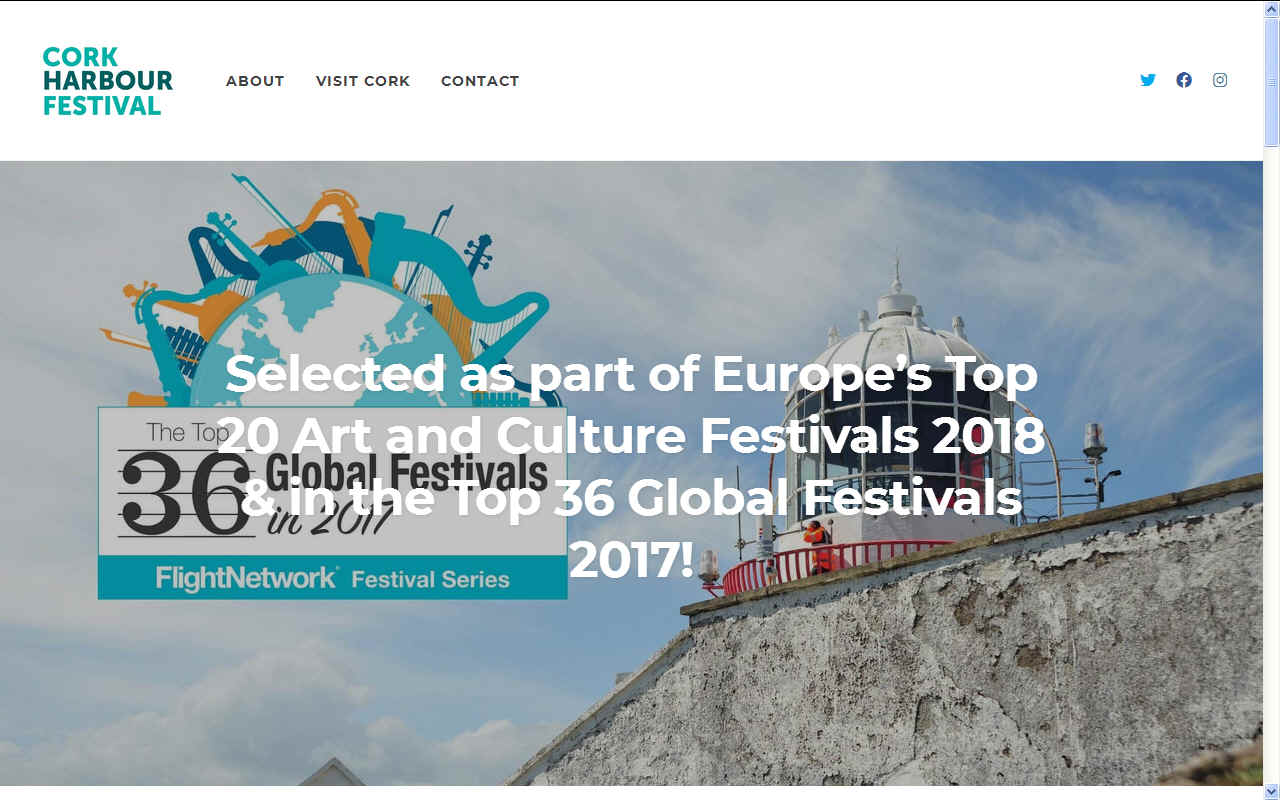 WORKSHOPS
Stakeholders' workshops are at the core of the conference. Each workshop lasts 1.5 hours and for 2020 we are planning to host 20 high-quality workshops (four slots with 5 workshops running in parallel).

Workshop organisers design and manage their own workshop.
Selection process

European Commission is organising a selection process. Stakeholders interested in organising a workshop during EMD 2020 Conference should apply with a proposal. The workshops to be selected should meet the following criteria:

- contribute to one of the themes listed below
- organisers set out clear and relevant objectives for their workshop, and invite high-quality speakers from the public and private sectors
- demonstrate a clear European dimension (relevance for EU maritime affairs and its blue economy)
- provide an interactive format that engages the audience into discussion and will aim to deliver actionable conclusions
The format of the workshops should not include more than 4 presentations or contributions and allow time for interaction with the audience. We encourage the use of easy-to-use interactive tools (e.g. sli.do, menti, etc).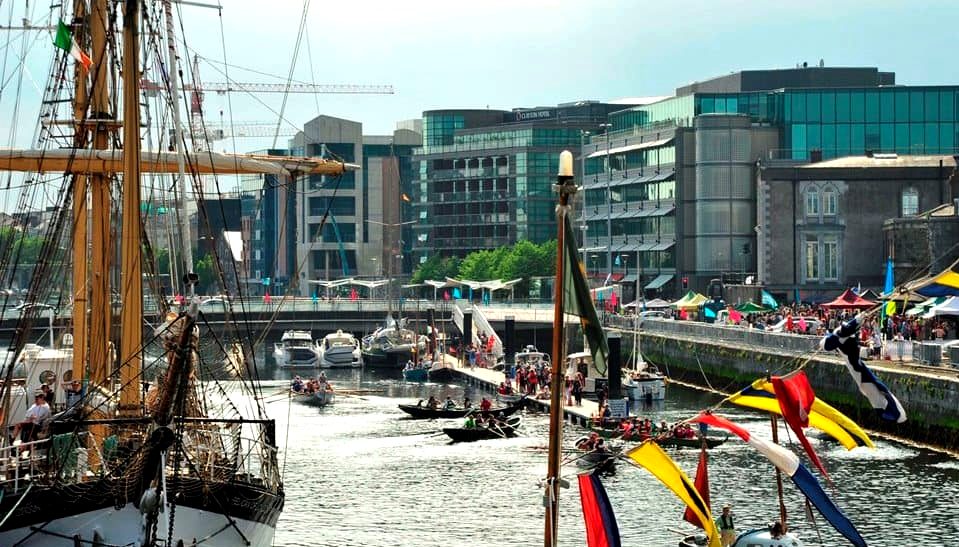 Workshop organisers shall apply under one of the following themes:

- blue economy – horizontal themes (e.g. strategy, research and innovation, financing, investment, digitalisation AI and big data)
- blue economy – sectoral themes (e.g. bio-economy, aquaculture, tourism and coastal communities, ocean and off-shore energy, shipping and shipbuilding, ports and port clusters)
- sea basin cooperation
- maritime spatial planning
- ocean literacy, maritime skills and people
- maritime security and surveillance
- marine pollution, climate action, decarbonisation
Application

Applications are open till 3 December 2019. Please note that only proposals submitted before the deadline and via the online form will be taken into consideration. They will inform you about the results of the selection by mid-January. In some cases, the organizers may ask similarly themed workshops to merge. This second step will take place early 2020. Final information on the workshops will be available by the end of March 2020.
OCEAN WEALTH - The annual Progress Report on Ireland's Integrated Marine Plan - Harnessing Our Ocean Wealth, for 2018, was launched at the Our Ocean Wealth Summit in Cork, 10 June. The report, which contains information from across government departments and agencies, provides a wealth of information, spanning governance, research, education, international cooperation, business development, sustainability and protection and conservation of marine ecosystems. The annual 'Our Ocean Wealth Summit' forms a key part of the Government's integrated plan for Ireland's marine sector and brings together national and international expert speakers, industry leaders, business development agencies and the Irish business and marine research community.
GALWAY & MARINE LITTER
Every year over 10 million tonnes of litter ends up in our oceans causing a devastating impact on the seas and the marine life that dwells within them. It is estimated that by 2050 our seas could contain more plastic than fish.
A number of aquariums around the globe are banding together to highlight this major problem and engage with the public. The new campaign will show people practical solutions on reducing their own impact and how they can help to turn the tide on marine pollution.

Galway Atlantaquaria will be launching this new Our Ocean campaign this Thursday. They'll be teaming up with Clean Coasts and Down 2 Earth to lead the charge and get visitors thinking about this serious issue and how best to tackle it.

To find out more about the European Commission's efforts to combat marine litter, visit Our Ocean 2017.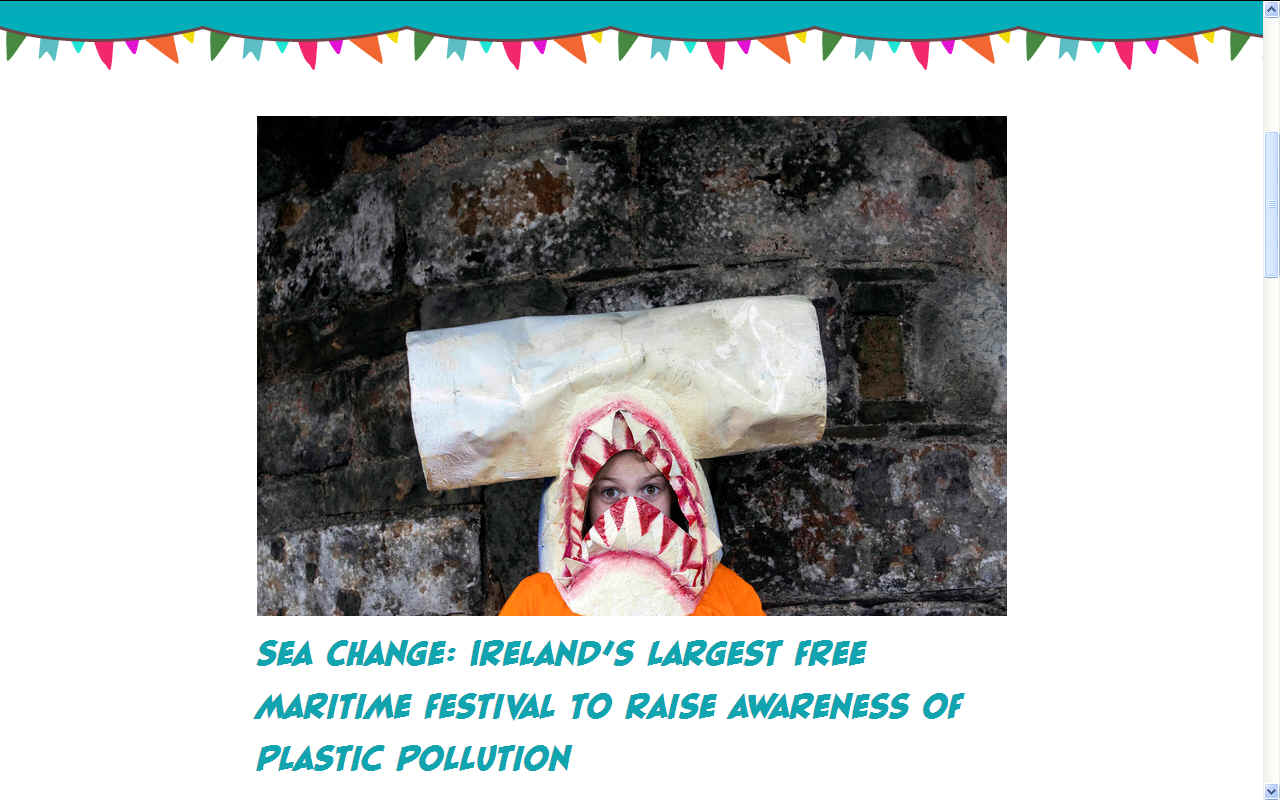 2019 SEA CHANGE: IRELAND'S LARGEST FREE MARITIME FESTIVAL TO RAISE AWARENESS OF PLASTIC POLLUTION

An interactive hut made up of 60kg of household plastics, the average amount used by an adult in Ireland each year, will be unveiled at SeaFest this weekend, highlighting the problem of plastics in our oceans. Ireland's largest free family-friendly maritime festival takes place at the Port of Cork, Cork City from Friday, 7 June to Sunday, 9 June, with over 100 free events celebrating our oceans. More than 100,000 visitors are expected to attend SeaFest, which is presented by Cork City Council and the Inter-Departmental Marine Coordination Group (MCG).

Raising awareness of the need to protect our marine environment against plastic pollution, Bord Iascaigh Mhara's centrepiece at SeaFest is the Clean Oceans Experience. Funded by the European Maritime and Fisheries Fund, the installation includes a 60kg plastic hut sculpture, representing the total plastic packaging waste produced per person in a year. This installation will be accompanied by a specially commissioned artistic performance Fantastic Fishermen go Fishing for Litter on how the fishing sector is reducing plastics in our seas. Members of the fishing sector taking part in BIM's Fishing for Litter scheme, which encourages fishermen to take ashore waste they encounter at sea, have collected over 330 tonnes of marine litter since it began in 2015.


Lord Mayor of Cork, Cllr Mick Finn said: "Environmental stewardship of our oceans is something we need to instil in our children. This will ensure the problems facing our oceans are addressed, and hopefully, reversed. I'm delighted to welcome SeaFest to Cork for the next three years, as it serves an important role in this education. SeaFest is a brilliant illustration of our unique and unrivalled maritime history. In a fun and interactive way, this national annual festival is helping those of all ages to think about their connection with the water and how the actions they make today can make a difference tomorrow."

Engaging exhibitions and workshops to turn plastic into art also feature at SeaFest, open daily from 10am to 6pm. A Flock of Sea Gulls will see 1000 young visitors transform 1000 plastic cartons into an installation of sea gulls while the Port of Cork and MaREI's 3D exhibition Maintaining a Healthy Harbour is also on display, with marine litter artworks from local school children.

Showing how our oceans and climate are linked, the Marine Institute's Wild Atlantic Theatre features talks from Met Éireann Head of Forecasting Evelyn Cusack and wildlife cameraman Doug Allan, who has worked alongside Sir David Attenborough on BBC's Blue Planet and Frozen Planet.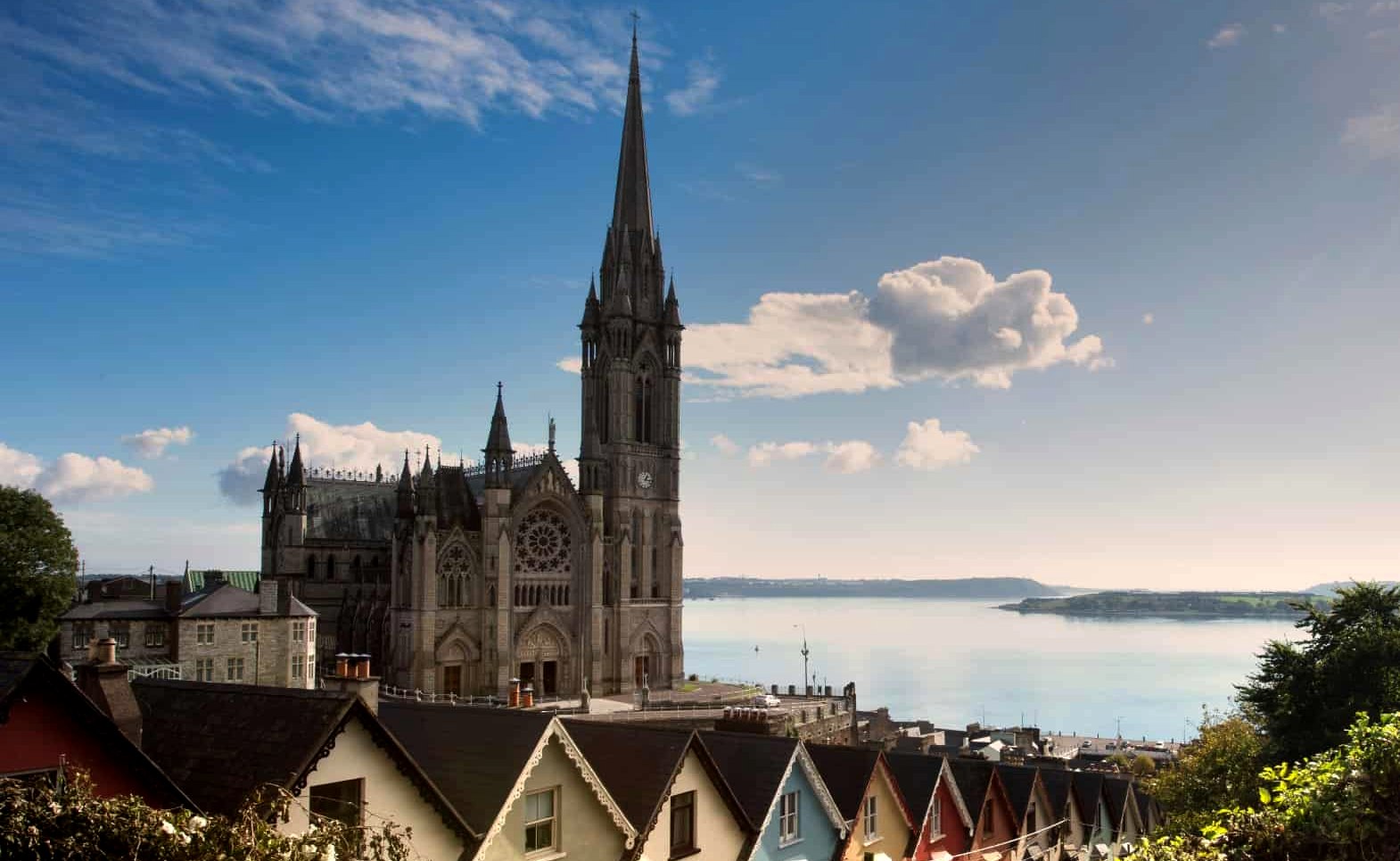 Sustainably sourced Irish seafood plays a starring role at SeaFest with demos from top chefs Nevin Maguire, Rory O'Connell and Martin Shanahan. The Bord Bia and BIM Seafood Experience also features fishmongers Pat O'Connell and Hal Dawson on seafood preparation. Encouraging responsible activity on the water, SeaFest will hold free sailing, kayaking, and currach boats sessions; along with interactive displays exploring the marine world.

Speaking ahead of SeaFest 2019, Minister for Agriculture, Food and the Marine, Michael Creed stated: "SeaFest is part of Harnessing Our Ocean Wealth, the Government's integrated plan for the marine sector. A key aspect of this plan is to significantly increase our level of engagement with the sea. As we welcome the festival back to Cork from Galway where it has been thriving over the past three years, once again, SeaFest has delivered a fantastic line-up of free, educational and fun events to engage both the public and policy makers alike and emphasise the importance of Ireland's marine economy."

Providing education on our oceans, the Marine Institute RV Celtic Explorer is open to the public, following its oceanographic data collection voyage from Galway to Cork. There will also be vessel tours of Commissioners of Irish Lights' ILV Granuaile and tall ship The Phoenix. MFV Allanah Riley, a white fish trawler that fishes out of the port of Castletownbere, will be open to visitors throughout SeaFest. Its crew will be on hand to explain the sustainable fishing practices of the Irish fishing fleet.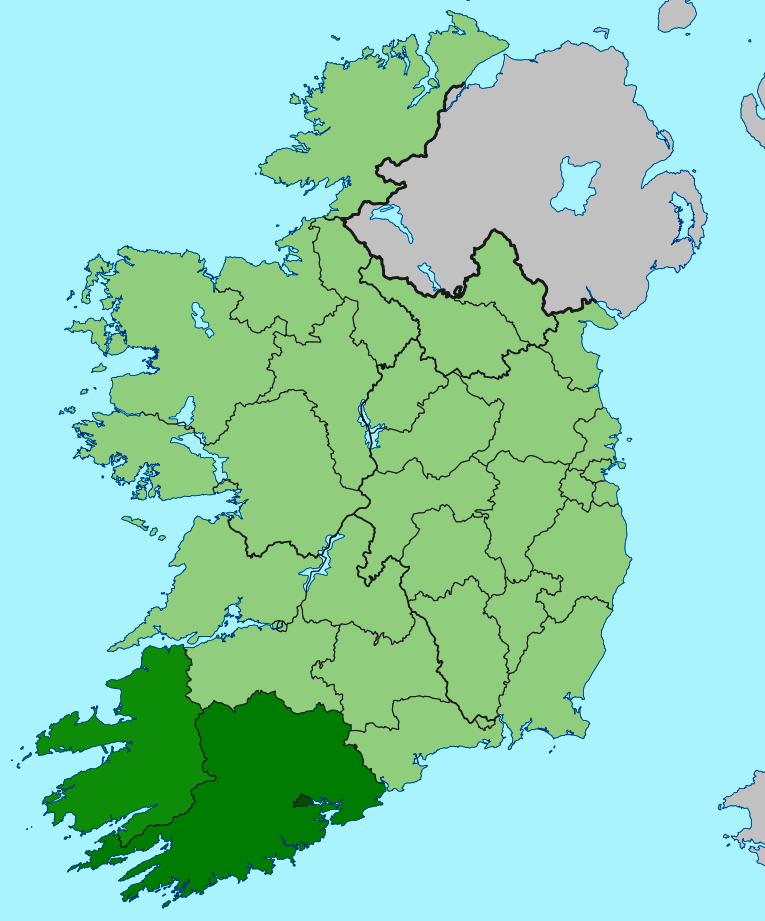 MAP - Cork County is shown in the darker green. The pink is Northern Ireland, part of the United Kingdom.
As part of Cork City Council's commitment to green initiatives, Cork City Council Environmental Awareness Officer, Mary Walsh highlighted that market traders will be using compostable packaging across the weekend. "There will also be pirates on-site, keeping SeaFest free from single use plastics. If someone has brought a plastic bottle with them, the pirate will show them how, and where, to dispose of it," she said.

SeaFest 2019 is a culmination of a weeklong celebration of Ireland's rich maritime heritage, as the annual Cork Harbour Festival runs until 9 June. The Our Ocean Wealth Summit takes place in Cork on Sunday, 9 June and Monday, 10 June. The Summit will hear from global leaders including environmental activist and former US Secretary of State John Kerry.

SeaFest is proudly supported by Cork City Council, BIM, Marine Institute, Port of Cork, Cork Harbour Festival, Commissioners of Irish Lights, Defence Forces, Department of Agriculture, Food and the Marine, Department of Foreign Affairs and Trade, Bord Bia, Sea Fisheries Protection Authority and Pure Cork and media partners Today FM and RedFM.

SeaFest is co-funded by the Government of Ireland and the European Union under Ireland's European Maritime & Fisheries Fund Operational Programme for the seafood sector.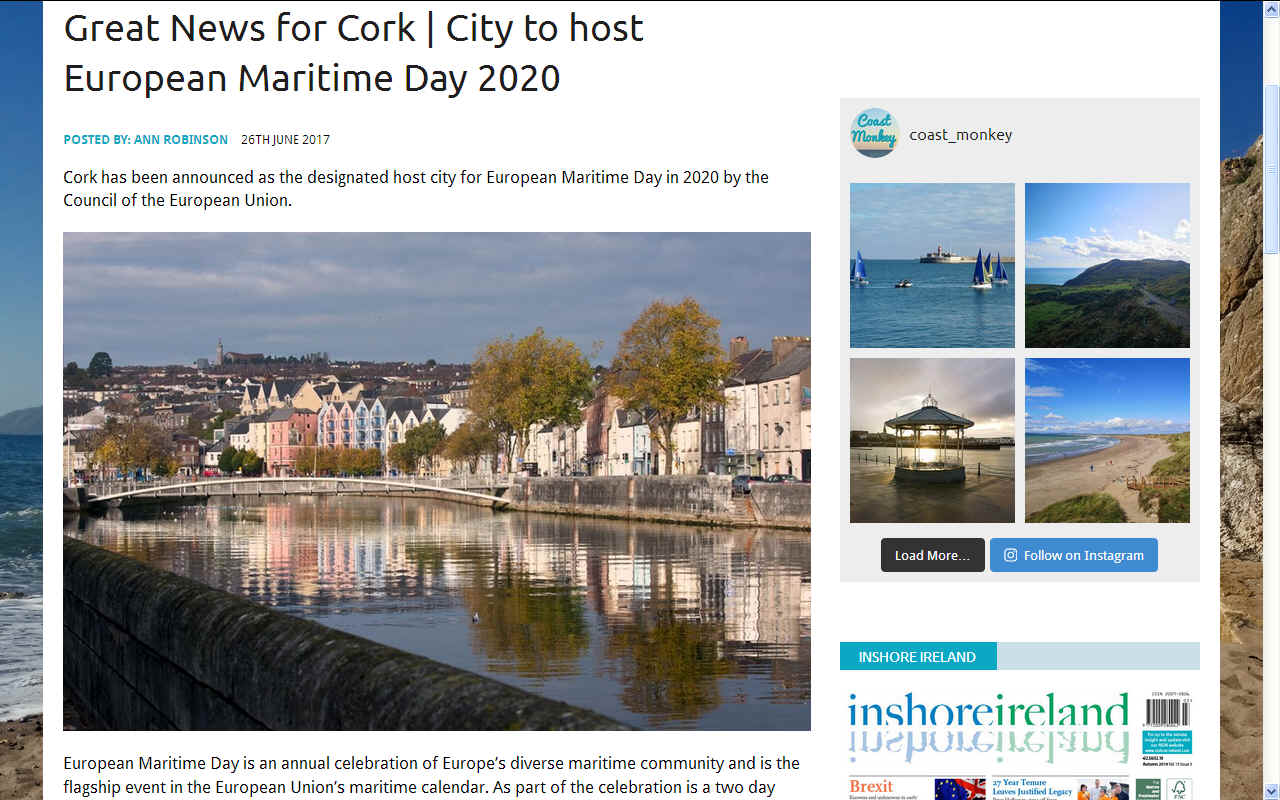 EMD HEADLINE THEMES
* Brussels 2008: "A regional approach to the implementation of Maritime Policy"
* Rome 2009: "Integrated Maritime Policy and the contribution of maritime clusters"
* Gijón 2010: "How to foster innovation?"
* Gdansk 2011: "Maritime Policy: Putting People First"
* Gothenburg 2012: "Sustainable Growth from the Oceans, Seas and Coasts"
* Valletta 2013: "Coastal Development and Sustainable Maritime Tourism"
* Bremen 2014: "Innovation driving Blue Growth"
* Piraeus 2015: "Ports and Coasts, Gateways to Maritime Growth"
* Turku 2016: "Investing in blue growth – smart and sustainable solutions"
* Poole 2017: "The Future of our Seas"
* Burgas 2018: Bulgaria "TBA"
* Lisbon 2019: Portugal "TBA"
* Cork 2020: Ireland "TBA"
* Den Helder 2021: The Netherlands "TBA"
* Ravenna 2022: Italy "TBA"
* Brest 2023: France "TBA"
* Svendborg 2024: Denmark "TBA"
CONFERENCE - DRAFT PROGRAMME
Thursday, 14 May 2020
08.00 – 09.00 Registration & Welcome Coffee
09.00 – 10.00 Opening Session "EU Maritime Policy towards 2050"
10.00 – 11.00 Networking Break / Pitch Stage / Blue Expo
11.00 – 12.30 Workshops organised by Stakeholders
12.30 – 13.30 Networking Lunch
13.30 – 14.30 Plenary Session: 'Empowering Future Ocean Leaders'
14.30 – 16.00 Workshops organised by Stakeholders
16.00 – 17.00 Networking Break / Pitch Stage / Blue Expo
17.00 – 18.30 Workshops organised by Stakeholders
18.45 – 21.30 Networking Reception
Friday, 15 May 2020
08.30 – 09.00 Welcome Coffee
09.00 – 10.30 Workshops organised by Stakeholders
10.30 – 11.30 Networking Break / Pitch Stage / Blue Expo
11.30 – 13.00 Policy Sessions
13.00 – 14.00 Farewell lunch

ZERO CARBON SOLUTION - Although a potential solution to the problem, we suspect that this is not what the European Commission are looking to tease out of the woodwork. They are probably hoping for a miracle cure that might be applied to conventional hulls, such as a new fuel or process that renders existing shipping zero carbon - and bully for that. Nevertheless, this is a possible way of reaching targets, or at least easing the pressure - and for that reason - it is put forward as a funding contender. Vessels that are solar and wind powered should (in our view) be developed alongside other incremental emission reduction means.
An alternative to constructing this vessel in aluminium alloy as a purpose build, is to purchase an existing cargo vessel that is due for retirement, and to retro-fit solar panels and wind generators, to be able to measure the savings. Operators of fleets might want to consider partnering to this project, maybe to provide a donor vessel. Please note that these drawings are Design Copyright © October 2019, Bluebird Marine Systems Ltd and Cleaner Ocean Foundation Ltd.
A BIT ABOUT IRELAND
The Republic of Ireland (Poblacht na hÉireann), is a country in north-western Europe occupying 26 of 32 counties of the island of Ireland. The capital and largest city is Dublin, which is located on the eastern side of the island. Around a third of the country's population of 4.9 million people resides in the greater Dublin area. The sovereign state shares its only land border with Northern Ireland, a part of the United Kingdom. It is otherwise surrounded by the Atlantic Ocean, with the Celtic Sea to the south, St George's Channel to the south-east, and the Irish Sea to the east. It is a unitary, parliamentary republic.

County Cork is located in the province of Munster, bordering Kerry to the west, Limerick to the north, Tipperary to the north-east and Waterford to the east. It is the largest county in Ireland by land area, and the largest of Munster's six counties by population and area.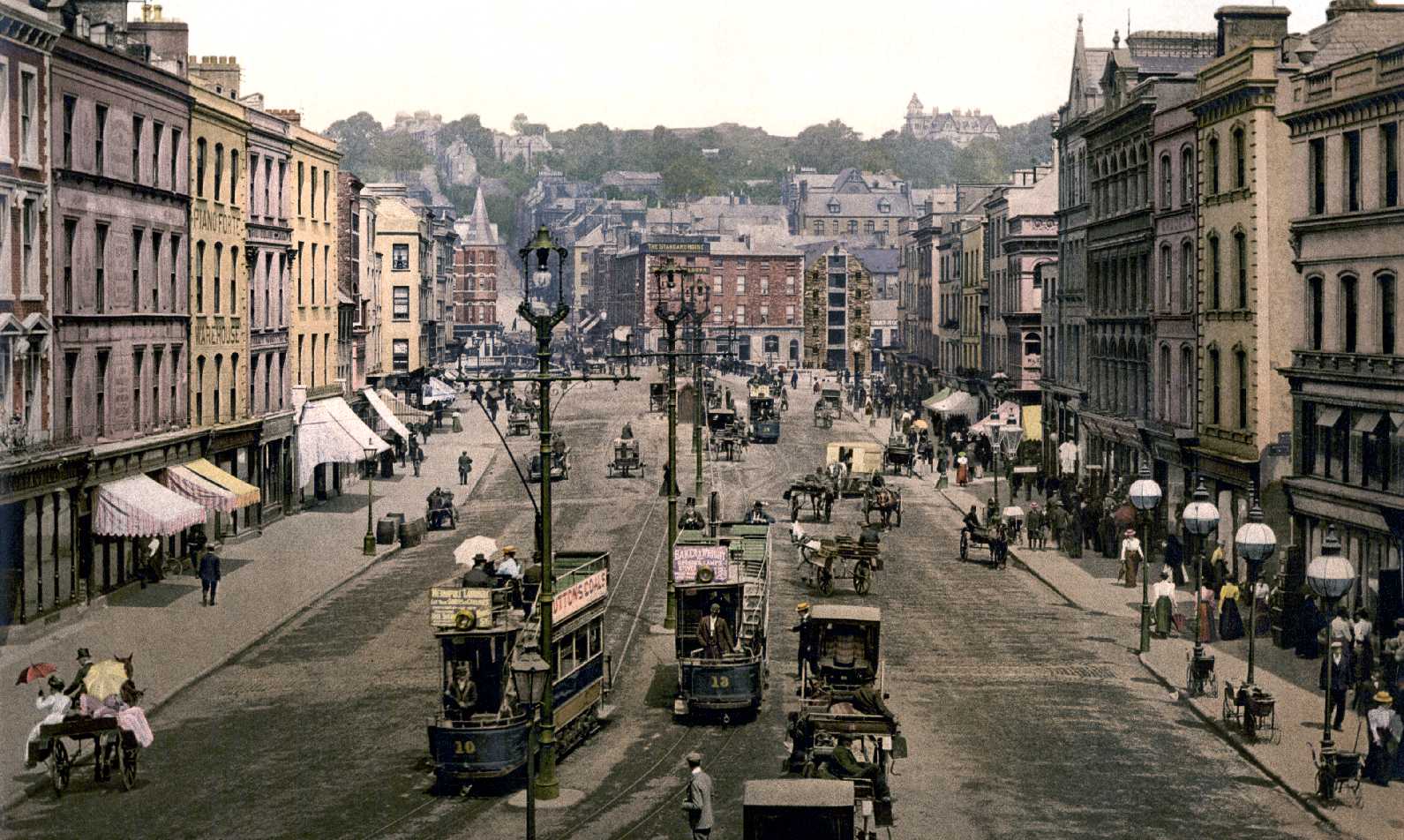 Cork is the second-most populous city in the State and the 16th-most populous area of local government.

Cork City is a hub of industry in the province. Several pharmaceutical companies have significant operations in the area, including Pfizer Inc., Johnson & Johnson and Swiss company Novartis. Perhaps the most famous product of the Cork pharmaceutical industry is Viagra. Cork is also the European headquarters of Apple Inc. where over 3,000 staff are involved in manufacturing, R&D and customer support. Logitech and EMC Corporation are also important IT employers in the area. Three hospitals are also among the top ten employers in the city.

The city is also home to the Heineken Brewery that brews Murphy's Irish Stout and the nearby Beamish and Crawford brewery (taken over by Heineken in 2008) which have been in the city for generations. 45% of the world's Tic Tac sweets are manufactured at the city's Ferrero factory. For many years, Cork was the home to Ford Motor Company, which manufactured cars in the docklands area before the plant was closed in 1984. Henry Ford's grandfather was from West Cork, which was one of the main reasons for opening up the manufacturing facility in Cork. Technology has since replaced the older manufacturing businesses of the 1970s and 1980s, with people now working at a number of IT companies across the city area – such as Amazon.com, the online retailer, which has offices at Cork Airport Business Park.

Cork's deep harbour allows large ships to enter, bringing trade and easy import/export of products. Cork Airport also allows easy access to continental Europe and Cork Kent railway station in the city centre provides good rail links for domestic trade.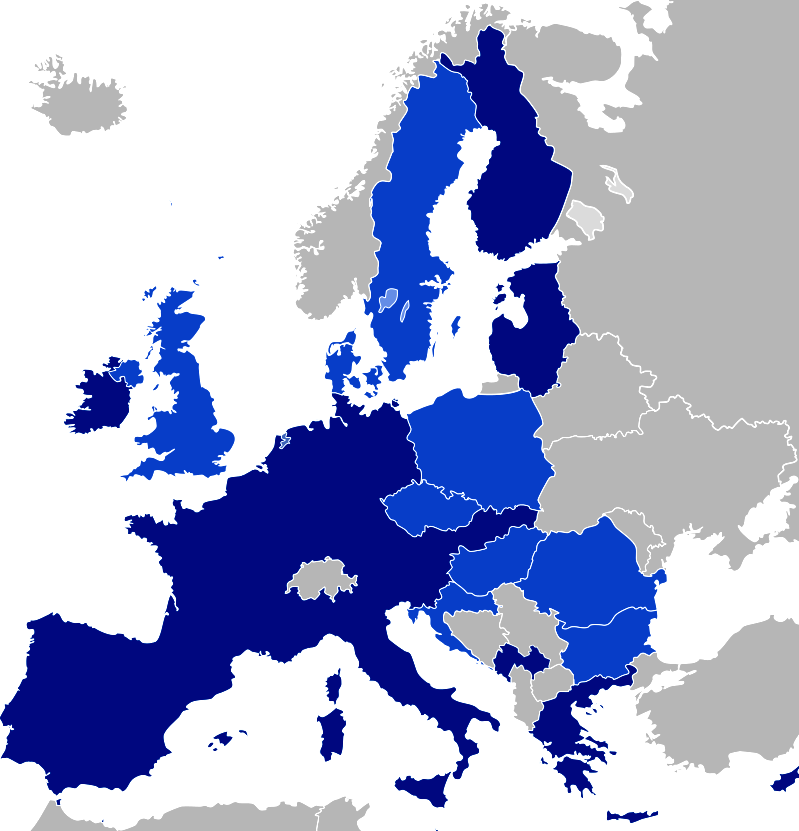 The Cross River Ferry, from Rushbrooke to Passage West, links the R624 to R610. This service is used by some commuters to avoid traffic in the Jack Lynch Tunnel and Dunkettle area. The Port of Cork is situated at Ringaskiddy, 16 kilometres (10 miles) SE via the N28. Brittany Ferries operates direct car ferry services from Cork to Roscoff in France and Santander in Spain.
The population of Cork City and its immediate suburbs was 208,669 according to the 2016 census, with in excess of 300,000 in the Metropolitan Cork area.
Cork is twinned with Cologne, Coventry, Rennes, San Francisco, Swansea and Shanghai. As of February 2017, the city council was also in talks to twin with Bordeaux, Saint Petersburg and Miami.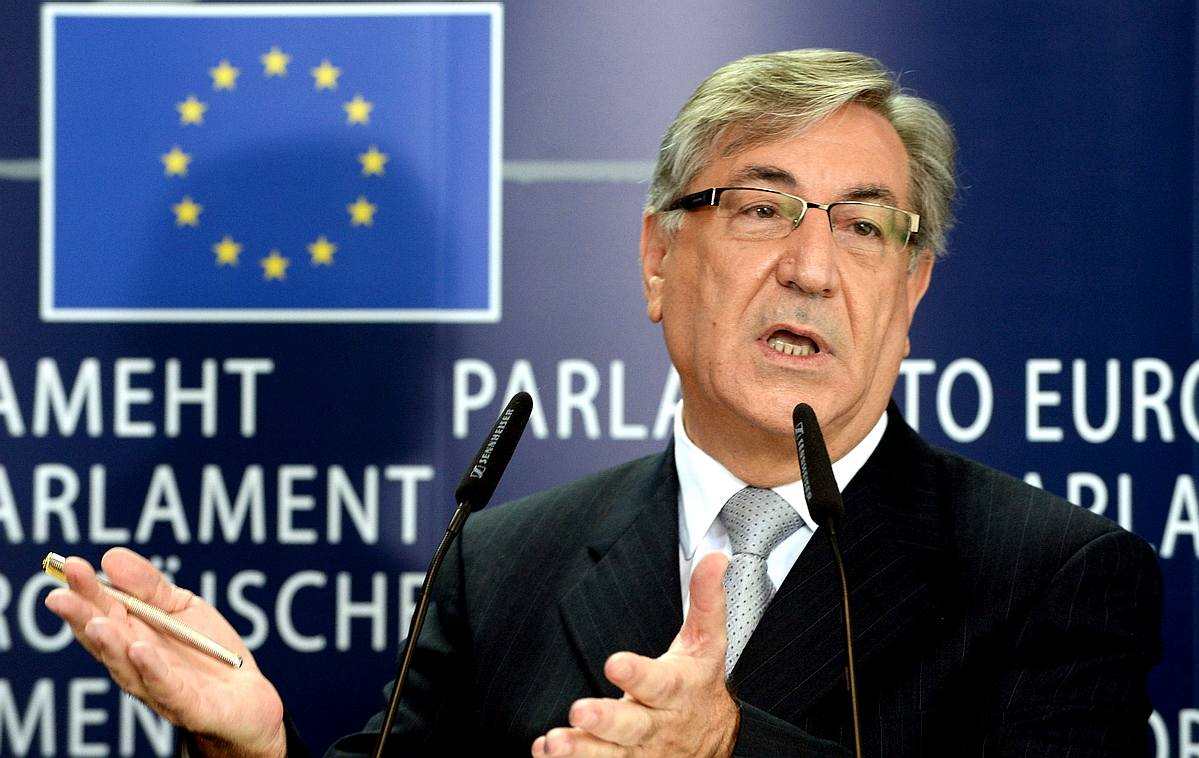 16/05/2019 - Commissioner for Environment, Maritime Affairs and Fisheries Karmenu Vella has opened the 2019 European Maritime Day conference in Lisbon. This year, the main focus is on boosting a "blue" economy, the sustainable use of ocean resources for economic growth, through entrepreneurship, investment, and research and innovation. On this occasion, the European Commission launches the second edition of its Blue Economy Report.

Commissioner Vella said: "Coastal regions are home to 214 million people and generate 43% of EU GDP. Today's report confirms the blue economy's role as an exciting growth sector, with opportunities both in established sectors like tourism and shipbuilding, and in emerging areas like ocean energy or the blue bioeconomy. Yet we also know that blue economy start-ups and small companies often struggle to get their good ideas off the ground. That is why the European Commission is currently developing an investment-readiness support tool to help them mature and eventually access the funding they need to scale up."

Tibor Navracsics, Commissioner for Education, Youth, Culture and Sport, responsible for the Joint Research Centre, instrumental in drafting the Blue Economy Report added: "Though our oceans cover more than 70% of the earth's surface, we know less about what lies beneath the waves than we do about faraway planets. This prevents us from making the most of our resources while protecting marine ecosystems. The second Report on the European Blue Economy aims to change that. It reflects the importance that the European Commission attaches to a robust, evidence-based approach. Our oceans and seas can help us in tackling the challenges facing humanity; creating prosperity without endangering that of future generations."

Using the opportunities of the oceans sustainably was also at the heart of Commissioner Vella's speech at today's international ministerial conference on smart ocean governance, organised by Portugal. He reiterated the key role of oceans – in particular ocean energy – towards achieving a carbon-free Europe by 2050.

This year's blue economy report incorporates various new elements and content, including the maritime defence and the maritime equipment sectors. A preliminary analysis by sea basin has been added, as well as a number of in-depth case studies, e.g. on the economic impacts of marine protected areas or the contribution of the research and education sector to blue economy jobs. Finally, the second edition comprises a section on ecosystem services and natural capital, addressing the costs and economic impact of climate change and mitigation measures.

A Blue Indicators IT tool, which will also be launched today, will allow citizens to easily visualise, extract and download much of the report data. Users will also be able to download the full report, as well as the accompanying infographics and detailed methodology.

In addition to the report launch, the European Commission used European Maritime Day to update participants in-depth about several other ongoing maritime policy initiatives:

* the Technical Assistance facility for Investment in the Blue Economy, which will assume its activities before summer and help blue economy start-ups and SMEs to become bankable for future calls within a planned Blue Economy Investment Platform.

* the launch of the operational phase of the Common Information Sharing Environment (CISE), an important building block of the overall EU maritime surveillance framework, with the involvement of the European Maritime Safety Agency.

* progress on the ocean literacy platform 'EU4Oceans', to be launched in autumn, which will bring together European groups, networks and organisations active in ocean preservation and ocean literacy, thereby paving the way for a 'European Ocean Alliance'. The ongoing call for tenders closes on 14 June.

Background:

Established in 2008, European Maritime Day has become an annual meeting place for maritime professionals, entrepreneurs and ocean leaders. With more than 1400 registered participants from 53 countries in 2018, European Maritime Day is the Commission's biggest maritime policy event. The two-day conference will see more than 150 speakers take the floor, including during 8 breakout sessions organised by the Commission, 28 workshops organised by blue economy stakeholders, and 21 pitch presentations. More than 140 B2B meetings have been scheduled. The accompanying exhibition will host 101 exhibitors, a record for EMD. This year's edition was organised together with the Portuguese Ministry of the Sea and the City of Lisbon.
CONTACTS

Cork City Council
City Hall, Anglesea Street
Cork, T12 T997

Tel: +353 21 4924000
Seafest Festival Manager: Joya Kuin

Event Administrator: Deirdre McCaffrey

Festival Market: Rose-Anne Kidney roseanne@goldiefish.ie

Contact: info@corkharbourfestival.com

+353 (0) 21 484 7673

Cork Harbour Festival
c/o Meitheal Mara
Crosses Green House
Crosses Green
Cork City | T12 HF38
Ireland
Enterprise Europe Network South West
Business West, Leigh Court
Abbots Leigh, Bristol, BS8 3RA

CRUISE LINE OPERATORS A - Z
ZERO CARBON FISHING & NO NETS - Traditional fishing boats do not lend themselves to solar or wind assisted conversions, hence may not be zero carbon. Changing from diesel to clean energy requires a clean sheet of paper approach and a re-think of how to solve the problem. The SeaVax concept has long been seen as capable of being modified for oil recovery and fishing for food, rather than recycling marine plastic. If marine transport is to comply with the IMO directives for 2030, 2040, 2050 and 2100, we must start looking at other ways of harvesting fish to prevent global warming getting any worse.
SeaVax uses solar and wind energy collectors that track the wind and sun in combination such as to manage potential incoming energy for maximum harvest and storage. The turbine generators used could be horizontal (HAWT) or vertical axis (VAWT), where horizontal axis were thought to offer higher power to weight ratios, but that this may now be the subject of research, where a new type of VAWT potentially offers similar outputs with perhaps other advantages.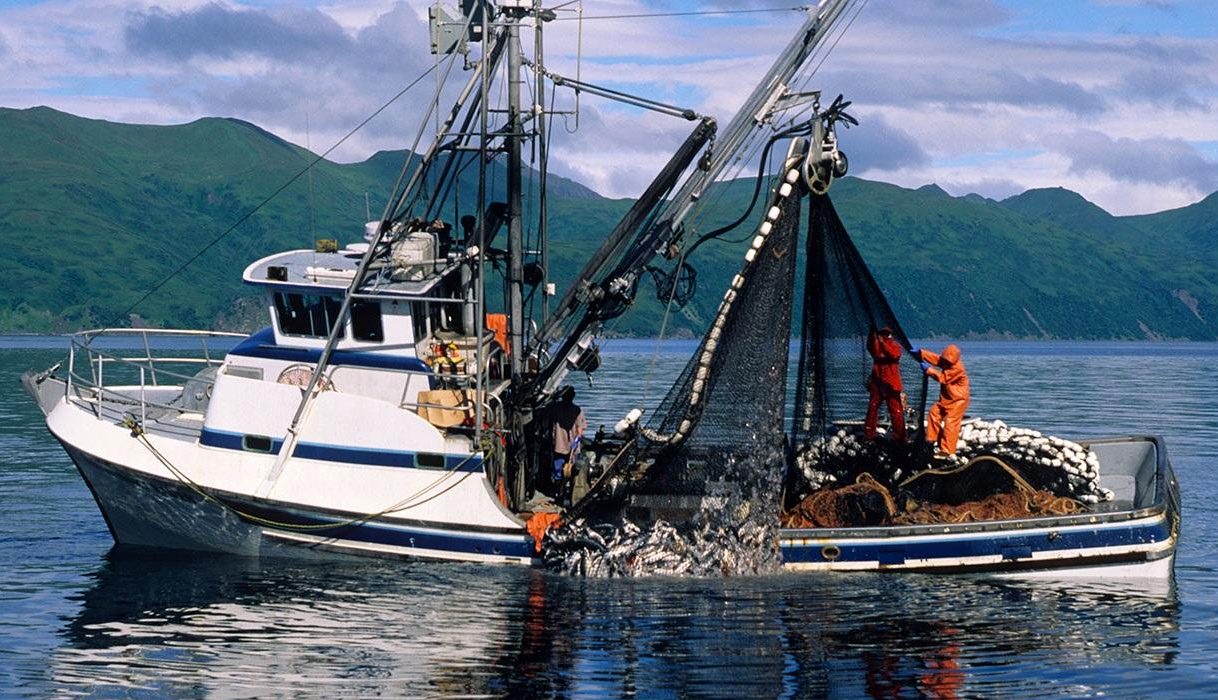 Another advantage of modifying the SeaVax concept to fishing is that there are no plastic fishing nets to pollute the oceans. Operating a zero carbon fishing boat that uses no nets in the catching process, opens up a whole new era of sustainable opportunities in terms of the United Nations development goal: SDG14. Nets are costly items that choke the ocean when discarded irresponsibly. The possibility of modifying a SeaVax head to allow for variable depth trawl of selected fish species holds the potential to alleviate ghost nets to some extent, though fishing with regular nets would also be a feature of the design.
CROSS CHANNEL A - Z FERRY OPERATORS & ISLAND SERVICES
DFDS -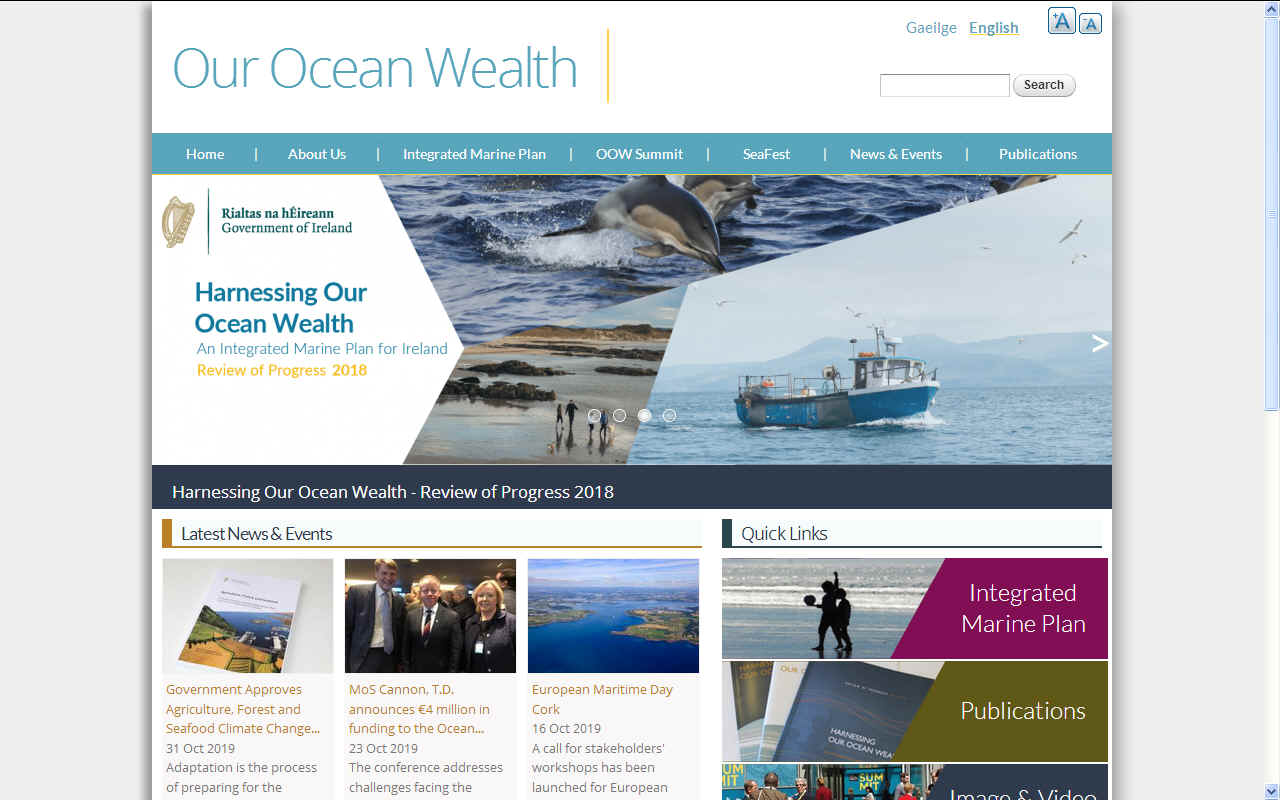 A-Z INDEX OF H2 POWERED FUEL CELL SHIPS

BARILLEC MARINE
| | | | | | |
| --- | --- | --- | --- | --- | --- |
| RANKED | SHIP NAME | No. BUILT | LOA | | KW/TON/DWT |
| | | | | | |
| 1. | | 5 | 399.9 | 23,756 | 0.379 - .509hp |
| 2. | | 5 | 399.9 | 21,413 | 0.316 - .424hp |
| 3. | | 3 | 400.0 | 21,237 | . |
| 4. | | 2 | 400.0 | 20,954 | 0.368 - .494hp |
| 5. | | 10 | 399.0 | 20,568 | 0.3 - .4hp |
| 6. | | 10 | 400.0 | 20,388 | . |
| 7. | | 1 | 399.0 | 20,182 | . |
| 8. | | 3 | 400.0 | 20,170 | 0.427 - .573hp |
| 9. | | 4 | 399.8 | 20,119 | . |
| 10. | | 5 | 400.0 | 19,870 | 0.20 - .268hp |
OCEAN CLEANUP PROJECTS A - Z
* Adidas
* Algalita research foundation
* Aliance to end Plastic Waste
* Boyan Slat's ocean booms
* 4Ocean recycled plastic bracelets
* Earth Day ocean plastic fact sheet
* Fionn Ferreira's ferrofluid extraction of microplastics
* Junk Raft - plastic expedition
* Plastic Oceans Canada
* Plastic Oceans Org
* Seabin
* SeaVax autonomous drones
* Surrey University PIRATE & Triton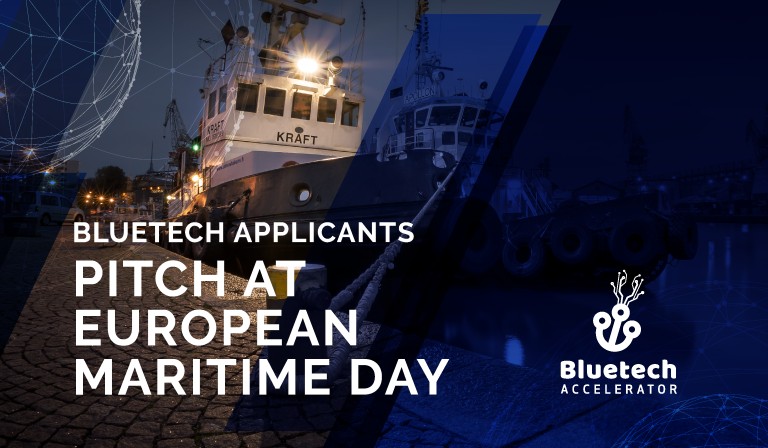 LINKS & REFERENCE
https://ec.europa.eu/maritimeaffairs/press/european-commission-launches-blue-economy-report-european-maritime-day-lisbon_en
https://www.politico.eu/person/karmenu-vella/
https://ec.europa.eu/eusurvey/runner/EMD-2020-Call-Workshops
https://www.ouroceanwealth.ie/
https://ec.europa.eu/maritimeaffairs/press/european-maritime-day-2020-cork-apply-stakeholder-workshop_en
https://www.marine.ie/Home/site-area/news-events/news/european-maritime-day-cork-14-15-may-2020
http://corkharbourfestival.com/
https://www.seafest.ie/en/
https://twitter.com/AnnRobinson22
https://ec.europa.eu/maritimeaffairs/maritimeday/en
https://www.corkcity.ie/en/council-services/news-room/latest-news/cork-city-to-host-european-maritime-day-in-2020.html
https://www.rte.ie/news/munster/2017/0626/885663-european-maritime-day/
http://www.nationalaquarium.ie/
https://ourocean2017.org/campaigns/world-aquariums-against-marine-litter
http://coastmonkey.ie/cork-european-maritime-day/
http://seafest.ie/en/home/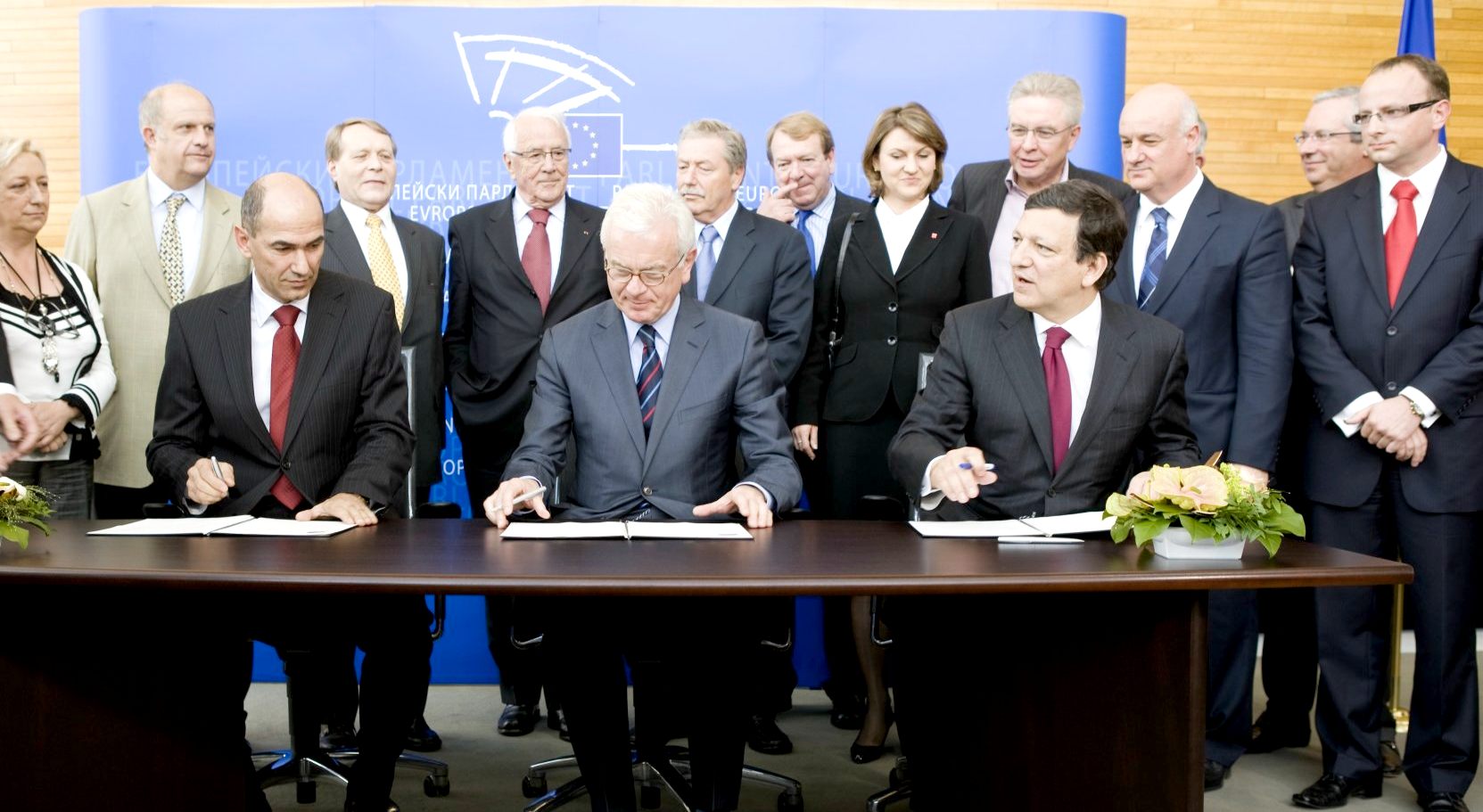 CREATION - The European Maritime Day (EMD) was officially created on 20 May 2008 where the President of the European Parliament Hans-Gert Pöttering, Council President Janez Janša, and Commission President José Manuel Barroso signed a Joint Tripartite Declaration establishing it.
ACIDIFICATION - ADRIATIC - ARCTIC - ATLANTIC - BALTIC - BAY BENGAL - BERING - CARIBBEAN - CORAL - EAST CHINA SEA
ENGLISH CH - GOC - GULF GUINEA - GULF MEXICO - INDIAN - IOC - IRC - IRISH - MEDITERRANEAN - NORTH SEA - PACIFIC - PERSIAN GULF - SEA JAPAN - STH CHINA - PLASTIC - PLANKTON - PLASTIC OCEANS - SEA LEVEL RISE - UNCLOS - UNEP WOC - WWF